Food and travel go hand in hand like peanut butter and jelly and one of the best things to do for foodies is a Costa Rica cooking class. As one of Costa Rica's main economy is still agriculture, many Costa Rican cooking classes also include a farm tour. Farm to table is a big part of the Costa Rican food culture and visitors will get to experience it first hand on a cooking class.
We did a cooking class in La Fortuna, one of the main farming towns in Costa Rica and highly recommend it for families and foodies. Although Costa Rican food is not that well known, visitors have a very enlightening, education and fun experience.
Interesting in doing the same La Fortuna cooking class and farm tour? Click here to book it and get a discount!
La Fortuna Cooking Class and Farm Tour
This La Fortuna cooking class and farm tour is an exclusive tour run by our tour partner and they take you to their own private farm and outdoor kitchen. The guide will take guests through the garden and farm, show them how to pick the ingredients required to make breakfast or lunch and then head to the kitchen to cook what they picked.
Our Costa Rica cooking class and farm tour started off with an introduction to cacao and other fruit trees.
Then we headed off into the farm to pick our next ingredients such as cassava (yuca) and plantains.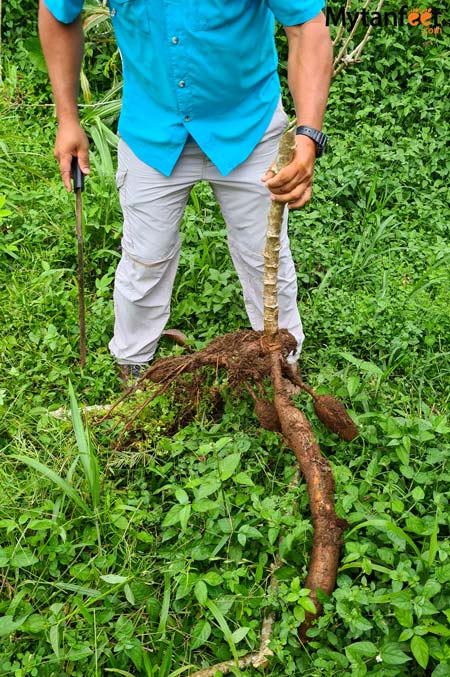 One of the unique things about cooking classes in Costa Rica is that it starts at the farm. The guide showed us the various plants and trees, shared information about how to grow and harvest the vegetables/fruits and even allowed us to pull up the cassava! You'll be able to see what a guava tree looks like and how pineapple is grown which is fascinating!
Most people nowadays don't even know what an apple tree or a tomato vine looks like, so this kind of cultural tour in Costa Rica is extremely enlightening. Everything is hands on and visitors will learn how difficult it actually is to grow food!
This La Fortuna cooking class really gives you the true "farm to table" experience. You will leave feeling more connected to your food, have a greater understanding and a stronger appreciation for the hard working farmers.
After we picked our ingredients, we headed back to the kitchen to prepare lunch.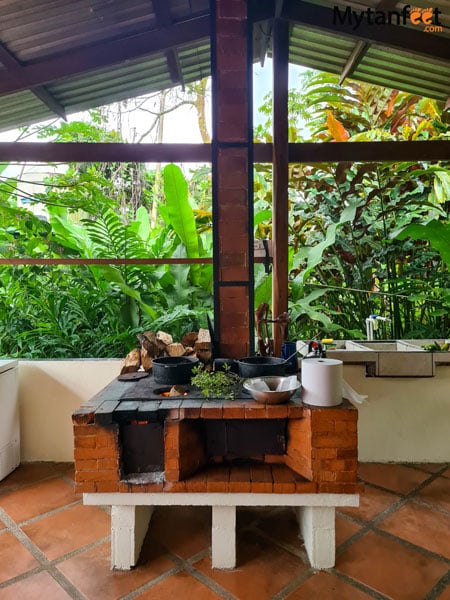 Costa Rica Cooking Class Lunch Menu: Achiote Chicken, Yuca Chips, Picadillo, Tortillas
The menu for our La Fortuna cooking class was chicken achiote, yuca chips, tortillas and picadillos. We made the chips from the yuca we picked and seasoned it with the oregano we gathered. They also showed us how to make tortillas, a classic food in Costa Rica.
They also have menus for vegetarians and vegans and they change the menu according to the ingredients of the season. I really liked that they printed out the menu to let guests take home. I thought that was a nice touch and souvenir.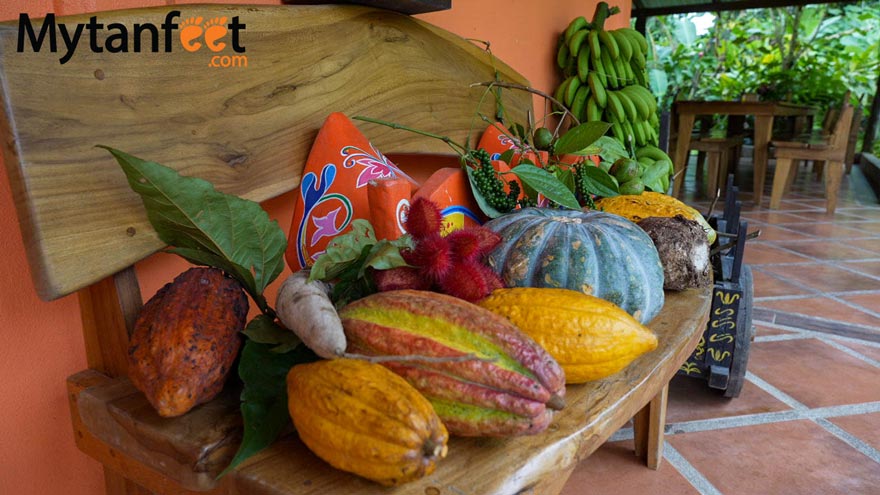 They taught us how to peel yuca and make yuca chips which was delicious. Then we prepared and made the chicken achiote style. Achiote has a very mild flavor and is mostly used as coloring in Costa Rica as it has a red tint. We slow cooked that in a pot with other vegetables.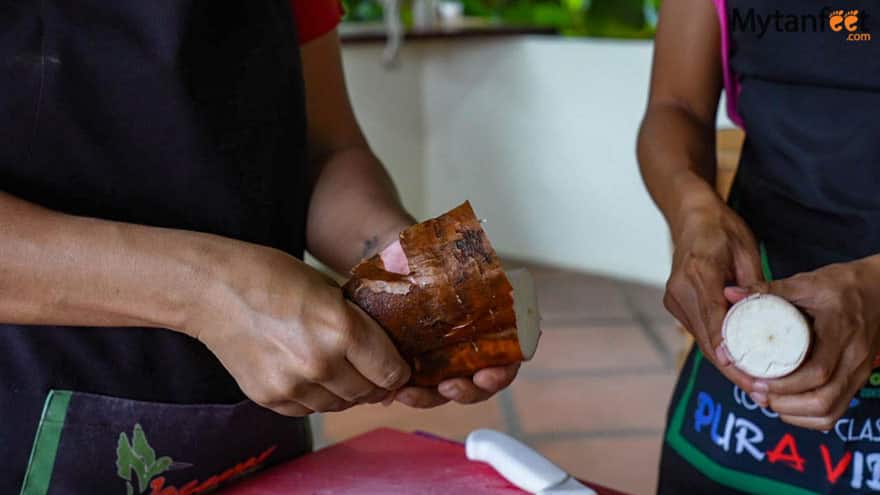 Then she taught us how to make tortillas with pre-made corn flour. Although tortillas look easy to make, for some reason, I can never get it perfectly round despite having made them many times. But they still taste good and that is what matters right?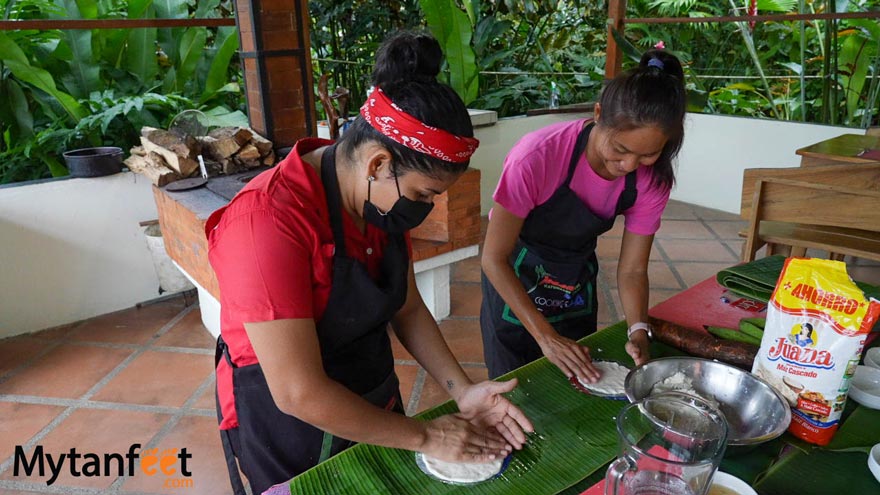 After we finished preparing the meal, we then got to eat it which was just as fun as cooking. They prepared some fruit juice for us and although it wasn't a gourmet meal or anything, it felt so rewarding to eat fresh food that we picked ourselves right from the farm!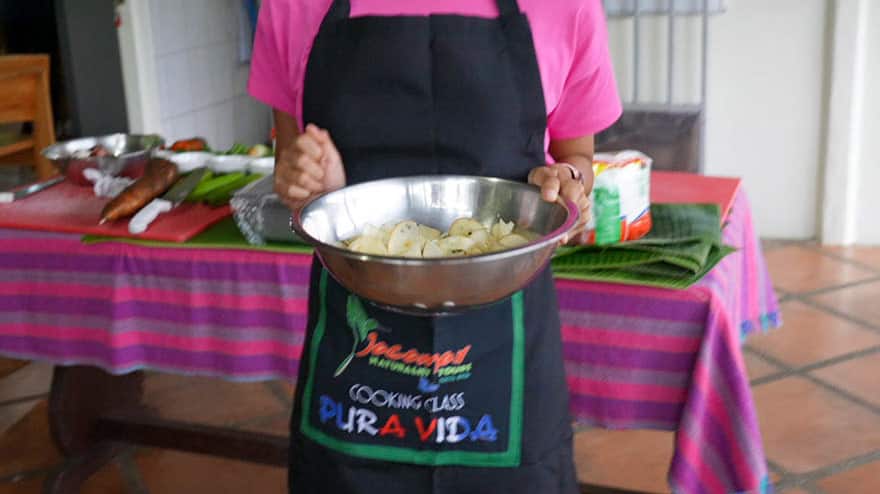 La Fortuna Cooking Class Video
To see the whole cooking class and farm tour experience, check out our video below. It's a lot more fun to watch what this tour is like than to read about it.
In case you're looking for more fun things to do in La Fortuna, check out the following posts
Remember, if you're interested in booking any of the tours, click here to go to our booking page to get it with our discount.