If you're looking to experience a non-touristic destination in Costa Rica that offers plenty of wildlife, nature and unique experiences, head to the South to a town named San Vito in the Coto Brus canton.
This area is widely unknown to tourists and has some very special gems that makes it a great destination in Costa Rica to experience rural tourism and off the beaten path places.
Here is our guide to San Vito to help you plan your visit.
Location
San Vito is in the Coto Brus canton in the Puntarenas province of Costa Rica. San Vito is 269 kilometers (167 miles) and about a 5 hour drive from San Jose. It is locally known to be located in the South of Costa Rica. It is only about 10 kilometers (6.2 miles) from the Panamanian border.
How to Get There
Driving: You can use Google Maps or Waze as your GPS to get to San Vito. It is about a 5 hour drive from San Jose with no traffic or stops. This route goes on the main highway and the fastest is Via Route 2 and Route 237.
It is a long drive so we recommend to break it up or make it a whole travel day. You can stay a night in San Isidro del General or stop for lunch there if driving in one day. This route has gorgeous views so we definitely recommend taking it slow either way so you can enjoy the views.
The best way to get to San Vito is to drive. Get our Costa Rica car rental discount and extra freebies to save $$!
Public bus: There is a public bus from San Jose to San Vito everyday at 6 AM, 815 AM, 12 PM and 4 PM with Empresa Tracopa (company) leaving Calle 5, Ave 18-20. This bus takes 7.5 hours. There is also a public bus from San Isidro del General at 530 AM and 2 PM everyday leaving from Calle 3, Ave 0-2 with Empresa Tracopa. This bus takes 5 hours.
There are no shared tourism shuttles. Only private shuttles are available. San Vito does have its own domestic airport but it's not really in use. There are flights to Golfito with Sansa Air and it's a 1.5 hour drive from Golfito to San Vito.
The Town
The history of San Vito's founding is very interesting. Back in the 1950's, a group of Italians came to that area looking for a new place to live. They discovered the agricultural potential of what was known back then as Coto Brus and decided to create a new colony there. Lumbar and farming would be the backbone of the colony's economy.
After settling, they brought more Italians over to San Vito and many of them went on to marry Costa Ricans or Panamians. From then on, the town grew and flourished to what it is today.
As of 2020, there is one living Italian from the original founding group and he still lives in San Vito. We had the honor of meeting him and hearing his story which was fascinating!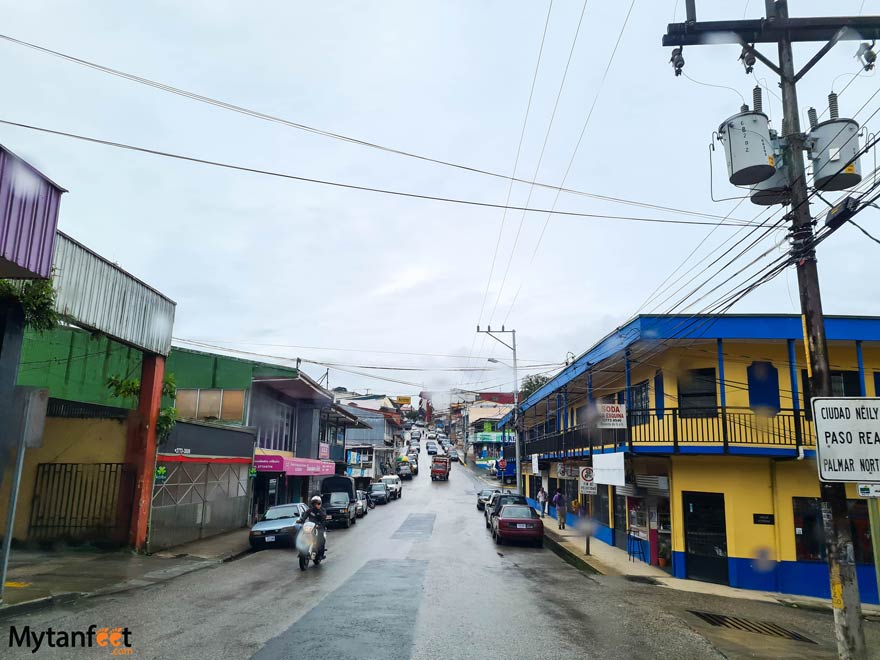 Today, San Vito is a very normal Costa Rican town with a heavy Italian influence. Tourism is not its main source of income so it's not overrun with tourists, making it an excellent place in Costa Rica for visitors to experience a normal Costa Rican town.
As San Vito sits around 1000 meters in elevation (3280 feet) inside the Coto Brus valley surrounded by lush rainforest, mountains and rivers, it has plenty to offer the off the beaten path traveler in terms of nature and wildlife, especially birdwatching.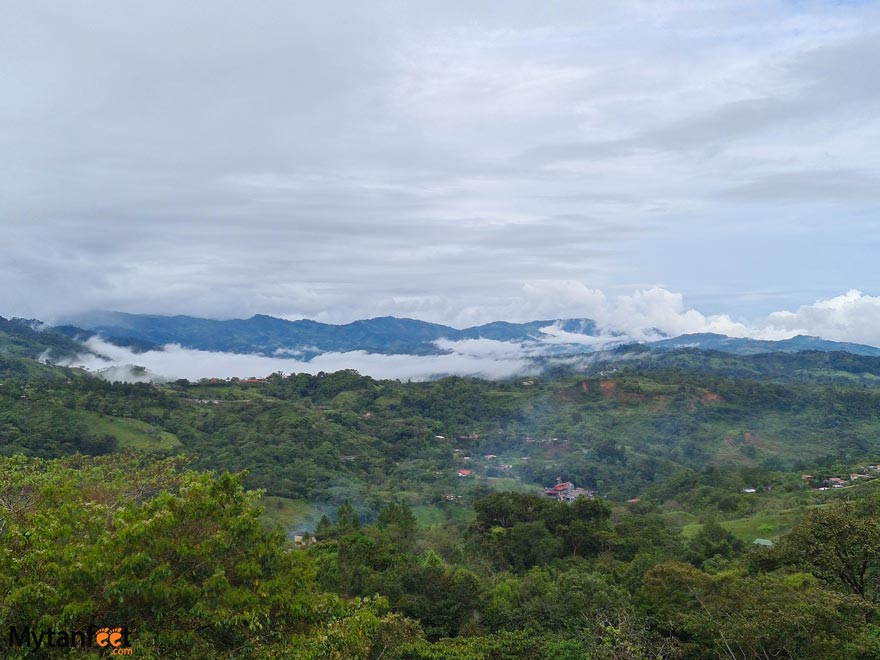 The outlying mountains close to La Amistad International Park reach up to over 1500 meters in elevation, making it one of the best places in Costa Rica to see Resplendant Quetzals and the cloud forest.
San Vito, Costa Rica Weather
San Vito experiences the typical tropical season: rainy and dry but sitting higher in elevation, it does tend to be a bit wetter. Tropical dry season is typically December – April, rainy is May – November.
Temperatures fluctuates throughout the year between 18 C – 27 C (64 F to 80 F) with an average of 23 C (73 F). This area tends to rain a bit more with an average of rain 175 days a year.
The sunniest and driest months are mid December – end of March. The rainiest months are September through November.
San Vito was hit very hard by the November 2020 hurricanes which destroyed some roads so the best time to visit San Vito is December – March.
Things to do in San Vito, Costa Rica
Nature lovers and outdoor enthusiasts will love San Vito. Here are the best things to do in San Vito! For tours and guides, the best way to arrange them is to ask your hotel to help you. If you rented a car, can you drive yourself to some of the places.
Waterfalls
In the Coto Brus canton, there are some of the most spectacular and undiscovered waterfalls in Costa Rica. You will have to arrange it with a local company/guide if you don't speak Spanish as they're mostly on private family farms but it's worth it.
The best ones are with Centro Turistico Los Chocuacos, a family owned property and they can take you to stunning waterfalls like Metaponto. You can contact them via Instagram (@chocuacoslifestyle).
Birdwatching
Although Monteverde is widely known as the best place to see Resplendant Quetzals, the best viewing time are February and March. In San Vito, you can see Resplendant Quetzals nearly all year round! In addition to the Quetzal, there are many other prized birds to see like hummingbirds, toucans and more.
When it comes to birdwatching in Costa Rica, San Vito is one of the best places to go for fewer crowds and more Quetzals. Another excellent birding destination is San Gerardo de Dota, San Ramon and Monteverde.
Wilson Botanical Garden and Las Cruces Biological Station
This is a must see in San Vito. The botanical garden and Las Cruces biological station offers a wonderful opportunity to see all sorts of beautiful flora and fauna with over 2000 native Costa Rican flower, tree and plant species and many animals. It is recommended to take a guided walk of the garden and reserve so you can learn more about the nature from a local guide.
The garden is only 6 kilometers (4 miles) from downtown San Vito on a paved road. You can also stay overnight at the Las Cruces reserve.
Coffee Tour
Although San Vito doesn't have as many big coffee plantations as the Central Valley, they produce very good coffee via small family farms. It's very common for local families to own a couple hectares of land dedicated to coffee farming. Many indigenous communities also rely on coffee picking as income.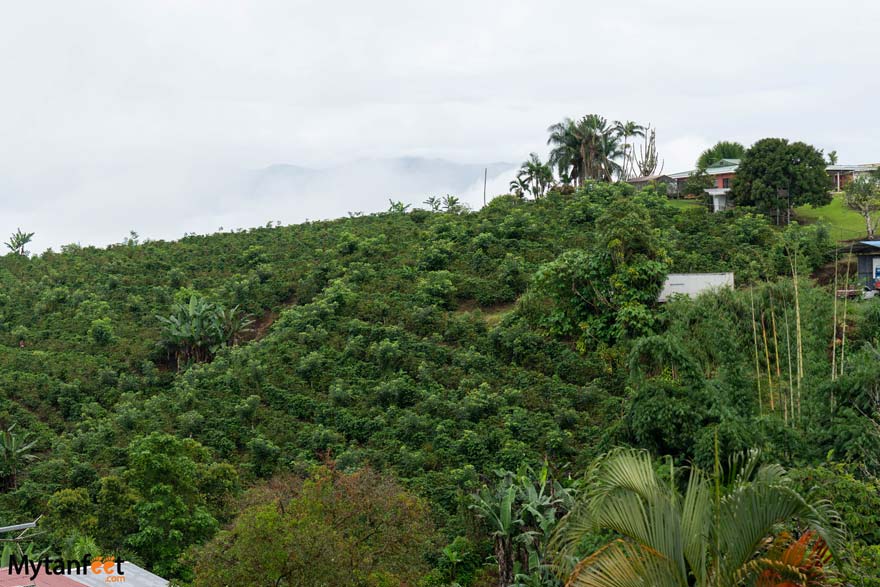 You can take a coffee tour to a small local family's farm to see the entire small scale coffee production.
Corredores Caving
Right outside Ciudad Neily, an hour from San Vito are the Corredores Caves. It requires an hour hike along a riverbed to the caves and then you'll go down into the caves with a guide who'll take you around and share information.
Must be in good physical condition and not be claustrophobic!
Las Tablas 4×4
Las Tablas is an area very special to San Vito locals. It's not very far outside town but up in the surrounding mountains and rainforest. San Vito has some excellent 4×4 overlanding routes and Las Tablas is one of them.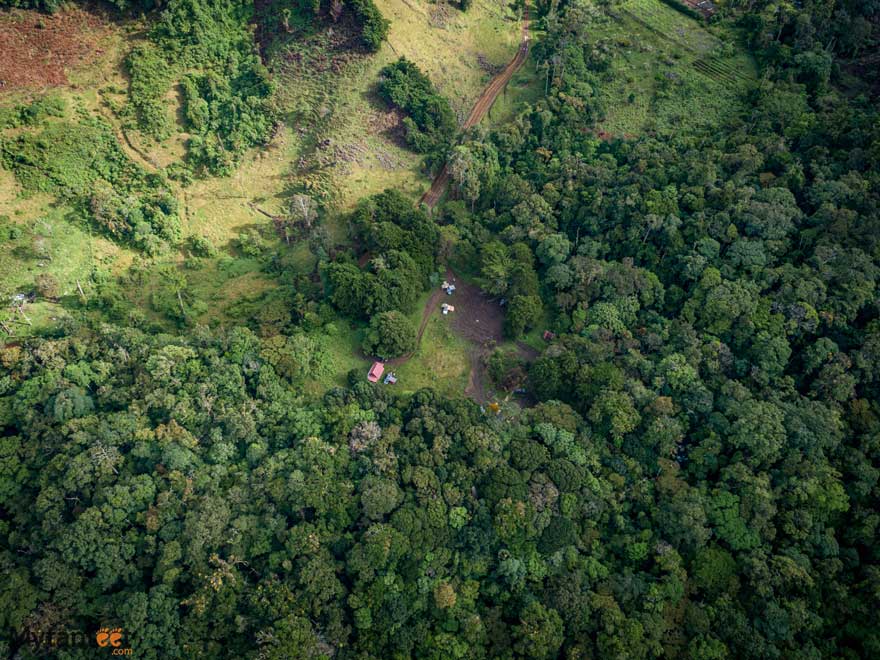 This tour takes you on an extreme 4×4 drive up to Las Tablas to a local family farm. You also have the opportunity to see wildlife along the way.
San Vito Day Trips
From San Vito, there are several day trips you can do.
You can go humpback whale watching in Uvita (2 hour drive one way), visit Golfito (1.5 hour drive one way) or go on a boat ride down the Terraba River to see the mangroves (1 hour drive). You can also go fishing from Sierpe (1 hour & 45 minute drive one way).
Another must do from San Vito is a visit to La Amistad International Park, a park shared by Costa Rica and Panama. You can hike the trails in the park through the rainforest and then enjoy a local hot spring afterwards. If you have a car, drive to the Sector Pittier of the park and hike on your own.
San Vito Hotels
There aren't a ton of hotels in San Vito but what they do have are comfortable and cozy.
Hotel El Ceibo: This hotel is right in downtown with a large parking lot and standard rooms. Very convenient as it's walking distance to restaurants and everything.
Cascata Del Bosco: They are a little bit outside San Vito very close to the Las Cruces Biological station with a beautiful rainforest view and cabinas. Charming hotel, quiet, lots of nature.
Las Cruces Biological Station: You can stay in their rooms at the station
San Vito Restaurants
As San Vito has a very heavy Italian influence, this town has some of the best pizza in Costa Rica. Liliana is a local favorite and La Casa Italiana and Le Crepes also have very good food.
We really like Panaderia Flor for pastries, cakes and coffee.
Something interesting about San Vito food is that they don't really eat tortillas which is a very traditional Costa Rican food. Due to the Italian influence, they eat more bread and you'll find more delicious bread than tortillas.
Plan Your Trip to San Vito, Costa Rica
Here are some tips on how to visit San Vito (these options are by 4×4 car).
San Jose – San Isidro del General – San Vito – Uvita – Manuel Antonio/Jaco – San Jose. You can also do it the other way around.
San Jose – San Isidro del General – San Vito – Pavones – Ojochal/Uvita/Dominical – San Jose.
We recommend to stay at least 2 – 4 nights in San Vito since it does take awhile to get there.
Read Our Other Costa Rican City Guides!
Cartago: One of the cities in the GAM (Greater Metropolitan Area) along with San Jose, Alajuela and Heredia. Lots of culture in this city.
Turrialba: A smaller agricultural city on the Caribbean side, home to Turrialba Volcano and popular for outdoor adventure like white water rafting and mountain biking.
Liberia: The capital city of Guanacaste on the North Pacific coast. Home to Liberia International Airport and close to famous beaches like Conchal, Tamarindo and Grande.
Costa Rica Vacation Checklist
Join our mailing list and get our free Costa Rica eBook!
There are affiliate links in this post.