Cacao has always played an extremely important part in the Costa Rican indigenous communities' culture. The beans were used as currency and festivals were held every year to celebrate cacao. It was and still is known as the "drink of Gods" to the indigenous groups.
We did a chocolate tour in La Fortuna and really enjoyed this fun and educational experience. When it comes to things to do in La Fortuna, this is one of the best for kids and adults alike.
Want to book a chocolate tour in La Fortuna? Click here to get our La Fortuna tours discount!
La Fortuna Chocolate Tour
The tour starts off with a little history lesson. Learn the origina of cacao trees and how the indigenous people used cacao back in pre-Colombian Mesoamerican times. Cacao trees grow in tropical climates and need lots of sunlight and moisture which is why they grow so well in tropical climates. Chocolate itself is made from the cacao beans which are found inside the pods that grow on the trees.
After a little history, you'll move onto the farm where you will see cacao trees and their fruits. If you don't know anything about chocolate or cacao trees, you will be surprised as to what they look like!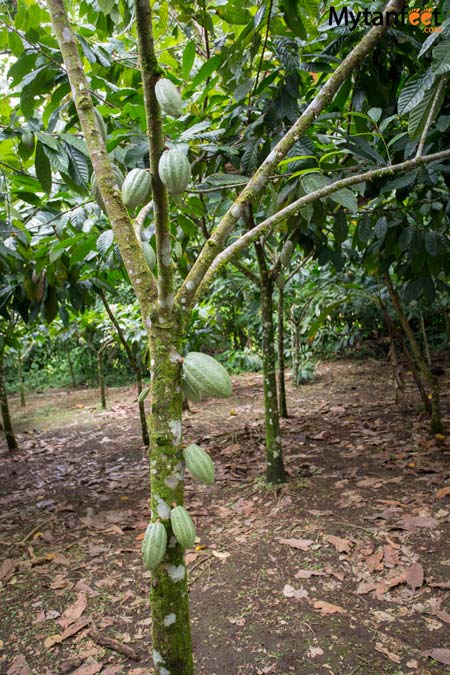 Our guide showed us what ripe cacao pods look like, how they grow the trees and how to tell when they're ready. Then she gave us a ripe cacao pod so we could see the beans and the flesh.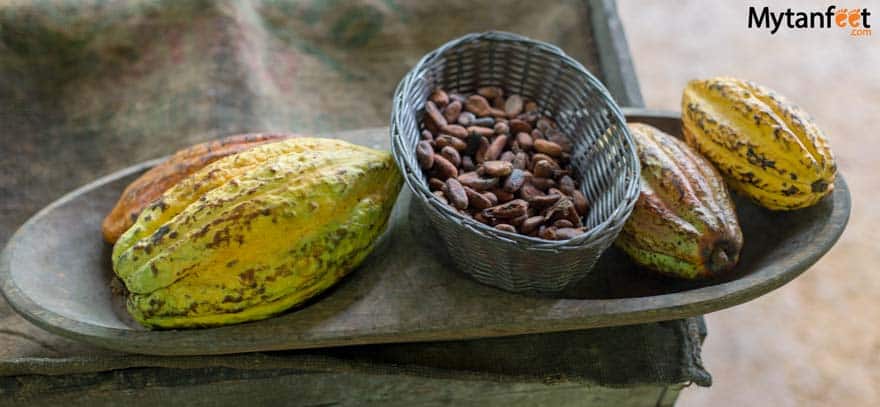 Making Chocolate on the La Fortuna Chocolate Tour
Then came the fun part where we got to try our hand at making chocolate from the cacao beans. The cacao beans were first toasted over a fire. Then we crushed them in a giant mortar and pestle.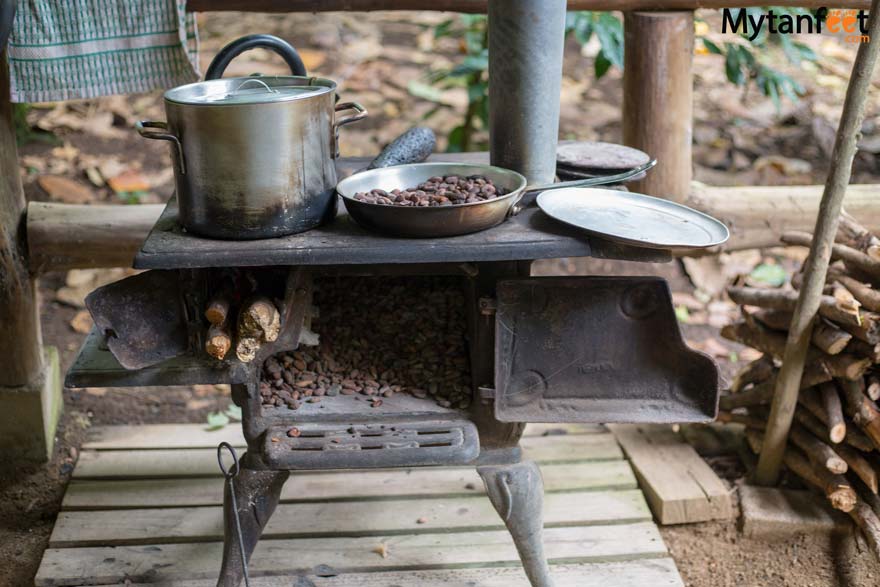 After crushing the beans, they went through something that looked like a pasta maker and out came a thick, chocolatey paste. What's surprising is that it's not sweet! You have to add sugar to make it the sweet chocolate we know, otherwise it's quite bitter. And this is why dark chocolate is not as sweet as milk or white chocolate. White chocolate apparently isn't "really" chocolate since it has so much sugar and other flavors added to it.
The dark chocolate percentage is is how much of the original cacao is kept. The higher the number, the more bitter it is. That is also why they say dark chocolate is better for you since it doesn't contain as much sugar and it retains more of the original antioxidants cacao has.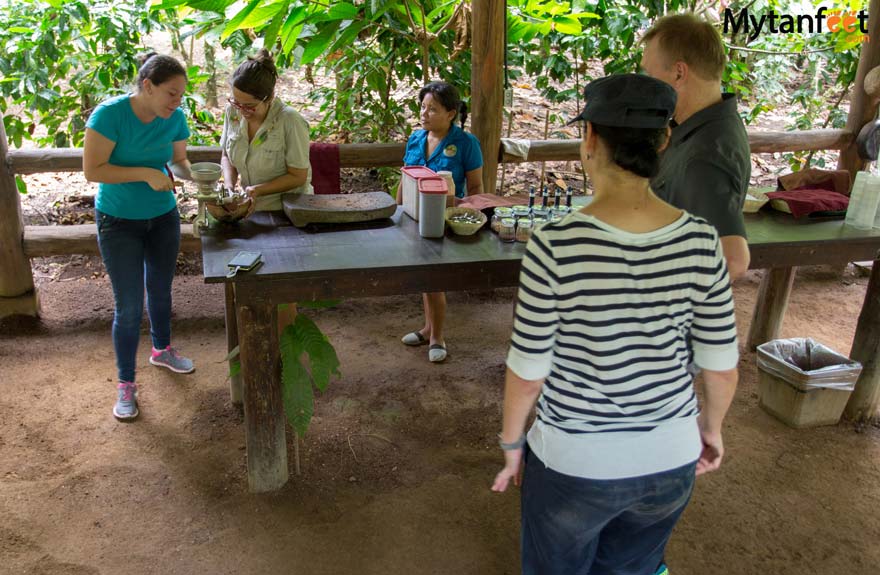 From that paste, the chocolate makers turn it into what we know as chocolate. The beans can also be made into lotions and creams.
Now came the best part of the tour. We got to sample the chocolate and try different flavor combinations. Our guide had different seasonings and toppings and we were allowed to have as many as we wanted which was amazing. We had a blast trying chocolate with honey, powdered sugar, peanuts, cayenne pepper and other flavors. I think I tried at least 10 different samples of chocolate!
Book Your La Fortuna Chocolate Tour!
We work with a tour operator in La Fortuna that runs chocolate tours and you can also combine it with coffee and/or sugar cane. We also have a small discount for this tour which you can get here: La Fortuna tours discount. The discount also applies to other tours like canyoning, ziplining, hiking, etc.
I highly recommend this for families or anyone looking for a food/culture tour. Our guide was super funny, energetic and very informative which made the tour really fun. Everyone in our group loved it!
Read about other fun tours to do in Costa Rica below!
White water rafting Costa Rica – Rio Pacuare