With its great surfing waves, laid back lifestyle and beautiful landscapes, Dominical, Costa Rica is one of the top surfing beaches in Costa Rica, attracting people from all over the world looking for a laid back beach town to catch waves.
This is our guide to help you plan your trip to Dominical.
This post has been updated March 2021.
Dominical, Costa Rica Visitor's Guide
Location
Map of Dominical, Costa Rica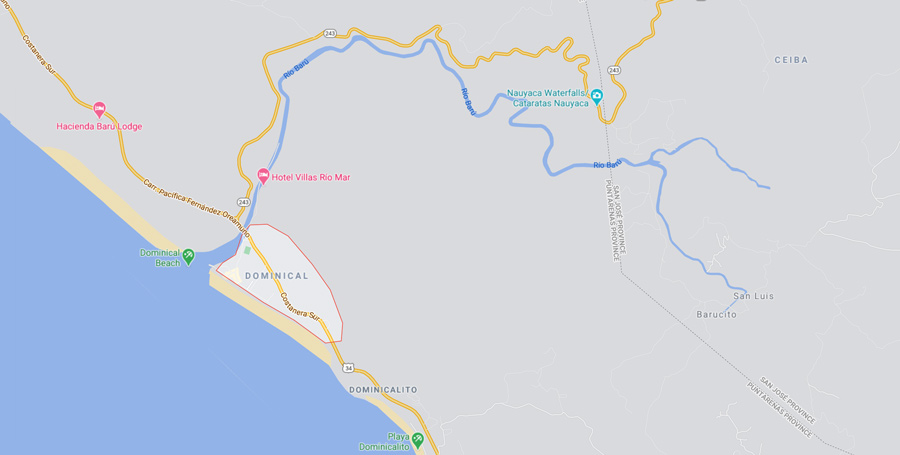 Dominical is located in the South Pacific in Puntarenas. Dominical is 209 kilometers (130 miles) from San Jose, about a 4 hour drive.
How to get to Dominical, Costa Rica
Driving
From San Jose: There are 2 ways: by Cerro de la Muerte through the Talamanca Mountains via San Isidro de General or on the Route 27 and then Costanera Sur highway past Jaco and Quepos.
The easier to drive route and most common route from San Jose to Dominical is via Route 34 and going down the Costanera Sur highway. It's very straightforward, unlike the Route 2 which is super curvy and windy.
You can use Google Maps and Waze as your GPS to get to Dominical.
Bus
There are buses from San Jose every day at 6 AM and 3 PM from Calle 5, AV 18-20 with Tracopa. This takes 7 hours. There is also a bus from Quepos every day at 6, 9, 2:30 PM and 5:30 PM. Another bus from San Isidro de General leaves at 9 AM and 4 PM. These buses continue onto Uvita.
Shuttle
Only a few companies offer shared shuttles like EasyrideCR. This is around $59 USD per person for a shared from San Jose. A private from San Jose is around $240 USD for 1-8 people.
Getting around Dominical
Even though the town itself is small, we do recommend renting a car if you want to see more of the area. There are buses that go up and down the Costanera Sur highway but not directly to attractions. Additionally, everything is quite spread out.
This area is very common to see tourists hitchhiking for this reason.
Many restaurants and higher end hotels are up in the mountains outside of Dominical and require a 4×4. There are also many hidden gems that require a car and a 4×4.
Just in case, we have a special Costa Rica car rental discount you can get to save $$ and our extra freebies.
Dominical Town
Dominical is a tiny town with unpaved roads and a lack of a commercial feeling – there aren't any big chain resorts or hotels. You will see many tourists, backpackers and surfers walking or riding their bikes around.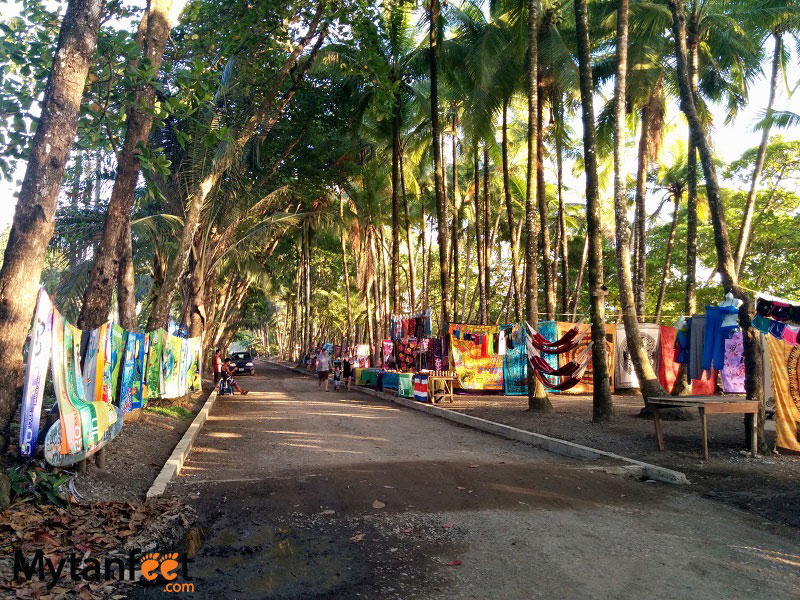 There are two main roads in Dominical, the one through town and one running parallel to the beach. You can find restaurants, souvenir stores, hostels, small cabinas and bars.
See what Dominical looks like in our driving video below!
Dominical Beach
Playa Dominical is known for consistent waves, great for experienced surfers. It's a long beach stretching 4 km (2.5 miles) with dark rocky sand, a rocky shore and deep blue water. Though it isn't exactly the "prettiest" beach in Costa Rica, sunsets here are spectacular.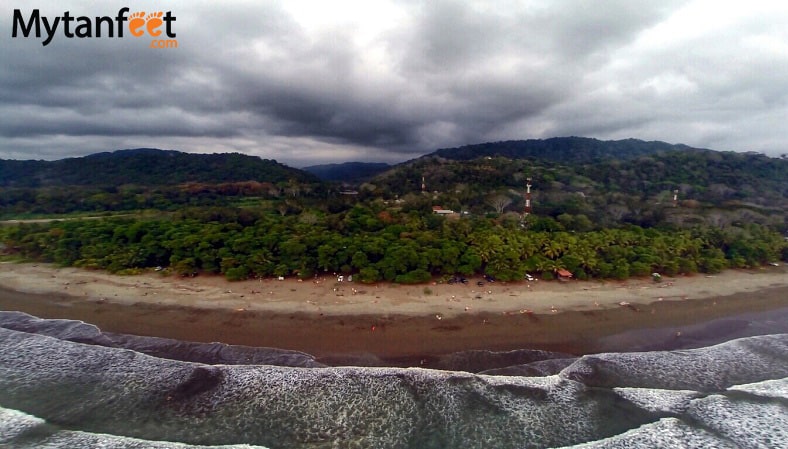 One thing I liked about Dominical and the area is how green it is. Since it is much more humid in this area, the forests stay nice and green all year long.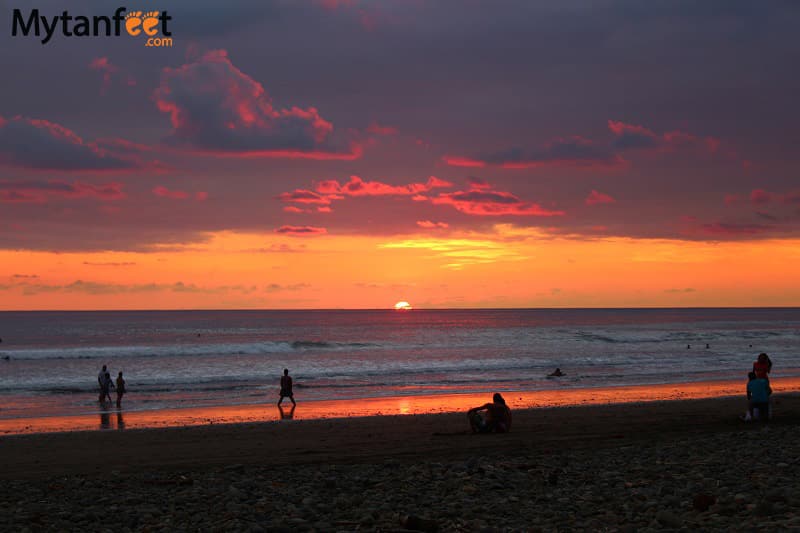 Dominical tends to have a more hippie atmosphere than other beach towns in Costa Rica and you can notice it right away when you visit. The entire parking area is lined with hammocks, makeshift tents, and camper vans with people who seem to have been there for awhile (and don't plan on leaving). It has a super chill vibe, everyone is just relaxed and having a great time.
Dominical Weather
In the Central and South Pacific coast of Costa Rica, the weather is much more humid. Domincal's weather follows the typical tropical season with dry and rainy seasons but this area tends to rain more than the Northern Pacific Coast.
It can rain in February and April, even though those are the normal summer months in Costa Rica. We were in Dominical for a week in February and it poured and stormed almost every day!
So when you visit, make sure to bring lots of mosquito repellent, sunscreen and dry fast clothes. You will be sweaty and humid areas always have more mosquitoes. You can read our complete packing list for Costa Rica here.
Things to Do in Dominical, Costa Rica
The best thing to do at Dominical is surfing but besides that, there isn't too much to do at the beach itself. The waves are strong and the sand is rocky so they're not suitable for swimming or snorkeling.
Here are some ideas for things to do in Dominical.
Surf
If you want to learn how to surf, check out Dominical Surf School or Dominical WaveRider. Playa Dominical normally has bigger waves more suitable for intermediate to expert level surfers, so they'll take you to nearby beaches suitable for beginners and lessons.
Nauyaca waterfalls
Besides surfing, Dominical is also famous for these waterfalls, two stunning waterfalls deep in the mountains outside the town. You can hike 4 kilometers to the waterfalls, go on a horseback riding tour or take the truck. It's a must-do when in Dominical.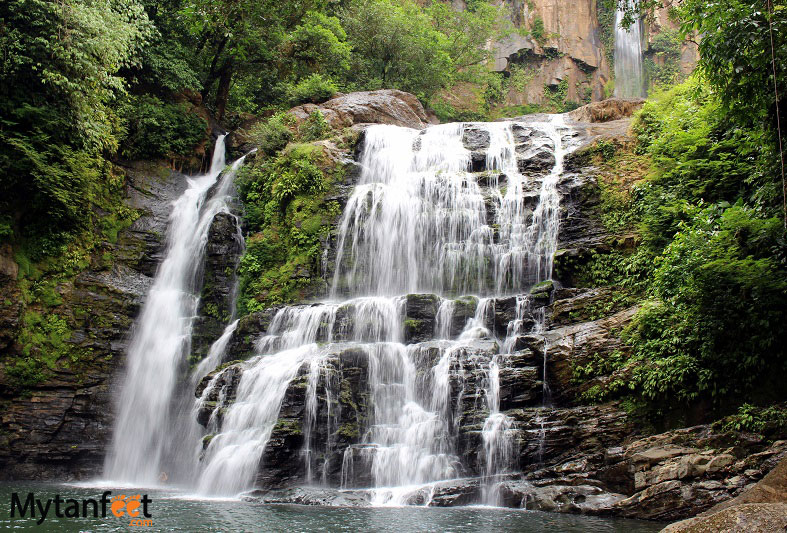 You can read our detailed guide to visiting Nauyaca waterfalls here.
There are also some other waterfalls in the area such as Diamante Waterfall that actually has a cave! Some tour companies started operating overnight trips to sleep behind the waterfall cave which is a very unique experience in Costa Rica.
Yoga
There are a couple yoga studios in town such as Danyasa Yoga Retreat.
Uvita and Marino Ballena National Park
Take a day trip to Uvita and visit Marino Ballena National Park. You can go whale watching, snorkeling, swimming and SUP in the national park or you can walk to the Whale's Tail.
SUP Baru River
The Baru River runs right by Dominical town into the beach. The calm waters are perfect for stand up paddle boarding and you may see monkeys, otters, sloths and birds on the way!
Envision Festival
If you're visiting the last two weeks of February, you can go to the Envision Festival which takes place in Uvita, just a 15-20 minute drive south. Make sure to book your tickets at least 6 months beforehand though. The festival is super popular and thousands of people attend every year. The festival celebrates music, dancing, yoga and surfing.
Explore beaches
The South Pacific coastline doesn't have white sand beaches, but there are some real gems.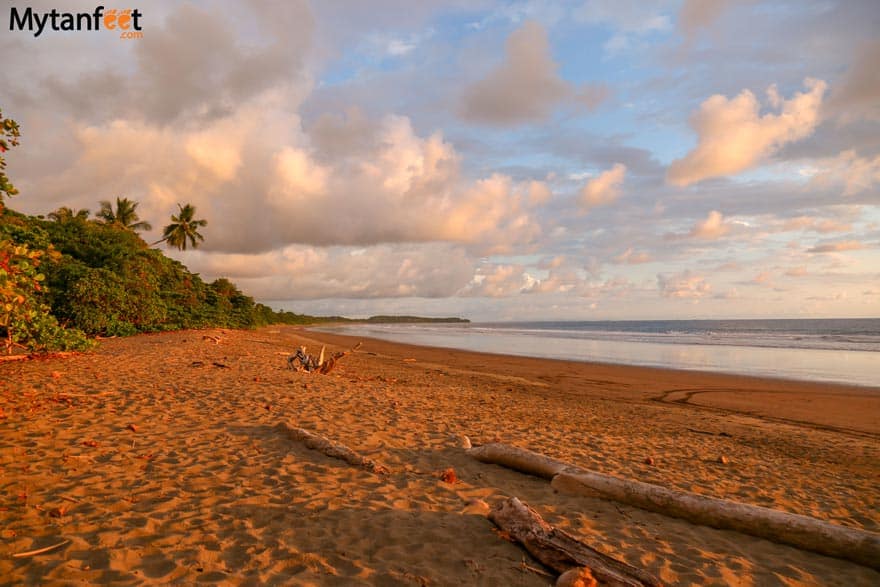 Playa Linda is a beautiful tan sand beach that has great surfing waves. Dominicalito beach is another beautiful beach and doesn't have as many people. Then down by Uvita, you can visit Playa Arcos, Playa Hermosa, Tortuga and Ventanas.
Hacienda Baru
If you're looking for some adventure, head to Hacienda Baru. They have hiking trails, a zipline, a tree climb and trails.
For more ideas, you can check our post "10 things to do in Dominical and Uvita."
Dominical Hotels
You won't find a five star all inclusive resort in Dominical but you will find hostels, lodges and hotels. Camping on Dominical is also very popular, you can bring your own tent and find a spot on the beach.
We stayed at Villas Rio Mar which was a 5 minute walk to town. It's a full service hotel with a pool, restaurant and cabinas. For hostels, Piramys life Hostel and Cool Vibes are two good ones. Hacienda Baru also has small rustic cabinas nearby.
As for vacation rentals, Dominical has a ton of them, particularly luxury houses and mansions. You can find many of them on Airbnb and VRBO. We have known some people who booked these luxury, ocean view mansions up in the mountains and then booked private helicopter charters for transportation!
So Dominical has literally everything from cheap hostels for backpackers to expensive lodging for luxury travelers.
Dominical Restaurants
Surprisingly, Dominical has a decent selection of restaurants for its size and we were pleased to find a mix of sodas and international restaurants. We ate at one soda across from one of the grocery stores in town (can't remember the name) that had pretty good local food for reasonable prices.
Some other places we liked were Patrons (the best chicken and grilled tomatoes), Tortilla Flats and Roca Verde. Other good ones are Cafe Mono Congo and El Pescado Loco. You can find restaurants right next to the beach that has live music and happy hour. If you have a 4×4 car, head to Jolly Rogers for some of the best chicken wings and burgers in Costa Rica.
What to Know about Dominical
Dominical has a completely different vibe than the other beach towns in Costa Rica. There are still a lot of expats and immigrants in Dominical and many of them are young or middle aged adults who are into the free spirit and organic lifestyle. In other words, we saw a lot of hippies and Dominical certainly attracts hippies galore.
For some reason, the South Pacific has become a kind of haven for people into this type of lifestyle and I can see why. It's not as touristic as Guanacaste and they love the mellow and stress free beach life the area provides. The surf is awesome with chill vibes all around. If you're into this lifestyle, Playa Dominical would be a great place for you to visit.
Additionally, the vibe of Dominical and Santa Teresa are very similar as they're both surfing beach towns in a somewhat undeveloped area of Costa Rica. So if you like Santa Teresa, you will definitely like Dominical.
Where to Get a COVID Test in Dominical, Costa Rica
Now that 72 hour COVID tests are required for many countries like the US and Canada, you will need to make sure to schedule your COVID test before your departure flight.
You can first ask your hotel or host if they can help arrange a home visit to get your test. If not, the best place to get a COVID test in Dominical is the Consultario Medico Vargas in Uvita with Dra. Mariam Vargas. Must make appointment via Whatsapp + 506 8750 9118. Costs $180 USD for PCR and $110 USD for antigen (cash only). Results in 48 hours.
Another option is to go to San Jose the day or two before your flight and get your test done in San Jose. There are many testing locations in San Jose. Check Hospital Metropolitano, Lab Echandi, CIMA Hospital, LABIN, Laboratorios Paez and Laboratorios San Jose.
Want to read about other beach towns in Costa Rica? Here you go!
This post has affiliate links.