Costa Rica is expensive. There's no hiding that fact and it's something most people are surprised about as they assume since it's in Central America, that automatically equals cheap. Unfortunately that's not the case and it's one of the things you must know about Costa Rica before visiting.
However, that doesn't mean you won't be able to enjoy Costa Rica on a budget. There are a handful of fun and cheap things to do in Costa Rica!
10 Cheap Things to Do in Costa Rica
Visit national parks
With over 20 national parks in the country, visiting any one of them is a must for the outdoor lover and it's one of the best cheap things to do in Costa Rica. Entrance fees vary for each national park but they are relatively inexpensive.
Cahuita National Park is actually free, Marino Ballena National Park is $6, Tenorio Volcano National Park where Rio Celeste is costs $12 and Barra Honda National Park is $10.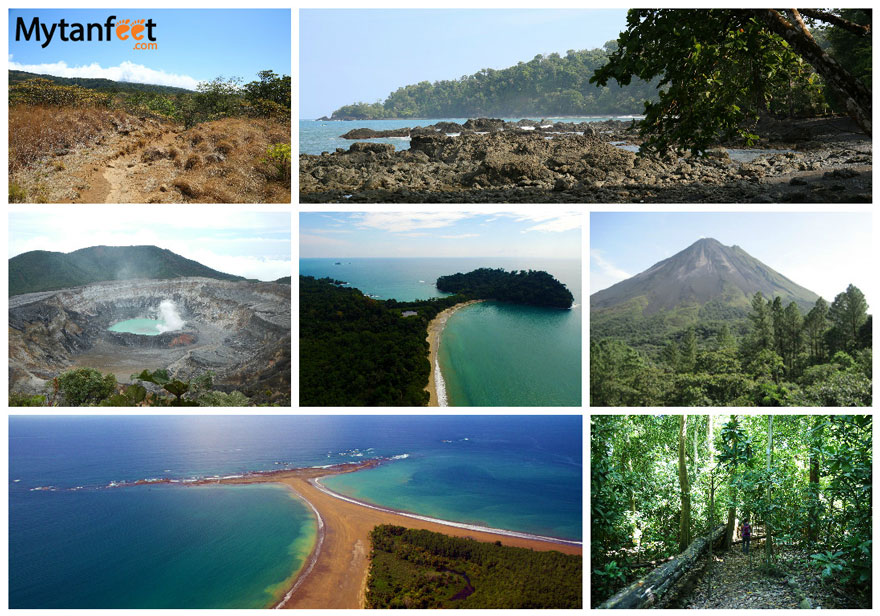 Some of the more popular national parks are more expensive. Manuel Antonio National Park is $16, Arenal Volcano National Park is $15 and Irazu Volcano National Park is $16, but it's still relatively cheaper than many tours in Costa Rica.
Take a self guided hike
What makes a day trip to the national park even more expensive is hiring a guide. The advantage of hiring a guide is that they are trained to see wildlife and can teach you about the flora and fauna of the area, but it'll cost you.
A guided 2-3 hour tour of Carara National Park runs around $35 per person not including the entrance fee or transportation, a 3 hour guided tour of Manuel Antonio with transportation can run up to $60 per person.
However, I do recommend spending the extra bucks if you are absolutely keen on seeing wildlife or you're an avid birdwatcher as the guides have long telescopes and know the area very well. Guides can also take photos through their telescope with your phone!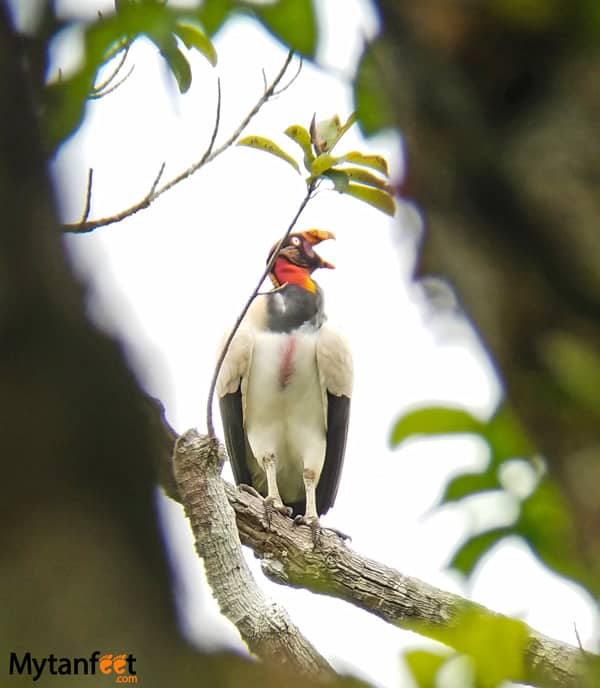 But if you're not adamant about seeing or getting pictures of wildlife, you don't need to hire a guide. In some places like Manuel Antonio National Park, wildlife is so abundant you don't even need one. We've seen sloths, toucans, frogs, monkeys, lizards, coatis, raccoons and all sorts of wildlife without one.
You can also do self guided hikes at private reserves such as Hacienda Baru in Dominical. The trail entrance fee is $8 per person and they have great hiking trails to the beach and through the forest.
Visit local waterfalls
Many waterfalls in Costa Rica are on private property so owners charge a small amount and they make for a great cheap day activity. Llanos de Cortes in Guanacaste is by donation and costs $2 per car for parking. Uvita waterfall is $2, Nauyaca waterfalls in Dominical is $8 for the hike, Catarata del Toro in Central Valley is $10, Cascada El Pavon in Ojochal is free and Los Chorros waterfalls in Grecia is $2 for parking and $6 entrance fee.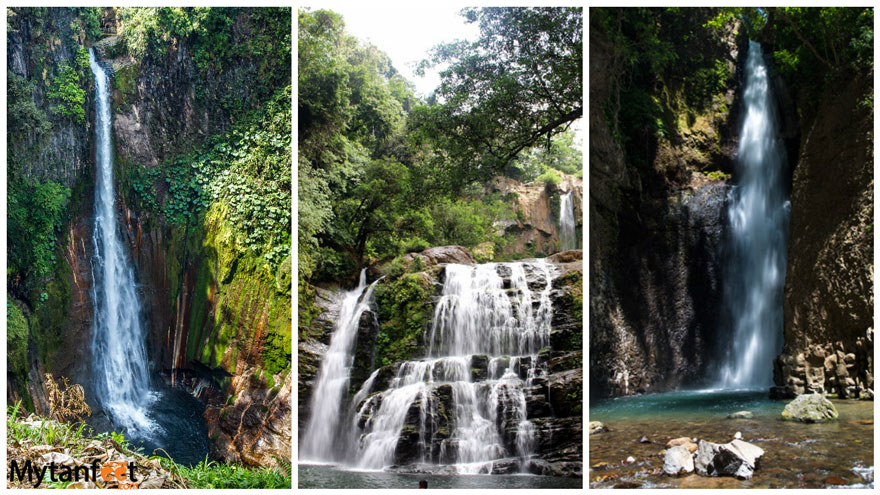 Another tip is to check out the hotel you're staying at since some of them have an on-site waterfall such as Arenal Observatory Lodge, Oxygen Jungle Villas in Uvita and Villas Escondidas in Grecia. You can read this post for more about the best waterfalls in Costa Rica.
Visit museums
Cultural and history buffs will want to visit the many museums in San Jose. They are a great way to spend the day in the city and cheap!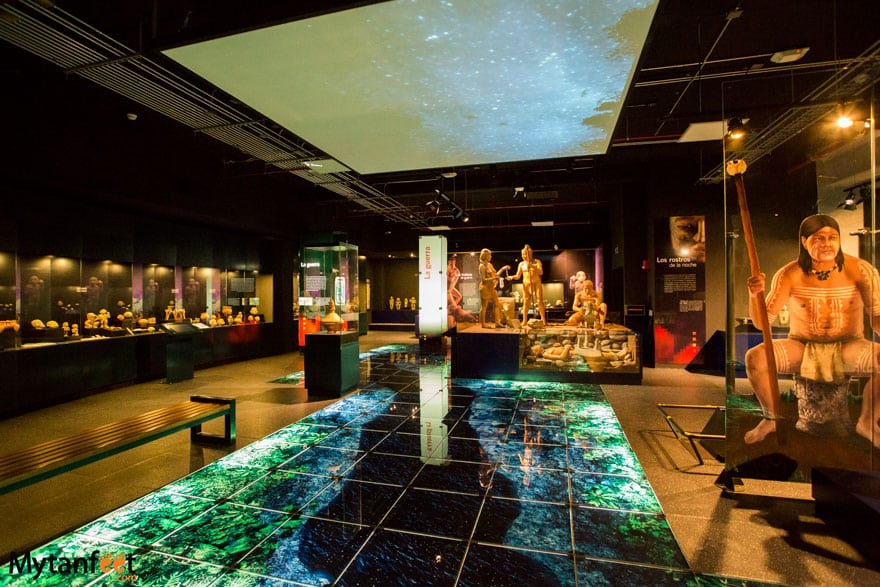 The Jade Musuem is $15, Gold Museum is $11 and the National Museum is $9. The Jade Museum is incredible, it opened in 2014 and is in our opinion, the best museum in Costa Rica.
If you're in the Palmar/Sierpe area down by the Osa Peninsula, visit Finca 6 to see the mysterious stone spheres. Entrance fee is $6 to the UNESCO World Heritage Site.
Rent a surfboard/boogie board/snorkel/kayak
You can only spend so many hours laying on the beach dozing or reading a book. Add some excitement to your beach days by renting kayaks, snorkel gear, boogie boards or surf boards.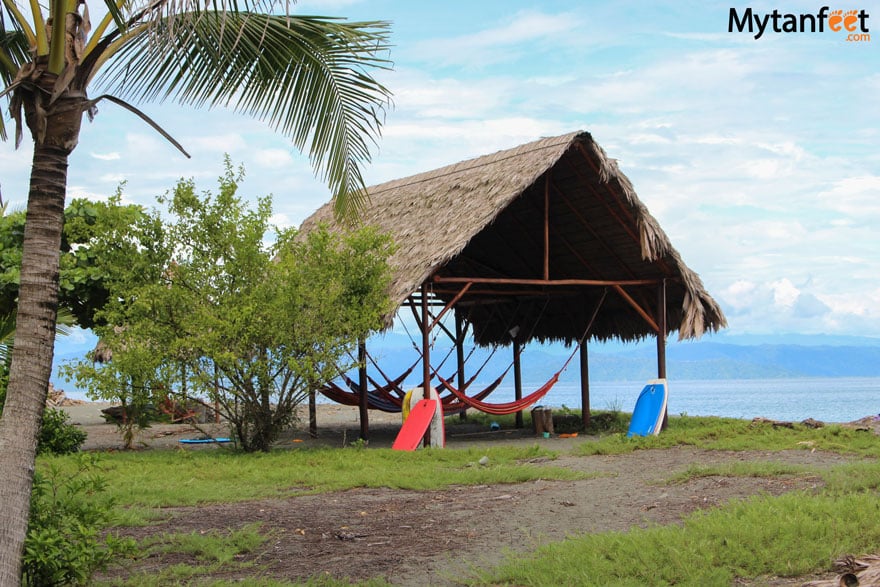 Surf board rentals are around $20 for 24 hours, boogie board rentals are $5 for 2 hours. Some places may be more expensive, Manuel Antonio surf board rentals were $20 for 2 hours but generally, rentals are not super expensive.
Tip: If you are planning to snorkel a lot, buy a snorkel set. Snorkel rentals are around $10-$20 for a couple hours but you can buy cheap ones at the supermarket for $20. That's cheaper than renting snorkel gear more than once and more comfortable than bringing your own.
Visit the local spots
Many local spots are either free or cheaper than the park or resort entrance.
For example, the La Paz waterfall garden nature park. The entrance fee to La Paz waterfall gardens is $45-62 per person with lunch which allows you to see their zoo and 5 waterfalls. However, if you don't want to pay that much, you can see the main waterfall for free by the side of the road. Granted, you don't see the other 4 waterfalls but if you're on a budget, the one by the side of the road is actually pretty awesome.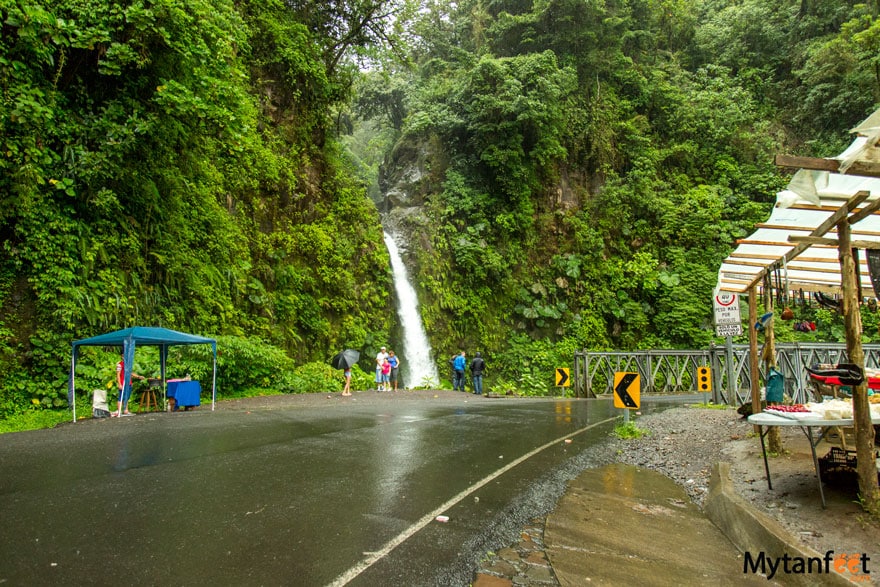 Another one is the Tabacon hot springs in Arenal. It has a hefty price tag of $94 per person for a day pass and lunch. Though Tabacon is incredibly nice, it's damn expensive. Most locals can't afford that so instead, they go to the Tabacon river to spend the day.
It's free, the exact same river and they can stay as long as they want. Ticos love to go with their family or friends to spots like these, bring a cooler full of beer and food, play music and hang out. There is also a local hangout spot at the Fortuna river which locals like to go to instead of paying $15 to La Fortuna waterfall.
So if you go where the locals go, that's a great way to save some money and not be around tons of tourists! Having your own transportation is key since most of these places don't have buses and they are only reachable by car.
Save $$ with our Costa Rica car rental discount
Take a water taxi
Water taxis are a great way to visit different beaches and save some money. Even though they don't supply snorkel gear or drinks, if all you want is to visit different beaches and soak up some sun, taking a water taxi is a better and cheaper option than a private boat tour.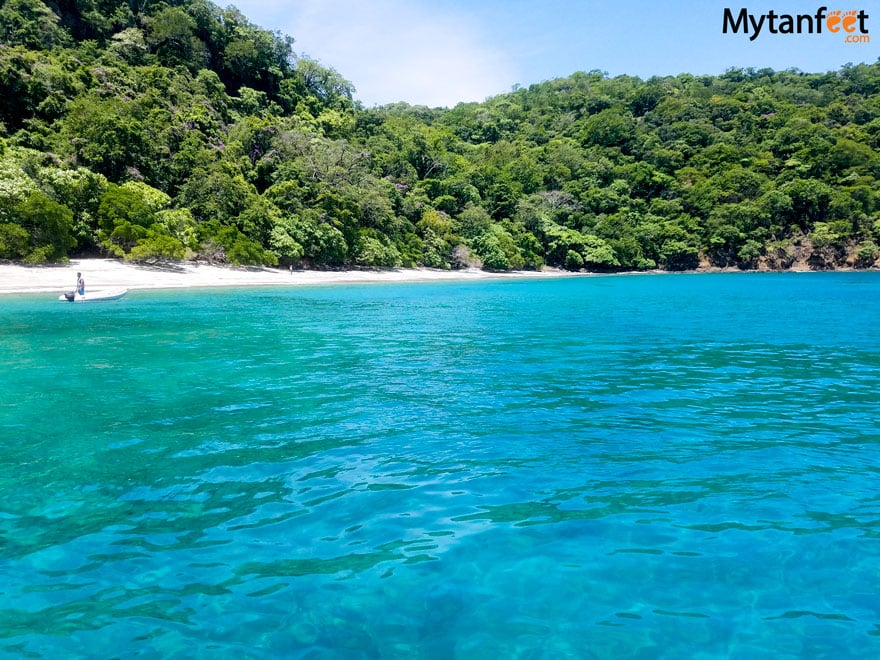 Water taxis are best for big groups up to 5 or 6 people so you can share the cost. One of the reasons why solo travelers should stay in hostels is not only are they cheap, but to meet people as many tours do not operate with only 1 person and prices are cheaper with a minimum of 3.
If you hire a private boat ride, it can be around $90 per person for 2 people and a sunset catamaran sail is around $85 per person. So if you're a solo traveler, make some friends and share the cost!
Happy hour on the beach
Can you imagine a better way to end the day than cheap beer and drinks while watching the sunset on the beach? I can't! Many restaurants and bars offer happy hour which is a great bargain. Nogui's in Tamarindo offers 2×1 beer from 4:30 PM to 5:30 PM, Zi Lounge in Coco has what we like to call, Happy Day because their Happy hour is 11 AM – 7 PM.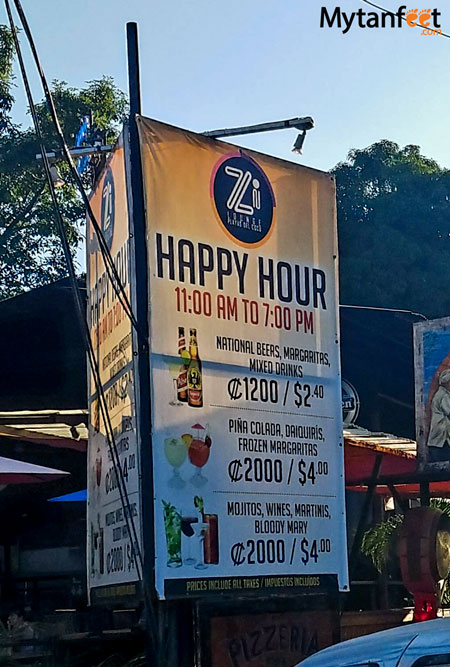 Bars in Costa Rica definitely want their guests to have a good time. Many of them have karaoke night (free shot every time you sing), kids specials, discounts on pizza night and other events.
Visit the feria
Many towns set up ferias, (Costa Rican farmers market) on the weekend and it's fun to visit. Ferias at the local villages and towns usually sell only produce but the ferias in touristic areas usually offer artisan jewelry, organic products or homemade items from the expats that live there. It's a nice way to spend a leisurely Saturday morning mingling with locals and other tourists and sampling local treats.
Rent a bike
This is one of my favorite cheap things to do in Costa Rica. We love riding our bikes through town and on the beach! You get to enjoy beautiful views and feel like a local. Fun way to explore the beaches!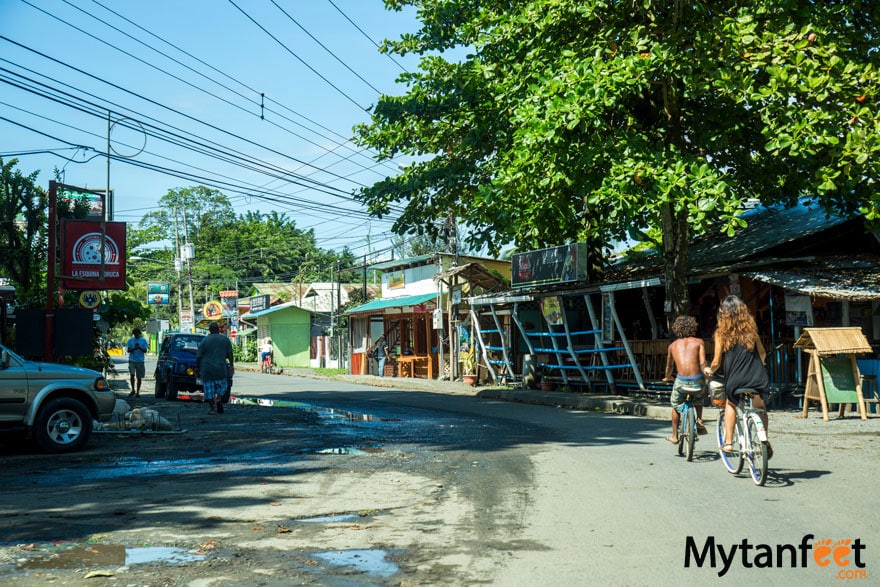 You can rent a bike for about $12 a day in Puerto Viejo and bike all the way to Cahuita National Park or down to Playa Chiquita or Punta Uva. All beach towns offer bike rentals and it's an awesome way to get around for cheap if you're not renting a car.
Read more Costa Rica travel tips here!
15 things to know before you visit