Costa Rica is expensive and it's something most people are surprised about. Unfortunately, just because it's in Central America doesn't mean there are only cheap things to do in Costa Rica. It's one of the things you must know about Costa Rica before visiting!
However, that doesn't mean you won't be able to enjoy Costa Rica on a budget. There are a handful of fun and cheap things to do in Costa Rica and it takes a bit of reserch to find them. So in this post, I'll share with you our recommended cheap and free things to do in Costa Rica.
All prices are in USD.
Cheap Things to Do in Costa Rica
Want more Costa Rica insider tips and goodies? Join our Mytanfeet mailing list to get all our articles straight to your inbox and be first to know about our new deals, partnerships, discounts and other news!
Visit National Parks
With over 20 national parks in the country, visiting national parks is one of the best cheap things to do in Costa Rica! Entrance fees vary for each park ranging from free to just shy of $20 USD per person.
Not including tax*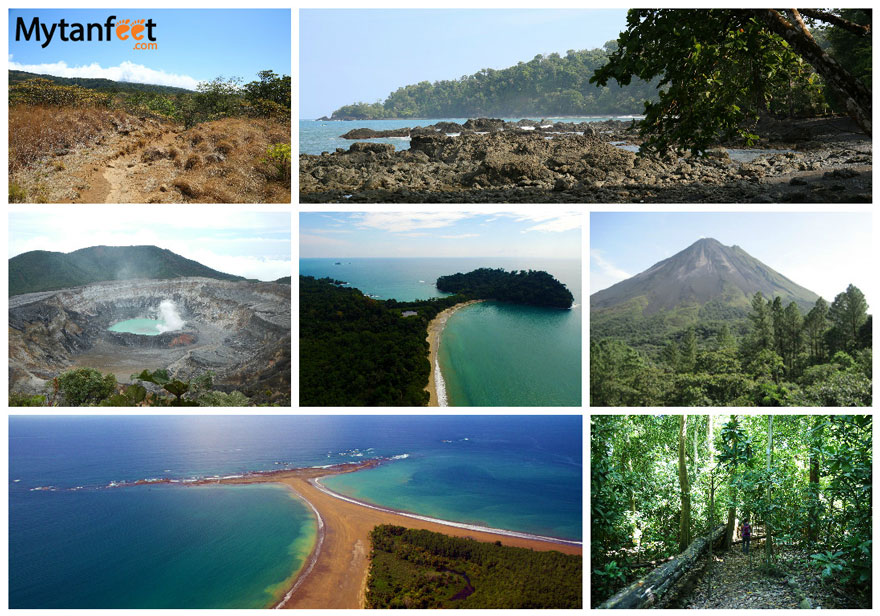 Some of the private reserves are a bit more than national parks. For example, Monteverde Cloud Forest Biological Reserve is $25 per adult so that is more expensive than the national parks.
Then there are some more local haciendas or parks you can visit which have very reasonable entrance fees. One example is Hacienda La Chimba in San Jose with a $13 USD per foreign tourist entrance fee for their hike.
Hike On Your Own
If you rented a car, you can perfectly do self-guided hikes in Costa Rica. Save money by walking on your own.
For example, a guided walk at Manuel Antonio National Park is around $60 per person (transportation, national park ticket and guide included). If you don't want a full tour, go on your own and pay only for the park ticket and bus/parking fee.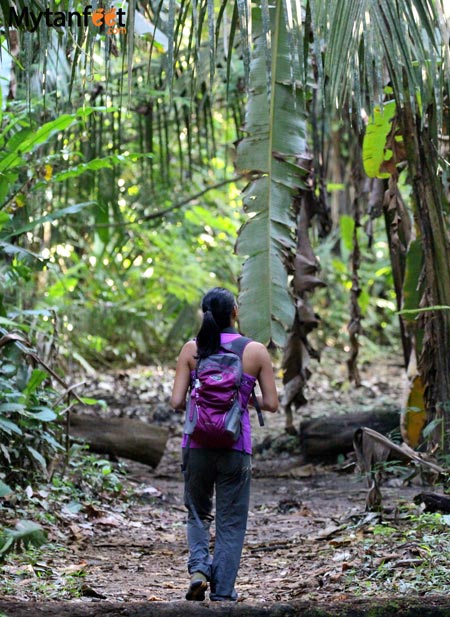 However, we do recommend to do at least one guided walk in Costa Rica. You'll learn a lot! Additionally, if you want to see animals, having a guide is the best option. Read more about hiring guides in Costa Rica.
On-Site Trails
Some hotels have their own on-site trails that hotel guests can enjoy for free. Some recommendations are Arenal Observatory Lodge, El Silencio Lodge & Spa, Casitas Tenorio B&B (Bijagua), Hotel Montaña de Fuego (La Fortuna) and Casa Corcovado Jungle Lodge. They all have free trails on their property for guests so keep that in mind when looking for hotels.
Visit museums
San Jose may not be the most coveted tourist destination in Costa Rica but this capital city has some excellent museums. I highly recommend visiting one if you have a day or two in the city.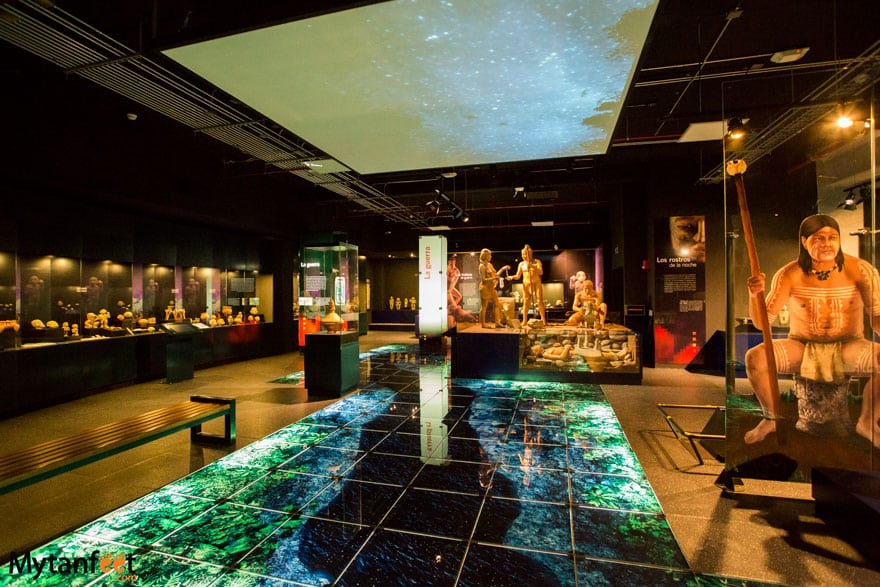 The Jade Musuem is $15, Gold Museum is $11 and the National Museum is $9. The Jade Museum is very nice. In our opinion, it's the best museum in Costa Rica. Another great place to visit is the National Theater.
Rent a surfboard or boogie board
You can only spend so many hours laying on the beach dozing or reading a book. Add some excitement to your beach days by renting kayaks, snorkel gear, boogie boards or surf boards.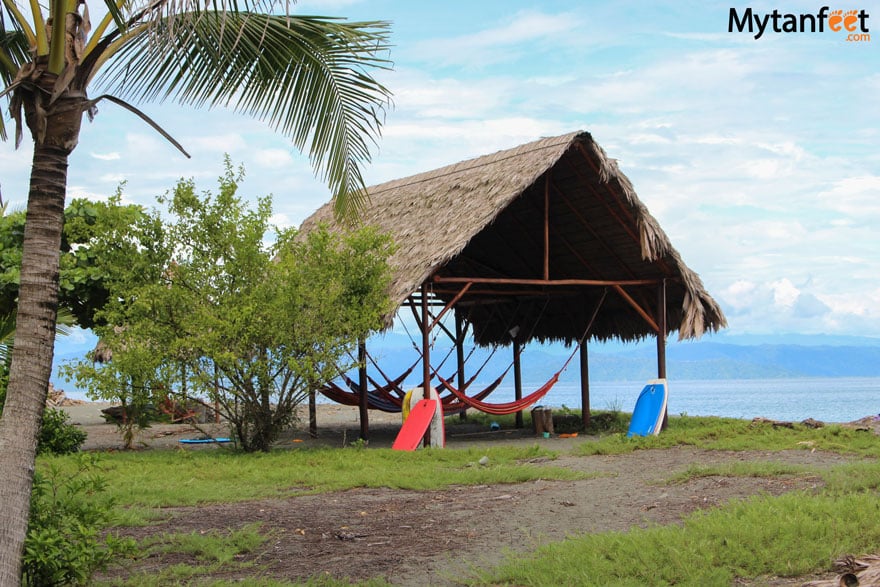 Surf board rentals are around $20 for 24 hours, boogie board rentals are $5 for 2 hours. But if you don't know how to surf, I highly recommend taking a lesson. It's safer and more fun to take a lesson.
Surf lessons are around $45-60 per person for a 2 hour lesson with surfboard, rash guard and instructor.
Visit Waterfalls
Many waterfalls in Costa Rica are on private property so owners charge a small entrance fee. Llanos de Cortes in Guanacaste is ~$4. Uvita waterfall is $2, Nauyaca waterfalls in Dominical is $9 for the hike, Catarata del Toro in Bajos del Toro is $14, Montezuma Waterfall is ~$2 for parking and Cascada El Pavon in Ojochal is free.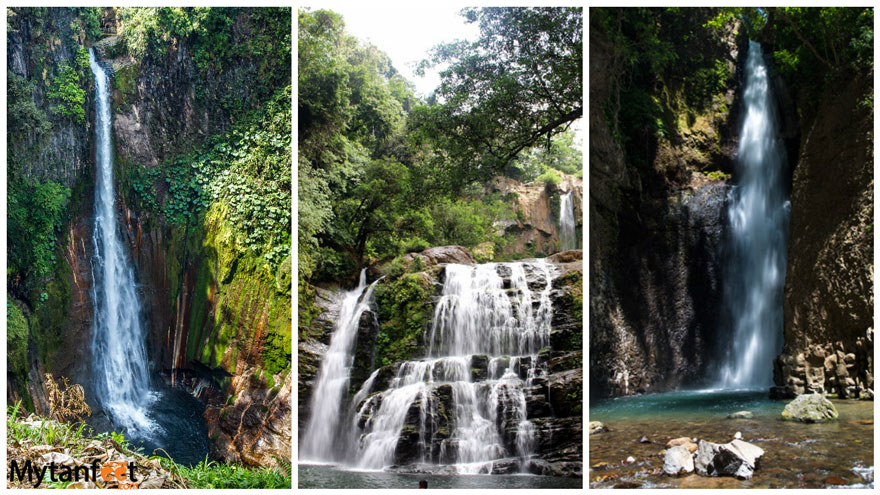 Another tip is to check out the hotel you're staying at since some of them have an on-site waterfall. Some hotels are Arenal Observatory Lodge and Oxygen Jungle Villas in Uvita. You can read this post for more about the best waterfalls in Costa Rica.
Happy hour on the beach
Can you imagine a better way to end the day than cheap beer and drinks while watching the sunset on the beach? I can't! Many restaurants and bars offer happy hour which is a great bargain.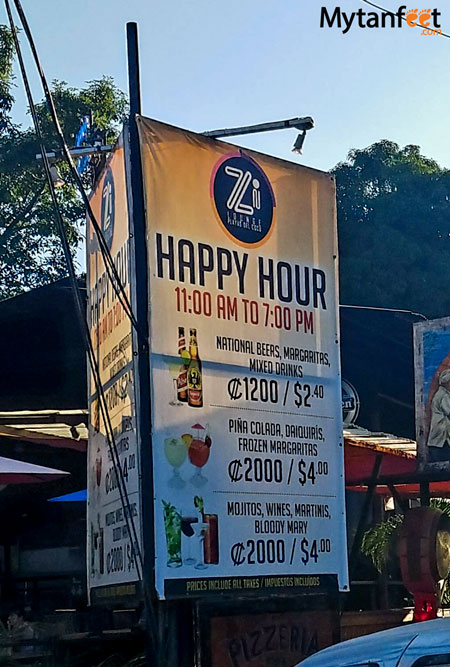 Bars in Costa Rica definitely want their guests to have a good time. Many of them have karaoke night (free shot every time you sing), kids specials, discounts on pizza night and other events. Take advantage!
Rent a bike
This is one of my favorite cheap things to do in Costa Rica. We love riding our bikes through town. You get to enjoy beautiful views and feel like a local. Fun way to explore the beaches too!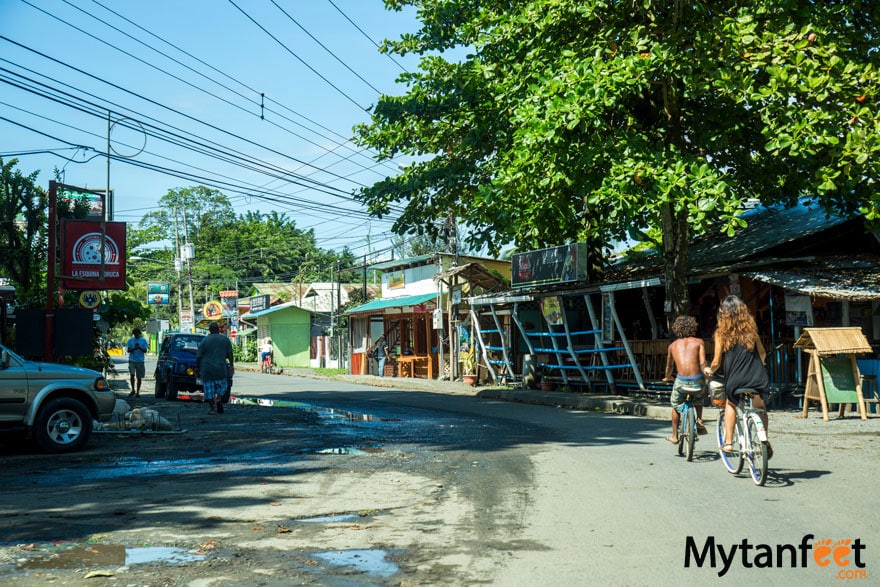 You can rent a bike as cheap as $5 a day in Puerto Viejo and bike all the way to Cahuita National Park or down to Playa Chiquita or Punta Uva. All beach towns offer bike rentals and it's an awesome way to get around for cheap if you're not renting a car.
Free Things to Do in Costa Rica
Love watching videos? Subscribe to our Mytanfeet Youtube channel where we publish weekly videos about Costa Rica!
Beaches
Obviously the beach! All beaches in Costa Rica are public. They are also free (unless inside a national park or private reserve).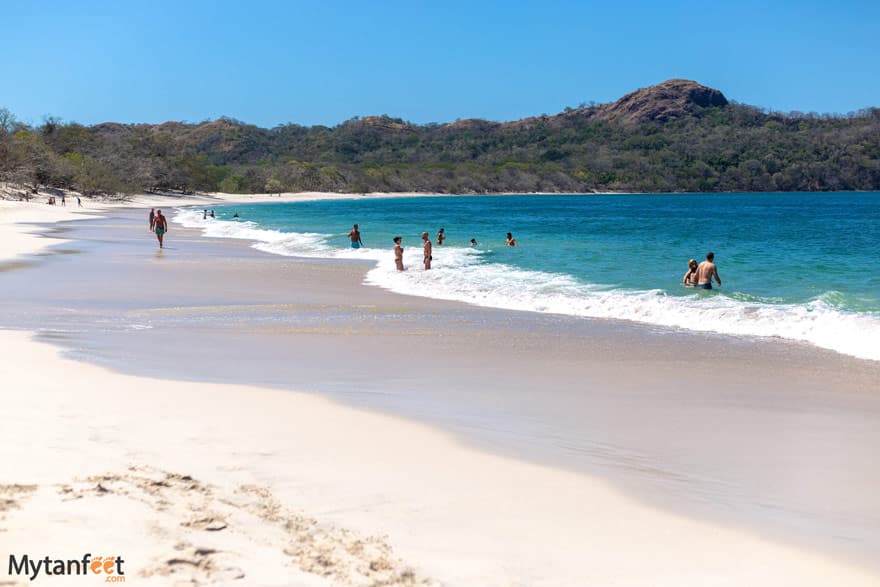 Swim, play in the sand, walk and watch the sunset on the beach. Best free thing to do in Costa Rica!
La Paz Waterfall
The entrance fee to La Paz waterfall gardens is around $70 per person with lunch which allows you to see their animal sanctuary and 5 waterfalls.
However, if you don't want to pay that much, you can see the main waterfall for free by the side of the road. Granted, you don't see the other 4 waterfalls but if you're on a budget, the one by the side of the road is awesome.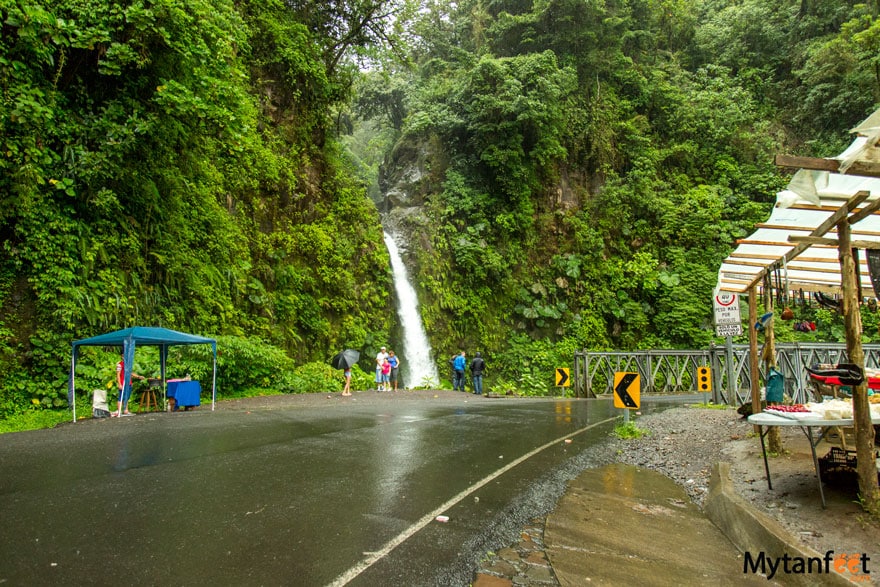 If you're on a budget, the free La Paz waterfall is an excellent option.
Visit the Local Swimming Holes
There are several free waterfalls and swimming holes in Costa Rica.
La Fortuna Free Hot Spring (El Choyn/Rio Choyin)
The hot springs are a must do in La Fortuna but the resorts aren't cheap. Tabacon, the most luxurious and fancy one costs around $94 USD per person for a day pass with a meal.
So if you're on a budget, visit the free hot spring instead, called El Chollin (Rio Chollin). The free hot spring in La Fortuna is actually the exact same river as the one that runs through the Tabacon resort. There are spots to sit and lay in the river and it's 100% natural. If you go on the weekends, you will also get to see a lot of local families.
On Google Maps, it's called "Free Natural Hot Springs River."
La Fortuna Free Swimming Hole (Poza El Salto)
There is also a free swimming hole called Poza El Salto. It's downstream from the La Fortuna waterfall (which has an $18 USD entrance fee). This swimming hole has a rope swing which is really fun. You can swim in the river, play on the rocks, bathe and enjoy the swimming hole for free.
On Google Maps, it's called "El Salto (Rope Swing)."
Click here to read our La Fortuna free swimming holes guide.
Rio Celeste Free Swimming Hole
Although we think you go in Tenorio Volcano National Park to see the Rio Celeste waterfall and hike along the river, if the $12 entrance fee is too much for you, there is a public access to the same Rio Celeste river for free.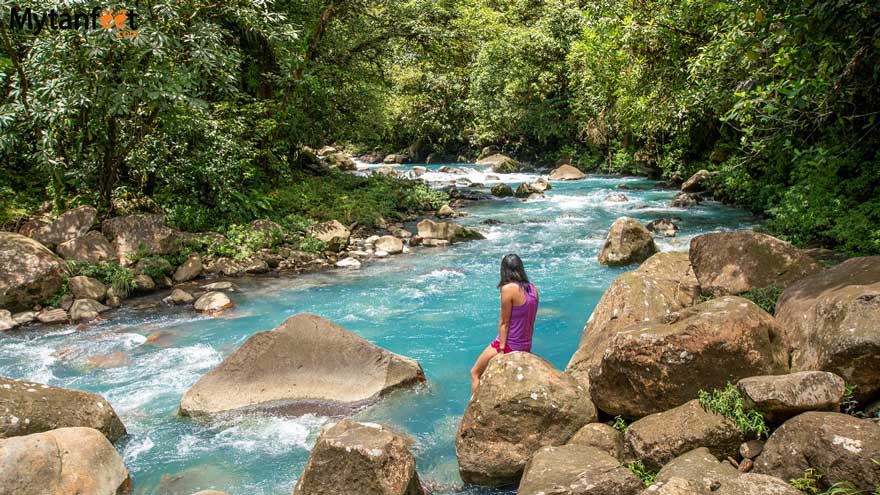 The access is a 1 minute drive from the national park entrance and you can swim in the river, walk along the rocks and bathe in the pools. Click the link to plan your visit: Rio Celeste Free Pool,
Free Things to Do in Monteverde
If you plan to visit Monteverde, check out our post for 5 free things to do in Monteverde. You'll find some cool local spots in there like the ficus root bridge and hollow ficus tree.
Visit Churches
Costa Rica is mainly Catholic and they have some beautiful churches throughout the country. Visitors can politely enter and see the inside of churches and if you wish, leave a donation.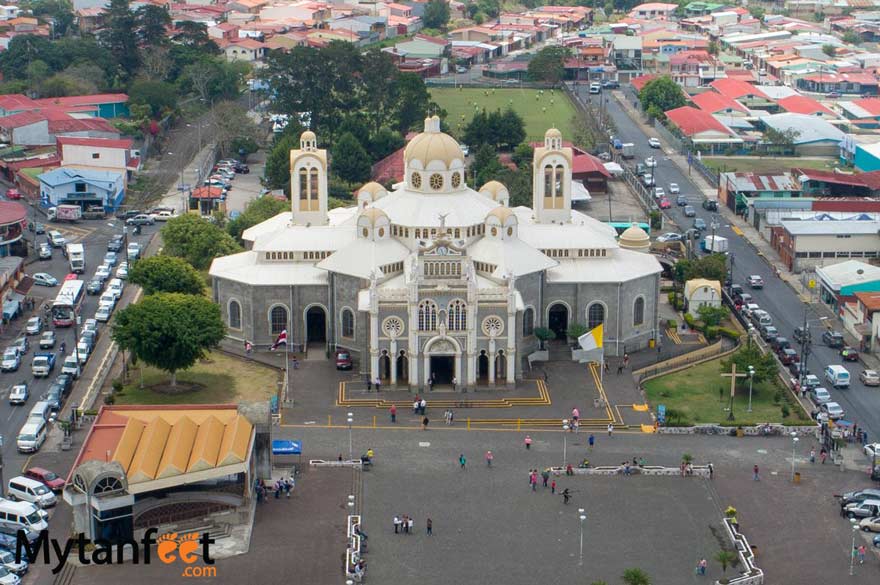 The Cartago basilica is the biggest in Costa Rica an worth a visit especially if you're Catholic. San Jose, Heredia, Zarcero and Grecia also have very nice churches.
Zarcero Topiary Gardens
Speaking of Zarcero, this small super cute town is home to some beautiful topiary gardens right in front of their main church. Wander through the quaint gardens to see hedges in the shapes of animals and other figures.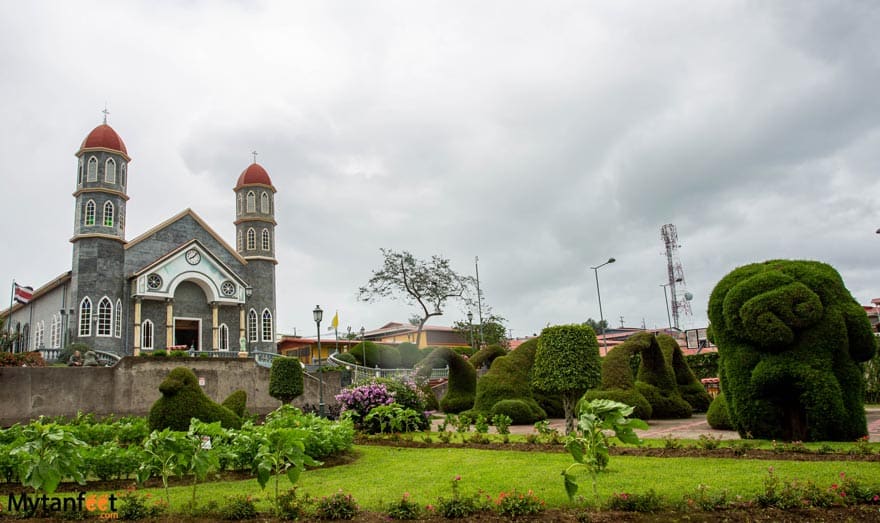 Whenever we drive through Zarcero, we always make it a point to stop at the gardens and take some pictures.
See the Baby Turtles Release on Playa Montezuma
The conservation group, ASVO, have a station on Playa Montezuma in Montezuma and during the turtle season, they release baby turtles everyday at 4 PM (February). It's free, so much fun to watch and very educational!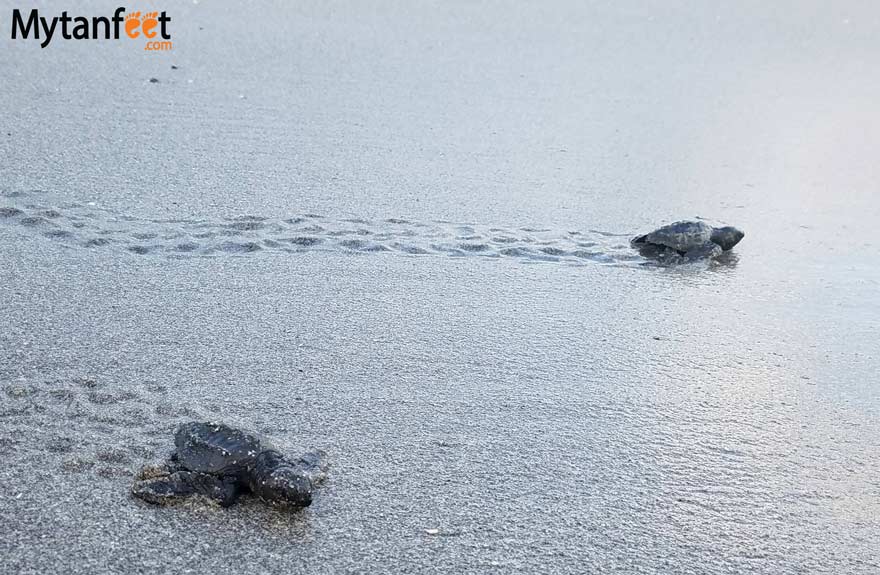 When we were in Montezuma, we watched the baby turtles everyday. It was a highlight of our trip and we looked forward to it each day.
Sun Burst Coffee Roasting Presentation
Near Liberia, there is a coffee shop called Sun Burst with a roaster offering a free short coffee roasting presentation. You don't see the full coffee processing and harvesting experience like if you were to take a full plantation tour, but you can get a quick introduction of Costa Rican coffee. Great if you're not a huge coffee lover or just want to get an idea.
Then you can purchase their own coffee blends or get a cup to go for ~$1 USD a cup. On Google Maps, it's the "Sun Burst Coffee Costa Rica" in Guanacaste, next to the El Lagar Do It Center. We always stop here for coffee to go!
Visit the Feria (Farmer's market)
This can be free, cheap or expensive depending on if you purchase anything. But we love visiting local farmer's markets whenever we travel and it is definitely a must do in Costa Rica.
Many towns set up ferias, (read our post to find a feria close t you: Costa Rican farmers market) on the weekend and it's fun to visit. Ferias at the local villages and towns usually sell only produce but the ferias in touristic areas usually offer artisan jewelry, organic products or homemade items from the expats and immigrants community.
It's a nice way to spend a leisurely morning mingling with locals and other tourists and sampling local treats.
Free Viewpoints
One of our absolute favorite free things to do in Costa Rica is hop in our 4×4 and find viewpoints. The way we find viewpoints is look on Google Maps and find a place with the word "mirador" in it (Spanish for viewpoint). I'll click on it to read Google Reviews to see what it's like (some miradors have an entrance fee/require 4×4/etc.). Save to favorite places on Google Maps and off we go!
Here are 3 fun free miradors in Costa Rica.
El Miro Jaco
El Miro is the best free thing to do in Jaco for amazing views and a sweaty hike. When we lived in Jaco in 2015, we used to visit here often since we were able to drive all the way up.
El Miro was not well known at all back then but now that it's more popular, they've closed the car access. Now you have to hike up around 30 minutes but it's worth it!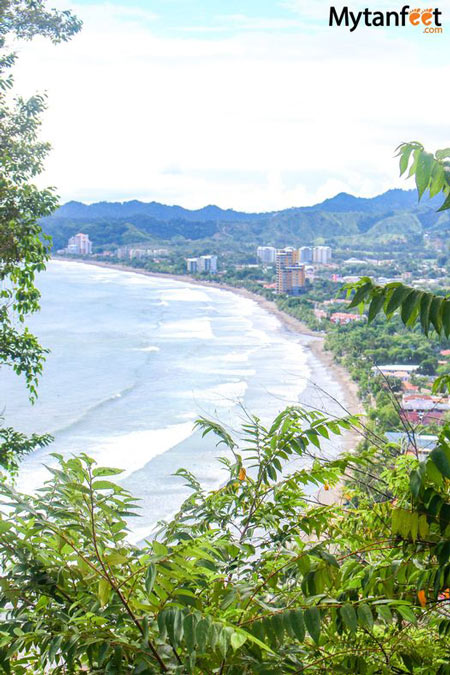 The hike ends at an abandoned building which now has a ton of cool graffiti. Definitely recommend this spot for sunset. We've also seen toucans and macaws here! On Google Maps, you can find the parking lot as "El Miro." No 4×4 required. You can park at the entrance but the space is tiny so better to walk or take a taxi.
Mirador Santa Cruz-Carrillo
This viewpoint is accessible via car (4×4) or by foot. If you're staying in Las Catalinas in Guanacaste, they actually have many trails running around this viewpoint so you can put on your trail running shoes or even rent a mountain bike to get there.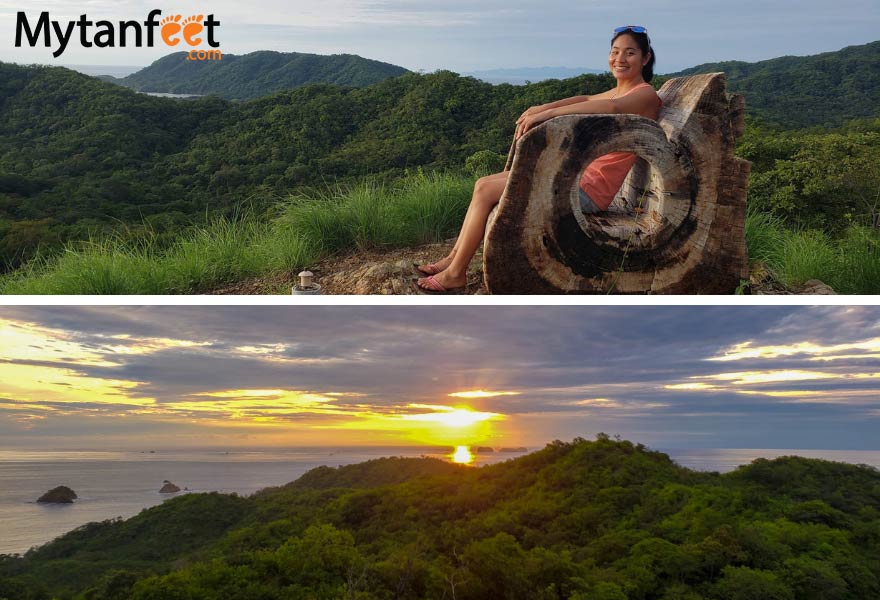 You can spend the day at Playa Danta and Dantita and then end it with watching the sunset at this viewpoint. A great day trip from Tamarindo, Brasilito, Conchal or Playas del Coco. It's especially nice as Las Catalinas is not finished yet so not a lot of people!
Punta Uva Mirador
In Punta Uva, there is a jutting peninsula with a short trail for great coastal views. You can see Playa Punta Uva Arrecife on the right side and Playa Punta Uva on the left. (This is on the Caribbean coast, near Puerto Viejo de Talamanca).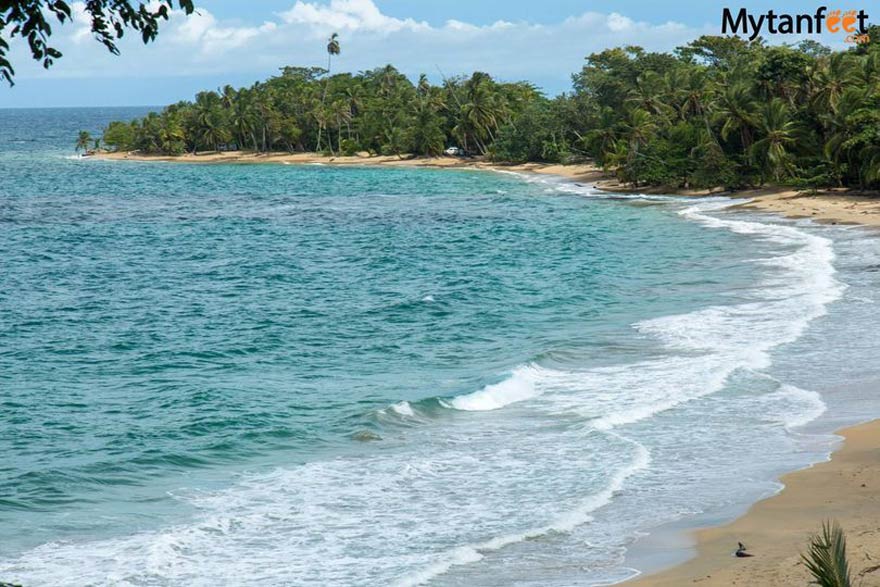 Keep your eyes open here because there are a lot of sloths in the area!
Read more Costa Rica travel tips here!
Tips for saving money in Costa Rica
15 things to know about Costa Rica before you visit