The San Jose Central Market is an important cultural site in Costa Rica as it is one of the oldest and most representative places of San Jose, the capital city of the country. The market opened in 1880, making it one of the oldest landmarks in Costa Rica as the country declared independence in 1821. Nowadays, the bustling market is frequently visited by tourists but is still the place many San Jose locals go shopping.
If you have a day in San Jose, then a visit to the Central Market is a must. Browse through the stalls to check out souvenirs, local herbs and spices, go clothes shopping and get a bite or two to eat. In this guide, we will help you plan your visit to the San Jose Central Market if you are going on your own and include our personal recommended places to eat.
This post has affiliate links.
Location and Hours
The San Jose Central market is in downtown San Jose, 18 kilometers (11.2 miles) from San International Jose Airport. The San Jose Central Market is open Monday through Saturday from 6 AM to 5 PM, closed Sundays. However, many stalls don't open until 7 AM so you don't need to go right when it opens.
How to Get To the San Jose Central Market
The best way to get to the San Jose Central Market is by taxi, Uber or walking (if your hotel is near downtown). The market is on Avenida Central, the main street through downtown San Jose so it is extremely busy and crowded. It doesn't have its own proper parking lot so if you drive, you will need to find a paid parking lot around.
We don't recommend to drive there at all to be honest. It is much better to taxi or walk. If you do have to park, there is a paid public parking called "Parqueo Publico Avenida" on WAZE that we recommend. It's a 5 minute walk to the market and they have parking guards. Costs ~800 CRC per hour.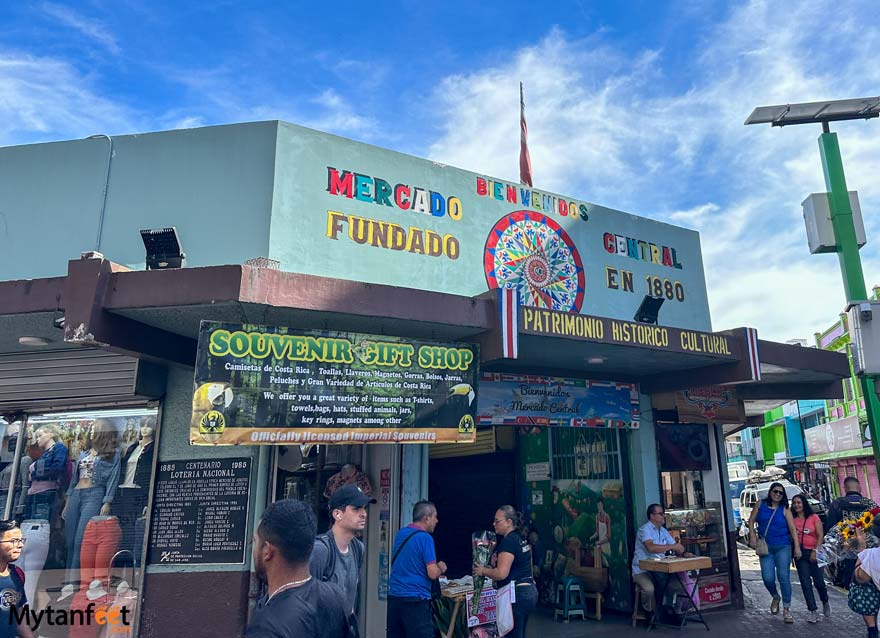 Need recommendations for hotels near SJO International Airport – check the link!
The San Jose Central Market Stalls
Inside the market, you will find stalls of produce, souvenirs, traditional herbal medicines, spices, beans, meat, seafood, coffee, textiles and more. The San Jose Central Market is not terribly big, and you can spend around 30 minutes wandering around. If you want to eat and do some shopping, that can be another hour or two.
Here are our recommended places to visit. There are a ton of places to eat but we particularly like these ones.
For payment, bring plenty of local currency, Costa Rican colones. Nearly all if not all of these stalls take only cash. Pay in local currency, do not pay in USD.
Soda Tala
This is a famous soda (Costa Rican restaurant) known for their "talapinto." It's gallo pinto (typical Costa Rican breakfast of rice and beans) on top of a thin omelette wrapped in a banana leaf. You can add on other extras like fried plantains, cheese and meat. It's huge and cheap (ranges from $2 USD to $5 USD).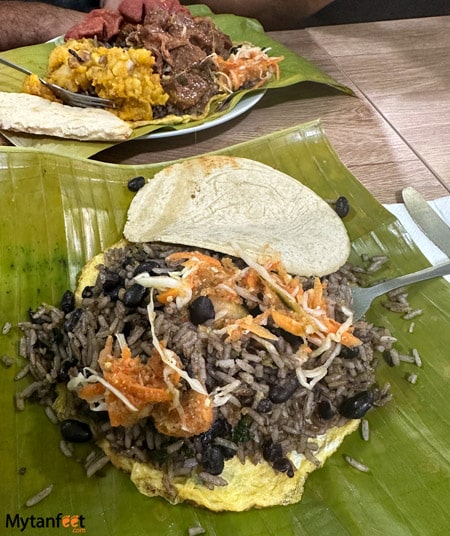 There is always a line at this place and it's a must visit in the San Jose Central Market!
Marisqueria and Soda Brigitte
This place has great ceviche and seafood. Try a caldosa (fish ceviche inside a chip bag). They also offer turtle eggs if you're daring.
La Sorbetera de Lolo Mora
This ice cream shop is over 100 years old and has been selling just one flavor since it's inception. The flavor is "crema" or cream which is like a cream vanilla flavor with cinnamon and various spices. Delicious!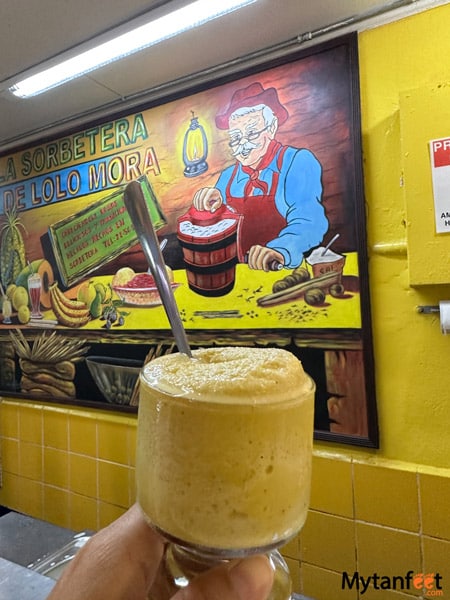 El Mercado de las Frutas
Nice little fruit smoothie shop.
Cafe del Mercado
A popular place for Costa Rican coffee. You can buy some bags here too.
Soda San Cristobal
Stall with Costa Rican food. Limited seating (like bar seating
Soda Puntarenas
Has a really good bakery, the empanadas are a favorite. Also has some sweets like arroz con leche. Limited seating (bar stool style).
Soda San Martin
A very good soda that has been in the market since 1910. Their olla de carne (beef stew) is very good. They have nice seating with booths.
San Jose Central Market Tours
If you'd like to visit the central market on a San Jose city tour, it's a great way to learn more about Costa Rican culture and history. The guide shares historical and cultural information about the market which is very interesting. They'll take you to several stands to sample the goodies and share some information about each one.
If you'd like to do the city tour, you can get our San Jose day tours discount here! They visit other interesting places like the parks, church and museums.
Visiting the San Jose Central Market On Your Own
You can perfectly visit the Central Market on your own. The vendors aren't pushy but they don't really have any signs in English. You can use Google Translate to ask them what it is or translate the signs. It's OK if you don't speak Spanish though, it's still fun to wander through the stalls but you will definitely get a more thorough and interesting experience if you know exactly what everything is.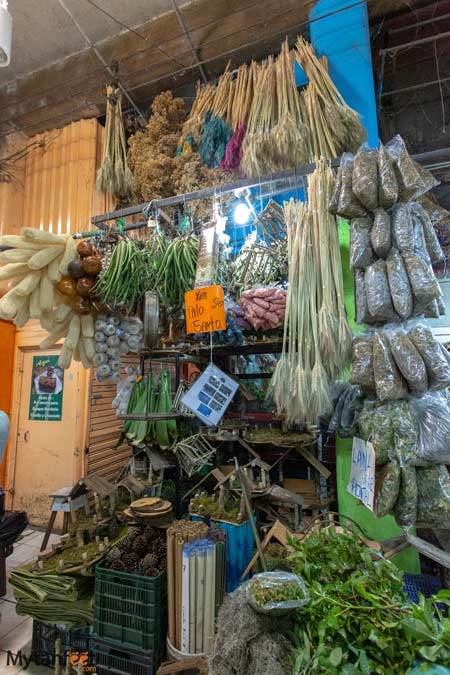 There are many stalls and little shops for Costa Rican souvenirs. You can all sorts of stuff like cups, shirts, sweatshirts, hand made and painted wood items, etc.
For more shopping, we recommend to check out the Mercado Artesenal, which is a ten minute walk down the street.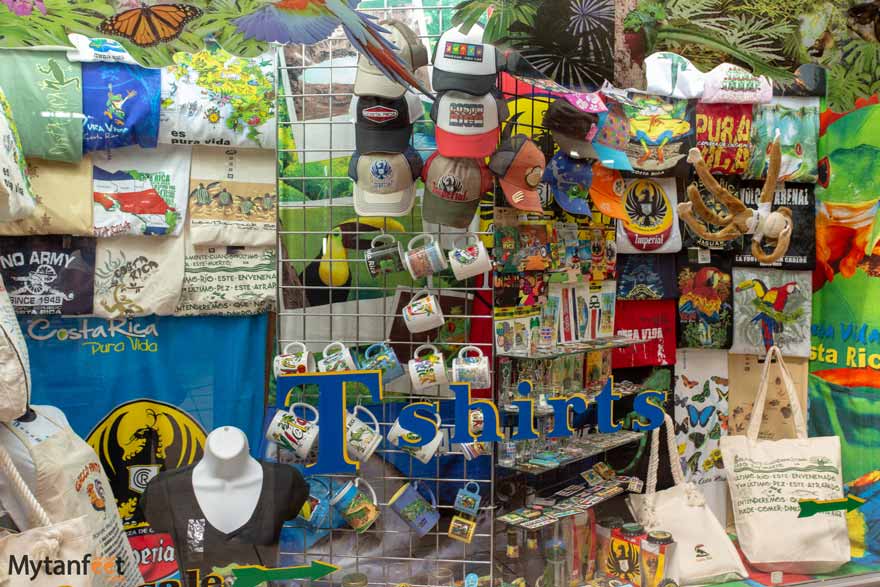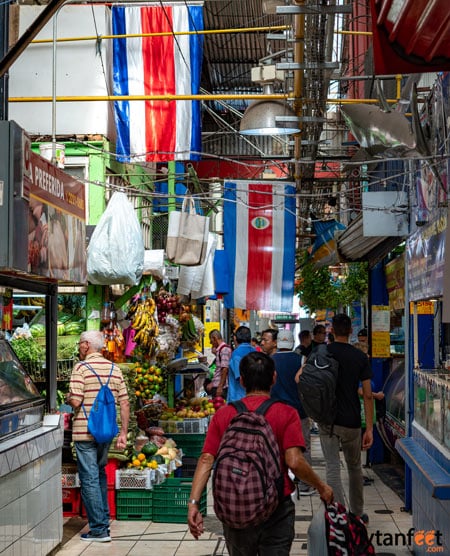 All in all, the San Jose Central Market is an excellent place to spend an afternoon or morning in San Jose. The best things about the market are the Costa Rican food, fruits and coffee! It also offers an fascinating look into typical Costa Rican city life.
Sample 1 Day San Jose Itinerary
If you have one full day in San Jose and want to spend it on your own (not booking tours), here are our recommendations. You do not need a car for this – you can Uber around easily.
Visit the Central Market mid morning around 9 AM. Have breakfast at Soda Tala.
Spend the next hour in the market, pick up some fruit or souvenirs, get some coffee/ice cream.
Head over to the National Theater (about 10-15 minute walk) to take a guided tour of the gorgeous theater. This is about an hour.
If you're hungry after the National Theater tour, you can grab a bite to eat at the Spoon Restaurant in downtown. There are lots of fast food options around this area too.
After food, walk to the Pre-Columbian Gold Museum or Jade Museum. The Pre-Columbian Gold Museum houses thousands of pieces dating back to 300-400 BC to ~1550 AD. They also have an exhibit displaying the history of the Costa Rican colon, the currency. This museum can take you around 1.5 hours. The Jade Museum is a five story museum housing the world's largest American jade collection. It also has exhibits focusing on the historical nature and ecosystems of Costa Rica. Jade Museum can take you around 2 hours.
Another option is if you aren't interested in museums, you can taxi/Uber to Parque La Sabana, the city's largest park. You can walk the trails, watch local families in the park, catch a futbol match and relax under the trees.
After that, head back to the hotel to relax and freshen up. For dinner, we recommend Barrio Escalante which is a trendy foodie neighborhood with a large variety of options.
San Jose Hotel Recommendations
All these hotels are close to downtown, you can walk to the San Jose Central Market and downtown from there. However, please know that if it's after dark, we recommend to Uber back. Remember it gets dark by 6 PM everyday in Costa Rica.
Costa Rica Vacation Checklist