Need tips for planning your 2 week Costa Rica trip? We can help! We put together this exact 2 week Costa Rica itinerary for my family and friends when they visited.
In this sample 2 week Costa Rica itinerary, you get to visit some of the most beloved places in Costa Rica.
This 14 day Costa Rica itinerary is geared for those who want adventure, beaches and rain forest. Throw in a bit of adventure and leisure activities and you got an epic 14 day Costa Rica itinerary in Arenal, Monteverde, Santa Teresa and Playas del Coco.
Ideal for those renting a car and perfect for friends, couples and families and offers options for both luxury and budget travelers. You will find our recommendations for hotels, tours, restaurants and other tips in this guide.
A Few Things to Keep in Mind About this 2 Week Costa Rica Itinerary
First, 14 days seems like a lot but you need to know that travel times are long in Costa Rica due to poor road conditions and traffic. Don't try to visit too many destinations in your trip. It is better to spend more time in each destination than try to stuff a bunch. You will get super tired and not be able to enjoy each place.
For 2 weeks in Costa Rica, we visited 4 destinations and had 2-3 days in each destination.
Second, we rented a car to have the most flexibility, comfort and convenience. We were a group of 6 and we wanted to show them our favorite local spots so a car was necessary. However, you can do this itinerary via shared shuttles, private shuttles or bus. Having a car was the most convenient and comfortable for our group.
Thinking about renting a car? Get our Costa Rica car rental discount and extra freebies.
Third, this itinerary lands and flies out of Liberia International Airport but you can also arrive at San Jose Airport.
2 Week Costa Rica Itinerary Map
Here is a map with routes, point of interest, hotel and restaurant recommendations and things to do for this itinerary. You can use the sidebar to filter through the categories and the driving route is also there.
2 week Costa Rica itinerary map
Day 1: Land in Liberia Airport

Collect your rental car and head to La Fortuna. This is about a 3 hour drive. If you're arriving very late at night, we don't highly recommend driving all the way as this route is very curvy, especially if it's raining. If so, you can stay a night in Liberia first. Here are our suggestions for hotels near Liberia airport.
If you're landing in San Jose, it is about a 3.5 hour drive depending on traffic. Same advice as Liberia, we don't highly recommend driving if you're arriving late at night. You can check our post for hotels near San Jose Airport for hotel recommendations.
You can also book private or shared shuttles. It costs around $200-220 for a private shuttle of 1-4 people which will you pick you up at any time. A shared shuttle is around $55 per person and they have one in the morning and afternoon.
Days 2-4: Arenal and La Fortuna
As one of the most popular tourist destinations in Costa Rica, Arenal and La Fortuna is the best place for your first introduction to the country. La Fortuna is an area in the northern lowlands famous for the Arenal volcano and lake. It offers many adventure activities as well as wildlife watching opportunities. Spend the next couple days exploring the national park and the surrounding attractions.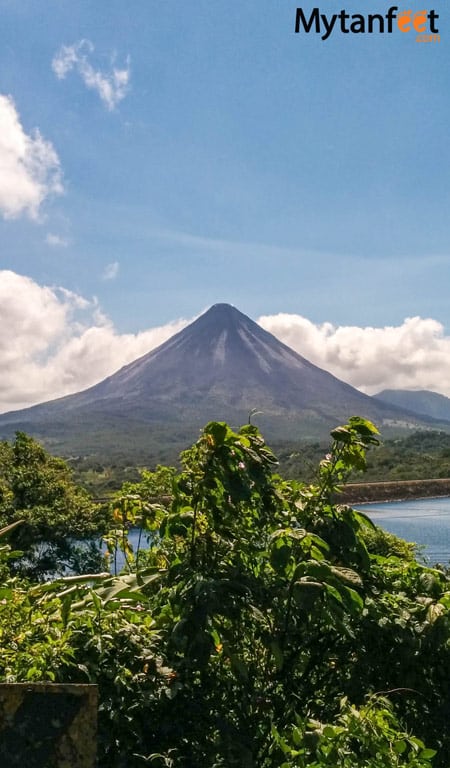 It is about a 3.5 hour drive from both San Jose and Liberia to Arenal, so make sure you leave early in the morning to take advantage of your time in Arenal. There are flights from both San Jose and Liberia to Arenal that take about 30 minutes.
Where to stay in Arenal
There are a ton of hotel options in La Fortuna and Arenal. We stayed at Arenal Observatory Lodge, an incredible lodge close to Arenal Volcano. If you want to splurge on for hotels on your trip, this is the best place to do so in this itinerary. You can check our list of best luxury hotels in Arenal.
If you want to stay in town, we recommend Hotel Las Colinas or Hotel El Secreto La Fortuna.
If you're coming with a family or big group, check out this Airbnb in Arenal that fits up to 12 people.
What to do in Arenal
Arenal Volcano National Park: Walk the trails of the national park to learn about the history of Arenal Volcano and the impact its huge eruption had back in 1968. Previously famous for its constant mini-eruptions and lava spews, Arenal Volcano has been quiet for the past five years emitting only smoke and gas. Visitors can go for a leisurely hike through the park to get beautiful views of the volcano and the lake.
Canyoning: Looking for adventure in the rain forest? Go canyoning! Rappel down cliffs and waterfalls 200 feet tall in the middle of the rain forest. Hear your heart pounding and feel the adrenaline flow through your fingertips as you grip tightly onto the rope and hop down deep into the jungle. Read more about canyoning in La Fortuna.
Rio Frio Nature Safari: Want to see wildlife? Take a nature safari down the Rio Frio, a slow moving river in the Caño Negro Wildlife Reserve, one of the most biologically diverse protected areas in Costa Rica. You'll raft down the river for a few hours, using only a paddle as your engine and the guide will point out various wildlife such as caimans, toucans, sloths, otters, birds and more. Read more about this La Fortuna river safari float.
Hot springs: No visit to Arenal is complete without a trip to the hot springs. Soak in pools of varying temperatures surrounded by the lush rain forest. Some of them even have views of the volcano! Hot springs open until late, so you can go to relax after an already fun day.
There are plenty more activities to enjoy in Arenal and La Fortuna. For more ideas, check out post of top 11 things to do in Arenal and get our discount!
Days 5-7: Monteverde
Leave early in the morning to travel to your second destination, Monteverde. We drove but if you don't rent a car, you can take the water taxi across Lake Arenal for a fun trip which costs around $60 per person and takes around 3 hours.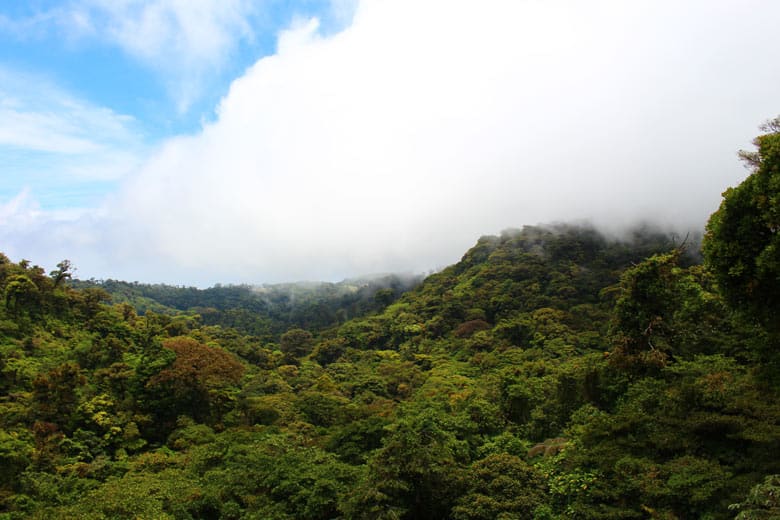 Monteverde is the area that consists of the cloud forest, Santa Elena town and Cerro Plano town. This area is an important part of Costa Rica as it is home to hundreds of birds, reptiles, amphibians and insects, some of which can only be found in the cloud forest. Monteverde is also the site of the first zipline in Costa Rica, initially used as a lunch carrying system by the forest workers.
Read our Monteverde travel tips guide for more information.
Where to stay in Monteverde
We love the El Establo Hotel, Hotel Belmar and the Monteverde Country Lodge. El Establo is a bit more expensive and has bigger rooms with two floors with beautiful views of the cloud forest. Hotel Poco a Poco is good for those who would like conveniences like fast Wi-Fi, ac and pool.
There are a lot of hostels in Santa Elena town such as Selina Monteverde, La Pension and Santa Elena Backpackers.
Airbnb is also an excellent option, there are some very nice ones in Monteverde. Here are 2 Airbnbs in Monteverde we stayed at, perfect for couples.
What to do in Monteverde

Ziplining: Monteverde is famous for their canopy tours, with some of the longest and highest in the country. Zipline over the cloud forest for spectacular views. The most popular canopy tours are SkyTrek, Selvatura Park and 100% Aventura.
Hanging bridges: Discover the wonders of the cloud forest by walking on hanging bridges high in the forest. You'll spot wildlife along the way such as snakes, insects and many birds.
Butterfly/Hummingbird gardens: Monteverde is home to some exquisite species of insects and hummingbirds and there are several gardens where you can see them up close. There are also some insect, reptiles and amphibian exhibits. Selvatura Park in Monteverde holds the 3rd largest insect collection in the world.
Bird watching: Monteverde is one of the few places in Costa Rica where you can see the elusive Resplendant Quetzal among many other beautiful birds. The best place is Curi Cancha Reserve.
Hike the cloud forests: This is an absolute must do. The 3 reserves, Monteverde, Santa Elena and Children's Eternal Rain Forest all have beautiful viewpoints, well maintained hiking trails and ample wildlife opportunities. Read this guide to decide which Monteverde cloud forest reserve should visit.
We did a whole adventure day at Selvatura Park including a canopy tour, hanging bridges, hummingbird and butterfly garden, insect exhibit and herpetarium. Super fun and perfect for us to maximize our time in Monteverde.
Day 8: Travel to Santa Teresa
Today is a travel day to the beaches on the other side of the Gulf of Nicoya, Santa Teresa. We first went to Puntarenas to catch the ferry and then drove to Santa Teresa. Read our tips to taking the Puntarenas ferry.
If you're not driving, the best option is to take a direct shared shuttle (around $65 per person) or a local flight to Tambor and then taxi to Santa Teresa. You can also take the public bus.
For the bus, take a bus to Puntarenas (4:30, 6 and 15) and grab a taxi to the ferry dock. Once you arrive at Paquera dock, take the public bus to Cobano (6:15, 8:15, 10:15, 12:15, 15:15, 16:30, 18:15). If you arrive in time, you can get a bus from Cobano to Santa Teresa, or take a taxi. Last bus from Cobano to Santa Teresa is 14:30.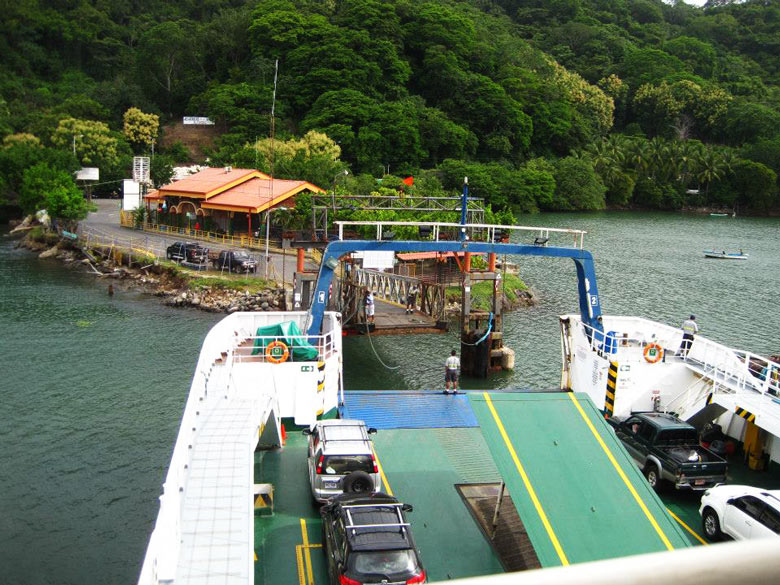 The ferry is very nice with beautiful views of the Nicoya Gulf and you can see what Puntarenas, an important fishing town in Costa Rica is like.
Days 9-10: Santa Teresa, Mal Pais, Playa Carmen
The next couple days are yours to enjoy at the beautiful, lesser visited beaches of Santa Teresa, Mal Pais and Playa Carmen. Santa Teresa attracts surfers, yogis and those looking to escape the busy crowds of touristic areas. This undeveloped beach town offers a rich Tico beach experience.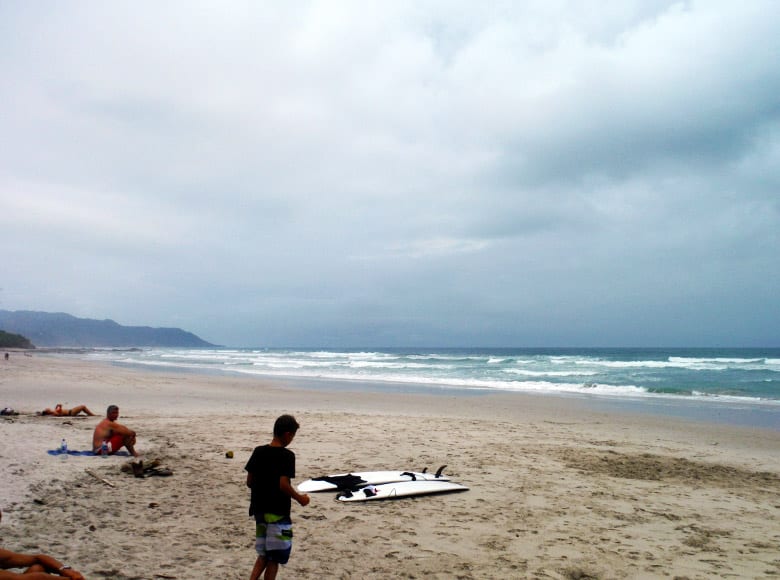 What to do in Santa Teresa
Here you can try surfing, watch the beautiful sunsets on the beach, go horseback riding or take a yoga class. Your first week in Costa Rica has been full of excitement and adventure, so take these couple days to relax and fall into the pura vida beach life.
Surfing and yoga are the two popular things to do in this area, during certain times of the year there are some big swells for surfing!
Where to stay in Santa Teresa
We stayed at Hotel Santa Teresa which was really nice. It's about a 1 minute walk to the beach and you're close to small supermarkets and restaurants. Casa Chameleon Mal Pais is an incredibly nice hotel.
For hostels, Selina Santa Teresa (North and South) is a great one in town.
Day 11: Travel to Playas del Coco
Today is another travel day and it's a bit of a long drive. To go on all paved roads, you will have to go back the way towards the ferry but go north at Paquera. You'll drive past Lepanto, towards Nicoya and then go all the way north to Coco.
You can also take a local flight from Tambor to Liberia International Airport, and then bus to Playas del Coco (bus every hour).
Days 12-13: Playas del Coco
For your last few days in Costa Rica, relax and enjoy all the beach has to offer. You can spend your days relaxing in Playas del Coco, but I highly recommend doing a couple of activities to get the most out of the beautiful Guanacaste coast.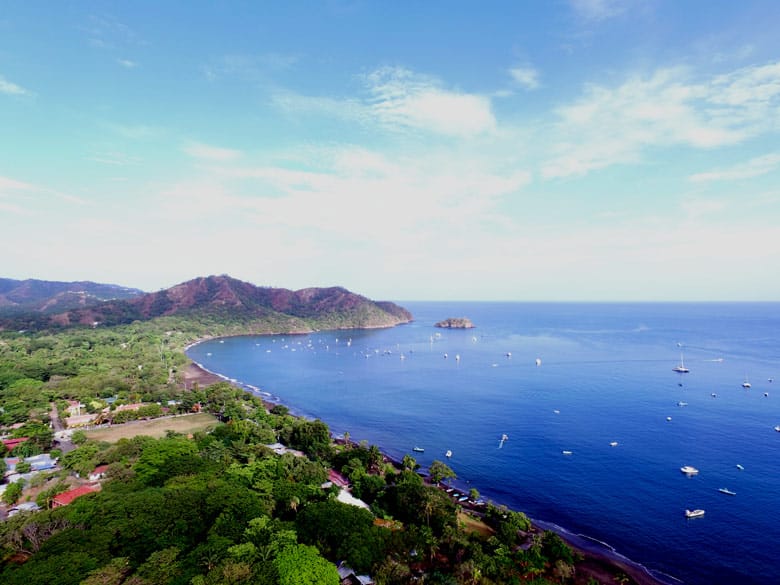 What to do in Playas del Coco
Boating: Visit beautiful hidden beaches and go snorkeling on a boating trip in the Gulf of Papagayo. Our favorite thing to do in the area. Read about our experience and recommendations for boating in Playas del Coco.
Rincon de la Vieja Adventure Tour: Go on a combo adventure tour in Rincon de la Vieja. Zipline, horseback ride, jump off waterfalls, visit hot springs and lather yourself in volcanic mud. Our favorite tours are Buena Vista that has a crazy water slide and Guachipelin that has fun white water tubing.
Tamarindo/Conchal: Head south to Tamarindo to surf or Playa Conchal to see a beautiful white sand beach.
Nicaragua: Want to add another country to your list? There are one day tours to Nicaragua to visit the Masaya Volcano National Park, Lake Nicaragua and Grenada. This is an excellent way to see Nicaragua if you don't plan on traveling in the country. Read more about this Nicaragua day tour.
Catarata Llanos de Cortes: This waterfall makes for a wonderful day trip. It's a little over an hour from Coco and completely worth the drive. Go early in the morning to have it all to yourself. Read more about Catarata Llanos de Cortes waterfall.
Where to stay
We stayed at our condo and my brother and friends rented a house on Airbnb since they wanted to have the comforts of home. There are many rentals on Airbnb where you can get a fully furnished condo with 2 bedrooms, 2 bathrooms and a pool for an excellent price.
If you want to stay at a hotel, we recommend Toro Blanco. It's less than 1 minute walk to the beach and downtown. Has a beautiful pool, furnished kitchen and outside sitting area. Another good option is La Puerta del Sol. Villa Buena Onda is an excellent option for couples who want luxury.
Day 14: Fly out of LIR
And your two week Costa Rica trip has come to an end. Fly out of Liberia International Airport full of cherished memories and the feeling of pura vida back home.
Tips for this Two Week Costa Rica Itinerary
Monteverde is considerably cooler than the rest of the destinations, so make sure to bring a jacket and long pants when visiting the cloud forest.
Make sure to bring the appropriate clothing and gear for the activities such as hiking sandals, beach gear, hiking, etc. You can check our packing list for Costa Rica for more tips.
For your time in Guanacaste, you don't necessarily have to stay in Playas del Coco. You can stay in any of the beaches like Hermosa, Ocotal or Panama near the Papagayo Gulf or stay down south near Tamarindo and Brasilito. There are so many beaches in this area so you have plenty of options if you don't want to stay in Coco.
Have a few more days and want to throw in another destination? Check out our list of the 10 best places in Costa Rica for first timers for more ideas.
2 Weeks in Costa Rica Budget
If you're staying in hotels that are about $80 a night, spending about $40 a day on food and doing a few tours, your estimated cost for this sample 14 day Costa Rica itinerary will be around $1500 per person not including the car rental. This also depends on how many tours you do as tours will take up a big chunk of your budget.
You can lower your costs by staying in budget hotels, only doing a couple tours and eating at cheap places.
Want more itinerary ideas? Check out this 1 week Costa Rica itinerary, this 5 day Guanacaste itinerary, another 14 day itinerary or this 10 day Costa Rica itinerary.
This post has affiliate links