Need tips for planning your 2 week Costa Rica trip? We can help! We put together this exact 2 week Costa Rica itinerary for my family and friends and they absolutely loved it as it is geared for any visitor who wants adventure, beaches and rain forest.
Furthermore, in this sample itinerary, you will find our personal recommendations for hotels, tours, restaurants and travel tips. You can also click this link 2 week Costa Rica itinerary to see our interactive map of this itinerary.
This two weeks in Costa Rica itinerary goes to La Fortuna, Monteverde, Santa Teresa and Playas del Coco and flies in and out of Guanacaste (Liberia) International Airport.
A Few Things to Know About This 2 Week Costa Rica Itinerary First
Our group of 6 with carry on only rented a 7 passenger SUV to have the most flexibility, comfort and convenience for our adventurous group. However, you can do this itinerary via shared shuttles, private shuttles or bus. Thinking about renting a car? Get our Costa Rica car rental discount and extra freebies. Want to book private shuttles? Contact us to get a quote!
Second, this itinerary flies into and departs from Liberia International Airport in Guanacaste.
Third, the best time for this itinerary is the summer months such as January through April for the best weather. However, it is doable any time of the year. If you visit during the rainy season, you need to make sure you are staying on the main paved roads and that you rent a 4wd or high clearance car. We personally did this itinerary in August and did get quite a bit of rain in La Fortuna and Monteverde, but thankfully we packed properly for rainy season.
Day 1: Land in Liberia Airport, Drive to La Fortuna (~3 hours)
Collect your rental car and head to La Fortuna. This is about a 3 hour drive. If you're arriving in the late afternoon or evening, we don't recommend driving all the way. In that case, you can stay a night in Liberia first. Here are our suggestions for hotels near Liberia airport. You can also stop halfway in Nuevo Arenal by Lake Arenal.
*It gets dark by 6 PM everyday in Costa Rica and we don't recommend driving long distances at night.**
If you're landing in San Jose, it is also about a 3 hour drive. Same advice as Liberia, we don't recommend driving if you're arriving in the late afternoon or evening. It's best to stay by the airport and then leave the next day to drive in the daylight. You can check our post for hotels near San Jose Airport for hotel recommendations.
Travel planning tip: Stop by Llanos de Cortes waterfall on the way from Liberia – La Fortuna to see a beautiful waterfall in the dry tropical forest. It's a 5 minute walk to the waterfall from the parking lot.
Days 2-4: Arenal and La Fortuna
La Fortuna is an area in the northern lowlands famous for the Arenal Volcano and Lake Arenal surrounded by lush rain forests. As one of the most popular tourist destinations in Costa Rica, La Fortuna is the best place for your first introduction to the country.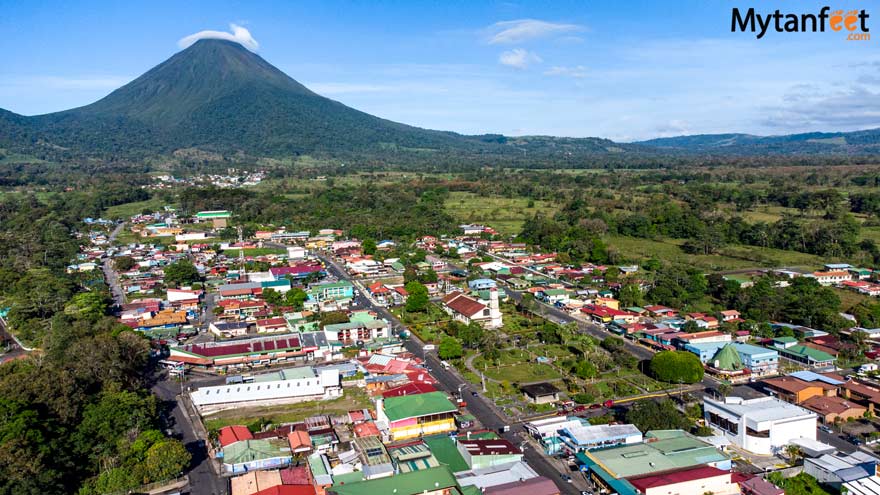 It offers many adventure activities as well as wildlife watching opportunities. Spend the next couple days adventuring through the rainforest and volcano!
Where to Stay in La Fortuna
There are a ton of hotel options in La Fortuna and Arenal. We stayed at Arenal Observatory Lodge, an incredible lodge close to Arenal Volcano. If you want to splurge on for hotels on your trip, this is the best place to do so in this itinerary. You can check our list of best luxury hotels in Arenal.
If you want to stay in town and are on a budget, we recommend Hotel Las Colinas or Hotel El Secreto La Fortuna.
If you're coming with a family or big group, check out this Airbnb in Arenal that fits up to 12 people.
What to Do in La Fortuna
Arenal Volcano Hike: Walk the trails of the national park to see the impact of the 1968 eruption. Visitors can go for a leisurely hike through the park to get beautiful views of the volcano and the lake. Another excellent volcano hike is the Arenal 1968 private reserve. Arenal Observatory Lodge also has their own hiking trails.
Canyoning: Rappel down cliffs and waterfalls 200 feet tall in the middle of the rain forest. Feel the adrenaline flow through your fingertips as you grip tightly onto the rope and hop down deep into the jungle. Read more about canyoning in La Fortuna.
Rio Frio Nature Safari: Float down the Rio Frio river in the Caño Negro Wildlife Reserve while your guide points out wildlife such as caimans, toucans, sloths, otters, birds and more. Read more about this La Fortuna river safari float.
Hot springs: No visit to Arenal is complete without a trip to the hot springs. Soak in pools of varying temperatures surrounded by the lush rain forest. Some of them even have views of the volcano! Best time to go is at night.
What Our Adventurous Group of Young Adults (mid to late 20's) Did
Day 2: 4 in 1 combination tour with hot springs to see the highlights of the area (hanging bridges, La Fortuna waterfall, volcano hike and hot springs with dinner included). As we had a car, we visited these places ourselves but we highly recommend you to book a tour that includes a guide, so you can learn more about the area and have someone take you around.
Day 3: Relaxed, went to the pool, walked around the Arenal Observatory Lodge trails, visited Fortuna town to shop and eat. We also visited the hot springs again – unfortunately no hot springs offer multi day passes, only 1 day passes so we had to purchase another pass.
Day 4: Canyoning in the morning, rest, nap, lunch in town and then an easy 1 kilometer trail Sloth Walk in the afternoon to see wildlife.
There are plenty more activities to enjoy in Arenal and La Fortuna. For more ideas, check out our post of top things to do in La Fortuna and save some money with our La Fortuna tours discount!
Recommended Restaurants
La Fortuna Pub, Organico, Soda Garra Pata, Piuru Peruvian, Rainforest Cafe, Soda Nene, Pollos Fortueño, Don Rufino, Chocolate Fusion and Soda La Hormiga.
For local food, Soda Garra Pata and Soda La Hormiga are great options. For a nice dinner out, Don Rufino is a favorite. La Fortuna Pub has lots of craft beer and games for a fun night out.
Days 5-7: Monteverde (Drive around 3 hours)
Leave mid morning to your second destination, Monteverde. If you don't have a car, you can take the water taxi across Lake Arenal which costs around $45 USD per person and takes around 3 hours. They have a taxi boat in the morning and afternoon (~8 AM and 2 PM).
Travel day tip: To make the most of our day, we stopped by Rio Celeste on the way from La Fortuna to Monteverde to see the sky blue river. We left La Fortuna at 7 AM to get to the Tenorio National Park at 9 AM, hiked the park for 3 hours, had lunch in Bijagua and then drove 2.5 hours to Monteverde, arriving around 5-6 PM.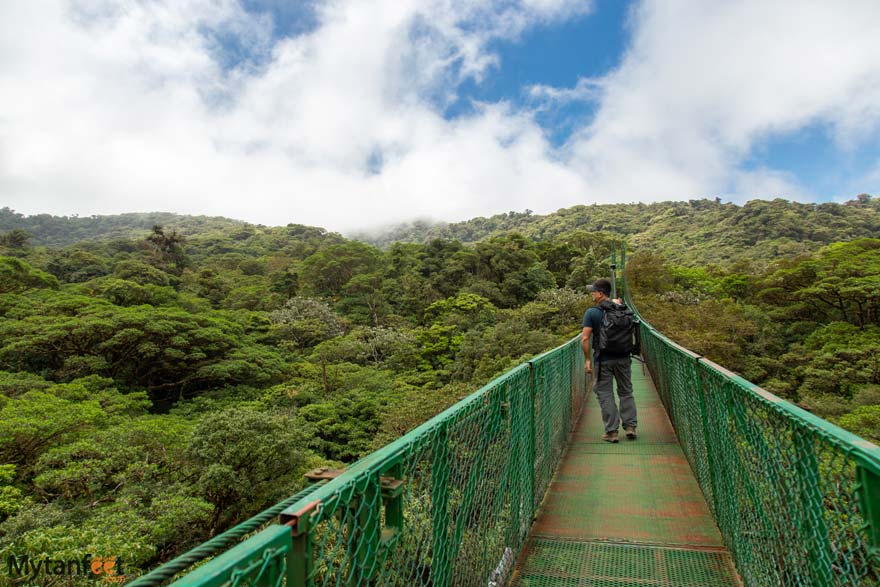 Monteverde is home to an incredible tropical cloud forest, has excellent hiking, ziplining and birdwatching and is also the site of the first zipline in Costa Rica.
Read our Monteverde travel tips guide for more information.
Where to stay in Monteverde
We love the El Establo Hotel, Hotel Belmar, Hotel Poco a Poco, Senda Monteverde and the Monteverde Country Lodge which is the one where we stayed. El Establo is a bit more expensive and has bigger rooms with two floors with beautiful views of the cloud forest.
There are a lot of hostels and budget options such as Selina Monteverde, La Pension and Hostel La Suerte.
Airbnb is also an excellent option in Monteverde. We stayed at this Airbnb in Monteverde, perfect for couples or groups of 4.
What to Do in Monteverde
Ziplining: Monteverde is famous for their cloud forest canopy tours, with some of the longest and highest in the country. The most popular canopy tours are SkyTrek, Selvatura Park and 100% Aventura.
Hanging bridges: Discover the wonders of the cloud forest by walking on hanging bridges high up in the tree top canopy.
Bird watching: Monteverde is one of the few places in Costa Rica where you can see the elusive Resplendant Quetzal among many other beautiful birds. A great place for birdwatching in Monteverde is the Curi Cancha Reserve.
Hike the cloud forests: This is an absolute must do. The 3 reserves, Monteverde, Santa Elena and Children's Eternal Rain Forest all have beautiful viewpoints, well maintained hiking trails and ample wildlife opportunities. Read this guide to decide which Monteverde cloud forest reserve should visit.
What We Did
Day 5: We relaxed at our hotel and checked out the town the day we arrived. After dinner at Sabor Tico, we did a bit of souvenir shopping in town.
Day 6: One day adventure at Selvatura Park including ziplining, hanging bridges, butterfly garden, sloth center, insect exhibit and herpetarium. This is a full day activity. After we finished the park, we went to our hotel to freshen up and then had dinner at the Tree House Restaurant in downtown. We did more souvenir shopping downtown.
Day 7: A walk in Santa Elena Cloud Forest Reserve in the morning. Alternative option: birdwatching at Curi Cancha Reserve or coffee & chocolate tour.
Recommended Restaurants
Tree House, Tramonti, Monteverde Brewing Company, Panaderia Jimenez, Orchid Coffee, Choco Cafe, Taco Taco and Restuarante Sabor Tico.
Tramonti has amazing pizza and Sabor Tico is the best for local food. Orchid is great for breakfast and lunch. Panaderia Jimenez is a local bakery with great Costa Rican breakfasts.
Day 8: Travel to Santa Teresa (~5 hours)
Today is a travel day to a popular beach and surf town in the Nicoya Peninsula, Santa Teresa. We first went to Puntarenas to catch the ferry and then drove to Santa Teresa. Read our tips to taking the Puntarenas ferry.
If you're not driving, the best option is to take a shuttle. Shared shuttles are around $65 per person, private is around $265. You can also take the public bus.
For the bus, take a bus to Puntarenas (4:30, 6 and 15) and grab a taxi to the ferry dock. Once you arrive at Paquera dock, take the public bus to Cobano (6:15, 8:15, 10:15, 12:15, 15:15, 16:30, 18:15). If you arrive in time, you can get a bus from Cobano to Santa Teresa, or take a taxi. Last bus from Cobano to Santa Teresa is 14:30.
The ferry is very nice with beautiful views of the Gulf of Nicoya nd you can see what Puntarenas, an important fishing town in Costa Rica is like.
Days 9-10: Santa Teresa, Mal Pais, Playa Carmen
The next couple days are yours to enjoy at the beautiful, lesser visited beaches of Santa Teresa, Mal Pais, Playa Hermosa and Playa Carmen. Santa Teresa attracts surfers, yogis and those looking to escape the busy crowds of touristic areas.
What to do in Santa Teresa
Here you can try surfing, watch the beautiful sunsets on the beach, go horseback riding or take a yoga class. All we did was check out different beaches, watch the sunset, lay by the pool, shop, eat and relax. No excursions in Santa Teresa this time, just beach time.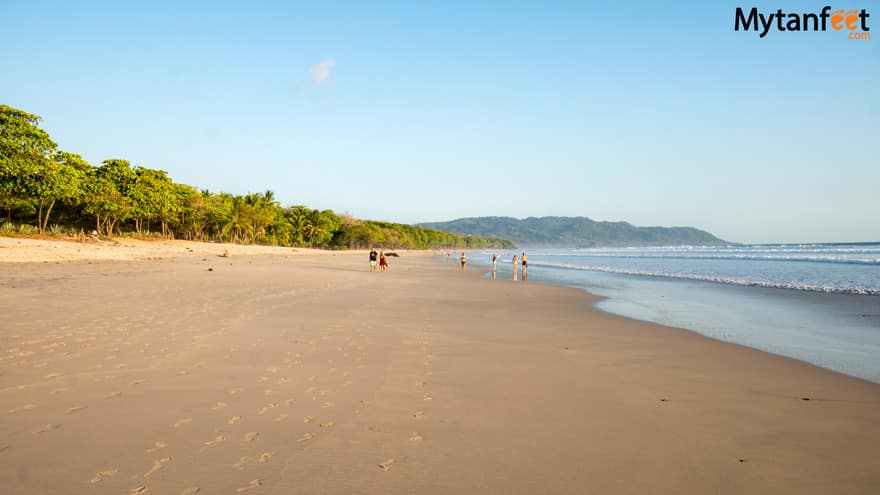 Your first week in Costa Rica has been full of excitement and adventure, so take these couple days to relax and fall into the pura vida beach life.
Where to Stay in Santa Teresa
We stayed at Hotel Santa Teresa which was really nice. It's about a 1 minute walk to the beach and you're close to small supermarkets and restaurants. Casa Chameleon Mal Pais is an incredibly nice hotel for couples and honeymooners.
For hostels, Selina Santa Teresa (North and South) is a great one in town.
If you prefer to be in a quieter part of this area, we highly recommend Lua Villas in Playa Hermosa. We stayed here before for a surf trip and it was a fantastic place for our group of 5. It's about a 15 minute drive to Santa Teresa downtown however, so you need a car.
Recommended Restaurants
Drift Bar, Banana Beach, The Bakery, Eat Street, Burger Rancho, Zula restaurante, Somos Cafe, Soda Pura Vida and Habaneros. If you're vegan/vegetarian, Drift Bar is a fantastic option.
The Bakery is a local favorite for pastries and coffee.
Day 11: Drive to Playas del Coco ~4 hours
Today is a travel day and the fourth destination in this 2 week Costa Rica itinerary is Playas del Coco. This town is a small fishing village in the North Pacific. For the easiest driving route, you should take the Route 21 past Paquera, Nicoya and then Route 151.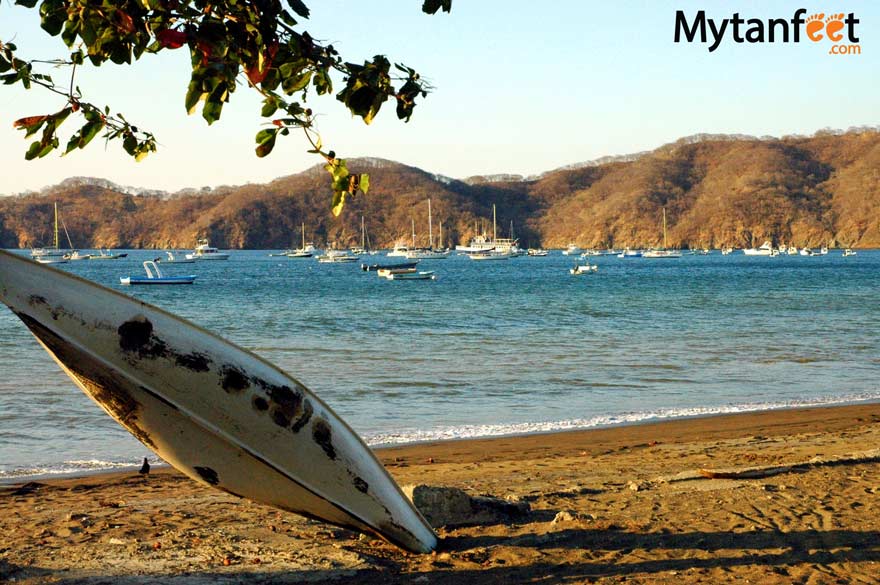 Take your time on this drive and make sure to leave in the morning/mid-morning so you drive during daylight. Also do NOT stray off the main road, there are many rural roads on this route, do not take them. Stay on the main road!
Days 12-13: Playas del Coco
For your last few days in Costa Rica, relax and enjoy all the beach has to offer. You can spend your days relaxing in Playas del Coco, but I highly recommend booking at least a boating tour to experience the beautiful Gulf of Papagayo.
Our Recommendations
Private beach hopping, snorkeling and fishing tour: Visit beautiful hidden beaches and go snorkeling. Fish, watch the sunset, snorkel, have the best beach experience on this private beach hopping and boating tour in Playas del Coco. *Dedicate one full day to do a full day beach hopping and snorkeling tour which is what we did*
Shop, relax, eat, watch the sunset, swim at the pool, walk on the beach, just enjoy!
Where to stay
My brother and friends rented a house on Airbnb in the Las Palmas neighborhood. There are many rentals on Airbnb where you can get a fully furnished condo with 2 bedrooms, 2 bathrooms and a pool. Breeze Residencies and Pacifico are two other popular condo complexes in Playas del Coco.
For groups and families, we recommend these condo rentals instead of hotels. There aren't a ton of hotels in Playas del Coco anyways, there are more vacation rental options. For hotels, basic but clean options are Puerta del Sol, Toro Blanco, M&M Beach House and Colono Beach.
Recommended Restaurants
Java Coffee, Coconutz, Johann Bistro, Soda Teresita, Le Coq, Cafe Corazon, Restaurante Claudio y Gloria, Chorotacos, Zi Lounge, Coconutz, and Villa Italia.
Our favorites are Le Coq and Soda Teresita.
Day 14: Fly out of LIR (~30 minute drive)
And your two week Costa Rica trip has come to an end. Fly out of Liberia International Airport full of cherished memories and the feeling of pura vida back home. Make sure to leave in time to be at the airport 2 hours before your departure time.ap
Tips for this Two Week Costa Rica Itinerary
Monteverde is considerably cooler than the rest of the destinations, so make sure to bring a jacket and long pants when visiting the cloud forest.
Make sure to bring the appropriate clothing and gear for the activities such as hiking sandals, beach gear, hiking, etc. You can check our packing list for Costa Rica for more tips.
Have a few more days and want to throw in another destination? Consider Samara or Nosara for more beach or you can check out the Curubande area for tropical dry forest.
If you're looking for more of a party vibe, stay in Tamarindo instead of Playas del Coco.
2 Weeks in Costa Rica Budget
If you're staying in hotels that are about $100 a night, spending about $60 a day on food and doing a few tours, your estimated cost for this sample 14 day Costa Rica itinerary will be around $1800-2000 per person not including the car rental. Your budget really depends on where you stay, where you eat and what you do (excursions/tours). *All prices in USD.*
You can lower your costs by staying in budget hotels, doing few or no excursions and eating at cheap places only.
Want more itinerary ideas? Check out this 1 week Costa Rica itinerary, this 5 day Guanacaste itinerary, another 14 day itinerary or this 10 day Costa Rica itinerary.
This post has affiliate links