Manuel Antonio National Park is one of the best national parks in Costa Rica for hiking, wildlife and beaches. Although small in size, this park offers some of the most stunning tropical rainforest and beach landscapes in the country.
If you plan to visit one of Costa Rica's most popular national parks, here is our guide to Manuel Antonio National Park.
How to get to Manuel Antonio National Park
Manuel Antonio National Park is in Manuel Antonio in the Central Pacific in the Puntarenas province, 170 kilometers (105 miles) from San Jose.
Bus
There are buses that go to the national park. All of them leave from the Quepos bus station and the buses stop on the hill on the way. So if you're staying at a hotel on a hill and want to take the bus, there are lots of bus stops you can wait at. The bus costs 410 CRC one way per person and leaves every half an hour or so starting at 530 AM until 930 PM.
Something to know is that the bus doesn't go all the way directly to the park entrance. It will drop you off at the roundabout near the beach. From there, you need to walk the "Beach Trail" to get to the park entrance.
You will walk on a bridge over a little river with a large sign showing you where to go. It's about a 5 minute walk from the roundabout to the entrance.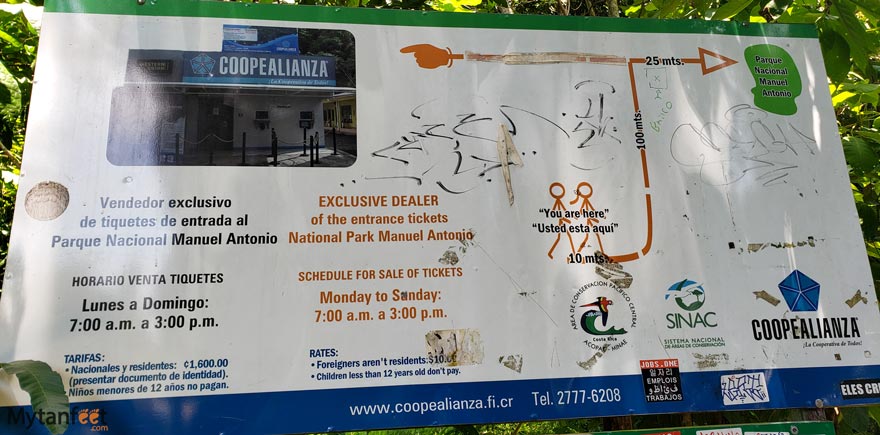 From Jaco, take the bus to Quepos and then the national park. Read our guide to taking the bus from Jaco to Manuel Antonio.
Hours & Entrance Fee
Manuel Antonio National Park operation hours are Wednesday – Monday 7 AM – 4 PM, closed Tuesdays. The beaches close at 3 PM and everyone needs to be out of the park by 4 PM. Around 3 PM, park rangers will close the beaches and start going around telling people they have 1 hour left. Everyone must start leaving by 330 PM.
The park is open on holidays like Christmas and New Years as long as they don't fall on a Tuesday.
The Manuel Antonio National Park entrance fee is $16 USD + tax for adult foreigners, $5 USD + tax for kids 2-12 years old, free for kids under 2. Cash and credit card are accepted.
You cannot bring in alcohol, guns, cigarettes, drugs or speakers.
Online Reservations (IMPORTANT)
You must purchase Manuel Antonio National Park tickets here. This is the only way to get park tickets, they do not sell them at the entrance. If you show up at the park without purchased tickets, they won't let you in. They currently are selling ~3000 park tickets a day so if you are visiting December through April, June, July and August, please make sure you purchase park tickets well in advance as they WILL sell out if you wait until last minute!
The website has an option in English and they have a tutorial to show you how to purchase tickets.
National Park Tickets
Manuel Antonio National Park tickets are a one time entrance and cannot be used for multiple days. They don't offer a package option to purchase one pass for several days, you will need to buy them every time you want to go to the park.
When you enter the park, you must have the barcode or the reservation number and your passport. You can bring your original passport or bring a photocopy or photo of the passport ID page.
Manuel Antonio National Park Parking
There are a few parking lots at Manuel Antonio National Park we recommend. When you get down to the beach from the hill, you will see a turn to the left right between Bar Las Gemelas and Marlins. Turn left and continue on this narrow road until you are almost at the entrance of the national park.
You will see two parking lots, one on your right and one of your left. There will be guys who will walk in front of your car and wave to you to park. Either one is fine but I recommend the one on the right if you can. The guys stay there at the parking lot to watch it but I still recommend not leaving anything valuable visible in your car. Always lock your doors and roll up your windows.
On Google Maps, you can find one of them called Parking Manuel Antonio (Prive).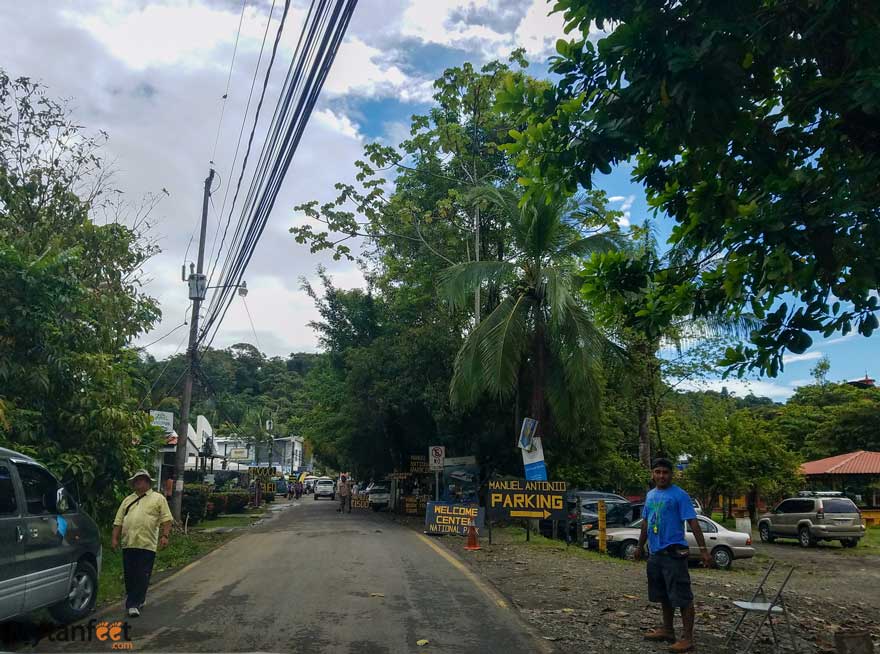 We paid 3,000 colones for parking the whole day in September. In high season, December – April, it can be more around 5-6000 CRC. I recommend to pay in Costa Rican colones, not USD.
There is a third parking lot you can go to, it's not quite as close but it's very close still. On Google Maps, it's called Parqueo para el parque or Parqueo Privado Manuel Antonio.
MUST READ IF YOU ARE DRIVING TO THE PARK!
Something very important to mention is that when you are driving down to the national park, at the bottom of the last hill, you will see guys waving at you from a parking lot to your right hand side and you will see a beach back there. This is NOT near the national park! You are still about 1 mile away from the park and these guys will offer you to park in their "national park" parking lot and try to offer their "guiding services." Or tell you something like you can't go in the national park unless you park there. Or you can't go in the national park unless you hire them.
Do NOT park here. These guys are not telling the truth and trying to rip off tourists. Continue on until you see restaurants and stores to your left and you will see a small road on the left after you pass the Super Joseth convenience store. Turn left here and continue on this road past Hotel Vela Bar to get to the national park entrance and parking lots. It is a narrow road so drive carefully. On Google Maps, you can set the destination as "Welcome Center Manuel Antonio" or even the Hotel San Bada to get right to the entrance.
4×4 necessary? Road Conditions?
The road to Manuel Antonio National Park is completely paved. A 4×4 or high car is not necessary, you can perfectly get there in a sedan.
Just be aware that the road is very narrow and curvy once you pass Quepos so drive slowly.
Facilities
There are bathrooms at the entrance of the national park and inside the the national park at 3 different points. You can find one facility with bathrooms, showers and changing rooms inside the national park.
From what we have heard as of August 2023, the small cafeteria inside the park is now open again and they offer sandwiches, salads, drinks, etc.
As for bringing food into the park – food is technically not allowed in the park. Previously, visitors were able to bring food like chopped fruit and sandwiches in completely resealable bags (like Stasher) but this is completely up to the park rangers as they have signs that food is not allowed. Please note that single use plastics are not allowed inside the national park.
If you are very hungry after your park visit, there are restaurants to the left hand side down the small alley outside the park entrance.
Guide or Self Guided?
You can visit Manuel Antonio National Park with a guide or without a guide. Whether you hire a guide is completely up to you and depends on the kind of experience you want at the park. Here are our thoughts.
Guide Vs Tour
You can hire just a naturalist guide or you can book a full tour. The difference is that with a tour, the company will provide roundtrip transportation, include the entrance tickets, and give you bottled water and fruit. They will take care of you from the minute they pick you up to the minute they drop you off.
Hiring a naturalist guide is just that – only a guide. You go to the park on your own by bus, walking or driving, hire a guide who will take you around the national park and then that's it. You will need to pre-purchase your park ticket online.
When you should hire a guide
You really want to see wildlife and learn more about the flora and fauna. Your naturalist guide will be able to find animals that are hiding or camouflaged. Additionally, many guides have telescopes so you can see the animals up close and get photos through the telescope. The guide will share with you interesting facts and information about the wildlife and Manuel Antonio.
I highly recommend guides for families with curious children and anyone who wants to see wildlife. Manuel Antonio National Park is one of the best places in Costa Rica to see sloths but you will have better chances to see one with a guide with trained eyes.
When you should book a tour
You don't want to worry about driving, parking or buying park tickets. The tour company will take care of it all for you. I highly recommend this option for young families, big groups or those with only 1 day at the park and want to make the most out of their time in Manuel Antonio.
We did the Manuel Antonio National Park tour and had a great experience. Our guide was incredibly enthusiastic and engaging, making our walk with him highly enjoyable. I learned a lot about the area I never knew even though we'd been to Manuel Antonio several times before. He also found a couple very fascinating birds of prey for us!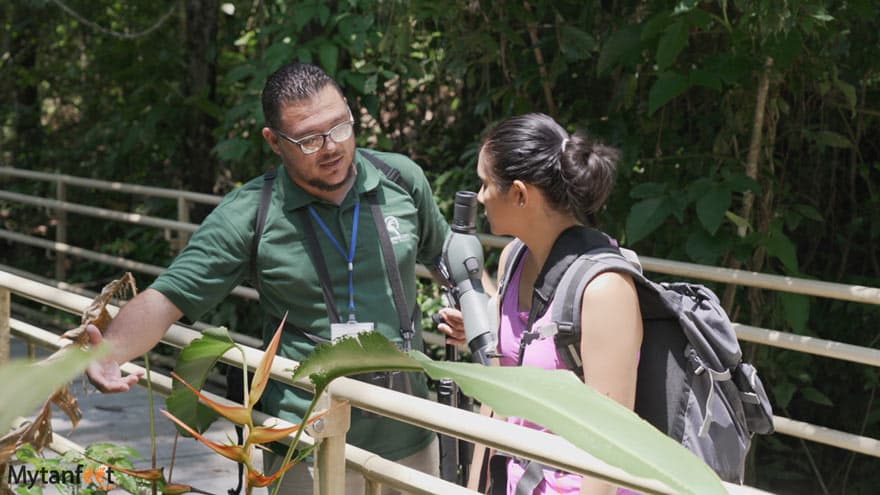 We offer a small discount for our readers for Manuel Antonio National Park guided tours. Click here to book the tour and get our discount!
Tours are usually 2 hours long for the guided walk and they give you the option of going back to your hotel or you can stay at the park to explore more of it on your own. They'll tell you where to grab a taxi or take the bus to get back to your hotel.
Video
We made a short video of our guided walk which you can watch below.
Who should go on their own and not hire a guide or book a tour
Anyone on a budget or just wants to enjoy the park at their own pace and doesn't have their heart set on finding animals or learning about the area. We have visited Manuel Antonio National Park 4 times on our own and had a great time each time. We were able to see monkeys and sloths on our own all times except 2. One time we just wanted to hangout at the beach and another time we hiked with friends throughout the whole park at our own pace.
Where to hire a guide
If you want a guide or tour, I recommend pre-booking with a tour company, especially during high season.
There are also guides at the national park entrance for hire, just ask for their guide certification (should be a badge with ICT certification). As for how much they charge, they offered me and my 2 friends $20 USD per person for a 2 hour guided walk. This should be approximately the going rate, if they try to charge you something outrageous, walk away and find another guide. This is just for guiding service, does not include park ticket or anything else.
If you want a more personal experience, I highly recommend a private tour, especially during high season.
Manuel Antonio National Park Trails
Here is an overview of the Manuel Antonio National Park trails. There are tons of maps and signs throughout the park. You won't get lost!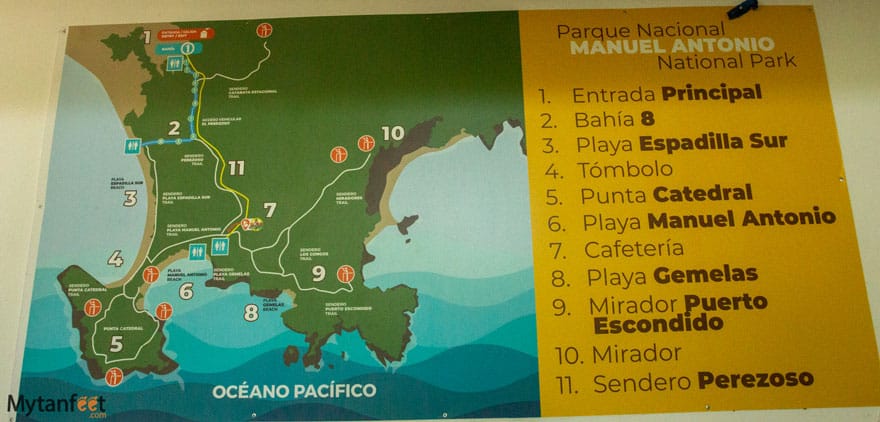 For hiking the national park, here is all you need to know.
Sendero La Catarata (waterfall trail)
This short trail is just a couple hundred meters away from the entrance of the park and leads to a small waterfall. If you don't do the other trails, this one is pretty short so you can wander over there to check it out if you're short on time or aren't interested in hiking the rest.
However, since the waterfall is kind of small, you can skip this one. You won't be missing anything amazing (there are a lot more beautiful waterfalls in the South Pacific like Nauyaca).
I did see a couple of the poison dart frogs on the way so you might see something too. Otherwise I wouldn't say this trail is absolutely necessary to walk on since the waterfall is fairly small.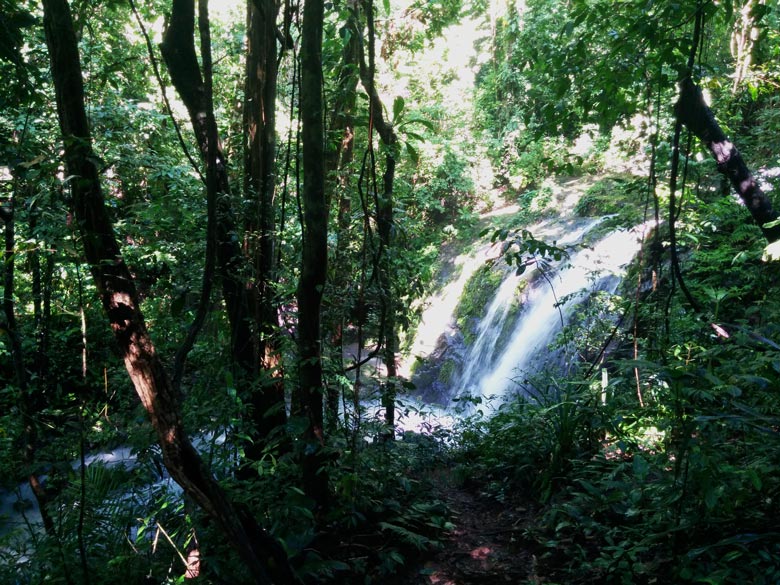 The trail is paved for some of it and other parts has dirt.
Sendero el Perezoso (sloth trail)
This short trail runs parallel to the main one through the park (the other name for this trail is Sendero Paralelo). This one takes you a bit deeper inside the forest.
The trail is a platform that leads to the main fork of the national park where you go to Playa Manuel Antonio or the other trails, so if you decide to take this path, you'll end up in the same place as the main trail. You could walk one path on the way in and walk the other path on the way out if you want to experience both.
We saw a 3 fingered and 2 fingered sloth on this trail so the trail lives up to its name but make sure you're looking into the trees since it's a bit more dense on this trail than the other one.
Keep your eyes out and look up often to see if you can spot one too! Don't forget to look down too, I saw a mom and baby deer walking under the platform as well as some snakes.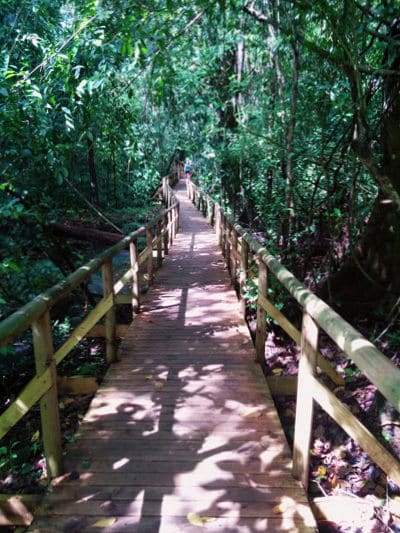 If you look down, you'll see a lot of the red land crabs scuttling around and we also saw a snake here. Wildlife is seriously everywhere!
Universal Trail
The sloth trail connects to the universal trail. This universal trail is incredibly nice with a well built platform and signs with Braille every 50 meters or so. Only a few parks in Costa Rica are handicap friendly (Cahuita and Carara) and this is one of the nicest ones I've seen!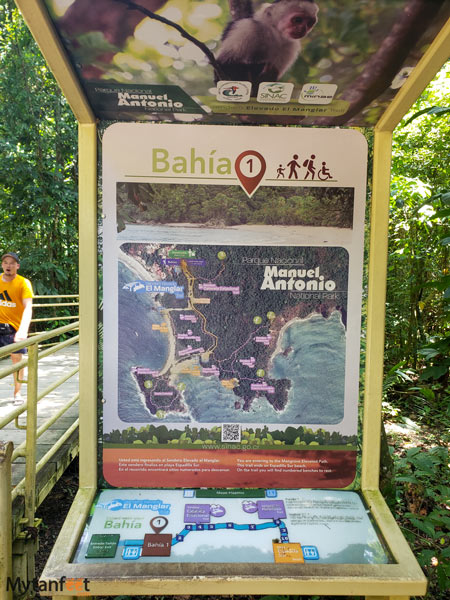 These signs also have super useful information about the surrounding flora and fauna so you can read more about what you're walking through. This trail also connects to Playa Espadilla Sur, going through the mangroves which is incredibly nice.
Punta Catedral (1.4 km)
Punta Catedral used to be an island but over time, it united with the continental landmass by way of sediment and sand build up. This strip connects Playa Manuel Antonio and Playa Espadilla Sur and you can walk the Sendero Punta Catedral all the way around for beautiful views.
You start at Playa Manuel Antonio and you can go either direction since it's a loop. You can also do the short Sendero La Trampa trail (.2 km) and see the beach there.
This hour long hike gives you views of different parts of the park and islands. When you get to Playa Espadilla Sur, you can see Playa Espadilla Norte and all the hotels on the hill on the other side. You can also walk all the way to the other end of Playa Espadilla Sur (trail 2) which is a dead end.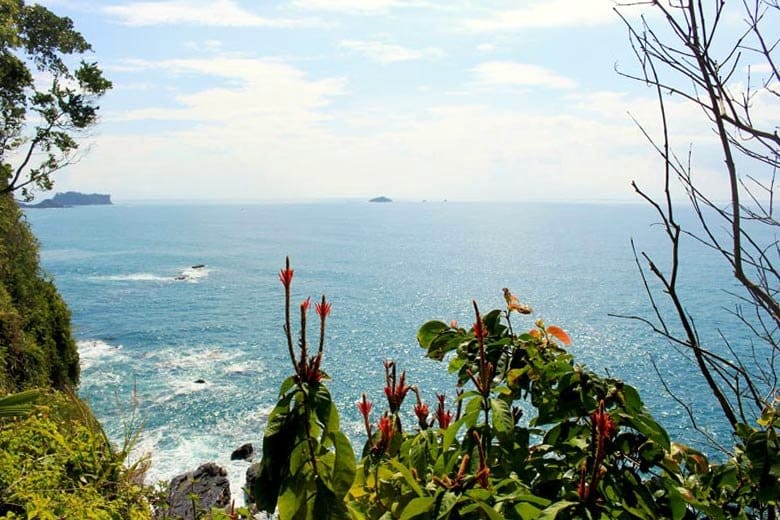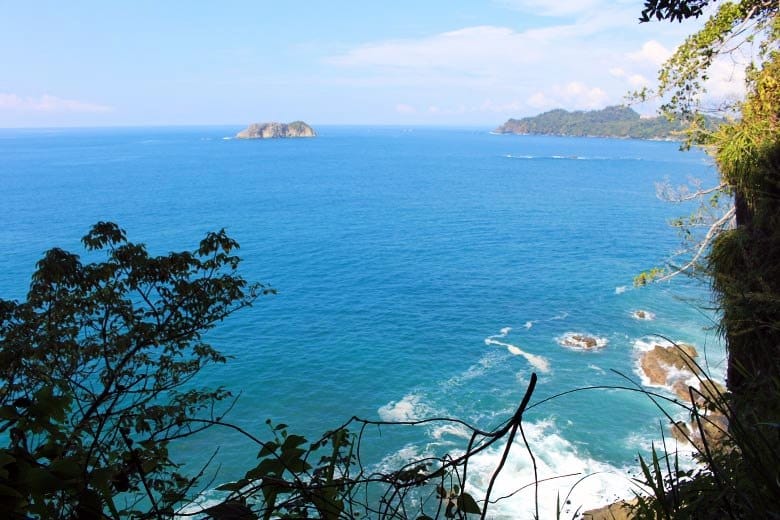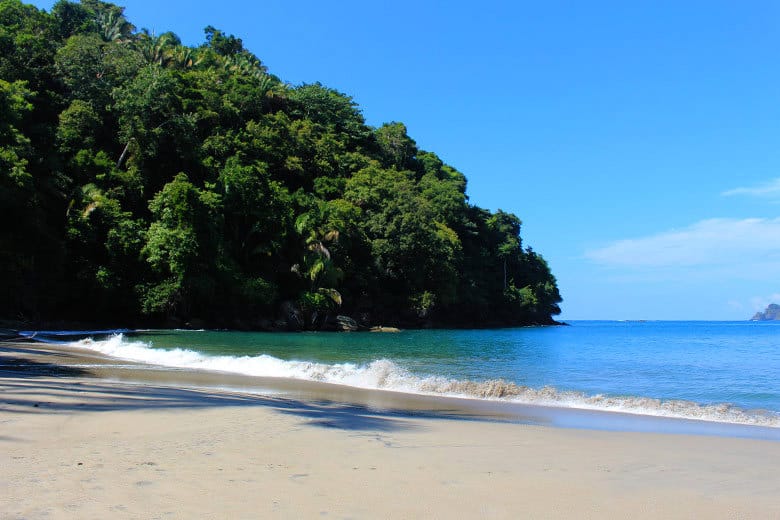 It's not a hard walk at all and the views are incredible. If there's any trail you should go hiking at Manuel Antonio National Park, it's this one.
Sendero Playa Gemelas
This fairly short path leads to Playa Gemelas beach and connects to the other trails on the western side of the national park. Playa Gemelas is on the other side of Playa Manuel Antonio and is a bit smaller.
If Playa Manuel Antonio gets too crowded, come to Gemelas. It's still the same white sand, sparkling turquoise water beach but more cozy and intimate due to its smaller size.
If you walk all the way past the rocks, you get a a gorgeous views of the coast, the west side of Punta Catedral and a bit of Playa Manuel Antonio.
When I went to this beach, there were only two other couples there and it was really nice to sit on the rocks and enjoy the ocean views by myself for a bit.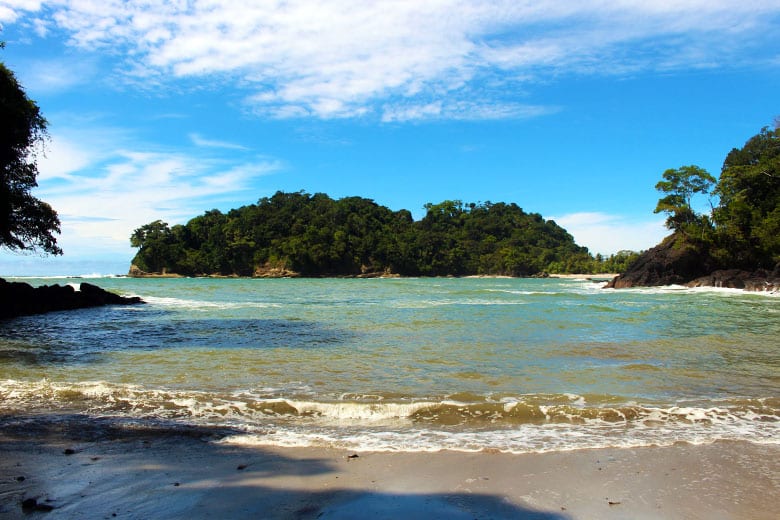 Keep walking on this trail until you hit the mirador (view point) at the end to see Playa Puerto Escondido. The beach is gorgeous, I could never get tired of the quintessential "tropical jungle meets ocean" views!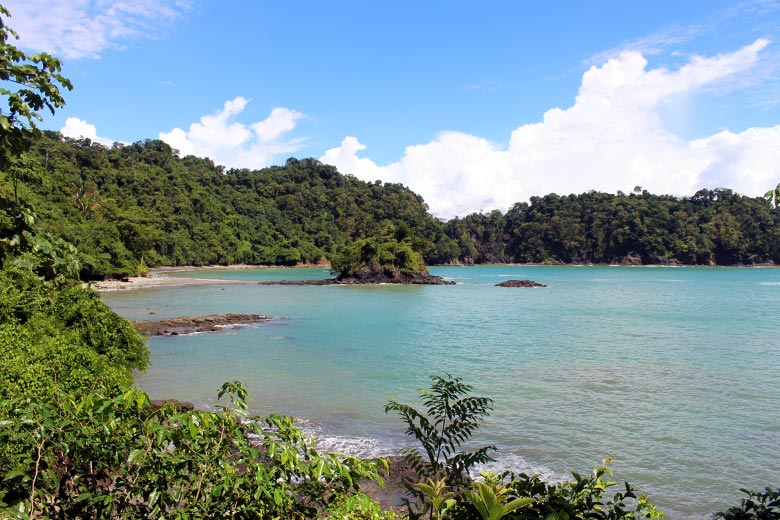 Keep your eyes out at the beach, you may even run into some reptile friends who are basking in the sun!
Sendero Congo
This is a short path that connects the Sendero Playa Gemelas to the Sendero Mirador. On your way back from the Gemelas trail, you can take this path instead of going all the way back to the start to get to the Mirador trail.
It's named after the howler monkey. Here you can see lots of howlers and white face monkeys hanging out. So when you're walking this trail, keep your eyes open for those little guys!
Sendero Mirador (1.3 km)
This path, Sendero Mirador leads to the view of Punta Serrucho (saw tip). Punta Serrucho is a piece of land with a rigged coastline that guts out. It's the result of many movements of the earth as it's right on a tectonic fault. So now it looks like a saw, hence the name.
There's a couple of viewpoints along the way where you can catch glimpses of bright blue water peeking through the trees. This path has a lot of steps so take your time if you need to go slow. The viewpoints have benches to sit, have some water and take a breather.
Also read the information boards they have at every stop. You'll find out exactly what you're looking at, learn about the various flora and fauna that's around and the primary/secondary rain forest.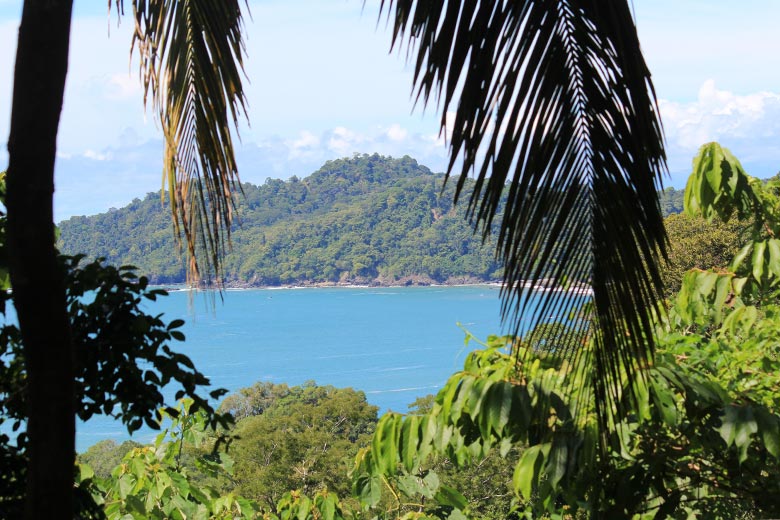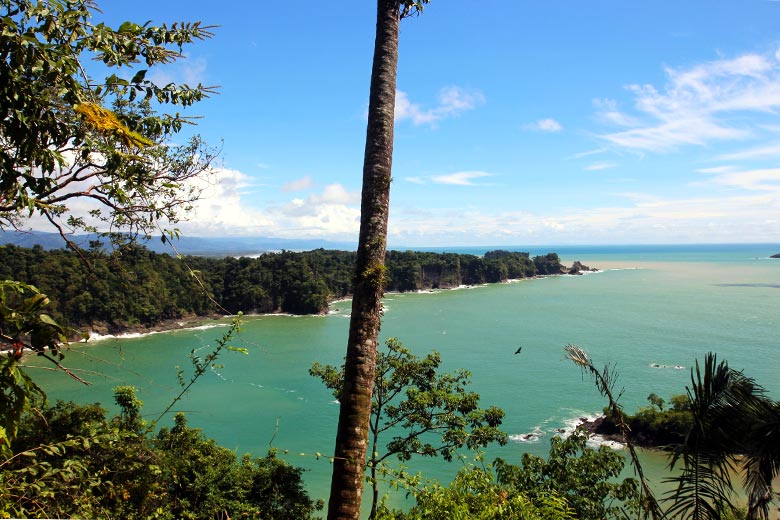 Manuel Antonio National Park is popular for a reason: the lush jungle, abundant wildlife and exquisite beaches all rolled together in one big bundle bursting with nature.
If you want to discover all the gems of this area, you must go hiking Manuel Antonio National Park. They're not difficult and the views alone are make it all worth it.
What to Wear/Bring to Manuel Antonio National Park
Bring your swimsuit (there are changing stations) if you don't want to wear it in, towels, water, sunscreen and mosquito repellent.
If you're visiting in rainy season, make sure you have a waterproof backpack or backpack cover.
You can walk the short trails with flip flops but hiking sandals are the best if you want to hike the longer trails.
You don't need to wear full on hiking gear. It is super hot and humid so I always wear shorts and a tank top. Just make sure to use mosquito repellent.
Read about other national parks below!
Rio Celeste (Tenorio Volcano National Park)
Rincon de la Vieja National Park
Costa Rica Vacation Checklist