Fishing in Costa Rica is no joke. Both the Pacific and Caribbean coasts of Costa Rica boasts excellent fishing and many locals to this day make their living off of fishing whether commercially, artisanally or for tourism. Costa Rica offers all types: sport fishing, freshwater fishing and inshore fishing. The sport fishing is so good that the country receives more than 5 Grand Slams each year during tournaments!
Here is our guide on fishing in Costa Rica.
Best Fishing in Costa Rica: Where to Go
Gulf of Papagayo
The Gulf of Papagayo is only 30 minutes from Liberia International Airport,, making it the most easily accessible fishing spot for visitors. You can take an inshore or deep sea fishing trip to catch mahi-mahi, tuna, sailfish and more. The Papagayo Marina is in Culebra Bay and fits up to 180 boats!
Tamarindo and Flamingo
Tamarindo and Flamingo are two excellent places for deep sea fishing. Flamingo has a brand new marina with a shopping center, condos and new slips for currently 92 boats, planned up to 180 in the future.
Drake Bay, Puerto Jimenez, Zancudo and Golfito
All three places are great fishing destinations. Zancudo is particularly good for marlin and sailfish. Zancudo Lodge and Crocodile Bay Resort puts together great in and offshore fishing packages.
Quepos
Quepos, the main town near Manuel Antonio has a large marina called Marina Pez Vela and is a great place for sailfish. This marina is usually home to international fishing competitions and top anglers from all over the world visit Quepos specifically for fishing.
Herradura
Herrdura is home to the Los Suenos Marina which holds up to 200 boats. Ideal for those who want to fish in style as it caters the needs of luxury travelers. Good place for marlin and sailfish. This is where you'll depart from if you're staying in Jaco. The Los Suenos Marriott is right at the marina.
Cahuita
The Caribbean coasts offers different types of fish than the Pacific. You can catch species such as Snook, Tarpon, Spanish mackerel, barracuda, king fish tripletail and mahi-mahi.
North Caribbean (Parismina)
Rio Parismina is one of the best for giant tarpoon and snook, a favorite for fly fishermen.
Samara
Samara offers decent deep sea fishing.
Both places offer good fishing, particularly local fishing since they are small fishing towns. Bahia Rica Lodge offers excellent fishing trips in the Paquera Bay and Gulf of Nicoya.
Costa Rica Fishing Calendar
Here are the best times of year for certain fish in various parts of the country.
Pacific Coast
Marlin (Black/blue/striped): Excellent Oct-Dec. Good April – Sept. Fair Jan – Mar.
Sailfish: Excellent Jan – Mar and Oct-Dec. Good April – Sept.
Tuna (yellowfin): Excellent all year long.
Mahi-mahi: Excellent Jan – March and Oct – Dec.
Roosterfish: Excellent July – Sept. Good Jan – June. Fair Oct – Dec.
Wahoo: Good Jan – Sept. Fair Oct – Dec.
Snapper: Excellent July – Dec. Good April – June. Fair Jan – March.
Caribbean
Tarpon: Peak season is December – May.
Snook: March – May season, peak season is September – November.
Fat Snook: November – January.
Atlantic Sailfish: Year round.
Wahoo: Year round.
Tripletail: Year round.
Offshore Fishing in Costa Rica
Bill fish are plentiful in Costa Rica and you can catch marlin, sailfish, roosterfish and more on a deep sea fishing trip. The most popular places to go deep sea fishing in Costa Rica is Flamingo, Herradura, Quepos, Golfo Dulce/Golfito, Drake Bay and Gulf of Papagayo.
Half day sport fishing charters starts at $800 USD and full day can go over $2600 USD depending on number of people, hours and other factors. These boats are equipped with bathrooms, include all fishing gear and equipment and crew.
Inshore Fishing
You can still catch plenty of fish on an inshore fishing trip. Wahoo, snappers, grouper, mahi-mahi and tuna are just a few fish that roam around closer to shore. Some of the best places to go inshore fishing in Costa Rica are Gulf of Papagayo, Caribbean, Quepos, Samara and Tamarindo.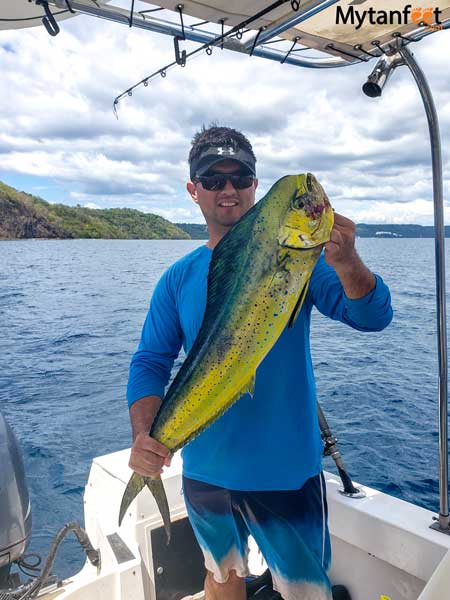 Half day inshore fishing charters start at $400 and full days can go up to $1000. For inshore fishing, you can keep the fish you catch for the most part. We've caught mahi mahi, tuna and snapper before and took them all home to eat which was awesome!
Trolling/Bottom Fishing
Many fishing tours will also offer trolling or bottom fishing either included or extra charge.
Pangas
If you'd like to try inshore fishing but the local way, you can hire a panga instead of booking through a big company. Pangas are small  (15-22) foot outboard hull boats with center consoles. It's pretty much a small boat that locals use for inshore fishing and it's a very nice way to experience local artisan fishing.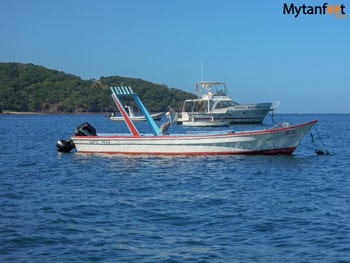 Half and full day trips run around $200-$700, much cheaper than other charters since the boats aren't big and don't have bathrooms. However, the price should include fishing equipment and the fishing license.
Kayak Fishing
Yeison used to go kayak fishing in Playas del Coco which you can read more in the link.
Shore Fishing
You will still see locals shore fishing during certain times of the year and places. When we used to live in Playas del Coco, we saw a lot of locals shore fishing with just a line and hook! Although we never had any luck, we have seen some local fishermen catch big snappers right from shore!
It does need to be during the right time of year when the fish are close to shore and you need to know what you're doing. It's not good all year round and it's not as plentiful as it used to be. But if you have experience in this kind of fishing and want to try your hand, you can visit any fishing store to buy equipment or ask any local you see fishing and ask them how it is.
Freshwater Fishing
You can also try your hand at freshwater such as lake and river fishing in Costa Rica. There are a handful of rivers and a few lakes where freshwater fishing in Costa Rica is very good. The most popular places for freshwater fishing is Lake Arenal and Savegre River in San Gerardo de Dota. You can catch rainbow trout, bass, mojarra, bluegill and many other types of freshwater fish.
Additionally, many places have their own tilapia pond or trout pond. Tilapia is not a really yummy fish but it is a fun experience to catch your own and then they cook it for you.
Some hotels even offer these activities such as the Springs Resort & Spa and Peace Lodge (they have their own trout lake and river).
Fly Fishing in Costa Rica
Fly fishing in Costa Rica is quite good. It's not as popular as ocean fishing but there is a company that specializes in fly fishing trips, Fly Fish in Costa Rica. They put together special itineraries and all inclusive Costa Rica fishing packages!
If you plan to go fishing in Gulf of Papagayo (Ocotal/Coco/Hermosa/Panama) or Tamarindo/Conchal/Flamingo, please feel free to contact us for recommendations! We also have a friend who runs inshore fishing, surfing and snorkeling trips from Coco.