Established in 1972, the Monteverde Cloud Forest Reserve has largely been considered as one of Costa Rica's most treasured places. This 4,000 hectare (9884 acre) private reserve protects a very delicate and sadly diminishing ecosystem: the tropical cloud forests. The original settlers, a group of Quakers recognized the vulnerability of the cloud forests and set out to protect Monteverde by creating the reserve.
Currently, the Monteverde Cloud Forest Reserve is run by a non-profit group and now tourists from all over the world visit this particular part of Costa Rica to learn about the precious cloud forests. Tourists can hike the reserve or take a guided tour to experience the beauty of a forest up in the clouds and appreciate its importance in the world.
Of the three cloud forest reserves, Monteverde is arguably the most popular and is absolutely worth visiting. In this post, we will help you plan your visit.
Location
Monteverde Cloud Forest Reserve is about 6 kilometers (3.5 miles) from downtown Santa Elena, a 15 minute drive.
Directions
From Santa Elena, go east towards Hotel El Establo and to Cerro Plano. A little past the Establo Hotel, the road will turn into gravel (where the benches are by the side of the road).
From there, continue on this road for a kilometer or so and you will stay on the road to the left (where it then branches off to San Luis to the right).
There is a dedicated parking lot for Monteverde Cloud Forest Reserve. You must park here and you can't miss it – you'll see a huge blue sign on your right that says "Official Parking Lot Monteverde Cloud Forest Preserve" across from Selina Monteverde to your left.
For those visiting on your own, park there and the reserve reception is in front of the Hotel Selina. If you are visiting with an agency like on a guided tour or guided package, your guide will take you to the other entrance office with your group.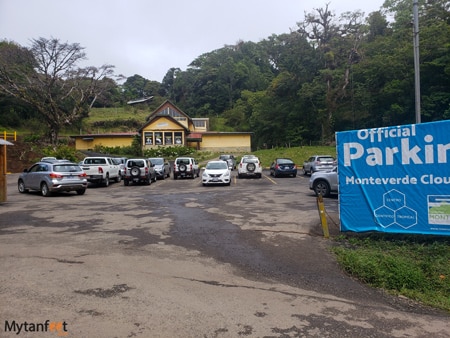 It costs $5 USD roundtrip per person to park and for the shuttle from this official parking lot to the Monteverde Cloud Forest Biological Reserve.
Shuttle
There is a shuttle bus you can book in advance to go to the reserve.
Santa Elena downtown to Monteverde Cloud Forest Reserve: 615 AM, 730 AM, 930 AM, 120 PM and 3 PM. Costs $3 USD one way.
Monteverde Cloud Forest Biological Reserve to Santa Elena downtown: 640AM, 830 AM, 11 AM, 2 PM and 4 PM. Costs $3 USD one way.
Reserve in advance at Monteverde Info Center.
Public Bus
This is the cheaper option for the public bus.
Santa Elena downtown to Monteverde Cloud Forest Biological Reserve: 6:15 AM, 7:30 AM, 9:30 AM (high season), 1:20 PM and 3 PM.
Monteverde Cloud Forest Biological Reserve to Santa Elena downtown: 6 AM, 830 AM (high season), 2 PM and 4 PM.
Costs 700 Costa Rican colones per way.
Hours and Entrance Fee
The Monteverde Cloud Forest Reserve entrance fee for foreigners is $25 USD per person and $12 USD per child from 6 to 12 years. They take cash (USD and colones) and credit card.
The reserve is open everyday from 7 AM to 4 PM.
Map
You can pick up a map at the entrance office.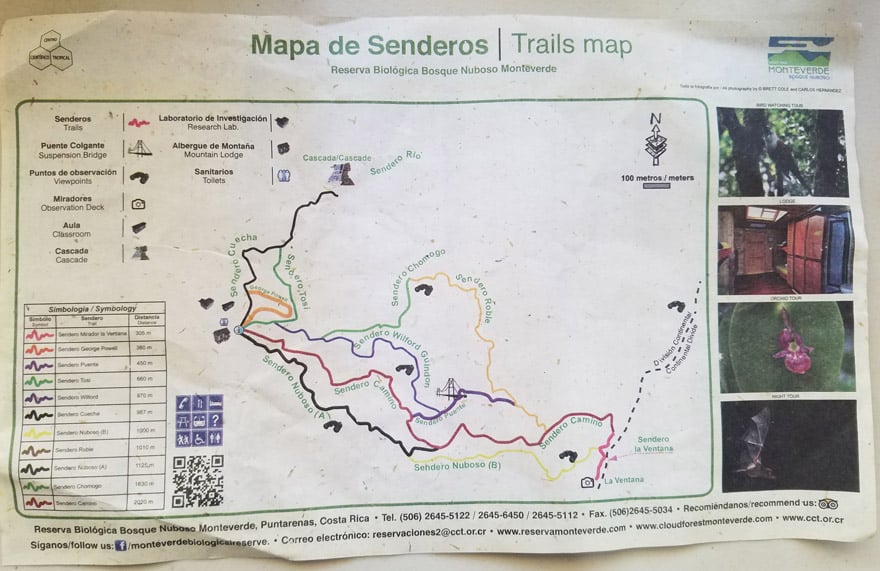 When we visited in February 2021, they didn't give us a map as we did a guided walk. You may need to ask for them.
Monteverde Cloud Forest Reserve Trails
We hiked most of the reserve. The route we took as first to Sendero Nubloso to the viewpoint at la Ventana, then back to Camino, Puente to the bridge, Wilford Guindon, Tosi and Cuecha to the waterfall and back to the office. It took us about 3-4 hours total including stopping for photos and we walked roughly 5 kilometers total.
Sendero Nubloso (1125 m)
We took this trail to go to the viewpoint of the Continental divide. The trails are very well maintained and outlined and signage is excellent so it's easy to find your way around.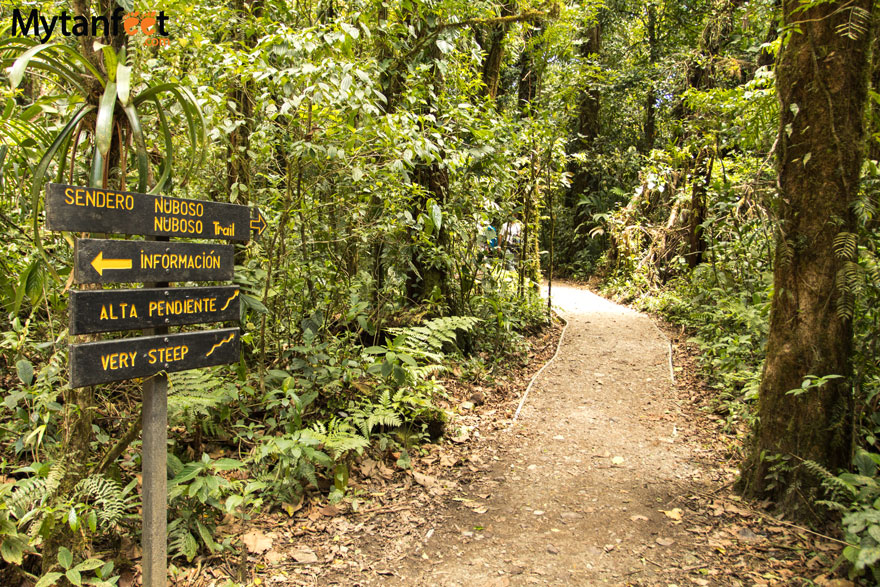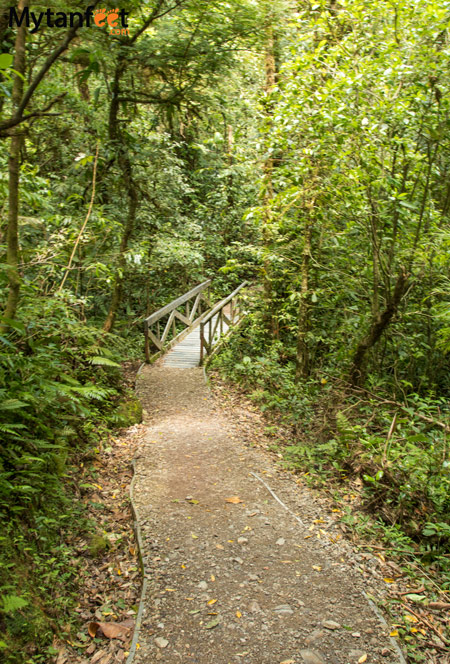 This trail takes you to the viewpoint of the Continental divide where you can see the Pacific and Caribbean. Sendero Nubloso turns into sendero la Ventana which is 305 meters.
The views at Sendero la Ventana are incredible. You can peek over to the side of the trail and look over the entire cloud forest reserve!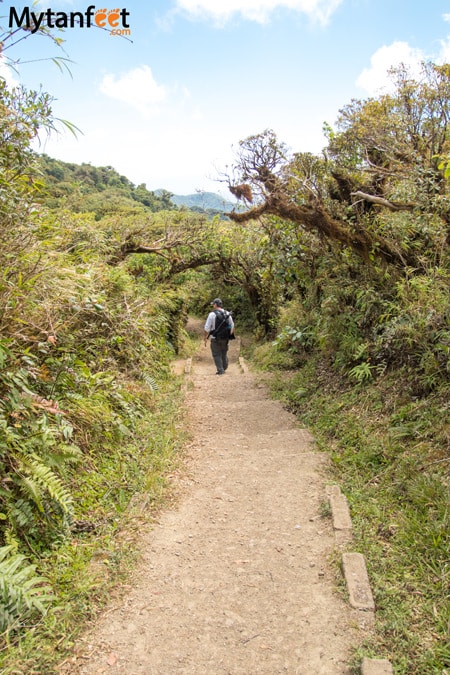 This is a view of the Caribbean side overlooking the forests.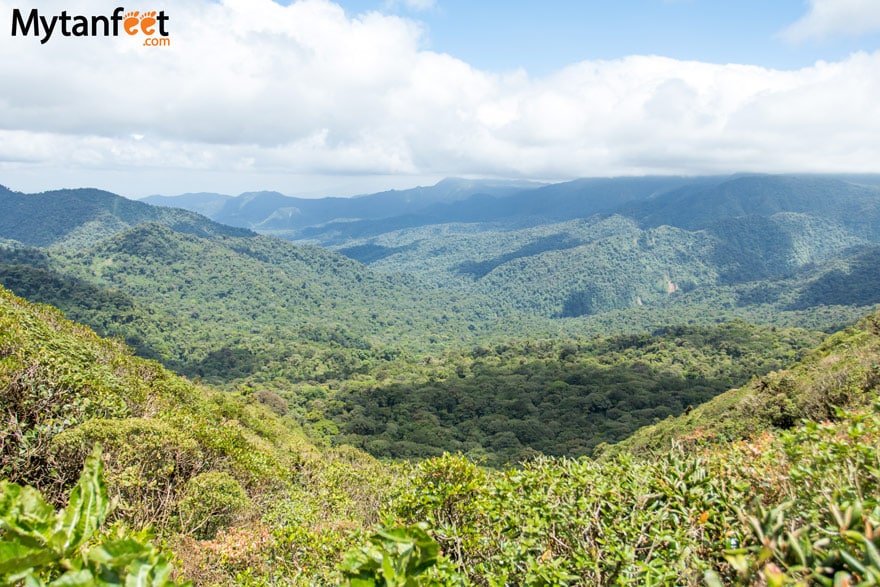 This is a view towards the Pacific side.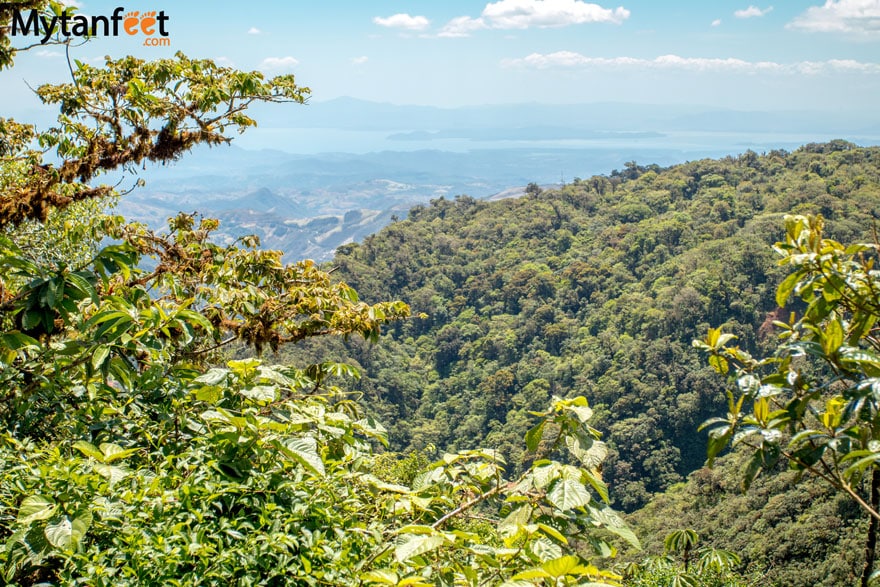 You have to walk back to the start of Sendero La Ventana and turn to Sendero Camino unless you want to go back through Sendero Nubloso.
Sendero Camino and Roble
We walked on Sendero Camino for about a 300 meters before turning onto Sendero Roble to go to the bridge. We stayed on Roble for about 100 meters and then turned onto Sendero Puente, crossed the bridge and continued onto Sendero Wilford Guindon.
Along the way, we ran into a couple of coatis!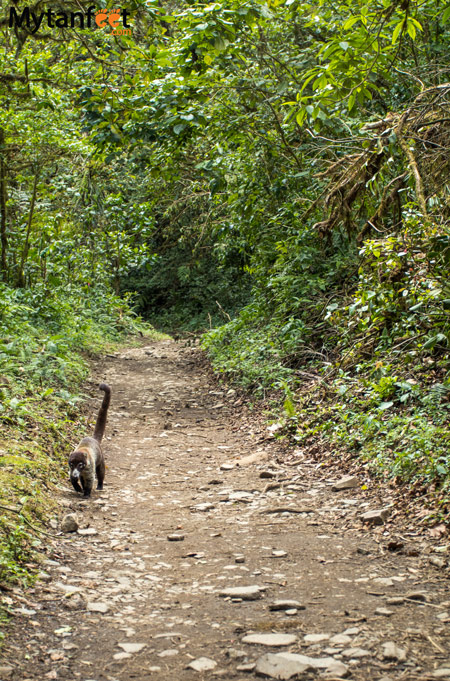 When you turn onto Roble, there are a lot of steps and it gets a bit steep.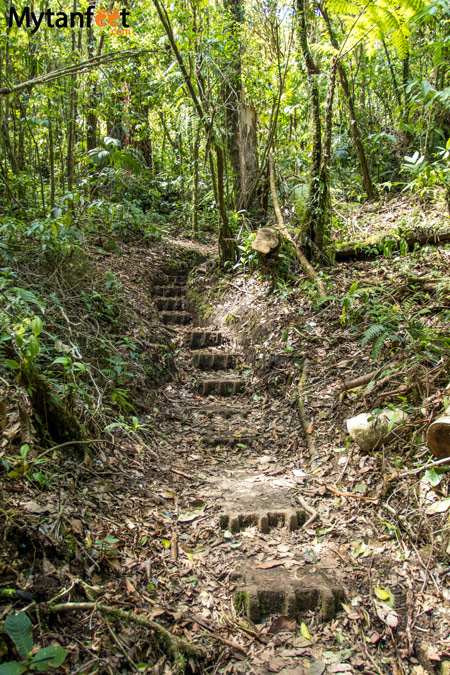 You'll come upon a short hanging bridge, a nice spot to rest and look around.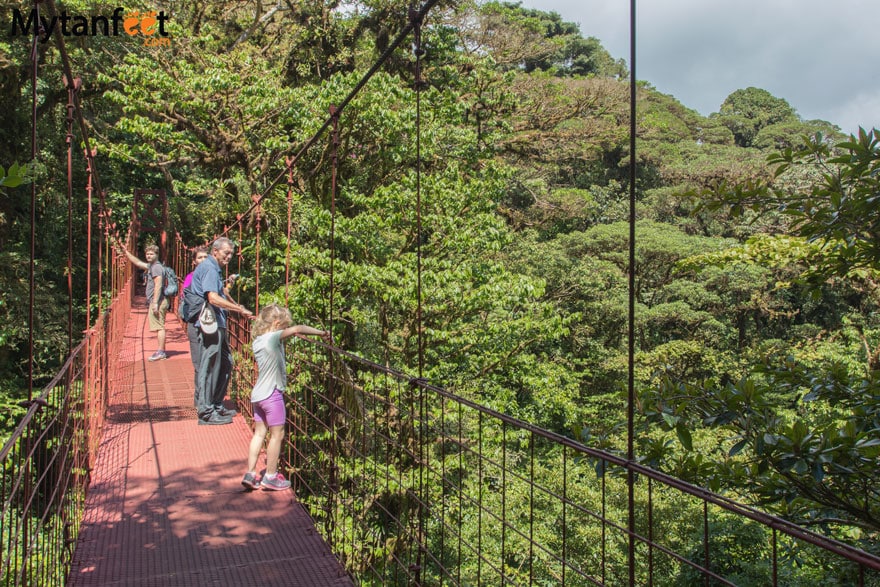 The bridge is not super long or high up so if you're scared of heights, it is not too bad. The view is really nice and it can only hold up to 10 people. Don't run or jump on the bridge.
After the bridge, continue onto the Wilford Guindon trail. We chose this trail since it's a bit faster going this way to the waterfall.
Sendero Wilford 970 meters, Sendero Tosi 660 meters
The trail from the bridge evens out in elevation and don't forget to stop at the huge ficus tree! It's not the one you can climb in (that's in Santa Elena) but it's still pretty big.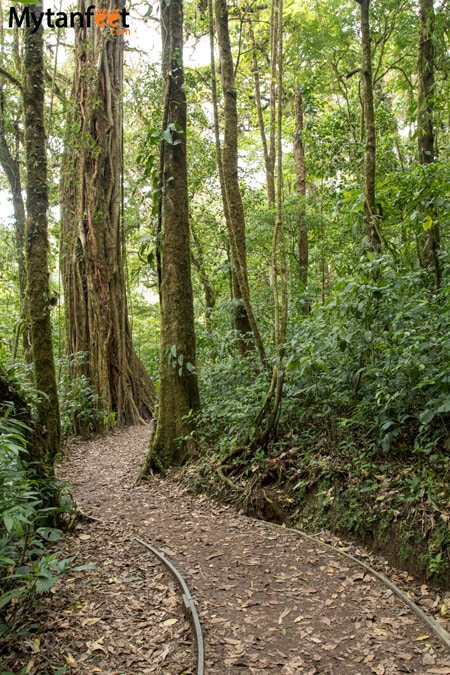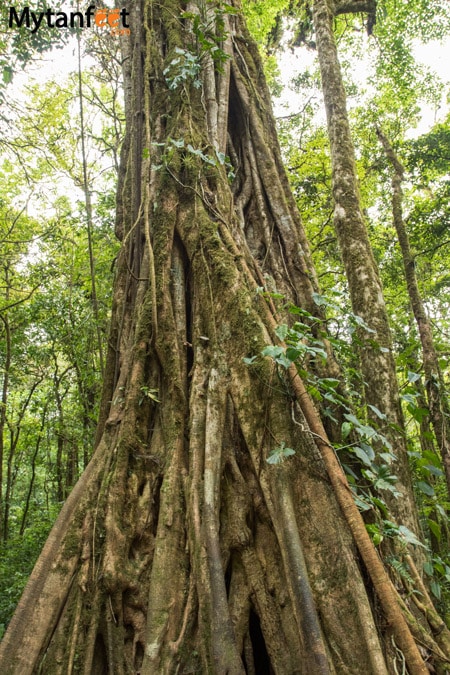 If you go with a guide, they'll be able to tell you the various plants and flowers in the forest, including these huge trees. They say that on one tree alone you can find nearly a hundred different plants living on it!
Sendero Cuecha and the waterfall
And finally, you reach the waterfall after turning onto Sendero Cuecha for half a kilometer.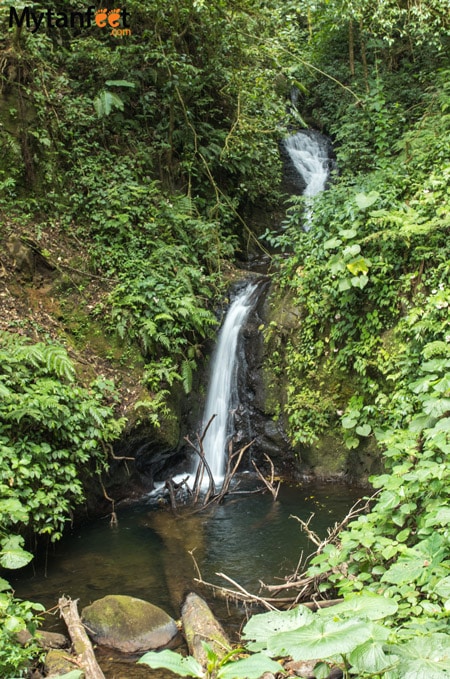 To get back to the parking lot, walk all the way back on Sendero Cuecha (987 meters).
We didn't see a ton of wildlife since we went by ourselves. We heard a lot of birds, saw a few hummingbirds and ran into a couple coatis.
Monteverde Cloud Forest Guided Vs Non Guided Walk
You can do either a guided or non guided walk through the Monteverde Cloud Forest Reserve. We have done both and I recommend a guided walk for anyone who wants to learn more about the cloud forest.
When it comes to wildlife, the forest is crazy dense so it's harder to see wildlife here. However, it is worth having a guide to learn about the unique cloud forest ecosystem. If you love trees, orchids, flowers, moss and that kind of nature, definitely book a guided walk. You will not walk all of the reserve on the guided walk, only 1-2 trails.
On a non-guided walk, like what we did, we were able to walk a lot more of the reserve all the way to the viewpoints, waterfalls and other points of interest. We didn't really learn anything about the cloud forest but it was a very good hike so we recommend a non-guided self walk through Monteverde if you just want to hike.
Video
We made a video of our guided walk through Monteverde Cloud Forest Reserve which you can watch below.
Weather
If you love nature and the outdoors, then Monteverde Cloud Forest Reserve is the perfect place for you. The weather is very comfortable in dry season (December – May) with temperatures in the high 70s F (25 C) and the occasional spring shower. Stroll through the forest and even without a guide, you'll discover why it's so special.
Tips for Visiting Monteverde Cloud Forest Reserve
There is a cafeteria and bathrooms at the entrance. Nno bathrooms inside the actual reserve on the trails.
Bring lots of water. They sell food in the cafeteria and there is also a restaurant near the parking lot that has a hummingbird garden.
We wore long light hiking pants, Yeison wore his closed toed hiking shoes, I wore KEEN hiking sandals and we both wore Columbia hiking shirts.
Bring a rainjacket, no matter what time of year you visit as this area tends to rain more.
Stay on the trail and do not feed the wildlife.
Mosquito repellent is not necessary but there are a lot of little gnats.
If you plan to visit all 3 cloud reserves, purchase the tickets together to receive a small discount.
The Monteverde Cloud Forest Reserve is a great place to hike for all visitors, you don't have to be in super awesome shape to walk. There isn't a handicap trail however.
Other Cloud Forest Reserves in Monteverde
Since there are 3 cloud forest reserves in Monteverde, you may be confused as to which one to visit. Click here to read our guide comparing Monteverde, Santa Elena and Children's Eternal Rain Forest or our guide to Santa Elena Cloud Forest Reserve (great if you don't want to be around a lot of people).
Read about other hikes in Costa Rica!
Rincon de la Vieja National Park
Children's Eternal Rain Forest in Monteverde
There are affiliate links in this post.