When it comes to taking the bus, the public transportation in Costa Rica can be a little tricky for travelers. The infrastructure is still developing so it's not as straightforward as other countries. However, it is a cheap way to get around the country and is a good way to experience local life. We always say that taking the bus in Costa Rica is an adventure!
Taking public transportation in Costa Rica requires a bit of research especially if you plan to visit multiple destinations. You do not want to arrive in Costa Rica without any plans! (That is one of the biggest mistakes you can make in Costa Rica that you want to avoid at all costs).
So if you're planning on taking the bus to get around in Costa Rica, here are our tips for taking the public transportation in Costa Rica. At the end, I also have safety tips, pros and cons for taking the bus and other options to consider. This post was updated April 17, 2020.
Buses are privately owned
Something very important to know first is that the buses in Costa Rica are owned by private companies. These private companies will operate certain areas in the country and they set rates, stops, routes and times. They also have their own bus terminal so you will need to find out the bus company of the route you plan to take and find out where their terminal is.
So instead of just 1 company operating all the buses in the country and one general bus terminal, there are multiple private companies. Some companies are Pulmitan, Tracopa, Tuasa, Grupo Blanco. The way they call the bus companies in Costa Rica is "Empresa X" which means X Company.
Additionally, because buses are privately owned, there are many bus stations. There isn't just 1 general bus station where all the companies operate out of so you need to check with the company of the route you're taking and see where their bus station is so you know where to go to catch the bus.
For example, the 7-10 bus station in downtown San Jose does have multiple routes and companies operating out of it like San Jose – Jaco and San Jose – La Fortuna but the Pulmitan company does not operate from there, you will need to go to the dedicated Pulmitan station in San Jose.
Bus conditions vary
Bus conditions vary depending on the company. Some may have air conditioning, some may have Wi-Fi, it all depends on the company. Not all buses are the same. Pulmitan has very nice double decker buses from San Jose to Guanacaste with air conditioning and spacious seats. The bus we took from San Jose to Jaco with company Garabito was not so nice with no air conditioning and very musty seats.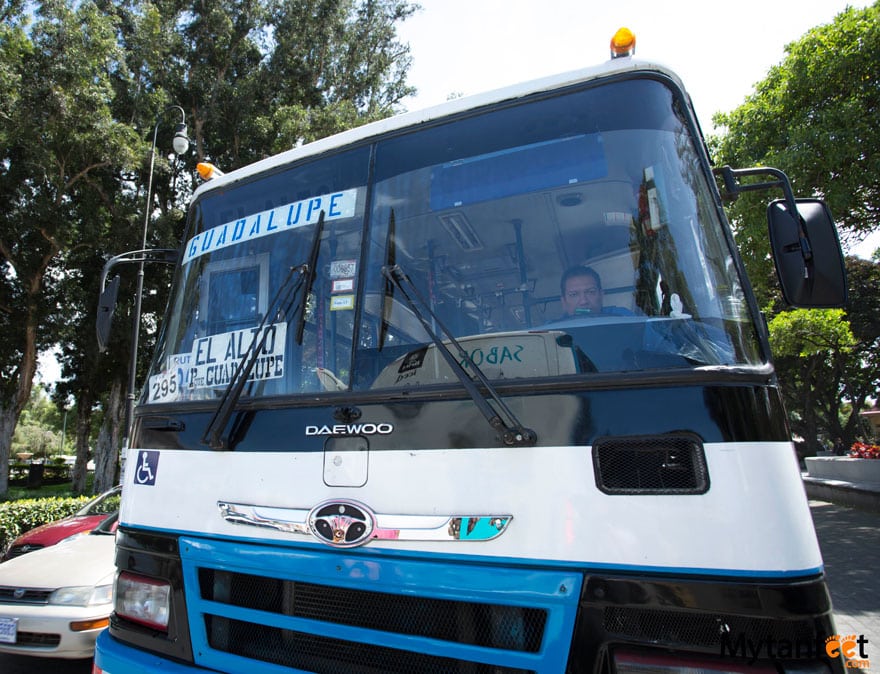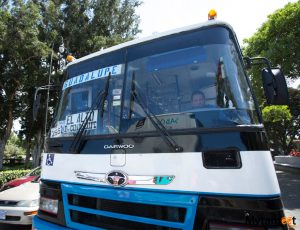 Many buses have their destination written on the front
Many city buses also have the fare on the front. They will also have the name of the bus company on it so you can look for that to see if it's the correct bus.
It is helpful to know a bit of Spanish
Especially numbers to ask how much a fare is since not many bus drivers know English. You can learn them in our introductory guide Spanish guide.
We also have a downloadable and printable sheet in the link that you can bring with you so in case you get lost or need to ask a question.
All bus fare must be paid in cash or coins using Costa Rican colones for the pay-when-you-get-on-buses
These are mostly the city buses or buses with short routes where you pay the fare as you get on. This bus fare must be paid in Costa Rican currency, colones. Even though USD is readily accepted in Costa Rica, colones is the best. Drivers don't have the time to count the exchange rate since there isn't an automatic payment machine. You just hand the money to the bus driver and he has a tray of coins next to him.
You don't need exact change but you will need coins and small denominations
Bus drivers will give you change if you don't have an exact amount. Tell the driver once you get on how many people you're paying for and he will tell you how much it is. Most buses in the city will have the rate on their destination sign on the front. He will give you your change back in Costa Rican colones.
Most bus fares that pay as you get on mostly in the city are cheap like 250 colones or something so have coins. If you pay with bills, use small denominations like 1,000 or 2,000 colones. The bus driver doesn't have time to be calculating change from a 10,000 bill for a 275 colones bus ride!
From San José, you can take a public bus to nearly every tourist destination for affordable rates
As San Jose is the capital city of Costa Rica, you will find public buses to all touristic destinations in the country. You can take direct buses from San Jose to Puerto Viejo, San Jose to Playas del Coco, San Jose to Tamarindo, San Jose to Monteverde, San Jose to La Fortuna, San Jose to Jaco, San Jose to Quepos and San Jose to Puerto Jimenez for some examples.
Also, it is cheap to take the bus in Costa Rica. For example, intercity prices can range from 200-400 colones (less than $1 USD). Countrywide routes like San Jose to Tamarindo which is 258 kilometers (161 miles) costs 5,635 colones or around ~$10 USD per adult. That is cheap!
You can even take buses throughout Central America. Companies Ticabus and Nicabus go from Guatemala to Panama! We took Ticabus from Costa Rica to Panama before.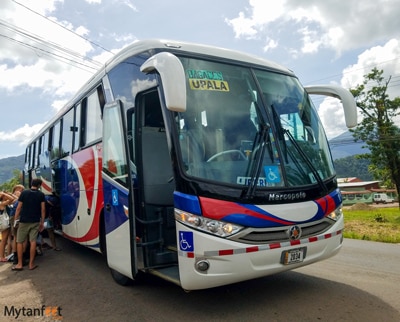 You can use credit card for the long routes at bus stations
If you purchase a bus ticket at the bus station for long routes, you can use credit card or cash. Some stations may only accept cash, like the one in Tamarindo.
Long routes have 1 stop
Public buses stop once on a long route for food and bathroom. Long routes are usually 3+ hours. Our bus from San Jose to Jaco which took 2.5 hours, did not have a stop. Neither did Jaco to Quepos which took 2 hours.
Additionally, some routes have a directo or collectivo. The collectivo will make a ton of stops and go through small neighborhoods so they take way longer. Direct buses don't.
It is recommended to purchase tickets beforehand for certain routes
You should purchase bus tickets beforehand if you are traveling during the holidays, on the weekend, in high season (December – April) or for popular long routes. These are routes like San Jose to Puerto Viejo or San Jose to Playas del Coco. This is because these routes are very popular, have assigned seating and have limited buses per day. It's best to buy at least a day before if you can to guarantee a seat. If you don't purchase your ticket beforehand, you may not get a seat and will have to stand. Or not even get a seat!
You can purchase tickets by going to the bus station the day before and buying it. You can also choose your seats for most routes.
Some bus companies do allow you to purchase tickets beforehand like Transportes Jaco. There is also a website called La Terminal Costa Rica that acts as a middle man to help visitors purchase certain routes beforehand.
Get to the bus station early!
Likewise, if you are traveling during high season, the weekend or holidays, get to the bus station at least 1 hour early to purchase tickets. So if you are planning to take the bus after you land in San Jose Airport, make sure you give yourself enough time. Remember, San Jose International Airport is in Alajuela, not San Jose. The airport is about a 30 minutes drive to downtown San Jose without traffic.
Therefore, give yourself enough time and be flexible. That is the downside to taking the bus in Costa Rica as there aren't many routes and there is a lot of traffic so you need to be flexible. If you're landing at 1 PM and your bus is at 2 PM, you're not going to make it. You have to go through immigration and customs, get a ride to the bus station, buy the ticket in just 1 hour. Even if you're landing at 1 PM and your bus is at 3 PM, but you are landing on a weekend in February, you will most likely not make it since immigration has been known to take up to 2-3 hours on weekends in high season!
You can check to see if your bus passes by the San Jose Airport or Coyote Radial so you don't have to go all the way downtown but not all routes pass by the airport.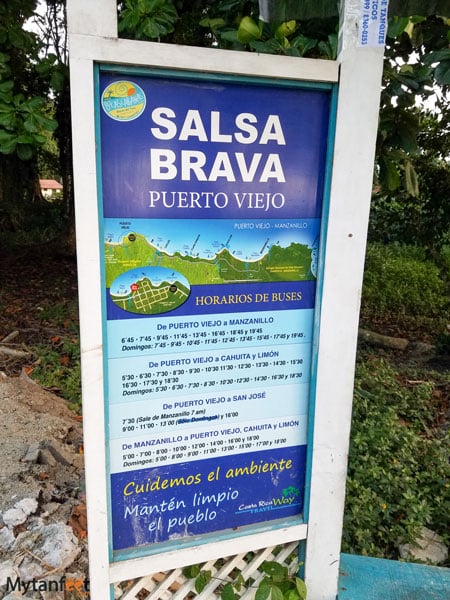 Not all bus stops are marked
Bus stops are not well marked in Costa Rica. You won't see signs with schedules, information, phone numbers, bulletin boards, etc. Most of the time, the bus stop is a covered wooden bench and that's it. Some bus stops in San Jose are nicer and have nicer seats and a glass covering.
One place we have seen somewhat well marked bus stops is in Puerto Viejo on the way to Manzanillo. They didn't have benches but they did have these very nice signs. But it is rare to see well marked bus stops with schedules and information like those.
If you see a bunch of people waiting around, that's probably a bus stop. It can be easy to spot, especially during rush hour.
If you are not sure where a bus is going or the stops it makes, you can ask the bus driver. They will try to help but it is better if you can ask in Spanish as not all of them may speak English.
Some bus stations are inside a restaurant or business
Some bus stations are inside a restaurant or joined to another business. For example, you purchase bus tickets and wait for the bus in La Pavona inside the restaurant, there isn't a separate bus station. In Bijagua, you purchase tickets and wait for the bus at the Las Tinajitas restaurant in downtown.
Bus stations are called "La Parada"
If you need to find the bus station, it is called La Parada in Spanish and all locals will know what you're talking about if you ask for La Parada. For example, the bus station in Puerto Viejo actually has two separate buildings. There is one to buy tickets and then across the street is the "La Parada" with a small cafeteria. The La Parada is where you will wait for the bus and board it.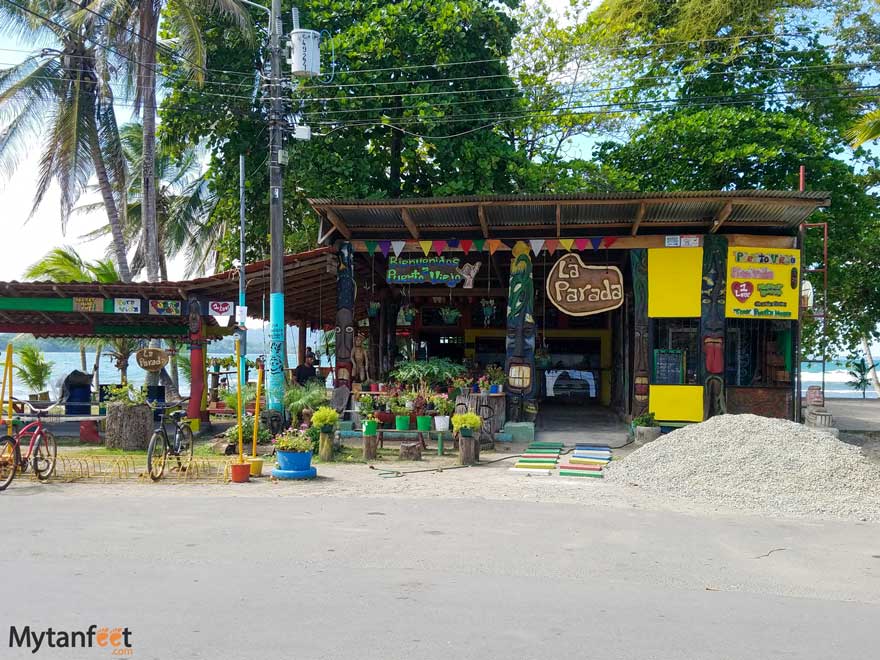 Across the street from La Parada is the ticket window to purchase bus tickets.
Buses going to another city have luggage compartments
To store your luggage, wait in line when your bus is there and give your luggage to the driver who will load the luggage. He will give you a ticket which you have to keep. When you get off, let the driver know you have luggage and he will ask for your ticket to get your luggage.
Use a bus app and other resources
A bus app is very helpful for figuring out where to go. Make sure you use the app before you land in Costa Rica so you are familiar with it!
The app Yo Viajo Bus Info Costa Rica is good and also has bus fares. They just redid this app and it is now in English. The Moovit app is also very good for routes leaving San Jose. Read about other handy Costa Rica apps in this post.
We also found a great guide for public transportation in Costa Rica that you can download in the following link (in both English and Spanish): Costa-Rica bus itinerary.
Join Costa Rica by Bus
This is a must for those relying on using public transportation in Costa Rica! It's a Facebook group dedicated to traveling around Costa Rica by bus. By far, it's one of the best resources for taking the public transportation in Costa Rica. You can search through the group and people post bus schedules, experiences and latest rates.
Tips for Taking the Bus in Costa Rica Rica
There are some things to be aware of if you plan to take the bus in Costa Rica when it comes to safety and scams.
Do not let anyone "watch" your belongings for you. If someone offers to watch your luggage, decline. If you are traveling on your own, always have everything with you wherever you go. This is one of the tourist scams – a local may seem really friendly and then offer to "watch" your luggage for you but really, they are there to steal your stuff.
We don't recommend to put anything in the overheard compartment of the bus. It's easy for thieves to steal things from the top compartment because you never have an eye on it.
If you take a taxi to the bus station, do NOT believe the taxi driver if he tells you the bus is full, the bus station isn't there anymore, the bus burned down, the bus isn't operating, etc. This is a scam the taxi drivers try to pull and convince you to hire them to take you to your next destination and charge you a ton of money. Go straight to the bus station. This is why we recommend Uber instead since they are not as pushy or as likely scam you as the taxi drivers.
If you put belongings under the seat in front of you, make sure that you always have a foot on it and you face the zippers and compartments towards you.
When getting off the bus, be alert. Some thieves will take advantage of sleepy travelers and snatch their belongings as they exit the bus.
If you plan to use the bus in Costa Rica to get around, we highly recommend to get a pre-paid Costa Rican SIM card or an international data plan so that you always have access to internet in case of emergency.
Should You Take the Bus?
We love taking the bus when we travel internationally because it's cheap and you feel a little like a local. And we don't have to worry about driving which is great when we're visiting cities with good infrastructure.
We recommend to take the bus in Costa Rica if you are on a budget, are going to only a couple destinations, are not on a strict schedule and are not traveling in a big group with babies or seniors.
If you're on a budget traveling in Costa Rica, taking the public bus is the best way to save money on transportation. A bus ticket from San Jose to Puerto Viejo costs around $11 USD per person. Compared to a shared shuttle which is around $59 USD per person, it is much cheaper!
If you plan to go to 1 or 2 main touristic destinations, you can easily take the public bus. Although there aren't direct routes for all touristic destinations, you can still spend a day taking the bus for your travel day and it's a fun adventure. Just make sure to figure out the schedules and where to catch the bus.
For those on a more flexible schedule, the bus is a great way to get around. Do keep in mind that on average, taking the bus may be 2-4 hours longer than driving and that is if everything goes perfectly. Since buses in Costa Rica can be late, early, full, there are more chances of running into a hitch, especially if you have to change multiple buses. This is why you need to be flexible and not be on a super strict schedule.
Travel smart and plan ahead – if your flight departs at 10 PM from San Jose, don't take the 2 PM bus from Liberia thinking you'll get there *right* at 2 hours before your flight. Anything can happen on those long routes – traffic, accidents, delays, etc. Earlier is better when it comes to taking the bus in Costa Rica.
If you're a solo traveler or a couple, taking the bus can be easily done. But if you are traveling in a large multi generational group, it can be very stressful in a foreign country. Remember, buses only make 1 stop during long routes, they can't stop just because you ask them to. And you don't want to be running around San Jose downtown trying to find the right bus station towing a 6 month old, 2 year old, the grandparents and luggage and finding out that the last bus leaves in 20 minutes!
For these travelers, we recommend a private shuttle or renting a car instead. You will have the flexibility stop whenever and wherever you want. And you won't be on anyone's schedule.
Other Transportation Methods
If taking the bus doesn't quite sound like something you want to do, you can:
Take a shuttle, shared or private. Read more about taking shuttles in Costa Rica in this guide. Shared shuttles are good options for travelers still on a budget. Private is best for big groups.
Rent a car. This is the most flexible way and the best way to see Costa Rica since you can explore. Read more about renting a car in Costa Rica in our post. Renting a car can be expensive in Costa Rica but there are cheap compact manual cars. However, keep in mind that if you want to explore, a 4wd/4×4 is recommended for many destinations.
Fly. You can take domestic flights throughout the country. Read more about domestic flights in Costa Rica here. Flying is expensive but saves a ton of time!
When it comes down to it, deciding factors for your transportation method will be time vs money. Taking the bus in Costa Rica is the best way to travel cheaply. You can read our getting around Costa Rica guide for more details to help you decide the perfect way to get around Costa Rica for your itinerary.