When it comes to taking the bus, the public transportation in Costa Rica can get a little tricky for travelers since there are no schedules posted at bus stops, some bus stops are not easy to recognize and buses in Costa Rica don't have numbers.
However, the public transportation in Costa Rica is easy to use once you ask around a bit and it is a very cost efficient way to travel around the country. You can save a lot of money on transportation that way!
If you're planning on taking the bus to get around in Costa Rica, here are our tips for taking the public transportation in Costa Rica so you can have a worry-free and safe trip here.
Important Things to Know About Taking Public Transportation in Costa Rica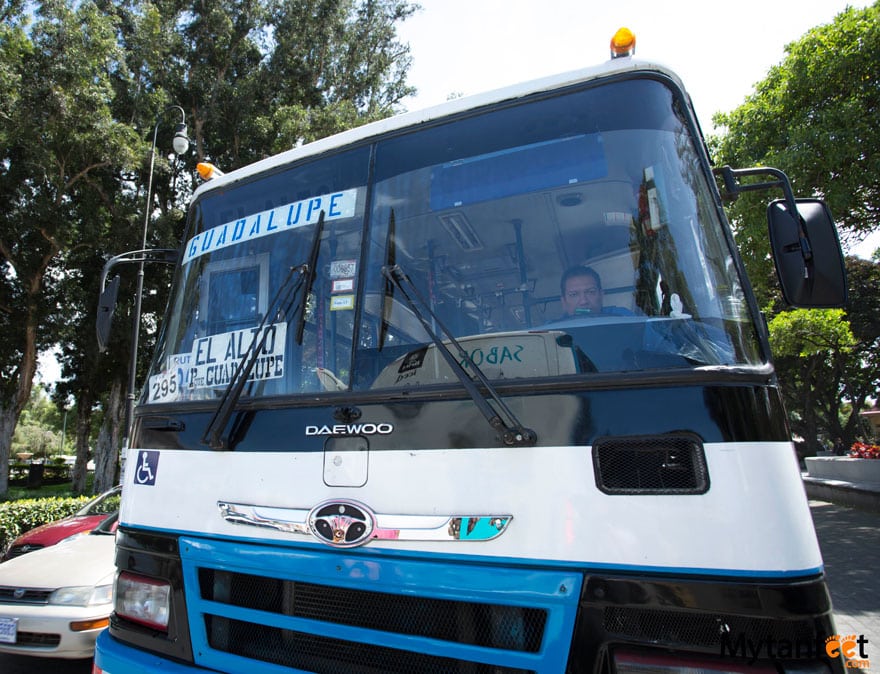 Buses have their destination written on the front

Many city buses also have the fare on the front as well. They will also have the name of the bus company on it so you can look for that to see if it's the correct bus.
It is helpful to know a bit of Spanish
Especially numbers to ask how much a fare is since not many bus drivers know English. You can learn them in our introductory guide here. We also have a downloadable and printable cheat sheet that you can bring with you so in case you get lost or need to ask a question, you can show it out to a local.
All bus fare must be paid in colones
You pay the fare as you get on and it must be paid in colones. Buses are on a schedule and drivers don't have the time to count the exchange rate since there is no automatic machine to pay the fare. You just hand the money to the bus driver and he has a tray of coins next to him.
You don't need exact change
Bus drivers will give you change if you don't have an exact amount. Tell the driver once you get on how many people you're paying for and he will tell you how much it is. Most buses in the city will have the rate on their destination sign on the front.
From San José, you can take a public bus to nearly every tourist destination at affordable rates
This way you will save money to travel more and know more about the country. The only disadvantage of taking the bus is waiting, you do waste time waiting for buses but you save money. The brand new bus stop, the 7-10 has routes to nearly all major destinations and it is recommended to buy tickets the day before or arrive at least 1 hour early.
You may need to purchase a ticket beforehand
This is true for long routes like San Jose to Puerto Viejo or San Jose to Playas del Coco. This is because these routes are very popular (especially around holidays), have assigned seating and have limited buses per day. It's best to buy at least a day before if you can to guarantee a spot.
Not all bus stops are marked
If you see a bunch of people waiting around in one area, that's probably a bus stop. Not all of them are marked and majority of them don't have a schedule so the easiest way is to ask a local. Bus stops usually have a bench and a covering so that's an indication to look out for. You may also see locals sticking our their arm to stop a bus which is normal.
If you are not sure where a bus is going or the stops it makes, you can ask the bus driver, they are usually nice and can help you but it is better if you can ask in Spanish as not all of them may speak English.
We found a great guide for public transportation in Costa Rica that you can download in the following link (in both English and Spanish).
Public-transportation-Costa-Rica.
This is another handy website that covers public transportation in Costa Rica and Central America. Additionally, the bus schedule is a great resource for detailed times and schedules.
Use A Bus App
Travel apps are becoming more popular and you can find apps for taxis, restaurants and wildlife and nature for Costa Rica. A good one is Costa Rica Traveler.
This app doesn't give bus fare however so if you want to know how much fare costs, download the app Yo Viajo Bus Info Costa Rica. They just redid this app and it is now in English. The Moovit app is also very good for routes leaving San Jose. Read about other handy Costa Rica apps in this post.
Join Costa Rica by Bus
This is a Facebook group dedicated to traveling around Costa Rica by bus and by far, it's one of the best resources. You can search through the group and people post bus schedules, experiences and latest rates.
Taking the public bus in Costa Rica is getting easier with new bus stations and websites that post routes but it can be complicated for long destinations. So if you're planning on using buses to get around Costa Rica, make sure to research beforehand the bus schedule and stations.
You may also need to consider taking shuttles instead if you're short on time or you are visiting somewhere that doesn't have a consistent bus schedule like Montezuma or Osa Peninsula.
Need more Costa Rica travel tips? Here they are!
Tips for renting a car in Costa Rica
When is the best time to visit Costa Rica