Paquera, Costa Rica is mostly known to travelers as the landing point of the Puntarenas ferry but this small town offers so much more. For those who are interested in local Costa Rican living, Paquera is an ideal town to visit as majority of tourists get off the ferry and immediately drive past it without stopping.
We stayed in Paquera for a couple nights and it was a breath of fresh air before heading to the touristy beaches of Montezuma and Santa Teresa. In this guide, you'll read about the town, the surrounding beaches, our recommendations for things to do and more.
Location
Paquera is on the east coast of the Nicoya Peninsula, 4 kilometers (2.5 miles) west of the Paquera ferry landing.
Directions
How to get to Paquera from San Jose:
The easiest way is to take the ferry from Puntarenas to Paquera (read our guide). Drive about 2 hours to Puntarenas, take the one hour Paquera ferry ride and drive about 4 kilometers to town. You can also take the bus from San Jose to Puntarenas, take the ferry and then grab a taxi or the bus to Paquera.
If you want to get to Montezuma from Paquera, there is a bus at 6:15, 8:15, 10:15, 12:15, 3:15 PM, 4:30 PM and 6:15 PM. This bus continues onto Santa Teresa.
The Town
Paquera's quiet small town vibe is perfect for those who is looking for more of an "authentic" Costa Rican experience. It's not considered a touristic destination but you can find everything in town: banks, restaurants, small hotels and cabinas and pharmacies.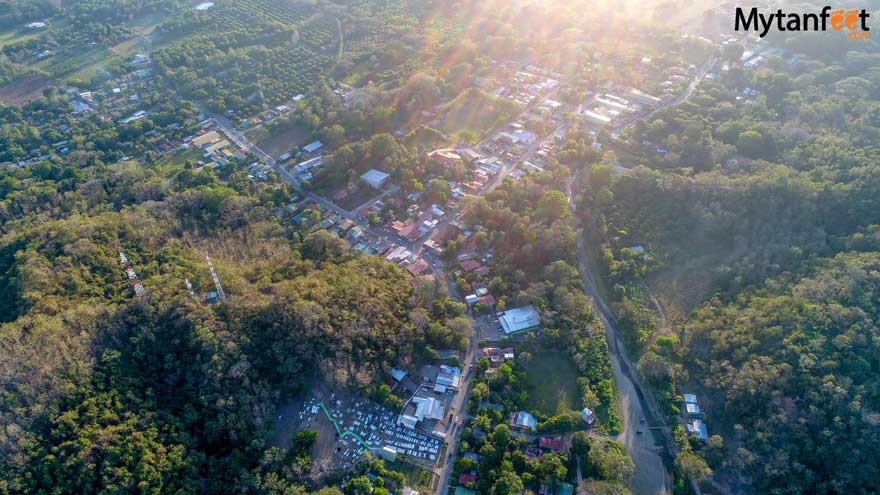 The main road through town (Route 21) is paved as you can see in the picture above. Locals work either in tourism or agriculture and farming since this area's climate is very good for certain fruits and vegetables.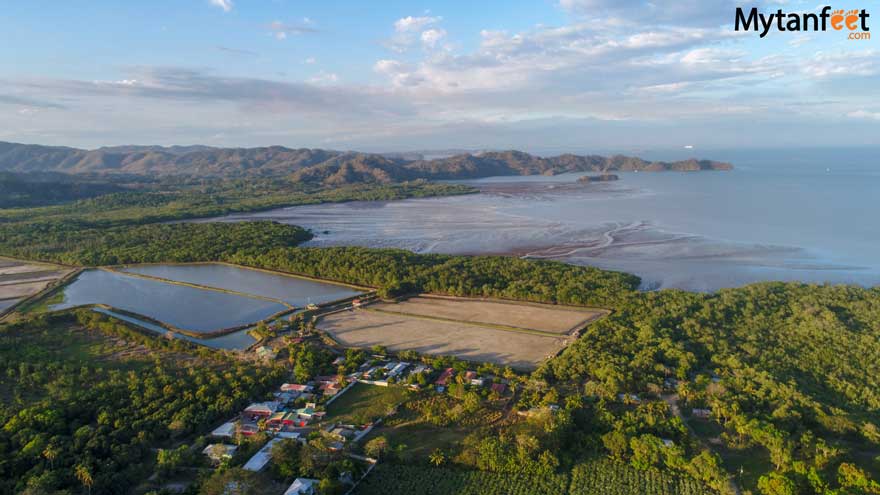 Since Paquera is a quiet local village, you won't find any fancy bars or clubs. Instead, you'll see kids playing futbol in the streets and riding bikes, families going out for pizza on the weekend or farmers having a beer.
Paquera Costa Rica Weather
Paquera's weather is like typical tropical weather with a dry and rainy season. The dry season months are beginning of December to end of April and rainy season is beginning of May to end of November. It gets quite hot in this area with temperatures around 90's in dry season and mid 85's in rainy season.
A typical rainy season day is sunny in the morning and rainy in the late afternoon and nights. The rainiest months are September – November and the hottest/driest months are March and April. You can read more about Costa Rica weather here.
Things to Do in Paquera, Costa Rica
Paquera Bioluminescence Kayak Tour
Due to the rich waters of the Paquera Bay and Gulf of Nicoya, this area is famous for bio-luminescence. You can take a kayaking tour with Bahia Rica Lodge to see this incredible natural phenomenon or go to Punta Cuchillos at night and swim in the water.
I did the kayak tour and though a bit expensive, it was amazing. The bioluminesence is very intense in Paquera and it was well worth the money. Our guide even let us stay out a little longer than an hour since the bioluminesnce was so intense that night!
The kayak tour is $35 USD per person for 1 hour and you have to reserve your spot with Bahia Rica Fishing Lodge. The lodge also offers kayaking, fishing, boating and paddleboarding tours.
Organos Beach
Playa Organos is one of the nicest beaches near Paquera, it's only a 15 minute drive from the ferry.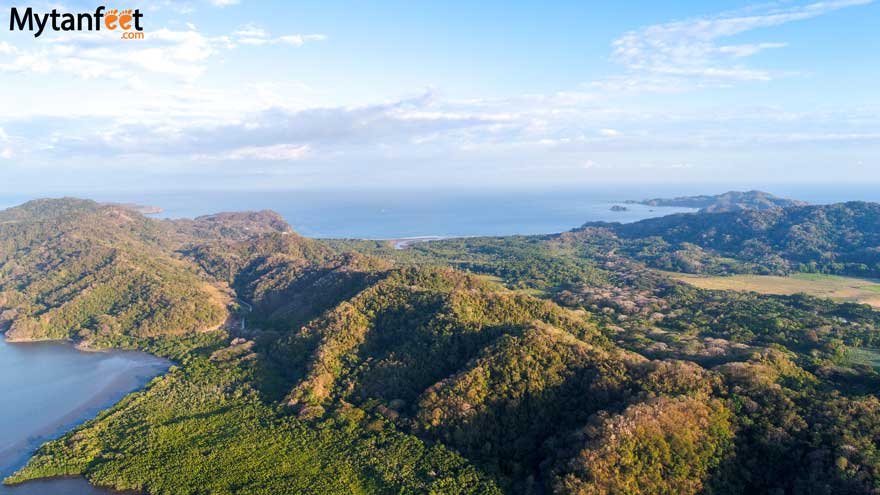 There aren't a lot of people at this beach and you will see a lot of driftwood from the tide. There is a mangrove at one end so it's nice to walk the entire beach to the mangrove and enjoy the scenery.
Pochote and Tambor
You can also go to Pochote and Tambor, two beaches further south that are popular with local tourists. At Playa Pochote, you can see Scarlet Macaws!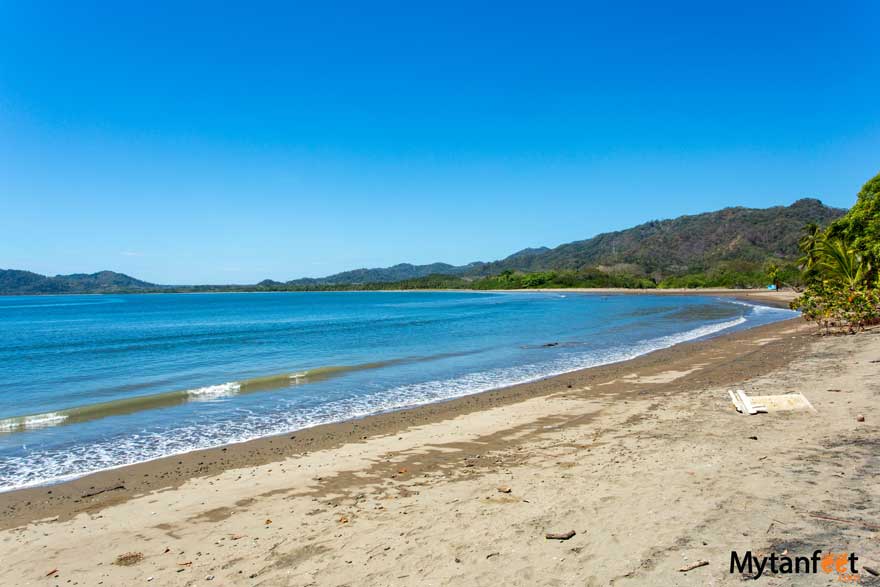 At Tambor, you can visit Cocolito Waterfall or visit the beach.
Curu National Wildlife Refuge
Curu National Wildlife Refuge has several hiking trails where you can see monkeys, deer and other animals. It also has a nice view point of Curu Beach. You can take a guided hike or go on your own.
Tortuga Island
You can do this tour from Puntarenas before you leave for the ferry or from Paquera. Tour companies take you on a cruise through the Gulf of Nicoya to Tortuga Island where there is a beautiful white sand beach, excellent snorkeling and hiking trails. You can read about the Tortuga Island Costa Rica day cruise here. If you are leaving from Puntarenas or San Jose, we have a discount off the Tortuga Island 1 day trip.
Paquera Hotels
There aren't many hotels in Paquera, options are limited since it is a small non-touristic town. But you can find modest lodging options like lodges and cabinas.
We stayed at Mapi's Cabins and we booked it through Airbnb. It was $40 a night for two people. It was a clean, modest room right in town.
For something more upscale, check out Hotel Vista Las Islas. This boutique hotel has ocean views, an on-site restaurant and pool. This is the nicest hotel in the area.
Restaurants
There aren't a lot of restaurants in Paquera but you can find some good sodas (local Costa Rican restaurants). We liked Restaurante Ginana and Seafood Macho was really good.
Video
Here is a short Facebook live video we took of Paquera.
Read about other Costa Rican towns here!