Costa Rica Restaurants Map
Welcome to our Costa Rica restaurant guide! On this page, you will find a map of the restaurants we have personally been to in Costa Rica and recommend.
For more information about the restaurant, click on the "VIEW IN GOOGLE MAPS" option to see their Google Business profile (information, hours, menu, reviews, etc.). We have not been to every single restaurant in Costa Rica, but we will continually update this map. This map includes all types of food places including food stands, food trucks, restaurants, bars, etc.
*None of these restaurants are sponsored, we pay for every single meal ourselves.*
Quick Overview of Costa Rican Food
What is Costa Rican food like? Their diet consists of a lot of carbs, meat, fresh vegetables and fruit. The main staples are rice and beans and other common foods are corn, beef and plantains. Although it may seem like it, Costa Rican food is not like Mexican food at all.
Their traditional breakfast is gallo pinto which is a mixture of rice, beans and chopped vegetables. A traditional lunch and dinner is what they call "casado" which is a plate of rice, beans, salad, tortillas and a meat. As for meat, they eat a lot of beef, chicken and pork. Common fruits are pineapple, watermelon, banana and papaya. It is normal to have a fruit smoothie accompanying lunch and dinner. Coffee is another staple, many Costa Ricans drink coffee in the morning and afternoon.
They don't use a lot of seasoning, except for one particular sauce called Salsa Lizano. Salt is the main seasoning, not so much pepper or anything else. Salads don't normally come with dressing, they instead prefer to put lime.
Where to Eat Traditional Costa Rican Food
If you want to try traditional food, then you must visit a local restaurant which are called "sodas" in Costa Rica. These are like mom and pop restaurants, normally outdoor, open air that offer only traditional dishes. Some are buffet style where you can pick and choose what you want, others are by menu. These places are not only the best way to try Costa Rican food, but also to eat more on a budget as they are places for locals.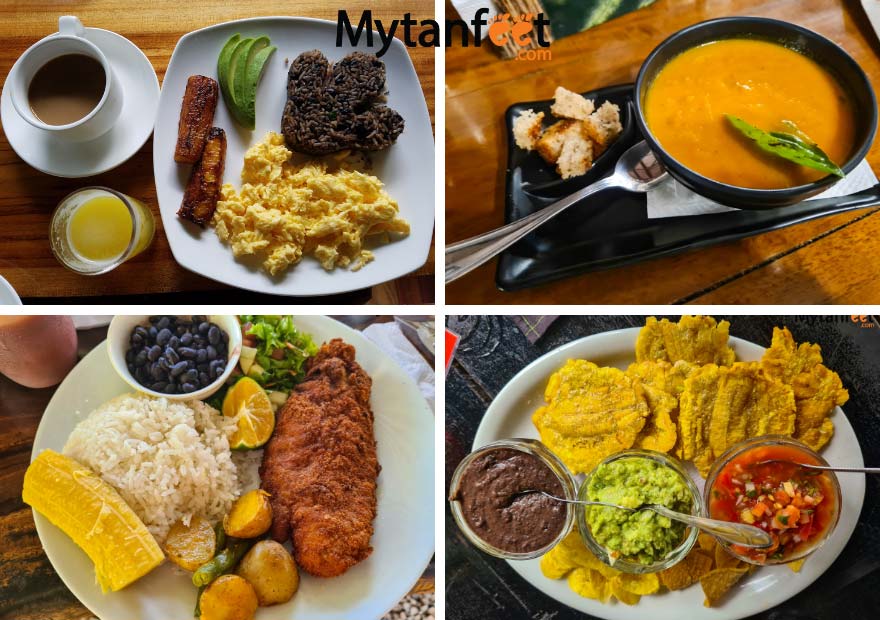 Read more about Costa Rican food in the links below.
Eating vegetarian/vegan in Costa Rica
Costa Rican restaurants (Sodas)
We also have a recipe section if you'd like to bring some Costa Rican flavor to your kitchen.
Looking for some Costa Rica travel planning tips? Check these resources out below
Costa Rica travel tips: Travel planning tips, city and beach guides. Also has itineraries and important things to know before you visit.
Costa Rica trip planning guideline: How to plan a trip to Costa Rica (When to book flights, when to book hotels and excursions, etc.)
Costa Rica exclusive deals: Save money on our exclusive discounts and deals for Costa Rica. We have deals for hotels, car rentals and excursions.
Costa Rica ebooks: We have written our own destination eBooks with personal recommendations and guides.