Catarata Llanos de Cortes is one of the must see waterfalls in Costa Rica. Ever since our first visit in 2012, we've gone back with all our friends and family. It's absolutely worth visiting and if you have a day to explore, definitely put this waterfall on the list!
Catarata Llanos de Cortes waterfall (also known as Llanos de Cortez waterfall) is only a 5 minute walk from the parking lot to the waterfall and a great cheap activity in Guanacaste. Read the rest of this guide to help you plan your visit.
Location and directions
The Cortes waterfall is in Bagaces, Guanacaste. Catarata Llanos de Cortes is 36 kilometers (22 miles) from Liberia International Airport and about a 35 minute drive.
Sometimes, the Llanos de Cortes waterfall is spelled with a z as in "Llanos de Cortez waterfall" and it's the same waterfall.
How to get to Catarata Llanos de Cortes
You can use Google Maps or Waze as your GPS. In Waze and Google Maps, enter "Catarata Llanos de Cortes" as your destination. The best way to get to Llanos de Cortes waterfall is by driving.
There is no pubic bus directly to the waterfall, there is only a bus that you can take from Liberia to Cañas which passes by the entrance and you can get off there. But you will still need to walk around 3-4 kilometers (~2 -2.5 miles) to the waterfall. Then for leaving, you will have to wait for the same bus from Cañas back to Liberia.
When you are driving on the InterAmericana highway 1 and are approaching the exit, the exit is right where the pedestrian bridge is and you will see these signs. Turn right here.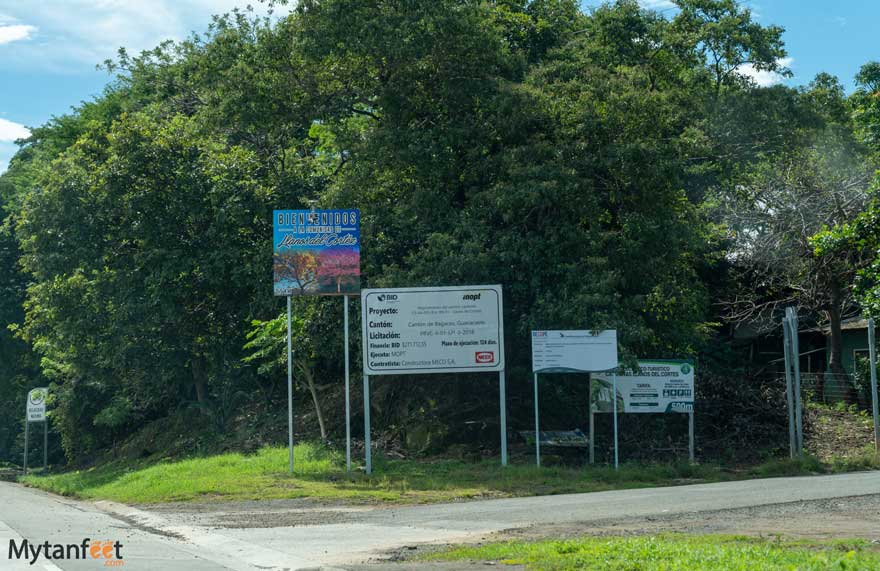 Continue on this road for about a kilometer or so and then you will see another entrance to the right with a sign that says "Waterfall." You'll then see a security station which you need to go through to continue to the waterfall.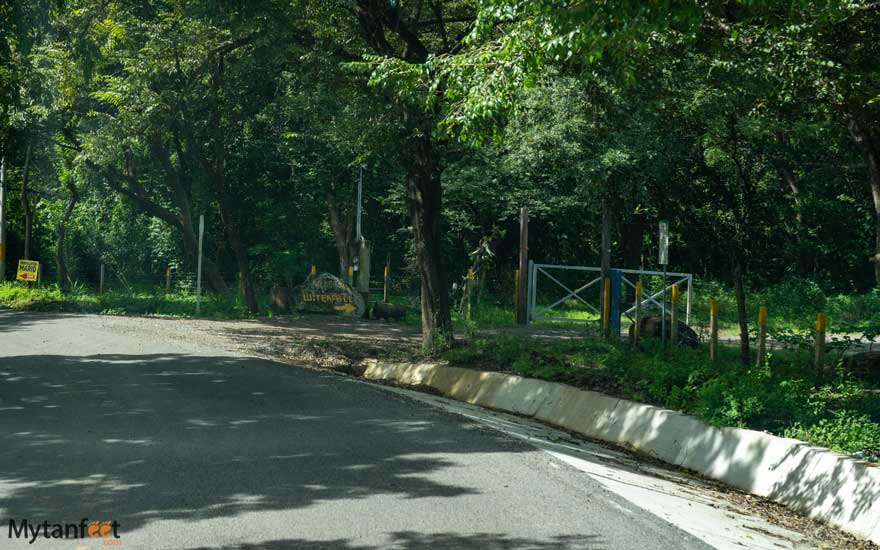 Continue on this road after paying the fee about another kilometer or so to the parking lot.
Road Condition, 4×4 required for Llanos de Cortez Waterfall?
The road to the Cortez waterfall is actually in pretty good condition, especially compared to when we first visited in 2012. It is not fully paved but there weren't many big holes and it's fairly flat, not many hills or anything.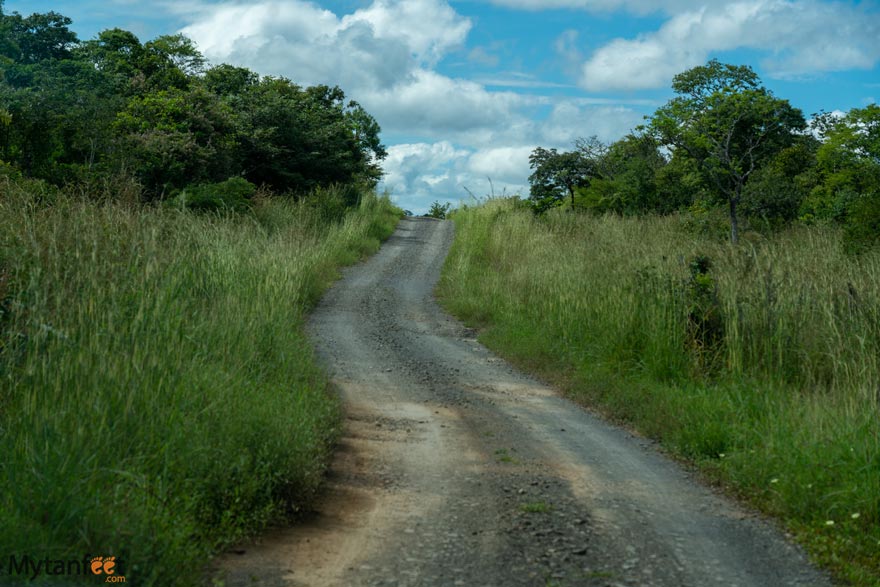 You do not need a 4×4, you can drive to the Llanos de Cortez waterfall in a sedan.
Catarata Llanos de Cortes hours
The Cortes waterfall is open 8AM – 4 PM everyday.
Catarata Llanos de Cortes entrance fee
When you pass through the security station, someone will ask you if you want to make a donation to the local community which maintains the waterfall. They told us it was 2000 CRC per person (~$3.34 USD) and she gave us these orange bracelet tag things to leave on the dashboard of our car.
It also seems that the "donation" varies because we have heard from foreign tourists that they charged them $7 USD and it was not a "donation." It was a mandatory entrance fee so just keep that in mind.
Parking and Facilities
The Llanos de Cortez waterfall has a large parking and they do have bathrooms. Proper bathrooms, not a porter potty but no showers. The parking lot is not under surveillance nor is there a proper guard so make sure not to leave any valuables visible in the car, roll up your windows and lock your door.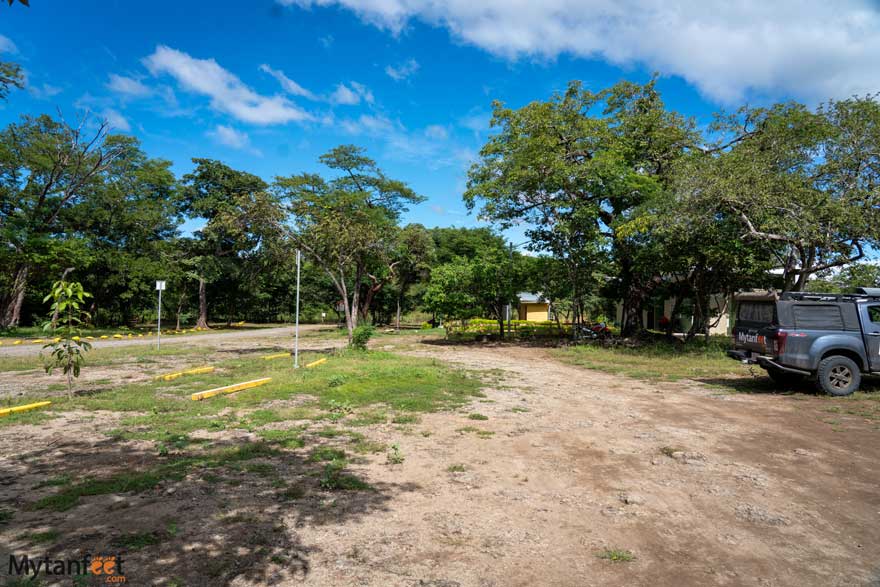 When we visited, there was a man sitting outside the bathrooms as kind of watching the parking lot.
What to bring
Swimsuit, change of clothes, towel, sandals or flip flops, snacks, water/drinks, sunglasses and sunscreen if you plan to stay for a couple hours. Don't forget your cameras!
They don't sell food or drinks at the waterfall all the time. We have been there once during the holidays when some locals brought their own stand to sell shaved ice, snacks and cold coconut water but this is not always. So make sure to bring your own refreshments.
The Trail to the Llanos de Cortez Waterfall
The total time to walk from the parking lot to the Llanos de Cortes waterfall is around 5 minutes.
From the parking lot, you will see a sign that says Catarata Waterfall 100 m with an arrow pointing left. Walk on this trail and you'll get to the entrance of the main trail.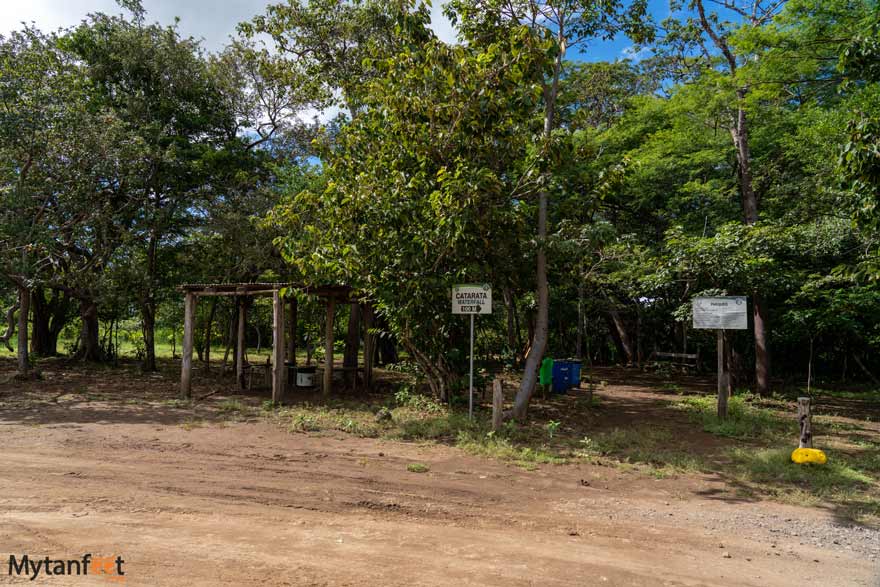 They have now made a very nice concrete path down to the waterfall. It's a very short walk, just about 3-5 minutes and they now have a rope for a handrail and concrete steps all the way down. They were finishing up the last 10 steps or so when we visited in November 2020.
The steps are not super steep so for anyone in good physical health, it is no problem. For anyone who may have ankle or knee problems, go slow and use the handrail.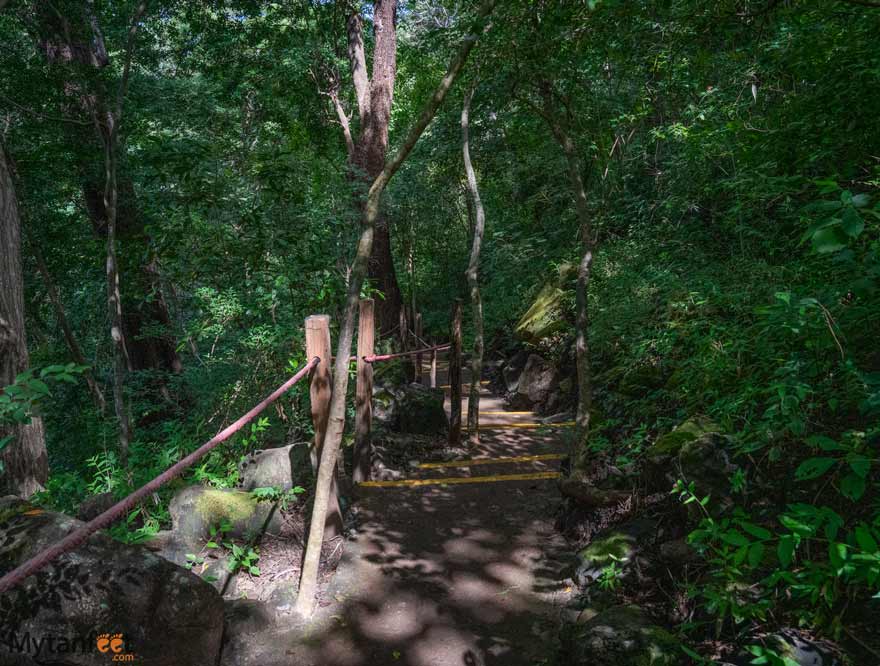 Thankfully, there aren't a ton of steps, maybe around 30 or so. It took me about 3 minutes to walk down to the waterfall from the parking lot. When you get to the bottom of the trail, turn right to go to the waterfall.
The Stunning Cortes Waterfall
The Llanos de Cortes waterfall is no doubt, impressive. Especially if you go in the rainy season and it is very full from all the rains. It is truly like an oasis in the desert as the water is super refreshing. It feels oh so good in the heat!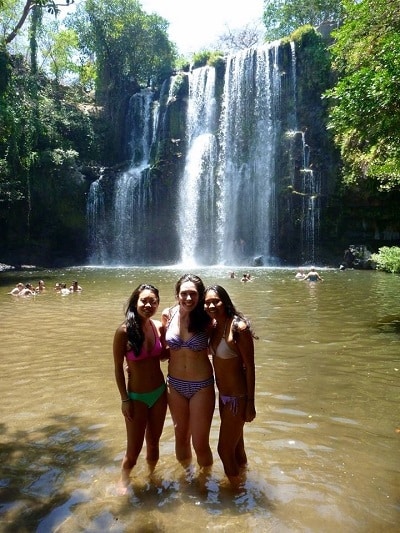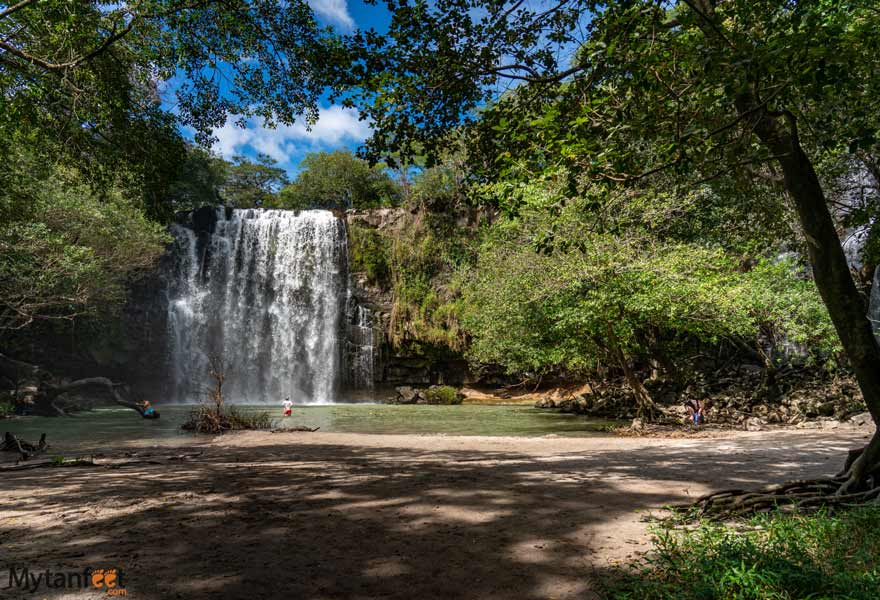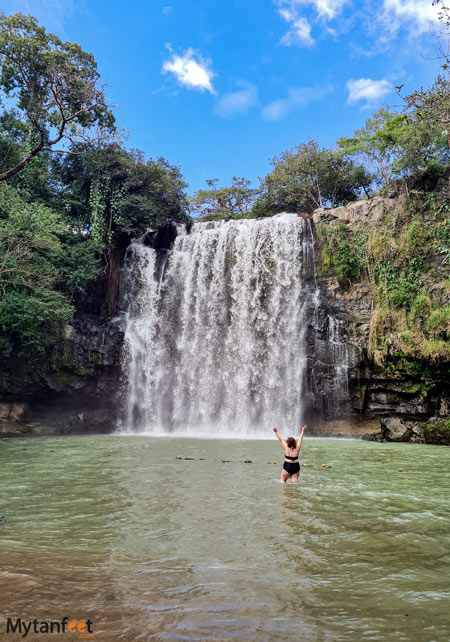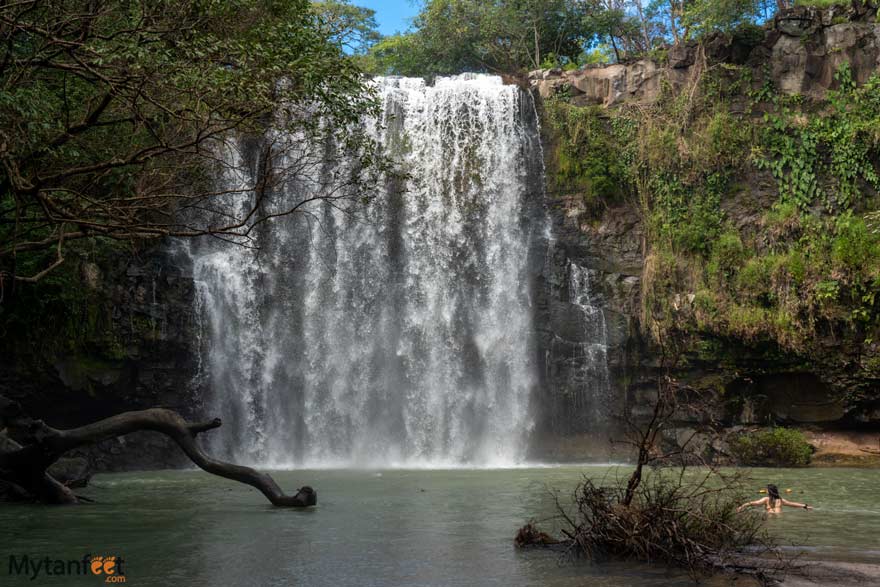 Important: They do not allow people to climb up the rocks under the waterfall anymore.
During the rainiest months like October and November, the wall on the right side of the waterfall activates a second smaller waterfall! It has a pool you can swim in too. It is seasonal so it won't be there during the drier months like February, March and April.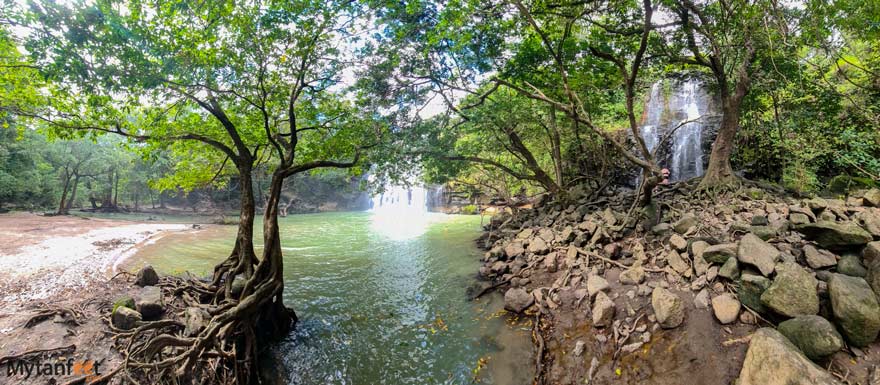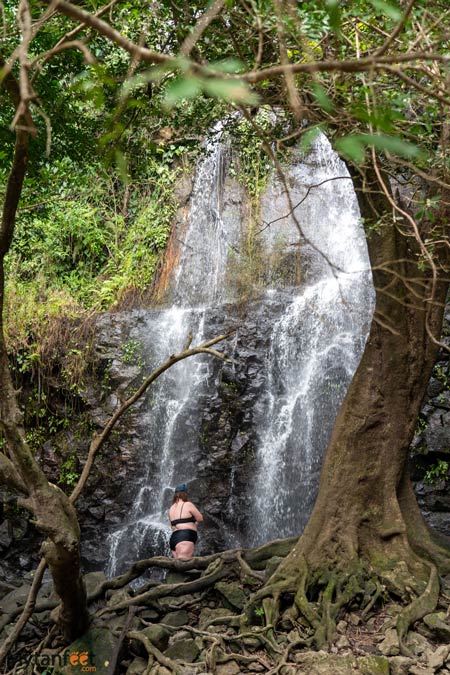 If conditions are good, you can also walk up to the left side of Cortes waterfall to climb up to the top. Be very careful as it may be slippery or muddy, it's not a proper trail at all, just climbing up through the forest. You'll be able to see the river that supplies the waterfall and even walk all the way back to the parking lot from there.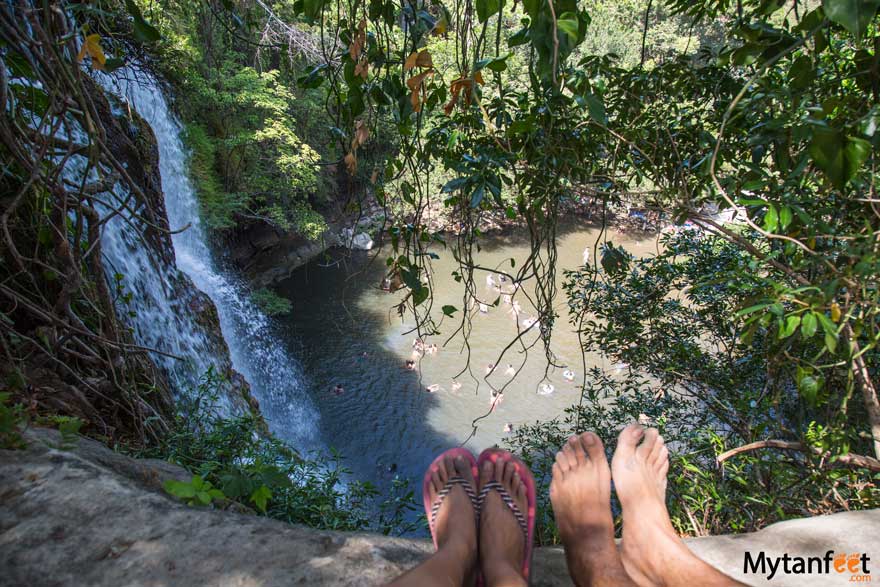 We did this in March, the driest month in Guanacaste so it wasn't muddy and all the foliage was dead/dry so the climb was not bad. I do not recommend it during the peak rainy months.
Other Things to Know About Visiting the Llanos de Cortez Waterfall
If you want to explore a bit, you can cross the river when it's low and there's a super cool tree you can sit on and take photos. It's a very photogenic spot (ideal for you Instagrammers).
No bonfires or grills allowed.
No smoking, no camping.
Keep your ticket, they can ask for it anytime.
You can stop by if you're driving from Guanacaste (like Tamarindo/Playas del Coco/Conchal) to La Fortuna or vice versa. You can also stay for as long as you want, as it's a nice day trip.
To get the most of your day trip, you can visit the waterfall in the early morning for about an hour or just a photostop on your way to Rio Celeste. Or do Cortes Waterfall + zipline at Rincon de la Vieja or Diamante Eco Adventure Park.
How to Get the Cortes Waterfall To Yourself
This waterfall is now a popular spot for tours and it's not as "hidden" as it used to be when we first visited. But it's still possible to get the waterfall to yourself. Here are our tips.
Go in the off season (rainy season months like May, June, September, October and November)
Go as soon as the waterfall is open at 8 AM. Tour companies start stopping there 930, 10 AM or so. Or, go around 1-2 PM on a weekday.
Don't go on a weekend, especially Sunday. Lots of locals go on the weekends. Weekdays are best, especially Tuesday – Thursday.
Don't go on the holidays, especially the Costa Rican holidays. These are Christmas and New Year weeks, Easter week, the first two weeks in July and September 15th weekend. These are the busiest times of year for Costa Rican vacations. We went once in March during Easter week and it was absolutely packed to the point there was nowhere for us to lay down a towel and sit.
Video
Watch our short clip at the waterfall to see it in action!
Other beautiful waterfalls are the Nauyaca waterfalls near Dominical in the South Pacific, Rio Celeste waterfall in northern Costa Rica, Catarata Rio Agrio, Blue Falls and Catarata del Toro in Bajos del Toro. Or check out our post on 12 amazing waterfalls in Costa Rica!