During our first months of living in Guanacaste, Yeison and I heard about a waterfall called Catarata Llanos de Cortes. His brother told us it was one of the most beautiful waterfalls he'd ever seen so we knew we had to visit for ourselves.
We took one morning to find this little oasis and fell in love with this waterfall instantly. Ever since then, we've taken all of our friends and family for a day trip. It's absolutely worth visiting and if you have a day to explore, definitely put this waterfall on the list! Catarata Llanos de Cortes waterfall is only 30 minutes from Liberia and a great cheap activity in Guanacaste. It is definitely one of our "must-sees" in Costa Rica!
Read our guide to visiting: how to get there, how much it costs and the secret spots you can't miss!
This post has been updated March 2019.

Location and directions
Catarata Llanos de Cortes map
The Cortes waterfall is in Guanacaste, in the small town of Bagaces near Liberia. Catarata Llanos de Cortes is 36 kilometers (22 miles) from Liberia International Airport and about a 35 minute drive.
How to get to Catarata Llanos de Cortes

From Liberia, turn right onto the InterAmericana highway (Mcdonalds in front of you to the left, a gas station to your right.) Drive on the highway towards Bagaces for about 20 minutes.
Look out for a sign that says "Catarata" on your right hand side. Exit to the right and there is a dirt road ~3 miles (~ 5 kilometers) before Bagaces. If you cross the river you went too far. You will see a sign that says "Waterfall" behind one of those pedestrian bridges.
From here, follow the signs which will take you to the parking lot and trail entrance.
The drive takes about a 1 hour from Playas del Coco and about a 1 hour and 30 minute from Tamarindo. The road is now in good condition, you don't need a 4×4 to get to the waterfall anymore. Once you get to the parking lot, there is a short path down to the waterfall.
Important: When you arrive, go to the first official parking lot. There is a bathroom and changing rooms (not the best but they have it). If anyone offers you to go to another parking lot for $4 (or less than $7 per person), we do not recommend to go to that parking lot as it is not the official one.
The trail to the waterfall is very short but it is not a flat, paved trail. You may need to hold onto some rocks and be very careful as you may slip (I slipped several times before). Those with ankle, knee or walking problems will need assistance. There is no handicap path.
Other ways to get there:
No bus goes to this waterfall but you can bus to Liberia and take a taxi (~$25 one way last time I had checked in 2016). You can also go on a tour. Many tour companies offers tours like Cortes waterfall + Mirvalles hanging bridges. If you need recommendations for tour companies, please contact us.
Entrance Fee and Hours
Catarata Llanos de Cortes hours: 8AM – 430 PM everyday.
Catarta Llanos de Cortes entrance fee: $7 per person.

The Stunning Cortes Waterfall
As soon as you pass the poza (little pool) and reach the bottom, you see this big beautiful waterfall with a delicious looking pool. On a nice sunny day, there's nothing better than to jump right in and take a swim.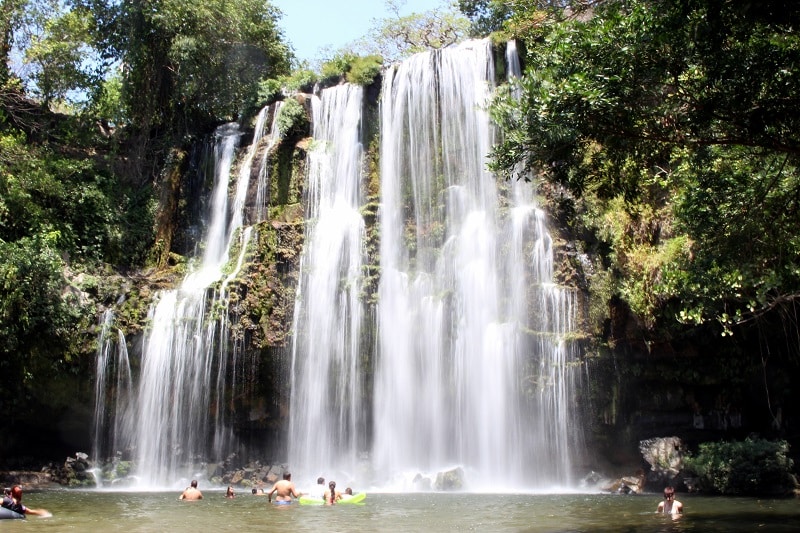 The water is super refreshing. It feels oh so good in the heat!
Important: They do not allow people to climb up the rocks under the waterfall anymore. There is a lifeguard who will blow a whistle at you and tell you to get off if you try.
Cool View Points and Trails
If you want to explore a bit, there's a trail over to the left side of the waterfall which takes you to the top. You will have to use your hands a few times but the view at the top is awesome. There is also a small pool which you can swim in. We saw people jumping into it but I don't recommend jumping  since the pool is not that big.
To climb up, I recommend going barefoot. We wore our flip flops and ended up carrying them since we had better grip with our bare feet. I actually accidentally broke the strap on my flip flop since my foot got stuck in the mud.
Then at the top, you see the river that supplies the water to Catarata Llanos de Cortes. You can walk across the river and there is one nice sitting area for a cool view of the top from the right side.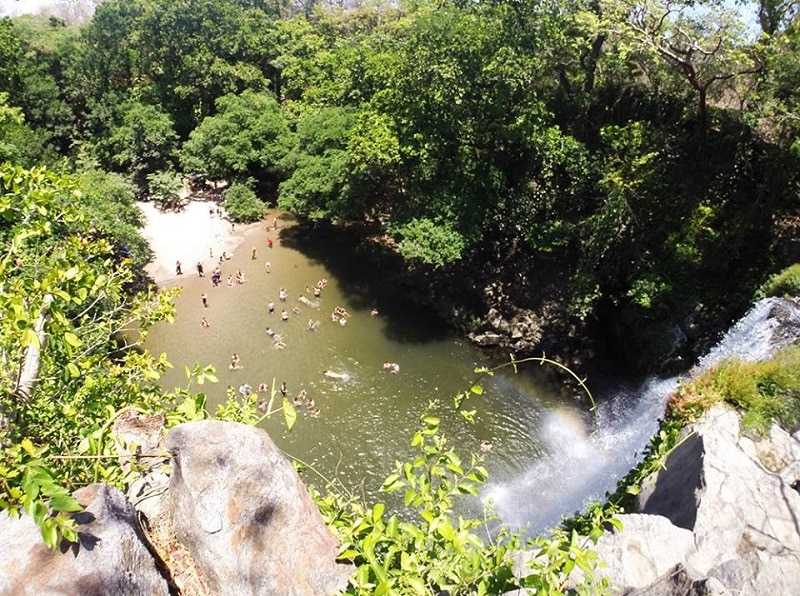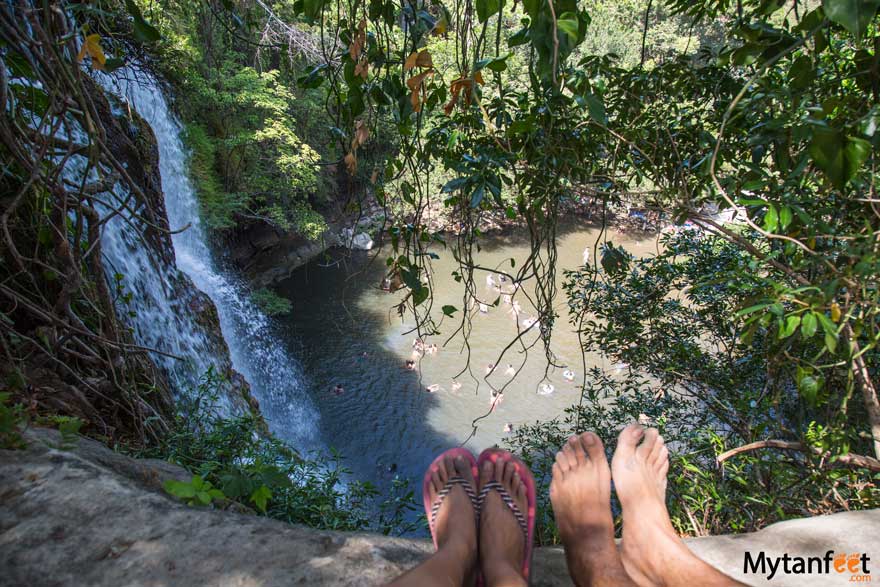 You could very easily stay for a few hours and have a nice picnic, relax and swim. We usually go to the waterfall early in the morning, stay for a few hours and then do another activity in the afternoon like ziplining.
Best Time to Go
This picture was taken in March, the peak month of dry season so the water level was fairly low. We have also visited in October and November when the water level was much too high. Our favorite time was in October. There was absolutely nobody and we had it all to ourselves for a couple hours!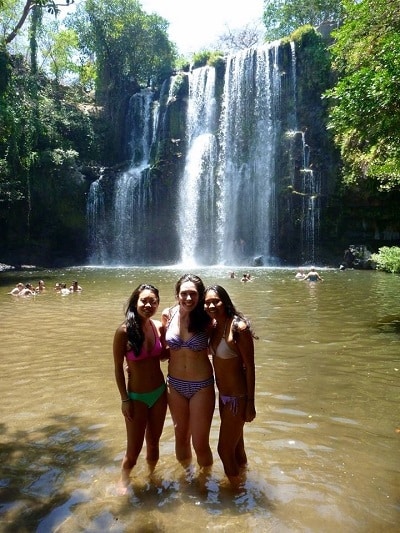 This photo was taken in March 2014. The waterfall is a lot more popular now so there are usually always crowds, especially as a lot of tour companies stop by here. Best time would be right at 8 AM when it opens and during the weekday in low season (September/October/November) if you want it to yourself.
Video
Watch our short clip at the waterfall to see it in action!
We also made another video of the waterfall where we climb to the top!
In the video, we visited during Holy Week, the busiest time of year so it was packed. It is not normally that busy!
Tips for Visiting the Cortes Waterfall
Don't leave any valuables in the car. Although there is a parking guard, you still never know since it's a big parking lot. Make sure to park at the official parking lot ($7 per person).
Not allowed to sit under the waterfall anymore
It's the most crowded on the weekend mornings. We went on a Sunday morning once and the place was absolutely packed. To enjoy the waterfall in more peace and quiet, go early on a weekday.
In the parking lot, they sell pipa fria (coconut water) for 600 colones each and snacks.
Sometimes on the weekend or holiday, there will be a stand down at the waterfall selling snacks and drinks.
The hike down to the fall is quite a bit rocky so be aware if you have bad knees or ankles. There are no hand rails or handicap path.
What to bring: Wear your swimsuit, towel, sandals or flip flops, snacks, water/drinks, sunglasses and sunscreen. Don't forget your cameras!
Other beautiful waterfalls are the Nauyaca waterfalls near Dominical in the South Pacific, Rio Celeste waterfall in northern Costa Rica,  Catarata Rio Agrio, Blue Falls and Catarata del Toro in Bajos del Toro. Or check out our post on 12 amazing waterfalls in Costa Rica!