Rio Celeste is one of the most beautiful places in Costa Rica and understandably, many visitors want to be able to swim in its spectacular blue water. However, swimming in Rio Celeste is strictly prohibited inside the Tenorio Volcano National Park so to dip your toes in the sky blue river, you must go to the spots outside the park. The most popular one that is easily accessible and free is the Rio Celeste Free Pool.
In this guide, we'll share with you exactly how to get there and what you need to know about swimming Rio Celeste in the free pool and public access.
Where Can You Swim in Rio Celeste?
The best place to swim in Rio Celeste is the free pool, just a 1 minute drive outside the Tenorio Volcano National Park. It is super easy to find, just enter in Google Maps Rio Celeste Free Pool (click here to go to the Google Map location). The free Rio Celeste pool is right underneath the bridge and you can't miss it.
From the entrance of the Tenorio Volcano National Park, turn right and drive a minute until you turn a corner and you see a bridge ahead of you. The free pool is right underneath this bridge and you will see the parking area to the left.
Parking
There is no official parking lot to the Rio Celeste Free Pool but you can park on the side of the road (left side). You can see what it looks like in the photo below.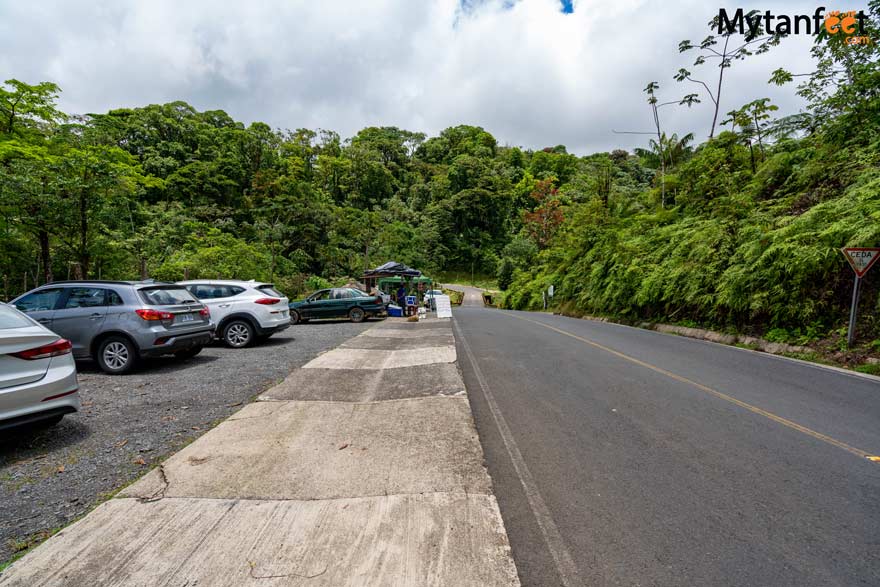 Important to know: This is not an official parking lot so make sure you do not leave any valuables visible in your car. There are also some locals who may try to charge you for parking but they don't own the road. Unfortunately they are quite persistent but you can give them a small tip like 500-1000 CRC or you can purchase a cold coconut or juice from them.
How to Get to the River
From where the cars are parked, there is a very short path down to the river to the left. Walk down here and voila, you are at the blue river!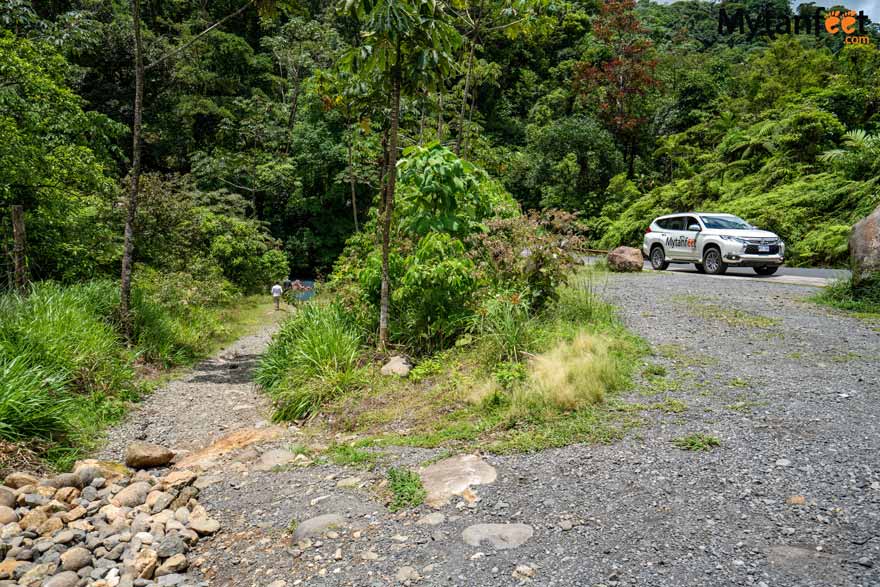 From Bijagua, this spot is about a 35 minute drive.
Swimming Rio Celeste
Once you are at the river, you can walk around the rocks, dip your toes and take photos. You can swim Rio Celeste here but due to the minerals in the water which give the river its brilliant color, do not put your head underwater.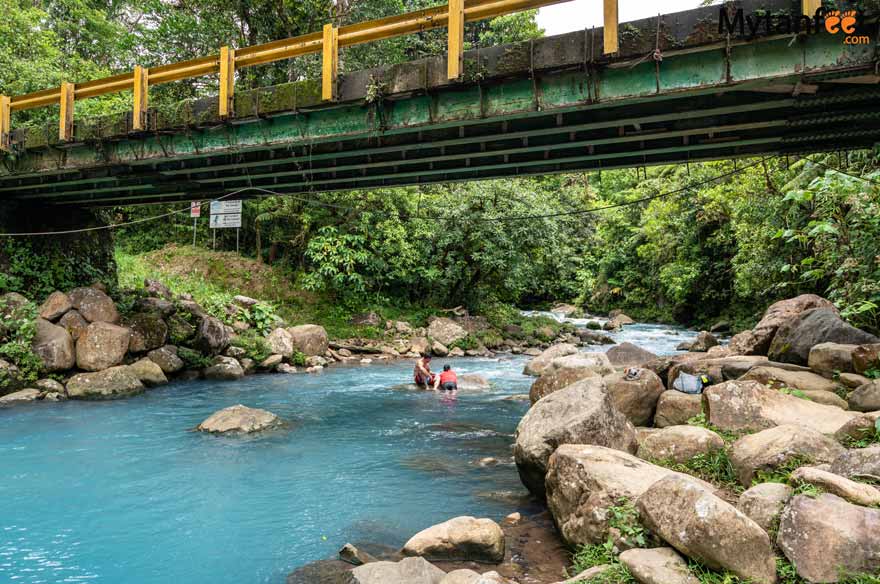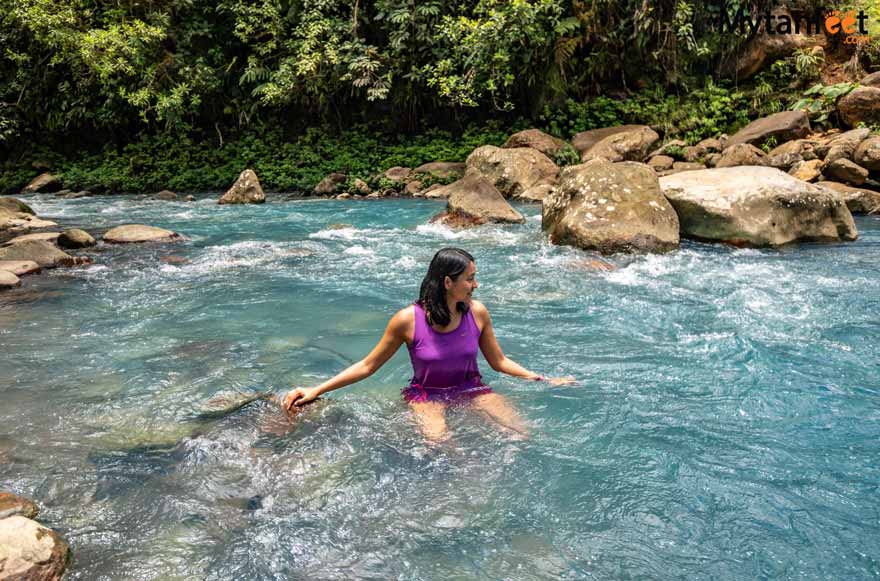 The water is cool and refreshing so it feels amazing in the hot and humid tropical rainforest climate. You can walk down the rocks to the right or left side of the bridge. Just be careful walking on the rocks as it may be slippery.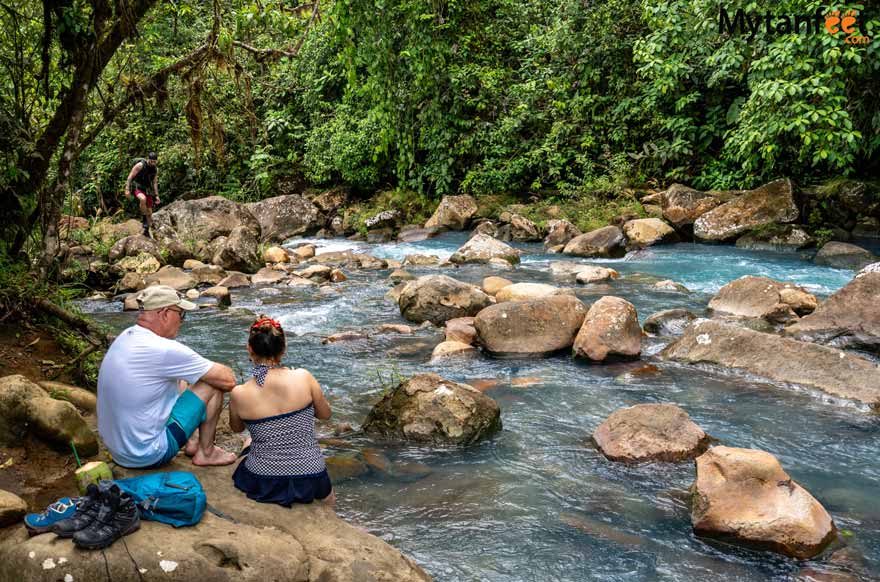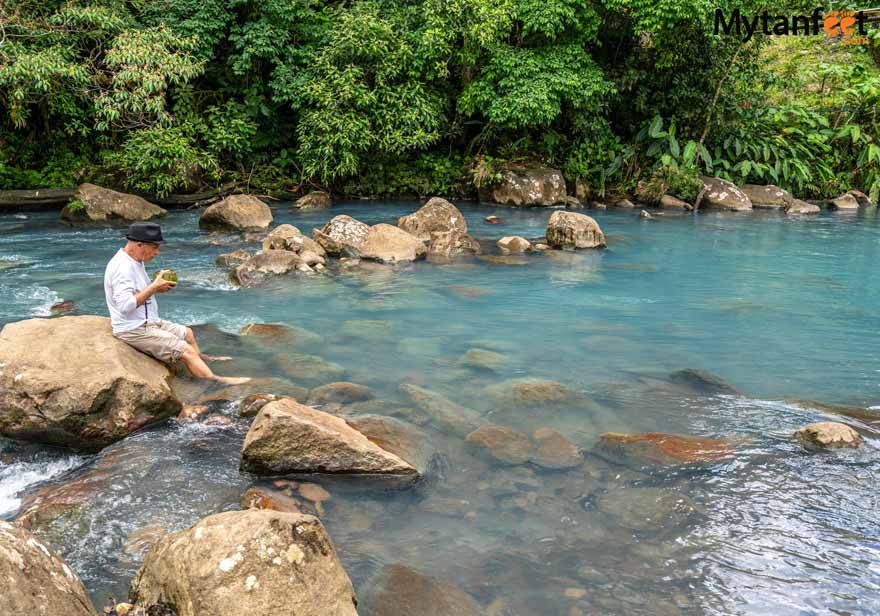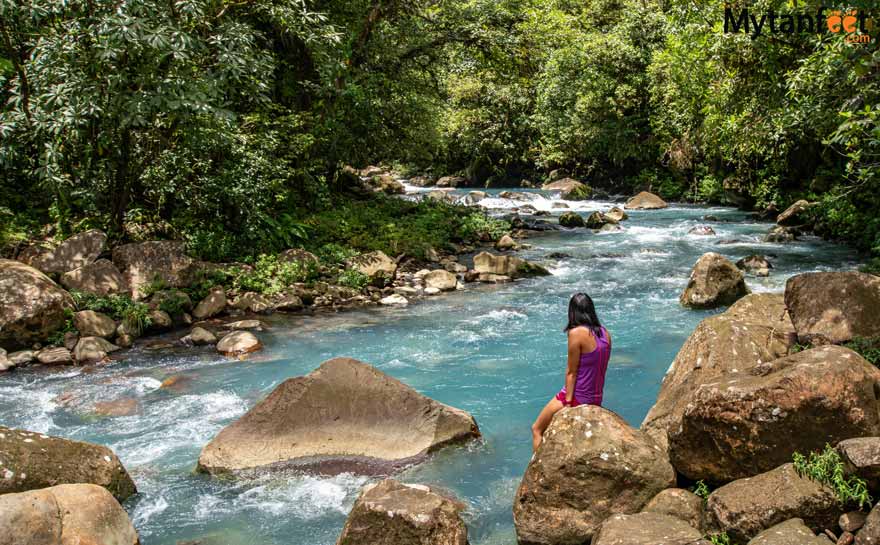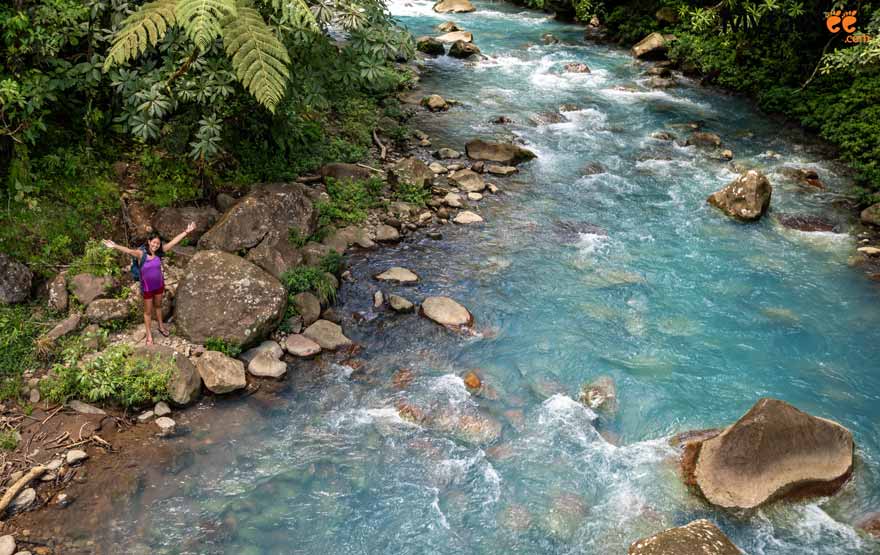 During the weekday, this place is not too busy but it does get more crowded and busier on weekends and holidays. I recommend to go in the morning for less people and walk a bit further downriver or upriver to get great photos.
I highly recommend to visit this free public access after you do the Rio Celeste hike inside the Tenorio Volcano National Park. It's a very nice add-on experience and 100% worth it!
Other Places to Swim in Rio Celeste
The Rio Celeste Free Pool is the most easily accessible place to swim in Rio Celeste and it is free. It's a wonderful spot to swim in Rio Celeste because it is 100% natural and untouched. However, there are some private properties nearby that have their own access to the river and the owners have fixed it up to put picnic benches, a maintained trail or a sandy area to enjoy the river.
Some places are Cabinas Piuri and Posada Rio Celeste La Amistad, both extremely close to the Rio Celeste Free Pool. The entrance fees are around $6 USD per person and you can use their amenities and order food at their restaurant. The Posada Rio Celeste even has a fun tarzan swing and a resident sloth in the area. Then some places have their own private accesses to hotel guests. For example, if you stay at the Rio Celeste Hideaway Hotel, they have their own private trail to the river which you can swim in.
Plan Your Visit to Rio Celeste
Make sure you plan your visit to the national park to see the sky blue river accordingly using our Rio Celeste guide. You will find details on how to get there, the national park hiking trails, the waterfall, entrance fees and everything else so that your visit is stress free. Also check out our Bijagua guide if you want to stay overnight in the area. Bijagua is the main town by the national park, only a 30 minute drive away.
Rio Celeste is only 2 hours from La Fortuna, 2 hours from Playas del Coco/Papagayo Peninsula and 2.5 hours from Tamarindo/Flamingo. You can visit as a day trip from those areas or stop by on the way if you are driving from La Fortuna to Guanacaste or vice versa.
There are affiliate links in this post.