Are you trying to decide when is the best time to visit Costa Rica? We can help!
The best time to visit Costa Rica will depend on what kind of vacation you're looking for. Are you on a budget? Do you like crowds? Yearning to escape the cold and bask in the sun? All of these factors will help determine when is the best time to visit Costa Rica for your trip.
Weather is one of the biggest influences and the climate changes throughout the country so you need to take that into account when Costa Rica trip planning. If you're not sure if May is a good month, if you should travel during rainy season or if January is good for turtle watching, this post will help.
You'll find out when is the best time to visit Costa Rica depending on these factors which I'm going to break down.
When is the Best Time to Visit Costa Rica?
First, we need to go over the weather as like I mentioned above, it is one of the main factors that help visitors figure out when they want to come. You can read in detail about weather in this post or read on below.
Dry Season to Escape the Rain
If you're coming to Costa Rica to escape the rain, the best months are end of December – beginning of May which is Costa Rica's dry season. You will see almost no rain during these months (sometimes a little beginning of December/end of April) and if you're going to Guanacaste, you're guaranteed to have hot sunny weather without a drop.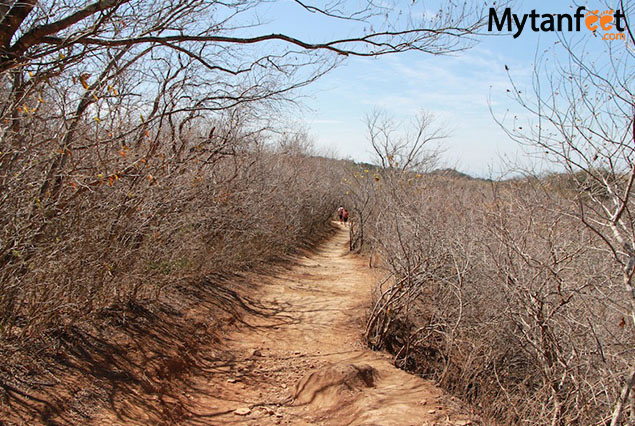 Key things to know about visiting Costa Rica during dry season:
This is high season. Rates are more expensive as it is Costa Rica's "summer" and there are lots more tourists during that time. This is also the time when all the snowbirds from N. America come down since it is winter up there.
It is HOT! We live in Guanacaste and it can get tough. The hottest months are March and April where it is 100 F and very dry for weeks on end.
Dry season months are best for those who want to escape the rain and cold from the north and it works well for schools as well with winter and spring break during dry season.
Rainy Season to Experience the Tropical Weather
Rainy or green season is generally from middle of May – beginning of December and this is considered as Costa Rica's "winter." Rates are lower, there are less tourists, all the snowbirds have gone home and some businesses close during this time, particularly September and October. Some hotels also do their rennovations and remodels during October.
If you're traveling on a budget, rainy season months are the best since rates are lower. You can bargain more and save money on hotels, tours and car rentals.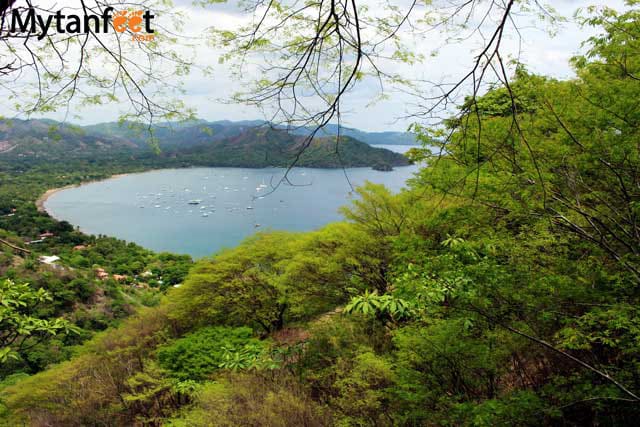 Rainy season gives you a unique perspective of Costa Rica that not many people see. You do need to come prepared because thunder and lightning storms are common and sometimes it floods in certain areas.
Key things to know about visiting Costa Rica in rainy season:
October is the rainiest month (except for the Caribbean).
You must come prepared for rain which means bringing waterproof equipment, a rain jacket, etc.
This is the best time for wildlife watching, particularly whales and turtles in August and September.
Mosquitoes are worse during this time due to the stagnant water.
Not sure if you should visit in rainy season? Read our tips for visiting Costa Rica in rainy season here.
Rainy season is best for budget travelers, wildlife lovers and those who don't mind a bit of rain. Although you may run into some rainy days and thunderstorms, you're rewarded with less crowds, empty beaches and cheaper rates. In our opinion, we love rainy season because everything is much more lush and green.
Holidays to Keep in Mind
There are 3 times of the year where it is extremely busy and you may even want to avoid if you don't like crowds. These are what they call "peak season" and is considerably more expensive to travel.
Christmas/New Years
If you are spending your holidays in Costa Rica, book asap. Hotels and car rentals go super fast and it is really expensive during these times. Costa Ricans also have holiday and many of them go to the coast to spend their time off, so if you're going to the beach you need to book everything asap at least 3 months in advance.
Semana Santa
Week of Easter. This is a huge holiday in Costa Rica as majority of the country is Catholic and they get a whole week off. Locals flock to the coasts as well so if you're traveling the week of Easter, book your hotels and cars fast. It's almost as big as Christmas/New Years.
Mid winter break
Generally the 2nd to 3rd week of July. Many tourists don't know about this one, but this is a mid winter break for schools so kids have a whole week (two for private schools) off and the locals go on vacation. It's also peak season for foreigners as this is summer break up north so again, book your things asap and expect crowds.
Since so many locals like to go to the beach during these times for vacation, this is a great opportunity for you to explore San Jose. Last time we went to San Jose in Semana Santa, it was so quiet with no traffic!
Shoulder Months for the Best of Both Dry and Rainy Seasons
If you asked Yeison and I what our favorite months are in Costa Rica, we love the shoulder months. This is May, June and November approximately. These are the transition months between dry and rainy season so you can experience the best of both.
November is when the rain starts letting up and tourists start trickling in. By the end of November however is when most snowbirds come so we recommend the beginning to middle of November.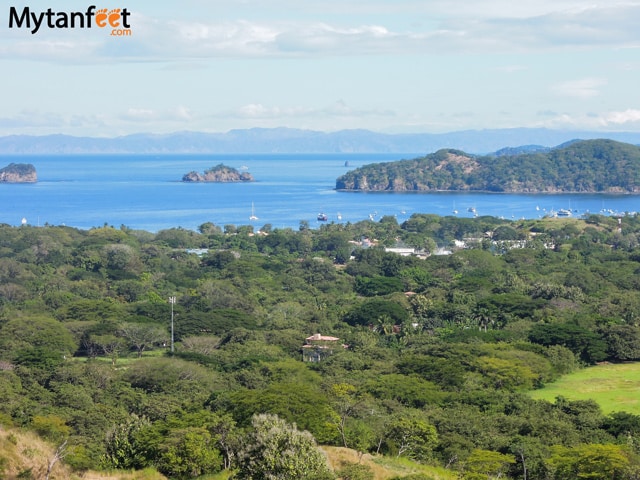 May and June is when the rain starts but you'll still get plenty of hot sunny days. There are less tourists, majority of the snowbirds go home and companies start offering promotions to get ready for the low season.
In July, we normally get a "little summer" where the rain lets up for about a week or so. But do keep in mind that tropical weather is fairly unpredictable so do still come prepared for rain if you visit in July.
The Caribbean
If you're going to the Caribbean side, it doesn't follow the strict rainy/dry season months. It is much more humid with temperatures hovering in the high 80's all year round.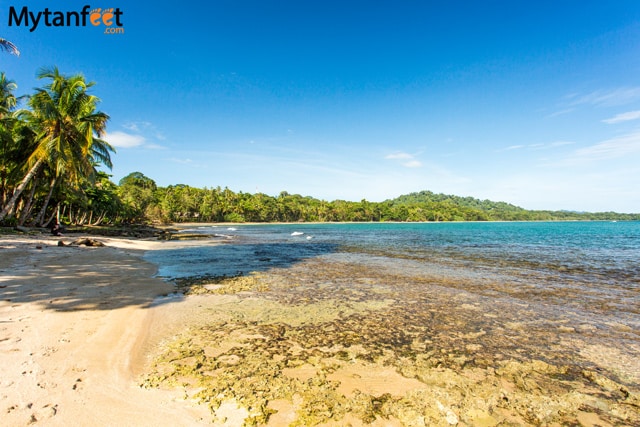 The driest months are typically August through October and January to March are usually sunny and good waves for surfers, also good time for snorkeling. In November and June, it can rain almost every day. So the best months for those who want to avoid rain on the Caribbean side would be September and October.
High season months for the Caribbean are August and September for Europeans for Tortuguero and Puerto Viejo are very crowded.
After Thanksgiving to Middle of December
This period of time is considered very low since most people don't travel after Thanksgiving to the last two weeks of December so if you are able to, that is a great time to visit Costa Rica. It will be pretty rainy for most of the country but it's very green, you can still have sunny mornings and it is not crowded at all.
We went surfing every day from November to end of December and the last week of November to the 2nd week of December was super empty in Tamarindo. For a few days, there were only 4 people surfing! In high season, it can be up to 50-60 people so this is an excellent time to visit Costa Rica if you don't like crowds and don't mind rain.
The Best Time to Visit Costa Rica According to Activities
Beaches
If you're coming to Costa Rica purely to enjoy the beaches and hot weather, definitely come during dry season. You'll never have to worry about rain. You will come back looking a lot tanner than when you came!
The hottest months are March and April but January and February are also very hot and dry. After New Years to around end of January, there still aren't a ton of tourists so it's not super crowded. Once it hits February, it gets a lot more crowded and March and April are generally the most crowded months.
Keep in mind about the Caribbean weather however as it doesn't adhere to the dry/rainy season cycle.
Nature and Wildlife
For those looking to enjoy a nature vacation with wildlife or bird watching, the best time to visit Costa Rica is during rainy season. The months of August, September, October and November are optimal months to see turtles and whales.
If you like waterfalls, rainy season is the best since the waterfalls are much bigger with the extra water. More fun to sit under and swim in the pool!
If you like birds, March and April are the best times to see Resplendant Quetzals up in the cloud forests as it is their mating season.
Check what are the best months to see other wildlife like toucans, dolphins and sloths in our Costa Rica wildlife post.
Cloud forests
I know that some people actually don't like the heat so if you are one of those, come during rainy season. Up in the cloud forests, it can get all the way down to the 60's and even lower if it rains! Even in dry season, the hottest it gets is around mid 70's and goes down to low 60's at night so it's very comfortable.
You'll still be able to do everything – canopy tour, hiking, etc. but your schedule will depend more on the weather. You'll just need to be a bit more prepared when it comes to packing. Here are our guides to help you.
Our complete guide to packing for rainy season in Costa Rica.
Our guide to packing for Costa Rica.
However, the cloud forest is much cooler in general than the beach areas so even if you come during dry season, it will be very pleasant. It still rains up in the cloud forests even in dry season so make sure you bring a rain jacket and warm clothes.
Hiking
Hiking is better in dry season since paths aren't muddy or covered in forest debris. You'll also have a guaranteed chance to see the view at the top. When we hiked Cerro Chato in rainy season, we saw fog, fog and more fog. It's already a tough hike, but it was even harder with mini rivers and mud up to our ankles!
If you're going to Rio Celeste, do note that the river may turn a cloudy brown color once rainy season gets under way so the you won't be able to see the sky blue color. Rio Celeste is best during dry season.
Waterfalls
After the first few hard rains, waterfalls turn a kind of murky color due to all the debris. A couple months later and it clears up and the waterfalls get much more full so it is fun to visit.
When we visited La Fortuna waterfall in October, it was a very murky brown. Nauyaca waterfalls in August wasn't very pleasant to visit as the waterfall was so full, we couldn't even walk all the way down and the wind was really strong so we could barely see anything.
Water Activities
River rafting and tubing is best done during rainy season as the rivers will be full and the rafting is much better. You can still do snorkeling and scuba diving, go boating, jet ski, kayak, and sail but you will have to keep an eye on the winds. If it's too choppy out or if it's raining too hard, going out in the water is not a great idea.
Fishing is best during rainy season and surfing varies throughout the country and time of the year. Rainy season has more swells which is good for pro surfers. Snorkeling is not the best at the beginning of rainy season due to all the debris going into the water but it clears up a few weeks later.
Monthly Breakdown
January & February: Tons of tourists for the New Year, starts to decrease a few days after the 1st. The 2nd to last week of January is a great time to visit since it's great weather, prices go back to normal after the New Year and still a bit green. Hot, but not quite as hot as the following months. Great time for dry season travel for both beaches and rain forest. February stars picking up in tourists and gets very dry.
March & April: Hottest times of the year for most of the country. Tons of tourists because of Easter and spring break up north. Expensive to travel. Super hot, very dry for Guanacaste, looks like a desert and waterfalls are reduced to a trickle and rivers dry up. Good time for the South Pacific/Osa Peninsula. Great for surfing as it is common for big swells on the North Pacific. Great time for Monteverde, especially as it's Resplendant Quetzal nesting season.
May & June: Transition months from dry to rainy. Landscapes start turning green with the first rains and temperatures cool down a little bit. Less tourists than previous months but still a good chunk. First rains can start anytime from end of April so bring a rain jacket, especially if you're visiting the Central Valley and rain/cloud forests.
July: More tourists because of summer break up in North America and mid winter break in Costa Rica. Great weather, has a "little summer" with sunny days. Excellent for water activities.
August: Best month for wildlife such as whales, turtles and dolphins. Beginning of the month sees lots of tourists, end of the month starts dying down. Common to have sunny skies in the morning and rainy afternoons/evenings.
September and October: Most popular time for Europeans, especially on the Caribbean as that side starts raining less. Still great time for wildlife, rains a bit more often. Cheapest time to travel because this is the lowest off season months.
November: Rainy. Beginning of November doesn't have many tourists, towards the end of the month is when the snowbirds come down. Best time to see turtles, especially the Olive Ridley turtles during the arribadas.
December: Rain starts to let up but you still may get some rainy days. On the coasts, it is crazy packed the last two weeks for Christmas as both foreign tourists and city locals flock to the beaches. Best time to visit the Central Valley. Very expensive to travel. The first two weeks of December are fairly empty
Personal Preference
The best time to visit Costa Rica will mostly depend on the person and what vacation they're looking for.
So if you want:
To avoid the rain: Come in dry season, December – April for most of the country. September/October for the Caribbean.
To travel on a budget: Travel during low (rainy) season or shoulder months.
To get the best of both dry and rainy season: come during the shoulder months of May, June and November.
To escape tourists: Come during September/October/end of November to middle of December.
Need some ideas for itineraries? Check out our favorite Costa Rica itinerary ideas!
And don't forget to get travel insurance for any time of the year you visit Costa Rica.