As someone who spent much of her childhood in and around water and studied to be a marine biologist, I had always wanted to get my scuba diving certification. And I finally did for my 32nd birthday!
I completed my PADI open water certification and if you are thinking about scuba diving in Costa Rica or getting your certification, here's my experience and Costa Rica scuba diving review. If you want to book a diving or snorkeling trip to the Catalins Islands, scroll to the bottom of the post to request your excursion!
Costa Rica Scuba Diving
If you ever wondered if you need to be certified to go scuba diving in Costa Rica, you do not. Many scuba diving companies in Costa Rica offer what they call a "discovery dive" which is specifically for people who don't have their certification. Before getting my certification, I did a discovery dive to get a feel for scuba diving.
The two tank discovery dive from Flamingo was incredible. We did a one hour instruction in the pool before the two tank dive at Las Catalinas Islands. While diving, the team took great care of us, checking all our equipment and making sure we were OK. We just focused on swimming and enjoying the underwater world.
Although it was windy, the water clarity was great. We saw manta rays, sea stars, eels, octupuses, whitetip reef sharks, nudibranchs and big schools of fish. On the boat ride, we saw dolphins and humpback whales breaching!
That discovery dive lit a fire in me. Scuba diving was like entering a completely different world and I was just a quiet observer and humble guest in this foreign kingdom. I signed up for my PADI open water almost immediately afterwards!
Scuba Diving in Guanacaste, Costa Rica (My PADI Open Water Course)
I signed up to do the course with a friend and this was our itinerary. The PADI open water course consisted of 3 in person days and 1 day of theory. I completed the theory the day before the pool instruction.
Day 1: Pool Instruction
This took about 3 hours. Since it was just the two of us, we had one instructor. The pool day was to get used to the equipment, learn how to put the BCDs together, how to achieve neutral buoyancy, safety stops, hand signs and more.
Day 2: First day two tank dives at Las Catalinas Islands
We departed from Flamingo for the Catalinas Islands, about a 30 minute boat ride. On the boat ride there, our instructor went over what we would practice during the dives so we knew what to expect.
Day 3: Second day of two tank dives at Las Catalinas Islands
The last day we did safety stops, compass and practiced a few more exercises. The very last dive was more of a fun dive and reinforced more exercises we practiced.
After we completed the last dive, that was it! Our instructor signed us off and we were officially PADI open water certified!
We went back to the office to take our picture for our certification card and I picked up my card and dive book a couple weeks later.
Price of PADI open water certification in Costa Rica is between $400-550 per person USD.
Photos
Here are some photos from my dives. I didn't take any during the course but I got a lot of photos on my discovery dive. Below you can see some of the beautiful marine life at Las Catalinas Islands.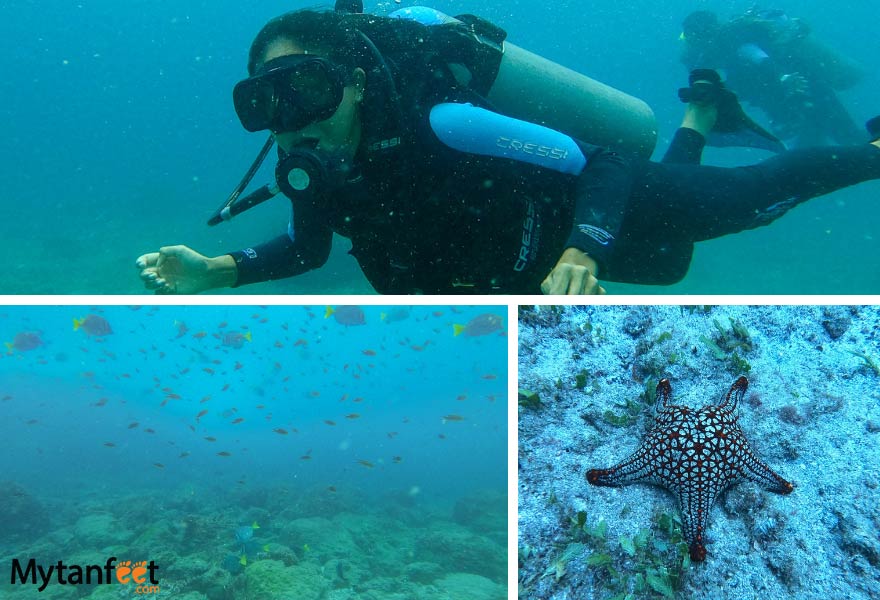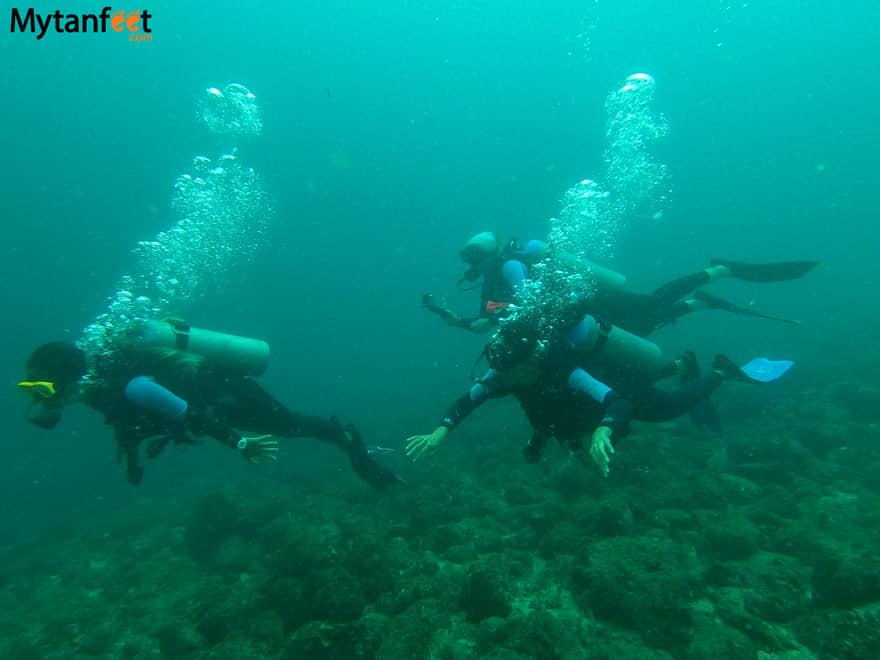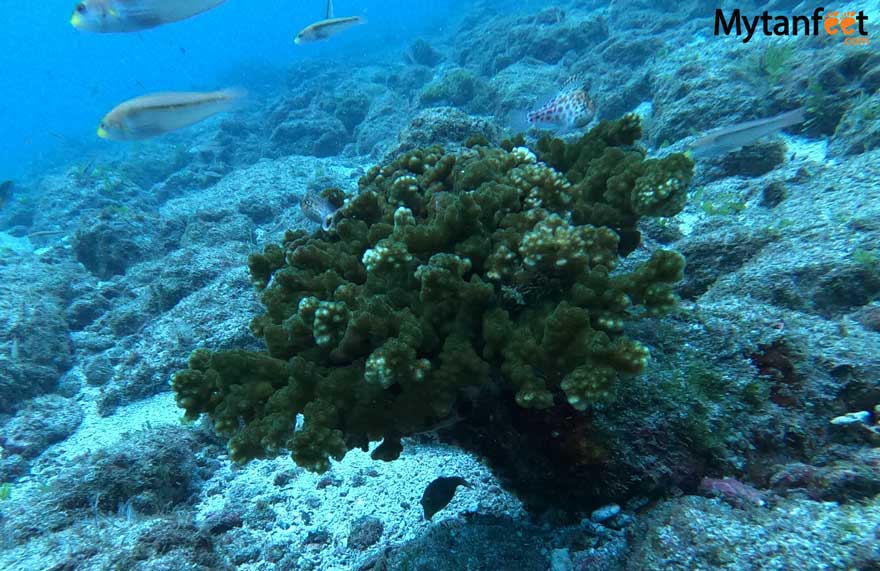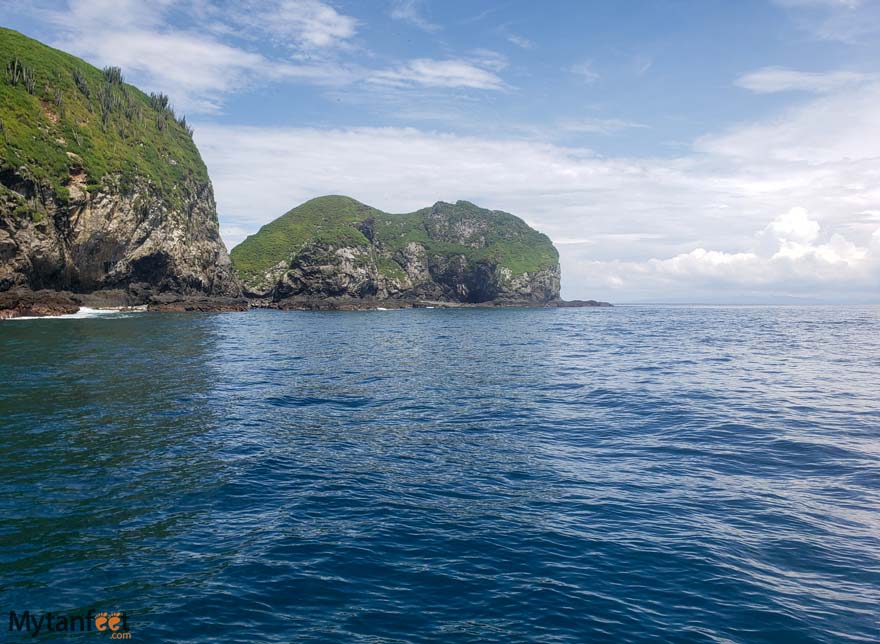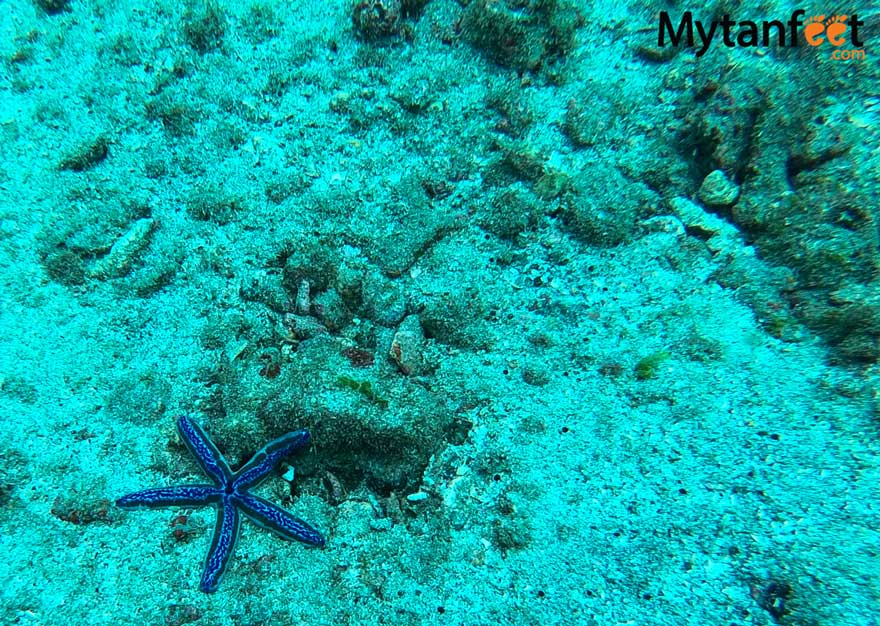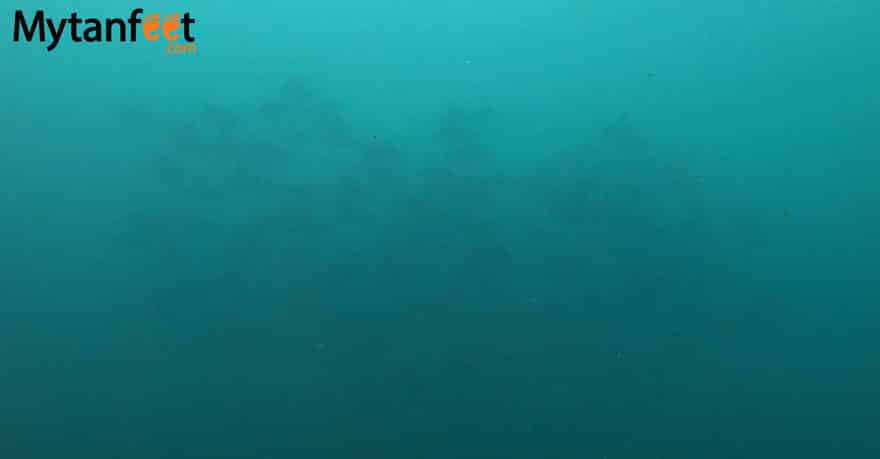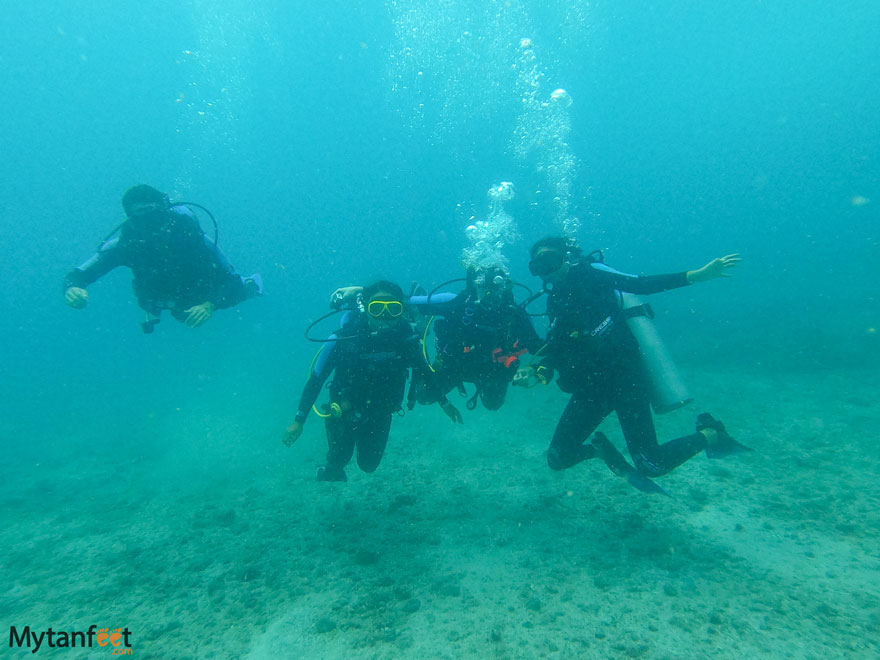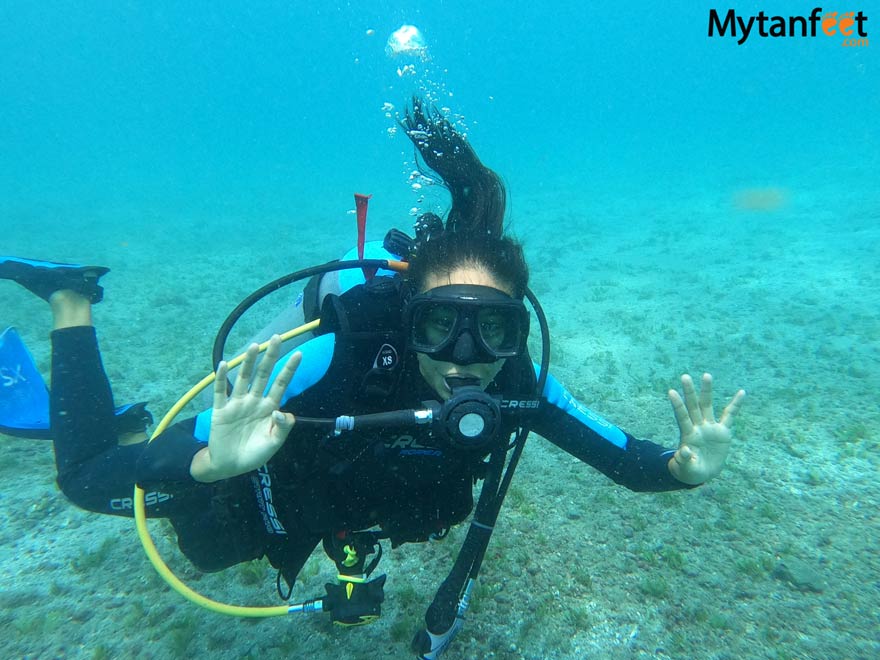 I'm excited to scuba dive more and hopefully start working towards getting my advanced!
Best Time to Scuba Dive in Costa Rica
July and August are some of the best times to scuba dive in Costa Rica because it is the humpback whale and turtle season. I did my discovery dive in August and my course in September and we heard humpback whales singing! They were so loud, I thought they were swimming over my head! Water clarity during rainy season is also great for scuba diving.
Likewise, February is a great month to scuba dive in Costa Rica to see the giant oceanic manta rays but the water temperature is colder. Humpback whales also pass through Costa Rica in January and February so you may see or hear them, especially if you scuba dive at Caño Island down in the South Pacific.
May – November is rainy season in Costa Rica s the waves were rocky when I went in August as a tropical wave was passing through the country. Many people on the boat got seasick. Thankfully, I took anti-nausea medicine so I was fine (thank goodness). For our course in September, we didn't have any wind for both days. It was sunny and very pleasant.
Best Places to Scuba Dive in Costa Rica
Bat Islands (Islas Murcielagos): These islands in the Santa Rosa National Park are the best places for advanced scuba divers as there is one spot, Gran Susto that is the best to see bull sharks. Location: Pacific Northwest Coast. Stay in Gulf of Papagayo or Playas del Coco
Las Catalinas: These islands close to Playa Flamingo are great for beginners and open water divers. Location: Pacific NW Coast: Stay in Flamingo, Brasilito, Tamarindo, Potrero, Las Catalinas, Grande or Conchal
Tortuga Islands: Islands off the coast of Playas del Coco, similar to Las Catalinas. Great for beginners and open water divers. Location: Pacific NW Coast. Stay in Gulf of Papagayo or Playas del Coco
Isla del Caño: This biological private reserve in the South Pacific is said to be the second best place for snorkeling and scuba diving in Costa Rica. Location: South Pacific coast. 1.5 hour boat ride from Uvita, 30 minutes from Drake Bay
Isla del Coco: The best scuba diving spot in Costa Rica. This island takes a 2 day boat ride and is best for advanced divers. It is home to huge populations of hammerhead sharks, giant manta rays, turtles and more. This is definitely a bucket list scuba dive trip!
Cahuita National Park: This national park is home to the biggest coral reef in Costa Rica and when conditions are right, the scuba diving is amazing. Location: On the Caribbean coast. Stay in Limon, Puerto Viejo or Cahuita.
The best places in Costa Rica to scuba dive are Playas del Coco, Ocotal, Tamarindo, Flamingo, Manuel Antonio, Uvita, Drake Bay, Puerto Viejo and Cahuita. You can find scuba diving shops in all those places.
Scuba Diving, Playa Flamingo, Costa Rica
If you're interested in scuba diving or snorkeling at the Catalinas Islands, feel free to fill out the form below and we'll help you put your trip together. If you want to get your PADI scuba diving certification, I recommend them 100% and ask for Fernando to be your instructor!