Mytanfeet is happy to share our partnership with a Costa Rican car rental agency, Adobe Rent a Car to offer our readers an exclusive Costa Rica car rental discount and extra benefits.
We have been partners with Adobe Rent a Car since early 2014, helping thousands of Mytanfeet readers save money and have an amazing time exploring Costa Rica by car.
If you don't see the car you want, if you are renting in less than 24 hours or if you have any questions about renting a car, please email us at web @ Mytanfeet . com and our team will be happy to assist you find the perfect car for your needs!
Please include your party size, number of luggage, rental dates, rental times, type of car and pick up and return locations.
What To Know About Our Car Rental Discount
1. The widget does not allow reservations for less than 24 hours. Please email us to check last minute availability.
3. The discount is automatically included in the widget below, is off the car rental rate and minimum 10%*.  No promo code require to get our car rental discount. Prices are in USD.
4. If you are looking to rent for more than one month, please write in the a note in the reservation comment section your long term rental dates so that we can get you the best monthly rate.
Below you will see all the freebies and extra benefits you get for booking through Mytanfeet.
*Rates and blackout dates set by Adobe. Discount may fluctuate as it depends on availability but the minimum is always at least 10% off the car rental rate. *We receive a small commission for every booking.
Please Use the Widget Below to Reserve Your Car With Our Costa Rica Car Rental Discount (No promo code required)

If the widget asks you for a corporate login or the discount is not automatically included, please click here to fill out the widget.****NO promo code required, our discount is automatically included using ONLY the widget below****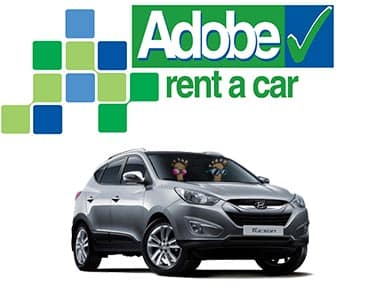 We Have More Exclusive Benefits for You!
Additional two FREE drivers 
0% deductible from the Liability Protection Insurance (up to $20,000 – normally 20%)
$500 deposit for rentals that include Liability and Car Protection insurance or Liability, Car Protection and Extended insurance* For all rentals that decline Car Protection insurance, your deposit will be $750 USD regardless if you purchase Extended insurance or not.**
$750 USD deposit instead of the original $1000 USD deposit for all rentals that decline Car Protection Insurance (CDW)**
Road assistance on all rentals (normally only included in Extended Total Protection insurance)
Free SIM card with 1000 CRC credit for the duration of your booking

Free child booster seats, as many as needed
33% off a day on GPS rental

Included shuttle pick up & drop off to the airport from their office and vice versa
Complimentary car delivery and pick up at nearby hotels between the hours of 830 AM to 430 PM
Free surf racks (on cars that can have surf racks)
Free small or medium cooler if available
Free backseat dog covers. Adobe is pet friendly.
If you rent a portable WIFI for more than 10 days, the service will be for FREE after the 10th day (You pay only for the first 10 days. The Wifi is not free).
The free drivers, road assistance, deposit benefit and 0% deductible on Liability Insurance up to $20,000 USD are automatically included in every Mytanfeet reservation. Please write in the comment section if you want the SIM card, cooler (if available), child seats, dog seat cover or surf racks. Infant seats <1 years are not available.
**Deposit benefits apply only to those using a credit card. Debit card users will have a $1000 USD deposit, no exceptions. Surf racks are available for the Hyundai Tucson, Hyundai Venue, Chevrolet Trailblazer, Misubishi ASX, Mitsubishi Montero Sport and Mitsubishi L200.*
Every reader will also receive personal attention and customer service from the Mytanfeet team. We guarantee to answer your questions and comments within 24 hours of the initial reservation. 
IMPORTANT, PLEASE READ FIRST ABOUT OUR COSTA RICA CAR RENTAL DISCOUNT!

Our Costa Rica car rental discount is for the car rental rate, not insurance. No promo code needed. Discount is automatically in the widget.

If renting the Wi-Fi for more than 10 days, the rate shows up as normal. Adobe has to manually adjust the rate when reservation is confirmed.
If you need to make a reservation in less than 24 hours, the widget will not let you. You need to call Adobe directly. Tell them you are a Mytanfeet reader to get the discount. Their toll free number is 1 855 861 1250 or local number is 2542 4800.
Requirements for renting a car with Adobe: must be at least 23 years old, must bring original valid passport and original valid driver's license (no photocopies, temporary licenses or paper copies), a physical credit card with enough funds for the deposit and rental cost and must have been driving legally for at least 2 years. The cardholder must be present in order to collect the car.
How to Use the Widget: Step by Step
Select your pick up location.
Next, enter your car rental start date and the time. If you are flying into the airport and want your car when you land, choose the time your flight arrives.
Select your drop off location and time.
Click Go and it will open a new window. You will see a list of cars available, prices and a description. Click on the car you want to go to the reservation booking form. To know you are getting the Mytanfeet rate, under FARE, it will say MY TAN FEET.
For pick up, if you want the car when you land at the airport, please select Airport and enter your flight information. If you want your car delivered to your hotel, please select "Specify Location" and enter the name of your hotel.
To complete the booking, enter the main driver's (contract holder) information.
In the comment section, please include if you'd like any of the Mytanfeet benefits such as SIM card, cooler, surf racks, baby/booster seats or the WiFi deal. If you would like Adobe to pick up your car from your hotel for your return, please include that in the comments (hotel name and time of pick up).
Click Quote if you want ONLY a quote. Click Reserve if you want to make the reservation. Quotes are not confirmed reservations and are held for 10 days. Reservation is a confirmed booking.
You will receive an email confirmation from Adobe.
Costa Rica Car Rental Discount FAQ
Why should we book our Costa Rica rental car rental through Mytanfeet? You're a blog!
Yes, Mytanfeet is a blog. But we're also travelers just like you. We're always scoping out the best deals and through our blog, we have the opportunity to give back to our awesome readers.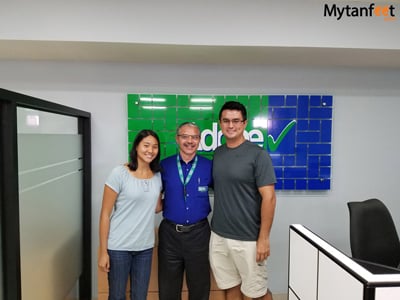 Trust us, we're not convincing you to book with us just so we can get commission. We're happy to give our honest opinions and recommendations as real travelers. From day 1, our goal for Mytanfeet has always been to provide the best tips and the most helpful advice. This Costa Rica car rental discount is one way for us to do that.
And when it comes to first hand experience, we have it. Yeison is a Costa Rican who has worked in the tourism industry for over 20 years. I'm from the US and have lived in Costa Rica for over 10 years. We have been partners with Adobe since 2014 and have helped thousands of our readers rent a car in Costa Rica easily and affordably.
Planning a vacation is not easy to do, let alone renting a car in a foreign country! We want to help make your trip planning easier and for everyone to have an amazing time in Costa Rica!
Tell us about Adobe Rent a Car – why should I rent with them versus an international company?
We personally love giving our business to local companies. Adobe Rent a Car is a 100% Costa Rican car rental company that has been operating for over 25 years. They are the second largest car rental company in Costa Rica and offers all-inclusive pricing which means all insurances, taxes and fees are included in the final price.
With Adobe, you won't have ANY surprises when you pick up your car. (This is one of the biggest complaints about renting a car in Costa Rica from tourists and one of the common "scams").
Does Adobe have any extra or "hidden" fees that's not on my reservation?
Nope! This is one of the main reasons we partnered with Adobe. What you see on your reservation or quote is exactly what you pay. NO hidden fees, no last minute extra things you have to pay.
What is the Costa Rican mandatory car insurance?
Costa Rica has a mandatory car rental insurance which is called the Liability Protection. It has coverage up to $20,000 USD in 3rd party damages with a 20% deductible (Mytanfeet readers get 0% deductible) along with coverage of 3rd parties not in the car (i.e pedestrian) up to $100,000 USD with 0 deductible.
In addition, Adobe Rent a Car has another insurance called Car Protection which is for damages of the rented car in an accident, collision or roll over. In case of total or partial theft of the rented car, the Car Protection also covers any financial losses due to the theft. This can be declined with a letter from your credit card company stating they will cover these damages.
The full insurance (Extended Protection) covers $4,000,000 USD third parties damage, and it has $0 deductible in collision, roll over, and theft. It covers vandalism, windows, damaged tires (FLAT TIRES NOT INCLUDED), road assistance 24/7 and tow truck. This insurance is optional.
Their other insurance, the TPW, is offered ONLY in person by the Adobe agent and only to clients who decline the Car Protection Insurance. The TPW insurance is optional. It increases your third party (Liability) coverage to $4 million USD from $20,000 USD. The Liability deductible goes down to $0 USD from 20%. This insurance costs $9.99 USD a day.
Read exactly how Adobe Rent a car insurance works in this post.
Can I decline car rental insurance in Costa Rica?

Yes, you can decline their Car Protection insurance. To do that, untick the Car Protection box when making the reservation. You will need to bring a printed letter from your credit card company stating they will cover the damages. This letter needs to have the credit card company name and the last four digits of your credit card number.
Please make sure to carefully read over exactly what your credit card company will cover, including but not limited to number of passengers, length of car rental period and type of car. For example, credit card companies do not cover vehicles with 8 or more passengers so the insurance cannot be declined when renting a vehicle such as the Hyundai H1 as that has over 8 seats. Or some credit card companies may not cover trucks.

****Please note since October 1, 2021, VISA will not offer this credit card car rental insurance benefit to its Gold and Platinum card members.****
What is included in the countrywide road assistance?
All Mytanfeet reservations have countrywide road assistance included. This road assistance is normally only included in the Extended Total Protection insurance. It includes assistance in situations such as battery replacements (if you leave lights on), if you lock keys inside the car and towing as well as 24/7-365 days access to their emergency line.
Flat tires are NOT included in roadside assistance but Adobe provides all the tools to change a tire.
How much is the security deposit for my car rental reservation?
Adobe does require a deposit which will be held for the length of the reservation. It will be released when the reservation is over. Their normal deposit is $1000 USD and we have the following benefit for Mytanfeet readers.
$500 deposit for rentals that include Liability and Car Protection insurance or Liability, Car Protection and Extended insurance. *For all rentals that decline Car Protection insurance, your deposit will be $750 USD*
$750 USD deposit instead of the original $1000 USD deposit for all rentals that decline Car Protection Insurance (CDW).
Please make sure your credit card limit is sufficient for the deposit and the amount of the reservation.
This deposit benefit is for those using a credit card ONLY. If you use a debit card, the deposit is $1000 USD, no exceptions. No deposit benefit for those using a debit card.
Does Adobe have a shuttle to and from the airport?
Yes! Adobe offers a meet and greet with a FREE shuttle that will be waiting for you at San Jose International Airport and Guanacaste Airport to take you to their off-site office (~10 minute drive). There you will complete paperwork and collect the car. Just look for the Adobe agent outside the airport exit terminal wearing a blue shirt, holding a sign with their logo on it.
Then for drop off, you will drop off the car at their office and they will shuttle you to the airport. Please make sure to arrive at the Adobe office with plenty of time to arrive at the airport at least 2-3 hours before your flight.
For early morning flights, both airport offices receive cars starting at 5 AM but you must write a note in the comment section the time you need to return the car so Adobe is aware.
Can Adobe deliver/pick up the car at my hotel?
Mytanfeet readers get free delivery and pick up to hotels near their office. Please write in the comments your hotel name and pick up/delivery time. Hours of this service are normally 830 AM to 430 PM and it is first come, first serve so you must write a note to make arrangements with Adobe.
How do I know my rental is confirmed?
You will receive a confirmation email after you book your car. If you don't receive the email in 24 hours, you can email us and we'll make sure you receive it. Make sure to check your spam/junk folder in case you don't see it in your inbox.
When does Adobe take payment for my car rental?

Your credit card will NOT be charged until you pick up the car and sign the paperwork. However,  Adobe Rent a Car does need your credit card details to confirm your reservation. You can enter it online once you've made a reservation or over the phone. They will also contact you a few days before your booking date to get this information. Cardholders MUST be present to pay for the rental.
This information backs up the reservation.
Can I use a debit card to pay for my reservation and use as the security deposit?

Yes but there are some conditions to using a debit card. The Adobe agent will explain to you all the conditions to using a debit card. Then you will need to sign the agreement acknowledging the conditions of using a debit card.
Some conditions are that your deposit will take longer to return (up to 45 days) since it is classified as a real charge. Another is that you will NOT receive any of our deposit benefits. The deposit is $1000 USD for using a debit card, no exceptions. Furthermore, the Car Protection Insurance cannot be declined when paying with a debit card.
Adobe Rent a Car does not accept Apple Cards or any type of digital card. A physical credit card is required. Additionally, if you own one of the cards that work as both a debit and credit card, Adobe will treat it as a debit card.
How do I know I'm *really* getting a Costa Rica car rental discount?
Hey I totally get it! I'd want to check too if it was me. You can go to the Adobe Rent a Car Costa Rica website and compare the prices. Remember, some prices may not reflect the  discount during blackout dates. Also remember the Costa Rica car rental discount is at least 10% off the car rental rate. But I assure you that the deal is real and you get all our extra benefits.
Make sure that under "FARE" it says MY TAN FEET and that means our discount is included in the price. If not, that is the price without our discount.
**All prices are set by Adobe**
What if I need to change, cancel or request something specific for my reservation?
In the confirmation email, you can modify your reservation (link is near the bottom). The Adobe Rent a Car cancellation policy is if cancelled in more than 72 hours, there is no penalty fee. If you cancel in less than 72 hours before arrival or don't pick up the car (this is called a "no show"), the penalty is the equivalent to one day of rent.
Add any requests in the comment section.
I don't know if I need to or should rent a car. Do you have any tips?
We have a ton of tips for renting a car in Costa Rica tips, you can read all of them here: renting a car in Costa Rica.
I heard the roads in Costa Rica are bad. Do I need a 4×4 in Costa Rica?

It depends on where you're going and when you are visiting. The main roads, highways and the city roads are paved but there are many places where it is not. Read our Costa Rica road conditions post to see what the roads are like for popular destinations and routes to see if you need a 4×4.
I'm worried about driving. Do you have any tips and do I need a GPS in Costa Rica?

We sure do! Our blog has an in-depth driving in Costa Rica guide for an authentic insight and tips.
We normally recommend a GPS, whether you rent a GPS device or use your phone with Google Maps or Waze.
How can I thank you?
No need to thank us. We're just happy to know that we helped. And also very excited for them to go and explore Costa Rica! The only thing we ask is that you share our blog with your friends or anyone you think would find it useful.