One of the things you need to prepare for a trip abroad is travel insurance. I started purchasing travel insurance since my first trip to Costa Rica in 2010. Nowadays, travel insurance is highly recommended not just for COVID, but also for travel delays and unexpected occurrences that have been happening lately.
In this post, I'll talk about why you should get travel insurance and my recommended travel insurances for Costa Rica and international.
There are affiliate links in this post.
Why You Should Get Travel Insurance
First of all, well, pandemic. We all know from experience that literally ANYTHING can happen and now, even a pandemic can happen in this day and age.
Second, flights are still changing, being cancelled and delayed all the time as the travel industry bounces back. Lost luggage, lost hotel reservations, cancelled trips, are all possibilities even more nowadays. Even pilot strikes, crazy passengers and damaged planes are all reasons to get travel insurance!
Now let's talk about getting travel insurance for Costa Rica.
Costa Rica Entry Requirements
First of all, Costa Rica no longer has any specific entry requirement to enter the country for tourists. Please read our Costa Rica COVID entry requirements post for specific updated details.
However, we still do recommend to purchase a travel insurance because travel is still recovering from the pandemic and LOTS of changes are happening still. Pilot strikes, cancelled flights, lost luggage, flight delays, airline system outages… all of these are unfortunately now more common occurrences!
If you are looking for a general travel insurance for Costa Rica, I have used two different ones: Trawick and World Nomads. Trawick was the insurance we recommended when travel insurance used to be a mandatory requirement to enter Costa Rica as they offered specific COVID-19 travel to Costa Rica. Although insurance is no longer required to enter Costa Rica, we still highly recommend to purchase travel insurance and Trawick is a great option.
Get a Quote
To get a quote or purchase your Costa Rica Insurance, click the link. We use this site to browse through different insurance options for Costa Rica and other countries.
Why You Should Get Travel Insurance for Costa Rica
Weather Delays and Cancellations
We highly recommend this, particularly if you are visiting Costa Rica during the North American winters. I can't tell you the amount of times we've had to help out our readers who had their flights cancelled or delayed due to the winter storms up north.
Some of them had to cancel entire trips, some of them lost all their tours and hotel reservations, some had to stay in Costa Rica for a couple extra nights until they could get on the next available flight. Many of them had lost their luggage since their flights got cancelled and delayed so many times.
Likewise, hurricane season up north can cause flight cancellations and delays. For example, Hurricane Ian in 2022 hit Florida hard and cancelled a ton of in and outbound flights. Christmas 2022 travel was hit so bad by horrible storms that we've had readers who had to cancel their entire trip to Costa Rica. Their flights get kept delayed and rescheduled, then eventually cancelled. They lost several days so it wasn't even worth coming to Costa Rica anymore at that point!
With travel insurance, you will be covered for all of that due to inclement weather.
Rainy season in Costa Rica
Costa Rica rainy season can get extremely intense being a tropical country. If you're visiting the months of September and October, for most of the country it rains very hard. It is common for some parts of Costa Rica to flood.
In 2016, Hurricane Otto crashed through the north of Costa Rica, even killing people and destroying roads and homes. In 2017, Tropical Storm Nate hit Guanacaste hard. Many people had to cancel all their travel plans or they got stuck. Trees fell on houses and cars, roads were closed, etc. Roads are more slippery in rainy season and accidents are more prone to occur during this time of year.
In 2020, the bridge to Nosara collapsed and people got stuck. Tropical rainy season is no joke.
You're going to adventure in Costa Rica
Costa Rica is a country highly regarded for its fantastic outdoor adventure and sports. Every visitor participates in at least during their trip here whether it's hiking, ziplining, kayaking, etc. Although safety is the number one priority, accidents can happen.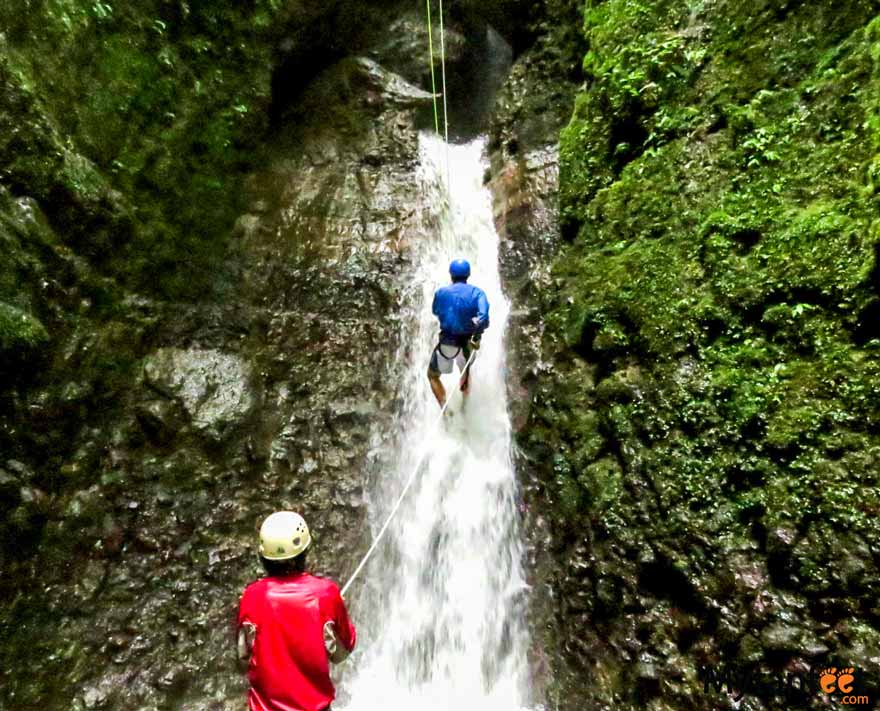 If unfortunately an accident happens, travel insurance will help cover the cost of emergencies.
Holiday travel means more opportunities for theft
Theft is the most common crime in Costa Rica. If you are visiting during Christmas, New Years or Easter week (which normally coincides with spring break), you need to be very careful. Since these are our peak season times, the beaches get packed with both local and foreign tourists camping, drinking and partying.
Unfortunately, thieves take advantage of this time to break into cars and pick pocket. (Make sure to read our Costa Rica safety tips post on how to stay safe).
So there you are, reasons to get travel insurance for Costa Rica and our recommendations.
Digital Nomads
Thanks to the digital nomad law passed in 2022, Costa Rica is now one of the best countries who those who want to live and work abroad. If you plan to be a digital nomad in Costa Rica, we highly recommend to purchase the insurance from Safety Wing as they offer a specific nomad insurance. It doesn't matter whether you'll be a digital nomad for just one month or 24 months, you should get their digital nomad travel insurance to cover you.
Ready to get covered for your Costa Rica vacation?
Click here to get the Safe Travels Voyagers insurance for Costa Rica. (Remember to click trip insurance in the menu to easily get a quote).
Click here to get a quote from Safety Wing.
Get a quote from World Nomads. This is a great option for adventurers and younger travelers.
Read our other Costa Rica travel tips below!
Immigration and customs in Costa Rica
Costa Rica Vacation Checklist