Are you pllanning to use Tamarindo as your home base in Costa Rica? This beach town in Guanacaste, Costa Rica has tons to offer for all travelers. Tamarindo's convenient location, sweet surf breaks and laid back atmosphere is one not to miss.
For those who need a bit of help trip planning, here is a list of the best things to do in Tamarindo and Tamarindo tours. And if you want to do any day tours, click this link to get our Guanacaste tours discount!
What to Know About Tamarindo
1 hour and 25 minute drive from Guanacaste Airport. 4.5-5 hours from San Jose International Airport. Find out how to drive from San Jose to Tamarindo.
Popular surfing beach town
Has its own local airport 5 minutes outside town
4×4/4wd not required
Yearly day time temperatures 80-95 F (26 – 35 C). Rainiest month is October. Hottest months are March and April. Driest month is February.
Map of Things to do in Tamarindo and Tamarindo Tours
Click here to go to our interactive map of tour operators, activities and other things to do in Tamarindo.
If you need ideas of an itinerary, here is our dedicated Tamarindo 5 days itinerary (7 days total).
Surfing
Tamarindo is one of the premiere surfing beaches in Costa Rica, particularly for beginners. The beach has consistent waves so you can catch a wave every day. If you've never popped up on a board before, no worries. There are many surf shops in town that teach lessons and offer surf camps and vacations.
We did a surf vacation with Iguana Surf and it was a ton of fun. A group lesson costs around $55 USD per person for 2 hours. You can also book a private lesson. You can also rent boards for about $20 USD for 24 hours.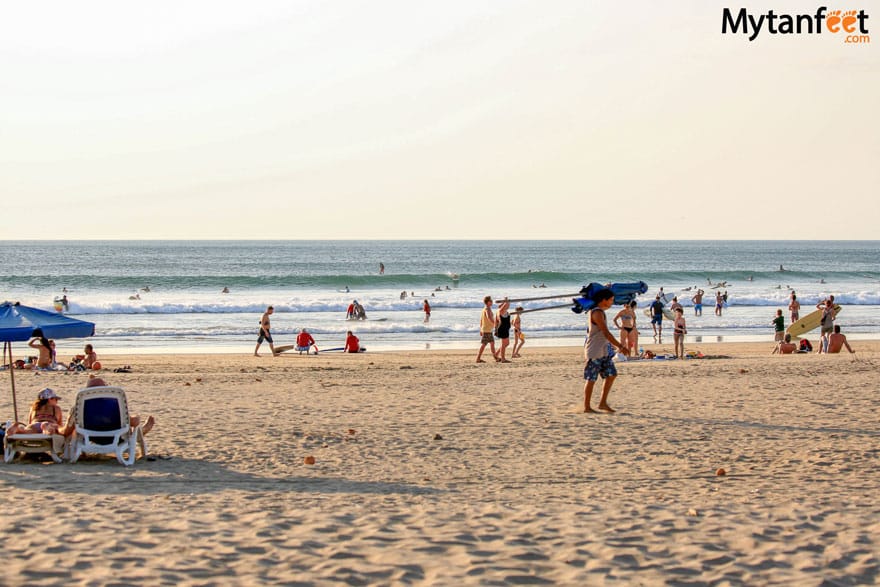 Since this beach is so great for beginners and there are waves nearly all year long, surfing is one of the must do things in Tamarindo!
If you're an advanced surfer, you should take a surf trip to Witch's Rock. When there's a swell, waves get up to 6 feet, overhead with fast hollow tubes! On a small day, it's perfect for longboarding.
Estuary Boat Ride
Tamarindo is not just the beach, there is actually a large mangrove and estuary as part of the Marino Las Baulas National Park. Locals have set up boat tours and kayak rentals so that visitors can explore the estuary and see monkeys, birds, crocodiles and more wildlife.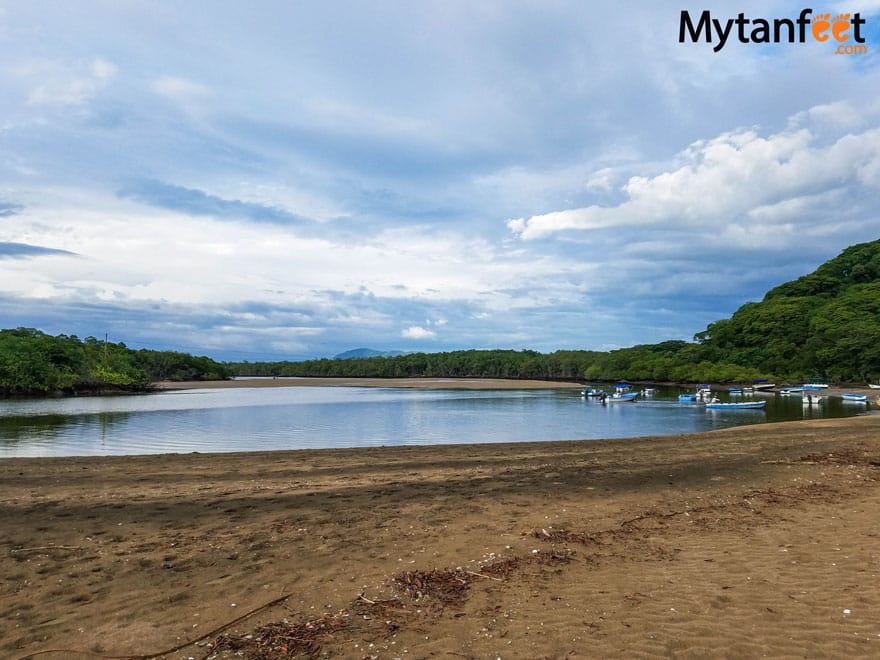 The estuary boat ride is one of the relatively cheaper things to do in Tamarindo and a great place to see wildlife in Tamarindo. It is around $40 USD per adult.
Ziplining
One of the best ziplining tours in Tamarindo is Black Stallion Estates. They have a fun zipline through the mountains right outside town. They also offer horseback riding and gourmet barbecue dinners, excellent for families and groups.
If you want to do a more exciting zipline, head to Diamante Eco Adventure Park, about 1 hour away. It has the longest ocean view superman zipline! Additionally, they have a wildlife sanctuary, botanical garden and cultural house for a full day of fun. (Get 10% off in the link). This is about a 1 hour drive from Tamarindo.
Sunset Sailing
What better way to experience the Pacific coast of Costa Rica than by going for a sailing trip? Head out on a catamaran to do a morning (better snorkeling conditions) or sunset tour to enjoy the open ocean.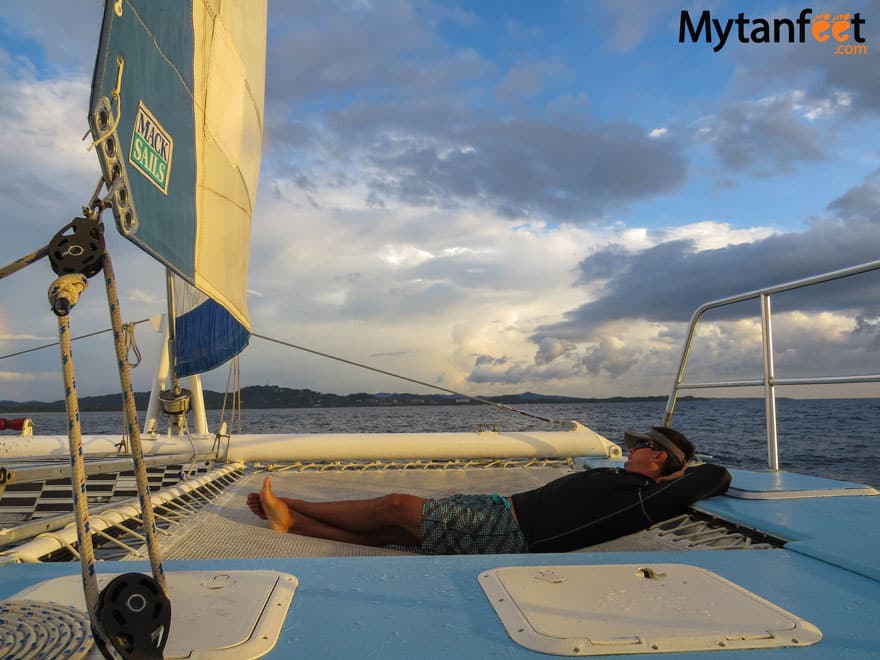 On the way, you can may see dolphins, turtles or even whales during the right time of the year. Blue Dolphin and Marlin del Rey are two of the most popular sunset catamaran cruises in Tamarindo and cost around $95 USD per person for a sunset cruise.
A sunset sailing tour is one of the best things to do in Tamarindo for couples and families.
Scuba Diving
Just 30 minutes away from Tamarindo is the Flamingo marina, the launch point for scuba divers to go to the Las Catalinas islands.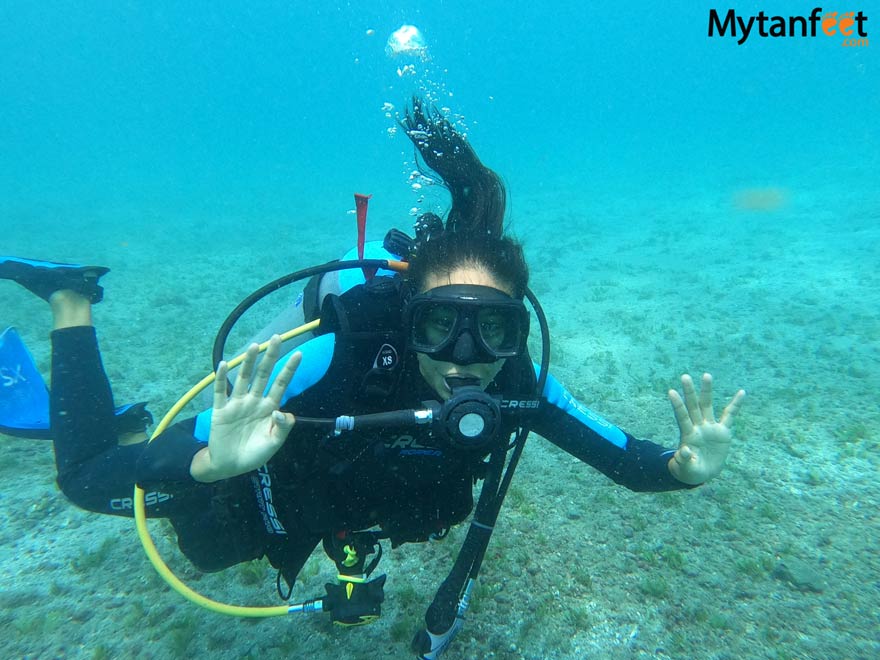 You can get your scuba diving certification or if you don't already have it, go on a discovery dive. They give you an hour of instruction before taking you for two tank dives and you have guides with you the whole time. At Las Catalinas islands, I saw whitetip reef sharks, manta rays, eels, dolphins and huge schools of fish. If you go in August or September, you may see humpback whales or turtles along the way!
Read more about my scuba diving experience here!
Fishing
Tamarindo fishing is great nearly all year round and you can catch your dinner! Head out to the deep sea to catch fish like mahi mahi, wahoo and more.
Some companies to check out are Go Fish, CR Fishing Charters, Sea Breeze, Bluefishing Tours, Tamarindo Sport Fishing and Coyote Sport Fishing.
ATV Tours
ATV tours are very popular in Tamarindo. They normally take you to back roads that lead to great viewpoints, through rivers and up the mountains. For anyone looking for an exciting adventure, an ATV tour is a must do thing in Tamarindo!
Watch the Sunset on the Beach
Last but not least, the one must do thing in Tamarindo is to watch the sunset on the beach. First, it's completely free!
Second, Tamarindo's sunsets are one of a kind and once you see one, you'll be blown away!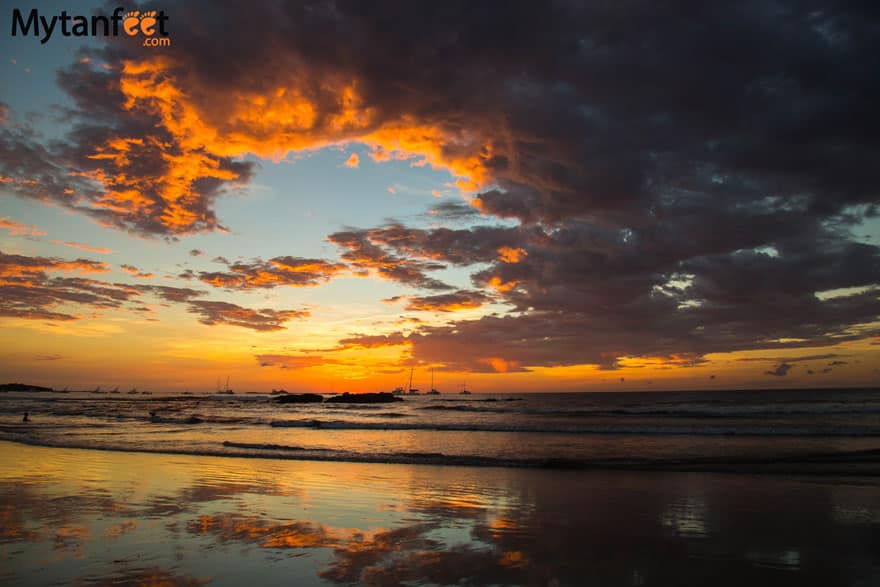 When it hits around 5:30 PM, you'll see everyone walk onto the beach with a camera in their hands. Rainy season sunsets are particularly intense as there are more clouds, turning the sky into rings of fire. Watching a sunset on the beach is one of the free things in Tamarindo!
Tamarindo Tours (Day Trips and Excursions)
There are many great day tours from Tamarindo that we highly recommend. Click here to get our Guanacaste tours discount for the following tours below!
Hacienda El Viejo
This private reserve and farm, Hacienda El Viejo Wetlands is right next to Palo Verde National Park and is perfect for a full day of culture, wildlife and nature. They offer safari boat rides, a cultural experience and rum tour.
The hacienda is about a 1.5 hour drive from Tamarindo one way. We offer a small discount for Hacienda El Viejo, click the link to request your tour!
Palo Verde National Park Boat
If you are traveling with seniors or anyone with limited mobility, this Tamarindo day trip is the best option for you to see wildlife! On this 1.5 hour safari boat ride in Palo Verde National Park in a covered motorized boat, you will be able to see all sorts of wildlife such as iguanas, crocodiles, bats, two types of monkeys, river birds and more.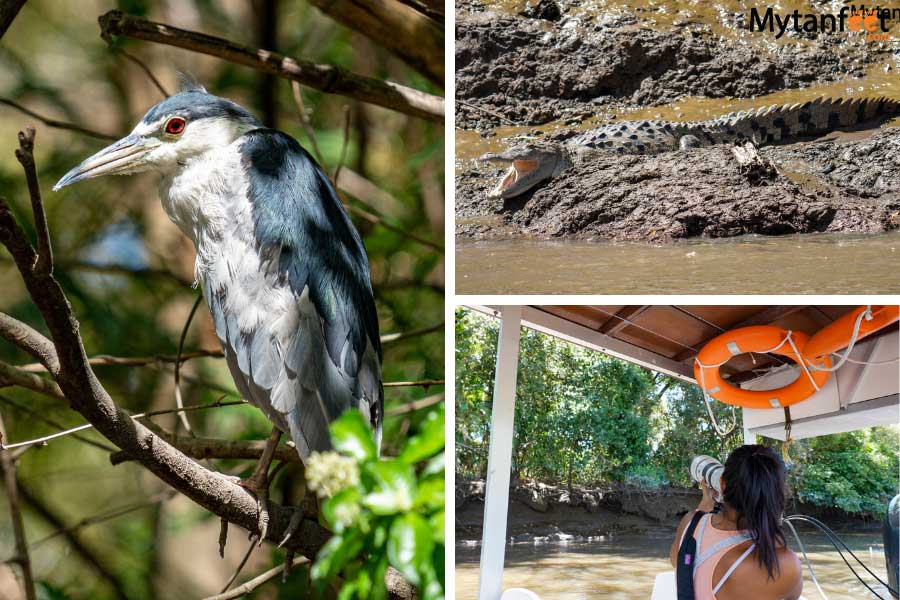 This is also a great tour if you're a birder as you can see lots of herons, kingfishers and other cool river birds.
If you have a car, we work with a guide that provides just the guide + boat + National park tickets + lunch (optional). It is a 1.5 hour drive one way from Tamarindo. If you need transportation, we also offer tours with transportation. If you like supporting local businesses in rural communities, this is a great tour to do so.
Rio Celeste
Hiking and nature lovers must visit Rio Celeste, the sky blue river in Tenorio Volcano National Park. It's a 7 kilometers total hike (about 4 miles), 2.5 hour drive one way.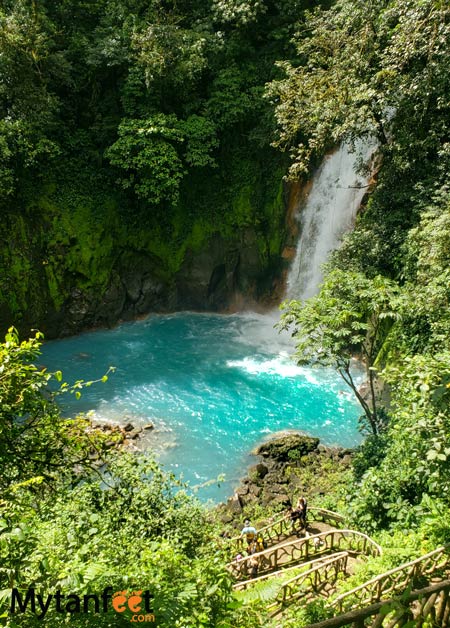 You'll see the sky blue waterfall and river in the rainforest which is one of the most beautiful places in Costa Rica! Click the link to read more about it and plan your trip to Rio Celeste!
Rio Celeste is a 2.5 hour drive from Tamarindo one way. You can perfectly do this as a self guided day trip if you rented a car. If you need transportation, there are tours with transportation, lunch and national park tickets included. Get a discount for this tour in the link!
Rainforest and Sloths
Hike through the primary rainforest and spot sloths on this one day rainforest tour in Bijagua. This is excellent for those staying in Tamarindo for their entire vacation and want to see something different. You will be able to experience primary rainforest and see sloths!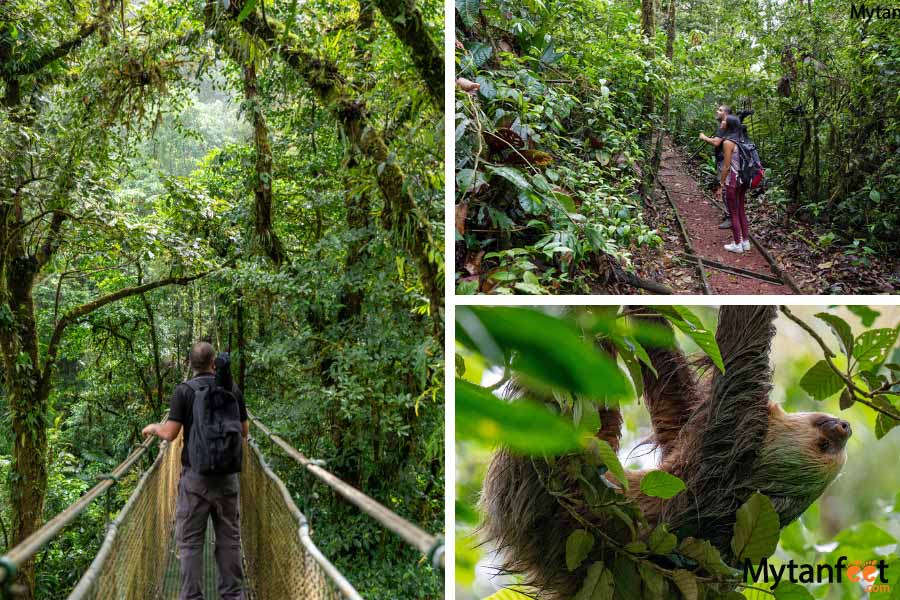 This day trip is a 2.5 hour drive one way from Tamarindo.
Turtle nesting
The months of May – December are the best times to see turtle nestings at the Ostional Wildlife Refuge, about 2 hours one way from Tamarindo. 4×4 required.
To visit the Ostional Wildlife Refuge, you must go with a guide and have a reservation. If you have a car, you can contact the Asociacion de Guias Locales de Ostional(AGLO)Costa Rica Facebook page for reservations. It costs about $20 USD per person for a turtle tour.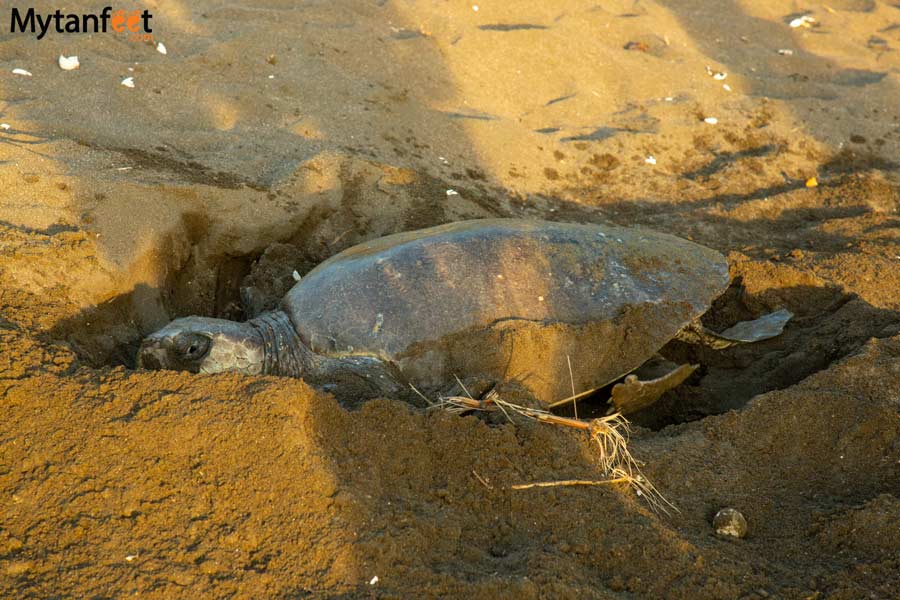 If you need transportation, you will have to book with a tour company who can arrange transportation and the tour for you. Visitors must be accompanied with a guide into the refuge.
Arenal Volcano one day
Want to see rainforest and volcano? This one day excursion is very long but worth it if you do not plan to return to Costa Rica and want to see the lush tropical rainforest. You'll also get glimpses of the impressive Arenal Volcano and enjoy the famous hot springs.
Gulf of Papagayo boating trip
This Playas del Coco private beach hopping and snorkeling trip is our favorite thing to do in Guanacaste. On a private boating trip, you will visit hidden white sand beaches and amazing snorkeling spots that other tours don't go to!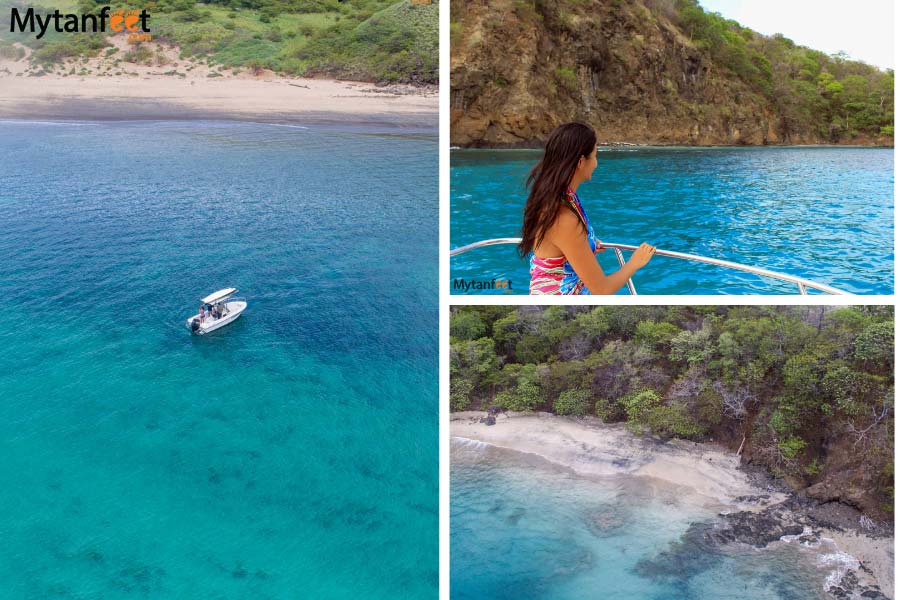 The boat launch is from Playas del Coco (1 hour drive one way from Tamarindo) and is so worth it because there aren't little bays and white sand beaches like this out of Tamarindo!
If you don't want to drive that far, there are many snorkeling, fishing and sunset sailing tours right out of Potrero, Tamarindo and Flamingo.
Visit different beaches and beach towns
With so many great beaches around, it'd be a shame not to visit other beaches while in Tamarindo. You can take a boat ride across the estuary to Playa Grande, bike or walk to neighboring Playa Langosta. If you have a car, you can drive to Conchal and Avellanas.
We even made a video about best beaches to visit from Tamarindo which you can watch below.
Additionally, if you want to keep exploring beaches, head down further south to lesser known beaches such as Playa San Juanillo and Playa Junquillal. You can even go further down south to Nosara or up north to the La Cruz to see beaches like Playa Rajada.
No matter what, you'll find a beautiful beach to lay a towel down on and relax and this is a cheap thing to do in Tamarindo.
Hacienda Guachipelin one day adventure tour
Looking for a fun full day tour with adventure, fun and relaxation? Head to Hacienda Guachipelin and embark on their super fun one day adventure tour. It includes ziplining, horseback riding, lunch, white water tubing, hot springs and mud baths!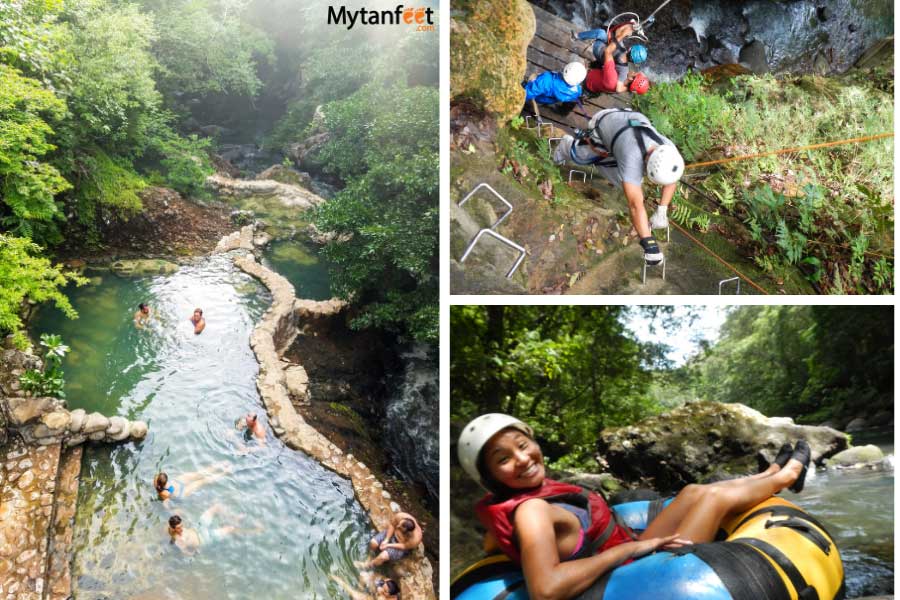 The park is about 1 hour and 45 minutes from Tamarindo and you can drive yourself to the park or book a tour if you don't have transportation. Read more about the Guachipelin one day tour here and book your tickets!
Another nice option for volcano and forest is the Miravalles Volcano tour with horseback riding, hiking, lunch, hot springs and mud baths. This area has way less tourists than Rincon de la Vieja Volcano so it's a great option if you're looking for something less touristy.
Rincon de la Vieja National Park
This national park offers a variety of excellent hikes from short easy paths to long more challenging trails. But each one offers excellent opportunites to see the dry tropical forest and nature!
Our favorite hike in the Rincon de la Vieja National Park is the Catarata La Cangreja trail but for those who are looking for something less sweaty, the Las Pailas (boiling mud pots) one is better as it's barely 1 mile on a flat path. But if you to put your hiking shoes to good use, La Cangreja rewards you with an incredible waterfall!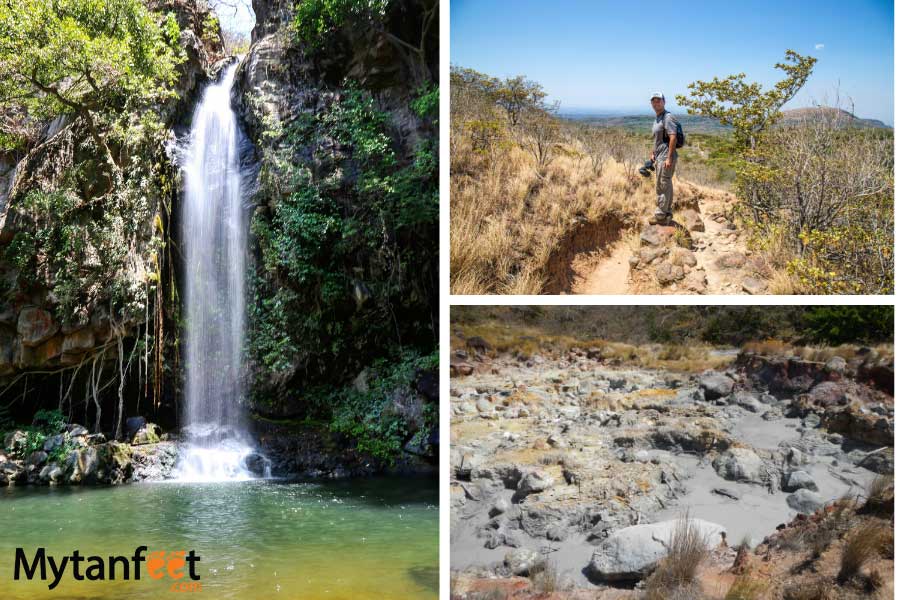 You can hike on your own or book a tour with transportation and a guide. Having a guide does enhance the experience since you'll learn more about the unique ecosystem and the Rincon de la Vieja volcano. Rincon de la Vieja is a 2.5 hour drive one way from Tamarindo.
Happy Hour and Nightlife
Being a touristic surf town, Tamarindo has a lively nightlife. Pacifico Bar and Crazy Monkey Bar are two popular places to drink and dance. Sharky's Sport Bar always plays all the games and has live music, ladies night, karaoke, etc. during the week. There is a casino in town as well.
For a good time, you can also check out the Beach & Pool Crawl to party and drink with other young backpackers and surfers on Sundays.
For happy hour, check out Nogui's (2 for 1 beer at 4 – 5 PM) or The Roof. El Be usually has live music, Barefoot Lounge has a nice happy hour by the pool.
Tamarindo Spas
Check out Coco Beauty Spa (nice massage) or Revive Wellness Center in Langosta Beach Club. For a more luxury experience, check out Los Altos de Eros spa (30 minute drive from Tamarindo). This hotel offers spa day packages, perfect for couples!
Things to Do in Tamarindo with Kids
Our recommended things to do in Tamarindo with kids is an estuary boat ride, surf lesson, boogie boarding, lots of beach and pool time and art classes at Paint Club.
Sample Itineraries
Some people stay in Tamarindo for their whole 1 week vacation, some just stay a few days. Thanks to Tamarindo's excellent location, it would be perfectly fine to use it as your home base since it's only 1 hour from Liberia International Airport and Tamarindo has its own local airport.
Below are some sample itineraries. You can book tours or if you rented a car, go on your own.
Day 1: Surf Lesson, Happy Hour, Sunset
For your first day, take a surf lesson. The time will depend on the tide but lessons are 2 hours long. You can go shopping, walk on the beach and watch the sunset for the rest of the day. For lunch, we recommend the local restaurant Soda Estero to try Costa Rican food.
Then Witch's Rock is a great spot for sunset happy hour and they have live music on some days. For dinner, you can eat at Witch's Rock (Vaquero/Eat at Joe's) or head to Mercadito or the Jardin Food Truck park.
If a surf lesson doesn't peek your interest, check out an ATV tour.
Day 2: Ziplining All Day
Spend the full day on a fun all day adventure! You can either spend the whole day at Diamante Eco Adventure Park for ziplining, cultural tour, animal sanctuary and lunch or head to one of the adventure parks in Curubande de Liberia like Hacienda Guachipelin for ziplining, horseback riding, white water tubing, lunch, hot springs and mud baths.
For something closer, spend the day at Black Stallion Estates and go ziplining, horseback riding and enjoy their gourmet barbecue dinner (15 minutes driving).
Day 3: Relax, Pool, Beach Hop/Sunset Sail
Sleep in today, lounge by the pool, chill. You can go back to Tamarindo beach to swim and relax at the beach or check out Langosta beach. Then in the afternoon, you'll go on a sunset sailing trip to watch the sunset, snorkel a bit and enjoy the beautiful coastal views.
For dinner, head to Dragonfly, Pangas or Aguas Saladas for a nice dining experience. We also like Green Papaya for tacos or Surf Shack for burgers.
Want to read about other things to do in Costa Rica? Check these posts out!
Things to do in Dominical/Uvita
10 Things to do in La Fortuna/Arenal
Day Trips and things to do in Conchal
Things to do in Manuel Antonio
This post has affiliate links.
Costa Rica Vacation Checklist