The Costa Rican Copo
If you're looking to try an authentic Costa Rica street food, you have to get a copo. Copo, in Spanish means "flake" and you can find vendors selling a Costa Rican copo, a shaved ice treat in nearly every town in the country. They're especially at beach towns since they're a nice way to cool off in the heat.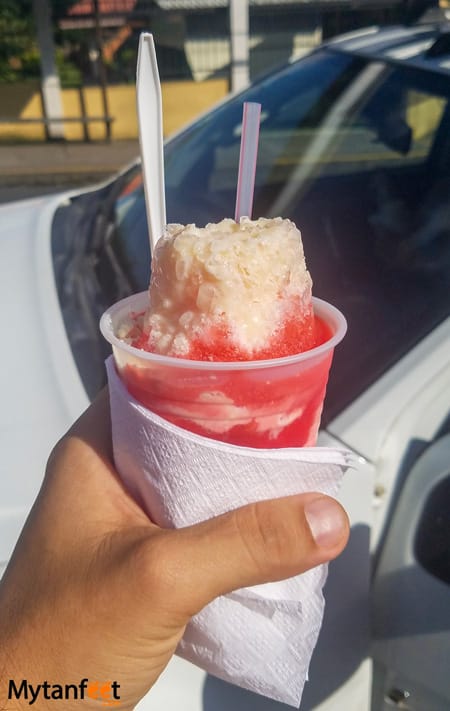 There are a few different versions of the Costa Rican copo, but the basic one is the one you'll see most vendors selling from the cart they push around. The copo has shaved ice, powdered milk, kola syrup and condensed milk but some vendors also offer fruit, marshmallows and Dr. Pepper syrup. Kola syrup is the red slush syrup and it's not Coca Cola flavored, it's actually just very sweet.
Copo Vendors
You'll immediately recognize the vendors selling copos because they all have a cart that look like this: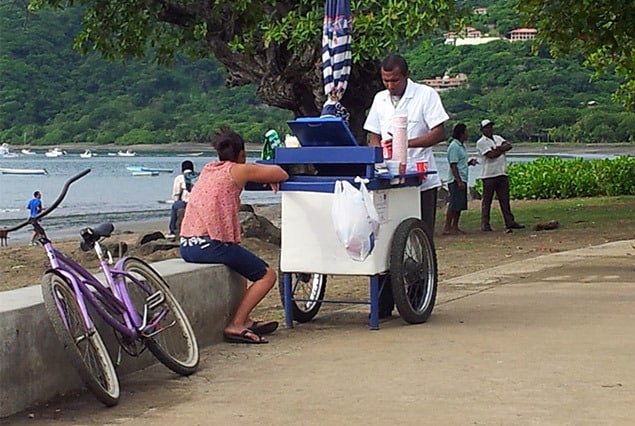 Sometimes they'll have a sign on the side of their cart that says "copo" but they're easy to recognize. They usually sell copos for about 500 colones and they might charge more if you want more candy or fruit on top.
You can also find them in cities and towns like La Fortuna, Cartago and Heredia.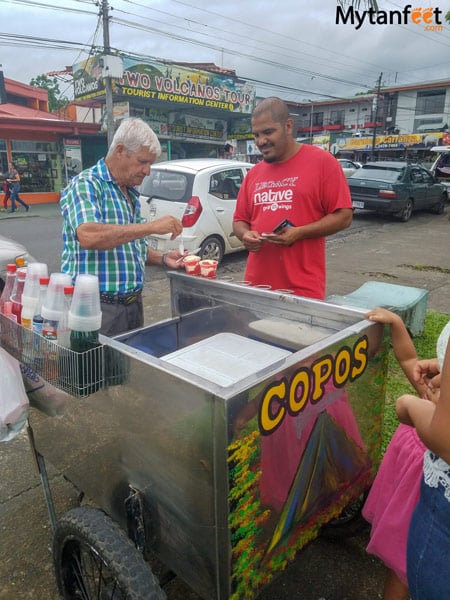 Costa Rican Churchill and Granizado
Another version of the copo is the churchill which was created and made famous in Puntarenas. It is the same concept as a copo except even more intense. It's ice cream, kola syrup,shaved ice, powdered milk and condensed milk topped with some straw cookies and it's served in a tall glass.
You can find them in most Costa Rican ice cream shops but Puntarenas is the place to go for the real deal as those ice cream stands were the ones who invented the churchill.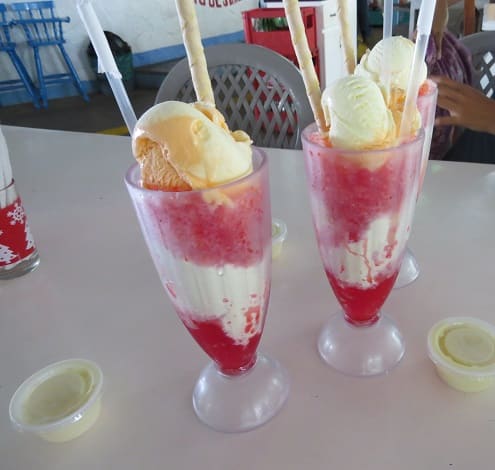 The churchill costs a bit more, around 2-3000 colones because they put a lot more things in it. When you're at the beach or out in town, you will find copos but when you're in an ice cream shop, most places sell churchills and they'll let you use different ice cream and syrup but the traditional ones use vanilla ice cream and kola syrup.
You will also see the name granizado. This is the same thing as a copo but the names are different according to region.
Costa Rican Copo Recipe
If you want to make your own, you'll first need a shaved ice maker (unless you want to make a huge block of ice and shave it yourself), kola syrup, condensed milk and powdered milk. First you put the shaved ice, a scoop of powdered milk on top, kola syrup and then condensed milk. If you want a churchill, add some ice cream and cookies.
Here is a fun video we took of a copo vendor at Playa Panama in Guanacaste. He said he had been making copos for 30 something years!
Costa Rica copos are not the healthiest thing to eat but they're a nice treat to have when walking on the beach or to cool off from a hot day. They're cheap, yummy and a very traditional Costa Rican frozen dessert!
Learn more about the food and drink of Costa Rica.
Introduction to traditional food of Costa Rica
Costa Rican beer
More traditional Costa Rican food
Costa Rican coffee