When it comes to the ultimate beach vacation in Costa Rica, Playas del Coco, Guanacaste is one of the best places to do so. At first glance, the beach is not that impressive and what people don't know is that right around the corner are stunning white sand beaches that you can have all to yourself.
The only way to enjoy these beaches is to go on a private boating tour in Playas del Coco since most of these beaches are boat access only. As the Gulf of Papagayo is huge, there are so many hidden beaches that you can spend a full day exploring them all.
We've gone boating in Playas del Coco many times and in our experiences, our favorite memories have always been with our friend who owns a boating company in Coco.
Please click here to fill out the form to get a quote. For reviews and comments from our past readers who have booked this tour, scroll down to the bottom of the post to the comment section!
About the Private Boating Tours in Playas del Coco
Our friend Marcy is a Costa Rican who has been living in Coco for over 30 years. He grew up Escazu but his outdoor loving parents took him to Guanacaste every holiday and school break.
30+ years ago, there weren't the amount of tourists in Coco like there is now and they enjoyed the pure beach life. It was these childhood memories that made him move to the coast and go out in the ocean as much as possible.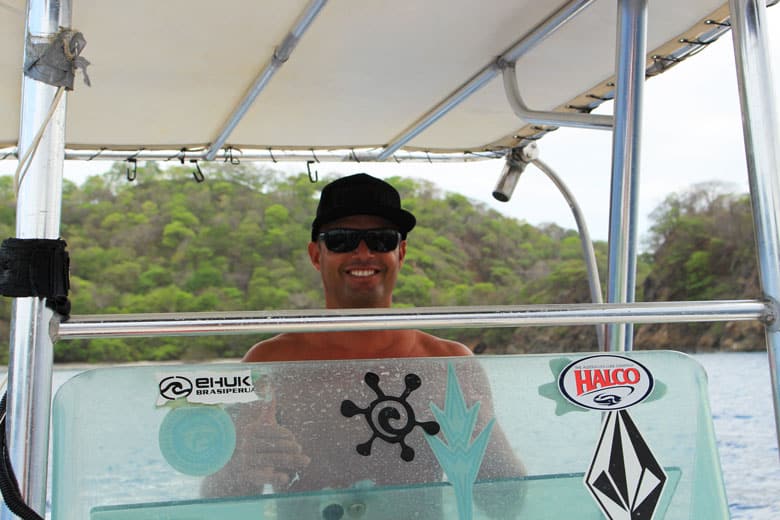 Fast forward to today, he now owns his own boat company in Coco. He surfs as much as he can, fishes when he gets a chance and takes people out on his boat so they can discover the tremendous beauty of the Gulf of Papagayo.
We have partnered with him so that our readers can enjoy his amazing boat tours in the Gulf of Papagayo!
Playas del Coco Private Boat Tours
The private boat tours offered are beach hop and snorkeling, fishing and surfing. We can combine any of them, but the most popular is the beach hopping and snorkeling.
Watch our video below to see what the beach hopping and snorkeling tour is like and read on to see more photos and get more information to book your tour!
Gulf of Papagayo Boating Tours: Beach hopping and snorkeling
First of all, boating in the Gulf of Papagayo is incredible. Every time we go beach hopping, we have an amazing time. The beaches the tour goes to are all boat access only and have white sand and crystal clear waters.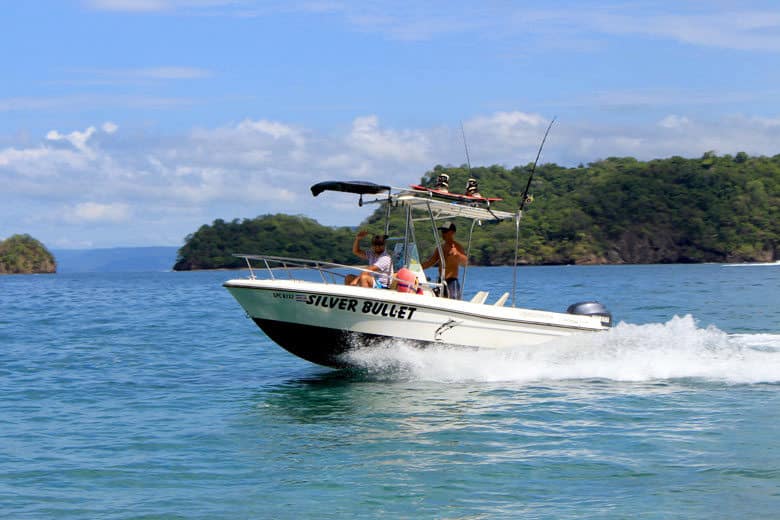 A few of our favorites beaches are Playa Penca, Huevo, Palmares, Junquillal, Nacascolito. Cocolito and Jicaro.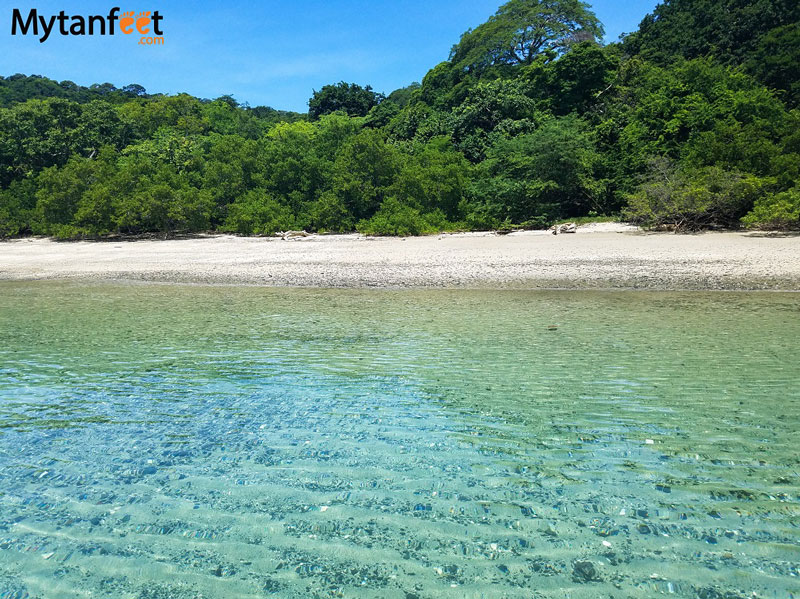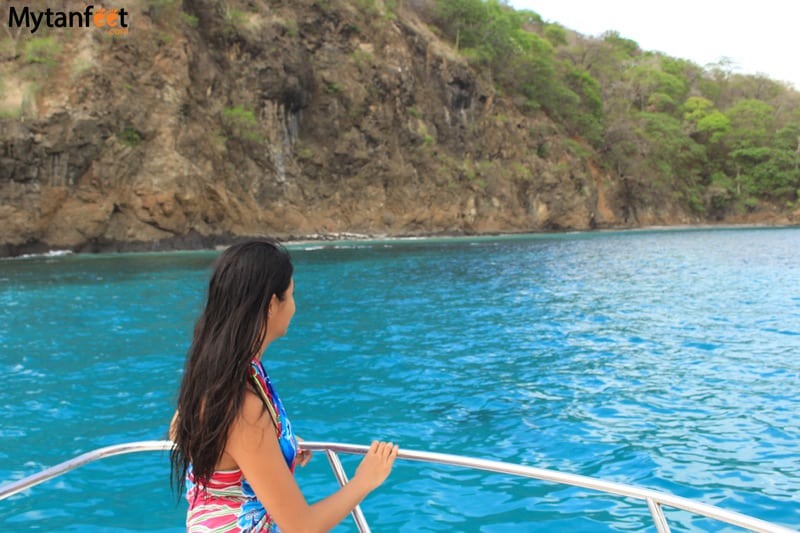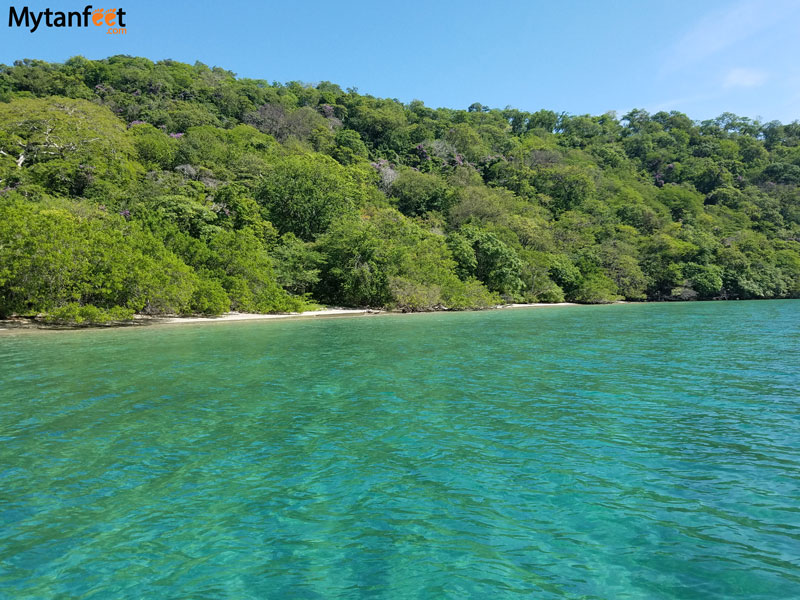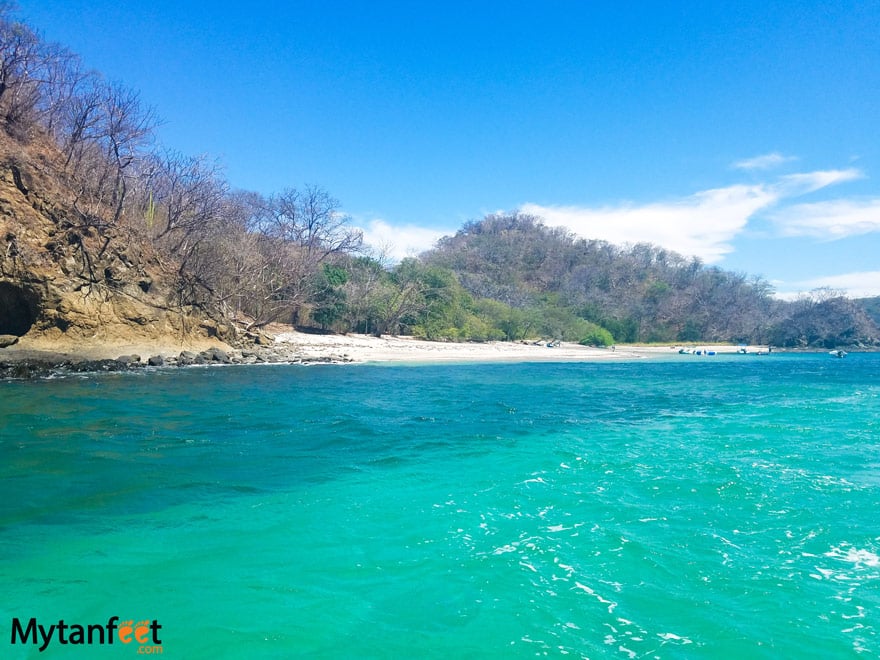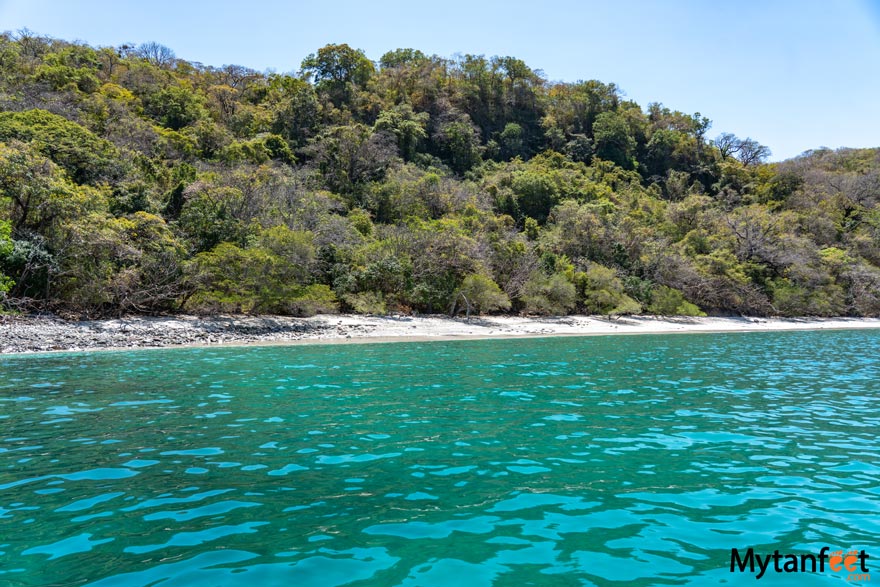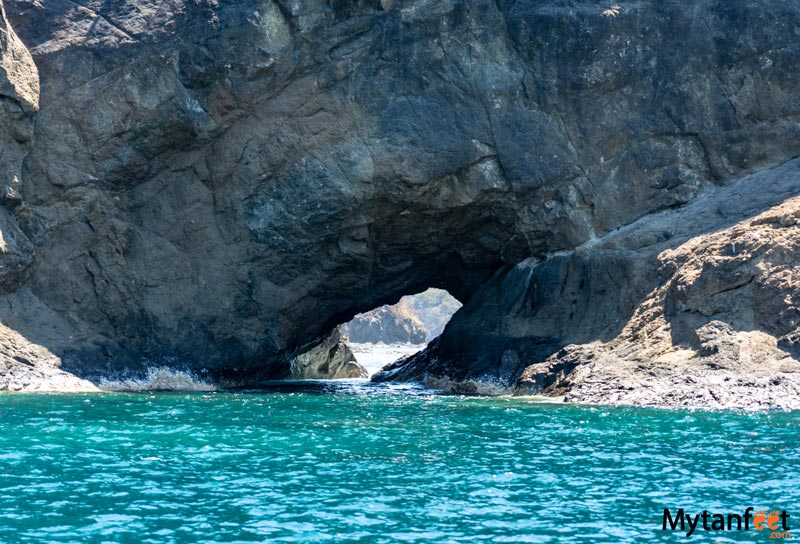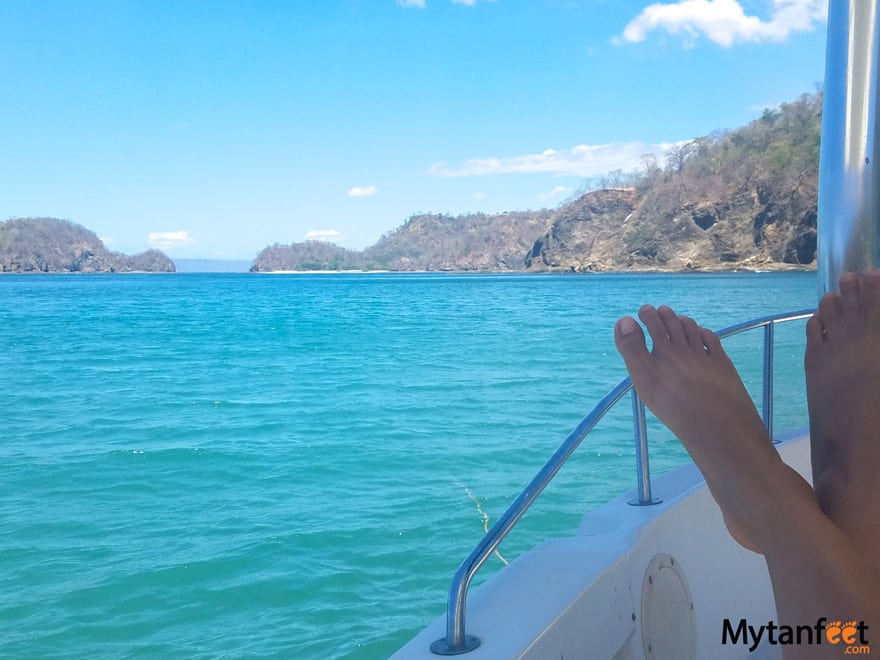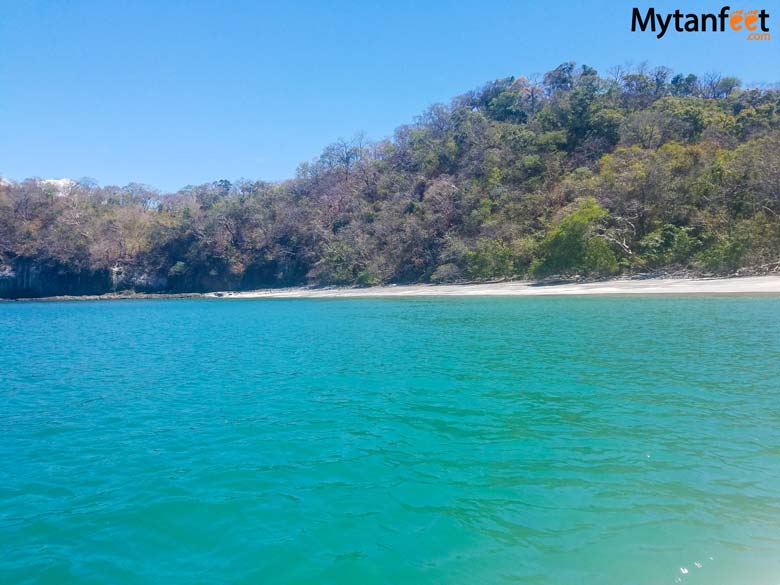 During snorkeling, you can see colorful tropical fish, rays and turtles if you're lucky! These snorkeling spots are perfect for first timers, kids and beginners since the waters are calm. If you're nervous, lifejackets are provided and Marcy can take you to the super easy spots.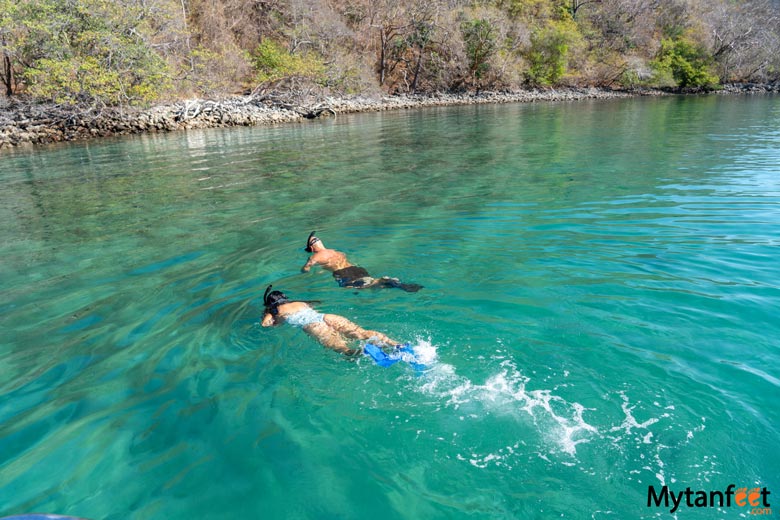 If you're an advanced snorkeler, Marcy can take you to the more advanced spots.
Wildlife
In addition to beach hopping and snorkeling, you can see lots of wildlife. During certain times of the year, you can see humpback whales, dolphins, turtles and manta rays.
We don't have specific whale or dolphin tours but the rich waters of the Gulf offer many wildlife watching opportunities. It is common to see turtles, dolphins and manta rays when boating in the Gulf of Papagayo!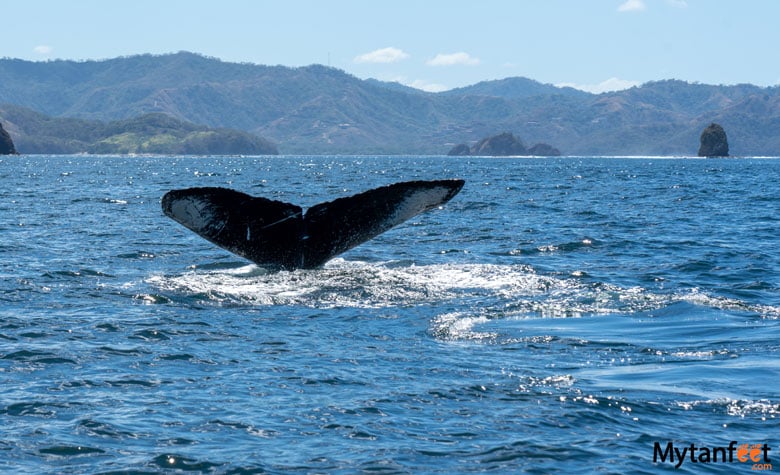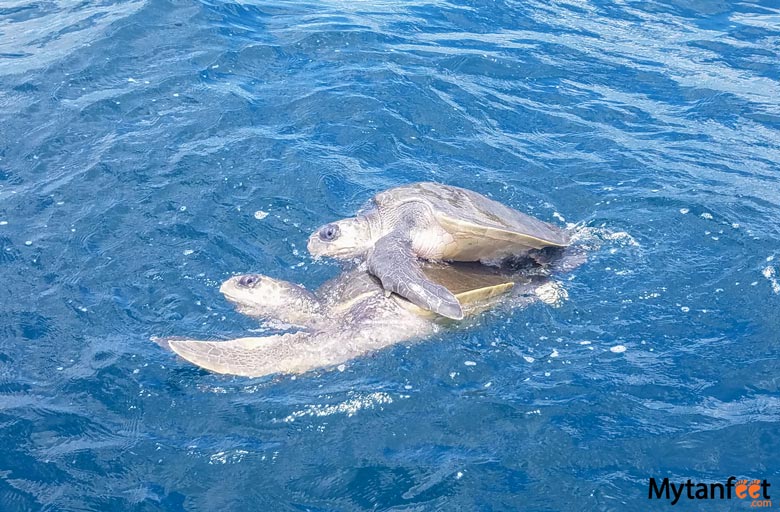 Furthermore, during January, February and July through September, you can see humpback whales and turtles. We have seen humpback whales in February, March, July and August before. August and September are great months to see mom and baby humpback whales.
On land, it's possible to see monkeys, coatis and deer at the beach.
Extras
We also offer some extra toys to bring for the tours: a wakeboard, SUP board and tube.
The wakeboard is a bit harder if you've never done it before. Due to that reason, I recommend the tube if you want to have some extra fun. But both are perfect to add a bit more excitement to the trip.
The SUP board is a perfect addition to the boating tour in Playas del Coco because many of the beaches visited on the tour have super calm waters. Whether you're familiar with stand up paddle boarding or have never done it, we highly recommend it!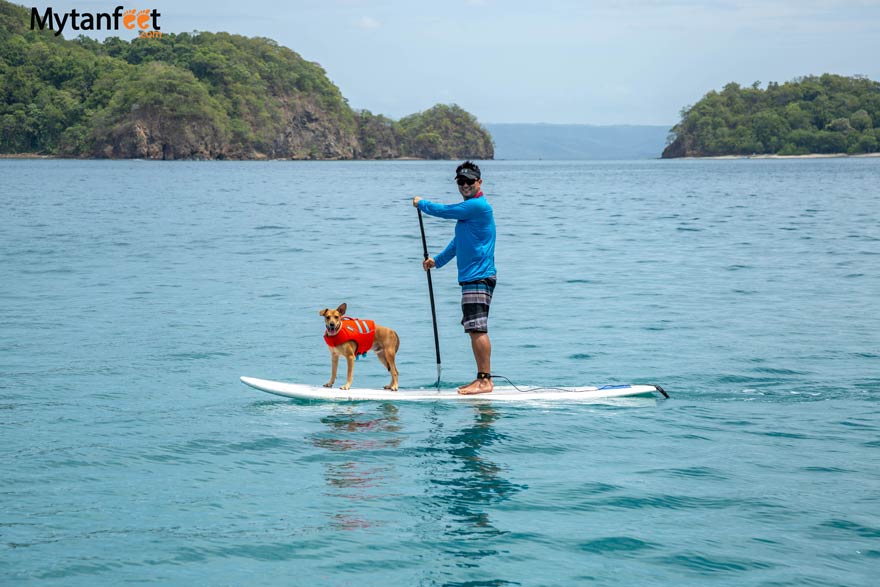 Surfing
From Playas del Coco, one of the best spots in Costa Rica is just a 50 minute boat ride away: Witch's Rock. This spot is suitable for advanced beginners (on a small day), intermediates and experts. This spot is inside the Santa Rosa National Park at one of the most pristine beaches in Costa Rica. *Please note this spot is not for surf lessons, beginners or first timers. You must be at least intermediate level for Witch's Rock and advanced beginner on small days.*
You can watch our video on Witch's Rock below to see what it's like!
Fishing
Lastly, we do offer fishing tours in Playas del Coco, mostly in shore fishing, trolling and a bit of jigging. The last couple times we went in shore fishing we caught a couple tuna and mahi mahi.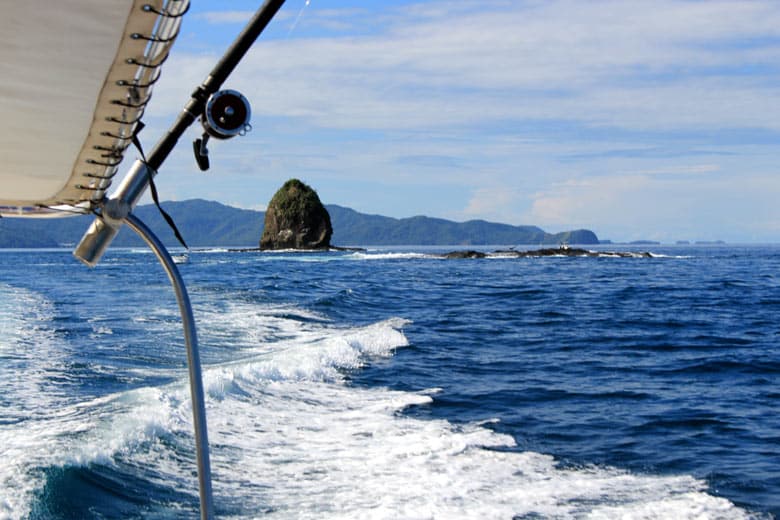 The best times for fishing is during the rainy season (May to November) for mahi mahi but you can also catch snappers, bonitas, wahoo and black tunas during the rest of the year.
Why Book a Private Tour Boating in Playas del Coco
If you want to experience Playas del Coco with a local, you need to book the private Gulf of Papagayo boating tour!
First of all, we love supporting local businesses. When we were introduced to Marcy, we certainly knew that he was one Tico we had to share with our readers. Experience the real pura vida when you go out on the waters with an ocean loving Costa Rican. Trust me, it'll be a memorable day! His knowledge of these waters is absolutely priceless – Marcy has decades of licensed boat captain experiences under his belt!
Second, as a private tour, how the day goes is really up to you. The only thing that'll effect which one of these amazing beaches you go to are the conditions of the day. Marcy will find the best beaches and best snorkeling spots depending on how the weather and conditions are during your tour. You can ask him to take you to certain beaches if you have a specific place you really want to see, and he'll work it into the day as best he can.
Furthermore, the private tour means you are on no one's schedule but your own. If you like one beach a lot, you can stay there as long as you want. If one spot isn't the best for snorkeling, Marcy will go find another one. Want to find a completely empty, private beach to yourself? He will do that!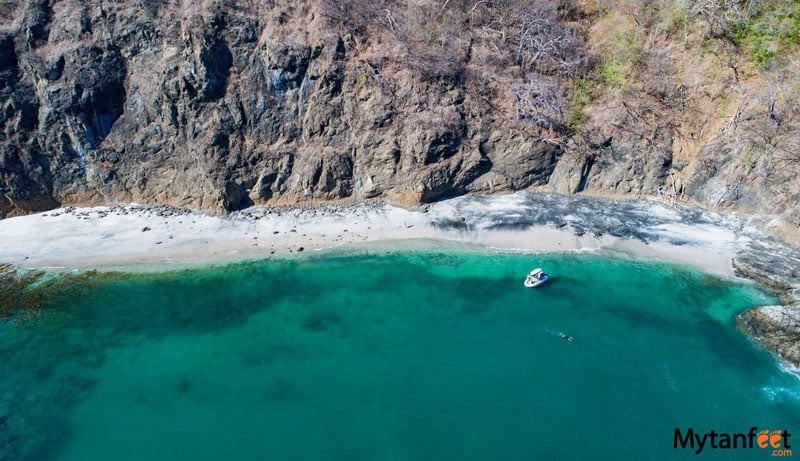 Also if you happen to come upon a pod of dolphins or see humpback whales, Marcy can stay as long as you want to watch them. If you REALLY want to see wildlife, he will specifically go and try to find them to see.
This is one of my favorite things about the private boating tour in the Gulf of Papagayo – many times we have come upon whales or dolphins, and it's just our boat around… Marcy turns off the engine so that we can enjoy the magical moment of seeing humpback whales breaching, dolphins hunting and turtles swimming all to ourselves.
This is the main difference and key highlight of a private tour compared to the shared catamaran tours
The shared tours go to one spot for a designated amount of time and you won't see more of the Gulf beyond that one beach. The beach the shared tours usually go to are the same ones the other companies go to so there can be 5-10 boats docked at the same time at one beach. Don't get me wrong – the shared sailing tours are fantastic for big groups and those who want to enjoy the boat with lots of people – we've done shared sailing trips several times and it's always been fun each time! But for a truly unique and exclusive experience, the private boating tour is the way to go.
On a private tour, you can seriously get a whole white sand beach and snorkel spot to yourself. You will also have the entire boat just for your group to stretch out, move around and be comfortable without any strangers. If anyone in your group has mobility issues or something specific, Marcy will accommodate special requests and take the time to make sure everyone is comfortable and having the best time for a truly memorable experience in Costa Rica.
Boating in Playas del Coco Tour Information
These tours are in Guanacaste, Costa Rica.
A half day is from 8 AM – 12 PM or 2 to 6 PM (sunset). A full day is 8 AM – 4 PM or 10 AM to 6 PM (sunset).
Morning is better for snorkeling and less wind. Afternoon includes sailing back during sunset.
All tours include water, soda, juice, fruit and local beer.
These are private tours, no open or shared tours.
The boat can hold up to 6 people (children and adults) with a combined weight of 980 lbs.
The boat is 23 feet long and doesn't have a bathroom.
For fishing tours, the boat only hold up to 4 people total.
The boat has snorkel equipment and life jackets of all sizes.
Pick up is complimentary from Playas del Coco beach. Please check the form below for pick up charges in other locations. If you have a rental car, you can drive to Playas del Coco to meet the boat.
Interested in booking this private boating tour? Fill out the form below and we will get back to you with a quote. Do not leave a comment, please use the form. Thank you.
***The form is having some issues with some browsers. If it's not going through, please contact us with the following information: Date, number of adults and children (and children's ages), your pick up location, and type of tour.***