The national theater in San Jose is one of the most beautiful buildings in Costa Rica with great importance to the cultural and historical aspect of the country. It opened in 1897, representing Costa Rica's high degree of fine art and is a grand display of neo-classical architecture.
If you're staying a day or two in San Jose, then you must visit the National Theater.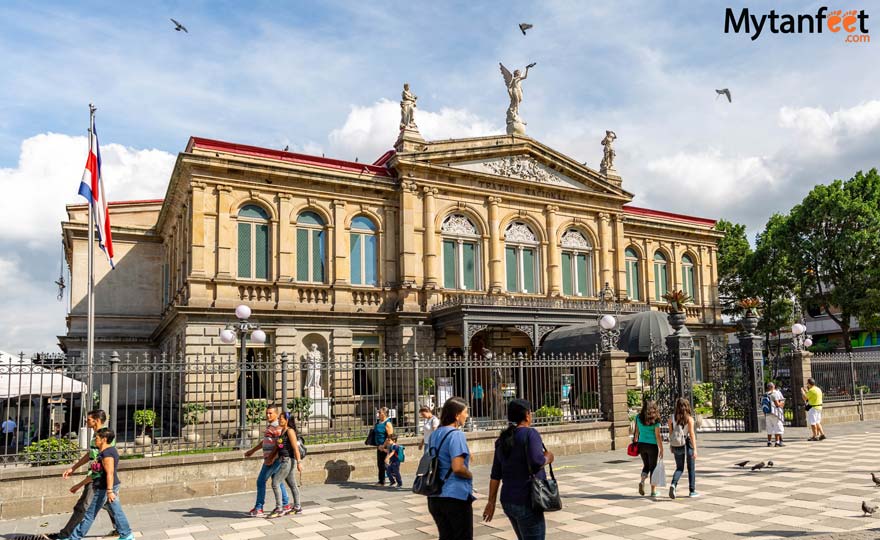 National Theater of Costa Rica Hours
Hours: 9 AM to 5 PM Monday – Sunday. Guided tours are available 9 AM to 4 PM everyday.
National Theater of Costa Rica Cost
3500 CRC for adult foreigners for the entrance fee. Free for children under 12.
National Theater of Costa Rica Tour
You can visit on your own to do a self guided walk or reserve a guided tour. Many San Jose city tours stop by the National Theater for a short tour (get our discount for the city tour here).
If you'd like a guided tour with the theater, you can request it at the ticket office. To make reservations, you will have to fill out the form on the theater's website. Guided tours are in English or Spanish.
If you are visiting on your own, plan about 45 minutes to 1 hour. If on a guided walk, it is around 1.5 hours.
Location
The National Theater of Costa Rica is in San Jose on Avenida Segunda, between Calles 3 and 5. You can find it on Google Maps and Waze as Teatro Nacional de Costa Rica.
The best way to get to the National Theater is by walking if your hotel is in downtown or by Uber. We do not recommend to drive there as there isn't any parking, just street parking which is very limited in that area. We also don't recommend walking in San Jose at night, so it is best to take an Uber.
History and Facts of the Costa Rica National Theater
The construction of the theater started in 1891 with the funds coming from a coffee tax since it was their main export at the time. After 7 years of hard work under the direction of an Italian engineer, the theater opened and quickly became Costa Rica's prized cultural jewel.
Decoration, Ornaments and Design
The inside of the theater is filled with lavish decorations and intricate detail which is so well done, it must have taken some very talented workers to make them all! I'm sure they needed to have a lot of patience to create every single little decoration.
Statues and paintings depicting the Costa Rican lifestyle in the 19th century are placed carefully in the theater, creating a magnificent atmosphere.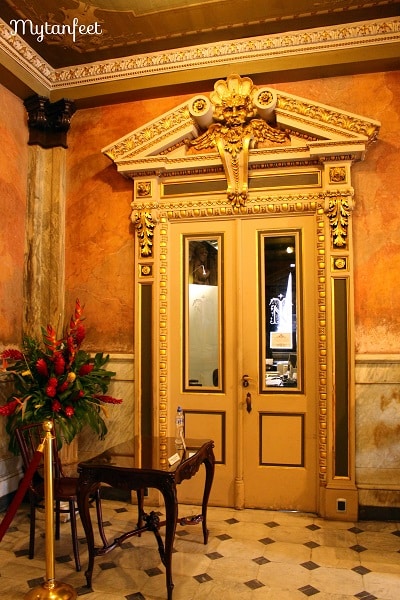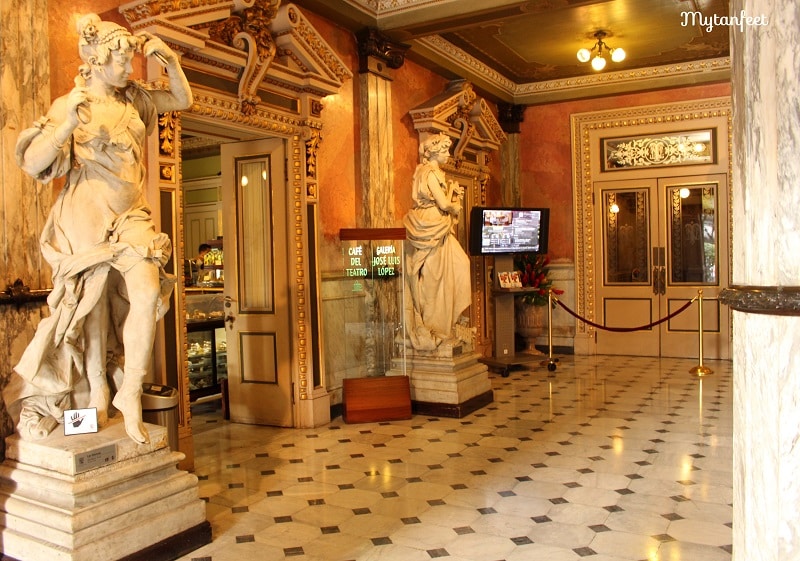 The Theater
The National Symphonic Orchestra performs in the theater as well as other artists, both Costa Rican and foreigners. When there are no concerts going on, visitors can tour the building and see the splendid decor.
As you walk into the seating area, you can't help but marvel at the theater's beauty. Sitting down in one of the chairs makes you feel so sophisticated and elegant being in such an exquisite theater. I can only imagine how amazing it is to listen to a symphony here, which I really hope to do one day.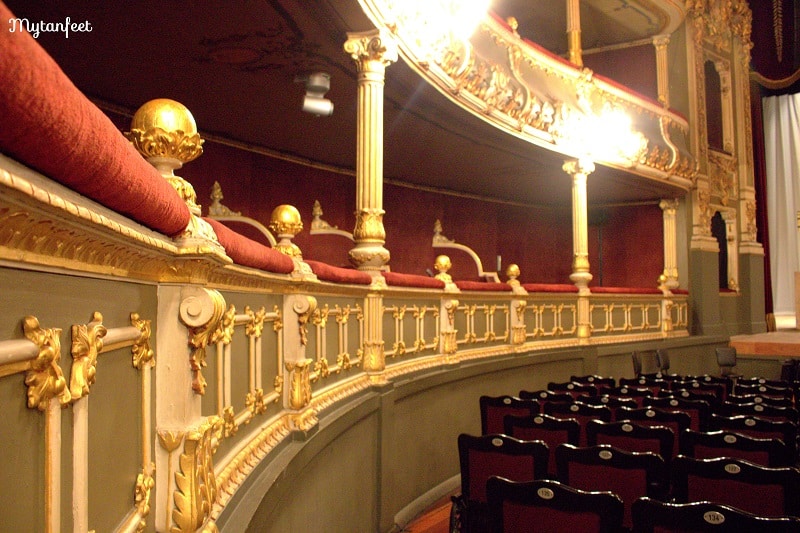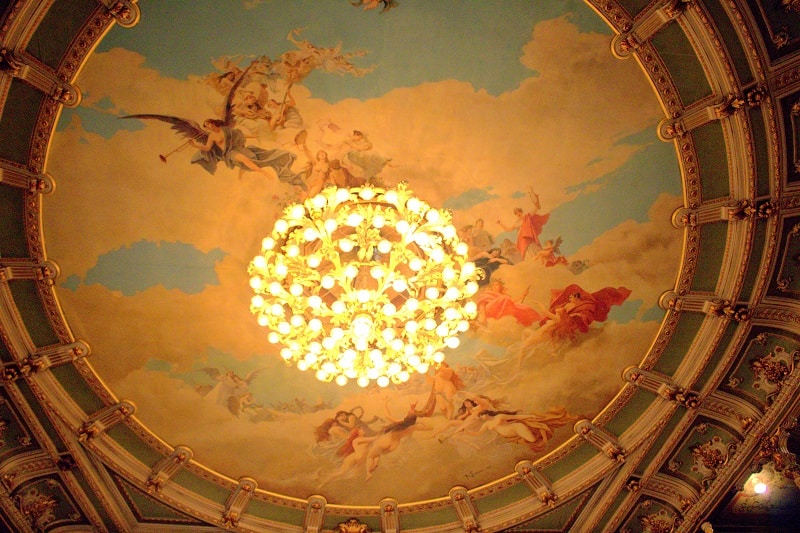 Upstairs
There are several floors of the theater which you can explore. The most impressive room is the foyer where there is a huge painting on the ceiling, delicately carved statues, brilliant chandeliers and gorgeous gold detailing.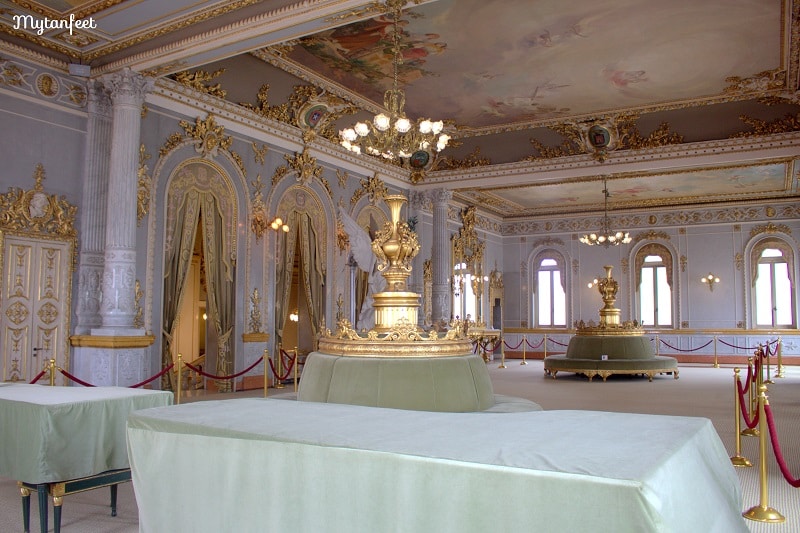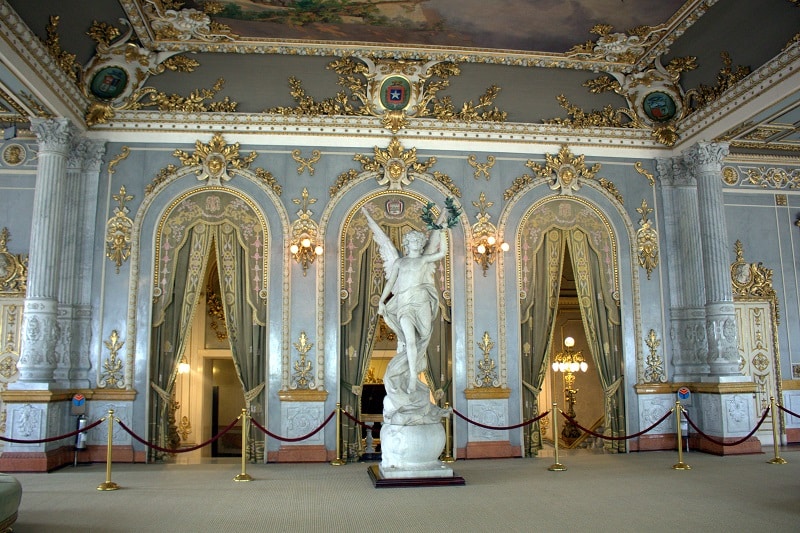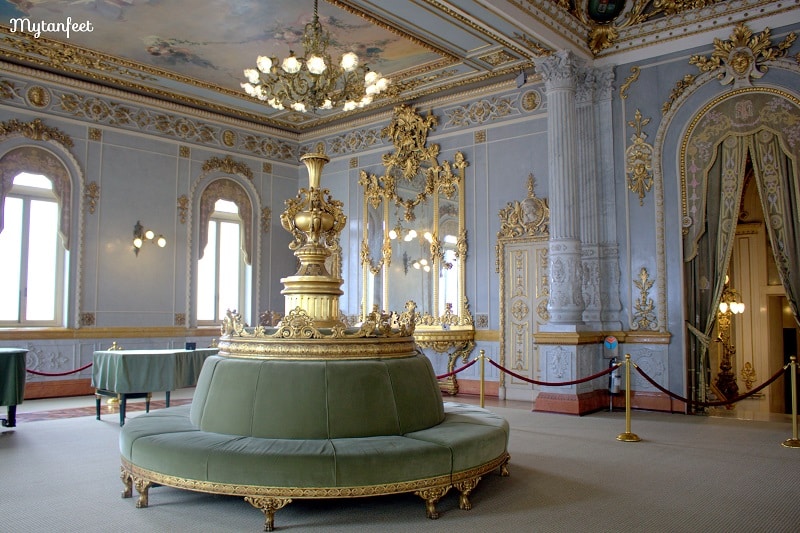 Secret in the Painting!
The big painting on the ceiling was especially interesting because there is a little secret to them. If you look at the girl in pink from the right side, walk over to the left and look up at her again, she's looking the opposite direction from before!
Same with the little kid banging the cylinders, when you walk from one side to the other, he is looking the other way as well!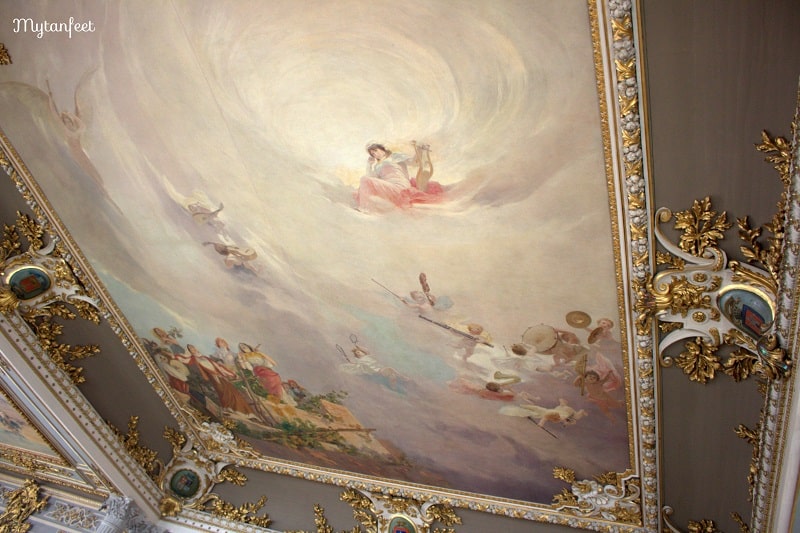 I love the gold decoration on the doors, I definitely wouldn't mind having one of these in my future house!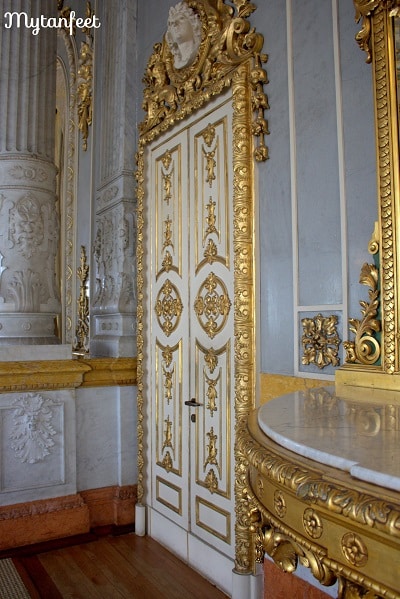 Inaccuracies in the Paintings
There are several paintings of banana farmers since that is also an important resource for Costa Rica. What's funny is that the painter incorrectly showed a man carrying bananas in his arms when they actually put them on their shoulders.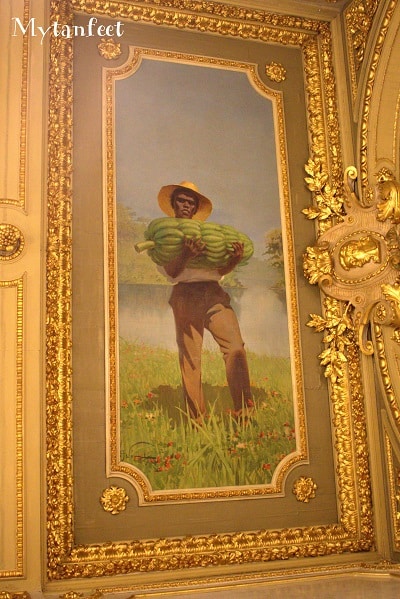 On the old bills, there are also several mistakes since they were painted by Europeans, not Costa Ricans. When you take the tour, see if you can figure them out!
Cafe
The National Theater has its own cafe to the left when you enter the building. They have soup, coffee, cake and sandwiches. A nice place to refuel and get a coffee after your visit.
Visiting the Theater
We also recommend visiting the Central Market and a museum which you can do on the same day or a full day of sightseeing in San Jose.
Here is a sample itinerary of a self guided day of sightseeing in San Jose. This is a great way to see the highlights of San Jose in one day.
Take a guided tour of the National Theater in the morning ~10 AM. Guided tour is around 1.5 hours.
Visit the Central Market to shop and browse the stalls. Have lunch at one of the local restaurants (Soda Tala is a popular one)
After lunch and coffee/ice cream, visit the Museum of Gold or Jade Museum, ~10 minute walk away. Another option is to walk through Parque La Sabana.
Go back to hotel after museum visit to rest and freshen up
For dinner, we highly recommend Mirador Tiquicia, this restaurant is up in the hills outside the city with beautiful night city views. On some nights, they offer a traditional Costa Rican dinner show and buffet. Another option for a Costa Rican experience is Posada de las Brujas.