Are you looking for the best day trips from San Jose, Costa Rica? If you're using the city as a home base for your trip, San Jose's convenient location in the Central Valley makes it easy for travelers to experience the highlights of Costa Rica.
Below are our recommended best San Jose, Costa Rica day trips. We also offer small discounts on day trips, click here to get our San Jose day tours discount! You can also read our guide to San Jose, Costa Rica to plan your trip.
There are affiliate links in this post.
Quick Info About San José, Costa Rica
Capital city of Costa Rica
Province: San José.
Airport: Aeropuerto Internacional Juan Santamaría. Airport code SJO. Airport is in Alajuela, about 30 minutes away.
Time Zone: Central Standard Time GMT-6
Language: Spanish. English is widely spoken in touristic areas and indigenous languages are also spoken
Currency: Colon. Approximately ~538 CRC to 1 USD
Population: ~339,000 (city) and 1.6 million in the province. ~5 million total population
Driving side: Right hand side
Best Day Trips from San Jose, Costa Rica
To see all the places listed below, check our San José day trips map.
You can do all these San José day trips on your own if you rented a car. If not, you can book tours with transportation. For those booking tours with transportation, get our San Jose day tours discount!
You can also watch our video on most of these day trips below.
Poas Volcano National Park
Poas Volcano National Park is one of the best San José, Costa Rica day trips because of its easy accessibility to one of the largest geyser volcano craters in the world. On a clear day, you can see the stunning crater lakes up in the cloud forest surrounded by beautiful scenery.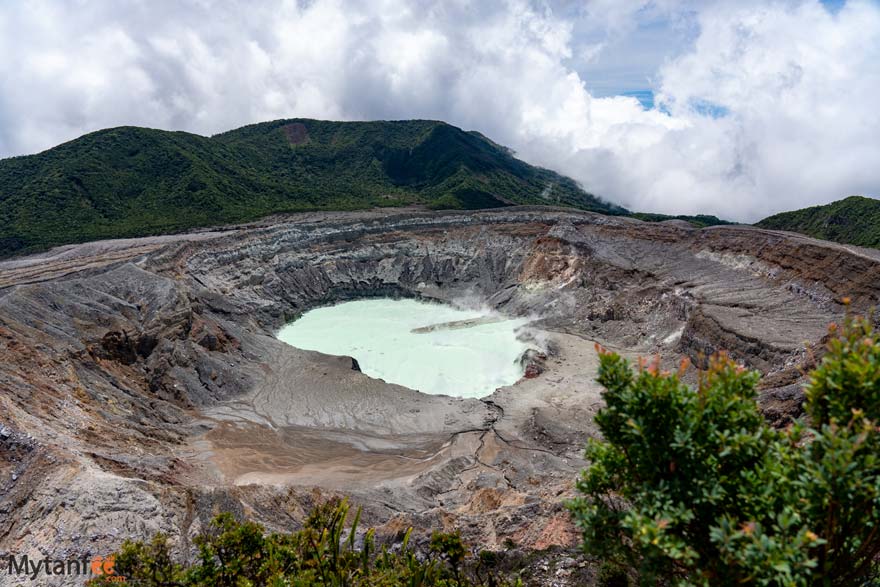 In the national park, visitors walk about 10 minutes to the main observation point to see the main active geyser. There is a second trail to the inactive crater of Laguna Botos.
What to know about visiting Poas Volcano
The park is up in the cloud forest so the volcano crater may not always be clear.
Visitors can only enter the park by purchasing park tickets in advance on the SINAC website. They don't sell tickets at the door.
If there is high volcanic activity or high gas levels, they can close the park. The volcano is still very active.
4×4 not required. 1.5 hr drive from downtown.
Read our detailed guide to Poas Volcano National Park to plan your day trip.
For those without transportation, Poas Volcano is one of the most popular San Jose, Costa Rica day trips. It is normally of a package day tour, such as Doka Coffee + Poas Volcano + La Paz Waterfall Gardens so you can see several places in one day.
Book your tour to Poas Volcano with our San Jose day trips discount!
Irazu Volcano National Park (can be a half day trip)
Costa Rica's volcanoes are no joke and you can see the tallest one at Irazu Volcano National Park! This national park in Cartago is about 2 hours from San José and has spectacular views as you go up around 3400 meters in elevation (11,154 feet).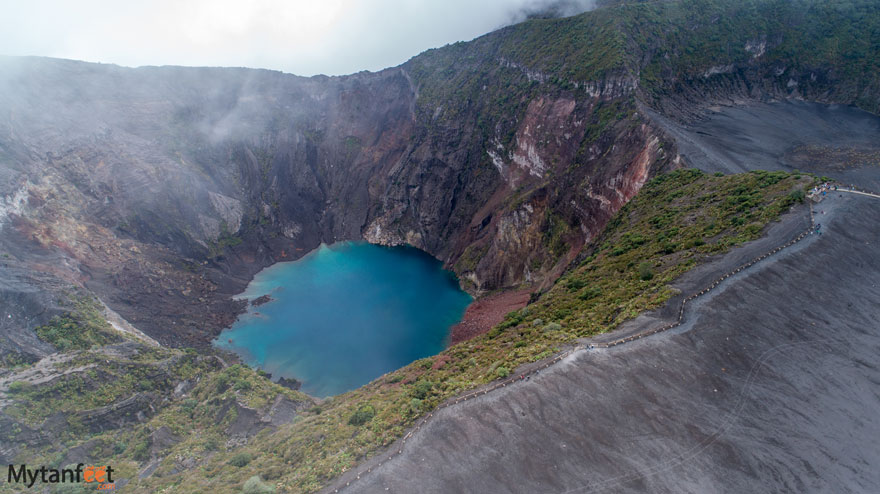 Irazu Volcano National Park is one of the best San José, Costa Rica day trips for those who want to see a unique volcano. The trail from the entrance to the viewpoint is a 20 minute walk on a flat trail.
What to know about visiting Irazu Volcano
It is cold up there with average temperatures from 5-9 C (41-48.2 F).
No 4×4 required.
There are bathrooms and a small cafeteria at the parking lot.
Plan your day trip to Irazu Volcano National Park with our guide.
If you have a car, you can drive to the park and purchase tickets to visit on your own. If you require transportation, you can book an Irazu Volcano day trip which is very popular. Our partner offers options for just Irazu Volcano half day from San José with pick up between 630-730 AM, return around 1 PM.
They also offer combination tours with Irazu Volcano + Lankester Gardens + Orosi or Irazu Volcano + Hacienda Orosi.
Pacuare River White Water Rafting
In the mood for adventure? Go white water rafting at Pacuare River, one of the best rafting rivers in the world! Paddle through Class 3, 4 and 4+ rapids surrounded by lush rainforest on this awesome outdoor adventure. Not only that, you can spot local wildlife such as toucans and monkeys along the way!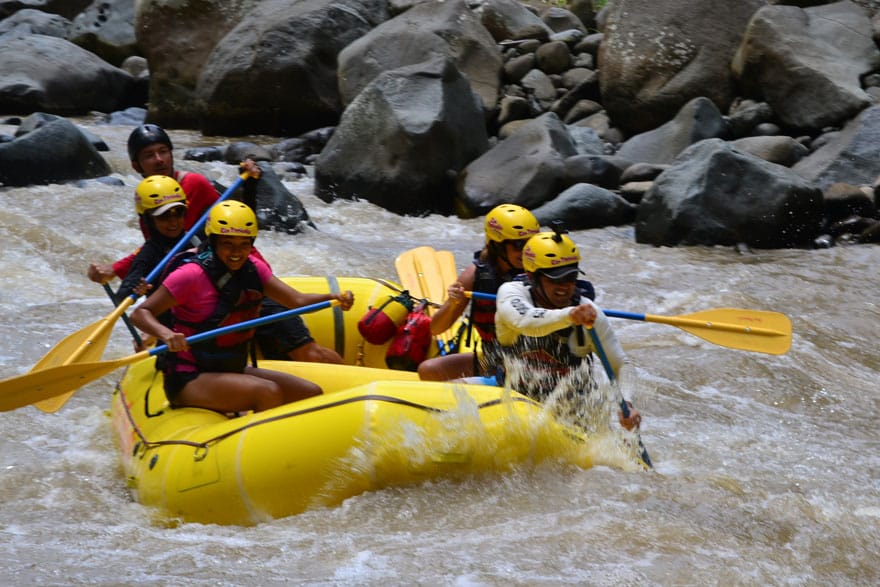 This isn't just one of the best day trips from San José, Costa Rica, you can also use this rafting trip as an interconnection. Tour operators can pick up and drop off clients in La Fortuna, San Jose and Puerto Viejo. This is a fantastic way to avoid sitting on a boring bus all day! Instead, get picked up in San José, go rafting, and then get dropped off in either La Fortuna or Puerto Viejo after a full day of fun.
Want to book the tour? Get our Pacuare rafting tour discount here! The rafting tour is best during the rainy season when rivers are fuller and rapids are faster!
Coffee Tour (one of our personal favorite Costa Rica day trips)
Costa Rica's coffee production may not be high, but its quality is extremely high, winning awards around the world. If you love coffee, then you have to take a coffee plantation tour which is one of the best San José, Costa Rica day trips.
A coffee tour gives you the opportunity to purchase coffee directly from the plantation, which is a great Costa Rican souvenir.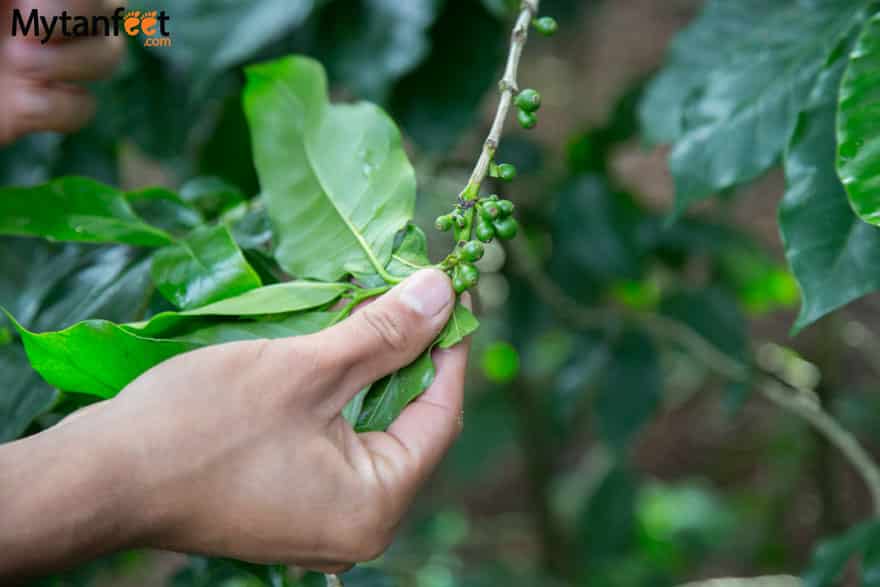 We love the Doka Estate Coffee tour, just 1.5 hours outside the city. However, there are several others such as Britt and Hacienda Alsacia Starbucks.
Alternative option: For a less touristy coffee tour closer to downtown, visit Hacienda La Chimba just 30 minutes away. This small private locally owned coffee farm has tours and hiking trails.
Rainforest Adventures
Rainforest Adventures is an eco-adventure park with hiking trails, bird watching, ziplining and an aerial tram surrounded by lush rainforests. It's the perfect destination for nature lovers who want to see wildlife.
Their canopy tour gives you fantastic views of the jungle and their aerial tram takes you right through the heart of the rainforest.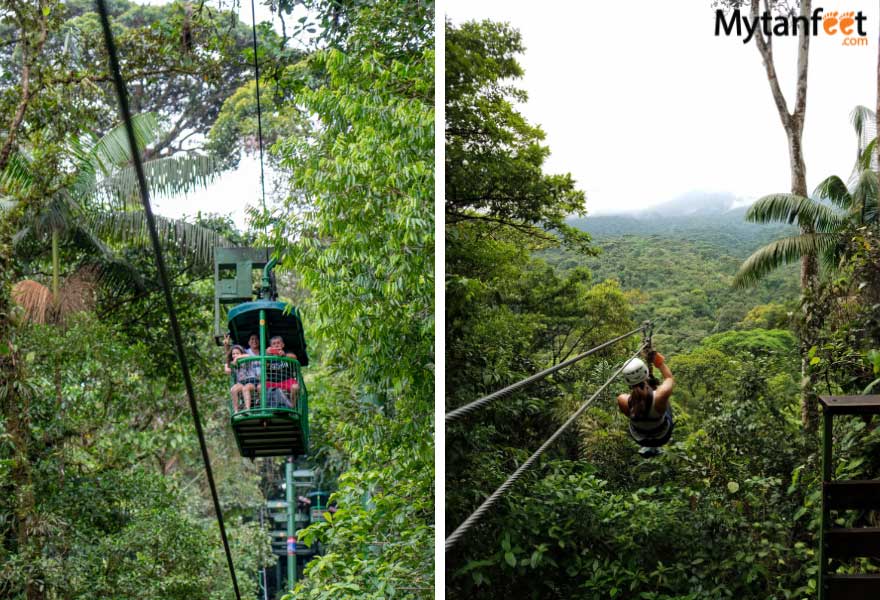 The park is 45 minutes outside San José, making it an excellent day trip for any nature lover to get out of the city and into the jungle.
We offer a 10% discount for their passes, click here to book your Rainforest Adventures tour with our discount!
If you want to do a full day rainforest tour from San Jose with transportation included, check out this 3 in 1 rainforest tour from San Jose!
Tortuga Island Day Cruise
Take a relaxing cruise to Tortuga Island, a gorgeous island known for scuba diving and a white sand beach in the Gulf of Nicoya. You'll cruise for about 1.5 hours and then you'll have 5 hours to relax and enjoy the island's laid back vibe. Tortuga Island is definitely one of the best day trips from San Jose, Costa Rica.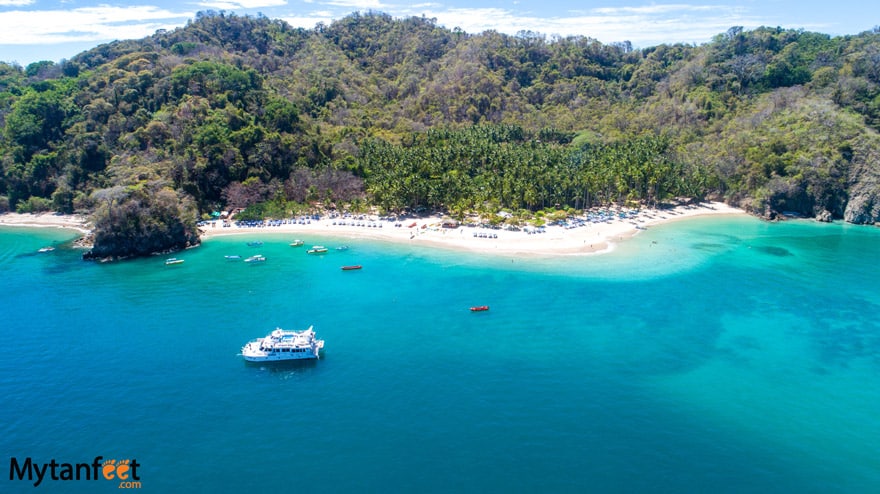 Usually one day boat tours offer different packages: one with beach chairs, one with alcoholic drinks and another with snorkeling and banana boat. If you want to see marine life, the Tortuga Island cruise is an excellent option as you may see sea turtles, dolphins and whales from the boat and you can go snorkeling to see tropical fish.
We have a special $10 discount for the Tortuga Island Day Tour. For anyone who loves the beach, this is one of the best San Jose, Costa Rica day trips!
La Paz Waterfall Gardens
The La Paz waterfall gardens is a beautiful nature park with an animal sanctuary and 5 waterfalls. As it's just a 1.5 hour drive from San Jose, the La Paz Waterfall Gardens Nature Park is one of the best day trips from San Jose to the natural beauty of the rainforest.
We have a small discount for this popular park, get our discount La Paz park tickets here!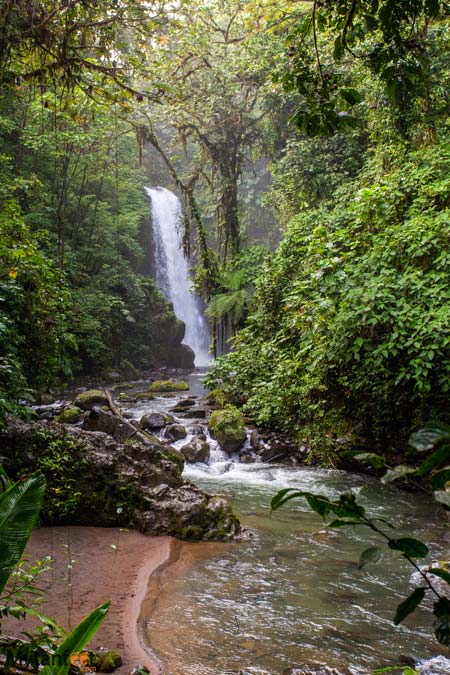 If you don't have your own transportation, many tour companies offer excursions to the park. We highly recommend the combination tour which is La Paz, coffee tour and Poas Volcano. This is one of the day tours offered with our partner that we have a discount for.
If you want to visit just the La Paz Waterfall Gardens as a tour with transportation and lunch included, it is also an option with a late departure (pick up time around 10 AM). Return is around 6 PM.
Arenal Volcano and Hot Springs
Take an Arenal Volcano one day tour from San Jose to see the majestic volcano and relax in the hot springs. Day tours usually consist of a stop at Sarchi, a small town famous for woodwork and art along the way, lunch, viewpoint, hot springs and dinner. Hot spring options are Baldi or Ecotermales.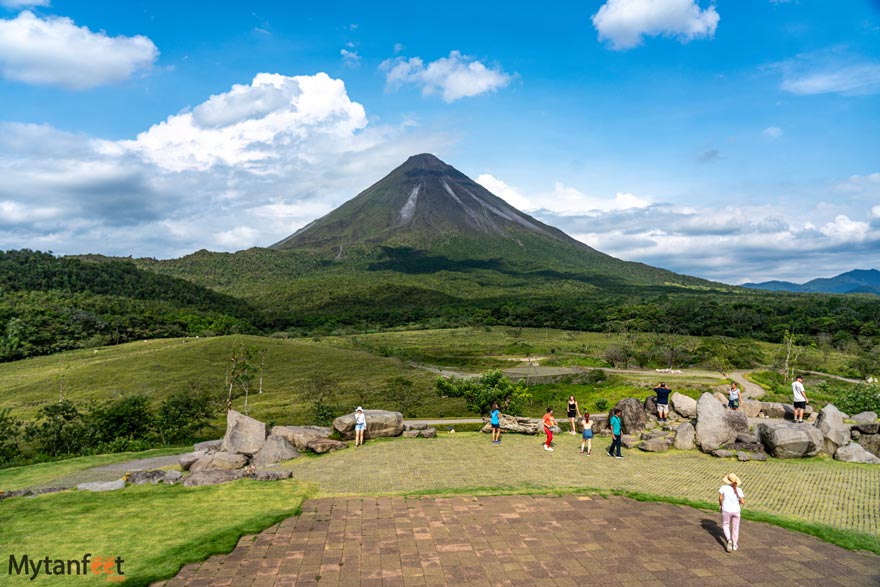 The Arenal day tour is one of the best day trips from San Jose to experience rainforest and volcano. It's a must if you are not able to stay overnight in La Fortuna.
Baldi or Ecotermales hot springs? Baldi is fantastic for families as it has caves, a waterslide and swim up bars. Ecotermales is great for older families and adults as it has several pools with beautiful gardens and bar service.
This is a very long day tour, with pick up around 730 AM and return around 1030 PM.
Manuel Antonio National Park
Manuel Antonio National Park is a popular destination for pristine beaches, hiking, rainforest, nature and wildlife. For anyone who wants to see a beautiful beach and wildlife, Manuel Antonio National Park is one of the best beach trips from San José Costa Rica.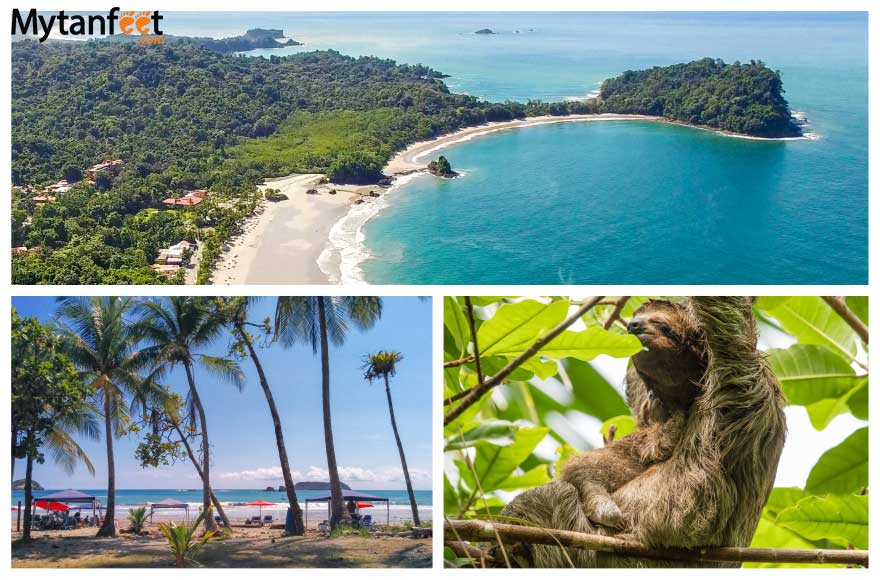 This is an entire day excursion with pick up around 630 AM and return around 7 PM. It includes breakfast, lunch and the national park fee. Once at the park, you have free time to enjoy the park and possibly see monkeys, sloths, deer, iguanas, raccoons and all sorts of wildlife on the trails.
Other Ideas
Although this list is for the most popular day trips from San José, Costa Rica, there are many others!
City sightseeing tour
Learn about Costa Rica's culture and traditions on a San José city tour. Take the afternoon to visit museums with art galleries, cultural sites and the central market.
Tortuguero National Park
Although best visited as an overnight stay, Tortuguero is possible in 1 day. You'll boat through the rainforest covered sandbars and cancals to see wildlife like toucans, macaws, sloths and monkeys. If you want to do an overnight trip, click here to get our Tortuguero packages discount!
Discount
We partnered with a tour operator based in San José to give discounts of all these tours and much more such as hanging bridges, ATV, horseback riding and dinner shows! Click here to get your San Jose day tours discount!
Recommended San Jose Hotels
Our tour operator partner can pick up/drop off directly at these hotels.
Hotel Presidente: Modern urban hotel right in downtown.
San Jose Barcelo: Resort like hotel with a gym, restaurant, outdoor pool and racquetball court.
KC Hotel: Nice hotel with a pool, restaurant and bar
Autentico Hotel: Boutique hotel with a pool, restaurant, bar and spacious rooms.
Park Inn by Radisson: Very comfortable hotel with a gym, work station and breakfast.