Are you looking for the best day trips from San Jose, Costa Rica? San Jose's favorable location makes it easy for travelers to experience the highlights of Costa Rica.
If you have some days in the city, here are our recommended best San Jose, Costa Rica day trips. You'll also find out which tour companies we recommend for San Jose day tours and you can get our San Jose day tours discount!
Best San Jose, Costa Rica day trips
For these day trips, you can do these one your own if you rented a car or you can book tours with transportation. For those booking tours with transportation, don't forget to get our San Jose day tours discount!
Poas Volcano
Poas Volcano National Park is the most popular park in Costa Rica because of its easy accessibility and incredible views of one of the largest geyser volcano craters in the world. On a clear day, you can see the bright blue color of the crater lake!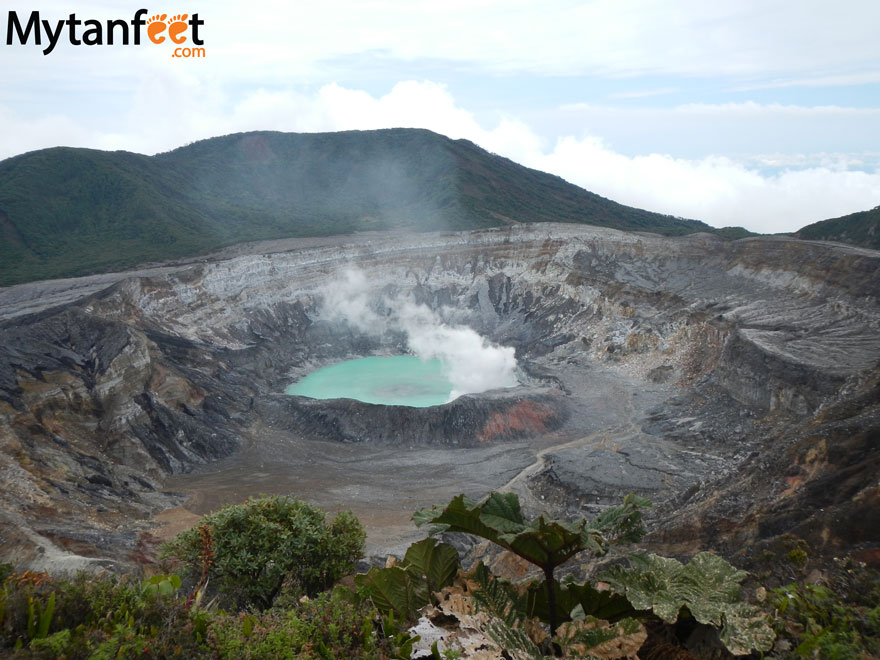 Poas Volcano is only about a 1 hour drive from downtown, making it one of the best day trips from San Jose. If you visit Poas Volcano, it is worth seeing other attractions nearby such as La Paz or a coffee tour. If you visit independently, make sure you purchase park tickets beforehand on the SINAC website.
Poas Volcano is also a great stop in between the drive from San Jose to La Fortuna. Since visitors can only stay 40 minutes in the national park, it makes for a quick nice stop to see a volcano crater in between the drive.
Irazu Volcano
Visit Irazu Volcano National Park to see the tallest volcano in Costa Rica. This national park is in Cartago and has some spectacular views along the way. Along the way, you can stop at Finca Sanatorio Duran, the most haunted building in Costa Rica!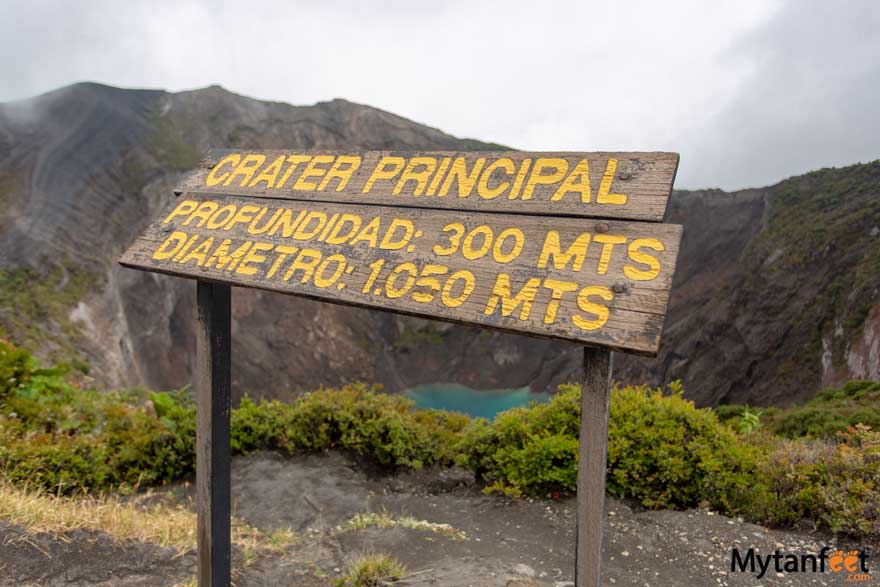 For those without a car, you can book an Irazu Volcano day tour. It goes to Irazu, Cartago and/or Hacienda Orosi. Since Irazu Volcano is about a 2 hour drive from San Jose, doesn't require a lot of walking and is a simple drive, it's a very easy day trip from San Jose.
Pacuare River White Water Rafting
In the mood for adventure? Go white water rafting at Rio Pacuare, one of the best rivers in the world! Paddle through Class 3, 4 and 4+ rapids surrounded by lush jungle on this awesome outdoor adventure.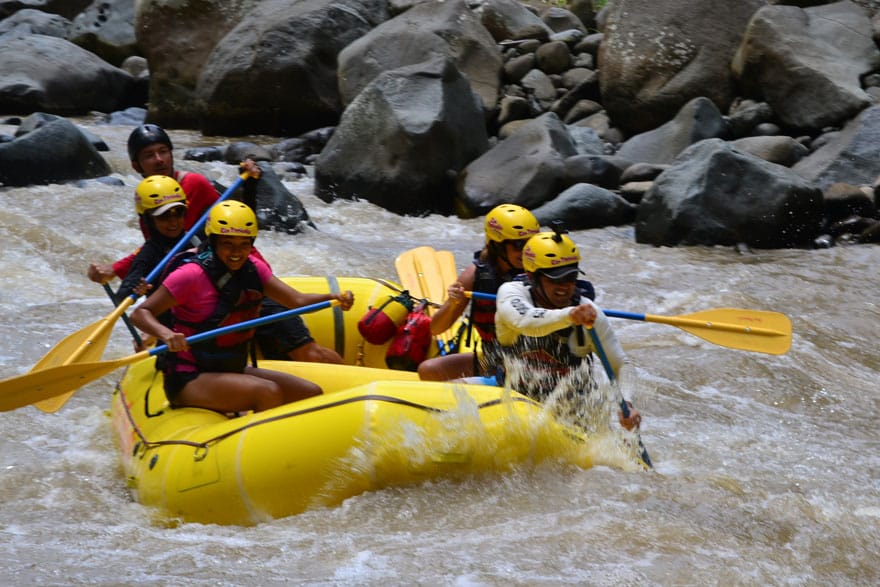 It's about a 2 hour drive to the river and it's an incredibly fun all day activity. One of the best adventure day trips from San Jose, Costa Rica!
You can also use this rafting trip as an interconnection. If your next destination is La Fortuna or Puerto Viejo. Get $5 USD off the tour!
Coffee Tour (One of Our Favorite San Jose, Costa Rica Day Trips)
The Central Valley grows some of the best coffee in Costa Rica due to its favorable climate and elevation. San Jose used to have many coffee plantations and many of the richest families in Costa Rica are ex-coffee plantation owners. If you love coffee, you have to take a tour to learn about how Costa Rica grows and processes their coffee.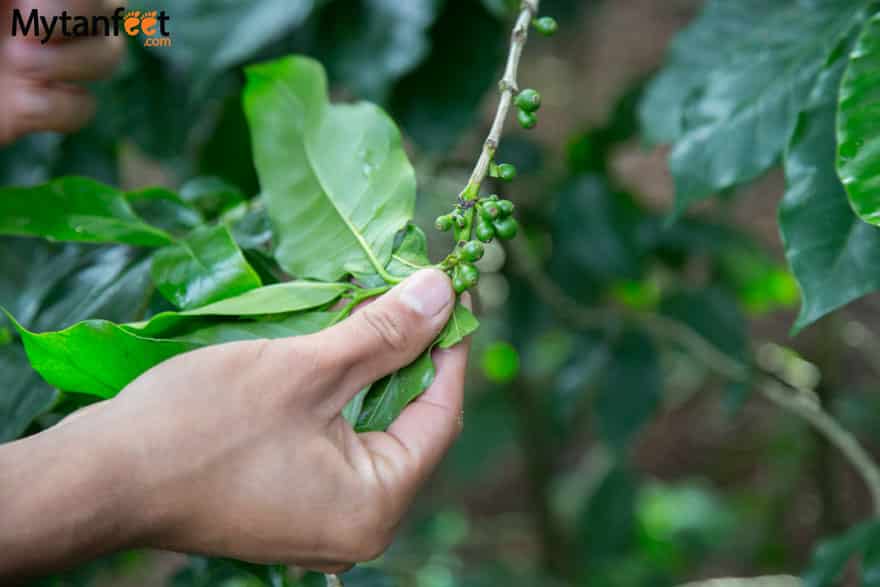 For us, one of the best coffee tours from San Jose is the Doka Estate Coffee tour. However, there are several others such as Britt and Alsacia (owned by Starbucks). If you want to see the whole coffee procedure, the best months are September – January as that is when coffee picking season is. You can drive yourself to the coffee plantations to do the tour or book a tour with a company. Most of them go to Doka Estate since they have very nice facilities and a big property.
One bonus to going on a coffee tour is that you can buy coffee at the factory which is fresher and cheaper than the supermarket. Great souvenir!
Rainforest Adventures Aerial Tram and Zipline
Wait, you can go ziplining in San Jose? Yep! You can!
Well actually it's about 45 minutes outside of San Jose but like I said earlier, you can go from city to jungle in less than an hour in Costa Rica.
Rainforest Adventures is an eco-adventure park near Brauilio Carrillo National Park with a variety of activities such as hiking, bird watching, ziplining and an aerial tram. Since it's towards the Caribbean side, this area has incredibly lush jungle and abundant wildlife.
If you go ziplining, their canopy tour gives you fantastic views of the jungle as you fly over the trees!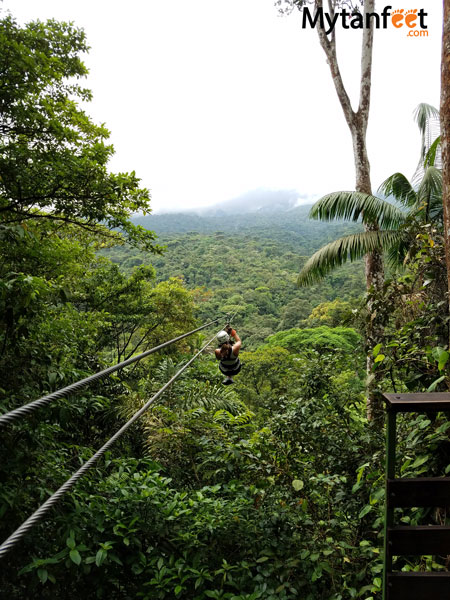 The Rainforest Adventures aerial tram is the first in Costa Rica, taking visitors through the jungle and high up to a viewpoint. You can even see all the way to the Caribbean coast from there!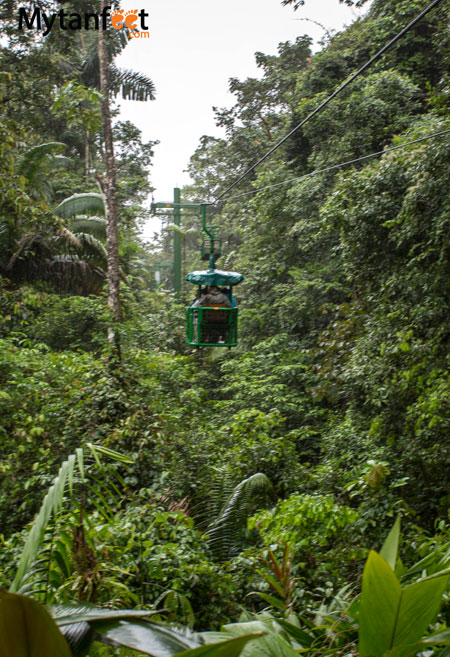 Additionally, they have a small hotel in the park so visitors can take an overnight trip from San Jose. Since much of the wildlife becomes active at dusk and night, visitors have more opportunities to see exotic wildlife like anteaters, tapirs, snakes and frogs. You can drive yourself or Rainforest Adventures offers transportation for an extra fee if you book on their website.
Tortuga Island Day Cruise
Take a relaxing cruise to Tortuga Island, a gorgeous island with a white sand beach and excellent snorkeling. You'll cruise through the Gulf of Nicoya for about 1.5 hours before reaching the island where you have 5 hours to relax and enjoy. Tortuga Island is definitely one of the best San Jose day tours and best beach trips from San Jose!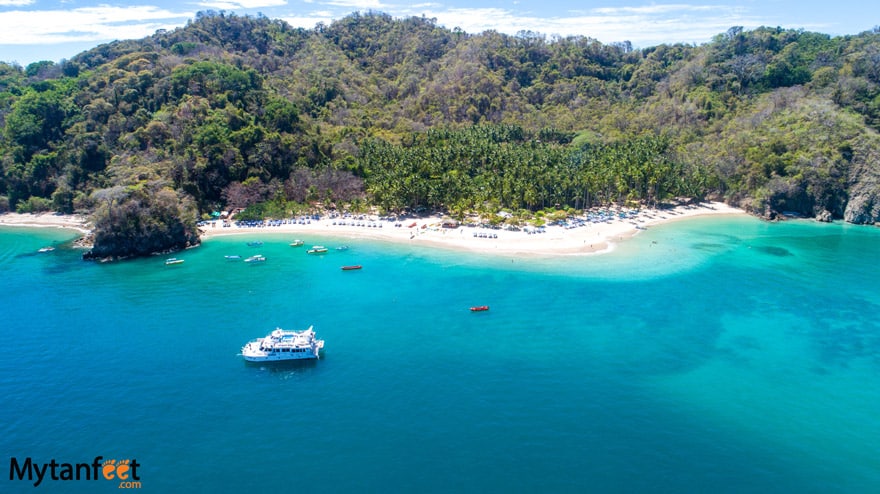 We have a special $10 discount for the Tortuga Island Day Tour with Bay Island Cruises. For anyone who loves the beach, this is one of the best San Jose, Costa Rica day trips!
La Paz Waterfall Gardens
The La Paz waterfall gardens is a small park with an animal sanctuary, trails and waterfalls up in the Vara Blanca Cloud Forest. It's a beautifully designed park with walking trails, gorgeous gardens and nature all around. The La Paz waterfall gardens is one of the best day trips from San Jose for families.
The entrance fee ranges from $45-69 USD per adult with lunch so if you're on a budget, you can visit the free waterfall by the side of the road. If you're not on a budget, it's worth the entrance fee to the gardens since the property has 5 different waterfalls! (If you're going on your own, click here to get our 7% La Paz waterfall gardens discount!)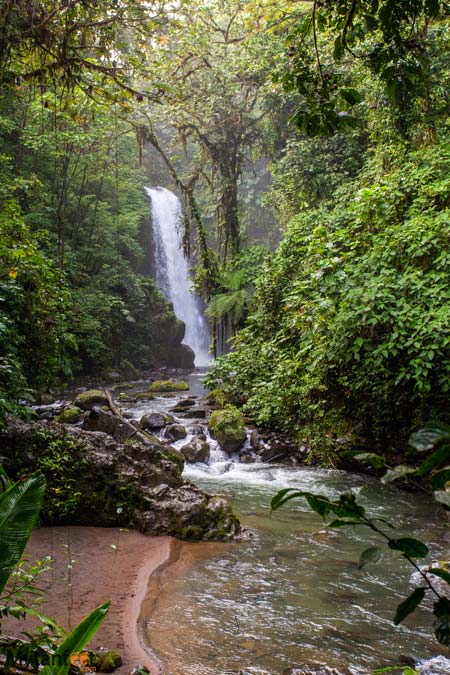 Tour companies offer tours with Doka Coffee Estate and La Paz waterfall Gardens, La Paz and Poas Volcano or all three. If you rented a car, you can easily visit these places on your own.
Zarcero/Grecia/Sarchi
If you want to experience Costa Rican small town life, the best places are Sarchi, Grecia and Zarcero. Each of these towns have their own special characteristics and offer a wonderful glimpse into local in Costa Rica.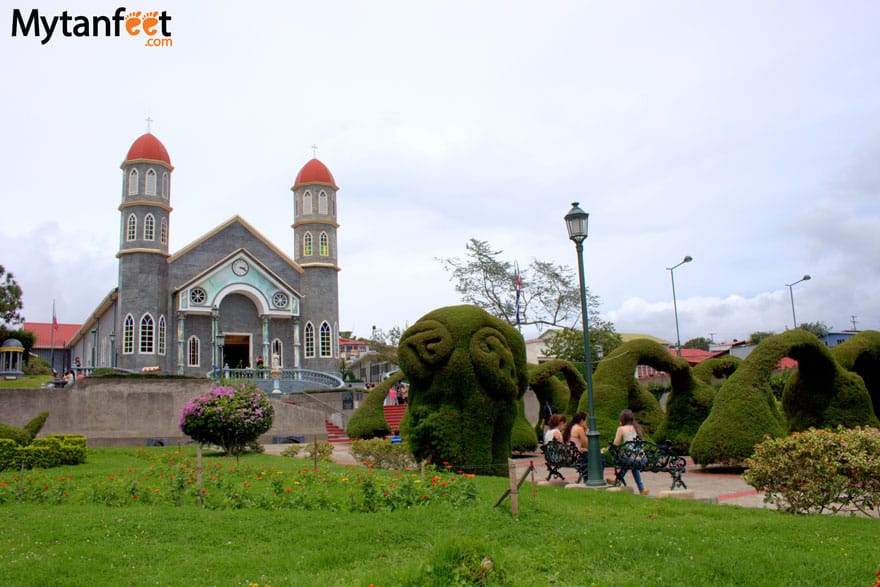 Zarcero is famous for their church and topiary gardens, Grecia has a red metal church and Sarchi has the biggest oxcart and sells fine furniture. Sarchi is also an excellent place to buy Costa Rican souvenirs as they are well known for their woodwork.
Some tour companies operate a Doka Coffee and Grecia, Sarchi and oxcart tour which is very nice. They also stop by Sarchi on their Arenal 1 day tour. It's one of the tours we offer discounts for.
Arenal Volcano and Hot Springs
Take an Arenal Volcano one day tour from San Jose to see the majestic volcano and relax in the hot springs. Day tours usually consist of breakfast, lunch, an Arenal volcano hike and Arenal hot springs (Baldi, the Springs or Tabacon).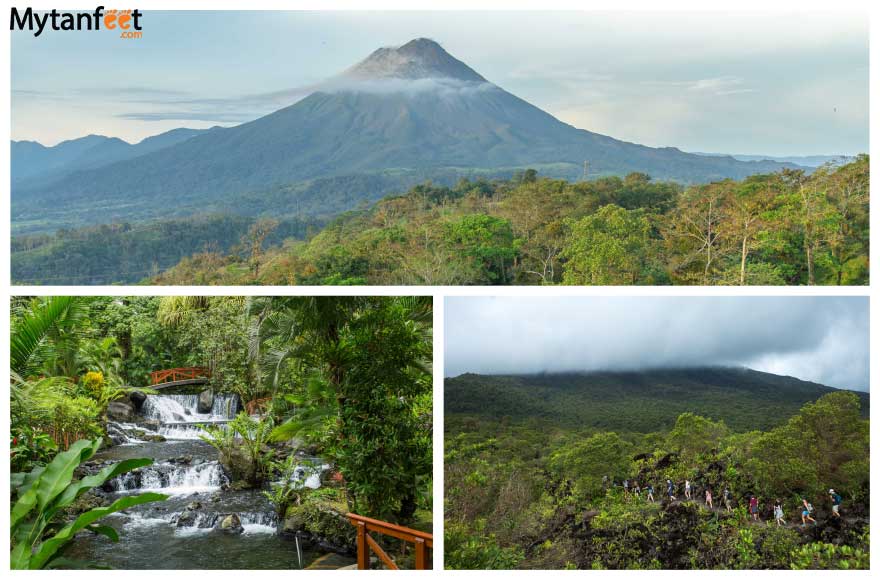 The Arenal day tour is one of the most popular and best day trips from San Jose to experience rainforest and volcano. It's a must if you don't have more time to spend in La Fortuna!
Manuel Antonio National Park Hike and Beach
Manuel Antonio National Park is another popular day tour from San Jose. This day excursion will take you on a guided hike through the national park to see wildlife like monkeys and sloths. Then you'll have the rest of the day to hike, swim and relax at the beach.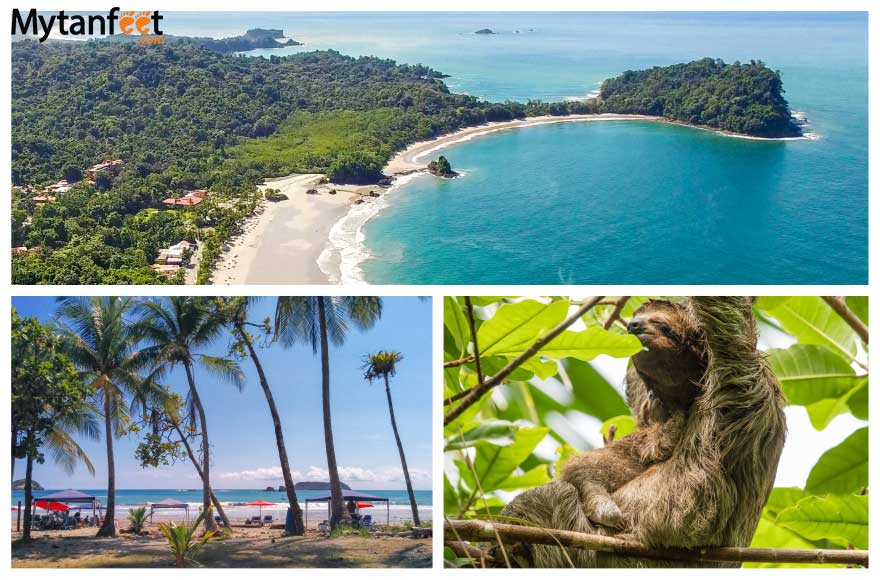 For anyone who wants to see a beautiful beach and wildlife, Manuel Antonio is one of the best beach trips from San Jose, Costa Rica.
Tortuguero National Park
Tortuguero is another great place in Costa Rica to see nature and wildlife. This rainforest covered sandbar is famous for turtle nestings, jungle and river canals. There are some companies who offer 1 day tours to Tortuguero which give you just enough time to see the park, town and beach on a quick trip.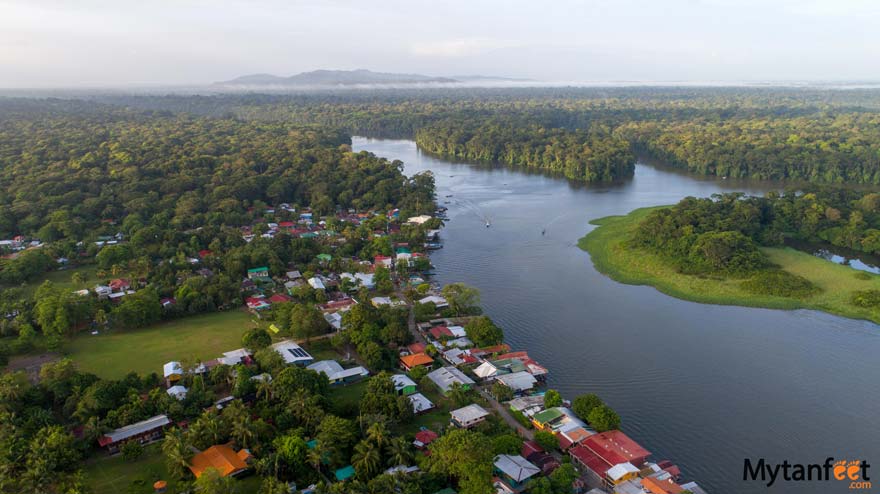 However, the best way to visit in on an overnight trip from San Jose. Although we recommend at least two, one night is enough to see and experience Tortuguero. You can read about the Tortuguero package and get our Tortuguero discount here.
San Jose, Costa Rica Tour Companies
As you can see, staying in San Jose doesn't mean it's just city sightseeing. In fact, you're in one of the best locations since the city is right in the middle of the country! You can easily discover many gems of Costa Rica during the day and come back to the comforts of city conveniences at night. If you want to use San Jose as your home base in Costa Rica and do day trips, it is possible and you can see many different parts of the country.
For those who want to take a day trip from San Jose, Costa Rica, we have a partnership with Expediciones Tropicales to give small discounts. Please click to get your San Jose day tours discount!
San Jose Articles
Want ideas for things to do in San Jose? Check out our travel guide to San Jose Costa Rica sightseeing tours or our 5 day San Jose itinerary.
Not sure if you should visit the Central Valley? Read 10 reasons why you should!
Looking for an hotel by SJO Airport? Check our list of best hotels near San Jose Airport.