Costa Rica's Pacific and Caribbean coasts are home to some incredible beaches so if you're planning the ultimate beach vacation, here is our list of the best beaches in Costa Rica for tourists.
Best Beaches in Costa Rica Map
Click here to go to a map of all the beaches in this post.
Manuel Antonio National Park – Manuel Antonio Beach
Any talk of the best beaches in Costa Rica inevitably involves Manuel Antonio. With 4 white sand beaches inside the famous national park and 1 outside, you will be left in awe of its beauty. It's clear why Manuel Antonio is one of the most popular destinations in Costa Rica!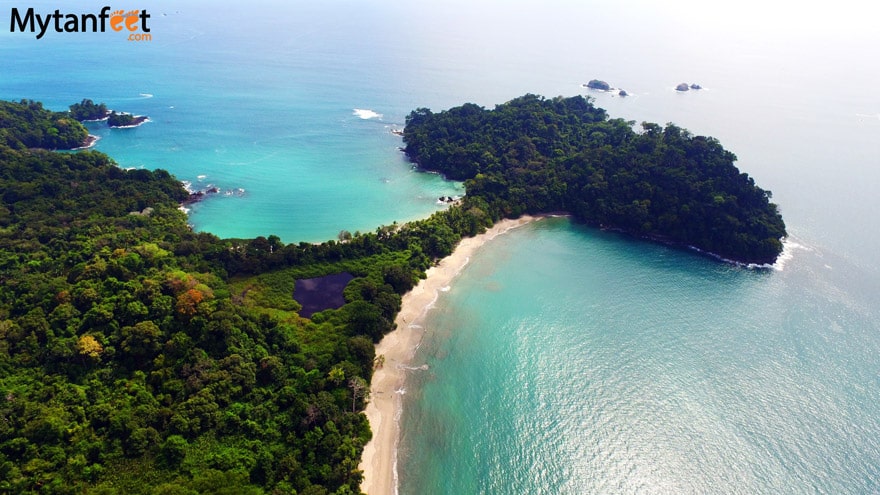 Manuel Antonio beach is the most popular beach inside the national park with clear turquoise waters and white sand. Additionally, you're nearly guaranteed to see white face monkeys in the surrounding treetops at Manuel Antonio beach!
The other beaches, Puerto Escondido, Gemelas and Espadilla are equally as stunning.Make sure to read our Manuel Antonio National Park post to find out more about the beaches and hiking trails.
Playa Cocles (Limon)
On the Caribbean coast, Puerto Viejo has some of the most beautiful beaches in all of Costa Rica! One of those is Playa Cocles.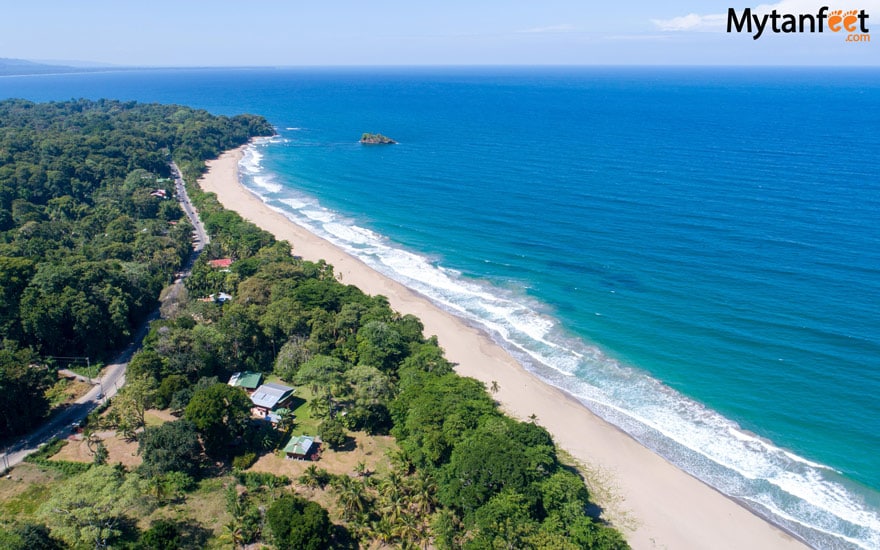 Cocles is one of the best beaches in Costa Rica due to its soft sand, palm tree dotted shores and seasonal surfing waves. Plus it's only 4 kilometers from Puerto Viejo downtown, making it an ideal beach to stay at outside of town.
Sometimes Cocles can get very busy so if you walk to the south end where the river is, you can find a spot all to yourself away from the crowds.
Cahuita (Limon)
Continuing on beautiful beaches on the Caribbean coast are the beaches inside Cahuita National Park, Playa Blanca and Playa Vargas. These beaches have one of the biggest coral reefs in the country and have beautiful white sand and clear waters.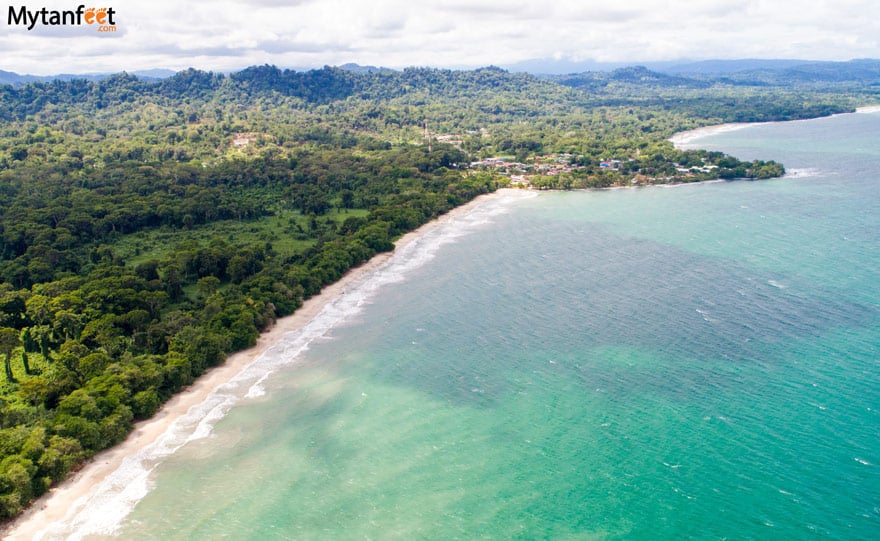 As these beaches are in a rarely crowded national park, you can have them all to themselves. Keep your eyes open because it's common to see white face monkeys, iguanas and sloths in the trees!
We recommend taking a guided hike of the national park since there is so much wildlife. There's a nice path that runs parallel to the beach that's very easy to walk on. You can spend a whole day hiking, swimming and seeing wildlife in Cahuita.
Punta Uva and Playa Arrecife (Limon)
Another amazing beach on the Pacific coast are the beaches of Punta Uva: Playa Punta Uva and Playa Arrecife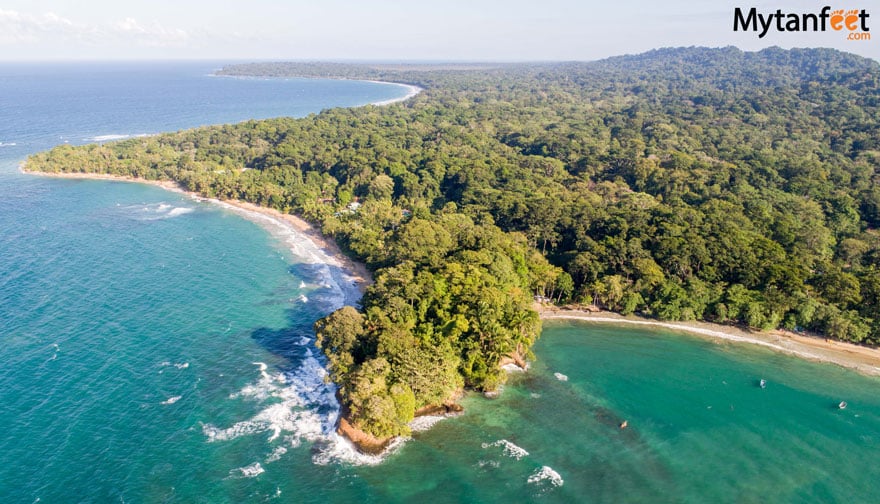 With a long line of palm trees, bright turquoise water and soft white sand, it's perfect for hanging up a hammock. Walk the short trail through the jutting inlet to get breathtaking views of both beaches.
Another amazing thing about Punta Uva is that there is a section called sloth point. As you may have guessed, you can see families of sloth in the palm trees!
Conchal Beach (Guanacaste)
Conchal is a spectacular beach in Guanacaste with one unique characteristic that makes it so attractive: it has shells instead of sand! The shore is made up of millions of little pieces of sparkling white shells, gently kissed by baby blue waters.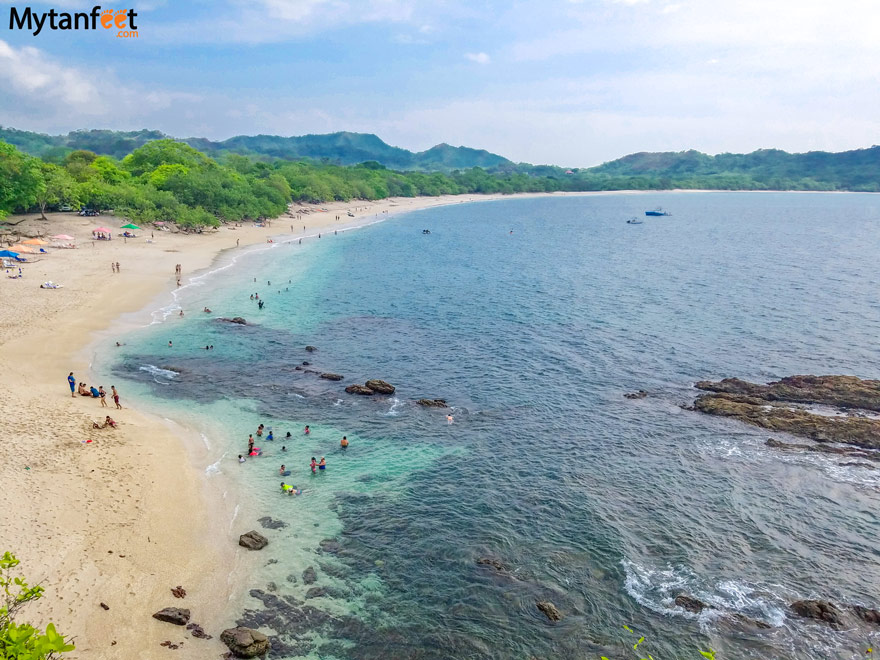 The public access to Conchal beach takes a bit of planning but it's 100% worth it. As soon as you see Conchal beach, you will see why it's always on the list of best beaches in Costa Rica!
The only two beach front hotels on Playa Conchal with their own access is the Westin Conchal and W Costa Rica.
Flamingo Beach (Guanacaste)
Flamingo is another gorgeous beach in Guanacaste. It is world famous for fishing but the mile long, crescent shaped beach is what truly attracts visitors. Some of the best water activities can be found in Flamingo such as sport fishing, scuba diving and snorkeling.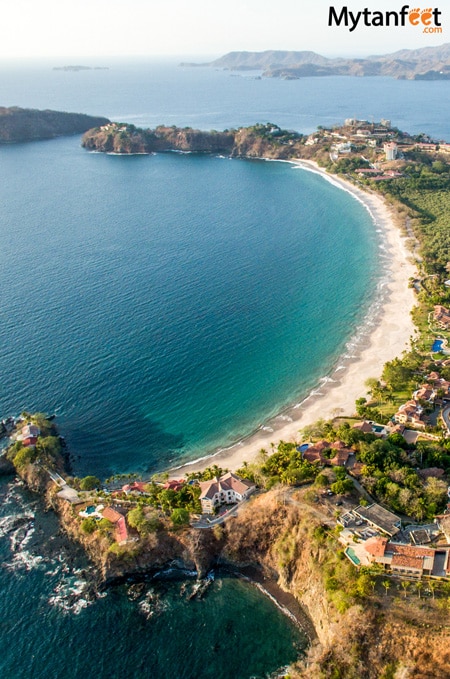 Although this isn't a white sand beach, the lush mountains enveloping the shore are a unique type of beauty.
Playa Samara (Guanacaste)
Samara is another one of the best beaches in Costa Rica for families. This laid back beach has plenty of land and water activities to enjoy. There is even a nearby island with great snorkeling you can kayak to!
But the thing that we love the most about Playa Samara? The sunsets. Do I have to say more?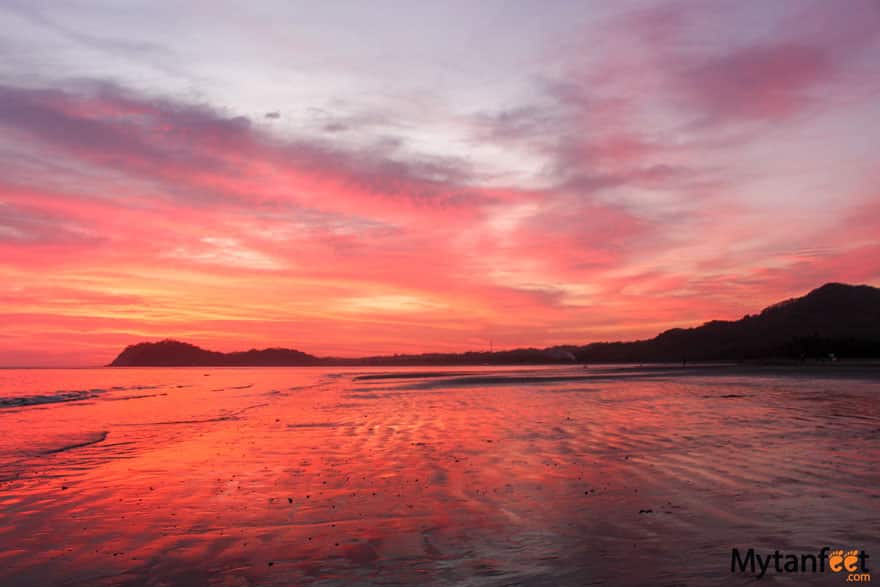 Another wonderful beach near Samara is Carrillo. We actually prefer Carrillo more than Samara because there are way less people and has more of a Costa Rican vibe. Samara is touristic and can get extremely busy so to experience a more Tico beach, head to Carrillo.
Hotel Villas Playa Samara and Azura Beach Resort (adult only) are two beachfront resorts on Playa Samara.
Santa Teresa, Playa Carmen and Hermosa Beach
In the Nicoya Peninsula lies a stretch of surfing beaches: Carmen, Hermosa and Santa Teresa beach. Since this area is in a fairly undeveloped part of Costa Rica, the beaches are wild, rugged and untamed, making for a more pristine beach experience.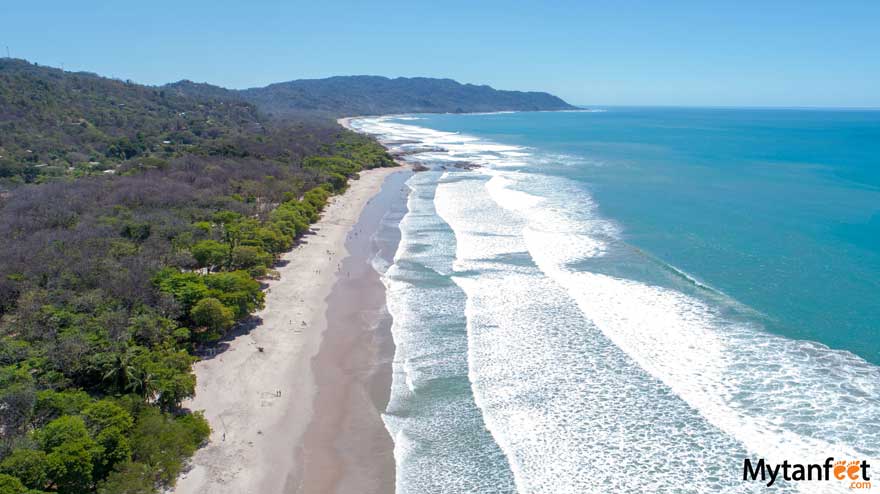 Although the beaches aren't great for swimming, the rocky coastlines, whiteish sand and bright blue waters make for beautiful views and sunsets. The surf here is incredible with waves all year round for all levels.
Want to visit Santa Teresa? Read our 2 week Costa Rica itinerary to see how we visited this coastal town.
Montezuma Beach
When it comes to fascinating coastal landscapes, Montezuma beach definitely earns that reputation. Montezuma is a small beach town in the Nicoya Peninsula and has some of the wildest, most striking coastlines in the country.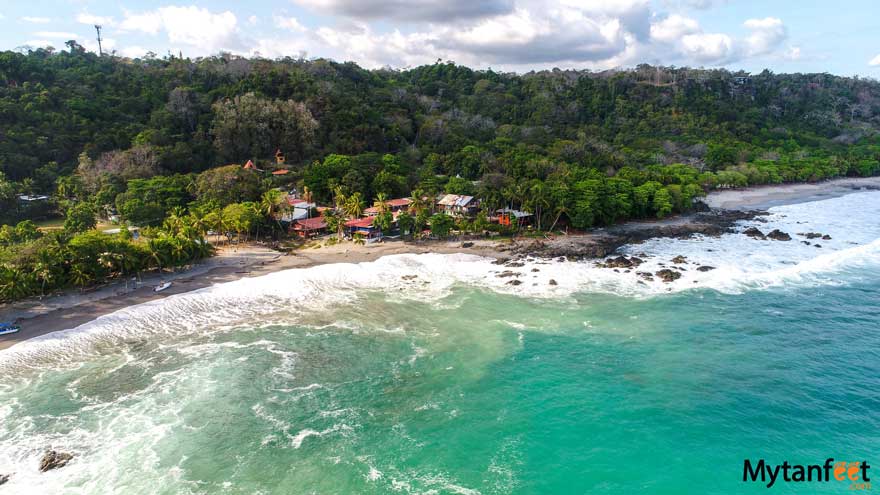 The beaches in Montezuma are not the best for swimming because stretches of rocks weave in and out of the coast. However, in low tide you can lay in the tide pools! The beaches stretch for miles and the further south you go, the less humans you'll see and more monkeys you'll encounter.
You can also see the release of baby turtles on Playa Montezuma during certain months of the year. When we visited in February, they released baby turtles every day at 4 PM.
For a beautiful beachfront resort, check out Ylang Ylang Resort.
Tamarindo Beach (Guanacaste)
Though Tamarindo is more touristic, it is a lovely beach with excellent surfing waves and sunsets, making it to our list of best beaches in Costa Rica.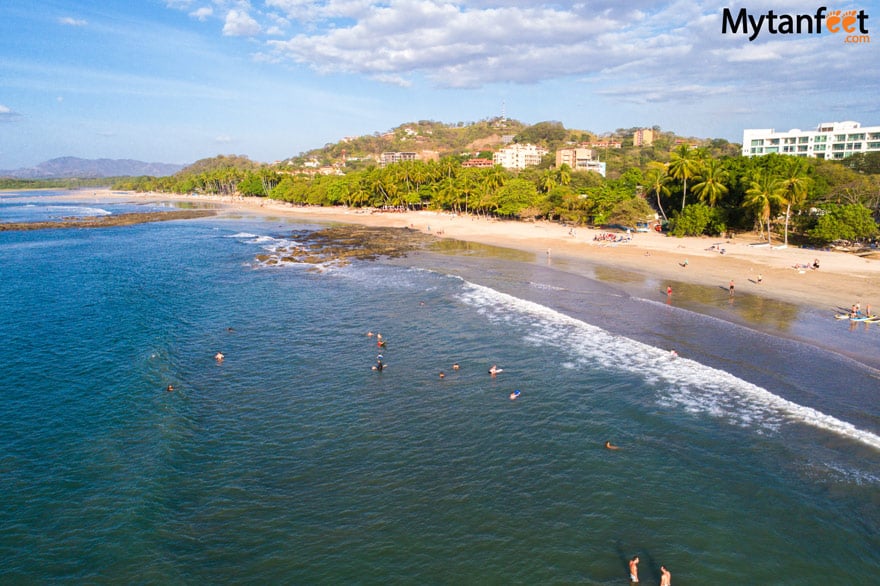 There are a few hotels on the beach such as the Tamarindo Diria and Villa Amarilla but the ocean views hotels are our favorite such as Esplendor and Jardin del Eden. Tamarindo is a touristic beach town but has a lot of fun activities and is a great place for backpackers, surfers and families alike.
Another beautiful beach near Tamarindo is Langosta. It has whiter sand, great surfing waves and way less people!
Uvita Beach (Puntarenas)
Located in Marino Ballena National Park, Playa Uvita is part of the famous Whale's Tail in Costa Rica. At low tide, the rocky shore forms the shape of a whale's tail! It is appropriately named since this area is the best in Costa Rica to see humpback whales.
As such, Playa Uvita is also the launching point for whale watching tours as humpback whales are greatly abundant in this area. If you're lucky, you may be able to see them from shore!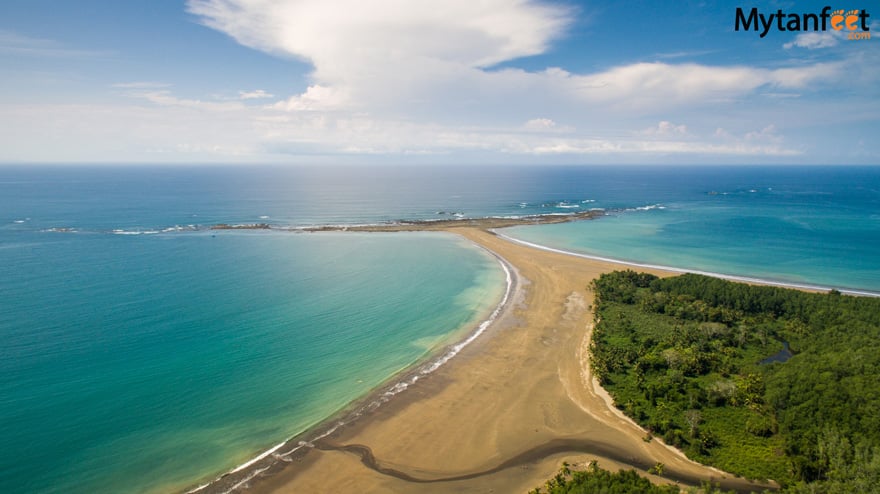 Another amazing beach in Uvita is Playa Hermosa. Since this one is outside the town center, you can very well have it all to yourself!
Tortuga Island
Tortuga Island is an island in the Nicoya Peninsula, only accessible by boat. The beach on the island is a stunning white sand beach with incredibly clear turquoise water and excellent snorkeling.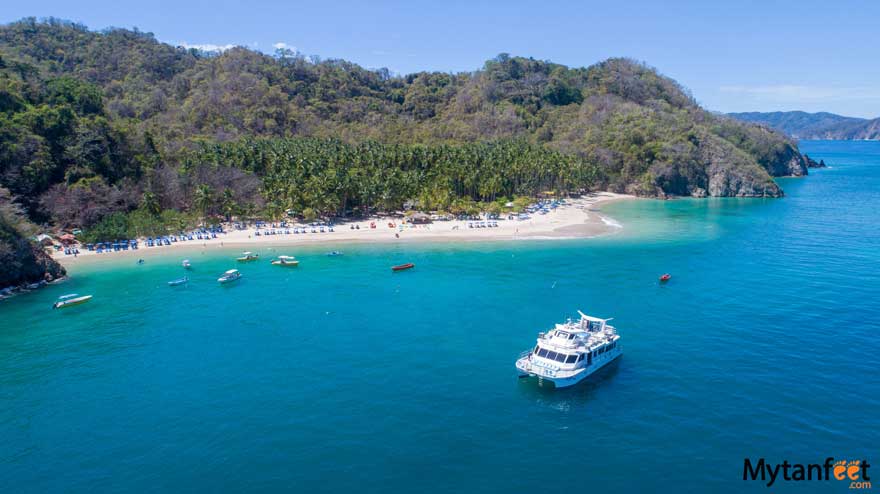 The most popular way to visit is to take the Tortuga Island one day cruise (get $10 off the tour in the link). Sail through the Gulf of Nicoya, spend 5 hours on the beach and cruise back under sunset. It's one of the best day trips from San Jose and Jaco as well!
Playa San Juanillo (Guanacaste)
Playa San Juanilo is one of the most beautiful beaches in Costa Rica in our opinion. Two white sand beaches come together and you can walk up to the point where they meet for absolutely jaw dropping views.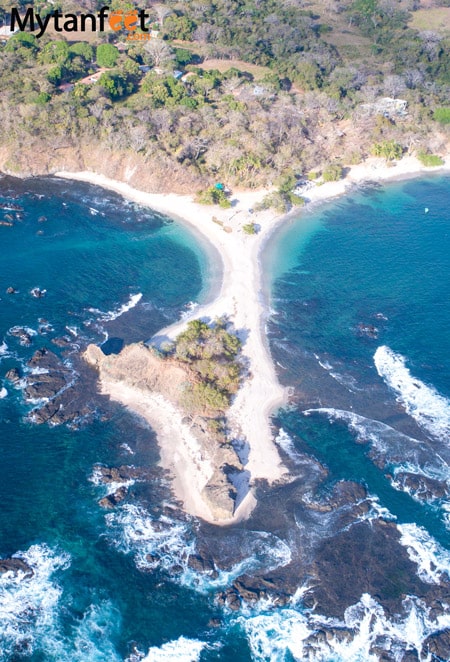 Waves are soft for swimming and the water is a clear blue. It's not a very big beach but it's perfect for a picnic, laying out or swimming.
San Juanillo is a tiny local fishing town in a non-touristy area of Guanacaste, perfect for a day trip visiting a hidden gem in Costa Rica. Make sure to go during high tide so that you can see the two white sand shores. Otherwise it is extremely rocky. And make sure to rent a 4×4!
Read about the best beaches in Guanacaste here!
Plan Your Costa Rica Trip With Our Guides Below
Costa Rica trip planning timeline
There are affiliate links in this post.