Arenal Volcano National Park is the second most visited national park in Costa Rica with several hiking trails and view points, making it a great day trip from La Fortuna.
The 29,692 acre (12,000 hectare) park is one of the best national parks for first timers and one of the must do things in Costa Rica. Majority of travelers stop by this area at one point of their trip and if you love hiking, the national park is a great place for a hike through the lava fields and forest.
Check out our guide to Arenal Volcano National Park for more information!
This post has been updated March 2020.

Arenal Volcano Facts
There are 2 volcanoes in this national park – Arenal and Cerro Chato. Arenal used to be Costa Rica's most active volcano whereas Cerro Chato is completely dormant.
In 1968, the Arenal Volcano eruption destroyed the towns of Tabacon and Pueblo Nuevo. It was one of the worst natural catastrophes in Costa Rica and locals remember it clearly to this day.
Arenal Volcano is currently active. It used to spew lava and throw rocks before 2010 but after 2010, it has been quiet and only smoking. However, Arenal Volcano is still very active and people from all over the world visit to see this majestic volcano in the rainforest.
Location
Arenal Volcano National Park is in the northern lowlands of Costa Rica. The main town near the park is La Fortuna which is the main tourism hub where all the tour companies, restaurants, hostels and other businesses are.
Map of Arenal Volcano National Park

Arenal Volcano is 148 kilometers (92 miles) northwest of San Jose in the province of Alajuela, district of La Fortuna.

How to Get to La Fortuna

Driving
From San José: The shortest way from San Jose to Arenal is through Inter-Americana highway passing through San Ramon and La Tigra. This route takes about 3 and a half hours.
From Liberia: Take InterAmericana highway south, turning left to Cañas and pass through Tilarán. Drive all the way around Lake Arenal to reach the national park, turn right This route takes roughly 3 hours.
You do not need a 4×4 for this route, all the roads are completely paved. It does get quite curvy and windy however so make sure to take anti-nausea medicine if you easily get car sick. Click here to get our Costa Rica car rental discount!
Shuttles
There are many shuttle companies that service from San José/Liberia to La Fortuna. The cost of a one way ticket per person is around $54. Private shuttles are also available and cost around $180-200 USD total for 1-4 people one way.
Bus
There are direct public buses from San Jose to La Fortuna. Public buses cost around $5 USD, takes about 4-5 hours and leave 3 times a day: 615 AM, 840 AM and 1130AM from San Jose.
From Liberia, you need to first take a bus to Canas, then Tilaran and then to La Fortuna. I suggest taking the 10 AM bus from Liberia to Canas, there are tons of buses about every half hour from Canas to Tilaran and then take the 12:30 PM bus to Fortuna. Tilaran to Fortuna runs at 7 AM, 12:30 PM and 3:30 PM and costs 2,690 colones.
Flights
La Fortuna has its own airport. Domestic flights are available. They cost around $90 one way depending on where you are coming from.
Taxi Boat
If you are coming from Monteverde, there are companies that have taxi/water taxi services between Monteverde and Arenal. This takes around 3 hours and costs around $25 per person.
Arenal Volcano National Park Directions from La Fortuna
The national park entrance is on main road from La Fortuna to Tilaran. The entrance will be on your left hand side coming from Fortuna and it turns into an unpaved road. There are plenty of signs so you can't miss it. Drive about 10 minutes on this road and you will see the parking lot and entrance on your left hand side. You don't need a 4×4.
Unfortunately there isn't a bus that goes all the way to the park entrance. The closest the bus can take you is at the intersection off the main road and then you will need to walk or hitch a ride the rest of the way.
If you don't have a car, you can take a taxi or book a tour to the park with a tour company that includes transportation. Last time I checked, a taxi ride from La Fortuna to the national park costs around $20 USD one way.
There are some Ubers in La Fortuna to check the app to see if you can get one to the park. The only thing is that you will need to ask your driver to hang out so you can get a ride back.
Entrance Fee and Hours
The Arenal Volcano National Park entrance fee is $15 USD for adult foreigners and $5 USD for children. The park is open daily 8 AM to 4 PM.
Arenal Volcano National Park Hiking Trails
The national park is best for hiking and seeing the volcano and lava trails. The trails, Sendero Colada 1968 and Tucanes are relatively short at 3.4 and 2 kilometers (2.1 miles and 1.2 miles), going through secondary forest and lava fields.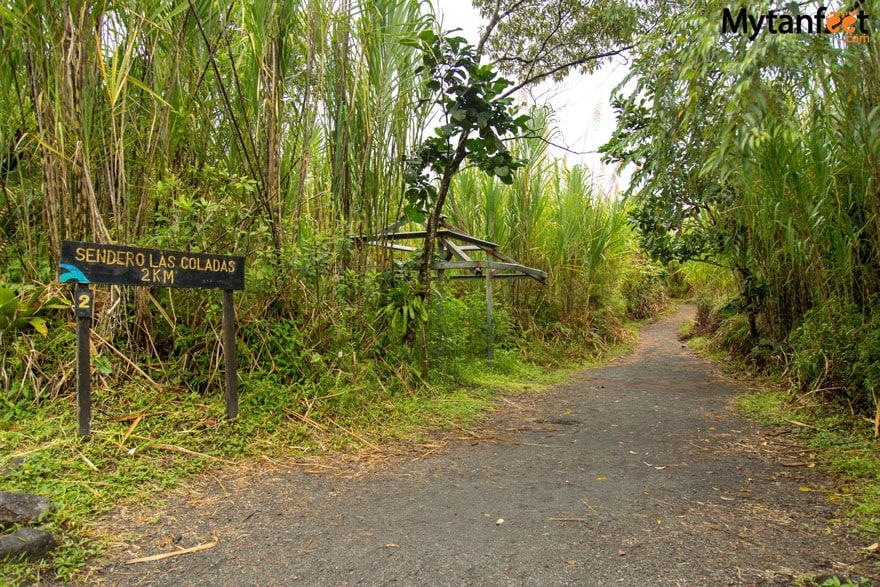 Lava Flow Trail
Follow the Coladas de Lava (Lava flow) trail and you will walk out of the forest and through some lava fields. You will come to a clearing of lava rocks where you will get a spectacular view of the volcano. If it's a clear day, you can see it in all its glory!
Tip: If the volcano is covered in clouds, wait at least 15-20 minutes. Right before this photo was taken, the volcano was nowhere to be seen so we waited for 30 minutes and the clouds went away for a few minutes, allowing us to see Volcan Arenal.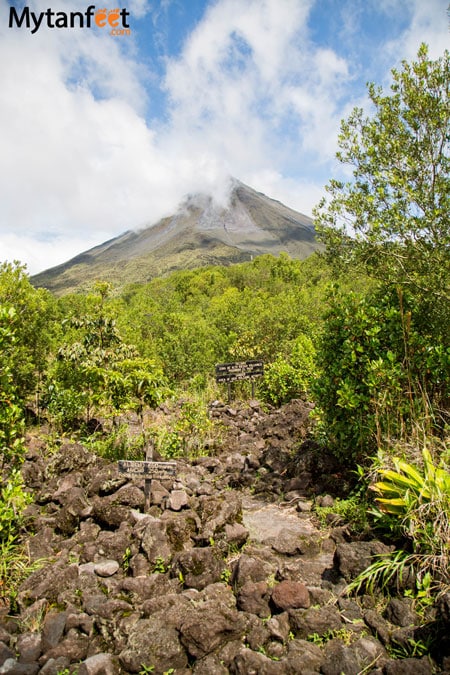 At the lava rocks, you can see Arenal Volcano on one side and Lake Arenal on the other. If it's a sunny day, you can see all of the rolling hills surrounding the lake and it is simply breathtaking.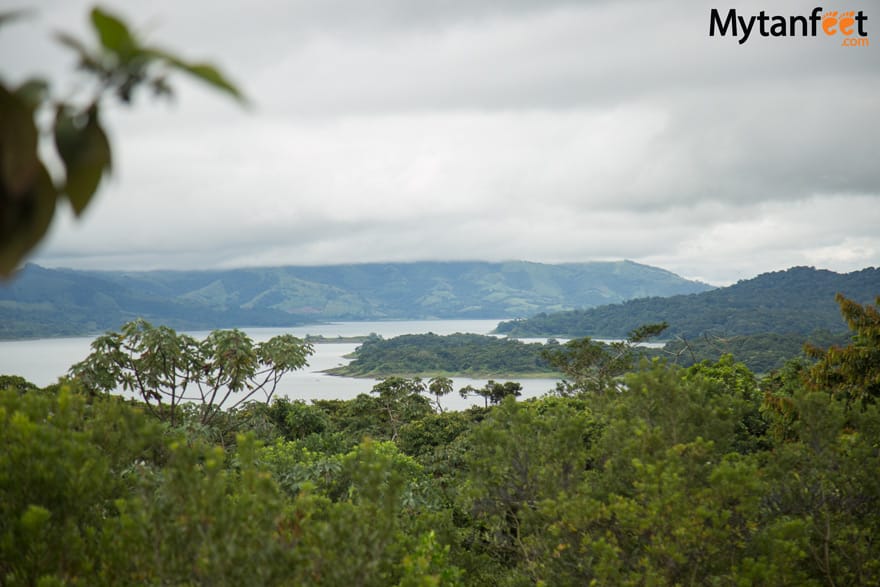 You don't need to be in super great shape to hike the national park as the trails aren't very long or steep. There is a short section up to the lava rocks where it is a little steep and you need to be careful walking around the rocks so if you have bad ankles/knees or have a lot of trouble walking on rocks or on uneven surfaces, we don't recommend it.
The rest of the hiking trails are fairly flat through the forest and tall grass.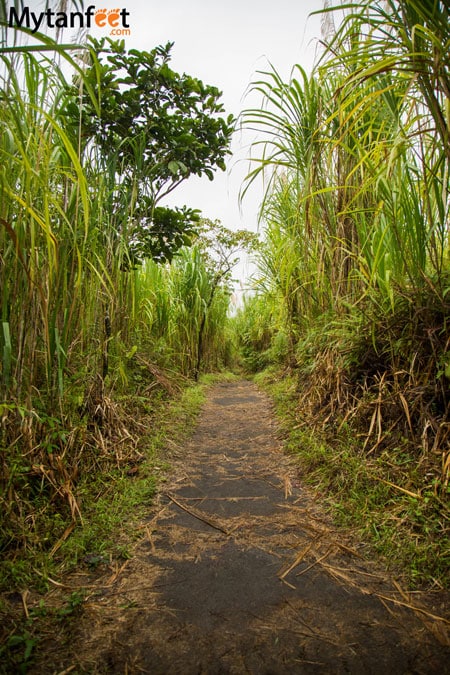 El Ceibo Trail
There is also a short trail to a large Ceiba tree, Sendero El Ceibo. This tree is huge!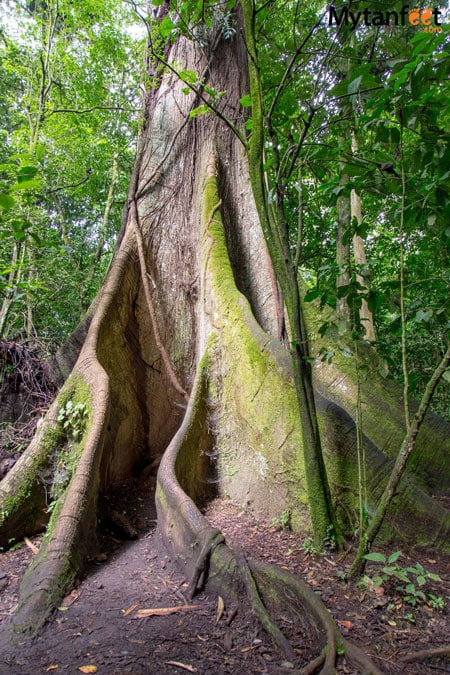 You can easily spend a couple of hours walking through the park and enjoying the scenery. The best time to go is as soon as it opens in the morning so you have more chances to see birds and not run into as many people.
Self Guided or Guided Hike (Tour)

You can hike on your own in Arenal Volcano National Park or you can book a tour that includes transportation, national park fee and a guide. It's nice to go with a guide who can explain more about the volcano, the eruptions and landscapes so you can appreciate the importance of the volcano and learn more about the area. A guided tour with transportation, national park fee, bilingual guide and refreshments costs around $65 USD per person.
Many tour companies combine this with hot springs you can do an Arenal Volcano guided hike + Baldi/Tabacon/Ecotermales hot springs which is very nice. This costs more, depending on the hot spring ($110 USD per person and up) and includes the hot spring pass, Additionally, you can choose to add on dinner for a little more.
Hiring Just a Guide
There are no guides at the ranger station to hire so if you want a guide, you will need to find one beforehand. If you have a car and want to hire a guide (not book a full tour), you can hire a guide from any of the tour companies in La Fortuna. Generally how it works is that you will pick them up at their office in your rental car, they'll go with you to the places you want to go for the guided activity and then you will drop them off back in town. Depending on the company and the guide, it costs around $70-90 USD for a half day and $140 USD for a full day.
*If you want to book a tour or hire a guide, contact us! *
Other Arenal Volcano National Park activities
Outside the national park are a ton of fun activities including hot springs, La Fortuna waterfall, ziplining, white water rafting, canyoning, hanging bridges and horseback riding. There are also other private reserves for hiking, such as Arenal 1968 which is next to the park. This reserve also has great hiking and viewpoints of the volcano and is open until 6 PM.
Check out our top picks for things to do in La Fortuna and Arenal!
Wildlife
Though the La Fortuna and Arenal area is a great place for wildlife, the national park isn't the best. There is not as much wildlife since the forests on that side of the volcano were destroyed but you can see some birds like toucans, parrots and oropendolas.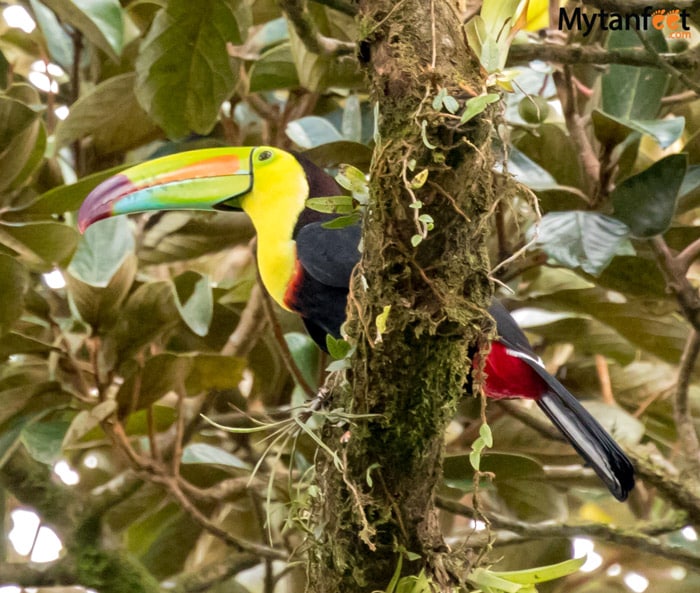 You will need to go to the primary rainforests around La Fortuna and near the lake to see more wildlife.
Arenal Volcano National Park Weather
This area experiences typical tropical weather with a consistent rainy and dry season pattern. The weather can be quite unpredictable in rainy season with sunny mornings and rainy afternoons. Temperatures are usually in the high 80s F during the day in summer (28-30 Celsius)
When it comes to seeing the volcano clearly, it's a bit of luck. Dry season doesn't bring as much clouds but even if it looks completely cloudy, keep an eye out. When we visited last July, it rained almost 3 days straight but we got a few minutes of the volcano 100% clear! Early mornings are the best times to see the volcano completely clear, around 6 AM.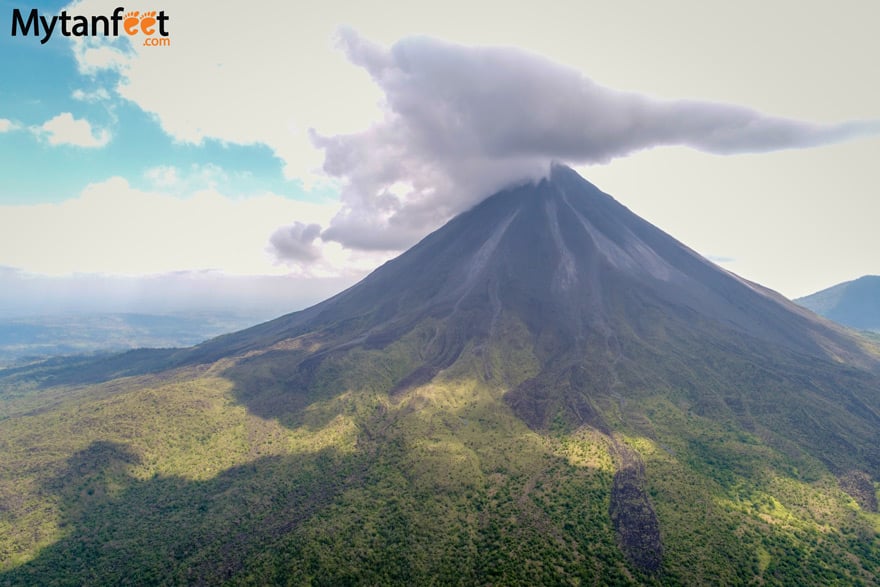 We usually visit in July and November and it always rains when we're there but we still get some moments of sun. If you're visiting during rainy season, make sure to pack properly for rainy season!
Arenal Hotels
Here are our hotel recommendations.

If you're looking for a luxury stay, check out our list of luxury hotels in Arenal.
You can also check out Airbnb. Read about our Arenal Airbnb here and get $40 credit!
Tips for Visiting Arenal Volcano
Hiking: You don't need to wear hiking boots or shoes. You can wear running shoes, trainers or closed toed hiking sandals as the trails are well laid out. You do need to have closed toed shoes as you will be walking on rocks.
If you're visiting in rainy season, I highly recommend bringing a rain jacket and waterproof backpack.
We highly recommend visiting the national park with a guide but if you're on a budget or would rather do it yourself, that's perfectly fine too. You can get a map at the entrance and signage is very clear so you can't get lost.
Don't walk off the trails or touch the trees/bushes. There can be snakes or frogs living there!
More Costa Rica national park guides here!

This post has affiliate links