Arenal Volcano National Park is one of the most most visited national parks in Costa Rica with several hiking trails and view points, making it a great activity from La Fortuna. It's also an excellent way to experience and see an active volcano up close.
Read our Arenal Volcano National Park to plan your visit.
Arenal Volcano National Park
There are two sectors of the national park: the Sector Peninsula and the main visitor center. Each sector can take around 4 hours to hike through the trails, so you can arrive at the park at 8 AM when it opens, leave around noon and plan another activity in the afternoon.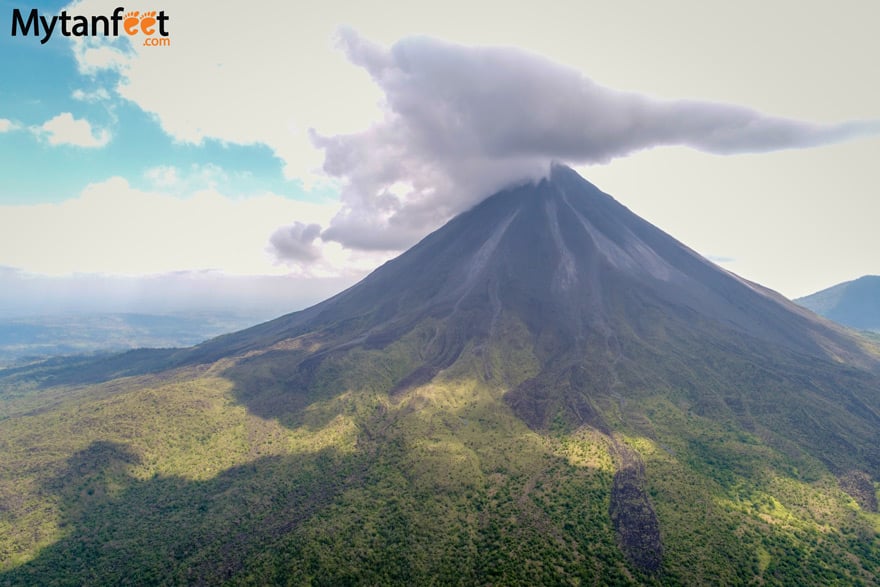 Entrance Fee and Hours
The Arenal Volcano National Park entrance fee is $15 + tax USD for adult foreigners and $5 USD + tax for children. The main visitor center is open daily from 8 AM to 4 PM. The Peninsula sector is open daily from 8 AM to 5 PM, last entry is at 4 PM.
Park tickets are for one time entrance only so if you want to visit both sectors, you will have to visit both in one day. Just show your park ticket to the office.
Payment for park tickets are by credit card only – no cash payment accepted.
How to Get to Arenal Volcano National Park
The closest town to Arenal Volcano National Park is La Fortuna, about a 20 minute drive away. La Fortuna is the main town and tourism hub of the area. Arenal Volcano is 148 kilometers (92 miles) northwest of San Jose.
Driving
Main Visitor Center:
The drive from La Fortuna to Arenal Volcano National Park (main lava flow trails) is about 20 minutes. You don't need a 4×4 for Arenal Volcano National Park and you can set your GPS or navigation device destination as "Arenal Volcano National Park Visitor Center" which will lead you to the main parking lot of the lava flow trail sector.
Sector Peninsula:
To get to the Peninsula Sector, you need to set your navigation device destination as "Volcan Arenal Sector Peninsula National Park." This will lead you to the office of the Peninsula sector which is in a completely different area than the main visitor center. It is about a 30 minute drive from La Fortuna.
The road is not paved once you turn off the main road, so drive carefully if you don't have a high clearance car.
Public Bus
Unfortunately there isn't a bus that goes all the way to either park entrances. To get to the main visitor center of the park, the closest the bus can take you is at the intersection off the main road and then you will need to walk or hitch a ride the rest of the way. However, this walk will be around 45 minutes or so as it is a couple miles away to the visitor center.
This is the same for the peninsula sector, you can ask the bus driver to drop you off near the bridge but you will have to walk about an hour or so to the Peninsula office.
We do not recommend doing this as it is complicated and there are not frequent buses to take back to La Fortuna. If you don't have a car, we recommend to take a taxi.
Taxi/Uber
There are some Ubers in La Fortuna and around the national park. For official red taxis, there are many in the main park of La Fortuna. It can cost approximately $10-25 USD per way in an official taxi/Uber.
Arenal Volcano National Park Sectors and Hiking Trails
The national park now has two sectors: The Peninsula and the Lava Fields Sector. Both are wonderful for leisurely hiking.
Mirador and Lava Field Trails Sector
The national park is best for hiking and seeing the volcano and lava trails. The trails, Sendero Colada 1968 and Tucanes are relatively short at 3.4 and 2 kilometers (2.1 miles and 1.2 miles), going through secondary forest and lava fields.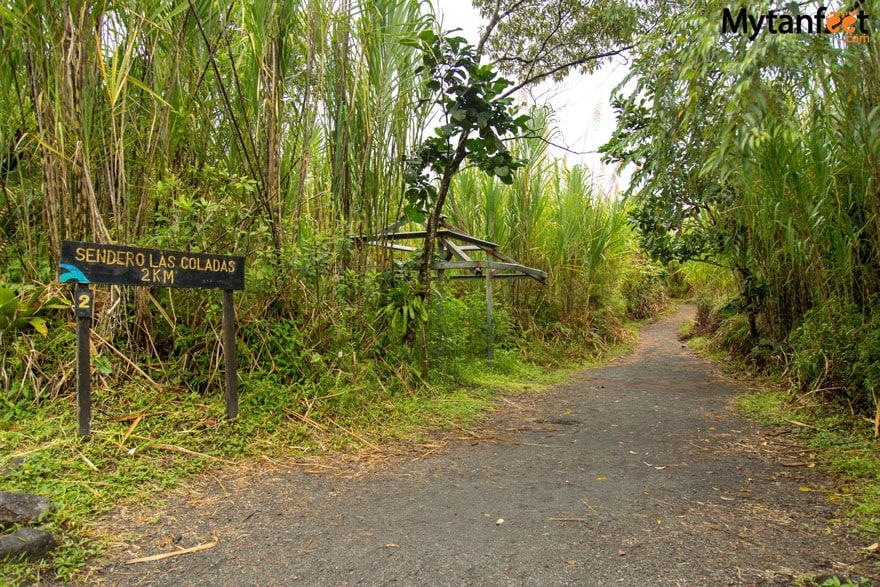 Arenal Volcano Facts: There are 2 volcanoes in this national park – Arenal and Cerro Chato. Cerro Chato is completely dormant. Arenal Volcano is active, although it is now only smoking. Before 2010, it used to spew lava and rocks.
Lava Flow Trail
In 1968, the Arenal Volcano eruption destroyed the towns of Tabacon and Pueblo Nuevo. It was one of the worst natural catastrophes in Costa Rica. Nowadays, visitors can hike through the leftover lava rocks of the eruption.
Follow the Coladas de Lava (Lava flow) trail and you will walk out of the forest and through some lava fields. You will come to a clearing of lava rocks where you will get a spectacular view of the volcano. If it's a clear day, you can see it in all its glory!
Tip: If the volcano is covered in clouds, wait at least 15-20 minutes. Right before this photo was taken, the volcano was nowhere to be seen so we waited for 30 minutes and the clouds went away for a few minutes, allowing us to see Volcan Arenal.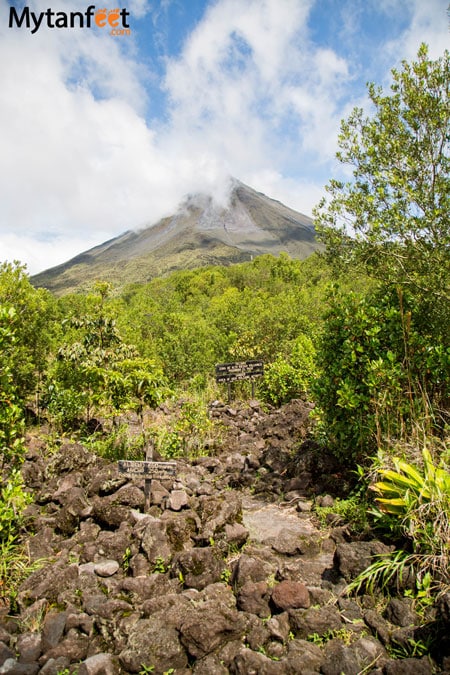 At the lava rocks, you can see Arenal Volcano on one side and Lake Arenal on the other. If it's a sunny day, you can see all of the rolling hills surrounding the lake and it is simply breathtaking.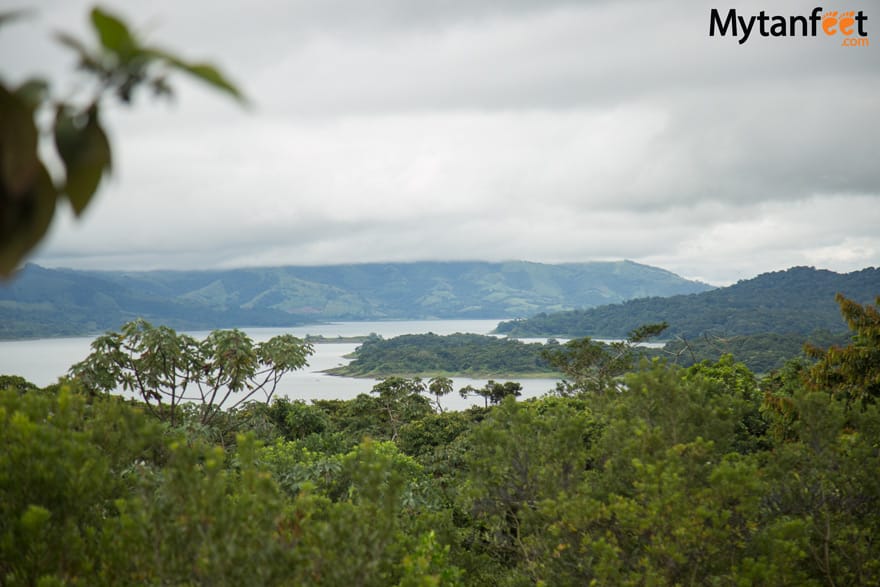 You don't need to be in super great shape to hike the national park as the trails aren't very long or steep. There is a short section up to the lava rocks where it is a little steep and you need to be careful walking around the rocks so if you have bad ankles/knees or have a lot of trouble walking on rocks or on uneven surfaces, we don't recommend it.
The rest of the hiking trails are fairly flat through the forest and tall grass.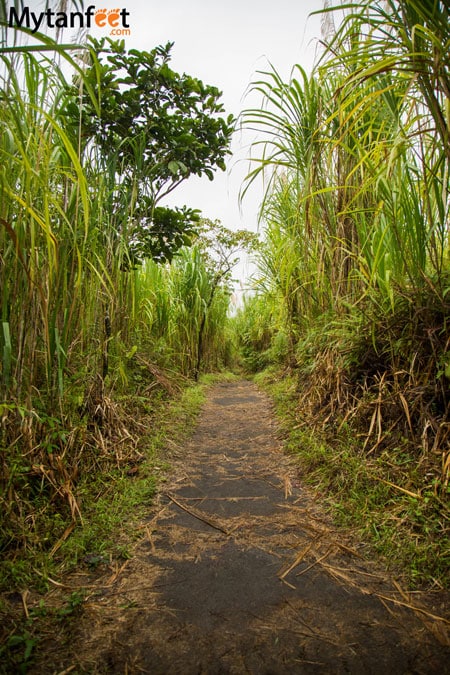 El Ceibo Trail
There is also a short trail to a large Ceiba tree, Sendero El Ceibo.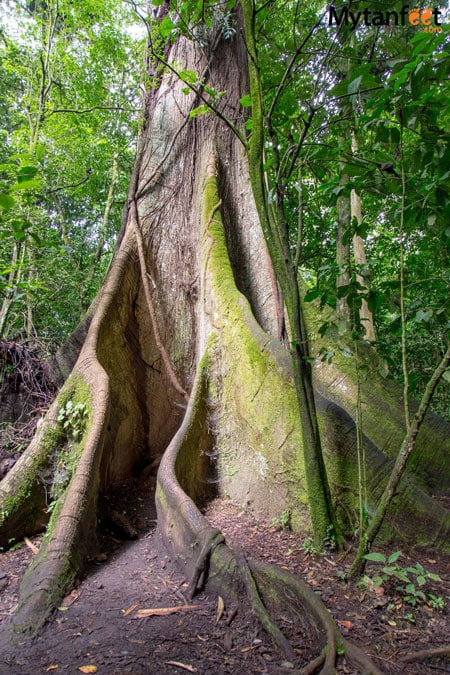 You can easily spend a couple of hours walking through the park and enjoying the scenery. The best time to go is as soon as it opens in the morning for the weather as it is not as hot.
Make sure not to walk off the trails and never touch any trees, leaves, bushes, etc. Snakes, frogs, insects, etc. can be living in there!
Pro tip: Always bring a rainjacket, no matter what time of year you are visiting. This area is proper rainforest! Also we highly recommend closed toed shoes like sneakers, comfortable walking shoes, trail running shoes, light hiking shoes. Get our Costa Rica packing list for more tips.
Arenal Volcano National Park Sector Peninsula
There is another sector of the national park that has breathtaking views of Lake Arenal and Arenal Volcano. It has two well marked, flat trails with viewpoints to enjoy.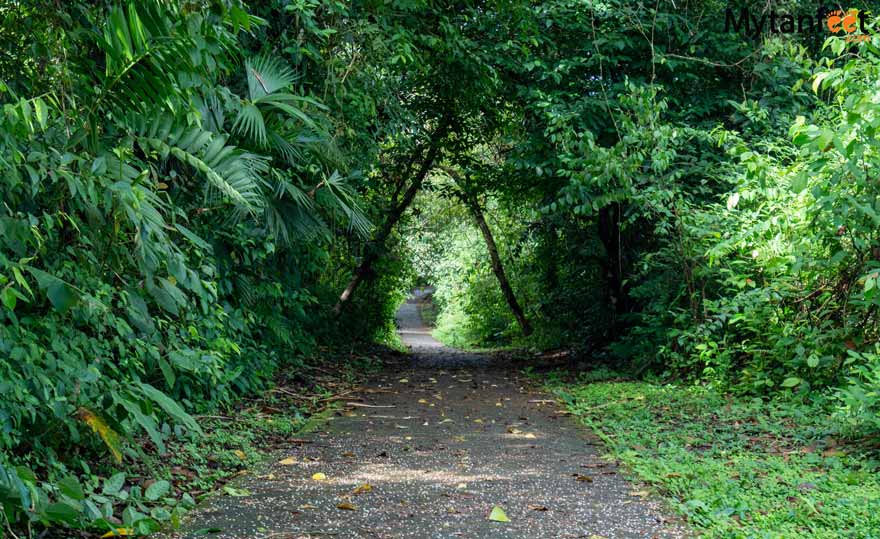 As these trails do not go through any lava flow or rocks, they are better for those who may not be able to walk for long periods of time on uneven surfaces. It is less crowded than the main visitor center and has an observation tower with spectacular views of the volcano and lake.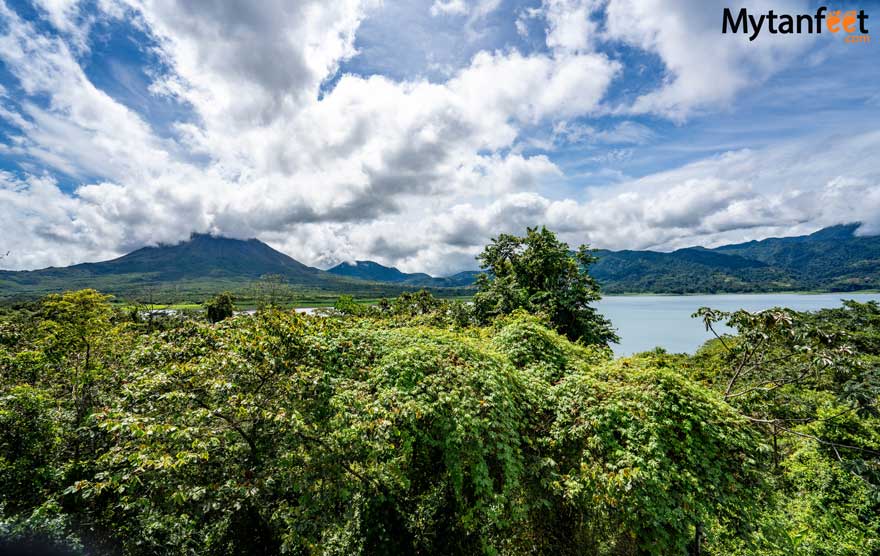 The Los Miradores trail is 1.2 km (.7 miles) and El Tororoi trail is 600 meters (.4 miles) one way. You can easily do both!
Can You Visit Arenal Volcano On Your Own?
Yes! You can visit the Arenal Volcano National Park on your own – you do not have to go with a guide. However, if you want to learn more about the volcano, the surrounding rainforest and the area, having a guide is wonderful. They will also point out wildlife and share interesting facts about the area.
Our partner offers a tour of the Peninsula Sector for views of Lake Arenal combined with a boat ride to see a close view of Arenal Volcano. Want to book this tour? Book it here with our La Fortuna tours discount!
You can also watch our video below on the Lake Arenal boat + Peninsula trail tour!
Hiring a Guide to Arenal Volcano National Park (no transportation)
There are no guides at the ranger station to hire so if you want a guide, you will need to find one beforehand. If you have a car and want to hire a guide (no transportation), you can hire a guide from any of the tour companies in La Fortuna.
Generally how it works is that you will pick them up at their office in your rental car, they'll go with you to the places you want to go for the guided activity and then you will drop them off back in town. Depending on the company and the guide, it costs around $70-90 USD for a half day and $140 USD for a full day. You also need to purchase park tickets for your group and the guide.
*If you want to book a tour or hire a guide, contact us! *
Wildlife
Though the La Fortuna and Arenal area is a great place for wildlife, the national park isn't the best. There is not as much wildlife since the forests on that side of the volcano were destroyed but you can see some birds like toucans, parrots and oropendolas.
If you want to see sloths, you should check out the Bogarin Trail. It's an easy 1 kilometer trail through a forest in downtown Fortuna that is home to many sloths and birdes!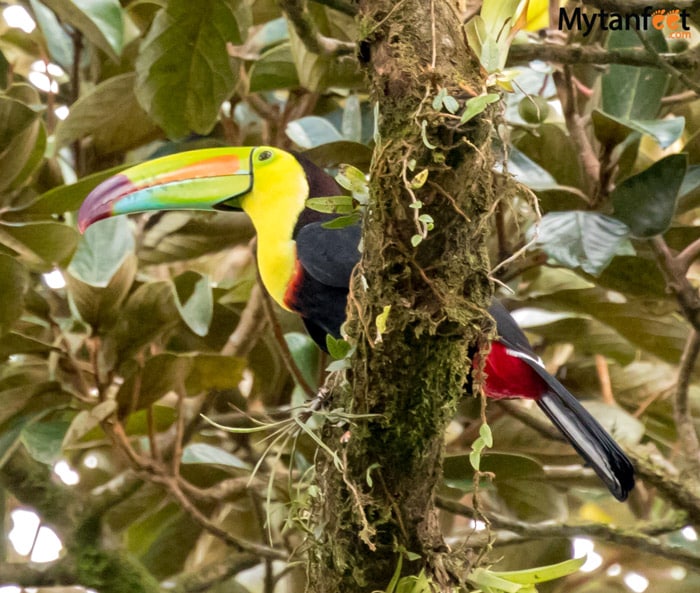 The Peninsula Sector however has a lot of wildlife as it is a mature secondary rainforest. There are more possibilities to see animals like monkeys, agoutis, peccaries and birds.
Arenal Volcano National Park Weather
This area experiences typical tropical weather with a rainy and dry season. Dry season is roughly December to April, rainy season is May to November. However, as this area is proper rainforest in the Northern Highlands, it can rain any time of the year, even in the dry season.
When it comes to seeing the volcano clearly, it's a bit of luck but it is possible to see it clear anytime of the year. When we visited last July, it rained almost 3 days straight but we got a few minutes of the volcano 100% clear! Early mornings are the best times to see the volcano completely clear, around 6 AM.
If you're visiting during rainy season, make sure to pack properly for rainy season!
Arenal Hotels
Here are some of our recommendations in La Fortuna and near Arenal Volcano.
If you're looking for a luxury stay, check out our list of luxury hotels in Arenal. You can also check out Airbnb and VRBO for vacation rentals.
More Costa Rica national park guides here!
This post has affiliate links