If you're planning on visiting the enchanting Rio Celeste, Costa Rica then here is everything you need to know to plan the perfect visit so that you can see the sky blue river in the Tenorio Volcano National Park.
Rio Celeste, Costa Rica Facts
The story as told by the locals is that Rio Celeste got its stunning color when God dipped his brush in the river as he was painting the sky.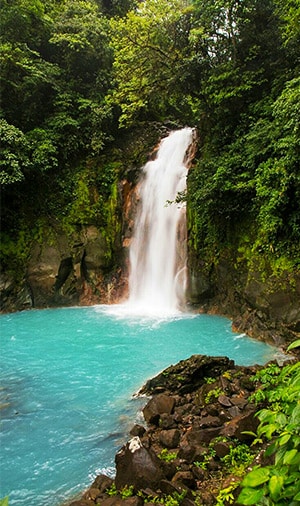 Scientifically, the color appears when two separate clear water rivers meet and a certain type of mineral coated in silicon, oxygen and aluminum remains suspended in the river.
The size, suspension and reflection of sunlight creates this vivid blue color in the water.
What to Know About Rio Celeste to Make Sure You See the Beautiful Blue Color
Plan your trip accordingly
Tenorio Volcano National Park is one of the five most visited parks in Costa Rica. Since they have a limited number of number of visitors per day, make sure to plan your trip accordingly if you are visiting during December through April as that is the busiest time of year.
For those times of year, especially on weekends, we recommend to arrive at the park in the morning before 9 AM. If you are visiting in low season months of May, June, August – November, it is not quite so busy and you don't necessarily need to get there super early.
Unfortunately you cannot pre-purchase park tickets so it is first come, first serve.
July is another busy month too.
The trails can get very muddy
The trails can get really muddy if it has been raining a lot in the area since majority of the trails are dirt. The first time we visited the national park in April 2016, it poured for about 30 minutes at the waterfall. From that rain, the trails got super muddy. We were covered up to our ankles in mud!
For our second time in September, it rained the night before. The next morning, the trails were dry with just a couple spots with mud. In January 2018, it was mostly dry, very cloudy.
In July, it had rained quite hard the day before but the trails dried up with only a couple spots of mud throughout the trail.
In March, it had rained really hard the day before and we had some spots with more mud but it was nothing bad.
Weather and What to Wear to Rio Celeste
Rio Celeste weather is generally hot and humid during the day being the rainforest. Average daytime temperatures are around low to mid 80s F (28 C)).
Keep in mind that this area doesn't follow the strict dry-rainy tropical season and it can rain during dry season (January – April).
Shoes: You can rent rain boots for $5 USD outside the park entrance. I personally love closed toed hiking shoes for Rio Celeste, specifically my KEEN hiking sandals. Yeison wore his waterproof KEEN hiking shoes.

If you are older or have ankle/knee problems, I recommend wearing good solid hiking shoes. There are a lot of rocks, steps and tree roots you have to walk on. No flip flops, no high heels, no open toed sandals for anyone.

Clothing: You don't need long hiking pants, shorts will do fine. We personally recommend clothes that dry fast and wick away moisture because it is very humid.
Gear: Bring waterproof rain gear, especially if you're bringing camera equipment. We brought a heavy duty poncho, our North Face rain jackets, Aqua Quest waterproof backpacks and a backpack rain cover.
Hiking Poles: If you're older with knee/ankle problems, hiking poles are recommended to go downhill on the steps and the uneven paths.
Mosquito Repellent
Remember, single use plastics are not allowed in the national park so make sure to bring a filled reusable insulated water bottle!
Rio Celeste, Costa Rica hiking difficulty and time
The trail is not terribly long or difficult. There isn't an intense elevation climb or any switchbacks. However, there are around 150 or so very steep steps to the waterfall.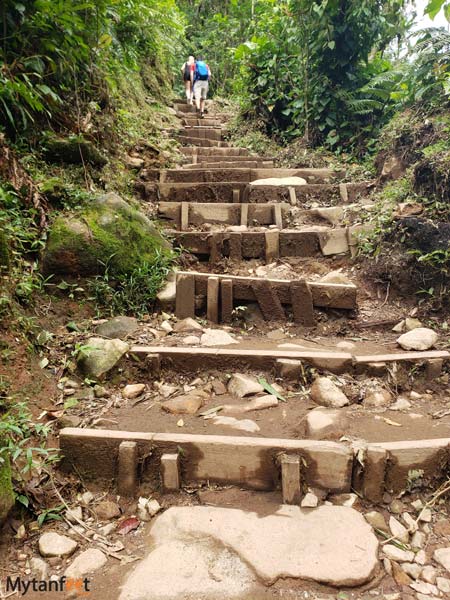 Additionally, there are many big rocks and tree roots you have to walk on as it's a natural path.
As for how long the hike is, the Rio Celeste hike is 3.7 miles (6 km) total and takes around 3 hours on a good day.
With super muddy trails like our first time, it took us around 5 hours. We also did spend more time taking photos.
You do not need a guide, you can perfectly visit Rio Celeste on your own. It's a straightforward trail with plenty of signage, you can't get lost!
The Trails
*You will see more photos of the trail down below in the post.* The first section of the trail from the entrance to the waterfall is on a very nice and flat trail. It is mostly dirt but goes from concrete to dirt a few times and passes by one suspension bridge. The walk from the entrance to Rio Celeste Waterfall takes around 30 minutes.
Once you reach the waterfall entrance, there is a set of steep stairs with handrails to go down to the waterfall. It's not impossible, but take your time going back up.
Unfortunately no part of the Rio Celeste trail is handicap friendly. The trail is mostly a natural path (roots, loose rocks, big rocks, etc.).
You don't need to be in amazing physical condition to hike the trails but if you are not in good condition to walk at least 3-4 miles at a time, have bad knees or ankle problems that won't allow you to walk on uneven surfaces or steps, I recommend going to just the waterfall.
Some parts of the national park may be closed depending on the weather
The national park closes when there is extreme weather. Check the official Tenorio Volcano National Park Facebook page to see current conditions. Sometimes they will close the whole park, other times it will be just certain sections. Sometimes they may be fixing a bridge or trail so they may also close certain sections (especially in rainy season).
We highly recommend checking that Facebook page if you're visiting during rainy season.
Swimming is prohibited in the park
Swimming in Rio Celeste is strictly prohibited inside the national park.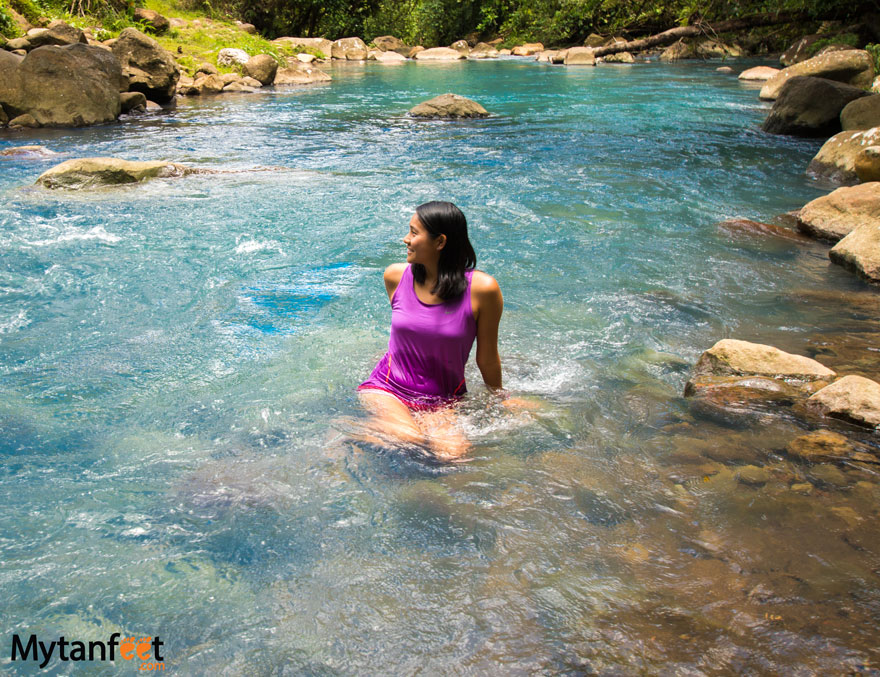 However, there is a free public entrance by the bridge 1 kilometer (~.6 mile) past the park entrance.
The public entrance is very nice, you can find a nice spot to sit between the rocks and walk down the river. The water is cold but feels so good!
It's one of the best free things to do in Costa Rica. On Google Maps, it is called "Rio Celeste Free Pool."
There is a dedicated parking spot on the side of the road for this free Rio Celeste swimming hole.
If you visit in the peak of rainy season, the river may not be as blue as dry season
You can visit in rainy season but sometimes, when the rains are incredibly heavy and constant, the river isn't as blue due to the sediment and run off. This is normally the months of October and November. Sometimes the beginning of December can be very rainy too.
When we visited in September, it poured the entire night before we went. We were told not to go super early in the morning so we went around 9:30 AM and the water was blue.
So don't worry if it rains the night before or even the day of, it takes a couple hours for it to go back to blue. We have seen the blue color every time we have visited Rio Celeste, even during rainy season.
However, we do know people who have visited in October, November and December and it was brown since it had rained incredibly hard for a few days in a row.
Visiting Rio Celeste with kids
You can definitely visit Rio Celeste with kids! We saw a ton of families and it's a great hike to work up a sweat with the family. Teenagers and active kids will love this hike.
If you bring your baby in a baby carrier, make sure you have enough stamina to carry them up and down the steep steps to the waterfall and the rest of the trail. Strollers are not allowed inside Tenorio Volcano National Park.
Location and Directions to Rio Celeste from La Fortuna and Liberia
Rio Celeste map
The closest town near Rio Celeste is Bijagua de Upala. Rio Celeste is inside the Tenorio Volcano National Park which lies in the middle of the country between Pacific and Caribbean around 500 meters (1640 feet) in elevation.
Directions
How to get to Rio Celeste from La Fortuna
The most common way to get from La Fortuna is through Guatuso and Upala. This route is on Waze and Google Maps. This drive is about 2 hours one way.
How to get to Rio Celeste from Liberia by Driving
You can use a GPS device, Google Maps or Waze. But don't just type in "Rio Celeste" because it won't pop up anything. You need to look for the parking lot or I like to put the restaurant outside the ticket office.
If you use Google Maps, put in "Parqueo del Parque Nacional Tenorio" as your destination. If you're using Waze, I recommend to enter "Soda El Pilón." (It is a restaurant right at the ticket office.)
You will know when you've reached the park entrance because you will see a lot of signs for parking. There will be locals waving flags, trying to get you to park in their spots.
You Don't Need a 4×4 in Dry Season
The road from Bijagua to the Tenorio Volcano National Park is paved with some potholes. It takes about 25 minutes or so. It is concreted the whole way so in dry season, you can get there with a sedan. However, is narrow and curvy so please drive slow and carefully.
Then if you are visiting during rainy season (May – November and December), we do recommend a 4×4 or 4wd since the the concrete road can get quite slippery and there are some steep hills.
Something else to note is that the speed limit is not really respected or well displayed here. The locals tend to tailgate and drive fast so if someone is tailgating you, don't get nervous. Keep going the speed you're comfortable at and they will pass you on their own accord. Don't try to pull over or speed up!
Shuttle or Bus
There are no buses or shuttles that go directly to the Tenorio Volcano National Park entrance. You must take a taxi, book a shuttle or hitch a ride from Bijagua. A taxi to the entrance costs around $30-40 USD.
Hours and Fee
The Tenorio Volcano National Park entrance fee for adults is $12 USD, $5 USD for children (ages 2-12). Credit/debit card only (Visa/Mastercard) – no cash. They will give you a paper ticket which you need to show the park ranger at the entrance of the park. The ticket office is right outside the park entrance and they also have good bathrooms.
Parking is 2000 colones per car. They will give you a slip of paper to leave on your dashboard.
Rio Celeste – Tenorio Volcano National Park is open every day from 8 AM to 4 PM and the last entry must be before 2 PM. They do not give out park maps but there are signs throughout the park and signage is excellent.
Rio Celeste, Costa Rica Map
Here is a map of Tenorio Volcano National Park.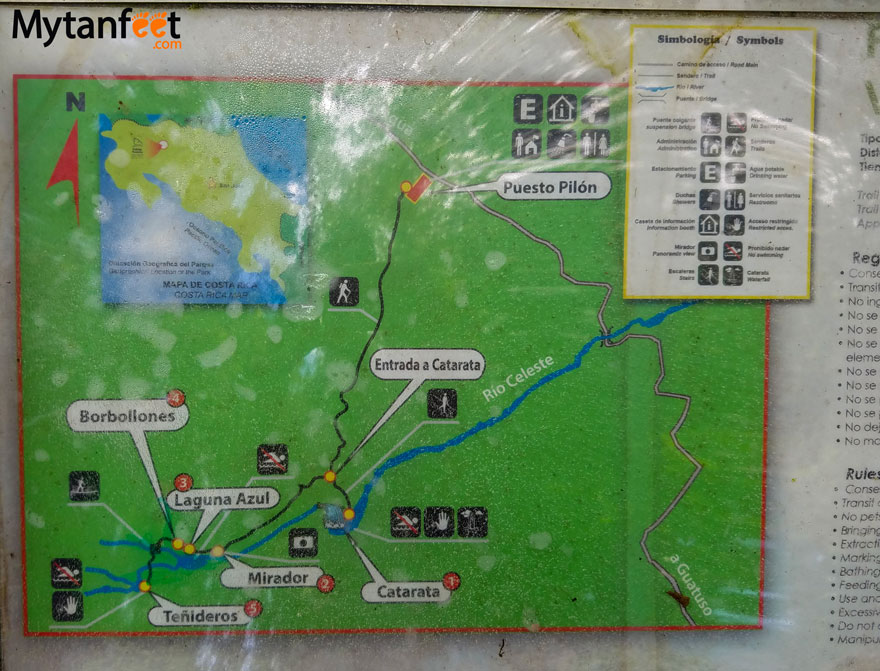 The orange square where it says "Puesto Pilon" is the entrance to the national park and start of the trail. Entrada a Catarata is where the steps are down to the waterfall. Catarata is the waterfall. Laguna Azul is the blue lagoon, Mirador is the view point. Borbollones is the area where the water is hot and bubbly (like a hot spring) and Tenideros is where the the two rivers meet.
Ticket Office and Entrance
This is the Tenorio Volcano National Park ticket office. There are bathrooms which we recommend to use before going in the park. There are no bathrooms or facilities inside the park.
Now they have marked areas for where visitors have to go. You will need to follow their marked paths and get in line to enter the park, they have markers for social distancing.
The guard will check your backpack before you can enter the park as single use plastics are not allowed in the park anymore.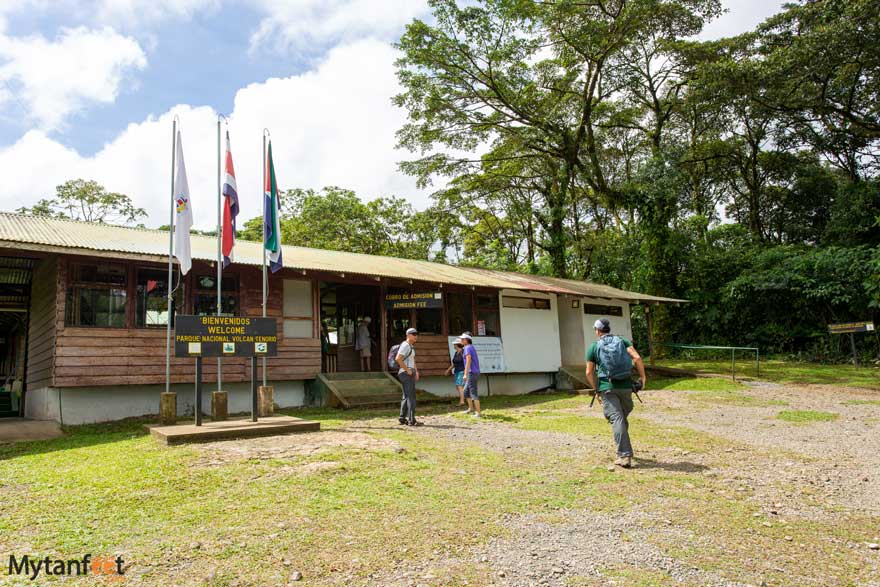 The ranger asked me if I had any cigarettes or knives, quickly checked my backpack and I went on my way.
Waterfall Trail (1.5 kilometers or .9 miles to waterfall steps from entrance)
The beginning of the trail is concrete surrounded by a verdant primary and secondary rain forest. The first part of the trail is to the waterfall, about a 30 minute walk.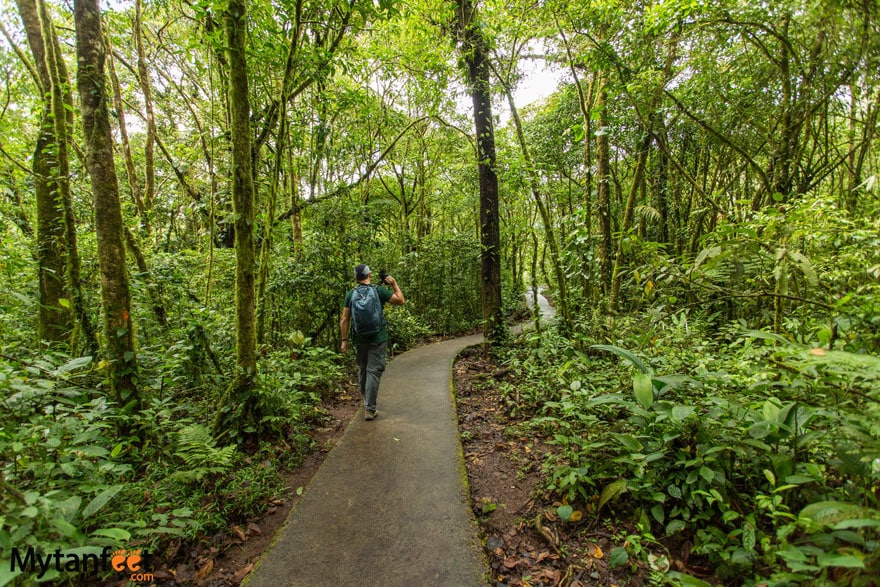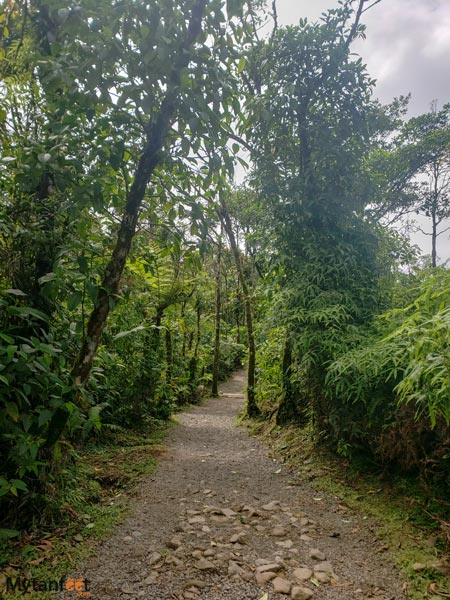 There is a very nice Tenorio Volcano National Park sign that makes for a nice photo.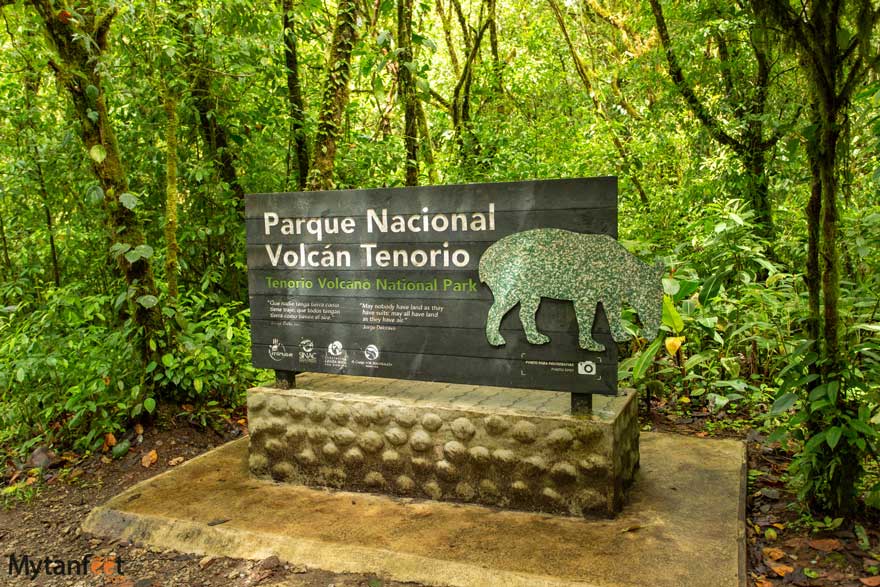 A little after, you'll cross a hanging bridge. We saw white face monkeys right by here!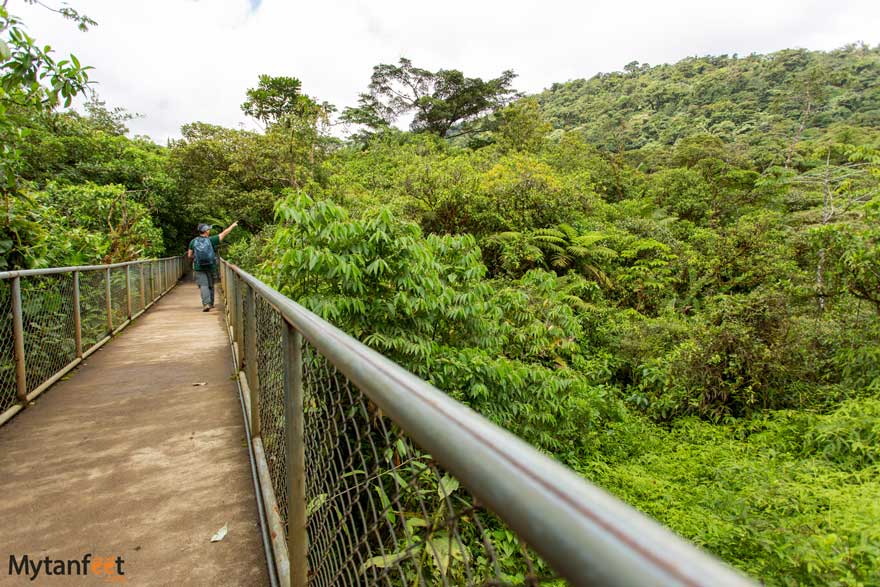 After walking through two very small creeks and the rest of the trail, you'll come to an area with a couple large signs and the stairway arch to the waterfall.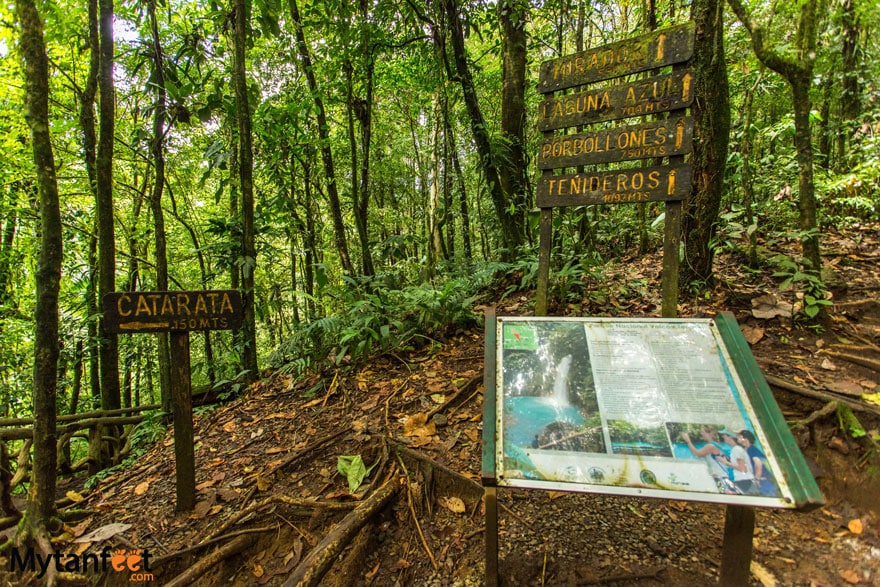 You'll reach a cross section where you can go down beautifully maintained steps to the waterfall. It is a bit steep so take your time! It is on nice steps with handrails. As you walk down, you get glimpses of bright blue through the trees. It is 150 meters or 490 feet down to the waterfall.
There are some great spots on the stairs to take very nice photos of the stairs and waterfall.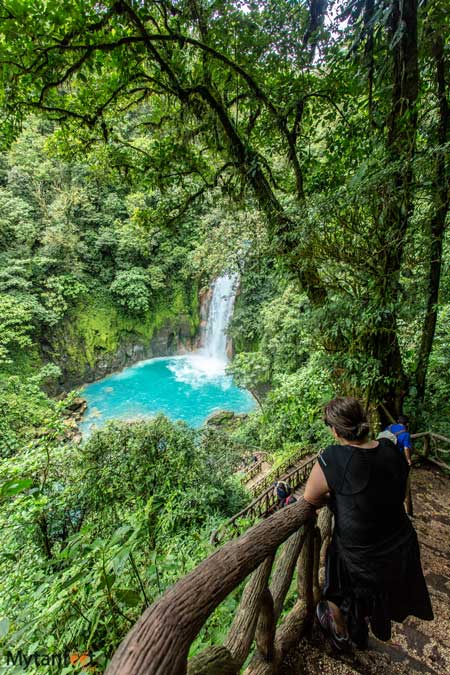 Once you reach the bottom, there is a nice viewing platform for photos.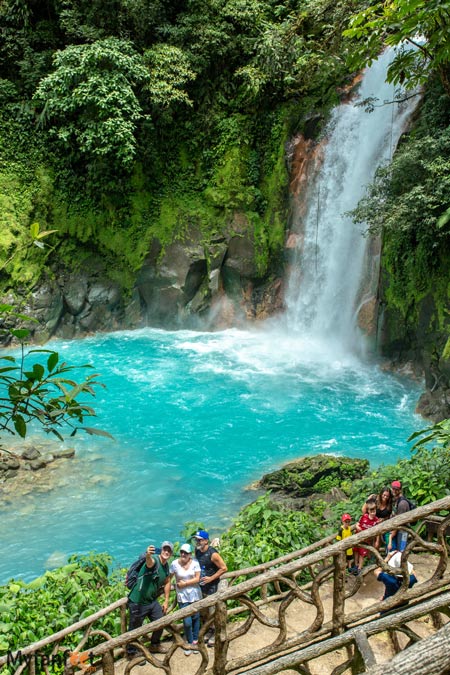 The waterfall greets you at the bottom and it is an incredible sight. I could've spent all day at this enthralling waterfall. You can't help but stare at the bright blue water!
Rio Celeste, Costa Rica Video
We managed to fly our drone for a little bit, check out what the river looks like from above!
Here is an aerial photo of Rio Celeste waterfall.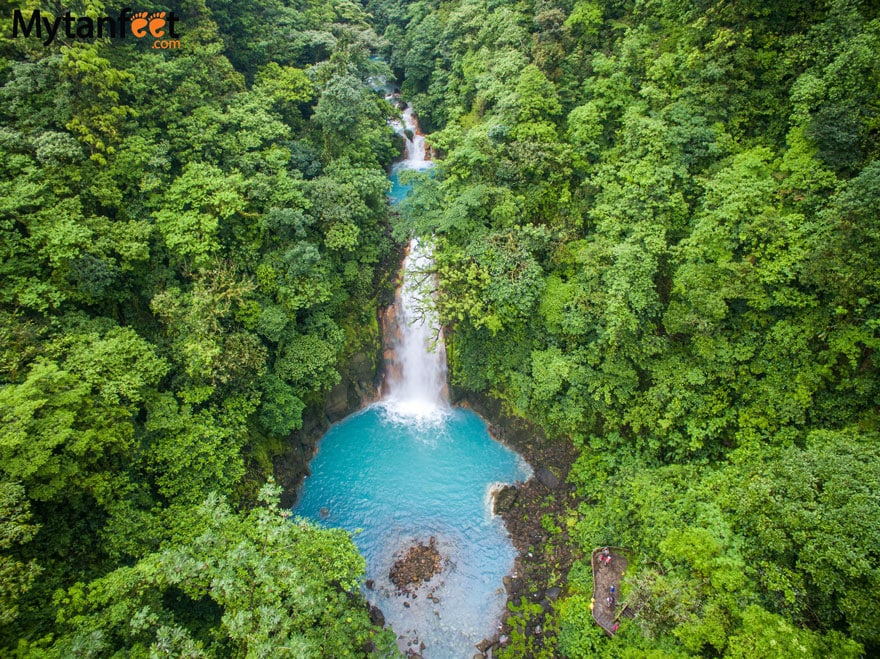 After you're done looking at the waterfall, head back up to continue on the rest of the trail. The steps are steep so take your time!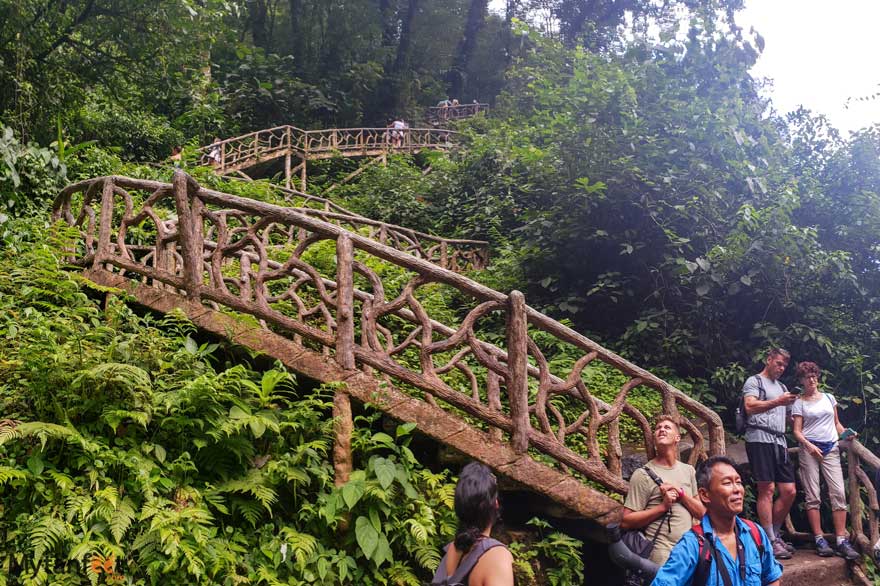 Mirador (550 meters, .3 miles)
This platform is currently closed as of March 2020. But you can still get a nice view of the jungle and there is a billboard with some information of the rainforest and area.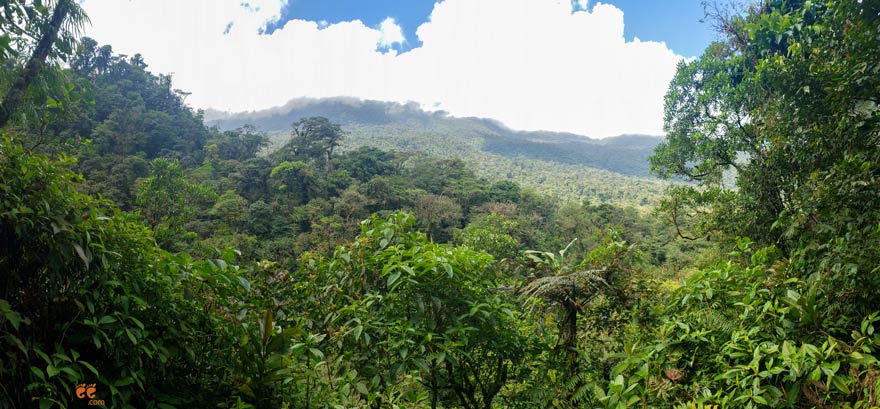 Laguna Azul (Blue Lagoon, 200 meters, .1 miles)
The Laguna Azul, or blue lagoon is the next stop. There are some steeper steps and large rocks going down to the blue lagoon.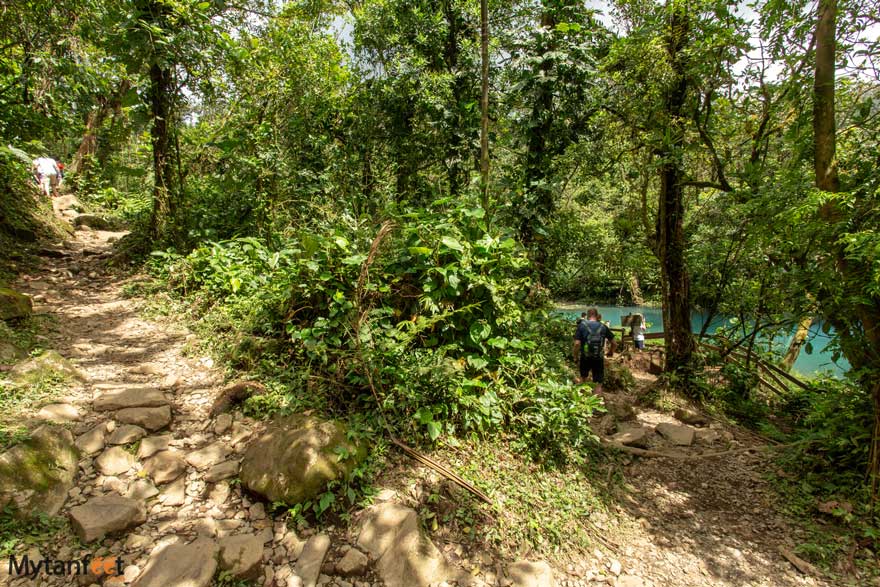 You can really see how blue it truly gets at this point!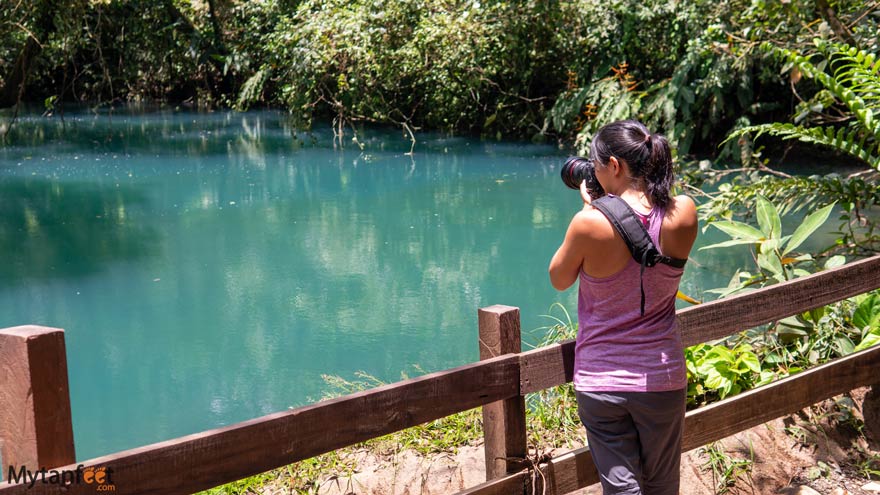 50 meters past the laguna azul are the bubbling thermal springs.
Borbollones (50 meters, 164 feet past blue lagoon)
Here you can see the boiling water section of the river. You can really smell the sulfur at this point so you can imagine just how hot that water is! Make sure to obey the signs and do not hop the fence, do not swim, do not enter the water.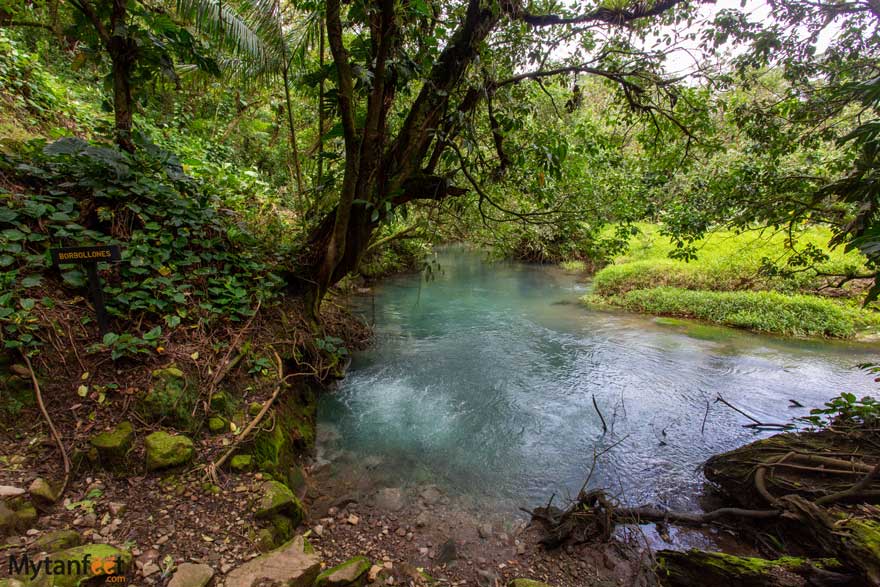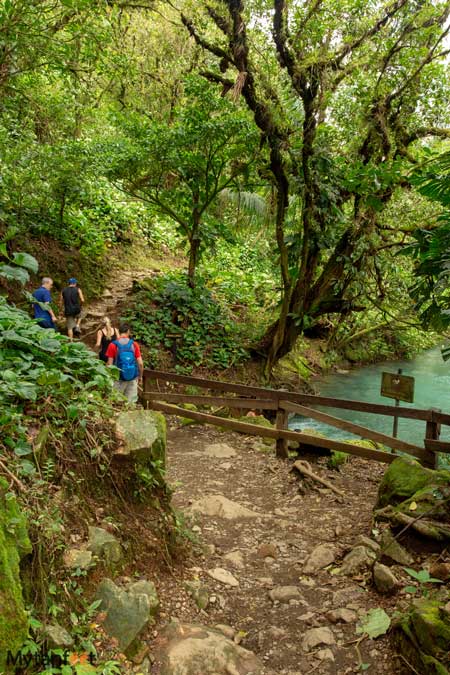 The last 300 meters or so of the trail are not to be missed. You'll see the bluest part of the river and where the two rivers meet to create this color.
Tenideros (last 300-400 meters, about 900-1000 feet)
There are two bridges to cross before you reach Tenideroes. The first goes over the normal river (no blue color).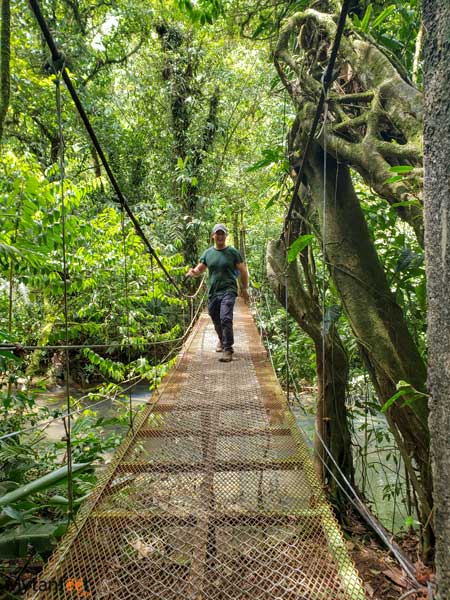 The second bridge goes over the blue river and it is absolutely gorgeous. On the other side, there is a small area past the trees to the right where you can get some photos of people on the bridge.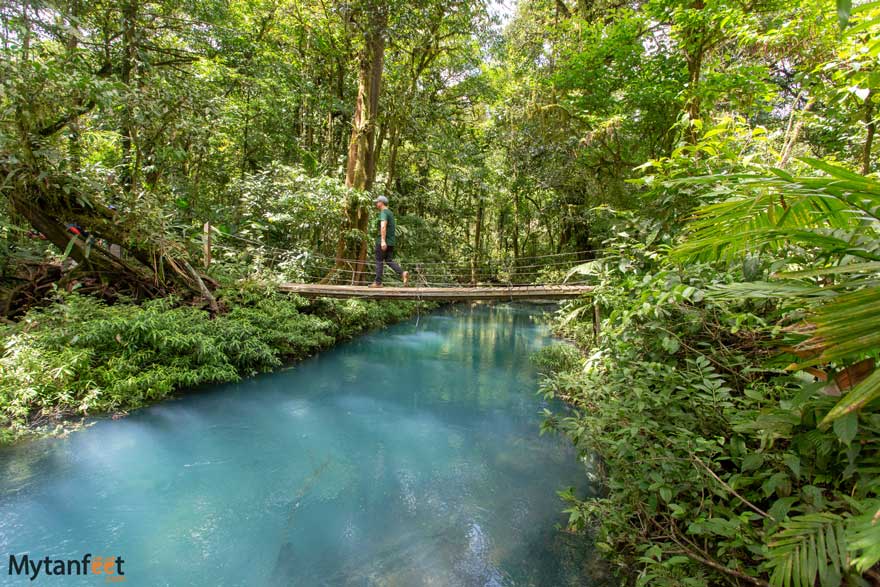 Cross the bridge and walk a tiny bit further to see where two different rivers meet to create one blue river.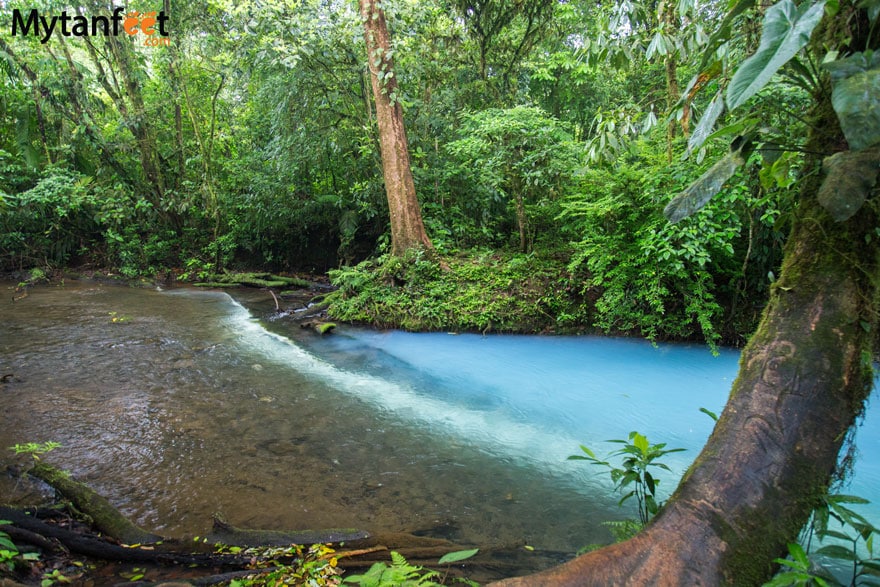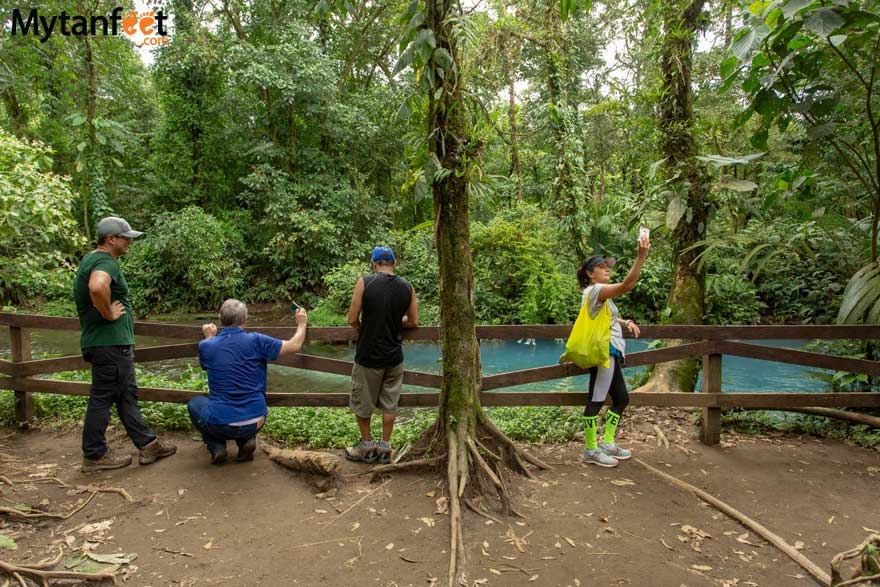 This is the coolest part of the hike, seeing where the color starts. There is a billboard in Spanish and English that explains exactly where the blue color comes from. And that's the end of the trail. Head back the same way you came and enjoy the rest of the hike! Make sure to take it slow and enjoy your time!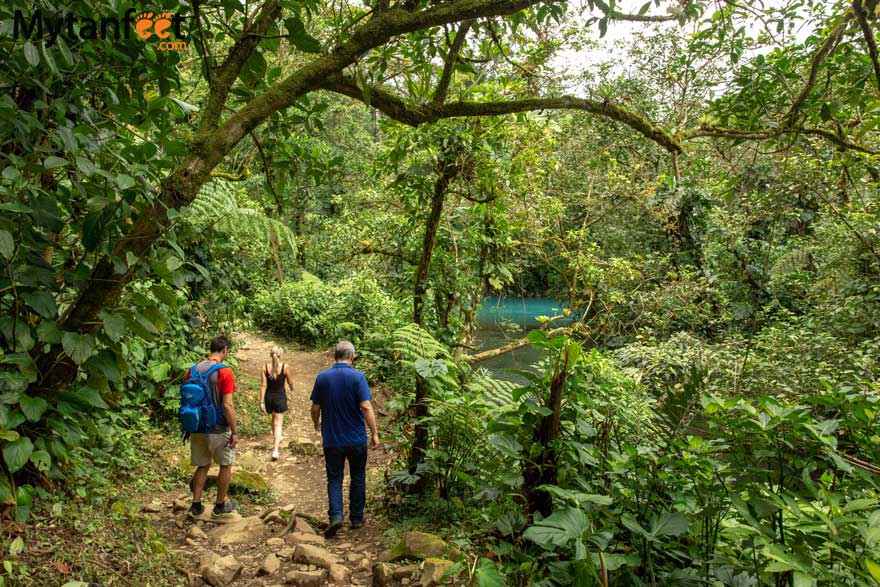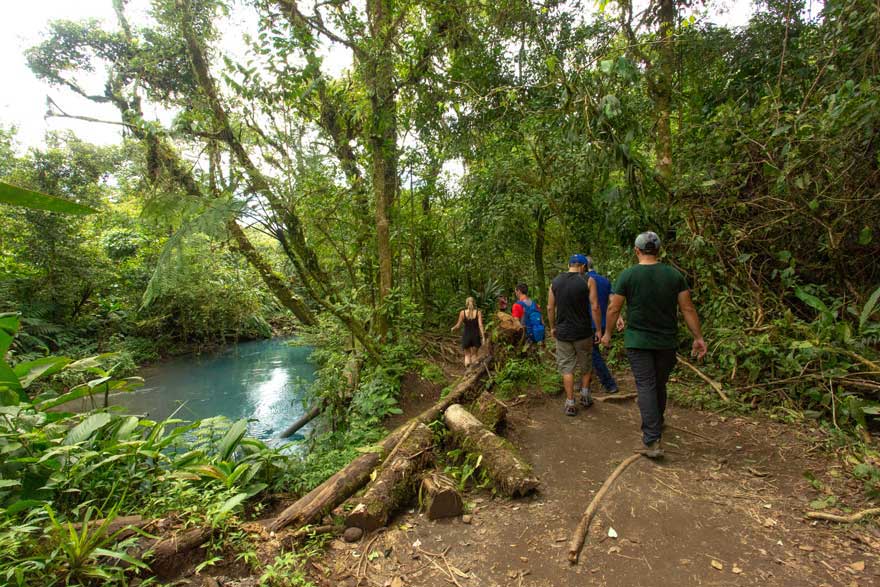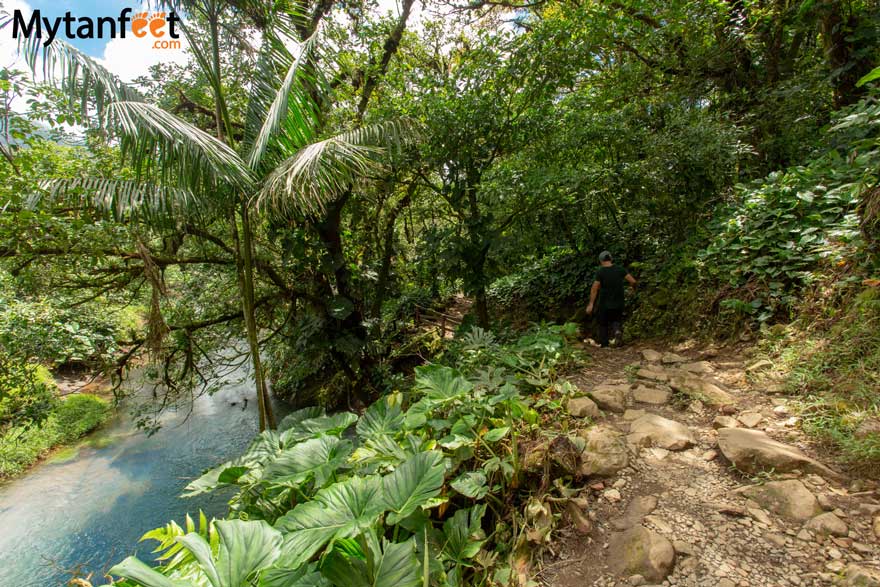 Outside the park entrance are a couple of good local restaurants. We went to the restaurant right outside to the left (Los Pilones) which had good food and smoothies. It was not that expensive either.
Rio Celeste, Costa Rica Video
This is a short vlog of our first visit to Rio Celeste, check it out! You can see how muddy it got in April!
Tips for Visiting Rio Celeste, Costa Rica
The parking guards are always going around but don't leave valuables visible in the car (wallets/ipads/iphones out on the seats, etc.)
We recommend staying a couple nights in Bijagua if you are visiting in rainy season. You'll be taking a chance if you only have one day to see Rio Celeste in case they have to close the park due to heavy rains or the river may not be as blue.
You may see animals on the trails like pizotes, armadillos and monkeys. If you're SUPER lucky, you may see a tapir!
Rio Celeste, Costa Rica Tours
There are one day tours from La Fortuna that cost around $140 USD per adult minimum 2 people. Tours from Playas del Coco and Tamarindo cost around $126 USD per adult minimum 2-3 people. If you are in La Fortuna or Guanacaste, contact us to get 7% off tours! Tours include roundtrip transportation, bilingual guide, lunch, national park fee and refreshments.
Rio Celeste Hotels
There are a few hotels around Tenorio Volcano National Park. We stayed at Casitas Tenorio B&B (get 10% off in the link) in Bijagua. Awesome owners, tons of wildlife on the property and very cozy casitas.
If you want something more upscale with air conditioning, Rio Celeste Hideaway Hotel is a great option with beautiful rooms and is very close to the park entrance.
Read about other waterfalls and hikes in Costa Rica!
Manuel Antonio National Park: hiking guide to this popular national park
Catarata del Toro: Amazing 270 foot waterfall in an extinct volcano crater in Bajos del Toro
Catarata Llanos de Cortes: Beautiful waterfall near Liberia, Guanacaste
Blue Falls of Costa Rica: Two small, sky blue colored waterfalls (similar to Rio Celeste) in Bajos del Toro There are Amazon affiliate links in this post.