Costa Rica's weather is the typical tropical climate with a rainy and dry season. However, there are many micro-climates in the country! So in this post you will learn about Costa Rica's weather, the tropical seasons, reliable forecasts and more.
There are Amazon affiliate links in this post.
Costa Rica Weather
Costa Rica's tropical dry season is generally December to April. Rainy season is generally May to November. We also have transition months.
Breakdown by Months
Something to keep in mind about Costa Rica's climate is that it is tropical. And being a tropical country with over 20 micro-climates, the weather isn't always predictable or strictly what the forecast says so keep in mind what you see on the forecast, may not always accurately describe the day.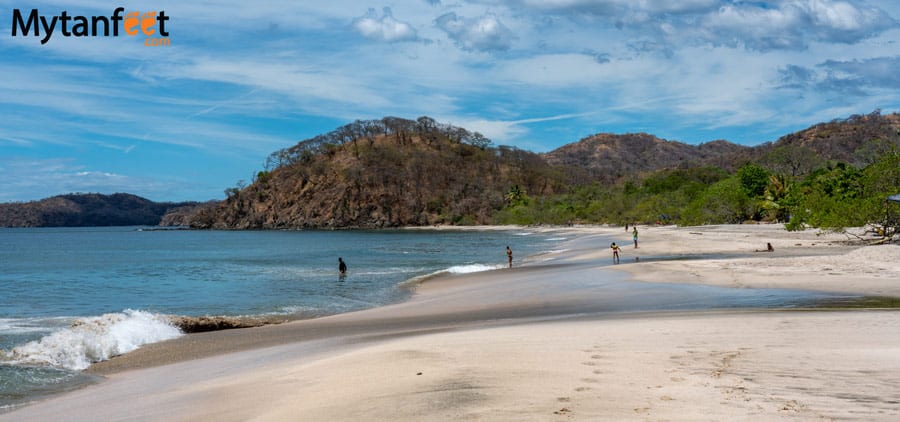 Costa Rica Weather January
January is well in the dry season but may still have some short random on and off sprinkles in the high elevation areas and rainforest. Windy, dry and sunny on the coasts, very comfortable temperatures in the Central Valley and mountains.
Costa Rica Weather February
Generally the driest month of the year. Good swells for surfing. February has the best weather as it's not quite as hot as March and not as humid like in rainy season. Lots of sunny days and clear skies throughout the country.
February is one of the best months to visit Costa Rica for best weather.
Costa Rica Weather March
March is usually the driest month in Costa Rica with high temperatures. Expect sunny and hot days. On the coasts, March is extremely dry with clear blue skies all day long on the coasts. Even the Caribbean has dry weather in March.
Something to know is that water temperatures can be cold in March. It has gone down to even 65 F (18 C) before, normally it is around 80 F (26 C). Temperatures are a consistent 85-95 F (29 to 35 C) in March on the coasts.
Costa Rica Weather April
April is generally the hottest month in Costa Rica. It's at the end of dry season, so April can see some random rains throughout the country as it will begin the transition time to rainy season. Because of the first rains, it will start getting more humid.
Something important to note is that April is also the second busiest time of year as it coincides with the Northern Hemisphere spring break and the week of Easter which is a major holiday in Costa Rica. Prepare for a busy and crowded visit in April.
After Holy Week, there may be some more constant rains and cloudy days in the country. The Central Valley and Central and South Pacific coasts in particular can start seeing more constant rains around mid and end of April.
Temperatures in March and April can get up to 95-100F (35C – 38C) on the coasts. In the Central Valley and rainforests, temperatures are around 75 – 85F (24C – 29C). So don't forget your sunscreen!
Costa Rica Weather May
May is the transition month from dry to rainy season. Be prepared for high humidity. Can have random hard rains here and there but generally still hot with sunny mornings. It is hard to predict the weather as rains may be intermittent and sporadic so don't forget your rainjacket. May is a quieter month in Costa Rica with fewer tourists.
On the Caribbean coast, May is one of the rainier months.
Costa Rica Weather June
June starts acting more like the proper rainy season with cloudy dry mornings on the coasts. On and off rains in afternoons, evenings and nights. May get random downpours in the evenings. Beginning of June is normally very quiet, by mid June, lots of families start coming down for summer vacation. Water clarity is very good in June normally.
Day time rainy season temperatures don't vary too much from dry season. It gets a bit cooler at night, particularly up in the mountains.
Costa Rica Weather July
Around mid July, Costa Rica normally gets something called "little summer" or veranillo. The weather dries up and it seems like dry season with clear blue skies and beautiful sunsets. July can get big swells, great for surfing. Also a good time for other water activities like rafting as rivers are fuller but not crazy.
July is one of the best months to visit Costa Rica for the weather.
Costa Rica Weather August
Starts raining more consistently. Tropical waves become more frequent, so there may be some days where it rains in the morning and almost all day. When there isn't a tropical wave, it's beautiful and sunny with possibilities of intermittent rain in the late afternoons.
In the Central Valley, it is very common to rain in the evenings and nights in August. Try to schedule all your activities in the morning as mornings are generally still dry and then it'll start getting cloudy, dark and rainy in the afternoons.
Costa Rica Weather September
September is the start of the peak rainy time. Expect rain wherever you are in the country so bring your rain jacket!
The North Pacific Coast may still have drier days than the rest of the country. On the Caribbean coast, it starts to dry up and start getting more dry, sunny and clear days as October is the summer month there.
If there's a tropical storm, it can rain extremely hard in areas like Sarapiqui, Arenal, the Central Valley and South Pacific.
Costa Rica Weather October
October is the summer month on the Caribbean coast so expect full on sunshine. For the rest of the country, October is the rainiest month. Be prepared for rain, thunder and lightning storms. Always be prepared for rain whenever you go out and check road conditions.
October is the lowest month for tourists due to the rain, so it's a good time to visit if you don't mind getting wet as you'll avoid all the crowds.
If you visit in October, try to stick to just one or two destinations and avoid rural areas as floods, landslides and road closures are common due to the rain storms. You may want to avoid the South Pacific like Osa Peninsula and San Vito for these reasons.
Costa Rica Weather November
November is the transition month from rainy to dry season. On the North Pacific coasts, rains become less frequent. Still be prepared for rain on the Central and South Pacific coasts and country sides. There are some days when it can rain all day long.
November is our personal favorite month in Costa Rica. It's lush, green and fresh all throughout the country and there aren't many tourists yet compared to December.
November is a tricky month for water adventures like white water rafting because river levels may be too high. For safety, tour operators will not run if water levels are too high.
Additionally, November is one of the rainiest months for the Caribbean coast.
Costa Rica Weather December
In December, the transition between rainy and dry is more apparent. The "Christmas winds" start and can still rain in high elevation areas and the rainforests. But by about mid December or so, rains become much less frequent and normally occur only at night throughout the country.
It is super windy in December so be careful of any activities like parasailing, ocean kayaking, surfing and catamaran cruises.
The Caribbean coast is still rainy in December, as it is influenced by the cold fronts from the Northern Hemisphere.
Best Weather in Costa Rica
Many people ask us "When is the best weather in Costa Rica?" The best weather in Costa Rica is December – April due to the dry season, particularly the months of February and March.
If you're not sure when to visit Costa Rica, read our post "Best time to visit Costa Rica."
Locations
Central Valley Weather (San Jose, Alajuela, Heredia, Cartago)
The Central Valley experiences a typical tropical climate. Average dry season temperatures are mid 70s F (24 C) during the day, cooling down to the 60s F (18 C) at night. In rainy season, temperatures can drop all the way down to 50s F (12-14 C) at night.
The Central Valley is known for having the most comfortable weather in Costa Rica.
Guanacaste Weather (Liberia, La Cruz, Tamarindo, Samara, Nosara, Gulf of Papagayo)
Hottest and driest months are March and April, temperatures can reach 100 F (38 C). Rainiest months are September and October. Gets very humid in rainy season. The Guanacaste province, especially the North Pacific, tends to have a longer dry season.
Nicoya Peninsula Weather
The Nicoya Peninsula like Santa Teresa and Montezuma experiences the same weather patterns as the Guanacaste coast.
Temperatures in dry season during the day are around low to mid 80s F (27 C) and low to mid 70s at night (23 C). About the same in rainy season.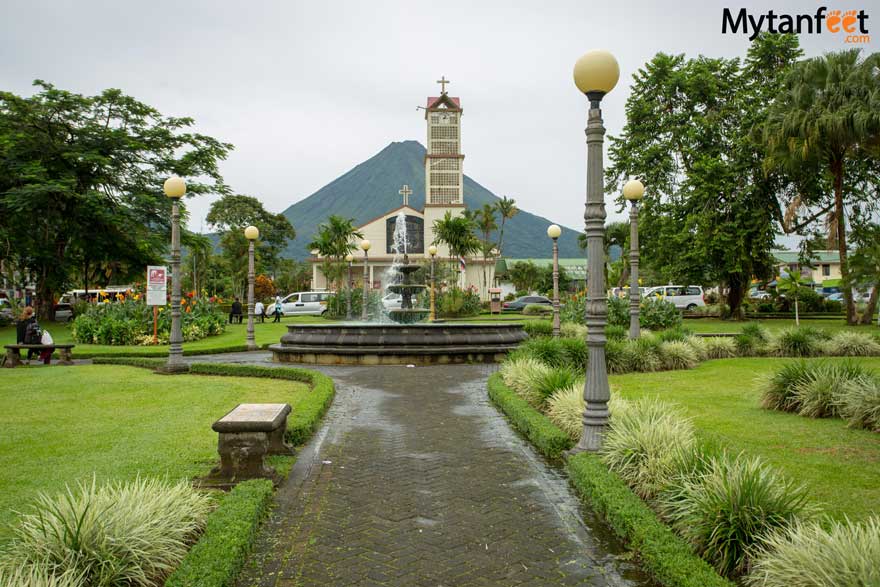 Rainiest months are May, June, September and October. Hottest months are March and April. Can rain sporadically in March or April.
Experiences different weather than the rest of Costa Ric so it does have the possibility to rain throughout the year. Doesn't have a clear distinction between dry and rainy season.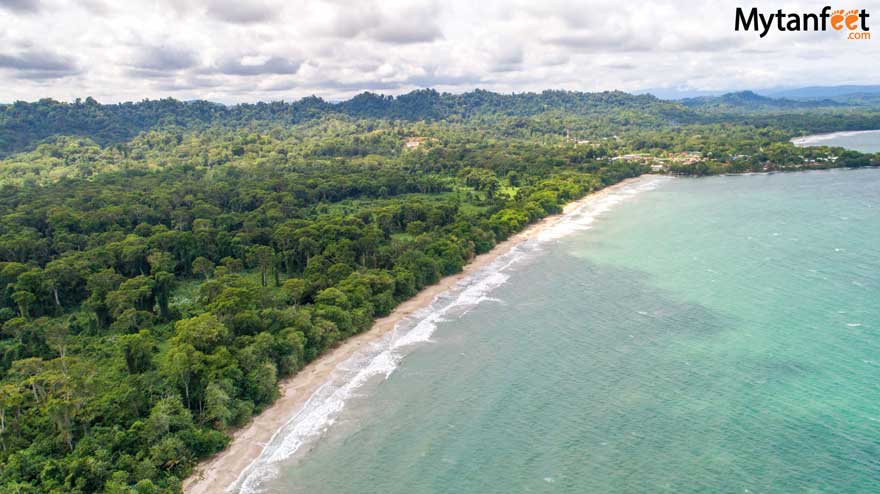 Drier months are February, March, September and October. Rainier months are November – January, April – August.
Temperatures are usually in mid 80s F (27 C) and cool down to mid 70s F (25 C) at night. It's always humid on the Caribbean coast.
Experiences typical tropical weather and is very humid all year long.
Day temperatures reach around mid 80s F (27 C) and cool off to mid 70s F (25 C) at night. Temperatures stay about the same as dry season. Rainiest months are September – November. Generally is still sunny in the mornings but starts raining mid afternoon or so.
Costa Ballena Weather (Dominical, Uvita, Ojochal)
Similar weather, seasons and temperatures to Manuel Antonio (hot, humid). It has more rainforest so can rain sporadically in the dry season and can have very intense rains during rainy season.
Dry season temperatures are similar to the Caribbean and Jaco/Manuel Antonio. The Osa Peninsula is generally around mid to high 80s F (27-32 C) during dry season.
This area can rain a lot and it rains hard! Especially June and September – November. During those months it can start raining early afternoon through the night.
It is always very humid in the Osa Peninsula.
Monteverde sits around 1500 meters (4900 feet) in elevation so weather is fresh mountain weather. However this area does tend to rain more being high in elevation.
Dry season temperatures average around high 70s (26 C) and cools off at night down to mid 60s F (18 C). Can have light showers and sprinkles during dry season which is why you will see lots of rainbows in Monteverde. Driest months are March and April.
Fairly rainy in May, June, August – November. Can still have sunny and dry mornings but will start raining by noon or mid morning in the rainy season. It does dry up a bit in July for the little summer. Rainy season day temperatures are around low 70s F (20 C) and high 50s F (10 C) at night.
Monteverde's weather is also similar to San Isidro del General, Bajos del Toro, Vara Blanca and San Gerardo de Dota (a bit colder) as they are all high in elevation.
Costa Rica Weather Things to Know
Costa Rica is 8-12 degrees from the equator
It doesn't snow in Costa Rica.
There are no four distinct winter, spring, summer and fall seasons
The sun sets and rises around the same time all year long. Sunrise is generally 530 AM, sunset is generally 530 PM. Costa Rica does not participate in daylight savings time.
There are over 20 micro-climates in Costa Rica.
Average Temperatures in Costa Rica
Generally, the average temperature in Costa Rica does not vary greatly. For example, temperatures in November don't differ too greatly from February despite it being in rainy and dry season. The average temperature in Costa Rica is between 72 to 82 F (22 to 28 C).
For most of the country, the hottest months in Costa Rica are March and April. January and February are also very hot and may only differ by a one or two degrees (Celsius).
The rainiest months are generally September and October (except for the Caribbean) so you will find that this depends on the region.
Dry Season
Dry season is generally from beginning of December to end of April in Costa Rica. Day time temperatures are around low to high 90s F (35 C) on the coasts. Average daytime temperature in the Central Valley are around low to mid 80s (29 C).
Winds get very strong and there can be big swells on the Pacific and Caribbean coasts during December, January and February.
The Pacific coast gets extremely dry. It turns yellow like a desert, rivers and waterfalls dry up and it gets really dusty. This is in Guanacaste and the Nicoya Peninsula.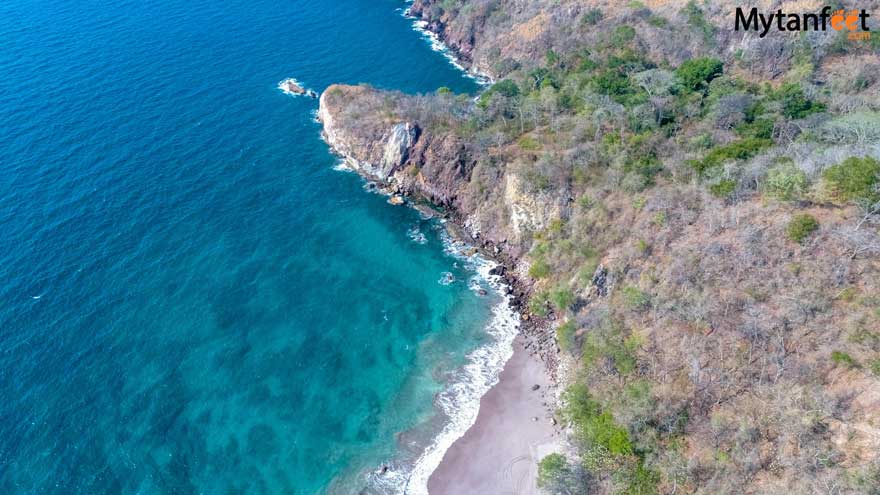 Dry season also correlates to the high tourism season thanks to the snowbirds and vacationers who want to get away from the intense winters up north. End of December through April is very busy.
How to prepare for dry season
Wear lots of sunscreen, at least SPF 30-50. Make sure to re-apply frequently and do not forget chapstick with SPF or after sun gel.
Bring an insulated water bottle so you can always have cold water.
Shorts, tank tops and flip flops will be your outfit for most of the country. We recommend clothes that dry fast like Nike dri-fit. You'll be very sweaty!
What to know about dry season:
It can still rain in some parts of the country like the South Pacific or Osa Peninsula as those areas are more humid. We visited Dominical in February and it poured for 5 days straight.
There are still mosquitoes in Costa Rica during dry season. Bring repellent.
The Caribbean does not have a distinct dry season. There is a dedicated section to the Caribbean weather in Costa Rica below. Read it if you're visiting Tortuguero or Puerto Viejo.
The dry season doesn't just all of a sudden start as if someone turned off a faucet of rainy season. It will gradually stop raining less and less in December. Usually by end of December, there isn't much rain and days are clearer and sunnier. That is why we call November, December, May and June our transition months.
Dry season is what locals call their summer.
Rainy Season
Rainy season is generally from beginning of May to mid December.
Normal rainy season days are sunny in the mornings and rainy in the afternoon and evenings. It is even more humid than dry season. It's common to see the weather say "current temperature is 32 C but feels like 38 C due to humidity).
It can start raining/storming randomly. It'll be sunny one second and storming the next. Rains can last for just 10 minutes and then it's sunny again. Prepare for sporadic periods of rain.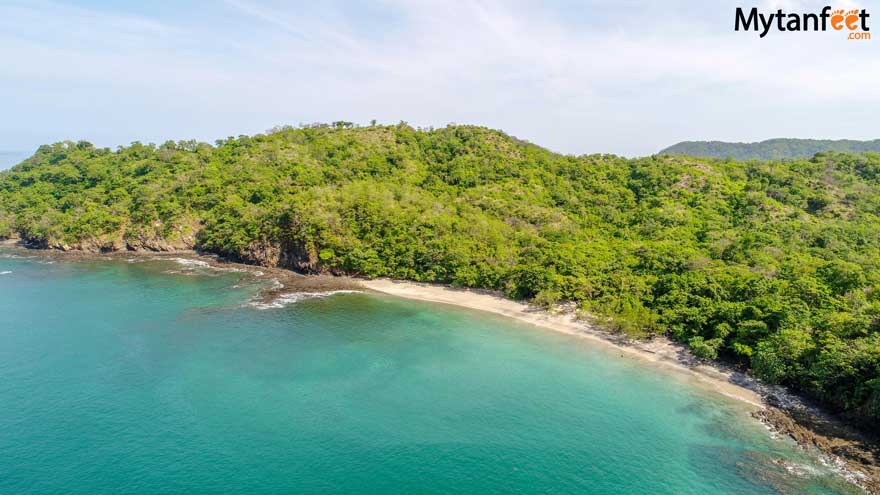 Raininest Months
The rainiest month is October for most of Costa Rica.
Rainy season is what locals call their winter. This also correlates to Costa Rica's low tourism season. It gets busy in July and August for summer vacation but September, October and November are the lowest tourism season months.
How to prepare for rainy season:
Even though it may be cloudy out, still put on sunscreen. Being so close to the equator means the sun rays are intense even if it's cloudy.
Bring lots and lots of mosquito repellent. Mosquitoes thrive during rainy season since they breed in stagnant water. Also bring waterproof/water repellent equipment, especially if you have any electronics.
A warm jacket, waterproof jacket and long pants are necessary if you will be anywhere up in the mountains. Read our packing list for rainy season in Costa Rica and our packing list for Costa Rica to be prepared.
Purchase travel insurance! The weather during rainy season can change in a blink of an eye. It can be incredibly sunny one minute and then pouring down rain with lightning the next. Always be prepared when visiting in rainy season to protect your equipment, especially your electronics.
How much does it rain in Costa Rica?
How much it rains in Costa Rica depends on the location. Additionally, El Niño and La Niña both affect Costa Rica.
The important thing to note is that during rainy season, it can rain very hard. If you've ever experienced any type of tropical climate, you will know what I'm talking about. You can see in the video below how hard it's raining in Playas del Coco in October.
Costa Rica Weather Forecast
It is hard to find fully accurate forecast for Costa Rica being a tropical climate. The weather is not always predictable, especially in rainy season. Weather apps always show thunder and lightning storms everyday in rainy season but it may not be 100% accurate and it doesn't always mean that it's raining 100% of the time everyday.
However, there are a couple of sites that can give you a very close prediction such as Wunderground, Windy and the IMN (Instituto Meteorológico Nacional de Costa Rica). They have stations throughout the country and they post more detailed information for specific places (regional locations).
Instagram
I like to check Instagram to see what weather is like in Costa Rica at the places I'm going. I look at the hashtag or the location on Instagram to see recent photos posted by other people so I can get an idea of what the weather is like.
Best Activities to Do During Dry Season
Dry season is perfect for those who want to soak in the sun all day long. Beach lovers will love dry season! It's also great for hiking because you won't have to worry about getting rained out or going as early as possible to avoid rain.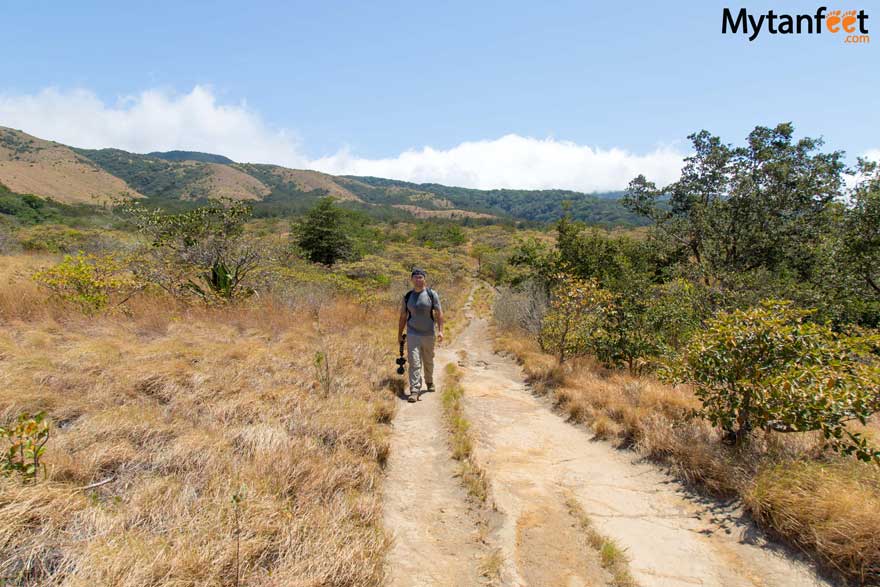 The best activities surfing, hiking, beach hopping, canyoning, boat rides, waterfalls and ziplining. You won't have to worry about rain at the beach at all.
However, January and February are usually very windy. Due to these winds, the water can get very cold in March, but the cold does bring more wildlife since it stirs up the nutrients.
If you love birds, February – July are excellent months to see the Resplendant Quetzal in Monteverde as it is their mating months. Wildlife watching on rivers is also the best during this time because all of the migratory birds are in Costa Rica. This is the best time to go to Palo Verde National Park, Rio Tarcoles, Sierpe Mangrove and Rio Tempisque.
Best Activities to Do During Rainy Season
Wildlife watching is best in rainy season. Peak turtle egg laying season is August – December in Tortuguero National Park and Ostional Wildlife Refuge. Peak humpback whale watching season in Costa Rica is August and September.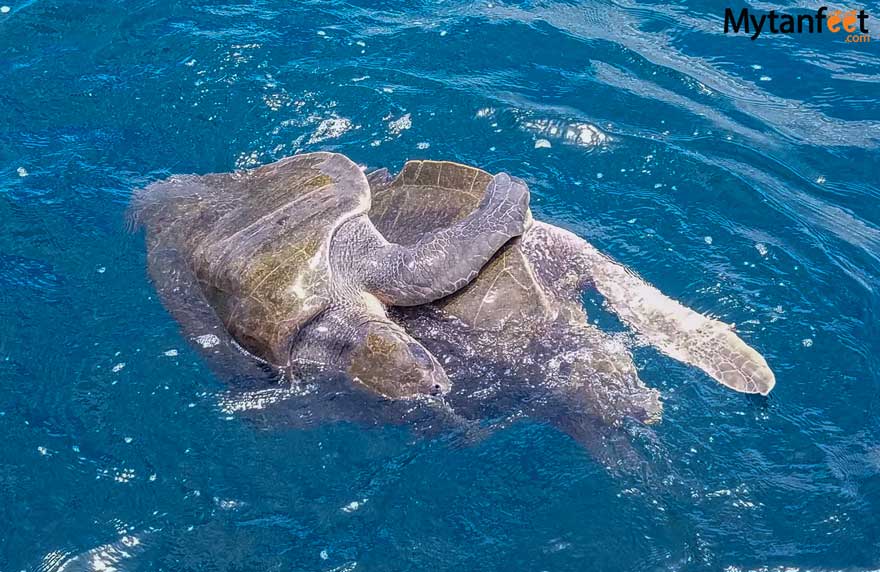 Water activities are also very good. White water rafting is incredible because the water level is high. In dry season, it is normal for rivers to turn into Class 2 and 3 rapids and in rainy season, they turn into Class 3 and 4!
However, if it's been raining a lot, the rivers and waterfalls may be too full so the tour may have to be canceled, which is one downside.
Tip for activities and tours during rainy season: Schedule activities in the morning. Since average rainy season days are sunny in the morning and rainy in the afternoon, you will have better weather in the morning.
Want to know more about Costa Rica? Check these posts out!
Taking public transportation in Costa Rica
Best places to visit in Costa Rica
There are affiliate links in this post