Playa Avellanas, Costa Rica is one of the best beaches in Guanacaste for surf, drinks and sunset. It's only a 30 minute drive from Tamarindo so if you want to see other beaches, head to Avellanas (also called Playa Avellana).
It's one of our favorite beaches to surf when we get tired of the crowds in Tamarindo.
Location
Playa Avellanas, Costa Rica map
Playa Avellanas is in the Guanacaste province.
How to Get to Avellanas and Get Around
Playa Avellanas is 19 kilometers (12 miles) from Tamarindo and 80 kilometers (50 miles) from Liberia International Airport. Avellanas is about a 30 minute drive from Tamarindo.
If you plan to stay in Avellanas for a few days, we recommend to rent a car to get around because there isn't a town center or much around (no supermarkets or anything).
How to get to Avellanas from Tamarindo: The easiest way to get from Tamarindo to Playa Avellanas is to drive, taxi or shuttle. You can find unofficial (pirate) taxis in Tamarindo and they can charge you around $30 USD one way (this was from last we heard so price may have changed). You can arrange transportation back with the same driver, or sometimes there are drivers at Lola's Restaurant waiting for people. However, it is safest to take a shuttle from a licensed tours/transportation company though.
Unfortunately Uber/Didi doesn't exist in the Avellanas area. Before COVID, there were maybe 1-2 drivers in the Tamarindo area but do not depend on these ride share apps to get around Avellanas.
Driving
Playa Avellanas is about a 1 hour and 30 minute drive from Liberia Airport. The main and most popular entrance is by Lola's Restaurant at the south end of the beach where there is a large parking lot.
We recommend to use Google Maps or Waze as your GPS. If you do, you can set your hotel as your destination. For those visiting for the day, set Lola's Restaurant as your destination as it will take you to the main parking lot of Playa Avellanas.
Bus
If you go by bus, there is a bus (Bus 571) from Santa Cruz to Avellanas/Negra. You pay for the ticket at the bus station in Santa Cruz.
4×4 Required?
Once you turn to the right off of Route 152, the road becomes unpaved with lots of pot holes. We recommend a high car to get to Playa Avellanas to be more comfortable and safe. 4×4 isn't absolutely necessary however, just a car with high clearance as the road is all flat.
In dry season, particularly February, March and April, a sedan can make it but you need to go slow and drive carefully for the pot holes. In rainy season, especially months of August – December, we recommend a high car as the pot holes get way bigger and it is muddier.
Entrances and Parking
The main entrance to Playa Avellanas is by Lola's Restaurant. There's a small parking lot right by Lola's with a "parking guard." They'll offer to help you park and you can give them a little tip when you leave, like 500 or 1000 colones. If it is a busy day, you may have to park in the lot across the road.
Make sure not to leave any valuables visible, roll up your windows and lock your doors.
We also sometimes park at Cabinas Las Olas which is home to the famous mangrove bridge walkway. They don't charge a fee but we'll get a drink or snack at the bar after surfing.
Facilities
There are no public bathrooms or showers at Playa Avellanas. There used to be a freshwater shower in the parking lot by Lola's but last time we went in November 2020 it was not there anymore. So bring drinks, food, towels, sunscreen and everything you need for a beach day.
If you forgot something, there isn't a supermarket or store at the beach itself, but there is a small convenience store in Pinilla called Minisuper y Licorera Jose Pablo about 10 minutes before the beach.
How Busy Does Playa Avellanas Get?
Normally this beach is not too crowded or busy but it does get very during Christmas, New Years, Easter Week, September 15 (Costa Rican Independence day) and the first two weeks of July. Christmas was crazy crowded last year in 2019, it took us awhile to find a spot on the beach!
Avellanas is getting more popular among city Costa Ricans so while weekdays may be quiet empty, weekends are busy.
Playa Avellanas, Costa Rica Beach
Avellanas beach is one of a kind with tan sand backed by mangroves, shrubs, trees and misshapen trees. The wild growth of trees are excellent shady spots to lay down under and they create unique and interesting beachscapes.
Since there is no downtown or town center at Avellanas, this laid back beach attracts visitors who want to see a more "local" beach in the area.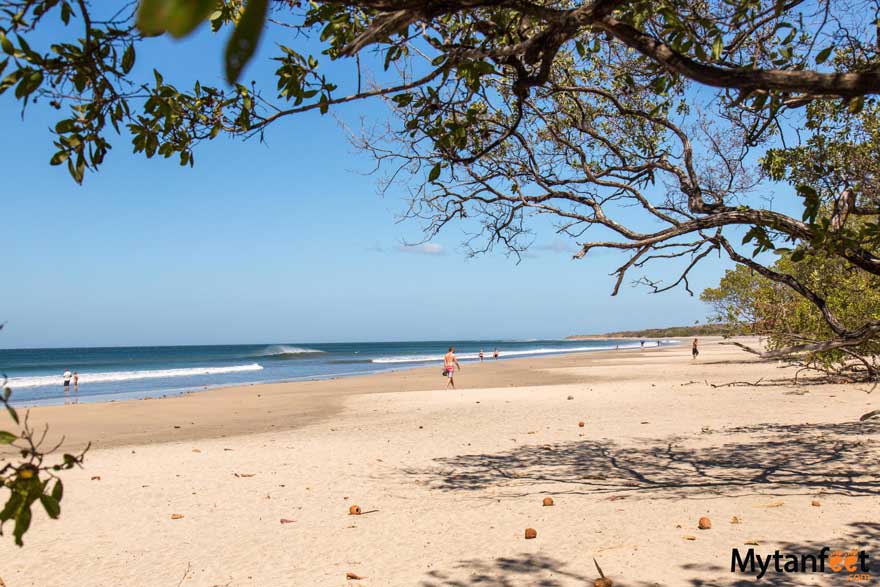 Some stretches of beach have rocky patches so be careful if you're swimming or walking during high tide. You can play and swim in the small waves but do be cautious of all the rocks, especially in high tide since you can't see them.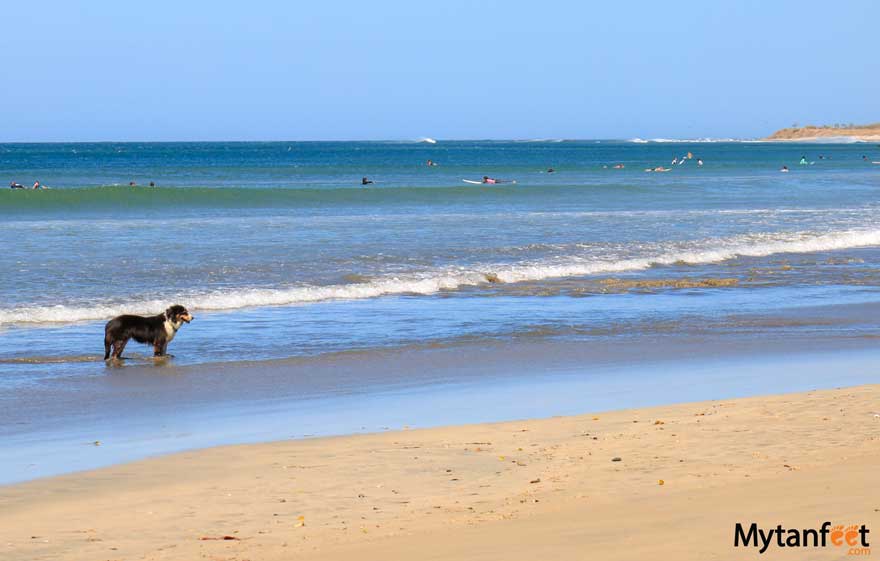 There is a large estuary and river mouth near the middle section of Avellanas. If you walk north on the beach a bit from Lola's, there is a bridge that goes through the mangroves which is an excellent photo spot that goes to Cabinas Las Olas.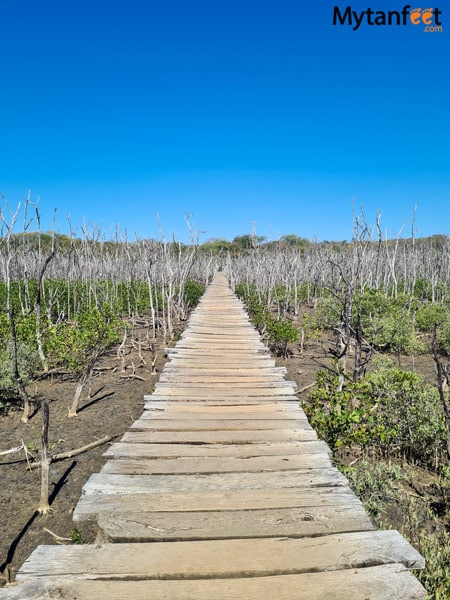 Additionally, the sunsets at Playa Avellanas are spectacular! Sunset surf sessions are so much fun at Avellanas.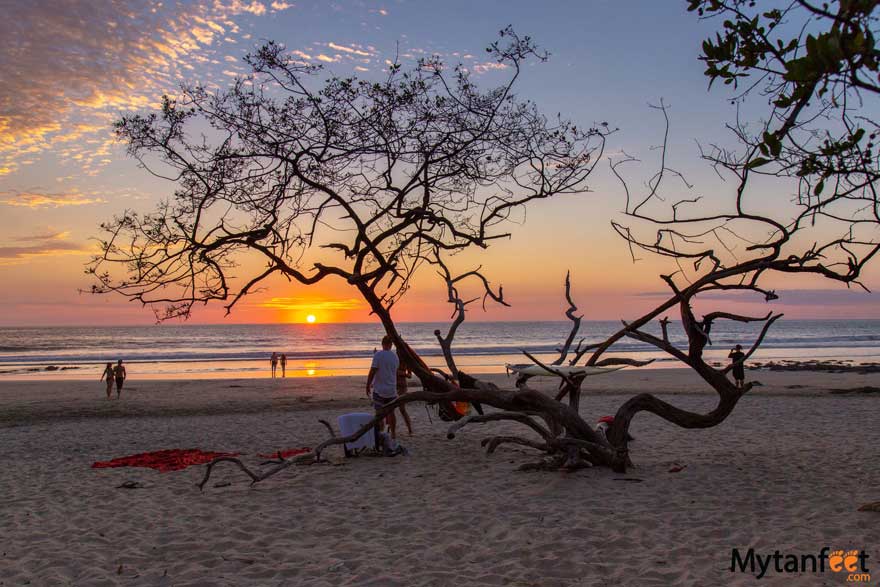 Playa Avellanas Surf
The biggest draw to Avellanas is the surf. During certain times of the year, the nickname of "little Hawaii" is appropriately named as waves can get up to 5 meters high (16 feet). The stellar waves attract surfers from every corner of the world who wants to experience some of the best breaks in Costa Rica. This surf spot is all the way toward the north end of the beach.
Avellanas has good waves all year round and are suitable for advanced beginners and intermediates. Yeison and I have surfed at Avellanas many times. We love it there especially when Tamarindo is small.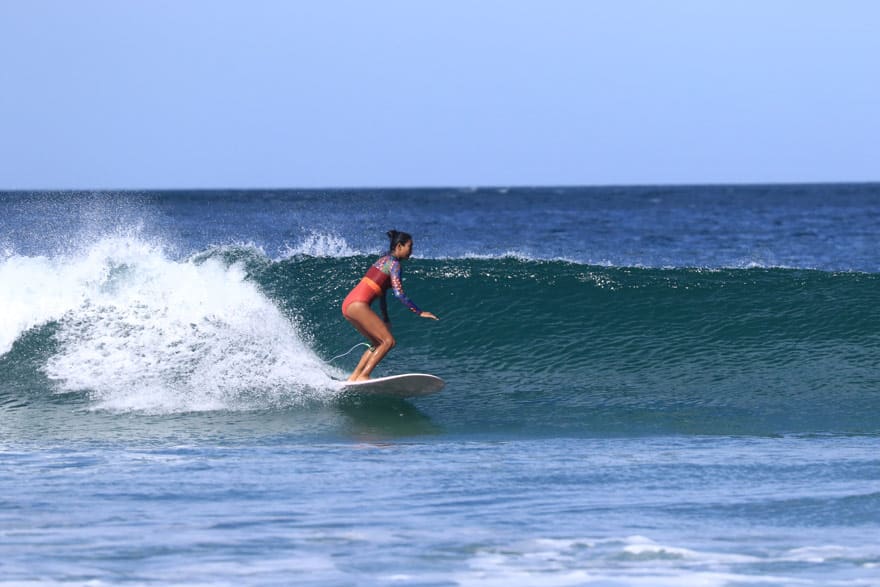 Our favorite spot is the Palo Seco surf spot for longboarding. When it's good, waves are long, fun and open. Palo Seco can get big during swells but not as crazy as Little Hawaii.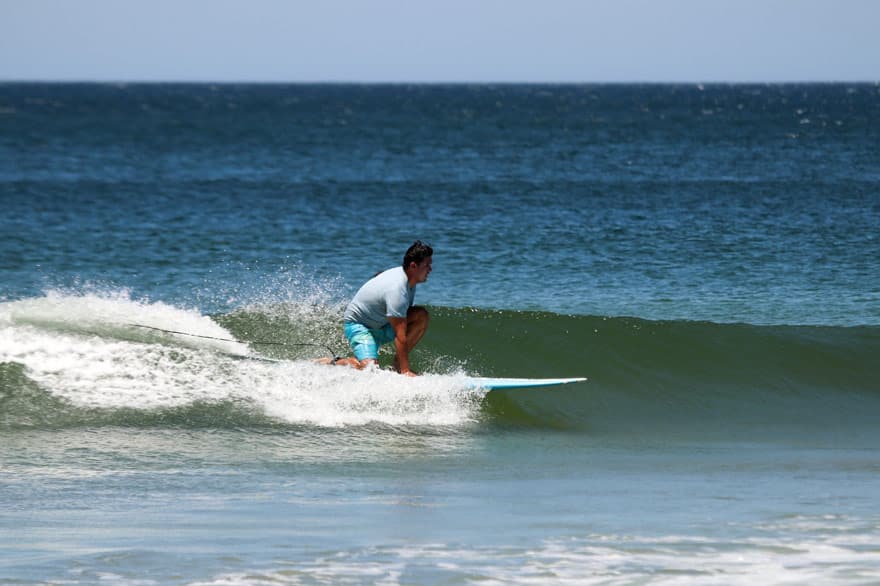 You can take lessons at Avellanas but we don't recommend to surf there on your own if you're a first timer or beginner. A good surf school at Avellanas is Rapture Surf Camp and many surf schools in Tamarindo will take their students to Avellanas on the last day of camp.
Avellanas Surf Spots
Want to know where the best surf spots are at Avellanas?
There are five main surf spots at Avellanas: Purruja, Estero, Palo Seco, Little Hawaii and Parqueo. Parqueo and Palo Seco are great for longboarding, advanced beginners and intermediate surfers. Purruja is seasonal and Little Hawaii is where the pros go all the way on the other side of the beach.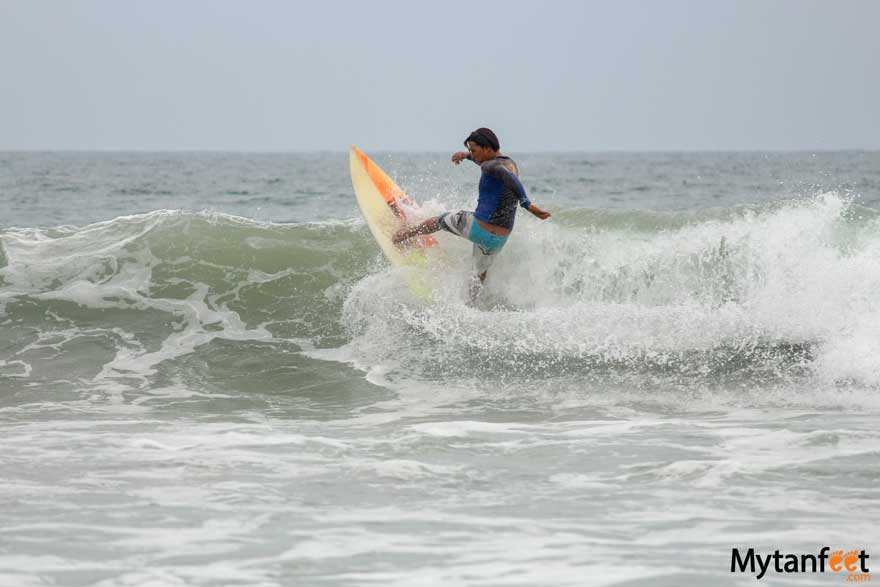 Since Tamarindo is a much more accessible beach for surfing, you'll find more dedicated and seasoned surfers at Avellanas. It creates a great atmosphere for those who are determined to improve their skills!
Playa Avellanas Hotels
Where should you stay in Avellenas?
There aren't too many hotels at Avellanas and you'll find more small cabinas and modest rooms. Most of them are within walking distance to the beach.
Some recommended hotels in the area are Da Calia, Cabinas Las Olas and Las Avellanas Villas. You can also find some nice Airbnbs and vacation rentals in Avellanas. Cabinas Las Olas is pet friendly.
If you want to stay at an eco-friendly, comfortable, cozy and nice hotel with a pool in Avellanas, stay at Drift Away Eco Lodge. This is a new hotel right across Playa Lagartillo but it's super close to Avellanas, about 10 minutes walking or a 2 minute drive. When it comes to a nice, clean and more comfortable place to stay, this is an excellent option. Great for families or friend groups. Get 10% off your booking here using our promo code MyTanFeet!
Camping Avellanas
There is also a property that offers camping in Avellanas called Avellanas Camping. It's on the way to Avellanas before you turn right, you'll see a sign on the left. It's not right on the beach though, you will still need to drive at least 5 minutes to get to the beach.
There is another campsite on the beach called Nieves Surf Camping. Ideal for surfers who want to be able to get up, check waves while having coffee and then go!
Playa Avellanas Restaurants
There are a few good restaurants at Avellanas: Da Calia, Lola's, Blu, Avellanas Beach Burger, Barumis and Il Rustico. Lola's is right on the beach and it's a great place for happy hour and sunset drinks.
Barumis has great sandwiches and burgers. Their bread is delicious!
Da Calia is one of our favorite places in the Guanacaste province for a hearty breakfast and lunch. They have amazing waffles, pancakes, coffee and desserts. Also dog friendly (they offer puppuchinos).
Things to Do in Avellanas
Besides surfing and enjoying the beach there isn't too much to do at Avellanas itself. However, a really fun thing to that's in the area is visit the goat farm, Rancho Avellanas. Play with over 100 cute goats, try goat milk, cheese, yogurt and learn about Costa Rican farming life. Excellent for families!
Avellanas is a great beach to visit for the day, especially if you're staying in Tamarindo. It is a must see!
There are many day trips you can do in the area which you can read about in this post: Day trips from Tamarindo.
Read about other surfing beaches in Costa Rica below!
Jaco: Most popular surfing beach for beginners. Only 1.5 hours from San Jose and the most developed beach town.
Esterillos Oeste: A surfing beach about 30 minutes south of Jaco. The town is very small and undeveloped, great for intermediate surfers looking to get away from crowds.
Playa Cocles: Surfing beach by Puerto Viejo on the Caribbean coast. Best times for surfing are January through March, good for beginners and lessons.
Negra: Long beach about 30 minutes south of Tamarindo with nice surfing waves. Kind of rocky, more for intermediate surfers.
Dominical: Popular surfing beach in the South Pacific, can take beginner surf lessons. Small hippie town. Can get big during swells.
There are affiliate links in this post.