Guanacaste, Costa Rica offers tourists an unforgettable vacation with its year round sunny weather, amazing beaches and spectacular natural attractions. With some of the most beautiful beaches in Costa Rica, the "Golden Coast" of Costa Rica is a top destination for beach goers.
Plan your trip to Guanacaste, Costa Rica with our guide. Also remember to check our Guanacaste day tours discount!
Location
The Guanacaste province is located in the Northwest corner of Costa Rica and the capital city of Guanacaste is Liberia.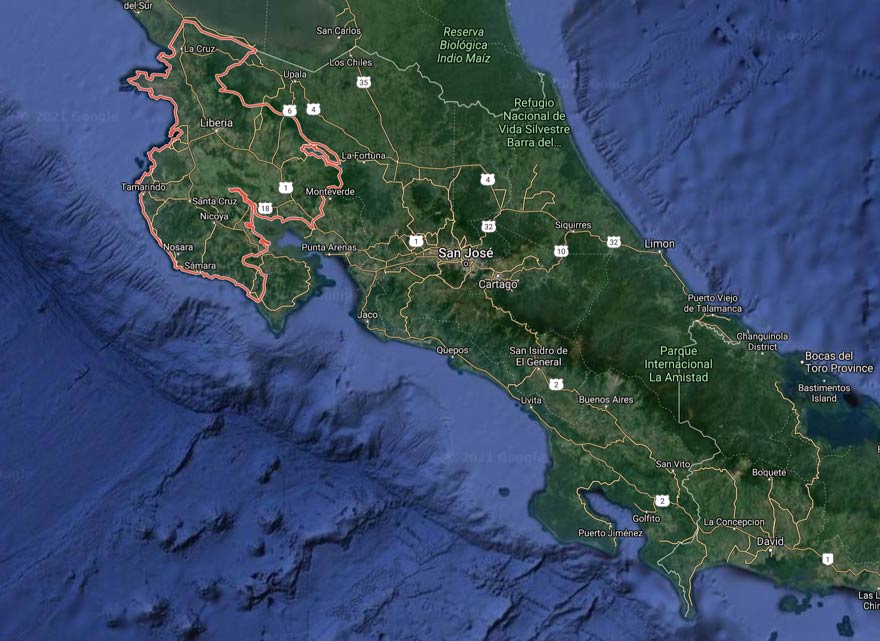 Interesting fact: Guanacaste used to belong to Nicaragua. The province was annexed to Costa Rica in 1824. July 25 is Guanacaste Day, the official holiday for the annexation of Guanacaste.
Guanacaste, Costa Rica Airport to Fly Into
Fly into Guanacaste Airport, the hub for Guanacaste. This airport is about a 25 minute drive to the Papagayo Peninsula, 1 hour to Tamarindo/Conchal and 2 hours to Samara. Airport code is LIR.
From San Jose International Airport, it is about a 3 hour drive to Liberia. Airport code is SJO. It is best to fly into Guanacaste Airport, not SJO International Airport.
Where to Stay in Guanacaste
Most people who visit Guanacaste are there for a beach vacation and there are many beaches to choose from. You can click here to see an interactive map with recommended places to stay.
Hotels and Resorts in Guanacaste, Costa Rica
Guanacaste has the most all-inclusive resorts and luxury hotels in Costa Rica. Popular resorts in Guanacaste are the RIU, Four Seasons, Margaritaville Beach Resort Playa Flamingo, Villas Playa Samara, Secrets, Westin Playa Conchal, W Costa Rica, Occidental Langosta, Dreams Las Mareas, JW Marriott and Planet Hollywood.
For luxury boutique hotels, check Villa Buena Onda, Kasiiya, Casa Chameleon Las Catalinas, Cala Luna, Kintiri Glamping, Andaz Papagayo, Tierra Magnifica Boutique Hotel, El Mangroove Autograph Collection and Los Altos de Eros.
How to Get Around Guanacaste
Ultimately, the best way to get around Guanacaste is by car. As this province is very big and still quite rural, bus routes are not common between beaches and points of interest. Majority of natural attractions and places of interest are only accessible by car.
Read our tips for renting a car in Costa Rica and also get our Costa Rica car rental discount!
If your trip is very short and you are staying at a resort or right in town, you don't necessarily need a car. You can book tours with transportation included. But for those who want to explore, a car is the best and only way to see more of Guanacaste.
And for those with an extra adventurous side, make sure to rent a 4×4 to really go off the beaten path!
Guanacaste, Costa Rica Weather
Guanacaste's favorable weather is one of the reasons why it's a popular vacation spot for locals and foreigners.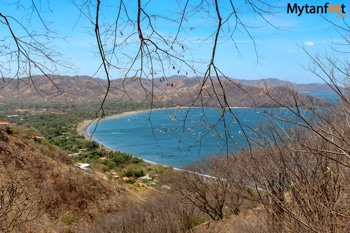 On the coasts, average day time temperatures throughout the year vary little, between 85 f to 100 F (29 to 38 C) so you can expect sunny skies and high temperatures for nearly 365 days of the year.
Guanacaste's dry season (December through April) is typically a bit longer than the rest of the country and the coast doesn't rain as much as other areas in Costa Rica. March is the hottest and driest month.
One downside to the dry season is that everything turns very yellow, sparse, dusty and dry. This is one of the reasons why there is not as much wildlife in Guanacaste (no sloths, must go inland to the rainforest).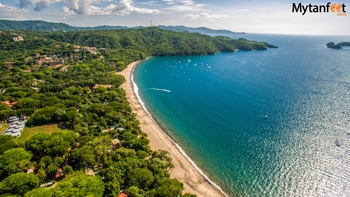 Likewise, rainy season in Guanacaste can get very intense (May through November). The rainiest months are September and October, where rainstorms commonly occur in the evenings and night time. Morning are generally cloudy but dry.
An upside to visiting during rainy season is that everything turns a lush green, which is more pleasing to the eye.
May, June and November are shoulder months, with intermittent rains in afternoons and nights but mostly clear and dry days.
You can read more about Costa Rica weather in this post.
Best Beach Towns in Guanacaste
With a car, all these beach towns are great for short term and long term stays in Costa Rica.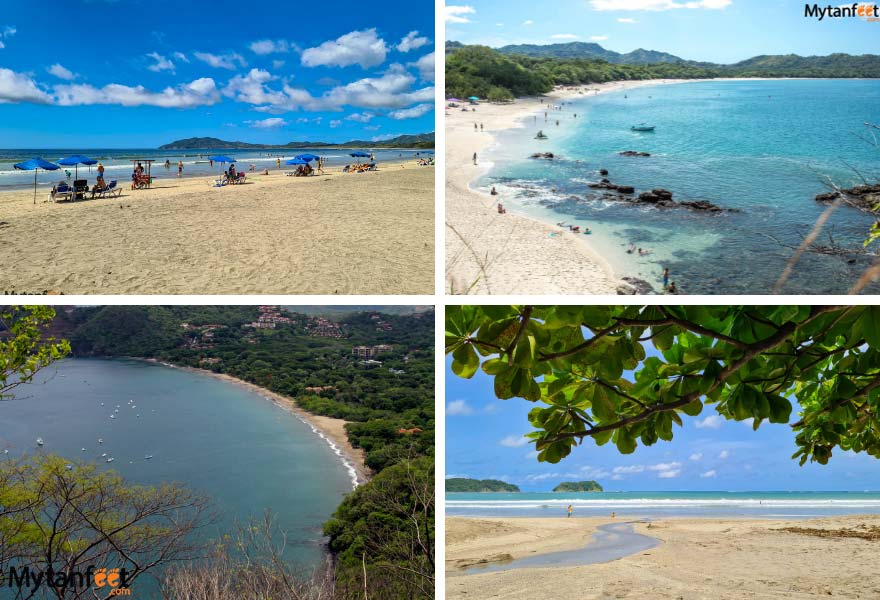 Playas del Coco
As the main beach town in the Gulf of Papagayo, Playas del Coco has grown from a quiet fishing village to a popular tourist town and retiree community. Only 25 minutes from Liberia Airport and the best beach town to stay in the Papagayo Peninsula.
Tamarindo
As one of the most popular beach towns in Guanacaste, Tamarindo attracts visitors looking for a fun nightlife, great surfing and beautiful sunsets. About 1 hour and 15 minutes from Liberia International Airport.
Flamingo
Playa Flamingo is not too far from Conchal and has an upscale, luxury community. If you're looking for an ocean view mansion or condo, this is the place to go! Good base for fishing, scuba diving and snorkeling.
For those looking for something a little less touristic and expensive, check Potrero, the quiet local town by Flamingo.
Samara
This beach town further south in Guanacaste is one of the best places to go for families. Samara boasts beginner surf waves, stunning sunsets and a more mellow laid back beach atmosphere than Tamarindo.
Nosara
Largely known as the first "expat town" in Costa Rica, Nosara is a beautiful surf town that attracts luxury travelers, surfers and yogis.
Conchal
As one of the most beautiful beaches in Costa Rica, Conchal is a must see. Not only does it have clear turquoise waters, but the shore is made up of sparkling white shells instead of sand! The main beach town by Conchal is Brasilito.
You can read about other beaches in Guanacaste here.
Things to do in Guanacaste, Costa Rica
Surfing
With 200 kilometers (124 miles) of coastline, this province has some of the best surfing in the Central America.
For beginners and first timers, the best spots are Nosara, Tamarindo, Avellanas, Samara and Playa Grande for classes. For those wanting to improve or get more into surfing, there are many week long camps.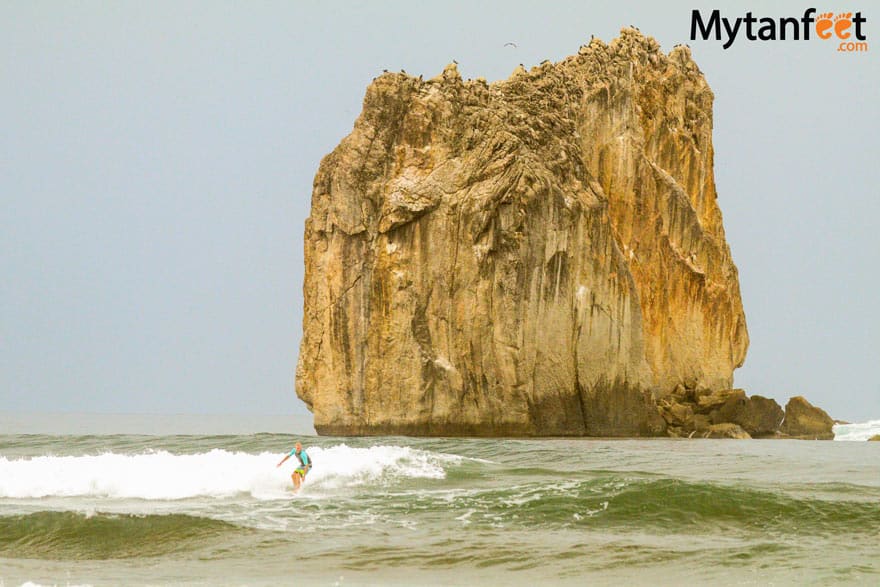 For the ultimate surf trip, jump on a boat to Witch's Rock, one of the best spots in Latin America. When a swell hits, prepare for barrels, tubes and overhead waves. In normal conditions, it's perfect for long open waves, perfect for longboarding.
Visit Different Beaches
There are so many beautiful beaches in Guanacaste, it's an absolute must to spend at least one full day visiting different beaches. It's also the best free thing to do in Guanacaste!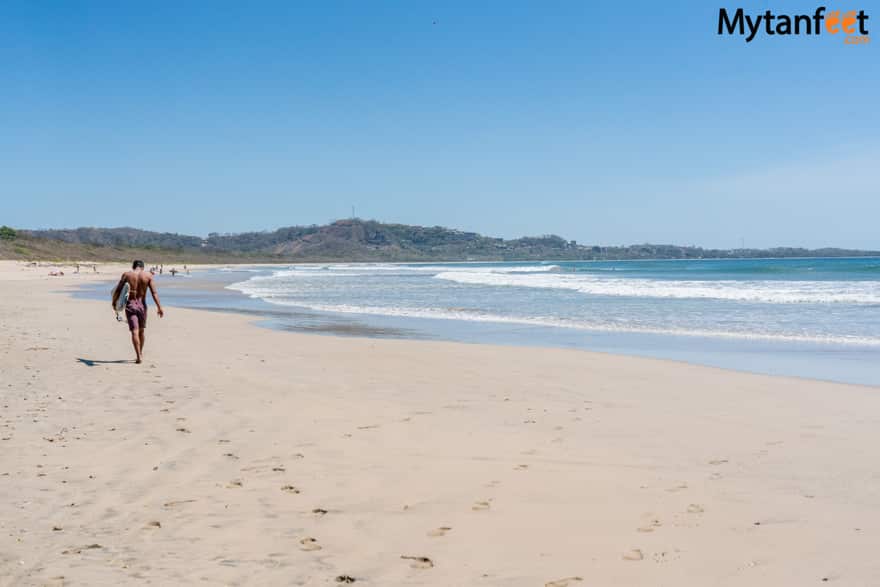 Check out our post to the best beaches in Guanacaste and 5 hidden beaches in Guanacaste!
Ziplining
Ziplining is one of the best things to do in Guanacaste and is a must for every trip to Costa Rica.
A few of our favorite ziplining tours are the one at Guachipelin in Rincon de la Vieja, Diamante Eco Adventure Park and Black Stallion in Tamarindo.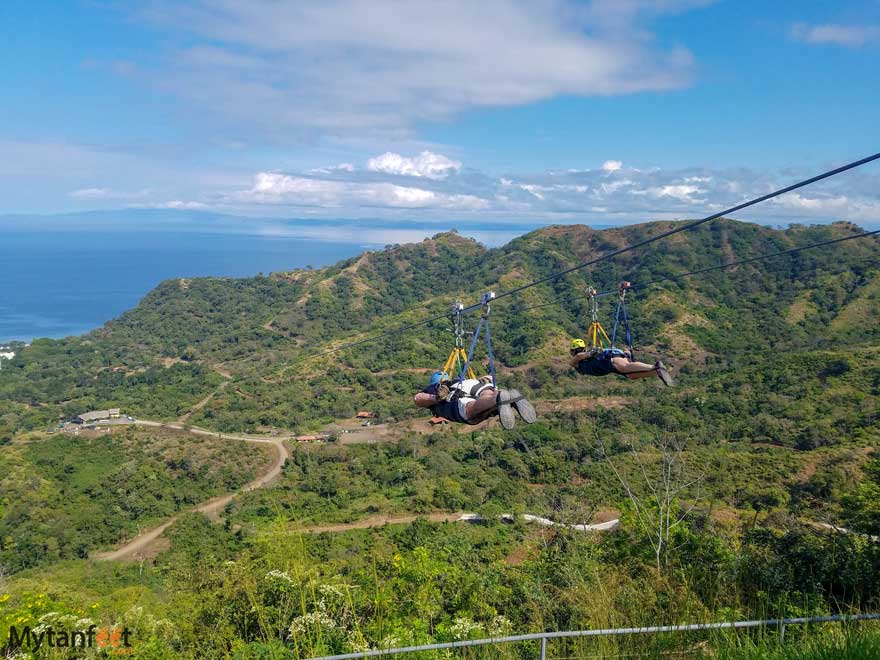 Get 10% off your ziplining tour at Diamante Eco Adventure Park here!
National Parks
The Guanacaste province is home to many national parks and wildlife refuges. Among them is one of the three UNESCO World Heritage sites in Costa Rica: the Guanacaste National Park since it contains one of the most endangered ecosystems: the dry tropical forest.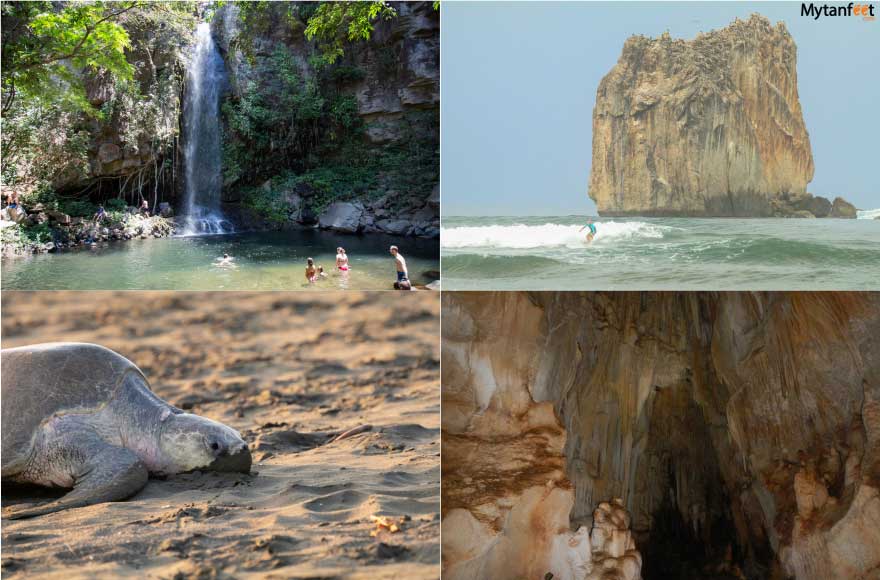 Here is a quick overview of the popular national parks in Guanacaste.
Palo Verde National Park
This national park protects the Tempisque River and Valley, which is home to thousands of migratory birds and other animals. Palo Verde is an excellent place to see birds, crocodiles and wildlife. You can read more about visiting Palo Verde National Park in this post.
Santa Rosa National Park
Although this park is not easily accessible, it is popular among surfers because it is home to the famous Witch's Rock. Santa Rosa also has two important turtle nesting beaches but is mostly off limits to the public. If people visit Santa Rosa, it is usually for Witch's Rock surfing. Scuba divers and snorkeling enthusiasts can go to the Islas Murcielagos (Bat Islands) marine sector of the park.
Las Baulas National Park
This park was created to protect the leatherback turtles that nest on Playa Grande, a popular surfing beach. Although the number of nesting leatherbacks have sadly decreased the past few years, it's still very important.
Rincon de la Vieja National Park
As the most popular national park in Guanacaste, Rincon de la Vieja is the most tourist friendly with hiking trails, a park office, picnic area and bathrooms. Tourists can hike the trails to see the volcanic mud pots, waterfalls and rivers.
Since it protects the Rincon de la Vieja volcano, one of five in the Guanacaste mountain range, mud baths and hot springs are also a popular activity with several hot spring resorts in the area. This area is home to several adventure parks and lodges such as Borinquen, Vandara (get our 10% Vandara discount here), Rio Perdido, Sensoria, Guachipelin and Buena Vista.
Barra Honda National Park
This national park in Nicoya protects caves and dry forest. Visitors can hike the trails through the dry forest for nice views of the Nicoya Peninsula or take a caving tour to explore the world underneath. Read more about Barra Honda National Park here.
Ostional Wildlife Refuge
Ostional is one of the best places in Costa Rica to see turtles, as it is a very important nesting site for Olive Ridley sea turtles. By Nosara.
Camaronal National Wildlife Refuge
This is another wildlife refuge that protects turtles. Near Samara.
Llanos de Cortes Waterfall
Although Guanacaste is very dry, you can still find some beautiful waterfalls. Our favorite is the Llanos de Cortes waterfall near Liberia. This tall, gushing waterfall is like an oasis in the desert!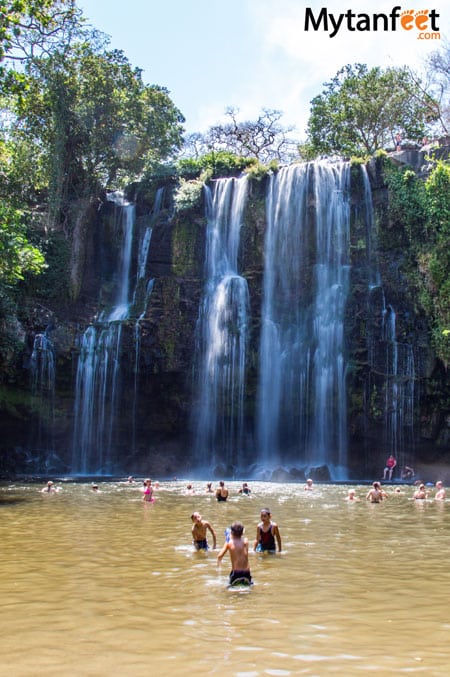 You can visit the Cortes waterfall in the morning and schedule another activity in the afternoon, such as ziplining. The Llanos de Cortes waterfall is one of the best cheap things to do in Guanacaste for families.
Scuba dive/snorkel/snuba
Scuba diving is one of the must do things in Guanacaste for ocean lovers. The Gulf of Papagayo has great diving with amazing spots such as Bat Islands (Islas Murcielagos) and Catalina Islands. Swim with eagle rays, turtles, sharks and other creatures of the sea.
Flamingo, Tamarindo, Playas del Coco and Playa Ocotal are excellent launch points for scuba diving in Guanacaste.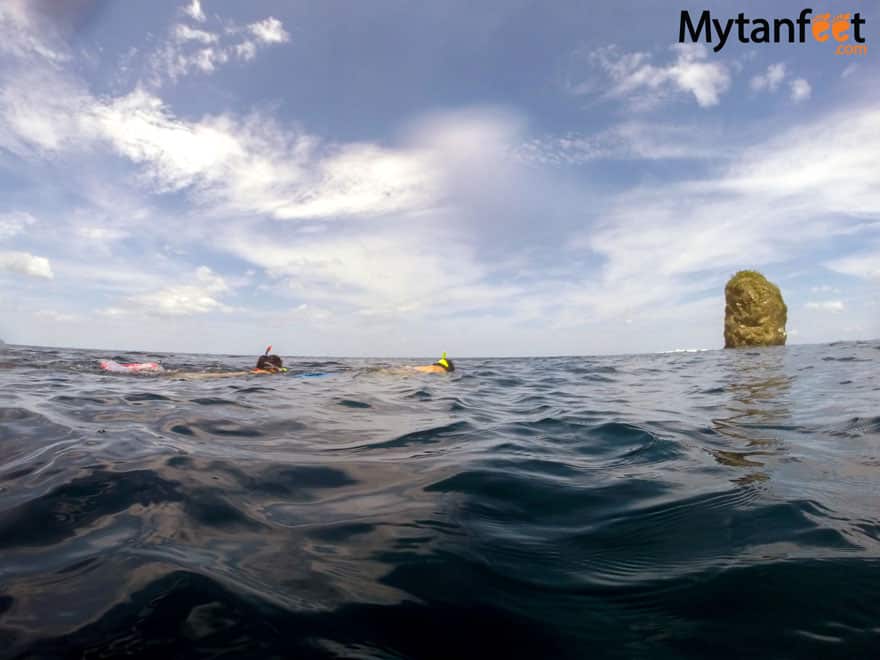 Likewise, the Catalinas Islands off of Playa Flamingo are great for scuba diving and this is where I did my PADI open water certification.
And if you don't have your certification, you do a discovery dive or go snorkeling!
Fishing
Fishing lovers will have a blast fishing in Guanacaste. Many of the popular beach towns started out as fishing villages and is how many locals still make their living today.
You can book inshore or offshore fishing trips up and down the Guanacaste coast. You can catch snappers, mahi mahi, groupers and wahoo on inshore fishing trips. There are many sport fishing charters in Flamingo, Coco, Samara and Tamarindo.
If you catch fish like snapper or mahi mahi, you can take it with you. Many restaurants will cook it for you if you bring it to them.
Boating Tours
The best way to explore the beautiful coasts of Guanacaste is by boat. Go on a sunset cruise on a catamaran or take a private boating tour. Many tours take you to nearby beaches to swim and snorkel. Sunset tours are super fun since you sail back under the setting sun.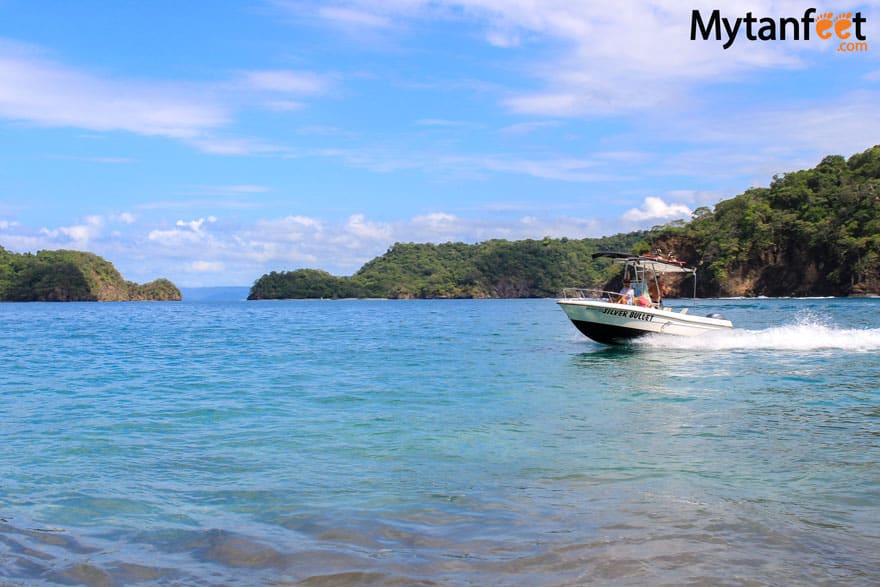 For a more exclusive experience, book a private boating tour. Our friend runs private boat tours in Coco and it is our favorite tour in Guanacaste!
Hot Springs and Mud Baths
Up in the Rincon de la Vieja Volcano area, you can relax in the natural hot springs. Many of the hotels like Guachipelin, Vandara, Rio Perdido, Borinquen and Buena Vista have their own.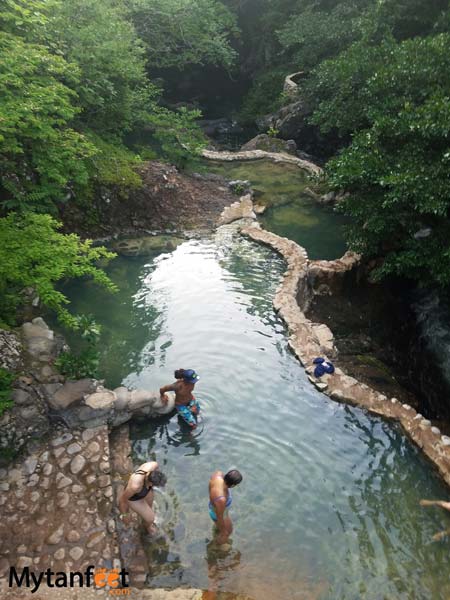 For our favorites, Rio Perdido, Borinquen and Guachipelin are some of our favorites. Borinquen and Rio Perdido are also excellent places to stay for a night or two in the mountains of Rincon de la Vieja.
Sample Itineraries
Many people spend their entire vacation in one town in Guanacaste and book day trips. That is perfectly fine and it'll be a really easy to plan trip.
Here is a sample 5 day Guanacaste itinerary we've written. You can add more days or switch destinations.
Then, some people want to experience different places in Costa Rica. So they'll stay a few nights in one beach town and then move to another area of the country. We wrote another itinerary that does just this: our 1 week Costa Rica itinerary with 3 nights in Guanacaste, 3 nights in La Fortuna. That itinerary lets you experience beach, volcano and rainforest.
Don't forget to get our Guanacaste day tours discount to save money on your excursions!
This post has affiliate links.