If you're thinking about renting a car in Costa Rica for your vacation, here is everything you need to know. In this post, we break down Costa Rican car rental insurance, best car rental agencies, car rental costs and much more so you can have a smooth and stress free Costa Rica car rental process for your upcoming trip.
PS. If you're ready to book your car, check out our exclusive Costa Rica car rental discount and extra benefits just for you!
All prices below are USD unless otherwise noted.
Mytanfeet Renting a Car in Costa Rica Guide
As a foreigner from the US, I have rented a car in Costa Rica many times so I know the process from a tourist point of view. Yeison, who is Costa Rican, gives his insider local tips as someone who has worked in the tourism industry for over 20 years.
Here are our reasons why you should rent a car in Costa Rica, our tips for finding the best car rental in Costa Rica and how to have a smooth and stress free experience for your Costa Rica vacation.
Why Should You Rent a Car in Costa Rica
More Flexibility, Explore at Your Own Pace, Go Off the Beaten Path
The advantages of renting a car in Costa Rica are obvious: Go where you want, when you want. By renting a car in Costa Rica, you won't be restricted to anyone's schedule but your own. To maximize your vacation time, minimize the time spent figuring out how to get around.
This allows you to go more off the beaten path, stay at unique lodging, pick exactly what you want to do and see and lets you explore Costa Rica at your own pace. The options are limitless when you rent a car in Costa Rica to have a more adventurous trip.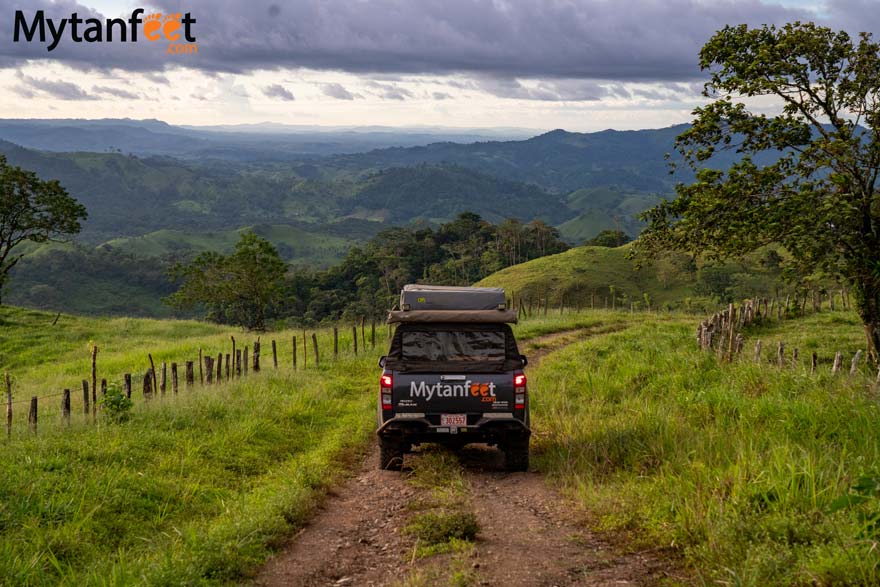 Make sure to read our driving in Costa Rica post for local tips to stay safe on the road.
Furthermore, many people are visiting Costa Rica for longer. To really get the most out of your long term stay, rent a car. You can rent one for the entire period or rent one for when you want to do trips.
That being said, you should rent a car in Costa Rica if you want to explore the country, see more of Costa Rica beyond the typical tourist spots, you don't want to depend on public transportation or shuttles and you want to experience Costa Rica like a local.
Prices are comparable to private shuttles and domestic flights
When you add up the cost of booking private shuttles/domestic flights vs renting a car, renting a car is not outrageously more expensive. For example, a private shuttle from San Jose to La Fortuna is around $200 USD total one way. A private shuttle from La Fortuna to Manuel Antonio is ~$320 USD total one way. Domestic flights cost anywhere from $80-200 USD per person one way.
A classic 10 day itinerary is San Jose – Fortuna – Monteverde – Manuel Antonio – San Jose. With private shuttles, the approximate cost is around $900 USD for groups less than 8. You can rent a 2wd compact SUV for about ~$800 and it'll be cheaper if you have your own car rental insurance. **These are approximate car rental costs, as rates change depending on time of year, level of insurances, extras, etc.**
Without a rental car, you need to take taxis, Ubers or book tours with transportation to get around. These are extra costs to take into consideration.
Convinced? Check out our car rental discount to compare prices and get quotes.
Requirements for Renting a Car in Costa Rica
What is required to drive in Costa Rica as a foreigner: Your original passport, a valid tourist visa stamp and a valid original driver's license from your home country. For Americans wondering "can you drive in Costa Rica with a US driver's license?" The answer is yes. An international driver's license is not required in Costa Rica for Americans, Canadians and most countries in general.
However, if your driver's license is not in Roman (Latin) script, then you will need to get an international driver's license. For example, if your license is 100% in Arabic or Russian without any English translation, then you will need an international driving permit or license.
Additionally, you cannot use a temporary paper copy or photocopy of your driver's license in Costa Rica. Costa Rica car rental companies require the original valid driver's license. Even if you have rented with the same company before, you need to bring your original driver's license and original passport with you every time.
Important: Your driver's license CANNOT be expired or will expire during the duration of your car rental.
What documents are required to rent a car in Costa Rica: A valid original drivers license, a valid passport and a credit card with the cardholder present with enough funds for the payment and security deposit.
Minimum Age
The minimum age to rent a car in Costa Rica ranges from 21-25 years of age. Our partner Adobe Rent a Car has a minimum age of 23. Alamo Costa Rica is 21. Budget Costa Rica and Hertz Costa Rica is 25. Sixt is 18. Each company has their own policies which you will need to check. Some companies allow drivers younger than the minimum age with an extra fee/insurance. With Adobe Rent a Car, they don't allow drivers younger than 23 even if they are willing to pay a fee.
As for maximum age, there isn't really a maximum age to rent a car in Costa Rica. Adobe doesn't have a maximum age limit and senior drivers don't need to pay an extra insurance or fee.
Adobe also has another condition that the driver must have been driving legally for at least 2 years.
What Side of the Road Does Costa Rica Drive On?
Costa Rica drives on the right hand side of the road. It is the same as USA and Canada.
Cost of a Costa Rica Car Rental
How much your Costa Rica car rental costs depend on the type of rental car, the insurances you purchase and the time of year you are visiting. Car rental prices have increased greatly since the COVID pandemic. Do not expect your car rental price to be the same now as it did when you first visited in 2018 or 2019.
In "normal" times, estimated costs for a mid size SUV rental in Costa Rica for one week in October was around $400 USD. The same car during February, it was around $800 USD a week. Nowadays, a mid size 4wd SUV can cost anywhere from $1000-1400 for one week in high season. However, price does depend on availability, insurances, extras, taxes, fees, etc. and I'm talking about just the car rental rate.
Most Expensive Time to Rent a Car in Costa Rica
The most expensive time of year to rent a car in Costa Rica is high season. This is generally mid December to end of April. Christmas, New Years and Easter week have the most expensive prices (peak season).
If you are visiting during high season, book your car rental at least three to four months out. Car rentals go very fast during these times of year and get more expensive closer to the date.
Cheapest Time to Rent a Car in Costa Rica
The cheapest time to rent a car in Costa Rica are during low seasons months such as May, September and October. These are our low tourism months and rental car rates are generally much cheaper. October has the cheapest rental car rates.
Cost of Gas
Gas prices in Costa Rica fluctuate constantly but it is the same price for gas at every single station since it is regulated by the government. The exchange rate in Costa Rica also fluctuates almost everyday.
The cost of gas in Costa Rica is around 744 CRC per liter which is approximately ~$5.25 USD per gallon (regular). Super is ~787 CRC per liter and is around $5.56 USD per gallon. Diesel in Costa Rica costs around 634 CRC per liter which is around $4.49 USD per gallon. *Plus note that gas prices change very often, so these rates may not reflect the exact prices today.*
On average for a 1 week trip, if you drive around 500 kilometers (310 miles), you may spend around $100 USD for gas for a mid size SUV.
Additional costs
There are a few additional costs to renting a car in Costa Rica.
First, from San Jose, there are several highway toll booths that charge from 100 – 1500 CRC when you leave the city.
Second, if your rental car is extremely dirty, you may need to take it to the car wash ($10-20) before you return it. Usually extremely dirty means wine/coffee/food stains, vomit, embedded animal hair, caked mud, piles of garbage/sand, etc. If you end up returning the car extremely dirty, agencies will charge you a fee of around $113 USD since they have to get it professionally cleaned.
Third, you cannot smoke inside rented vehicles in Costa Rica. If you do, the company will charge you a fine for this, usually around $113 USD.
Fourth, if you pick up and return from different offices or if you are returning/picking up your car where there is no office, there will be an extra fee for this. This can be from $25-$300 USD depending on your locations.
Lastly, if you get any extras like GPS, Wifi, SIM card, these have a cost. For the extras, we offer some freebies with our Costa Rica car rental deal which I'll talk about in a bit.
How to save money on car rentals in Costa Rica
First, travel during low season since it's the cheapest time. These are months like May, September and October.
Secondly, check your itinerary to see if you really need a 4×4 or 4wd. Renting a sedan instead of a 2wd/4wd SUV saves a ton of money.
Third, if you're really on a super tight limited budget where every single penny counts, rent a manual if you drive a manual transmission confidently. Automatic cars cost a teeny bit more to rent in Costa Rica, the difference can be a few dollars a day. You have to be a proficient manual driver as Costa Rica has a lot of narrow roads, steep hills, mountain routes and unpaved streets.
Next, use your credit card car rental insurance to save money on insurance. You must verify that your credit card offers this first and prepare the necessary documents.
Lastly, pick up and drop off your car the same car rental locations to avoid any extra fees.
Get our Costa Rica car rental discount to save on rentals and get extra benefits like 2 free drivers, free delivery and pick up, free pre-paid SIM card, cooler and much more!
Car Rental Costa Rica Monthly Rentals
Are you planning to be in Costa Rica for at least one month or longer? Monthly rentals are possible in Costa Rica and most agencies will offer a monthly rate. If you want to rent for a month or more, you can use the discount link above and we'll give you a quote for monthly or long term rentals.
The Process of Renting a Car in Costa Rica
Deciding Which Company to Rent With: Best Costa Rica Car Rental Companies
The first step is to decide which company to rent with. Mytanfeet has partnered with Adobe Rent a Car as they are 100% Costa Rican, have the largest fleet and offer all-inclusive pricing. We love supporting local businesses so we made a partnership with them to give car rental discounts and extra benefits for our readers!
However, you can find large international companies such as Alamo, Enterprise, Hertz, Sixt, Thrify, Economy Car Rental and Budget in Costa Rica. There are also a handful of other local Costa Rican car rental companies like Poas and Vamos. Read our post to find out more about the best car rental in Costa Rica.
That being said, the first step when it comes to deciding the company is to comparison shop.
Then you need to make sure to note specific details about each rental car company. It's not just about finding the cheapest car rental possible. You want to check the model and year of the rental car, number of offices, quality of customer service, amount of the security deposit and the insurance options for every single company.
Just because the rate is much cheaper, you may end up paying more (time and money wise) in the long run due to unfriendly agents, slow/unresponsive customer service, poorly maintained vehicles and shady practices.
Number of offices
Something else when deciding which Costa Rican car rental company to rent with is the number of offices. This is because some companies may only have two offices: one at San José International Airport and the other at Liberia International Airport.
This is important because for example, if you are in Uvita, an area that usually requires a 4wd and you run into issues with your car, the closest office of your car rental agency may be in San José which is a ~3.5 hour drive away. It will take a whole day out of your vacation to get them to come check it out. You may end up wasting even more time if they have to change your car or tow it. If it's an emergency after business hours, you will be in even more trouble because most of the smaller agencies do not have a 24/7 emergency line.
Adobe has over 10 offices in Costa Rica so if you run into any issues, there is a good chance there is an office nearby that can assist you quickly.
What to Know About International Companies
You may have read from other tourists that car rentals are a scam in Costa Rica. We completely understand why they feel that way and it's because of the way international companies present the taxes, fees, insurances and deposit in Costa Rica.
The thing with those companies is that they aren't fully transparent about taxes, fees, the deposit and insurance. If you do decide to book with other companies, contact the Costa Rican office directly to be 100% clear about all fees and insurances. (I'll talk more about insurance in a moment.)
So for example, if you book a car on third party sites like Expedia, Kayak, Carrentals.com or Orbitz, find out which company they work with and contact them. This is because these third party websites only show you the car rental price, not the insurances, deposits, taxes and fees so it'll look awesomely cheap at first glance ($10 USD a day, $5 USD a day).
However, when you go to pick up the car, you'll be hit with all these insurances, taxes and fees you didn't know anything about and it'll end up being way more expensive. This is why many people feel like they got scammed when renting a car in Costa Rica.
To avoid this situation, check directly with the Costa Rican agency to get the final price. It is definitely not that super cheap price you see! For example, if Expedia works with Alamo, then contact Alamo Costa Rica directly. Don't check the Alamo international website.
With our car rental partnership, what you see on your reservation is exactly what you pay. No hidden fees, taxes, insurances. All clear and upfront. All inclusive prices from the beginning to end.
Breaking down Costa Rica car rental insurance
This is the most confusing thing about Costa Rica car rentals because every company sells insurances differently. Furthermore, there is a mandatory insurance in Costa Rica. If you're looking at international companies, first read Yeison's post comparing Costa Rica car rental companies.
When it comes to our partner, Adobe Rent a Car, they offer 3 types of insurances online: Liability, Car Protection (CDW) and Extended Protection.

Liability insurance: This is the mandatory car rental insurance in Costa Rica. The mandatory third party liability insurance from Adobe costs between $13-25 USD a day. Liability insurance covers you up to $20,000 USD in 3rd party damages with 20% deductible and 3rd parties (not in vehicle) up to $100,000 USD with 0 deductible. This mandatory insurance in Costa Rica cannot be declined or removed using credit card insurance since there are no companies that cover this exact insurance.
Car Protection insurance: Covers the rented vehicle damage in an incident. Also covers financial losses from theft. You can remove this insurance by using your credit card coverage. Many credit card companies offer worldwide rental car coverage. For example, my Chase Sapphire credit card offers car rental insurance and I can use it to decline this Car Protection insurance. Check with your credit card company to see if they offer this coverage. Since October 1, 2021, VISA does not offer this credit card car rental insurance benefit to its Gold and Platinum card members.
Extended Protection insurance: This insurance is 100% optional. It goes on top of Liability and has 0 deductible and covers windows, vandalism, 24/7 road side assistance (one of the Mytanfeet benefits is 24/7 road assistance in every reservation) and tow trucks. The insurance also covers 100% of 3rd party damages up to $4 million USD. You can add this insurance when you sign the rental agreement if you're not sure if you want to add it beforehand.
You can read more detailed information about Adobe Rent a Car insurance in this post.
Deposit
Now, let's talk about the deposit. The Costa Rican car rental deposits have a huge range as they are based on of the type of insurances selected. The deposit is the amount the company will hold on your car during the duration of your car rental.
For example, if you purchase only mandatory insurance, your deposit may be $3000. If you get every insurance available, your deposit may be $300. If you waive one insurance and only get mandatory insurance, your deposit can be $5,000… or more.
So you will need to make sure the credit card you're using has a big enough limit for the deposit and payment. Some companies will allow clients to use one credit card for the deposit and another for the payment in case your card doesn't have a high enough limit for the deposit and car rental. Make sure you do not use two different types of cards. For example, both credit cards must be one brand: VISA/AMEX/Mastercard. They cannot accept one VISA and one Mastercard. Deposits and payment of the rental cannot be paid in cash in Costa Rica. Credit card holders have to be present to sign paperwork and pay for the rental.
This is another reason why we prefer Adobe. Their deposit is straightforward as well. For Mytanfeet readers, it is $750 USD for all reservations. It is $500 USD if you purchase all 3 insurances or purchase Liability and Car Protection Insurance. Their original deposit amount is $1000 USD.
Additionally, Adobe does take debit cards if clients sign a waiver form. However, the debit card deposit can take up to 45 days to return to your bank account (24-72 hours for credit cards). Furthermore, our deposit benefit does NOT apply to those using a debit card. Your deposit will be $1000 USD if you use a debit card, no exceptions. Clients need to sign a form saying they understand these conditions when using a debit card. Also if you have one of those cards that function as both a debit and credit card, then Adobe will treat it as a debit card.
Airport pick up and return
Can you pick up your car rental at the airport in Costa Rica?
Yes and no. San José and Liberia International Airports are too small for car rental companies to operate inside so all the offices are located around a 5 to 10 minute drive from the airport. Rental companies offer transportation to their office to collect the car.
There are some companies that do offer their cars inside the airport but this is very few, mostly these are those who pay an extra fee or for VIP clients. Several rental car companies do have a rental counter at the international airports but they will still take you to their off site office to sign the rental agreement and collect the car.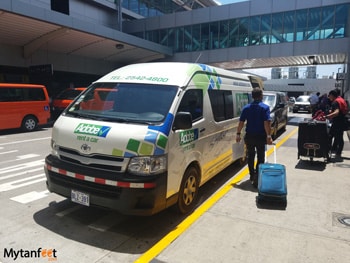 Adobe Rent a Car offers a complimentary meet and greet shuttle for their clients. The Adobe agent will meet the clients outside the airport terminal exit, bring them to the shuttle and take them to their office to complete the rental agreement and collect the car. And it works for the return as well: clients return the car to their airport office and Adobe shuttles them for free to the airport.
You can watch videos of the pick up process for Adobe at San José International Airport and Adobe at Liberia International Airport here.
At the San José International Airport, clients who have a flight at an odd hour can see if they can arrange to leave the car in the parking lot with the keys in the glove box for an extra fee. Be sure to arrange this with your agency.
Gas and mileage
Some companies have an option to choose for prepaid gas. Adobe doesn't. Clients fill up before returning the car or the clients can return it empty and Adobe will charge accordingly. Read about how to get gas in Costa Rica here.
Most car rental vehicles in Costa Rica are gasoline engines. There are a few that are diesel so make sure to check so you know which one to fill up with.
There may also be restrictions on mileage (remember that Costa Rica uses kilometers but it is the same). Adobe has unlimited mileage for rentals under 30 days.
Extras
Common car rental extras are GPS, Wi-fi hot spot, baby/booster seats, SIM card, cooler and surf racks. Prices vary so take that into consideration.
With Adobe, our deal gives readers 2 free additional drivers, 33% off GPS, free baby and booster seats, free SIM card with 1000 CRC preloaded credit, free cooler (if available), free dog seat cover and free surf racks. We also have a Wi-fi deal that if you rent for more than 10 days, you only pay for the first ten days.

The Wi-fi hot spot is super useful. You can connect up to 5 devices and it has unlimited data. That way you'll always have Internet on your phone so it's useful if you don't plan to get an international data plan.
What Kind of Car Should You Rent in Costa Rica?
Rental car companies have many car categories for all budgets and needs. The type of car you rent in Costa Rica will depend on your itinerary and the size of your group. Here are some common cars and vehicle categories.
Full size 7 seater SUV's: Mitsubishi Montero Sport, Toyota Prado, Ford Explorer or Chevrolet Trailblazer.
Mid size SUV 5 seater: Toyota Rav4, Nissan Rogue, Kia Sportage, Toyota Rush, Ford Explorer, Ssang Yang Korando, Hyundai Tucson, Hyundai Tucson Superior.
Compact SUV: Hyundai Venue, Hyundai Creta, Mitsubishi ASX and Geely Gx3.
Sedan/compact sedan: Hyundai Accent Blue, Hyundai Ionic, Toyota Yaris, Hyundai i10, Hyundai Gran i10, Hyundai Atos. These cars can go to all major cities.
Vans (8/9 – 12 seaters): Hyundai H1 and Hyundai Staria
Jeeps are not readily available to rent in Costa Rica. There are 4×4 cars and trucks, but not specifically the brand Jeep. Convertibles are also not available to rent in Costa Rica.
Want more information? We took videos and pictures of cars to rent in Costa Rica here.
Automatic vs Manual
Make sure the car you rent is an automatic if you can't drive manual. Some companies will label the car as "AT" for automatic transmission and "MT" for manual transmission. Manual transmissions cars are a tiny bit less expensive but it is not a drastic difference.
If you rent a manual transmission, you need to be a confident and proficient manual driver. This is due to the infrastructure in Costa Rica. We have a lot of steep and curvy hills, potholes and unpaved roads, especially in the rural and remote places.
If you think you won't feel comfortable driving manual in a foreign country, don't. It will be worth paying a little bit more for an automatic to not have that stress.
Furthermore, if you're from England, Ireland, Japan, Bahamas, New Zealand, Australia, Malaysia, or any of the countries that drive on the left side of the road, we highly recommend an automatic transmission so you do not need to worry about driving on the other side of the road and changing gears with the opposite hand at the same time.
Car and Engine Size
Engine sizes in Costa Rica are smaller than the US. A sedan in Costa Rica normally has a 1.6 L, 4 cylinders engines. SUVs are typically 1.6-2 L, 4 cylinders engines. There are also full size SUVs with diesel engines that are 2.4 L – 3 L.
If you want a bigger engine like a V6 or V8, it is not common in Costa Rica. If you find one, it will be much more expensive since cars in Costa Rica have small engines. Cars with big engines are considered premium. You will pay more if you want to rent an automatic, V6 engine, American car.
Something else you need to note is that even though your entire group of 4 plus luggage fits in the sedan, it may have trouble going up a hill due to weight and small engine size. You may want to consider a bigger car in those situations if your accommodation is up in the mountains and your group has lots of luggage.
Rental Car condition
If you notice a company offering very cheap rates, check the year of their rental cars. Some companies that have cheap car rental prices in Costa Rica use old cars (5 years or more). You will need to take that into consideration because of the rough roads. The older the car, the more problems they may have.
Adobe changes their rental cars every 2 years or when they hit 100,000 kilometers (around 62,000 miles). However, some car rental agencies with very cheap rates rent cars that are 5, 7, even 10+ years old with 300,000 kilometers or more (around 185,000 miles). The condition of a 5 year old rental car in Costa Rica isn't the same as a 1 year old rental car AT ALL!
Is a 4×4 necessary in Costa Rica?
Some places may require a 4wd but in general, a car with high clearance is more important for many places in Costa Rica, particularly in dry season. In rainy season, it will be required to rent a 4wd for more rural, mountainous areas with unpaved roads. This time of year has bigger potholes and muddier roads.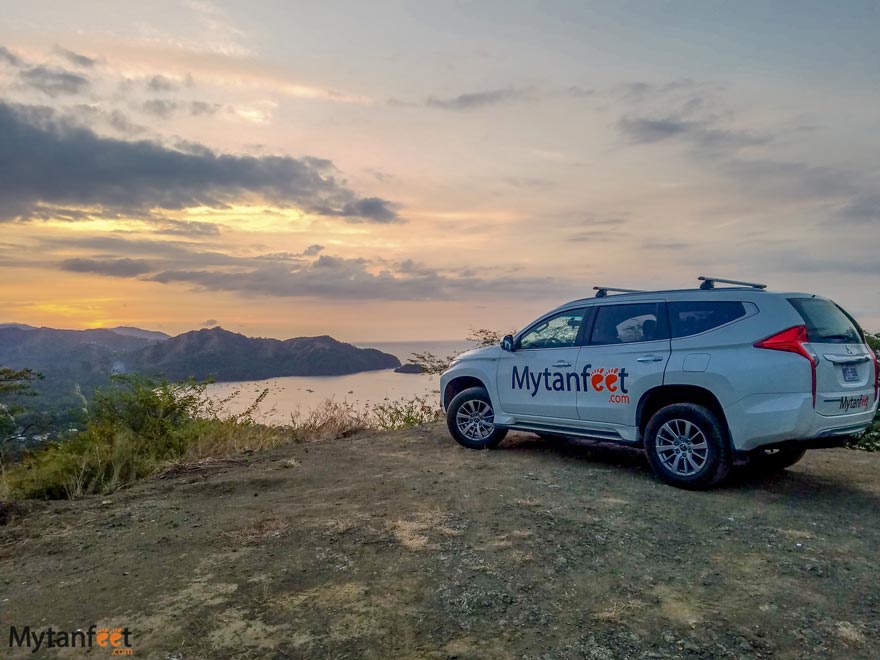 Here are some popular routes:
We created two driving in Costa Rica sections: Driving around Costa Rica videos and Costa Rica road conditions with photos and videos.
Other Important Things to Know About Costa Rica Car Rentals
If you get a ticket, pay it when you drop off the car. There is a law that can prohibit you from exiting the country if you don't.
Child seats are required for children under 12 years of age. Agencies normally have seats for 1-12 years, but not infant seats. If you have a less than 1 year old baby, you will need to bring your own infant seat.
Rental vehicles cannot be driven across the Costa Rican border to Nicaragua or Panama.
If you have car rental points, they might not work in Costa Rica.
Keep the contract and car documents (registration). If you lose them, you may pay a fine.
You must have your passport and driver's license (original, not copies or photos) with you if you are driving.
For payments, you cannot use the credit card of a person who is not present.
If you get into an incident, report it to the necessary authorities and the car rental company ASAP. You will run into trouble with the rental company and the insurance company if you do not.
Damage from driving through rivers or any body of water is not covered by any type of insurance. Same with driving under the influence.
Participate in the inspection. Take pictures and tell them if you see any scratches, dents, or nicks.
It is the law to wear seat belts in Costa Rica, front and back seats.
Flat tires are not covered under any of the insurances. You need to change it yourself. Then go to the rental office to change out the spare. All rental cars have the tools to change tires.
The Mytanfeet Costa Rica Car Rental Discount
We're very pleased to partner with Adobe Rent a Car to give our readers an exclusive Costa Rica car rental discount and extra freebies!
"Why Adobe?" you may ask. When it comes to reputable Costa Rica car rental companies, Adobe Rent a Car is the leader. They are a 100% Costa Rican company with the largest fleet of cars that are no more than 2 years old. Furthermore, they offer all-inclusive pricing.
We also offer extra benefits: 2 free additional drivers, 0% deductible on Liability Protection insurance (up to $20,000 USD), road assistance on all reservations, a free prepaid SIM card for duration of booking, free baby and booster seats, free surf racks, 33% off GPS, free dog seat covers, WiFi deal, free car delivery and pick up, one hour car return leniency and a special deposit deal ($500 or $750 instead of $1000).
Book a car, have a trip of a lifetime and save money while doing it!
You can read about our experience with Adobe Rent a Car and why we recommend them.
If our renting a car in Costa Rica article was helpful, feel free to pass it along. Our goal is to give the best information and help our readers out as much as possible!