If you're staying in Jaco or the surrounding areas and looking for a full day of fun, then head to Vista Los Sueños Adventure Park! This park is just ten minutes outside Jaco and offers fun for the whole family with their horseback riding, ATV, canyoning, chocolate and ziplining tours.
Although the property is beautiful and the activities are very fun, the guides and the staff are truly what makes Vista Los Sueños stand out from the rest in Costa Rica. They are so attentive and helpful, they make you feel completely safe and taken care of the entire time and they want everyone to have a blast!
In case you're interested in spending a day at the park, click here to get our special Vista Los Sueños discount for Mytanfeet readers! Below you can read about our day at Vista Los Sueños and watch our video.
Vista Los Sueños Activities
The Vista Los Sueños Adventure Park is one of the best things to do in Jaco, especially for those who are looking for some adventure. They have one of the best ATV tours in Jaco, as well as ziplining and horseback riding.
Their chocolate tour is excellent for families or for anyone who wants to add a bit of culture to their day and their new tour, extreme canyoning, is perfect for anyone looking for the ultimate adventure in the Costa Rican rainforest.
Vista Los Sueños Adventure Park Video
Check out our video of Vista Los Sueños below!
Ziplining
Their ziplining tour has 10 cables and it's an excellent zipline for first timers and families. Yeison and I have done a LOT of ziplining tours, not just in Costa Rica, and this is one of the best ones we've done in terms of safety, security and quality of the cables and guides.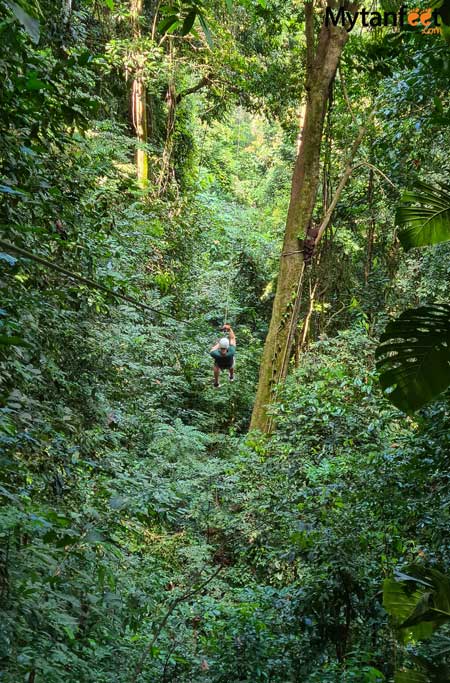 The tour starts by taking a 4×4 tractor up to the beginning of the zipline where we saw beautiful views of the rainforest below. On the Vista Los Sueños ziplinine tour, the cables aren't crazy high but you do get a nice view of Playa Herradura and the surrounding rainforests.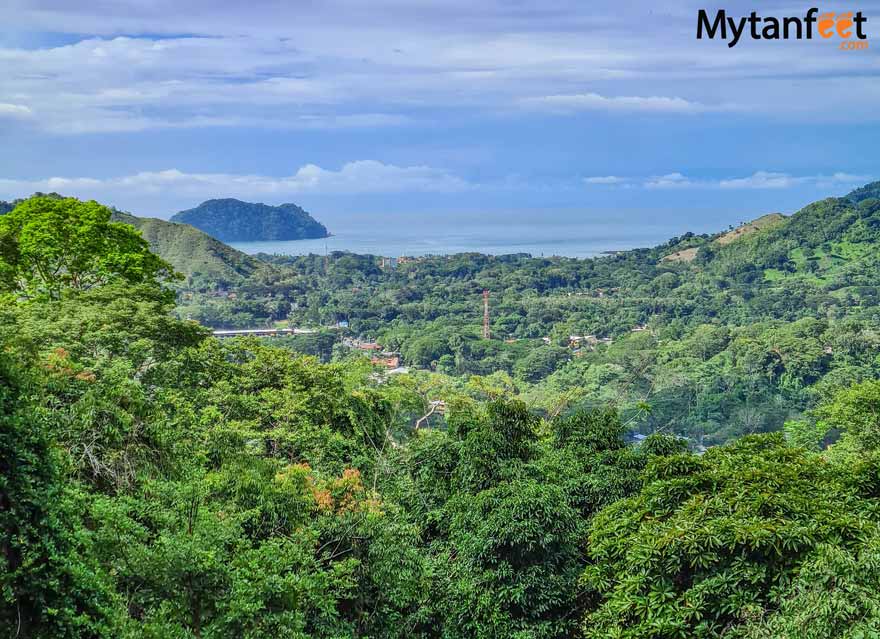 There are a couple of fast cables which adds a lot of excitement to the tour. There is also one cable where you can go upside down if you want for the brave souls! I highly recommend it for those looking to spice it up a bit!
Ziplining is one of the must do things in Costa Rica so you can check it off at Vista Los Sueños!
ATV Tour
Vista Los Sueños' ATV tour is one of the best in Costa Rica. It goes through muddy trails, rivers, streams and the rainforest to reach a private swimmable waterfall.
This ATV tour was SO much fun! It was my first time ever doing an ATV tour so I was a bit nervous but our guide was great and very patient as I went pretty slow at the beginning until I got used to it.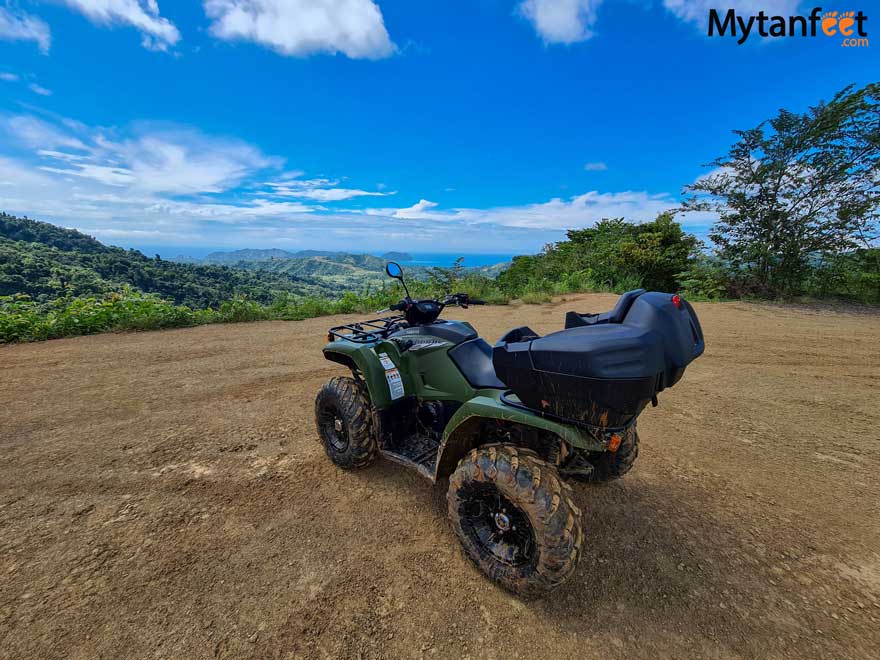 The views were fantastic, the trail was fun and the waterfall was very refreshing.
Horseback Riding
For a more nature experience, the horseback riding tour is a wonderful option. The horseback riding also goes to the same waterfalls at the ATV tour but at a slower pace so you can enjoy the surrounding nature more.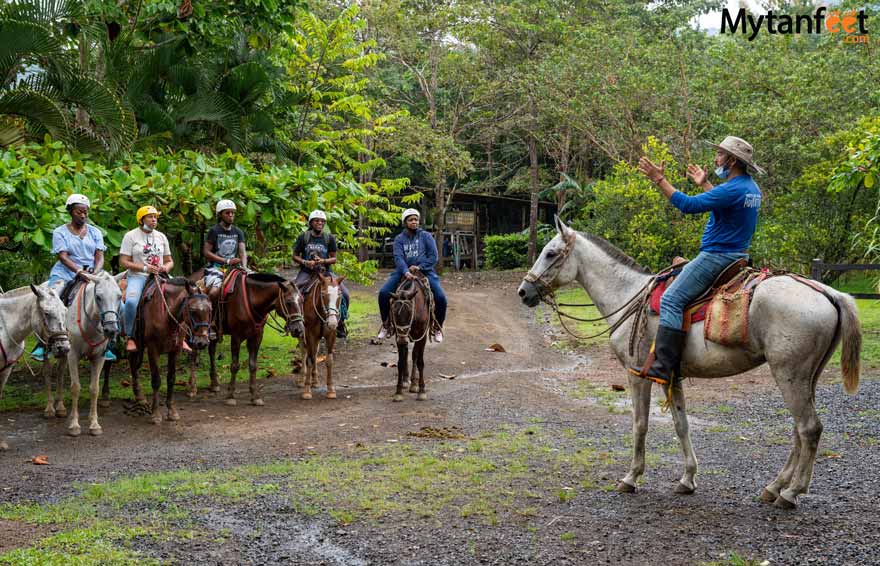 The horses are all very well taken care of and the guides are extremely attentive and helpful. The Central Pacific has a lot of wildlife such as monkeys, toucans and macaws and the horseback riding tour lets you enjoy the nature while being led by a trusty steed.
Chocolate Tour
The cacao tree is a prized tree in Costa Rica, particularly in the indigenous communities and the chocolate tour allows guests to learn how cacao trees are grown and how chocolate is made.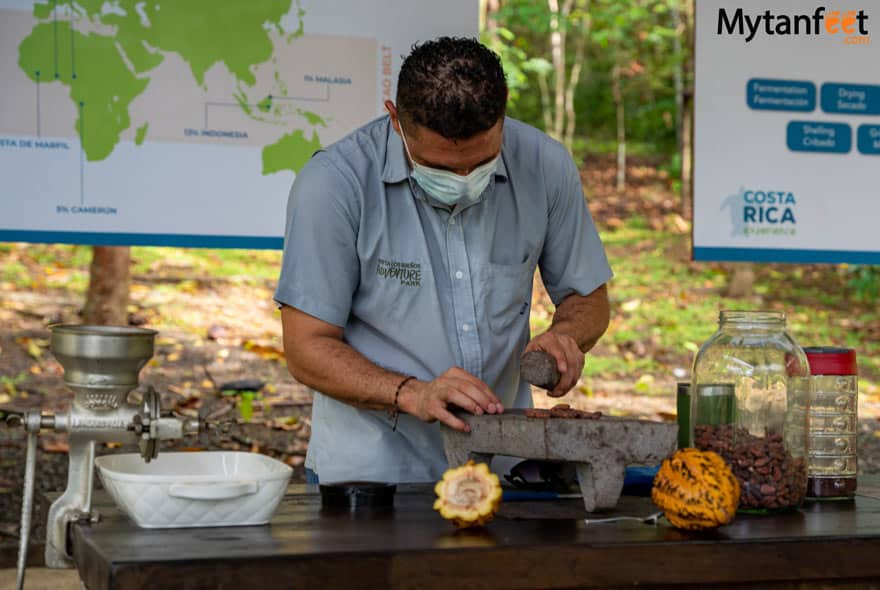 It's an interesting and interactive tour and you get to taste and sample local chocolate at the end. You get to experience a bit of Costa Rican culture and tradition on the chocolate tour.
Canyoning
Unfortunately we didn't get a chance to experience the canyoning due to the weather but waterfall rappelling is an awesome activity for adventure junkies. You rappel down 3 waterfalls and end by jumping into a refreshing pool in the middle of the rainforest. Guests do need to be in decent shape to do this tour and not have any mobility problems as it requires jumping, walking and hiking.
Restaurant
Vista Los Sueños also has their own outdoor restaurant and they offer lunch for an additional charge to guests. We had lunch there and it was delicious.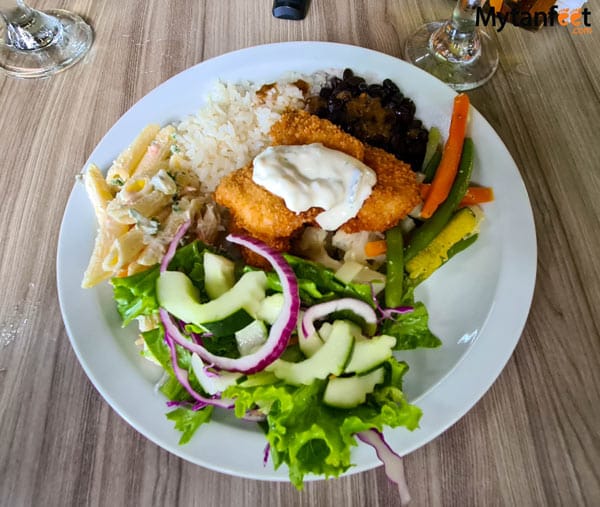 It's buffet style with traditional Costa Rican food so you can pick whatever you want and they also have plenty of veggie options. Coffee, juice, soda and dessert are included.
Overall
Overall, we had a great time at Vista Los Sueños. It's an excellent place to visit while in Jaco, Herradura or surrounding areas for a full day of fun. They have lockers, showers, changing rooms, bathrooms, a restaurant, souvenir store and sitting areas so guests can comfortably spend an entire day at the park.
If you would like to visit Vista Los Sueños, click here to get our discount for their activities!
Other Tours We Have Discounts For
In case you're visiting other parts of Costa Rica, we offer discounts for tours around the country which you can check below!