Want to go ziplining? What about 100% Aventura? It's a lot of fun! Guido asked Yeison and I. Guido, the manager of Hotel Poco a Poco was trying to help us decide what activity to do for our last day in Monteverde. I looked at Yeison and said sure why not? We've seen their shuttles around Monteverde and Santa Elena before, with big letters on the side boldly stating "Longest zipline in Latin America!"
Since we normally take these statements with a grain of salt (it seems every canopy tour in Costa Rica claims to have the longest zipline), we didn't think about it too much, assuming it was like the other ziplines in Monteverde we've done.
Boy were we wrong!
100% Aventura's canopy tour truly lives up to its name with an action packed, adrenaline filled zipline that will leave you breathless and in awe by the end.
100% Aventura Zipline
The canopy tour started off nice and easy, like most others. The first couple cables were short and sweet, giving people particularly first timers the feel for ziplining and enough time to get comfortable. Around the 5th or 6th platform, we did a short rappel which led us to the 7th cable, the start of the long ziplines.
The cables are so much longer and faster than the first ones that they had to put up a sign warning visitors that this is their last chance to turn back (the canopy tour is sectioned off so in case you find yourself not able to continue, you can step down and walk back to the headquarters).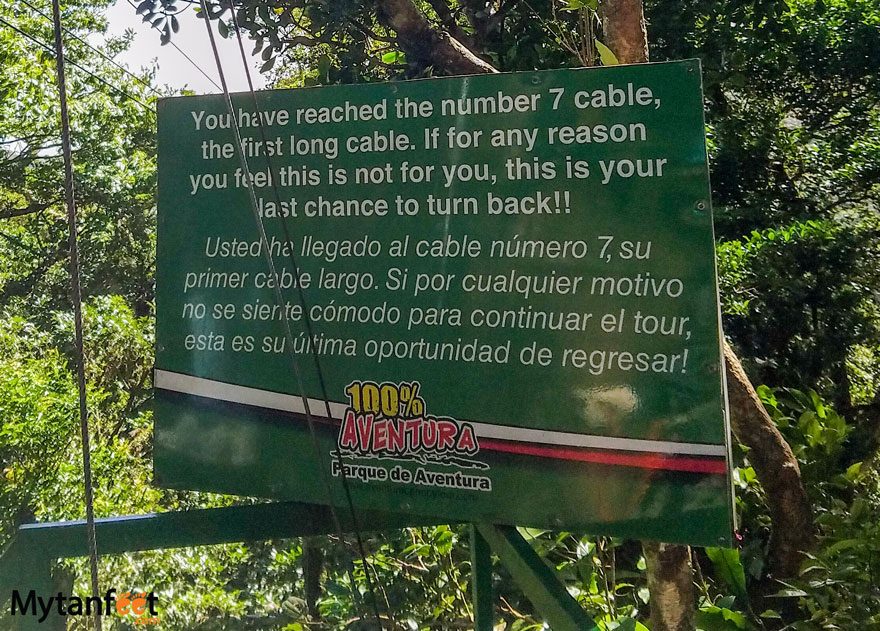 But the last two ziplines are hands down, the best and most fun we've done. If you've ever gone ziplining, you'll notice that after you do a few cables in the normal sitting up right zipline position, you find yourself feeling like you want a little bit more.
This zipline tour gives you exactly that as you get to go superman style on the two longest cables meaning you are lying down, held up by two harnesses from your back. Appropriately named, as you feel like Superman flying through the sky!
Superman Ziplines
But before you go superman-ing over the forest, you have to get up to the platform by way of a buggy. Four of us climbed into the 4×4 and as soon as the door closed, our driver hit the gas and sped off into the forest on a very bumpy and overrun trail in the trees for about 5 minutes. He stopped abruptly, running out to open the door and quickly usher us to the trail. Doing things fast seemed to be the motto of the 100% Aventura zipline tour!
As we climbed up the platform, I could hear cries of glee coming from the people who were already soaring over the forest. I grinned excitedly, I couldn't wait!
The first superman zipline is around 600 meters (1968.5 feet). Two people go at a time so the guide pushed me out first with Yeison following me close behind. The wind whipped around my face and my eyes widened, almost bugging out as I felt weightless, flying over the cloud forest with the sun shining brightly above me. I glanced wildly around me and laughed crazily. This was amazingggg! I cried out.
600 meters felt like forever and the last cable was even longer, around 1.5 kilometers! (4921 feet). 100% Aventura definitely designed their canopy tour with adrenaline in mind. The first 600 meter cable was long enough for people to get a taste and the 1.5 meter long superman cable was the cherry on top of the already fun zipline.
Check out the short video of us on the superman ziplines!
The tour certainly wasn't over when we finished the zipline. We still had one more crazy adventure to go on before we could call it a day – the tarzan swing! The 100% Aventura tarzan swing height is a whopping 45 meters!
This is optional but I knew I couldn't pass it up. I saw the platform on the 2nd superman zipline and the swing looked insane. I knew I had to do it!
100% Aventura Tarzan Swing
However, I underestimated 45 meters which is almost 150 feet or around 10 to 15 stories. (For reference, the Golden Gate Bridge is 250 feet). It doesn't sound that tall but when I got up to the bridge, I balked. As I walked onto the platform, I clutched my harness tightly and took a slow deep breath. You can do this, Sam. You can do this. It's just a little hop into the forest and that's it. Nothing crazy, nothing life threatening.
After I said those words, I made the mistake of looking down. My knees buckled a little as I squinted down at the tiny trees that looked like broccoli from this height. OK maybe I still have time to turn back…
Vamos! The guide yelled at me. Venga! He gave me a pointed look which I could see even being 30 feet away. Of course he's impatient. He's had to throw 20 of us off this bridge already and there were still 10 of us to go! There was nothing left to do at this point but to keep going forward. It's a once in a lifetime opportunity, when else would I get to do something like this right?
I bundled up my courage and determinedly walked to the guides where they proceeded to clip, fasten, tie and pull the rope and my harness together. They were going so fast I could hardly tell when I was ready until he opened the little door and yelled Lista!
Wait! OK no ready? OK go! I hopped off the platform (or did he push me?) and immediately felt the wind knock out of me. Ahhhhhhhhhhhhhhhhhhhhhhh!
I'll never forget the time I willingly jumped 150 feet down into the forest in Costa Rica. You can see the proof below!
If you like this article, follow us on Facebook for more Costa Rica travel tips and inspiration!
When it comes to adrenaline filled ziplines, 100% Aventura in Monteverde wins by a long shot. Yeison and I have both gone ziplining in Costa Rica numerous times but none this high or fast. The views for 100% Aventura are not quite as nice as Sky Adventures or Selvatura Park (those are the only two actually over the cloud forest) but it's definitely one of the best canopy tours in Monteverde.
100% Aventura also has hanging bridges, an ATV and horseback riding tour. You can book and make reservations for the tours on their website. They include transportation from Santa Elena in case you don't have a car.
Read about other adventures in Costa Rica and Monteverde below!