If you want to check out San Jose, the capital city of Costa Rica, you can easily do it in 1 or 2 days. It's not a very big city but there are several excellent cultural and historical things to do in San Jose, Costa Rica.
If you have a day or two in San Jose, here are our recommendations for what to do in San Jose, Costa Rica.
How to Get to San Jose from San Jose International Airport
San Jose International Airport is about 17 kilometers (10.5 miles) from downtown San Jose, approximately a 30 minute drive. To get to San Jose from San Jose International Airport without a car, you can take a taxi, an Uber or arrange a transfer in shuttle. Airport code is SJO.
Interesting fact: Although many people think San Jose International Airport is in San Jose, it is actually in Alajuela, the province right next to it. Another interesting fact, San Jose was the third city in the world to get public electricity and one of the first for public telephones. Another interesting fact: San Jose became the capital of Costa Rica in 1821. Previously, it used to be the cit of Cartago.
An Uber/taxi costs about 8,000 – 10,000 CRC ($14 – 17.50 USD) one way. A private shuttle is approximately $40 USD for 1-4 people from the airport to downtown.
Bus
You can also take the public bus. There is a bus stop right outside the airport. Walk down the ramp onto the main street and you will see the bus stop there. It runs frequently and costs just a couple hundred CRC to get to downtown.
Getting Around San Jose
Bus: There are many buses in San Jose, you can get to pretty much anywhere in the city with the public transportation. Read our tips for taking the bus in Costa Rica.
Uber: We love using Uber as it's readily available in San Jose. Read our tips for using Uber in Costa Rica. Didi is another ride share app that works in San Jose.
Taxi: We prefer Uber but you can find taxis everywhere in San Jose. Read our tips for taking taxis in Costa Rica.
Walk: If you're staying in downtown, you can easily walk to many of the attractions. We don't recommend walking in San Jose after dark as some parts can get sketchy. Always take a taxi or Uber at night. Never walk down empty streets, alleys or unlit roads.
Driving Around San Jose Video
We took a video of us driving around San Jose so you can see what the city is like. The video includes some commentary so you can learn more about the city.
Things to Do in San Jose, Costa Rica
Walk Central Avenue
Central Avenue is San Jose's downtown and the road goes straight through it. It's an excellent starting point to see downtown and to also visit the various places of interests like museums around.
If you go around 4-5 PM, you'll see all the locals getting off work and it's fun to people watch. Walking through Central Avenue is one of the best things to do in San Jose, Costa Rica because you get to experience and see typical city Costa Rican life.
National Theater
The Costa Rica national theater is the cultural and architectural gem of Costa Rica. Take a tour to learn about the theater and see the stunning architecture.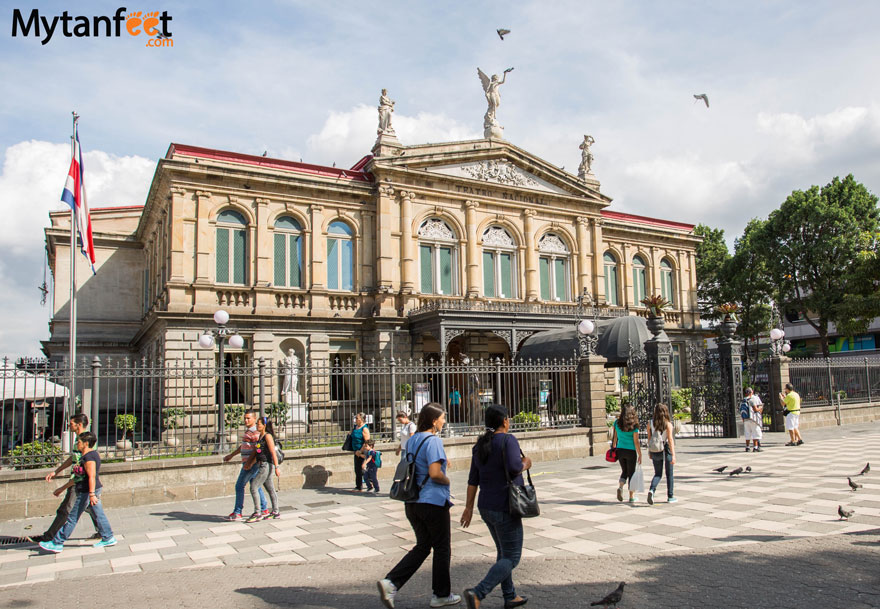 Restaurante Tiquicia Dinner Show
This restaurant up in the hills of Escazu has a stunning view of San Jose, the surrounding mountains and nearby cities. They serve traditional food and drinks and on Friday nights, they have traditional performances by the local kids. This is a wonderful place to see the city lights, eat local food and experience some Costa Rican culture.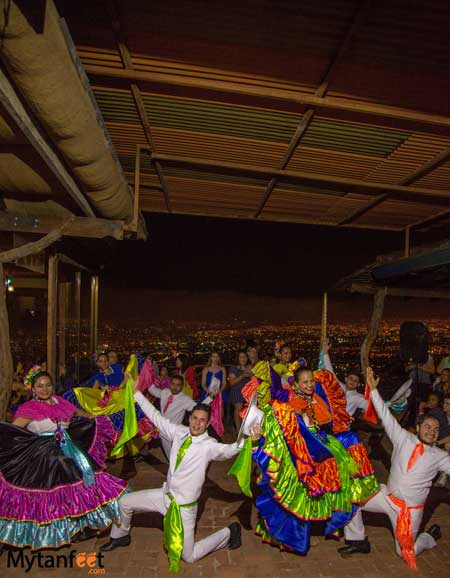 Restaurante Tiquicia offers "Noche Tica" which is their dinner show now on Thursdays. Must make reservations beforehand (can call them or contact them via their website).
Central Market
The San Jose Central Market is a must visit in San Jose. I love the atmosphere of local markets! It's fun to watch the locals go about their daily life, you can try traditional food and go souvenir shopping.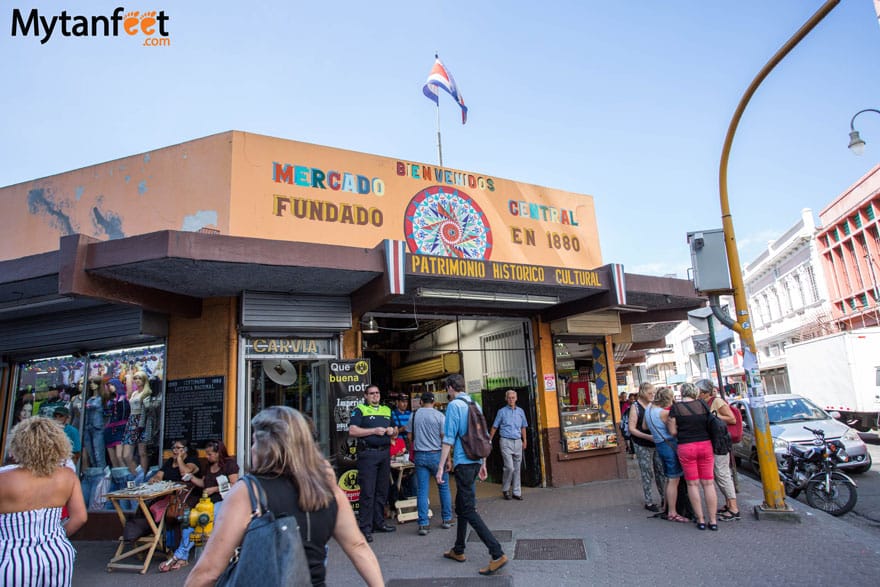 Most San Jose sightseeing tours stop by this market as it's one of the most important places in the city.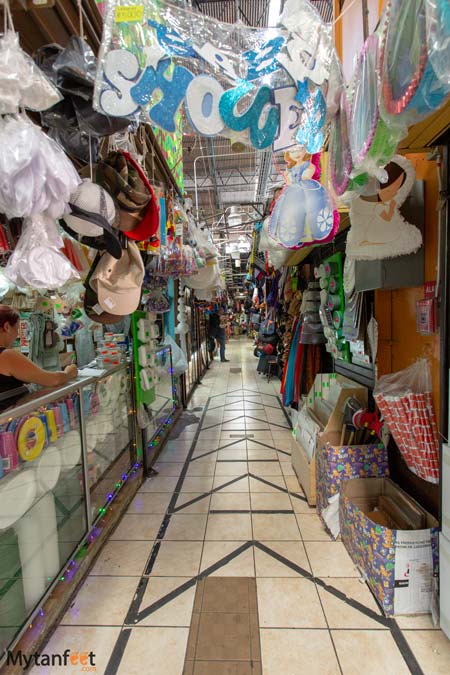 You can spend about an hour wandering through the stalls as the market is not that big. Highly recommend to grab breakfast or lunch there as it's all typical food. We love Soda Tala and their gallo pinto. Don't forget to try the local ice cream, visit La Sorbetera de Lolo Mora.
Municipal Craft Market
For more souvenir shopping, head to the Municipal Craft Market. They have dozens of local vendors selling their artisanal products. You may need to dig around a bit but there are some hidden gems.
San Jose Museums
San Jose has several small but superb museums to learn about the history of Costa Rica.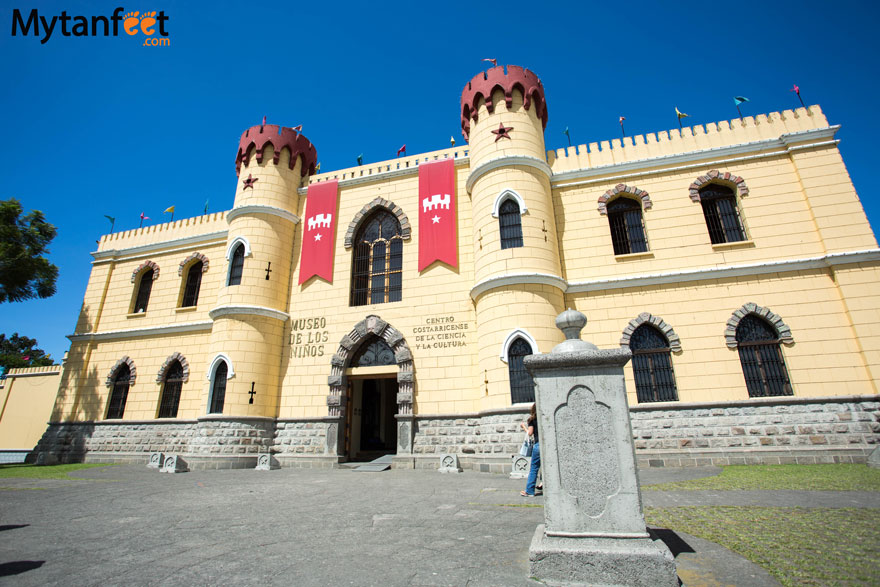 Jade Museum: This archeological museum has the largest display of American jade in the world with over 7,000 artifacts and pieces. In the Plaza de la Democracia.
Children's Museum: Formerly a jail, the children's museum has hands-on exhibitions and science and culture presentations.
Gold Museum: This museum has a large collection of Pre-Colombian gold dating back to AD 500. Under the Plaza de la Cultura.
National Museum: Formerly a fortress, this museum is one of the most important places in Costa Rica since it's where former president Jose Figueres Ferrer abolished the army in 1948.
If you only had time to visit one museum, we recommend the Jade Museum. This is our personal favorite museum, it has five floors with permanent exhibits and normally 2 temporary exhibits. The Museum of Gold is fascinating too but it's very small. We personally think the entrance fee to the Jade Museum is more worth it. ($15 USD per adult for Gold Museum, $16 USD per adult for Jade).
Metallic Building
Architects and sightseers can't miss this unique building in San Jose. Designed by a Belgium architect and inspired by the Eiffel tower, the building is now a children's school.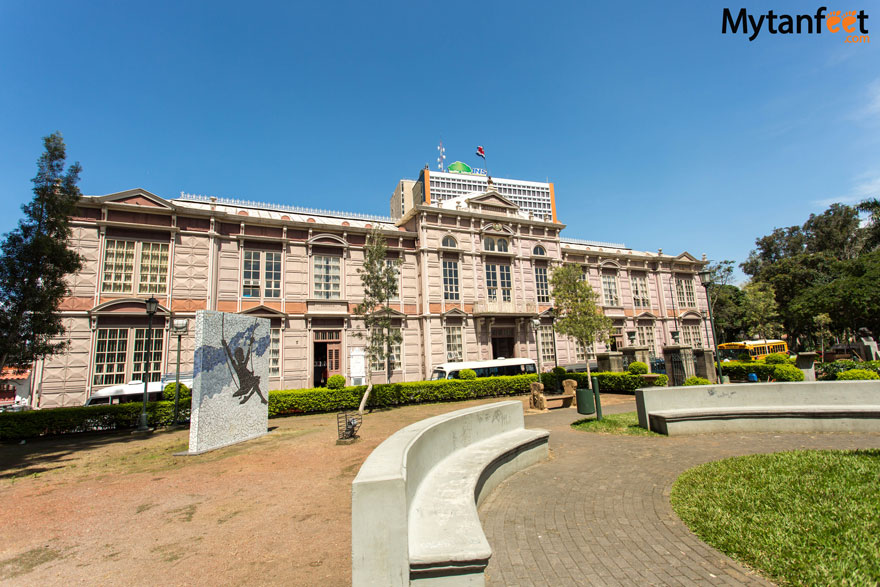 The funny thing about this building is how it was put together as it came with barely any instructions! If you examine the school closely, you'll see numbers and letters which helped the workers figure out how to put it together.
This is one of the few free things to do in San Jose.
San Jose, Costa Rica Map
Here is an interactive Google map with the attractions mentioned above. Click the left bar to open the categories.
Sample Itineraries for One Day in San Jose
Here is our recommended itinerary for one day in San Jose. This can easily be done on your own.
10 AM Morning guided tour to the National Theater
11-1130 AM After the tour, sit in the Plaza de la Cultura to people watch for a little bit.
12 PM Have lunch and spend an hour or two souvenir shopping at the Central Market. Also get an ice cream at the market.
2 PM Stop by the Municipal Craft Market for more souvenir shopping. Can check out the San Jose Cathedral on the way. Or head to the Jade Museum or Museum of Gold in the afternoon.
4 PM A coffee and cake at Spoon in downtown San Jose on Second Avenue
Afterwards, head to hotel to relax and freshen up.
Uber to dinner. 11.47 Aranjuez is very good or you can go to Barrio Escalante and pick a restaurant there. For our favorite Costa Rican restaurant experience, go to Posada de las Brujas in Escazu.
For 2 Days
If you have two full days in the city, here is what we recommend for day 2.
Breakfast at your hotel or if breakfast isn't included, get breakfast at Soda Tapia
Around 10 AM, Uber to La Sabana Park. Walk the trails, see the lake and enjoy the nice weather. Also visit the Museum of Costa Rican Art to see the exhibits and old airport.
For lunch, there's a bunch of restaurants and fast food around. We recommend Soda Tapia and then a Pops Icecream afterwards.
After lunch, Uber to the Simon Bolivar Botanical Garden to walk through the gardens and see their small animal center.
Uber back to your hotel. Rest, freshen up.
For dinner, we recommend Restaurante Tiquicia for beautiful city views. And hopefully you can visit on one of the days they have the dinner shows.
For More Days
If you plan to use San Jose as a homebase or have more days in the city, here is a sample 5 day San Jose itinerary.
Guided San Jose City Tour
There are several tour companies that offer San Jose city tours. They'll take you around to the highlights of the city such as Parque Morazan, a couple of museums, the Catholic church, the central market and other points of interest.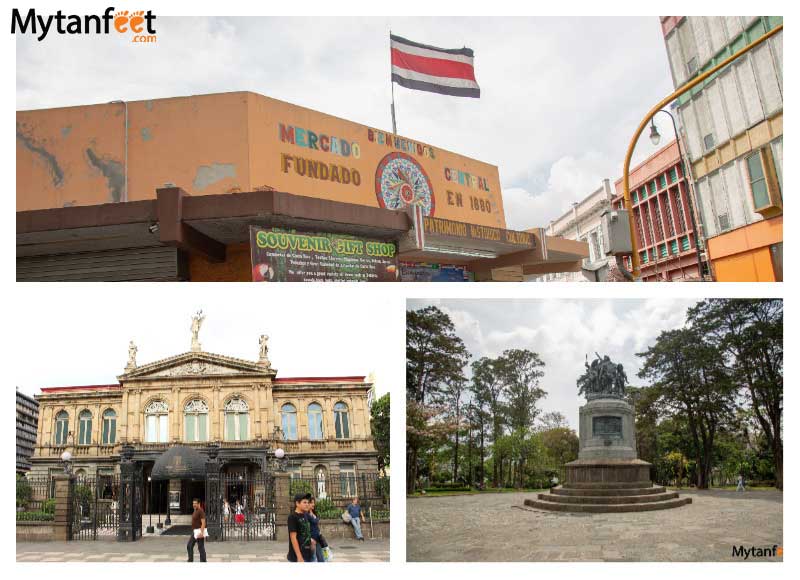 For a full day of cultural and fun, we recommend to do the San Jose city tour and then the Ram Luna or Restaurante Tiquicia at night. The City tour is in the afternoon and they'll take you straight to the restaurant afterwards.
Get a discount off the San Jose city tour here! The tour is called Classic San Jose.
San Jose Day Tours
Just one hour away from San Jose are several volcanoes, waterfalls and other natural attractions. As a result of San Jose's great location, there are plenty of awesome day trips where you can go ziplining, cruise to an island and hike up to a volcano crater!
A couple of our favorite day trips from San Jose are Tortuga Island (get $10 off the tour here), Rio Pacuare white water rafting (get $5 off the tour), Doka coffee tour and Irazu Volcano.
Want some recommendations for the best day trips? Check out our post 7 day trips from San Jose. You can also get our San Jose day tours discount here to save some $$!
San Jose, Costa Rica Hotels
Vacation Rentals
There are also a ton of Airbnbs in San Jose and we recommend to pick one in a condo tower as they have secure parking, front desk/concierge and amenities like gym, laundry and pool.
We've stayed at Ambar Torre Condos, Nunciatura flats, QB SkyHomes, Condominio Vistas del Robledal, Apartamentos Witite, Cosmopolitan, Secrt Sabana and Azena Towers. The only thing to note is if you stay at an Airbnb condo tower, tour companies will have you go to the nearest hotel for the pick up and drop off point since they can't pick up at Airbnbs.
If you're looking for a hotel near the airport, read our post for SJO Airport hotels.
San Jose Restaurants
Here are some of our favorite restaurants in San Jose, Costa Rica. Barrio Escalante is a fantastic neighborhood for food and a fun, hip nightlife. Uber Eats and Globo work in San Jose.
Posada de las Brujas: This restaurant in Escazu is one of our favorite places for local food in San Jose. Big portions, very good prices.
Septimo Sentido Gourmet: A super cute restaurant in Escazu with homemade recipes and fresh ingredients. Has veg/vegan options, sandwiches, pasta, breakfast, dessert, burgers and coffee.
The Cental Market Market: Has several local restaurants. Highly recommend Soda Tala or Soda San Martin for local food. Then get a delicious ice cream sorbet style at La Sorbetera de Lolo Mora.
Apotecario: One of our favorites in Barrio Escalante for beer, burgers, gallos and fried yam.
Amor de Barrio: Trendy restaurant marketplace with food stands and restaurants on each floor. Has a rooftop terrace.
Soda Castro: A classic soda known for their fruit and ice cream desserts
República Casa Cervecera: Good place for beer and food right in front of the National Stadium.
Pho Yummy: Fantastic place for pho and Vietnamese food
Soda Gloriana2: Typical buffet style Costa Rican soda. Cheap.
Dulce Pecado: Cafe and soda with traditional Costa Rican food
Tamura: Excellent place for sashimi, sushi and ramen
O'Libano: One of our favorite places for shawarma, salads and hummus
Craic Irish Pub San Jose: Irish pub with fish and chips and good craft beer.
Stiefel Pub: One of the best places for craft beer and bar food in San Jose.
Taste of India 506: In Escazu Village, very good Indian food.
Silvestre: Amazing fine dining restaurant, same owner as Don Rufino in La Fortuna.
Restaurante Machu Pichu Excellent Peruvian food. Their seafood is really good.
11.47 Aranjuez: Gourmet Costa Rican fusion food. Reservation only.
Cafe Franco: Chill cafe spot with lots of pastries, great coffee and vegan/vegetarian options.
Zaika: Gourmet Indian Cuisine
Safety Tips
San Jose, Costa Rica is generally safe during the day but there are some places we recommend staying away from and things to keep in mind.
Don't walk alone at night past 9 PM. If you want to go out, always take a taxi or Uber. Never walk down empty or dark streets.
If you are lost or feel unsafe, go into a safe public area (supermarket, gas station, business) and ask the employees to help you. Most city Costa Ricans speak a degree of English.
In case of emergencies, the emergency line is 911 and they have an English speaking option.
Don't wear beach clothes in the city. You should also wear good closed toed comfortable shoes. Sidewalks and roads have a ton of cracks and holes.
When purchasing things, never take out all the cash in your wallet. Take out only the amount needed. If you use your credit card, always keep an eye on it, never let it leave your sight.
Always keep your belongings close to you and where you can see them. Never hang your purse or backpack on the back of your chair or put it underneath. Always put it somewhere you can see it at all times.
The area around Hotel del Rey is one of the sketchiest. Avoid that area at night.
Don't leave your expensive camera out. Put it in your backpack when not using it.
Read Other Costa Rica city guides below!
La Fortuna, Costa Rica: Main town and tourism hub near Arenal Volcano, famous for adventure, wildlife and nature
Jaco, Costa Rica: Biggest and most developed beach town, only 1.5 hours from San Jose. A popular surfing beach.
Tamarindo, Costa Rica: The main surf town in the North Pacific (Guanacaste province). Popular for backpackers and families, has good nightlife and lots of beautiful beaches around
Monteverde, Costa Rica: Small farming town up in the cloud forest. Famous for nature, hanging bridges, ziplining and birdwatching