If you're looking for a quiet rainforest getaway, we highly recommend Bijagua, Costa Rica As the gateway to Rio Celeste, this little town has a very natural and rural feel with stunning mountain scenery, fantastic bird watching and charismatic locals.
In this guide, you'll read all you need to know about visiting Bijagua.
Location
Bijagua is located right at the border between Alajuela and Guanacaste, up in the Guanacaste mountain range. Bijagua 86 kilometers (53.5 miles) from Liberia Airport and 190 kilometers (118 miles) from San Jose Airport. It sits right in between the Tenorio and Miravalles volcano.
How to get to Bijagua, Costa Rica
Driving
Driving to Bijagua is quite easy. From Guanacaste Airport (Liberia International Airport), it is all on paved roads and takes about 1.5 hours. The route goes on Interamericana highway 1 for a portion of it.
Bijagua is a 4 hour drive from San Jose International Airport (191 km/118 miles).
You can use Waze or Google Maps as your GPS and set your hotel as your final destination.
How to get to Bijagua from La Fortuna
From La Fortuna, the most popular way is to go through Guatuso and Upala. This takes about 2 hours and the road is in decent condition, no 4wd required. There is a lot of signage on this route, follow the ones for Parque Nacional Volcan Tenorio/Bijagua de Upala.
Bus
The bus you will take is to Upala and you will get off in the town center. For the most up to date schedules, we recommend to check the website Rome2Rio.
From Canas: There is a bus every day from Canas at 4:30 AM, 6 AM, 8:30 AM, 11 AM, 12:45 PM, 3:30 PM, 4:30 PM and 5:30 PM.
From San Jose: There is a bus from San Jose every day at 6 AM, 10:15 AM, 3 PM, 3:45 PM and 5:15 PM. There is an extra bus on Saturdays at 5:45 AM.
From Liberia: There is a bus from Liberia Monday to Saturday at 12:30 PM and 2:15 PM.
Shuttle
There aren't many shared shuttles but Quality Transfers Costa Rica has shared shuttles from Monteverde at 8 AM for $65 USD per person. They have a returning shuttle at 350 PM for $65 USD per person.
For private shuttles which is the most convenient option, they are available to and from anywhere in Costa Rica. Contact us to for a private shuttle quote to Bijagua!
Otherwise, renting a car is the best option for Bijagua as the attractions are spread out throughout this small town. Additionally, most hotels in Bijagua don't have a fully operating restaurant and are not within walking distance to the supermarkets or restaurants. A high clearance car is highly recommended for Bijagua. Get our Costa Rica car rental discount here!
If you do not rent a car, you will need to walk, hitch a ride or ask your hotel to call you a taxi to get to town or the national park.
The Town of Bijagua, Costa Rica
As soon as you enter Bijagua, you can feel the small town vibe. Dairy and cow farming are the backbone of this community but thanks to its close proximity to Tenorio Volcano National Park, tourism has increased with more visitors discovering the beauty of Bijagua.
Bijagua is also becoming more popular thanks to its lush rainforests, home to sloths. For visitors staying on the Pacific coast in Guanacaste who want to see the rainforest or sloths, Bijagua is the best place to visit as it's about a 2-2.5 hour drive from towns like Tamarindo and Playas del Coco.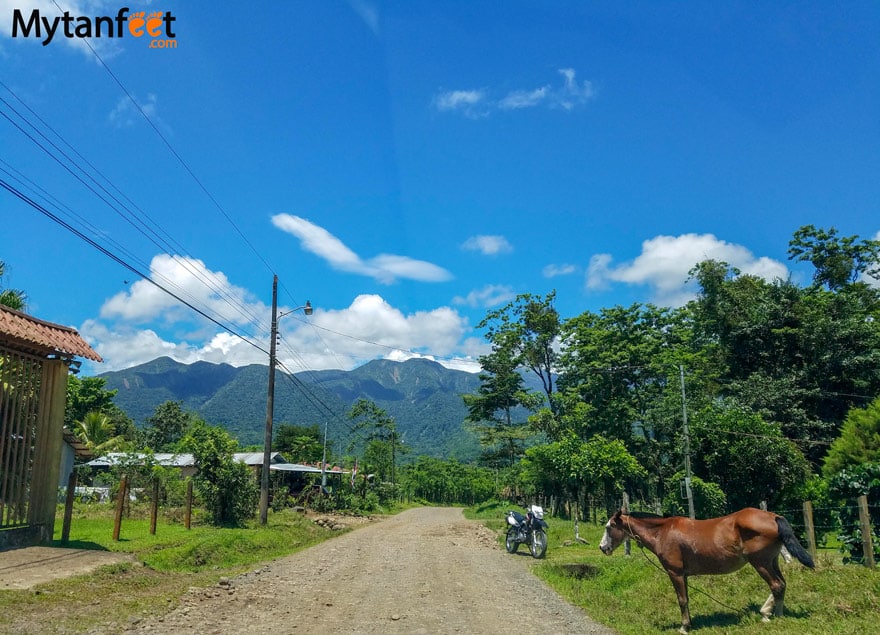 It's common to see farmers out and about, horses and cows roaming the streets and chickens running around. The main street in town is only a couple kilometers long with a few restaurants, banks, supermarkets and pharmacies. There are wonderful views of the Tenorio and Miravailles volcanoes from town.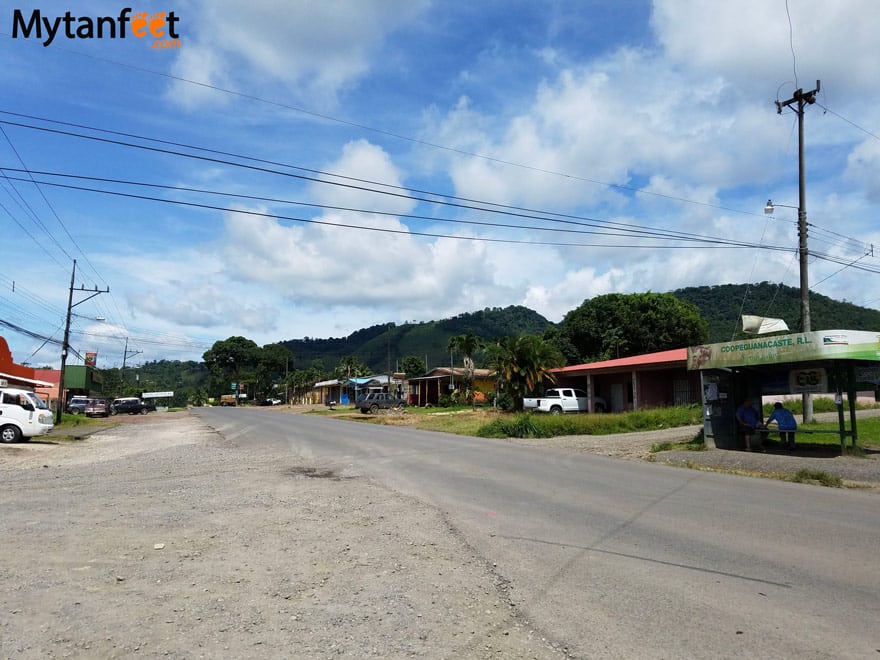 Most of the Bijaguenos live in the outskirts of town and many of them still farm (dairy and cow). Years ago, a good number of Bijaguenos were given a large piece of land from the government to help grow the local economy with farming.
However, during the past decade, the locals decided to plant trees and grow back the forest in hopes of increasing eco-tourism to boost the local economy. Thanks to the new forests, the bird and mammals population in Bijagua have increased drastically and is an excellent place for nature lovers.
Weather
Since the town sits about 500 meters (1640 feet) in elevation, the weather is typical tropical rainforest climate. Average year round temperatures are around 80s F (27 C) for most of the year during the day and cools off at night.
However, since it is up in the mountains, it does tend to rain a bit more. It can even rain a good amount during Costa Rica's dry season (December – April). It is very humid in Bijagua.
We have visited many times in different months: March, April, June, September and January.
When we visited in September, it was hot and dry in the mornings and rained early afternoons and nights. In April, it poured for 2 days straight. Got clear skies and sun on our third day. Was very hot and humid. In March, it rained a lot on March 1st. It was off and on the whole day. My second visit was in mid-March. That day was very hot and dry, no rain at all.
In January, we had on and off rain with clouds and sunshine. In June, it was cloudy, sunny and humid with rain in the afternoon.
Weather in Bijagua can be finicky due to the elevation. The best tip I can give you is to bring your waterproof rain jacket no matter what time of year you visit!
Things to do in Bijagua
The most popular thing to do is to visit Rio Celeste inside Tenorio Volcano National Park (read our detailed guide to hiking Rio Celeste here and how to visit the Rio Celeste Free Pool here).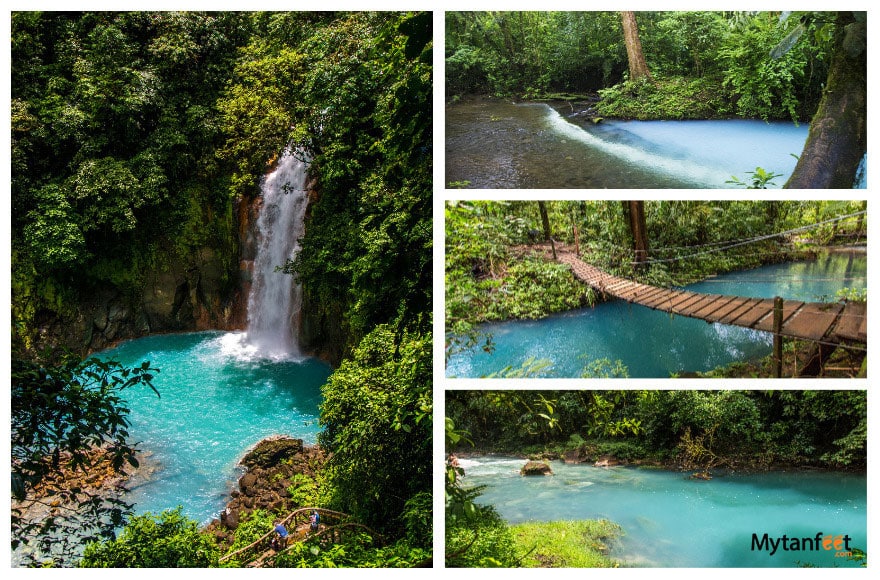 However, there are many other wonderful activities to enjoy in the area!
Bijagua Actvities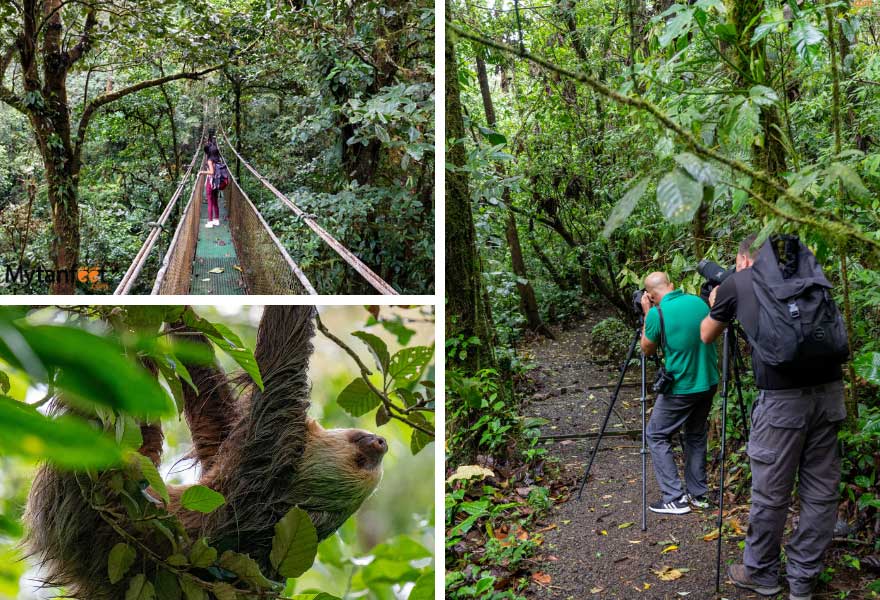 Heliconias Hanging bridges: Heliconias Rainforest Lodge has 3 hanging bridges that runs through their private reserve of primary rainforest. It's an easy 2.2 kilometer trail and is one of the first private rainforest reserves in Costa Rica.
Horseback riding to Rio Celeste: Explore the rain forest by way of horseback and ride to the public area of Rio Celeste to go for a dip.
Tubing on Rio Celeste: Float down small rapids on Rio Celeste on this fun water tour.
Rio Celeste Hanging bridges: this private park has hanging bridges over Rio Celeste, outside the national park
Bird watching: Because of the primary and secondary forests around, there are more than 300 types of birds. You can see three different types of toucans, hummingbirds, mot mots and more.
Finca Verde: This locally owned small private property offers short nature walks to see animals like frogs, sloths and birds.
Finca Garza del Sol: A private owned finca with glamping and a local restaurant, 5 minutes from the national park.
Bijagua, Costa Rica Tour Companies
If you are staying in Guanacaste and want to do a day tour to Bijagua, please contact us. We can help arrange a day trip to Rio Celeste or to the rainforest for nature walks and sloth watching! If you are already in Bijagua, ask your hotel to see if they can help arrange activities as there are very few tour operators in this area. Onca Tours is the main one.
Bijagua, Costa Rica Hotels
Mostly lodges, small B&B's and boutique hotels.
Casitas Tenorio B&B (get 10% off your booking in the link): Spacious casitas (little houses) and own short walking trail with birdwatching breakfast area.
Heliconias Rainforest Lodge: Nice little lodge outside of Bijagua, they have their own private reserve with a hanging bridge trail. Beautiful views of the rainforest. Check rates here.
Rio Celeste Hideaway Hotel: Upscale lodgings with air conditioning, an on-site restaurant, large pool, flat screen TV and outdoor showers. Perfect for a little luxury stay in the rainforest, right next to the national park with their own trails. Check availability and rates here.
Origins Lodge: A truly luxury rainforest lodge. They have their own medicinal herb garden tours. Rainforest view rooms with hot tubs and wood fireplaces. Very expensive so really only for a splurge! Check availability and rates here.
Celeste Mountain Lodge: This lodge sits on a huge property with primary forest with their own trails. They have a focus on gourmet Costa Rican-fusion food. Check availability here.
Sueno Celeste B&B: This B&B has 5 spacious bungalows. They accept children 8 and older. Book a room here.
Tenorio Lodge: Tenorio Lodge has 12 bungalows on a 17 acre property, each with a patio and a volcano view. They also have a little ranch area with two Jacuzzi. Check prices here.
Finca Verde Lodge: A wonderful place to experience eco-tourism and local farming life. They have a cafe and 4 cabins. Make a booking here.
La Carolina Lodge is also another great place that is close to Tenorio Volcano National Park with their own horseback riding trails and dairy farm.
For cheap lodging, check out Rio Celeste Backpackers.
Restaurants in Bijagua, Costa Rica
There aren't a ton of restaurants but they have a few good options.
Pizza El Barrigon: Pretty good pizza with a yummy vegetarian option. Also has traditional Costa Rican food. Big portions!
Restaurante Y Marisceria Poro: Seafood, traditional Costa Rica.
Restaurante y Pizzeria Terraza Bijagua: Has a very nice view, serves traditional Costa Rican food. Can sometimes be very slow though.
Cafe la Semilla: Very nice cafe in town with coffee, tea and food like empanadas and sandwiches.
La Cabana Lodge: Restaurant with a sports bar and drinks. A large upscale with Costa Rican fusion dishes. Great place for nightlife (the only place really).
Tourist Amenities
There are two supermarkets, a bank, a pharmacy, a veterinarian clinic, a laundromat, gas station, a couple souvenir stores and a couple small clothing stores in town. You can find all the basic needs here.
The road is paved the whole way through town. It becomes unpaved on the neighborhood roads stemming from the main street.
How to Visit Bijagua, Costa Rica
Renting a car will be the best way to visit due to the small town nature of Bijagua. You can also take the bus which is an easy cheap option from San Jose and Liberia.
However, you will need to figure out your own transportation to the national park. A round trip transfer from your hotel to Rio Celeste entrance is around $50 USD for 2-4 people or $30 one way. Having a car will be the most efficient and flexible way to get around.
Get our Costa Rica car rental discount to save $$ on your car rental and get our extra freebies.
If you stay in a hotel outside town or near the national park without a car, you will have to taxi back and forth which will add up in price. Not all the hotels and lodges have a restaurant so keep that in mind when looking for hotels if you don't rent a car.
How Many Days Should You Visit Bijagua?
Most people visit for a couple days from another destination like La Fortuna or Monteverde. Bijagua is not quite the destination that visitors use as their main home base as it's such a small town and it has one main attraction (Rio Celeste).
Although most people visit Bijagua as a day trip from La Fortuna or Guanacaste, you can stay a night or two. You can get a very good experience and feel of the town in just a couple of days.
I wrote a couple of itineraries that visit Bijagua that you can read here: 10 days in Costa Rica chasing waterfalls and 14 day itinerary. It is also in one of our Costa Rica family itineraries that goes to Samara and Bijagua.
I highly recommend staying a couple nights to experience rural tourism in a gorgeous area of Costa Rica. Everyone who visits falls in love with the town and it's the perfect destination for some R&R in the mountains.
Costa Rica Vacation Checklist
Join our mailing list and get our free Costa Rica eBook!
There are affiliate links in this post.