In this post, "mistakes to avoid traveling in Costa Rica" we'll share with you some of the top things you need to prepare for for your trip to Costa Rica for a stress free vacation. We've made some of these ourselves so we know first hand the consequences! Here are our mistakes to avoid traveling in Costa Rica.
Not adding extra time to driving times
If you're renting a car in Costa Rica, make sure that when it comes to driving times, don't always take what the GPS tells you for driving times as exact. We always tell people to add at least 30 minutes to 1 hour to the estimated Google Maps driving time because driving in Costa Rica is not that straightforward or easy!
For those who have never driven internationally or rural roads, you may end up driving very slowly, especially on the curvy and narrow routes (like Guanacaste to Arenal around Lake Arenal or Route 145 to Monteverde) so that will add a lot more time. Then you have those big and very slow trucks that cause congestion because most roads (even main roads and highways) have only one lane making it impossible to pass. So if you get stuck behind these trucks, that will prolong your driving time greatly.
Our driving tip: Use a GPS for driving in Costa Rica. The Waze app is particularly good and locals like to use Waze since their maps are user data generated so you can get real time info about traffic, accidents, police and more. It's especially useful in San Jose since Waze can take you on an alternative route to avoid the traffic jams. Google Maps works too for main destinations.
Not researching car rentals
To elaborate on the point above, if you do plan on renting a car in Costa Rica for your vacation, make sure you do your research beforehand because there are some very important things to know about car rentals in Costa Rica.
First, you will want to research beforehand to comparison shop and to learn about how Costa Rican car rental insurances and prices work. Every company has their own way of pricing and you don't want to get caught in the "car rental scam" here. This is when the company only displays the rate for the car rental, omitting all insurances, fees and taxes (making it look super cheap) and then they add it on when you go to pick up the car so it turns out to be way more expensive. This is a common practice from third party websites or brokers.
So make sure when renting your car you ask about ALL the insurances, deposits, taxes, fees and everything you need to pay for so you know the exact total amount of your rental. And if you plan to use your credit card's car rental insurance, be sure to prepare everything you need for that!
PS. we work with Adobe Rent a Car to give discounts and freebies to our readers, they're a 100% Costa Rican car rental company that is all-inclusive so you know exactly what you'll pay for. Get more information on this page here!
Assuming Costa Rica is cheap
Sorry to burst your bubble but Costa Rica isn't a very cheap country to visit. We have had some people complain how expensive it is compared to Southeast Asia and I'm a little confused as to how they can make this comparison since both places are so different!
Just because Costa Rica is in Central America doesn't mean it's super cheap. Costa Rica's prices are similar to North America for many things but there is a range of prices here. You can find tours that cost from $50-200 USD a person and hotels that cost from $10 USD a bed to $700 USD a night!
Make sure to read our cost of traveling in Costa Rica post and a one week in Costa Rica budget estimate to get an idea. If you're on a budget, find out how to save money on your Costa Rica vacation here.
Not asking about tides
Some beaches can only be reached during low tides because the path gets covered by high tide. We made this mistake ourselves when we tried to visit Playa Arco by Playa Dominical and just missed low tide. If you want to go to a hidden beach, make sure you ask a local or someone who has been there if tide is a factor. Another beach is Playa Blanca in the Central Pacific, you have to walk through Playa Mantas in low tide to get there.
This also applies to Marino Ballena National Park. You don't need to visit in low tide, but if you want to see the famous Whale's Tail then you absolutely have to. We were able to get some great shots with our drone because we went at the lowest point of the tide.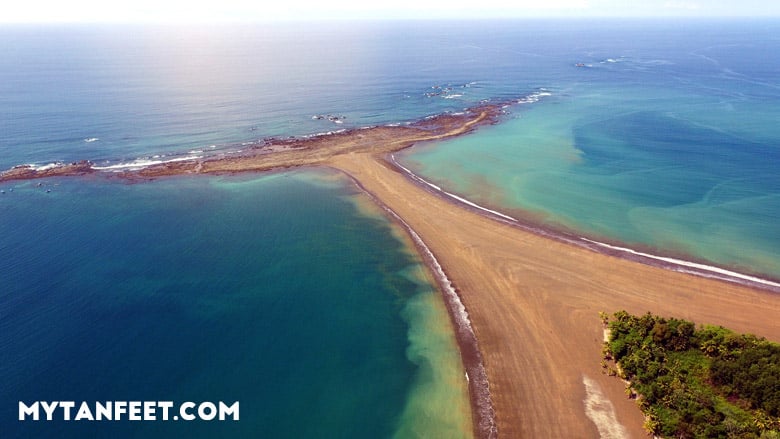 You should also ask about rip tides when swimming in the ocean. Tourists have drowned getting caught in rip tides, so make sure you ask a local or watch for signs before you take a dip, especially in the Central Pacific like Jaco.
Not looking up bus schedules
Especially if you're on a tight schedule. The bus is cheap but it takes much longer so you'll have to sacrifice either time or money. If you want to make the most of a short trip to Costa Rica, then taking the bus may not the best idea.
It is pertinent to look up the bus schedule to get a general idea of how your day will go. Many destinations have limited routes so you need to plan accordingly so you don't miss the bus and have to wait hours (or even a day) until the next one. We've met travelers who didn't bother to look up the schedule, assuming there would be plenty of routes to a certain destination, only to find out there was just one bus a day and had to change their whole schedule.
Read our tips for taking public transportation and take note of the Instituto de Turismo's bus itinerary. Don't forget to join the Costa Rica by Bus Facebook group. We recommend arriving at least 30 minutes before the scheduled time for long routes. A few times our bus arrived 20 minutes early and we would've have missed it!
Not booking hotels during peak season/Not booking car rentals during high season
This one is a very common mistake. Some travelers come thinking they can find a place when they get here, which can work in low season but not during high season. Costa Rica's high season is December through April and the busiest and most expensive times are Christmas, New Years and Easter week. Car rentals and hotel rooms book up very fast, so make sure you start looking around at least 2 months before your trip if visiting during those times.
Something to know about car rentals is that although there are a handful of car rental companies, most of the fleets are small and it is never guaranteed that you will get a car if you don't reserve one, especially in high season. We have met many travelers who found out that the public transportation isn't quite as efficient as they thought it was (mistake 3) and want to rent a car in January. Unfortunately, no cars are available (or only the luxury very $$ cars were) because well, it is high season and they have to re-think their plan.
If there is a hotel you really want to stay at, book it as soon as you can. Many small boutique hotels or luxury vacation rentals book out months, even years advance for Christmas time! So if you are visiting during holidays or high season in Costa Rica, book your car rental and hotels beforehand! Read our Costa Rica trip planning timeline for more information.
Trying to go to too many places
Costa Rica is a small country so when you look at it on a map, you think, "Wow I can go everywhere!" Unfortunately, things aren't what they always appear to be and this is a huge mistake people make.
Though small in size, Costa Rica packs a punch when it comes to adventure activities and diversity of landscapes. There are a ton of great destinations in Costa Rica and you can visit several in one trip, but give yourself ample time to really explore an area since main destinations are far apart and usually require an entire day dedicated to travel. It's not fun cramming in 10 places in a 2 week trip. You will burn yourself out!
Take a look at this 2 week itinerary we made for my brother and friends. We visited 4 destinations over a span of 14 days, allowing us to experience the rain forest, cloud forest, volcano and two different beach towns. Sure, I could have cut it down to only 2 days in each place and added more destinations, but we would have felt really rushed and wouldn't have been able to get a well-rounded experience.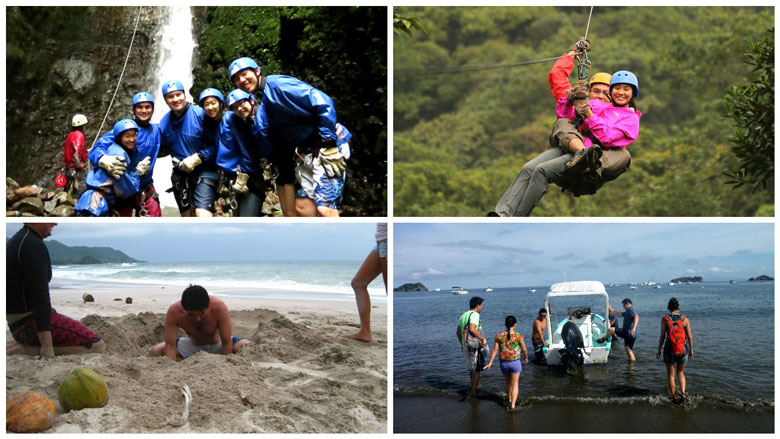 If you need ideas for the best places to visit, here is our list of the top destinations for first time visitors to Costa Rica.
Not telling your credit card company you're traveling overseas
Definitely do not make this mistake! I went on a tour to Nicaragua and was delayed for an hour because one couple forgot to tell their credit card company they were traveling overseas and couldn't withdraw cash from the ATM so their card got blocked. They ended up not being able to go to the tour for this reason.
If you get blocked out of credit card, that will be a big hassle until you can contact your company or if you brought a ton of cash. Costa Rica accepts USD so you don't need to exchange your money into colones before hand, but make the necessary arrangements to use your credit or debit card if you plan to.
Learn more about how to handle money in Costa Rica in this post.
Leaving your valuables visible in your car
This is one of the first things we tell visitors when it comes to safety in Costa Rica. Unfortunately Costa Rica isn't a country where you can leave your backpack or purse unattended in plain sight so you should never ever leave valuables visible in your car.
Yeison and I always take our belongings or most prized possessions with us. If we absolutely have to leave things in the car when we go to the market or eat at a restaurant, we park it where we can see it all the time or if possible, have one person stay in the car.
We've met travelers who left all their backpacks and suitcases in plain sight on the backseat of the car, went to the beach and came back only to find out their car had been burglarized. And it only takes a minute for thieves to get in and out so please take this seriously and do not make this mistake, especially if you plan to visit more remote places.
This is also why we recommend getting travel insurance, just in case your items do get stolen or damaged. You can read our post on Costa Rica travel insurance to find out more.
Taking out all your money of your wallet
Nothing attracts thieves more than when tourists are paying for something and they take out all the cash in their wallet to count their money. Take out only what you need.
By flashing 100 dollar bills or a wad of 50,000 colones, you're letting everyone around you know that you got a lot of cash on you. And unfortunately, it could make you the next target.
Read about some common scams in Costa Rica and how to avoid them.
Only traveling to Costa Rica in the dry season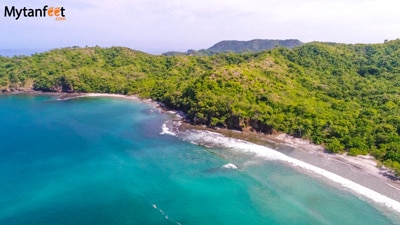 Costa Rica, as a tropical country has incredible weather which is why many people visit when it's winter up north. From December to beginning of May, you can have hot sunny weather for weeks on end. Due to the great weather, this is the busiest time of year to visit Costa Rica.
However, it can be very crowded and it is expensive. Popular destinations like Manuel Antonio can feel a bit like Disneyland with huge crowds and long lines. For some people, it can be a turn off.
This is why it's a huge mistake to ONLY travel to Costa Rica in the dry season. Yes, rainy season does mean you need to plan a bit more carefully and there are may be cloudy or rainy days, but you will be rewarded with smaller crowds, cheaper prices and a very jungley experience.
You can read more about Costa Rica rainy season here and this also brings me to my next point.
Only staying in the touristic destinations / Only staying in the resort

I understand that the more touristic destinations are touristic for a reason. They have good infrastructure and services for tourists and are very beautiful. However, there are just as many incredible places in Costa Rica that aren't as commercial and it's worth checking them out, especially if you're the "off the beaten path" traveler or someone who likes to explore and prefer a more local experience.
Some of these places are Bijagua, San Vito, Boca de Tapada, Ojochal, Orosi, Carate, San Gerardo de Dota and Turrialba.
Keep in mind that the best and really only way to experience these lesser known destinations is with a car and a 4×4 at that. You'll also need to plan and research a bit more but it'll be 100% worth it!
Likewise, if you're staying at a resort or nice hotel, definitely spend a two or day outside the resort. Book a day trip or two, check out the local town, try the local food and see what's around. Of course get your pool time in and your money's worth if staying at an all-inclusive resort but venture outside at least a couple times. Costa Rica is too beautiful to stay inside the resort everyday!
Not putting on sunscreen
It sounds like common sense but you won't believe how many tourists get extremely burned here on their first day! Nothing is worse than getting a horrible sun burn your first day on vacation! The sun is very strong here so make sure you use ample sunscreen. I know most people want to get a tan, but trust me you will even with sunscreen on. It's about protecting your skin and not getting 2nd degree burns on vacation!
Fun fact: locals like to call the gumbo-limbo tree in Costa Rica the "tourist tree" because the bark is bright red and peels, like the skin of sun burnt tourists. It's not a good look, so make sure you use lots of sunscreen!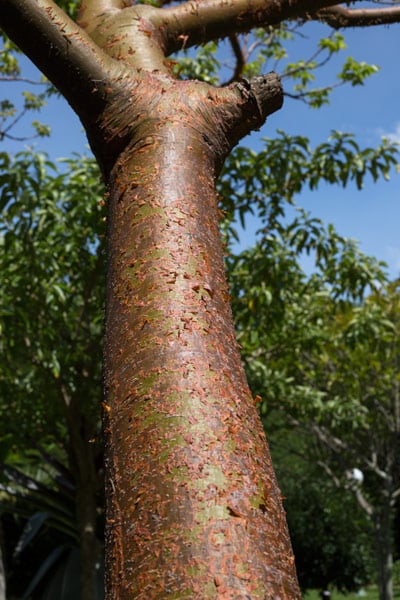 Costa Rica is only 8-12 degrees above the equator so even if you grew up in Southern California or Florida, it is pertinent to put on sunscreen.
Not bringing appropriate gear for rainy season
We're sadly guilty of this one. We put our brand new camera in a not-so-waterproof backpack and hiked to Cerro Chato in a thunderstorm. Surprise surprise, our camera didn't survive. If we had used an actual waterproof backpack, we would have saved our camera and an extra $500 USD. Thank goodness it wasn't a terribly expensive camera, can you imagine if it was your high end DSLR? Not good at all!
Visitors underestimate Costa Rica's rainy season because it's a tropical country so they assume it's sunny all year long. Wrong. Read up about the weather in Costa Rica before you plan your trip so you pack accordingly. Need some tips? Check out our packing for rainy season post.
Visitors also assume that it's really hot everywhere in the country which isn't true either. Monteverde, the Central Valley and certain parts in the mountains can get chilly, especially in rainy season. You will actually need long pants and shirts for those places!
These are some of the best travel tips for Costa Rica you'll need so avoid these mistakes when traveling in Costa Rica and you'll have a fun, hassle free vacation. As you can see, many of these mistakes can cost you lots of time or money, so do your research and make the appropriate travel arrangements!
Read more Costa Rica travel tips here!
15 things to know before you go to Costa rica
Tips for saving money in Costa Rica
Costa Rica trip planning timeline