In this post, "costly mistakes to avoid in Costa Rica" we'll share with you some of the most important things you need to prepare for your trip to Costa Rica for a stress free vacation.
Here are our mistakes to avoid in Costa Rica for first time visitors.
**Please check our Costa Rica COVID-19 post for latest information.**
Booking your flight to San Jose, California instead of San Jose, Costa Rica
Triple check before purchasing your flight ticket that you are flying into San Jose, Costa Rica and NOT San Jose, California! We have met many people who made this costly mistake and it ruined their entire vacation. You do NOT want to be getting super excited for your vacation to Costa Rica only to find out that you booked a flight to San Jose, California!
The San Jose International Airport code is SJO. The San Jose, California airport code is SJC. For the SJO Airport, the official name is Juan Santamaria International Airport.
There is also an airport in Puerto Rico whose airport code is SJU. Don't purchase a flight to that airport either!
Assuming Costa Rica is cheap
Sorry to burst your bubble but Costa Rica isn't a very cheap country to visit. Just because Costa Rica is in Central America doesn't mean it's cheap. Costa Rica's prices are similar to North America for many things!
However, there is a range of prices so you can still travel on a budget. You can also pick less touristic destinations, as the coastal beach towns are very expensive compared to the rest of the country.
Make sure to read our cost of traveling in Costa Rica post and a one week in Costa Rica budget estimate to get an idea. If you're on a budget, find out how to save money on your Costa Rica vacation here.
Not adding extra time to driving times
If you're renting a car in Costa Rica, don't always take what the GPS tells you for driving times as exact. We always tell people to add at least 30 minutes to 1 hour to the estimated Google Maps driving time because driving in Costa Rica is not that straightforward or easy!
For those who have never driven internationally or on rural roads, you will end up driving very slowly due to the infrastructure. Additionally, you will also get stuck behind those super slow trailer trucks and majority of roads in Costa Rica only have one lane. That adds on a lot of time to your drive. If you're driving to a tour, always leave early because if you're late, you may miss the tour as open tours cannot wait for passengers longer than about 10 minutes and no shows normally have a 100% penalty fee.
Our driving tip: Use a GPS for driving in Costa Rica. The Waze app is particularly good and is the preferred GPS app for Costa Ricans. It's especially useful in San Jose since Waze can take you on an alternative route to avoid the traffic jams. Google Maps works too for main destinations.
Not researching car rentals
To elaborate on the point above, if you plan on renting a car in Costa Rica, there are some very important things to know about car rentals in Costa Rica.
First, research beforehand to comparison shop and learn how Costa Rican car rental insurances and prices work. Every company has their own way of pricing and you don't want to get caught in the "car rental scam" here. This is when the company only displays the car rental rate, omitting all insurances, fees and taxes so it looks super cheap. Then they add all the fees, taxes and insurances when you pick up the car so it turns out to be way more expensive. This is a common practice from third party websites or brokers.
So before you book your car, ask the company what your final total is. If you plan to use your credit card's car rental insurance, prepare the necessary documents beforehand.
PS. we work with Adobe Rent a Car to give discounts and freebies to our readers, they're an all-inclusive 100% Costa Rican car rental company so you know exactly what you're paying. Get more information on this page here!
Not looking up bus schedules…
…especially if you're on a tight schedule. The bus is cheap but it takes much longer so you'll have to sacrifice either time or money. If you want to make the most of a short trip to Costa Rica, then taking the bus may not the best idea.
It is pertinent to look up the bus schedule to get a general idea of how your day will go. There aren't direct buses for many routes, even to touristic destinations. You will normally need to change buses at least 2 times. 3-4 times is not uncommon for long routes like La Fortuna to Manuel Antonio. Additionally, buses have limited routes so you need to plan accordingly so you don't miss the bus and have to wait hours (or even a day) until the next one.
We've met travelers who didn't bother to look up the schedule, assuming there would be plenty of routes to a certain destination, only to find out there was just one bus a day and had to change their whole schedule.
Read our tips for taking public transportation and take note of the Instituto de Turismo's bus itinerary in the post. Don't forget to join the Costa Rica by Bus Facebook group and use websites like Rome2Rio.
Our tip for taking the bus in Costa Rica: Arrive at least 30 minutes before the scheduled time. Arrive at least 1-2 hours before if you are traveling on the weekends, holidays or December – April. Purchase your country wide bus ticket the day before.
Not booking your travel services during high tourism season
This one is a very common mistake. Some tourists come thinking they can just wing it when they get here. This might have worked before COVID in months like September and October, but nowadays, travel has completely changed and doesn't really work anymore due to changing regulations.
Costa Rica's high season is December through April and the busiest and most expensive times are Christmas, New Years and Easter week. Make sure to book all your travel services at least 3 months before if you plan to travel during those times.
Car Rentals
We have met many travelers visited in February who discovered that the public transportation isn't quite as efficient as they thought and decided to rent a car. Unfortunately, there weren't any normal cars available, only the premium expensive cars were.
Car rentals book up very fast during high season so start looking at least 2-3 months before your trip. For Christmas and New Years, book at least 3-4 months out.
Hotels
If there is a hotel you really want to stay at, book it as soon as you can. Many small boutique hotels or luxury vacation rentals book out months, even years in advance for Christmas time! We also know people who started planning their trip at the end of January and found only 1 hotel with rooms available for their dates in March in Tamarindo. And it was not a cheap hotel.
We have personally made this mistake. We didn't book a hotel in La Fortuna in July in advance and the only one within our budget with availability was one in town that was not quite what we wanted. But it was our fault as we waited until the week before to look for a hotel.
So if you are visiting during holidays or high season in Costa Rica, book your car rental and hotels at least 3-4 months beforehand. Read our Costa Rica trip planning timeline for more information.
Trying to go to too many places and booking too many activities
Costa Rica is a small country so when you look at it on a map, you think, "Wow I can go everywhere!" Unfortunately, it's not as quick to get around Costa Rica as people think.
Though small in size, main destinations are far apart and usually require an entire day dedicated to travel. It's extremely normal to drive 3-6 hours to get from one place to the next so don't try to visit too many places in one trip.
Take a look at this 2 week Costa Rica itinerary we made for my brother. We visited 4 destinations over a span of 14 days, allowing us to experience the rain forest, cloud forest, volcano and two different beach towns. Perfect amount of time in each destination to enjoy it and not feel rushed or burnt out.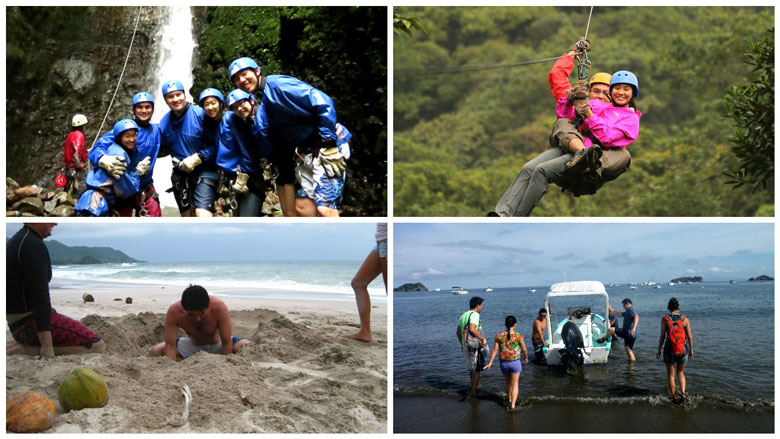 If you need ideas for the best places to visit, here is our list of the top destinations for first time visitors to Costa Rica.
Also, don't book TOO many activities and tours. We know that many visitors are only here for a week or less but it's easy to get burnt out when you're driving for hours every day and then going on full day activities.
Personal tip: on the long driving days, make sure to stock up on water/drinks and snacks. You may run into standstill traffic on long routes.
Not taking into account travel delays
Especially in times of COVID. Flight delays, flight cancellations, long airport lines, all of these are happening now that travel is bouncing back.
Along with the point above of not overbooking activities, make sure you have Plan B in case your Plan A doesn't work out.
For example, if you're landing at SJO Airport at noon on Friday and you plan to take the 2 PM bus to your next destination, please note that immigration and customs has been taking MUCH longer so you will likely not make it. Additionally, the airport is 30 minutes without traffic from downtown San Jose where the major bus terminals are. You will probably need to stay the night in San Jose and take the bus the next morning because there aren't cross country routes at night.
Not telling your credit card company you're traveling overseas
Avoid this mistake in Costa Rica, or any international travel for that matter. I went on a tour to Nicaragua and one couple forgot to tell their credit card company they were traveling overseas and couldn't withdraw cash from the ATM or use their credit card as their card got blocked. They ended up not being able to go to the tour and our tour got super delayed thanks to them.
If you get blocked out of your credit card, that will be a big hassle until you can contact your company.
Something to know is that Costa Rica accepts USD so you don't absolutely need to exchange your money into local currency beforehand. However, make the necessary arrangements to use your credit or debit card if you plan to.
Learn more about how to handle money in Costa Rica in this post.
Travel tip: Credit cards are readily accepted in Costa Rica but there are some areas where cash is king. These are Osa Peninsula, Tortuguero, Drake Bay, Samara, Montezuma and Santa Teresa. Always have some small bills in local currency with you.
Leaving your valuables visible in your car
This is one of the first things we tell visitors when it comes to safety in Costa Rica. Petty theft is the main crime against tourist and unfortunately Costa Rica isn't a country where you can leave your backpack or purse unattended in plain sight. Never leave valuables visible in your car.
We've met travelers who left their ipad on the passenger seat, went to the beach and came back to find out their car had been broken into and the ipad gone. We know people who left their stuff right in front of them at the free hot springs/swimming hole in La Fortuna and someone stole it in the few minutes they weren't looking.
We've also known people who hung their purse on the back of their chair at a restaurant and it got stolen sometime that night. Unattended belongings like that are super easy to steal so always have your stuff with you.
Taking out all your money of your wallet
Nothing attracts thieves more than when tourists are paying for something and they take out all the cash in their wallet to count their money. Take out only what you need.
By flashing 100 dollar bills or a wad of 50,000 colones, you're letting everyone around you know that you got a lot of cash on you. And unfortunately, it could make you the next target.
Read about some common scams in Costa Rica and how to avoid them.
Only traveling to Costa Rica in the dry season
Costa Rica, as a tropical country, has wonderful weather which is why many people visit when it's winter up north.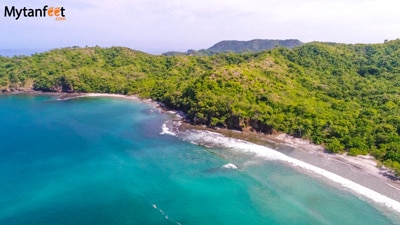 Average temperatures don't vary too much year round and there are only two seasons: dry and rainy. Due to the great weather during the dry season, it is the busiest and most expensive time of year to visit Costa Rica.
Popular destinations like Manuel Antonio can feel a bit like Disneyland with huge crowds and long lines. Surfing in Tamarindo is like riding the subway in Tokyo with tons of people trying to stuff themselves onto one wave. Guanacaste and the Nicoya Peninsula mountains turn yellow and are very dry, like a desert.
This is why it's a mistake to ONLY travel to Costa Rica in the dry season. We know visitors want to escape the cold winter days but rainy season in Costa Rica is magical too. Yes, it does mean you need to plan your trip more carefully as you may get rained on, but you will be rewarded with smaller crowds, cheaper prices and a very tropical, jungle experience.
You can read more about Costa Rica rainy season here.
Our personal favorite time in Costa Rica are the shoulder months like May, June and November. WAY fewer people and more lush. And we don't mind the rain! (But if you don't want any rain, then the best times are December – April and October for the Caribbean).
Only staying in the resort
We know that for some people, going on vacation means staying at an all-inclusive resort and many people who visit Costa Rica do just that, which isn't a bad thing. Who am I to tell you what you do with your money on vacation? And you worked hard, saving up money for vacation and you probably just want an escape from the stress of daily life.
However, we highly recommend to spend some time outside the property to experience Costa Rica beyond the resort. Book a day trip or two, check out the local town, go to a typical restaurant or rent a car for a day and drive around. There's so much to see in Costa Rica that it would be a shame if all you saw was the pool and breakfast buffet everyday!
Also, you don't have to stay at a resort your entire time in Costa Rica. You can spoil yourself with 1 or 2 nights and then spend the rest of your days exploring the country to have a well rounded vacation.
Not putting on sunscreen
It sounds like common sense but you won't believe how many tourists get extremely burned here on their first day. Costa Rica is only 8-12 degrees above the equator so the sun is very strong here. You need to use ample sunscreen to protect yourself.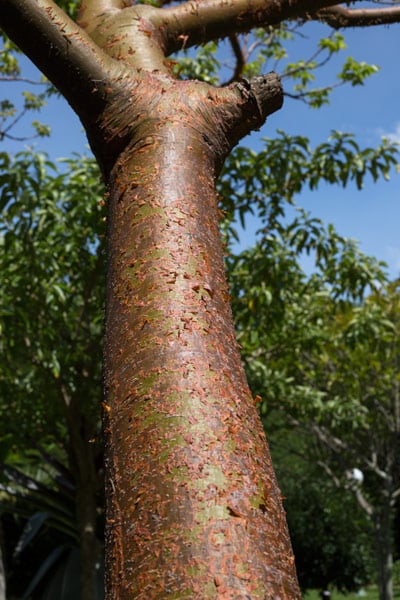 Even if you grew up in Southern California or Florida, it is pertinent to put on sunscreen as the sun is stronger here. We recommend SPF 30 and higher and make sure to apply constantly. There is nothing worse than getting super burned your first day here and then having a very painful rest of your vacation.
If you plan to go swimming, surfing or in the ocean, please use reef safe sunscreen or wear a rash guard.
Fun fact: locals like to call the gumbo-limbo tree in Costa Rica the "tourist tree" because the bark is bright red and peels, like the skin of sun burnt tourists. It's not a good look, so make sure you use lots of sunscreen.
Not bringing appropriate gear and clothing for rainy season
We're sadly guilty of this one. We put our brand new camera in a normal backpack and got caught in a storm while hiking. Surprise surprise, our camera didn't survive and that was $600 down the drain.
If you're visiting in the rainy season, you'll need to pack appropriately. Bring waterproof jackets, waterproof backpacks, sturdy hiking shoes and all the right gear if you plan to hike or go on any adventures.
Likewise, Costa Rica does also get a bit cold in the mountains. You will actually need long pants, a sweater and shirts for those places! I once forgot my sweater in Monteverde and had to buy an overpriced jacket so don't make the same mistake as me.
Read up about the weather in Costa Rica before you plan your trip so you pack accordingly. Need some tips? Check out our packing for rainy season post.
Not double checking your destinations
In Costa Rica, you will find some places have the exact same name. This can be very confusing to foreigners so you need to double check your destinations.
For example, there are 4 beaches called "Playa Hermosa" in Costa Rica. Playa Hermosa in Guanacaste, Playa Hermosa in Santa Teresa, Playa Hermosa in Uvita and Playa Hermosa by Jaco. There is even a crater inside Irazu Volcano called Playa Hermosa.
There are also two Playa Negras. Playa Negra in Guanacaste and Playa Negra in Limon.
And if you're staying in San Isidro del General (Perez Zeledon), some people may refer to it as just San Isidro. But there are many San Isidro's in Costa Rica – we used to live in San Isidro de Heredia and there is also San Isidro de Alajuela, San Isidro de Coronado, San Isidro de Nicoya and others. San Isidro is a common name for districts and cantons in Costa Rica.
Also, don't forget Puerto Viejo. There is a Puerto Viejo de Talamanca in Limon province and a Puerto Viejo de Sarapiqui. And a beach in Guanacaste called Puerto Viejo.
So as you can see, it is very important to double check your destinations in Costa Rica. This is one of the most important mistakes to avoid traveling in Costa Rica. You don't want to book everything for Playa Hermosa in Guanacaste to find out you meant Playa Hermosa near Jaco!
Travel Smart and Safe in Costa Rica
These are the mistakes to avoid in Costa Rica for a stress and hassle free time. Plan ahead, travel smart, be safe and have a great time!
Read more Costa Rica travel tips here!
15 things to know before you go to Costa rica
Tips for saving money in Costa Rica
Costa Rica trip planning timeline