When it comes to remote, not overly touristic destinations in Costa Rica, Drake Bay climbs to the top of the list. As a beautiful lush bay in the Osa Peninsula, Drake Bay offers a magical experience to all visitors with abundant wildlife, incredible nature and beautiful coastal views. It's an excellent place to relax or explore Corcovado National Park.
Sir Francis Drake is believed to have used this bay as a port (hence the name) on one of his voyages. Rumor has it that he even hid one of his treasures in the area in the late 16th century! The main town in the Bay is Agujitas with about 1,000 residents. Here's all you need to know about visiting the enchanting Drake Bay (Bahia Drake).
Map
Drake Bay Map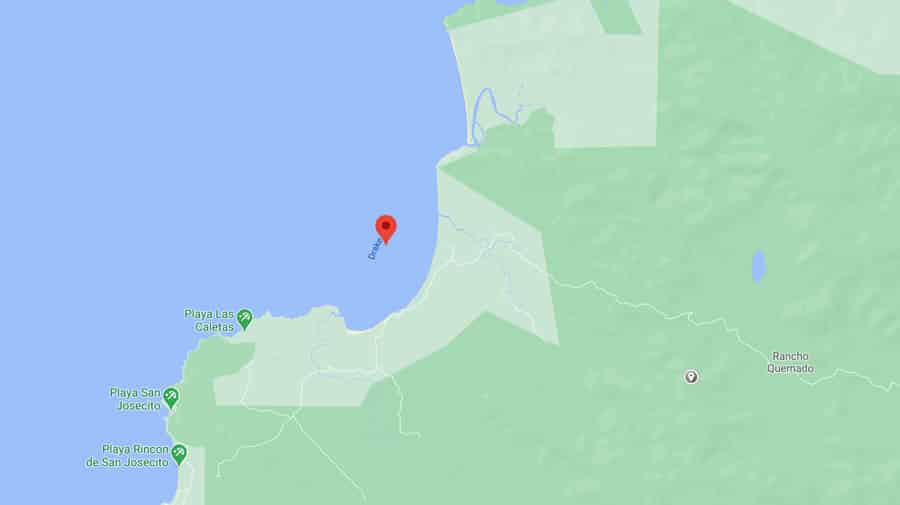 Drake Bay is in the Puntarenas province, 368 kilometers (229 miles) from San Jose.
How to get to Drake Bay
Drake Bay is located in the northwest side of the Osa Peninsula of Costa Rica. You can get to Drake Bay by plane, car, bus or boat.
By plane
This is the easiest and fastest but also the most expensive way to get to Drake Bay. You can take a local flight on Sansa to the Drake Bay local airport. This flight has amazing views of the Osa Peninsula and the coast. The 1 hour flight from San Jose airport costs around $110 USD one way depending on the time of year.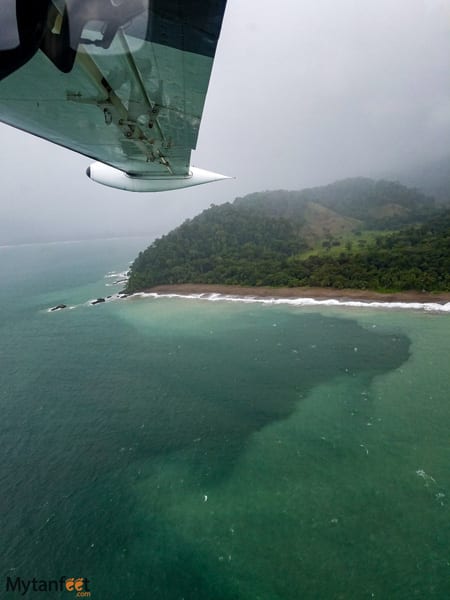 By boat
This is a really fun and adventurous way to travel. There is a taxi boat from La Perla Restaurant in Sierpe to Drake Bay that runs twice a day: 11:30 AM and 4 PM. It costs ~$15 USD for 11:30 AM boat and ~$20 USD for the 4 PM boat per person. It takes around 1 hour and you get gorgeous views of the Sierpe mangrove and the coast. Read our complete guide to taking the boat from Sierpe to Drake Bay.
For those arriving to the dock in a car rental: you can drive to the Sierpe dock and park it there for your days in Drake Bay. There is a parking lot at the La Perla/Las Vegas Restaurant at the Sierpe boat dock.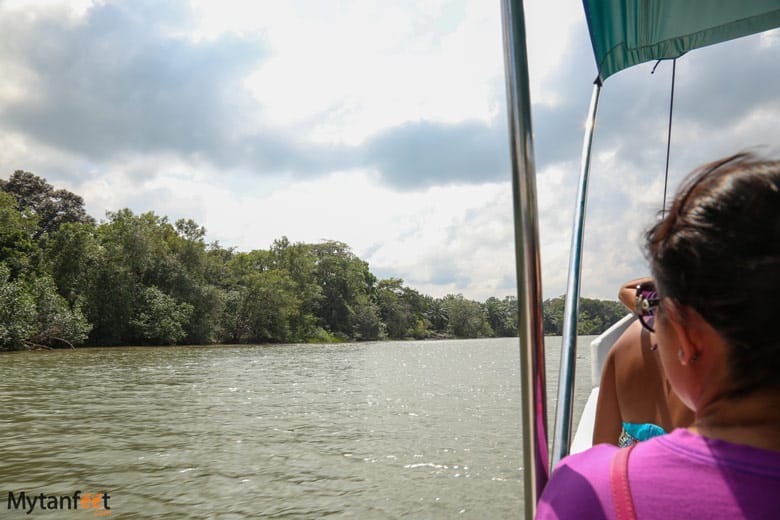 Another option is to have the your car rental agency pick up the car at the dock and then you will fly to your next destination from Drake Bay. Our partner Adobe Rent a Car picks up cars at Sierpe dock. When planning your itinerary, we recommend to visit Drake Bay last if you are going to rent a car, so that you can return the car in Sierpe and fly directly back to San Jose for your flight out of SJO Airport.
By bus
Though the cheapest, this isn't the most efficient method of transportation. From San Jose, you can take a bus to Palmar Norte, then to Sierpe and then take the boat. If you want to take the bus all the way to Drake Bay, you can take a bus from San Jose to Puerto Jimenez, get off at La Palma (Osa) and grab the local collective bus to Drake Bay at 4:45 PM ish (if it comes and not sure the schedule due to COVID changes).
By car
You should have a high clearance car to get to Drake Bay. They have built bridges over the rivers so you don't have to cross rivers anymore at least. A 4wd/4×4 is required in rainy season. This road is not completely paved.
If you're renting a car, get our Costa Rica car rental discount and extra benefits!
What to Know About Visiting Drake Bay
This small town has a handful of restaurants and hotels. Drake Bay is growing slowly with a couple of new hotels and businesses every year. However, this area does not readily accept credit card and there are no ATMs or banks in Drake Bay so make sure you bring plenty of cash.
Some of the hotels don't take credit card and require you to pay for your entire stay in cash so make sure to get enough (USD or CRC).
Read more about handling money in Costa Rica.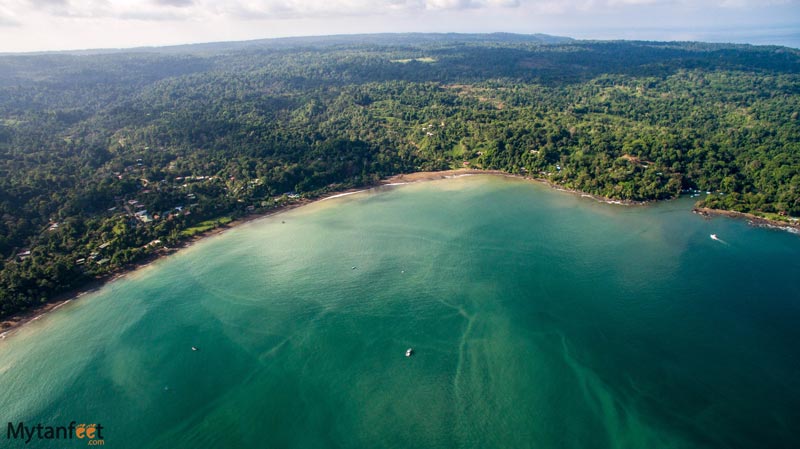 Keep in mind that Drake Bay may not be the right place for all travelers, especially those looking for better infrastructure and more amenities. But if you come with an open mind, you will have an amazing time as what makes Drake Bay special is the pristine nature and freedom of wildlife. Embrace that and your time in the Bay will leave ever lasting memories for the rest of your life.
Drake Bay Hotels
Most of the lodging options are small boutique hotels and modest cabins. The more expensive hotels are generally located outside of town in the hills and offer all inclusive packages. There are taxis they can call to get you to town when you want to. The cheaper places are closer to town and usually include breakfast.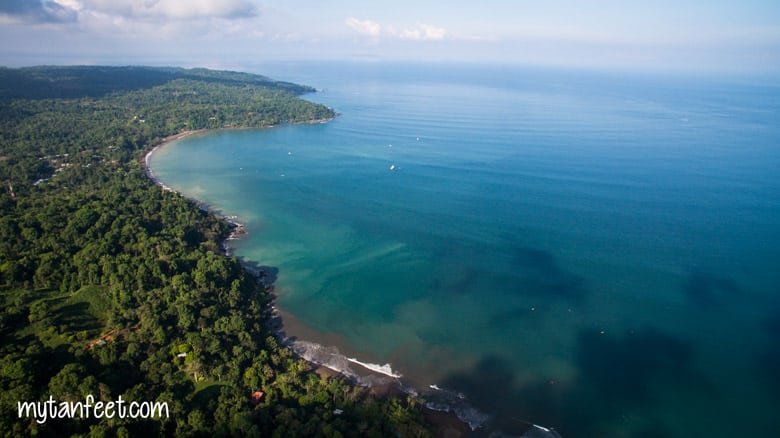 Tranquilo Lodge: This hotel up in the hills offers some of the best views of the bay from the infinity pool. They have modern cabins, AC and Internet. It's an all-inclusive hotel and prices include 3 meals a day and transportation. Read our review of Tranquilo Lodge here. $$$
Copa de Arbol: This eco-luxury resort is on 70 acres of rainforest. Their cabinas have AC and are just steps away from the beach. It's an all-inclusive hotel with a spa. Click here for the latest rates at Copa de Arbol Beach & Rainforest Resort $$$
Pirate Cove: They offer mid-range lodging right on the beach. Pirate Cove has 10 cabins, deluxe cabins, bungalows and 3 rooms with AC and an ocean view pool. You can also take their PADI diving courses. Click here for the latest rates at Pirate Cove $$-$$$
Drake Bay Backpackers: This non profit hostel is in El Progreso, great for those on a budget. The hostel has a lounge with hammocks, a communal kitchen, nature trails, a volleyball court and a library. They have dorms and private rooms.
You can now find more vacation rentals and Airbnbs in Drake Bay as more foreigners build rental homes and self catering accommodation, such as Southern Darke Lodge.
Drake Bay Restaurants
There aren't a ton of options but there are some.
Restaurante Delicias: Best spot for vegetarians. They offer a variety of vegetarian food, beyond the typical veggie casado. It's in the center of town so it's in a convenient location.
Claudio's Grill: Claudio's Grill has probably the best meat in town. The chef makes his own sauce and they serve prime cuts of meat. Definitely try the coconut mushroom one.
Drake's Kitchen: Enjoy the catch of the day with a side of patacones and a blended fruit smoothie at Drake's Kitchen. They have local food and seafood.
Things to do in Drake Bay
There are plenty of activities and adventures in and around Drake Bay to add some excitement to your trip.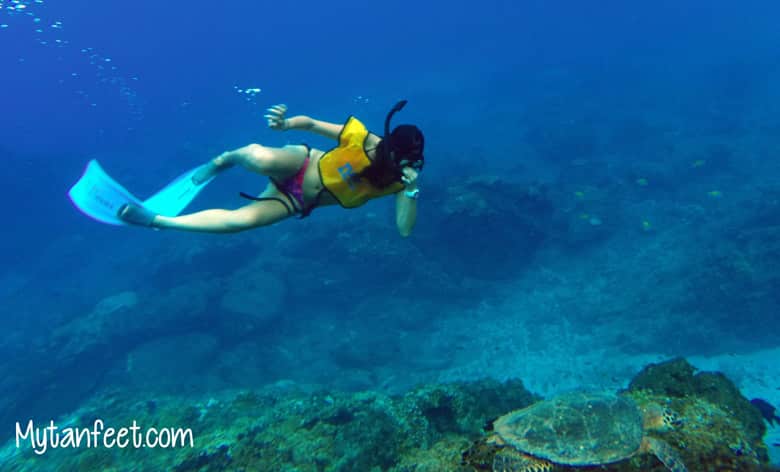 Caño Island Snorkeling
This is considered the 2nd best place in Costa Rica to see abundant marine life with turtles, rays, dolphins and a huge variety of colorful tropical fish to be seen.
If you have your diving certification, go scuba diving at Cano Island, about a 45 minute boat ride from the Bay. If not, you can go snorkeling.
Read about our experience snorkeling at Caño Island.
Whale and dolphin watching
Drake Bay is one of the best spots to see humpback whales in Costa Rica, but the world. Both Northern and Southern humpback whales pass by the bay so you have an excellent chance of seeing these magnificent mammals out at sea. Divine Dolphin is a great company to go with to see dolphins and whales in Drake Bay.
Corcovado National Park
Don't miss your chance to visit Corcovado National Park, one of the most biologically diverse places on earth when in Drake Bay. Take a day trip to San Pedrillo Station or Sirena Station to see wildlife such as tapirs, four different monkeys, birds and more. Sirena station in Corcovado National Park is close to Drake Bay and offers the best opportunities to see mammals. I finally got to see my first tapir on this day hike!
Fishing
Go deep sea fishing from Drake Bay to catch fish like marlin, sailfish, and wahoo.
Rio Claro
You can hike to Rio Claro on your own or you can take a tour to visit this beautiful clear river. Tours vary from horseback riding, swimming in the river, waterfalls and snorkeling.
Night Tour
The world is a different place when night falls and you can see wildlife that thrives at night on a tour. See spiders and insects with Tracie the bug lady or other animals on different night tours. Another type of night tour is the bioluminesence snorkeling and kayaking (available only certain times of the year).
Sierpe Mangrove Tour
Venture into one of the biggest mangroves in Central America by boat or kayak. You'll see wildlife such as caimans, monkeys, snakes and a variety of birds.
This post has affiliate links.
Read About Other Similar Tourist Destinations in Costa Rica