If you love waterfalls, then you will have to put Catarata del Toro on your list of places to see in Costa Rica. This stunning waterfall stands at an impressive 270 feet(82 meters) inside an old volcano crater in the rain forest.
Owned and operated by a Costa Rican-Dutch couple, they transformed a little piece of the rain forest into a welcoming visitor's center so travelers experience the beauty of the Del Toro waterfall.
In this guide you will find information on the waterfall, how to get there, what the trails are like and more. There are Amazon affiliate links in this post.
How to Get to Catarata del Toro
It is highly recommend to rent a car as it is the most efficient, fastest and best way to get to the waterfall park.
How to get to Catarata del Toro from San Jose
Driving
The best route from San Jose is via Sarchi. You can find it on Waze and Google Maps.
The drive from San Jose to Catarata del Toro takes around 2 hours. From San Jose International Airport, it is around 1.5 hours.
You can also go via Zarcero. It takes a little bit longer but you can stop at Zarcero, a charming little local town with topiary gardens and church.
A high car is recommended as the part of the route goes through a hilly unpaved section so a 4wd or a mid size SUV will work. If you visit in rainy season, a high car is a must!
By bus
You will need to take the bus to Zarcero, there is no direct bus to Bajos del Toro anymore. Then from Zarcero, you will need to grab a taxi to Bajos del Toro. The taxi could cost around 15,000 colones (around $26 USD) and takes around 40 minutes.
Shuttles
There are no shared shuttles to the waterfall park, you must take a private shuttle. If you're landing in San Jose Airport, you can take a private shuttle from San Jose to La Fortuna that includes a stop at Del Toro waterfall on the way. It's not highly recommended because of timing and budget. You will need to plan accordingly as the park closes at 5 PM and on Sundays. Additionally, San Jose to Bajos del Toro is about a 2 hour drive. Furthermore, this private shuttle is expensive, around $300 USD for 1-4 passengers for San Jose – La Fortuna with a stop at Del Toro waterfall.
Location
Catarata del Toro map.
This waterfall is located in the little town of Bajos del Toro. Catarata del Toro waterfall is 70 kilometers (44 miles) from San Jose and 211 kilometers (131 miles) from Liberia.
Entrance Fee and Hours
The reserve is open Monday to Saturday, 7 AM – 5 PM. It costs $14 USD for adults, $7 USD for children 4-11 and seniors.
Del Toro Waterfall Trail
When you arrive at the waterfall park, you'll first see their visitor center which consists of a restaurant, nature trails, hummingbird gardens. There is a nice viewing spot from the hummingbird garden where you can see the waterfall.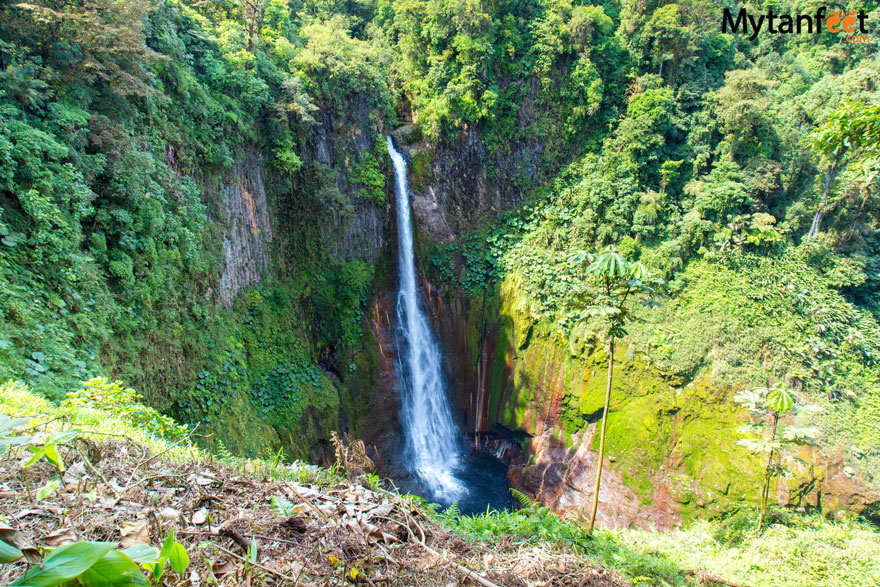 Before going down to the waterfall, I recommend walking through some of their nature trails through the garden. It's a very nice walk and not long so you can see some of the various flowers and trees on the property.
Once you're ready, walk down to the main path to the waterfall. It's to the right of the visitor center and there are signs you can follow. Get ready for a steep walk down to the waterfall!
The Waterfall Trail
There are several excellent viewpoints along the trail so don't skip these. Each one offers a different angle so you can see the spectacular waterfall from all perspectives.
The beginning of the trail is easy but it doesn't last long. It goes through the nature trail on a dirt path and then you will see the concrete steps going down.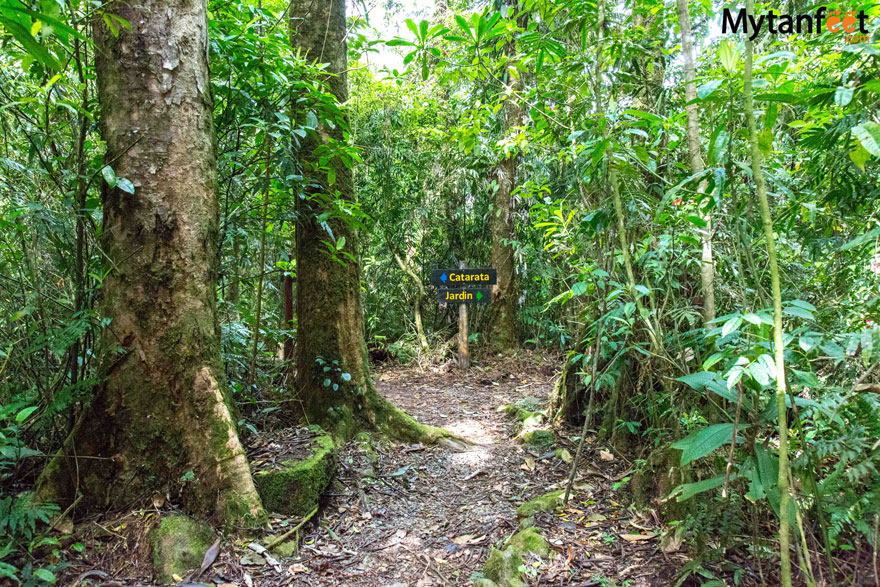 Take your time on the steps because they are steep but they put up rails to help you keep your balance. Don't forget to look around every so often because there are nice views of the waterfall along the trail.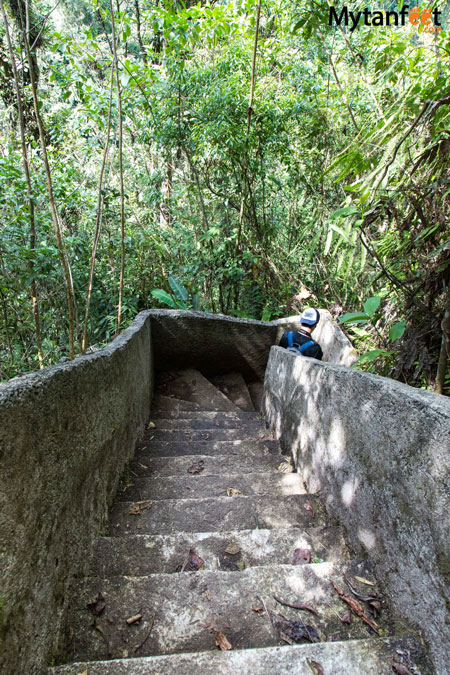 Once you get down and the path flattens out to a dirt path, you get the perfect view of the waterfall. I took a photo of Yeison standing at the bottom, you can see just how tall the waterfall is because he looks tiny!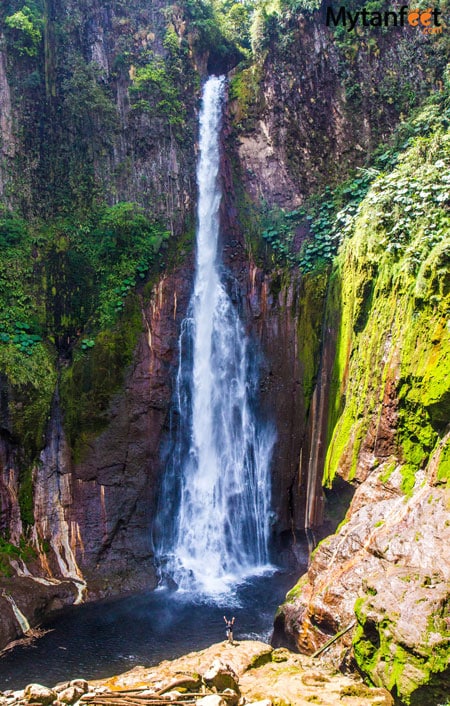 Carefully climb down the last section (it's a bit muddy), walk over the rocks on the right hand side and you'll get to the closest point where Yeison is. The waterfall looks awe-inspiring from far away, but when you're that close up, you get a real sense of how impressive this waterfall truly is.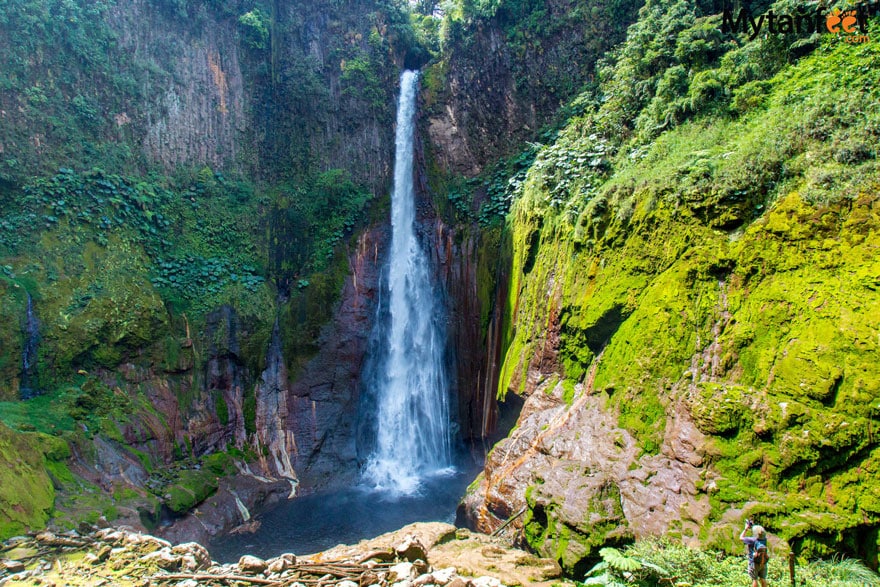 The spray of the water is so strong that if you get close, you'll get wet! It was hard for me to get photos when I was standing close since my camera kept getting wet. As you can see, swimming in Catarta del Toro is not allowed or is it possible because it will be too dangerous. Be extremely careful when walking on the rocks because it is super slippery!

Tips for Visiting the Del Toro waterfall in Costa Rica
Bring plenty of water and sunscreen.
They have a small restaurant so you can buy snacks or have lunch after the waterfall hike. Lunch costs $12.
They don't recommend people with heart conditions or walking disabilities, pregnant women or senior citizens to go down because of the steps. There isn't a universal trail so it is not handicap friendly. They can stay at the top where the visitor center is and see the waterfall from there.
If you want to stay in Bajos del Toro Amarillo, we recommend El Silencio Lodge & Spa. Gorgeous hotel on the luxury side in the forest with amazing views. Very close to the waterfall and has excellent bird watching.
The reserve also has three small standard rooms. Rooms are $65 and $80 for two people. You can also find some small Airbnbs in the town of Bajos del Toro Amarillo.
The reserve also offers other activities such as the Blue Falls which are blue rivers and waterfalls (like Rio Celeste). You can purchase a combined day pass to both del Toro waterfall and Blue falls for $25.
What to Wear and Weather
You will need closed toed hiking sandals or sneakers. Flip flops will not be good shoes because it can get muddy and slippery on the bottom and you will be climbing a lot of steps. Yeison wore sneakers and I wore my KEEN hiking sandals.
The weather in Catarata del Toro is much cooler than the rest of Costa Rica due to its elevation. They experience a typical dry and rainy tropical seasons but keep in mind that rain is more common in this area. If you visit during rainy season (May – December), bring a rainjacket!
During the rainiest months of September – November, the rains may be too hard to walk down to the bottom. If you're visiting in rainy season, go as early as possible when it opens because normal rainy season days are sunny in the early morning and rains in the afternoon.
We visited in March which is one of the hottest months. Thankfully, we had amazing weather but it was very hot! We have also visited in June where it was cloudy and rainy in the morning but the afternoon cleared up and was super sunny. Just keep in mind that it does tend to rain quite a bit in this area so if you visit in the rainiest months like August – beginning of December, you will need to bring rain gear, be prepared to get wet and it is highly recommended to rent a 4×4.
How to Visit Catarata del Toro
You can visit as a day trip from San Jose if you have a car. To make the most of the day, tou can also stop by La Paz waterfall gardens or Poas Volcano National Park. Another way to visit is if you're driving from San Jose to La Fortuna or vice versa. It's about a 1.5 hour drive from La Fortuna from Del Toro going through Muelle San Carlos.
I wrote a Costa Rica itinerary that includes this and other waterfalls. Visit some of the most beautiful waterfalls in Costa Rica!
If you want to stay in the area, there are only a few hotels in the area. For a luxury stay, book a room at El Silencio Lodge and Spa. An absolutely gorgeous lodge!
Don't forget to visit the Blue Falls of Costa Rica either! They're very close to the Del Toro waterfall and is an absolute MUST see! Some other waterfall hikes in the area are Tesoro Escondido and Rio Agrio waterfall.
Video
Here is a short video of the waterfall from our visit in 2016.
For more information and to purchase tickets, check out the reserve's website.
Read about other waterfalls in Costa Rica here!
Catarata Llanos de Cortes (Guanacaste)
Nauyaca waterfalls (Dominical)
Cascada El Pavon (Uvita)
Los Chorros waterfalls (Grecia)
Catarata Poza Azul (Sarapiqui)
There are affiliate links in this post.