The La Paz Waterfall Gardens is a fantastic place to visit for your Costa Rica trip if it's your first time in the country. You can visit La Paz Waterfall Gardens Nature Park as a day trip from San Jose or as a stop over if you're driving from San Jose to La Fortuna. Another option is if you're looking for a luxury boutique hotel, you can stay at the Peace Lodge which is on the same property as La Paz Waterfall Gardens.
Here is our post about La Paz Waterfall Gardens so you can see what it's like and what we recommend. We have a discount for La Paz Waterfall Gardens park tickets which you can get here!
La Paz Waterfall Gardens, Costa Rica
The privately owned 70 acre (28 hectares) waterfall gardens offers visitors a wonderful introduction to Costa Rica with their animal sanctuary, restaurant, a historical house museum (casita), rainforest hiking trails, rainforest views and five beautiful waterfalls.
The La Paz Waterfall Gardens Nature Park is not pet friendly (only service animals allowed). Strollers cannot go in the waterfall trails.
La Paz Waterfall Gardens Hours
The La Pa Waterfall Gardens Nature Park is open everyday 8 AM – 5 PM. Peace Lodge guests have complimentary entrance and exclusive access before and after opening hours.
This is incredibly nice since the park can get very crowded during high season from around 10 AM – 3 PM. Many tour companies are there at those hours.
La Paz Waterfall Gardens Park Tickets
La Paz Waterfall Gardens offers two types of park tickets: with and without lunch.
Rates from July 1, 2023 – November 2023. Prices are quoted in USD with taxes and fees included. If you decide not to purchase lunch now, you can get it when you check in to the park. Get our La Paz park ticket discount here!
Adult entrance: $56.50
Adult entrance + buffet lunch: $72.32
Child entrance: $38.42
Child entrance + Lunch: $47.46
You can purchase La Paz park tickets beforehand or buy them at the door. If you are visiting during high or peak tourism season like December through April, we highly recommend purchasing your tickets beforehand to guarantee your spot. Especially if you are visiting over Christmas time or during spring break.
You do not need a guide to visit the park, it completely fine to do a self guided tour of La Paz Waterfall Gardens as signage is excellent.
Getting to Laz Paz Waterfall Gardens Nature Park
The best way to get to La Paz Waterfall Gardens Nature Park is by driving. It's only one hour from San Jose all on a paved road.
A 4×4 is not required to get to La Paz Waterfall Gardens. However, this road is quite steep and curvy as it goes up the valley so be very careful. When it's raining, this road can get slippery. Make sure not to ride your brakes too much because you can burn them on the steep roads. Get our Costa Rica car rental discount here!
If you don't have a rental car, you can book a tour as a day trip from San Jose. The tour includes park tickets, a bilingual guide, buffet lunch and roundtrip transportation from San Jose. Get our discount off San Jose day tours here!
There are no public buses that go directly to the park. If you take a public bus, you must take the bus to Vara Blanca and then get a taxi to La Paz Waterfall Gardens. However, for your ride to your next destination in Costa Rica, there aren't any taxis just sitting there at the park entrance so this part is tricky if you don't get a phone number of a local driver. This is why we recommend booking private transportation or a tour so you don't have to worry about finding a ride.
You can call an Uber from San Jose to La Paz Waterfall Gardens but there is no guarantee you will be able to call an Uber from the park.
What to Wear to La Paz Waterfall Gardens
Comfortable clothes and good comfortable walking shoes. No open back sandals or flip flops. Closed toed hiking sandals can work. The trails are all paved/concreted, you won't be walking on natural unmaintained hiking trails.
As for clothes, it has to be comfortable because the waterfall trails are quite intense with lots of steps. You will sweat a LOT as you walk up and down these steps through the humid rainforest. A hat or visor is a good idea as well as sunglasses and sunscreen.
If you bring camera gear, make sure you have a waterproof backpack.
Bring rain gear such as a rain jacket or poncho any time of year you visit La Paz Waterfall Gardens. As this is the rainforest, it can rain any time of the year, even during the dry season in Costa Rica!
Get our Costa Rica packing list, Costa Rica rainy season packing list and Costa Rica weather tips here!
La Paz Waterfall Gardens Map
Here is a map of the La Paz Waterfall Gardens: the animal sanctuary, Peace Lodge property and the five waterfalls hiking trails.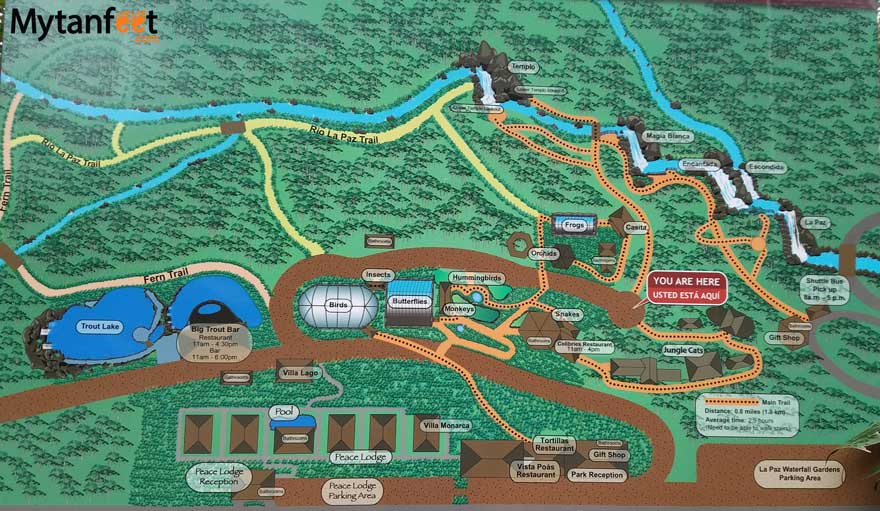 There are over 3.5 kilometers (2.2 miles) total of walking trails that go through the animal sanctuary and viewpoints of the 5 waterfalls in the La Paz river valley. All the paths are paved trails.
After you check in, you'll walk down to the animal sanctuary which is where you should start your visit. First is usually the aviary, then monkeys, then butterfly observatory, hummingbird garden, the lunch restaurant, snakes, jungle cats, cultural house and then waterfall trail. There are a lot of signs everywhere so you can't get lost.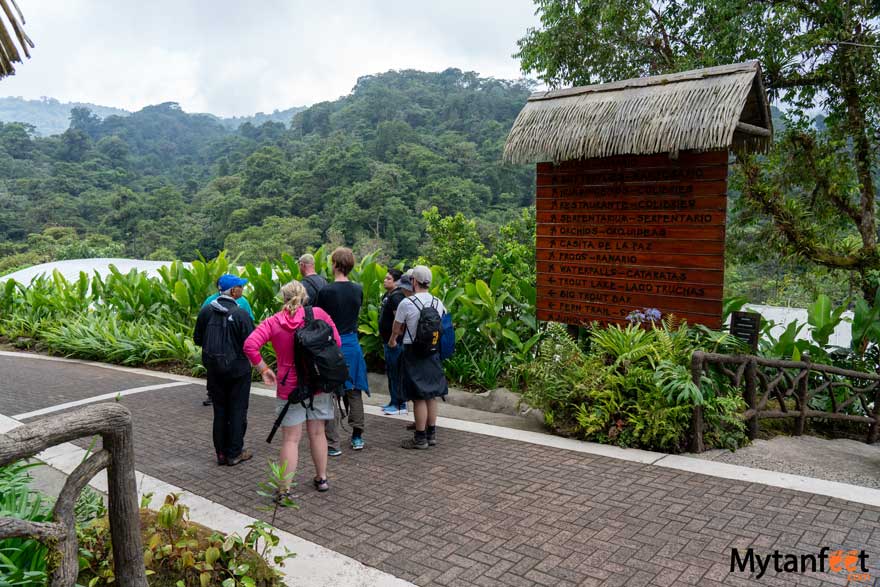 Animal Sanctuary
Their animal sanctuary is like a wildlife refuge with monkeys, toucans, sloths, jungle cats, parrots, ducks, snakes, frogs and other animals. The MINAE, or Costa Rican Wildlife Ministry donated these animals to La Paz which were confiscated as pets or injured and sadly cannot be released back into their natural habitat.
The La Paz Waterfall Gardens is a great place in Costa Rica for families with little kids as they can get up close with the animals and learn more them. For photographers, you can get amazing close ups. You can even get a photo with a very friendly toucan who was raised as a pet and actually seeks out human attention.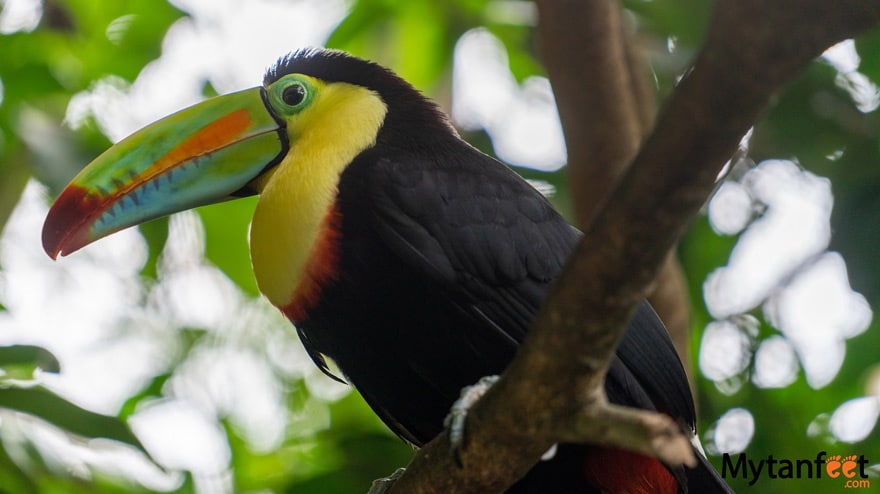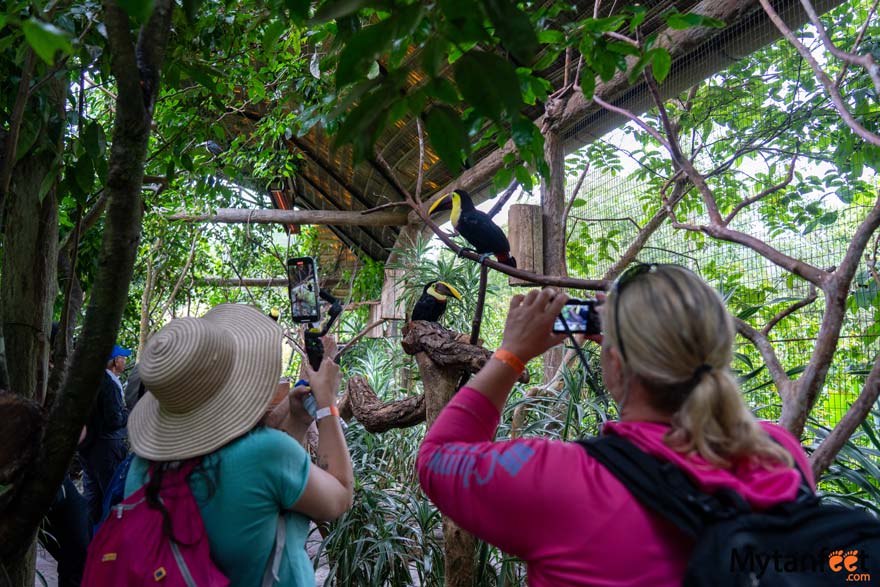 If you get lunch included in your ticket to the La Paz Waterfall Gardens, it is a buffet lunch with traditional Costa Rican dishes and international dishes. We recommend to get lunch after the butterfly observatory and before the snake exhibit and waterfalls.
The lunch buffet offers a full salad bar bread, meat, vegetables, rice, beans, pizza and dessert. In case you don't get lunch, there are many local restaurants in the surrounding towns outside the park in Vara Blanca and Poasito near Poas Volcano.
The La Paz Waterfalls
The beautiful waterfalls are truly the highlight of La Paz Waterfall Gardens Nature Park. These 5 waterfalls will take your breath away as you wander through the lush foliage under the rainforest canopy.
It is about a half kilometer of trails that go to each waterfall and various viewpoints. There is even a viewpoint where you can get up right behind the water and feel the spray of the Templo waterfall.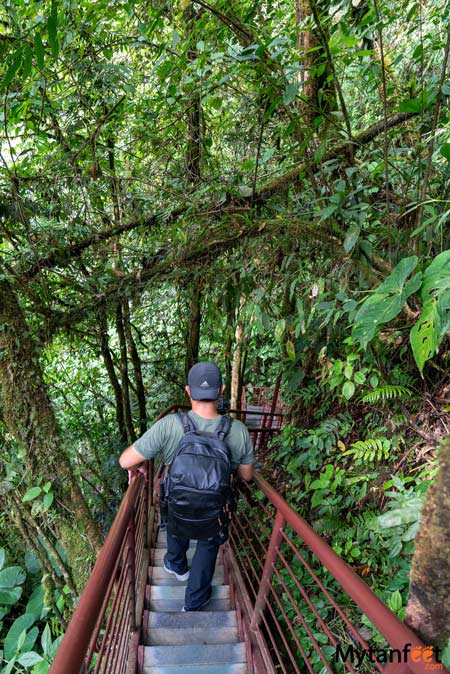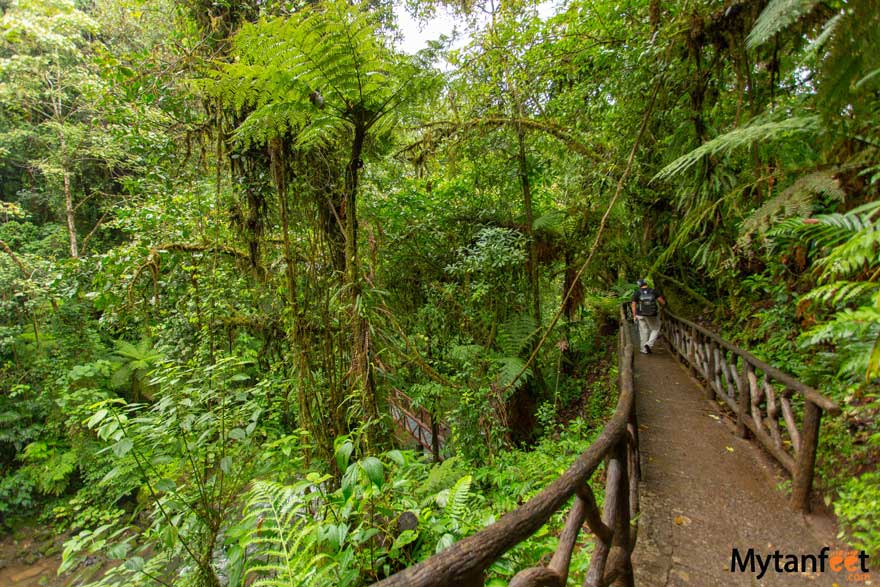 There are a ton of steps so we do not recommend this part of the park for anyone who has mobility issues that prevents them from walking many steps. This path is not stroller friendly nor is it universal access.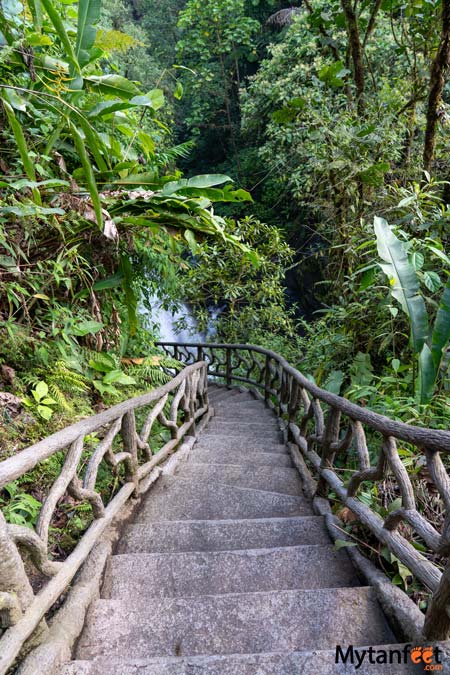 Here are some of the photos we took of the waterfalls (Templo, Magia Blanca, Encantada, Escondida and La Paz). Templo waterfall has an upper and lower section. You can stand behind the lower Templo waterfall lookout.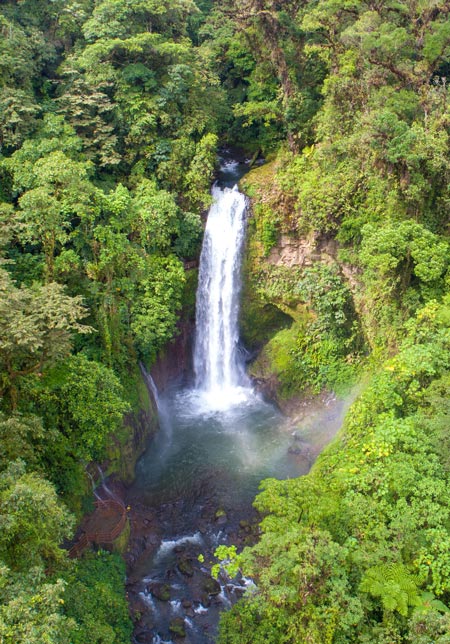 The Magia Blanca Waterfall has an amazing viewpoint, in fact many people get married at the observation point! At this spot, we recommend to see if you can get someone to take your photo as you go down to the waterfall and the photographer stays at the top.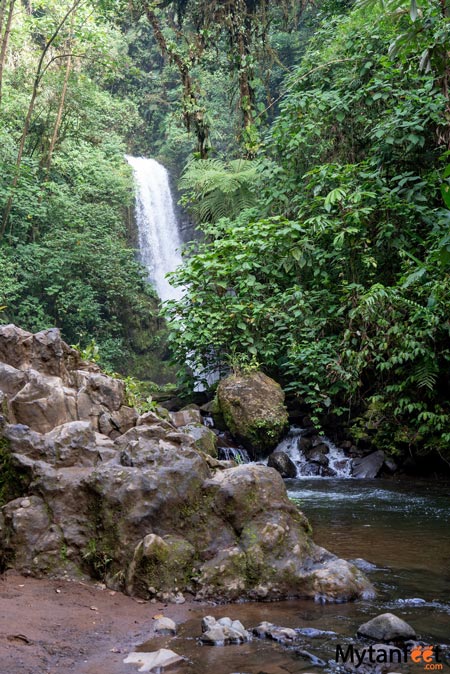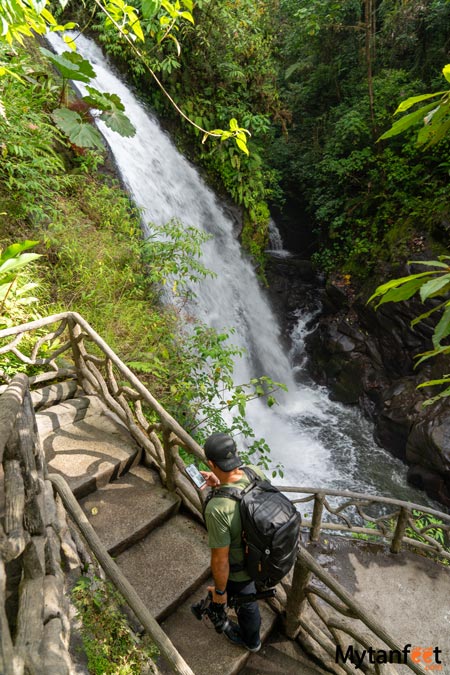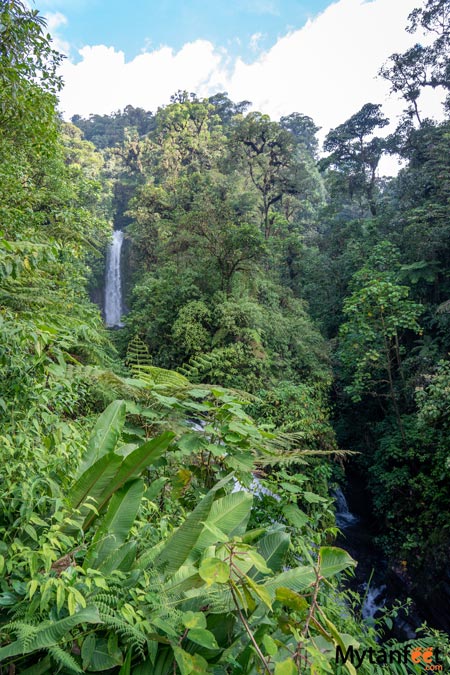 La Paz waterfall is the final waterfall. When you reach the end of the waterfall trail, there are bathrooms. Then go downstairs through the souvenir store to meet the shuttle bus which will take you back to the entrance of La Paz Waterfall Gardens Nature Park.
How Much Time Do You Need at La Paz Waterfall Gardens?
If you are visiting on your own in your rental car, give yourself at least 3 hours for the park with lunch included. If you don't get lunch, then around 2 hours at least.
The Free La Paz Waterfall
If you don't want to visit the park but want to stop by, you can see the free La Paz waterfall from the bridge. La Paz waterfall is one of the ones inside the park where visitors can see La Paz river and the initial fall, but you can see the final fall for free by the side of the road.
There are some parking spots near it and sometimes locals selling snacks and drinks. Par on the side of the road, carefully walk on the bridge and take some photos. On Google Maps, it's called "La Paz Waterfall" and you know you're in the right spot when you spot the bridge.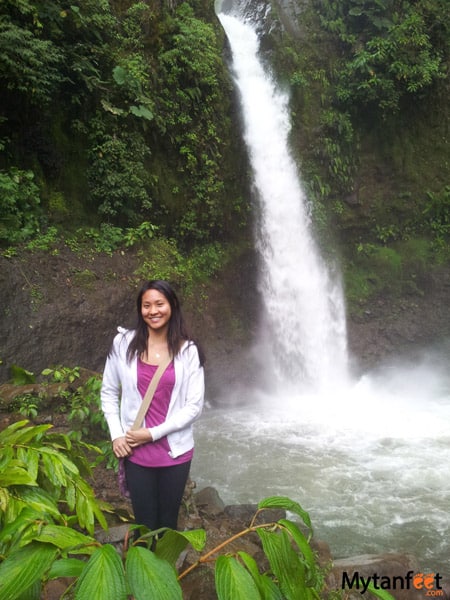 We have visited this spot before when we were traveling on a budget in Costa Rica during one of my first visits. It's one of the best free things to do in Costa Rica.
La Paz Waterfall Gardens Tour
For those who are staying in San Jose and don't have your own transportation, you can take a tour which includes roundtrip transportation, guide and entrance fees. You can book a tour to just the gardens park or you can pick a combination tour. Many tour companies combine La Paz Waterfall Gardens with Doka Coffee Tour or Poas Volcano. This is one of the best day trips from San Jose! You can see what it's like in our Youtube video here.
Get our San Jose day trips discount here.
La Paz Waterfall Gardens Discount
If you have your own transportation and want to visit La Paz Waterfall Gardens on your own, we have an exclusive La Paz discount for park tickets!
Peace Lodge
If you are looking to stay a night or two in the Poas area, the Peace Lodge is a wonderful choice for a luxury boutique lodge with amazing views of the tropical/cloud forest. It is suitable for families of all ages with a trout lake, several restaurants and different size rooms. You also get the free access to the park! As a luxury boutique hotel in Costa Rica, it's also an excellent honeymoon hotel.
A lot of tourists will do an 10 day itinerary like this below. You can read all of our Costa Rica itineraries here to get more ideas!
SJO Airport – Peace Lodge (1 night) – La Fortuna – Monteverde – Jaco – SJO.
Costa Rica Vacation Checklist