When it comes to breathtaking beaches, stunning landscapes and fun water activities, Costa Rica has it all. There are several places in the country where you can experience all of that and one of them is Tortuga Island, Costa Rica.
Tortuga Island, or Isla Tortuga, one of several islands in the Nicoya Peninsula boasts white sand beaches, clear turquoise water and incredible views. A Tortuga Island day cruise is one of the best day trips from San Jose or Jaco to experience a gorgeous beach with the Bandera Azul Ecologica award, given only to the cleanest beaches in the country.
We have gone on the Isla Tortuga one day tour with Bay Island Cruises from Puntarenas a few times and had a wonderful trip. Read on to see what it's like and click this link to get our special $10 Tortuga Island day cruise discount!
Bay Island Cruises
Bay Island Cruises is a Costa Rican company based out of Puntarenas where they take guests on a 1.5 hour cruise through the Gulf of Nicoya to Isla Tortuga. Guests then spend about 5 hours on the island and they provide various activities to enjoy.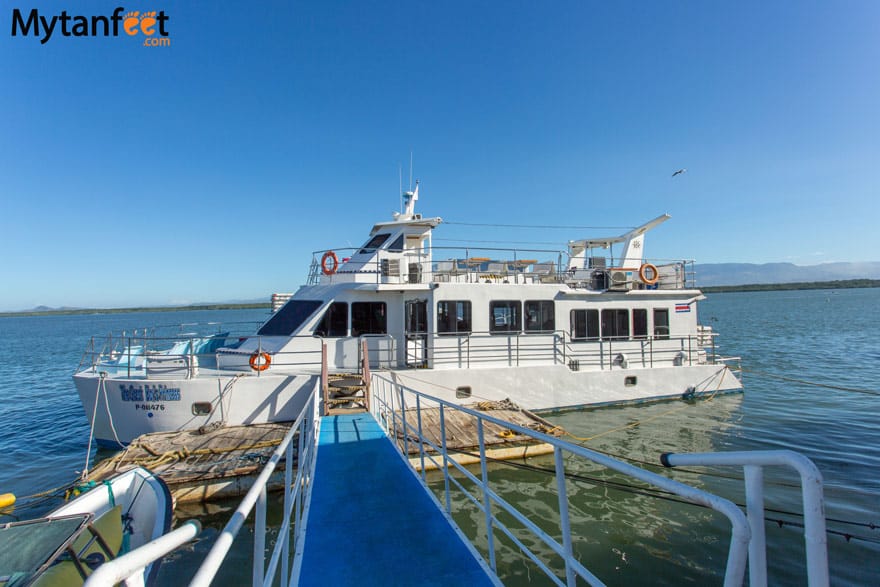 They pick up from San Jose, Puntarenas and Jaco for free and include breakfast, lunch, snacks and fruit juice in the tour. They have two boats, a yacht and catamaran which they take out depending on the number of guests. On the beach, they have a designated area with lounge chairs, umbrellas and bathrooms and they stay on the island for a full 5 hours so guests can swim, snorkel, kayak and relax.
Tortugua Island Catamaran Cruise
As we were staying the night before in Puntarenas, we met the crew at their dock in town.
We got on the catamaran around 8 AM and set off into the Gulf of Nicoya with Bay Island Cruises. Their boat has two floors with an air conditioned main cabin and open upstairs deck. The upstairs deck has a Jacuzzi, seats, tables and is where the live music is.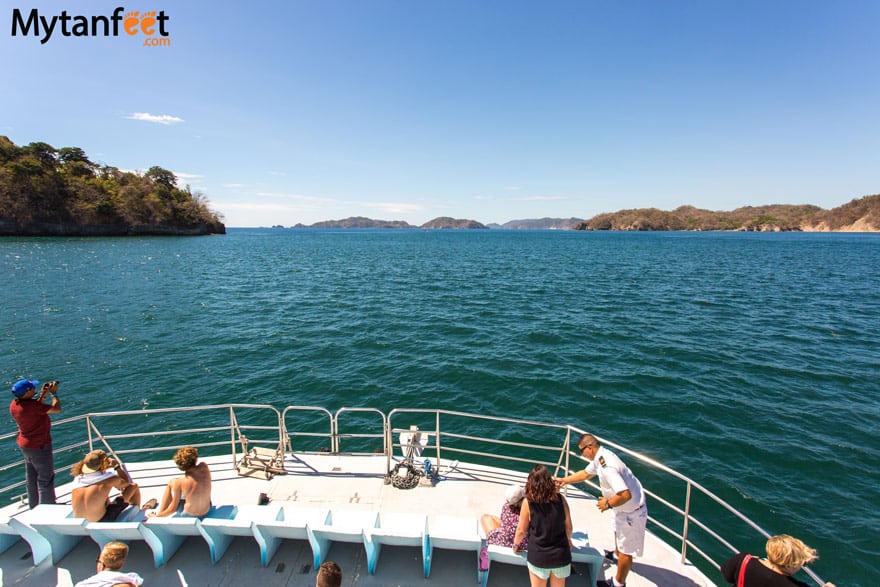 It was a gorgeous day, super sunny with barely any clouds in sight. We went beginning of February which is during Costa Rica's summer, so all the islands were yellow and brown from the dry heat. But it was still a beautiful sight!
We picked a nice spot at the front of the lower deck so we could lay down with the sun on our faces and wind blowing through our hair. Along the way, our captain shared information about the surrounding islands, Gulf of Nicoya and Isla Tortuga, he pointed out Isla San Lucas (the prison), Curu Wildlife Refuge (right behind Isla Tortuga) and Venado Island.
Live Music
One of the things Bay Island Cruises has that other companies don't is live music. After we all get settled in the catamaran, the live band set up their spot on the top deck and started playing salsa, meringue and popular pop songs. It was a lot of fun to listen to and watch our MC dance and sing!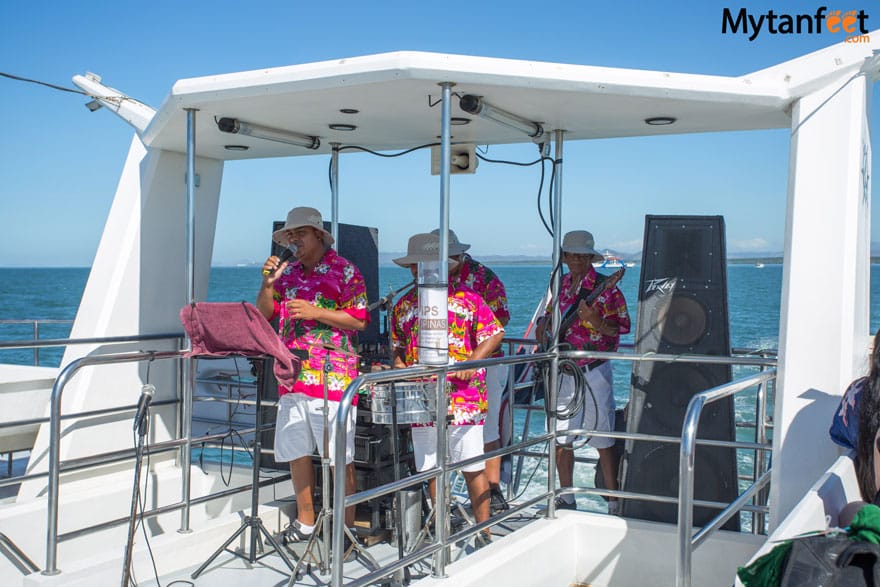 After about 1 hour, our captain announced that we were nearing Tortuga Island. As I looked out onto the horizon, I saw a brilliant white sand beach glittering right in front of me.
I could see why companies chose Tortuga Island as the final destination for the cruise, the beach is absolutely breathtaking! No other island we saw in the Gulf of Nicoya had such white sand or clear water!
Click this link to get our special $10 Tortuga Island day cruise discount!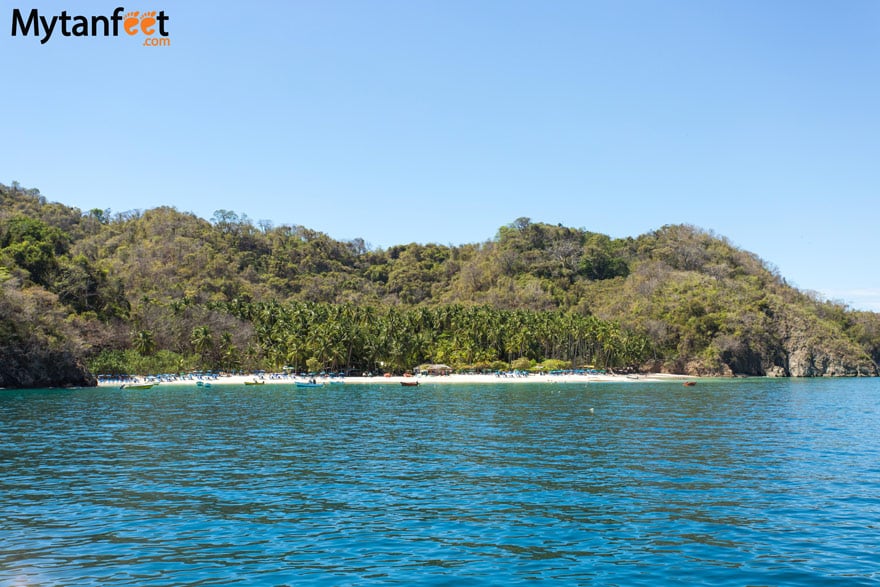 At the Island
When we got close, the crew pulled down a ramp so that we could walk down right onto the shore. The band stood in front of us, happily playing their instruments, welcoming us to Isla Tortuga.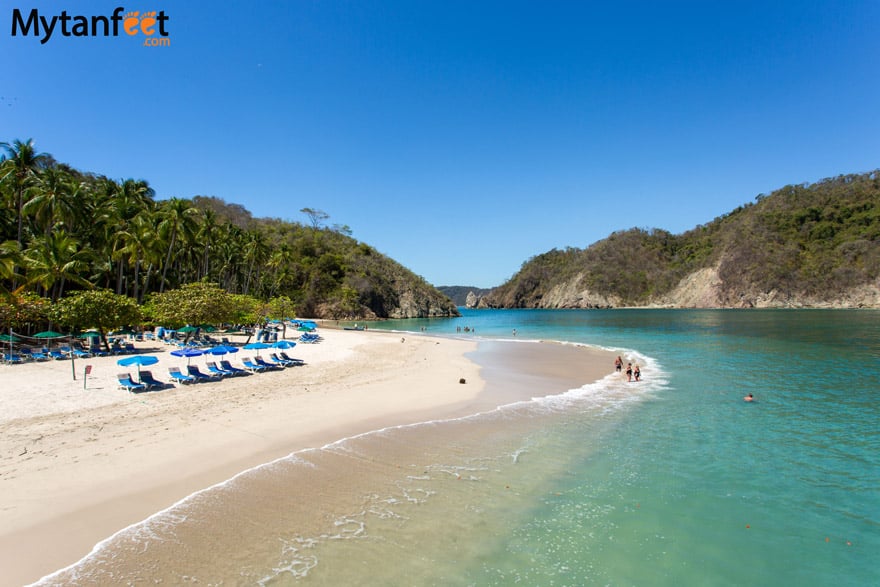 The crew showed us to our place on the island and gave us a brief introduction of what's what and where's where. After that, the day was ours. We had a full five hours to do whatever we wanted on the beach: swim, snorkel, relax, kayak, hike or take a nap!
Tortuga Island Activities
Tortuga Island actually belongs to a local family who rents out spots on the beach to tour companies and visitors can rent kayaks, jet skis, pedal boats, snorkel gear, stand up paddle boards and other activities from them.
With Bay Island Cruises, you can purchase the package that includes a snorkel tour and the banana boat or you will have to pay separately for each activity. Snorkel is $19 per person, banana boat is $7 per person and jet ski for half an hour is $120.
Tortuga Island Snorkeling
For the snorkeling tour, they took us to a little dock next to a large rock where we snorkeled and swam with colorful tropical fish for about 1 hour. They do feed the fish which I wasn't too keen on as it turns the fish into beggars. Other people went on the banana boat, rented kayaks and went on the short hike. The owners created a sanctuary on the island so you can walk their trails to see peccaries, deer, birds and other animals.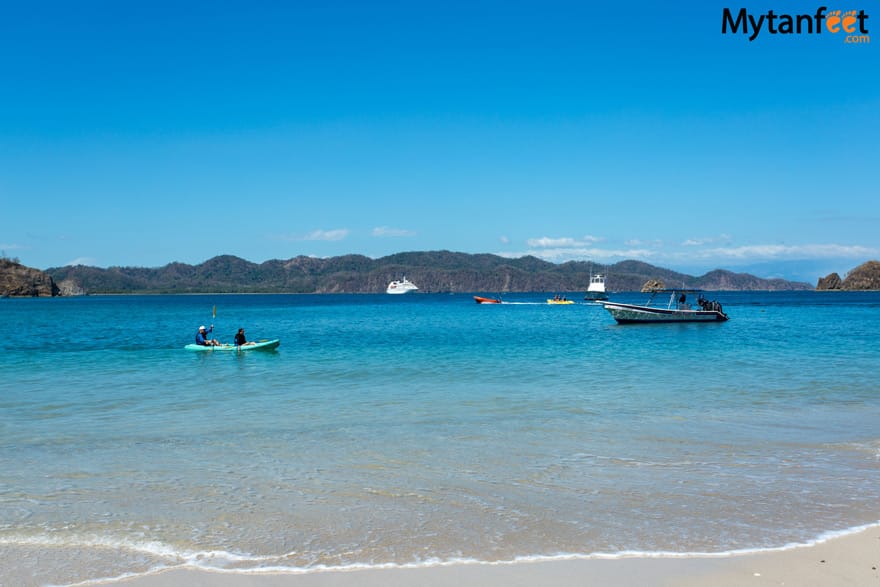 We had lunch after the snorkel tour and they served us fish, chicken, salad, rice and dessert. If you are vegetarian/vegan, make sure to let the company know beforehand or else you will be stuck with eating rice and lettuce all day. The lunch was good but nothing amazing.
For the rest of the day, we relaxed and took a nap at the beach. We also brought our drone so you can see photos of Isla Tortuga from above!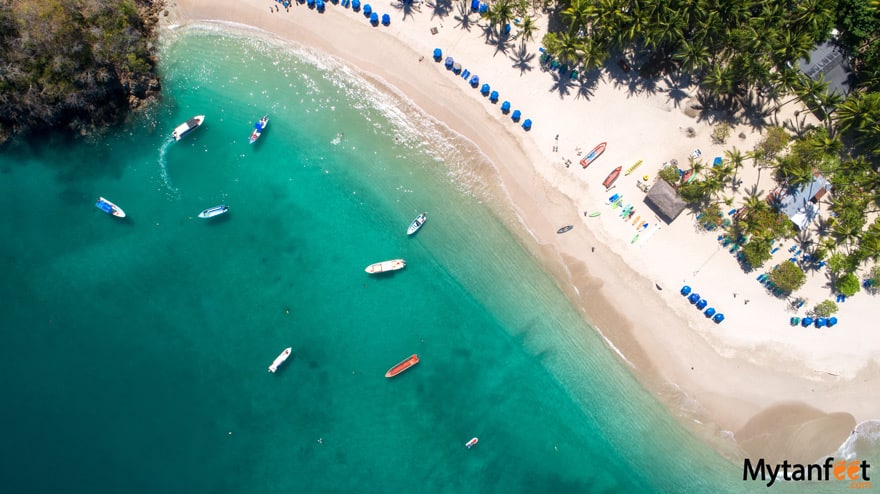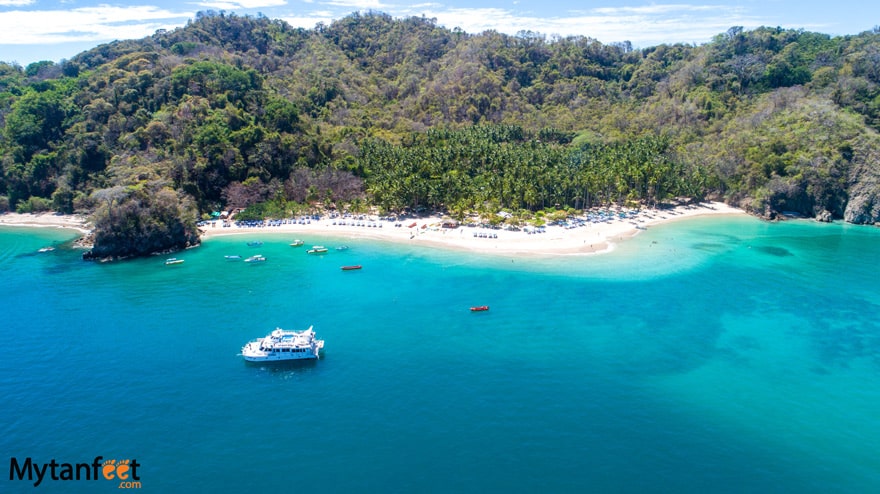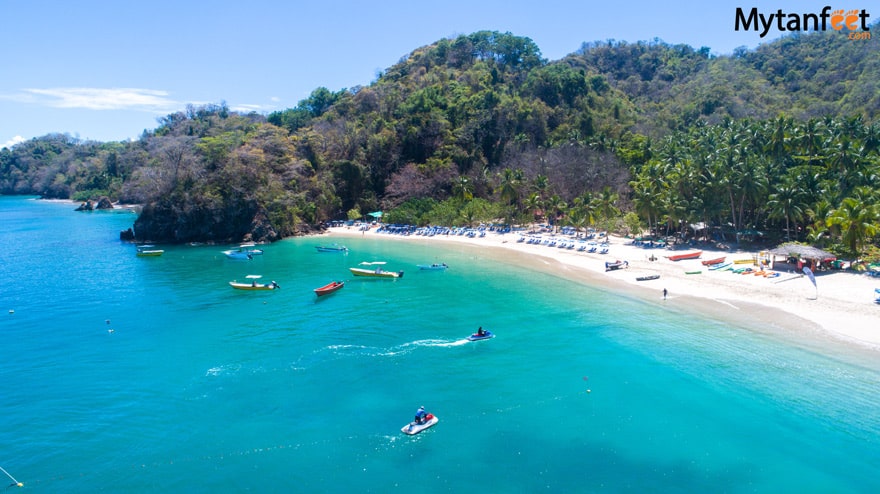 Before we knew it, our five hours were up and it was time to head back to Puntarenas. Although I was sad to leave such a beautiful beach, I was ready to go back and the timing was perfect. We sailed back right during the sunset.
Click this link to get our special $10 Tortuga Island day cruise discount!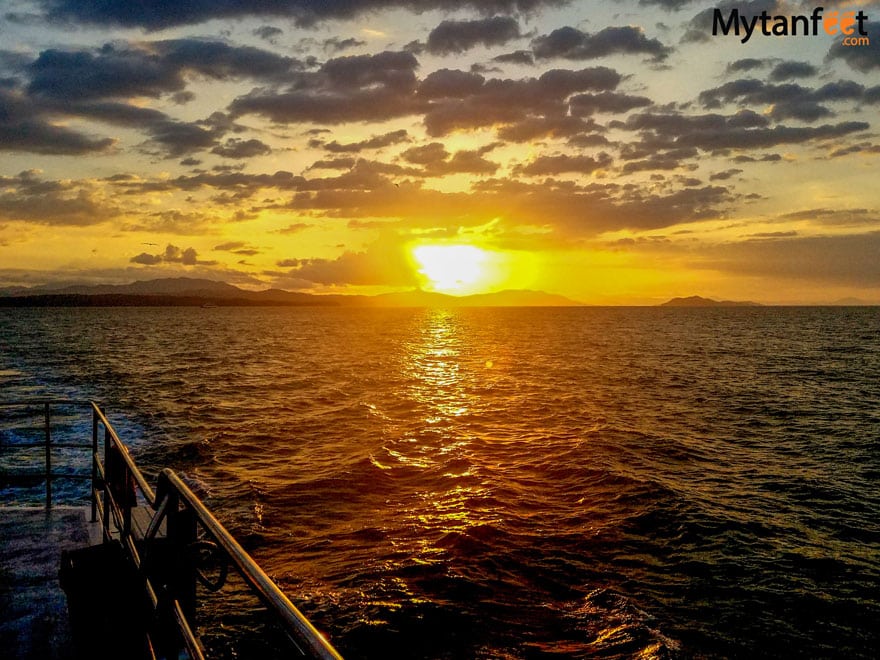 Video
You can watch a video of the Tortuga Island Costa Rica one day tour in the video below!
What to Bring
Bring a day pack with your swimsuit, towel, sunglasses, lots of sunscreen and a hat.
You can bring your swimsuit and change on the boat or on the island.
If you want to do the hike, it is an easy trail that takes around 30 minutes. No hiking shoes required.
If you want to do other activities like rent a jet ski, it is best to bring cash. Prices are quoted in USD and they take USD.
Mytanfeet Tortuga Island Discount
If you want to do this one day Tortuga Island cruise, we have an exclusive discount with Bay Island Cruises to give $10 USD off to all our readers! Click the link to book your tour with our discount.
Read about other things to do in Costa Rica below!