Well known for great surfing waves, stunning sunsets and a legendary nightlife, Tamarindo is a popular beach town in the Guanacaste province, perfect for the ultimate fun in the sun vacation. Tamarindo is only a 1.5 hour drive from Liberia International Airport, making it the ideal destination for families, couples and solo travelers looking for gorgeous beaches and fantastic water sports.
In this guide you'll learn more about Tamarindo town, Tamarindo beach, how to get to Tamarindo, where to stay, where to eat, what to do and more.
Tamarindo Beach
Tamarindo Beach is a beautiful tan sand beach that stretches about 1.5 miles (2.5 kilometers) from end to end. The northern part of Tamarindo beach connects to the estuary inside the Las Baulas National Park. The southern part of the beach reaches the peninsula separating the two communities of Tamarindo and Playa Langosta.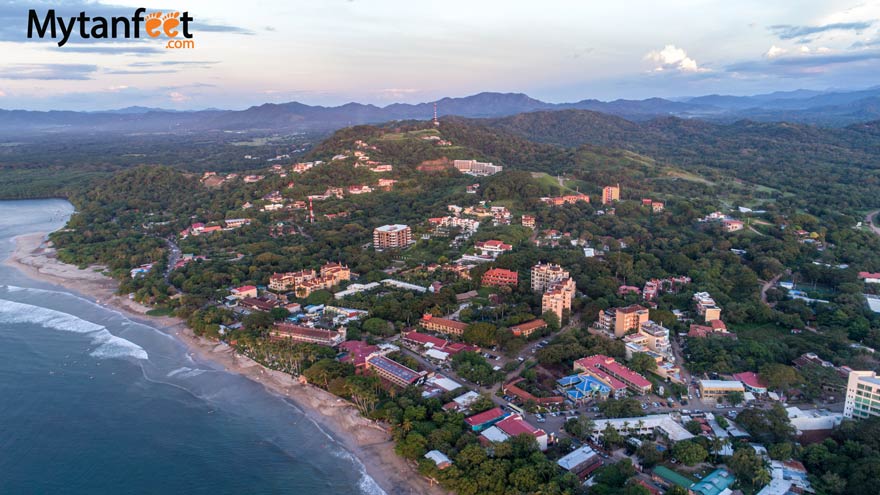 The most popular part of the beach is near the north in front of Witch's Rock Surf Camp where the main surf spot of Tamarindo beach break is.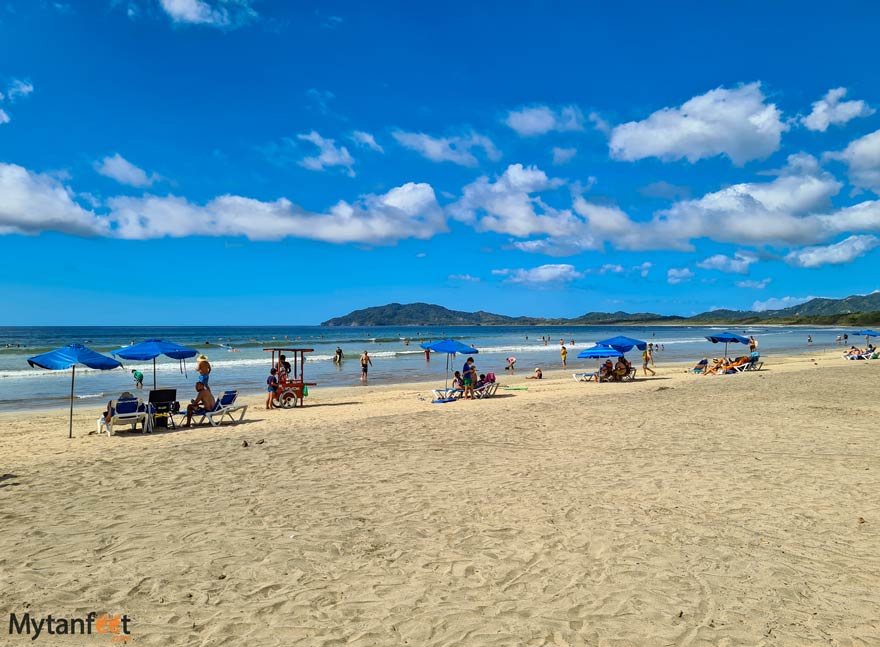 Tamarindo beach is completely sandy, perfect for long beach walks. The shore is long and wide, so it's perfect for swimming, beach volleyball, running and other activities.
You can rent beach chairs and umbrellas on Tamarindo beach, there are many locals who will offer you one.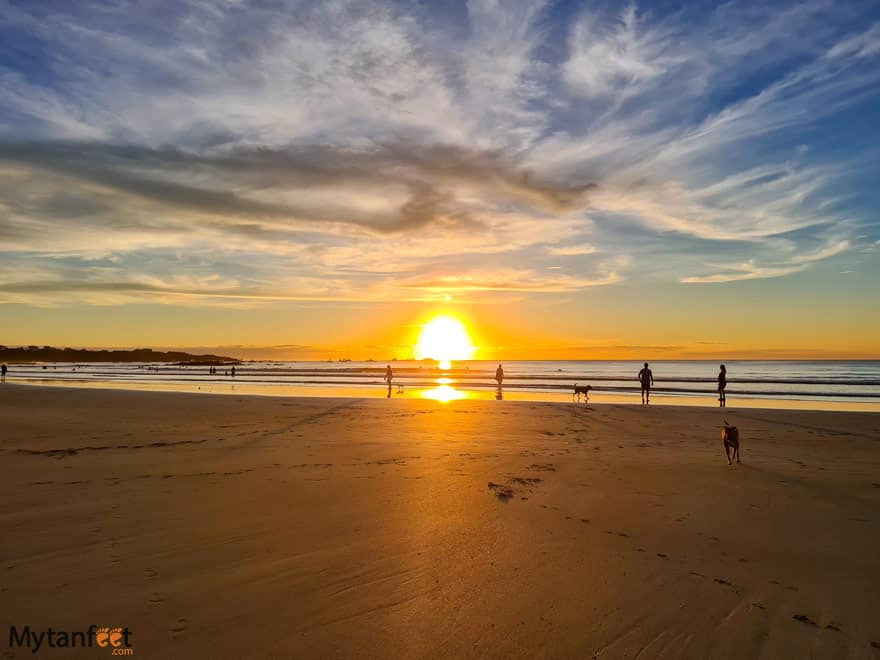 With year round sunshine and fun surfing waves, Tamarindo is a great beach town in Costa Rica for a relaxing tropical escape.
Things to Do in Tamarindo, Costa Rica
The best things to do in Tamarindo, Costa Rica are watching the sunsets, enjoying happy hour and engaging in water sports like surfing, stand up paddle boarding and swimming. However, there are plenty of day trips and other things to do to enjoy endless days of fun and adventure.
Tamarindo Surfing
We highly recommend taking a lesson in Tamarindo since this is a great beginner surfing beach. There are many surf shops in town that offers 2 hour classes for about $55 USD per person. They also offer boogie board, stand up paddle boards and surf board rentals.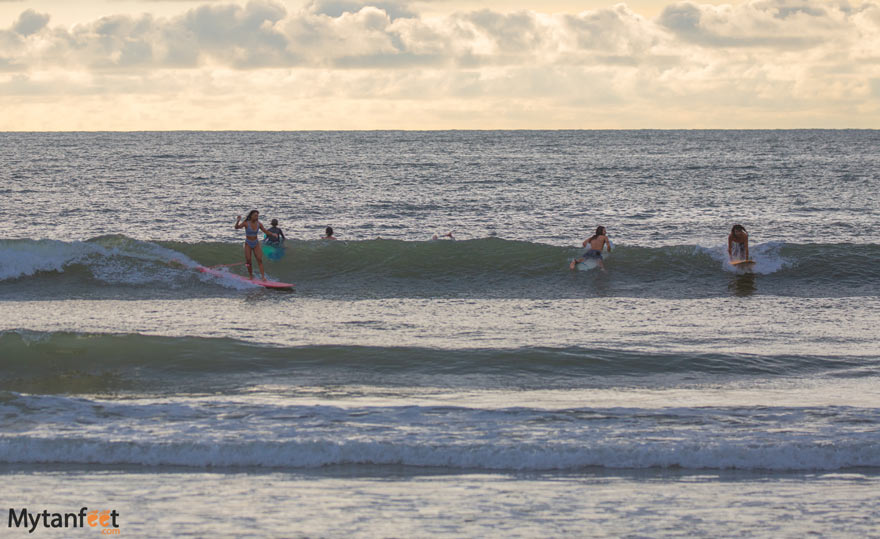 There are many surf shops in Tamarindo to rent or take a lesson with. Popular shops are Witch's Rock, Iguana, Banana Surf Club, Wave Rider, and Mato's Surf shop. Pablo Surf School is another great one.
Scuba Diving
Tamarindo is close to some excellent scuba diving spots such as the Catalinas Islands. You don't have to be certified either as companies offer a discovery scuba dive for those not certified.
Sunset Sailing
Go on a sunset sailing cruise to get beautiful views of the coastline, snorkel and see the sunset from the water. Marlin del Rey is the most popular one with an open bar, snacks and lunch. Other excellent companies are Blue Dolphin, Dream Chaser and Antares.
Fishing
Go in or off shore fishing to catch snappers, jacks, tuna, mahi mahi wahoo and more. Tamarindo is a great place to go fishing in Costa Rica!
Black Stallion Zipline, Horseback Riding and BBQ
This small adventure park has a fun beginner zipline, horseback riding and offers barbecue dinners. Their BBQ is one of the best we've ever had in Costa Rica and their property is beautiful. It's only a 15 minute drive by car from Tamarindo.
Beach hopping
Visiting beaches is a must since you're close to some of amazing beaches like Avellanas, Grande, Langosta, Conchal, Flamingo, Mina and Brasilito.
Watch our video below to see 5 beaches you have to visit from Tamarindo!
Marino Las Baulas National Park Estuary boat ride
Take a boat ride through the estuary through the Marino Las Baulas National Park to see monkeys, birds and crocodiles. Right in town as the entrance to the national park is right on the most northern end of the beach. Costs around $35 USD per person.
Party
From dancing the night away at Crazy Monkey Bar or Pacifico to listening to live music on the beach, there is a fun party scene in Tamarindo. On Sundays, you can also join the Beach & Pool crawl for more beach, drinks and pool parties.
Night Market and Farmer's Market
On Thursday nights, there is a night market in Plaza Palmas from 6-10 PM. On Saturdays, there is a local farmer's market from 7 AM to 1 PM next to the Green Papaya restaurant. We recommend getting a VIDA bowl (acai and fruit smoothies).
Sunset Happy Hour
With amazing sunsets and lots of beachfront bars, you can't miss sunset happy hour! Get 2×1 beers and discounts off drinks while watching the sun go down.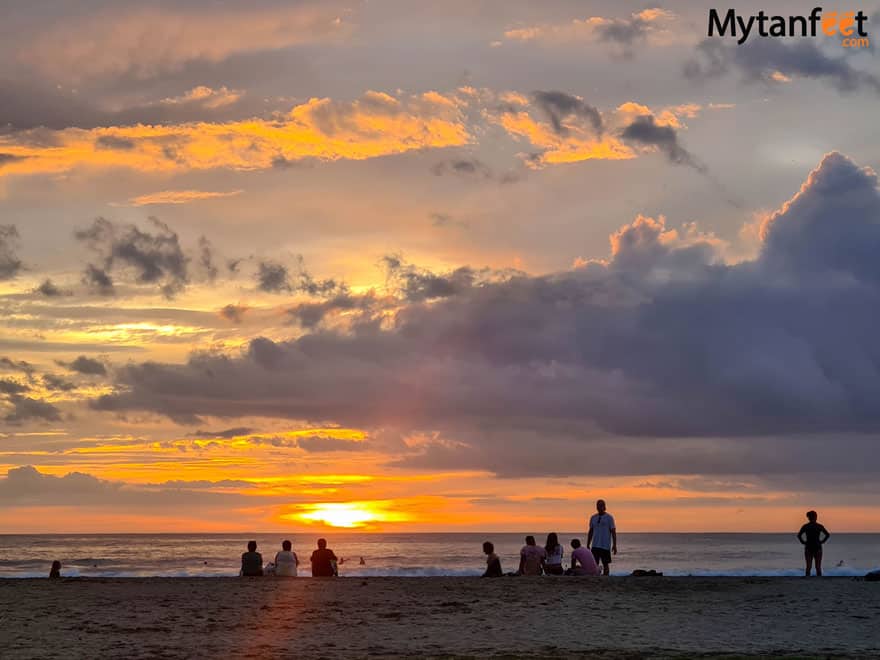 Day Trips from Tamarindo
Check out our dedicated Tamarindo 5 days itinerary if you plan to stay here as a home base for 1 week.
Location
Tamarindo, Costa Rica is 65 kilometers (40 miles) from Liberia International Airport, about a 1 hour drive. Tamarindo is 257 kilometers (160 miles) and about a 4 hour drive from San Jose.
How to Get to Tamarindo, Costa Rica
The best airport to fly into for Tamarindo is the Liberia International Airport (Guanacaste International Airport).
By bus: The bus from Liberia to Tamarindo leaves from the Mercado Municipal with the Transportes La Pampa company. It departs daily at 7, 8, 10, 11, 1PM, 2PM, 4PM, 5PM and 6 PM, taking 1.5 hours and costs ~1,760 colones (~$3 USD). There is a San Jose bus to Tamarindo that leaves at 8 AM and 4 PM with the company Tralapa. This takes around 5.5 to 6 hours and costs around 5000 colones (~$10 USD)
By flying: Tamarindo has its own domestic airport. From San Jose it costs around $70 USD one way and takes about 30 minutes with Sansa Air.
By shuttle: Tamarindo Transfers & Tours has shared shuttles for $20 USD per person one way, minimum 2 people from Liberia International Airport. For a private transfer, it costs around $90 USD for 1-4 people. A private transfer from San Jose to Tamarindo is around $220 USD for 1-4 passengers.
Taxi: there are official airport taxis at LIR Airport. It costs around $80-90 USD one way.
You can read more about getting to Tamarindo in this post.
Driving Directions to Tamarindo from Liberia Airport
You can use Google Maps or Waze as your GPS from Liberia Airport. It's an easy drive on a main road and takes about 1 hour. You do not need a 4×4 for Tamarindo.
Some people ask if they can drive to Tamarindo from Liberia Airport at night. It is possible to drive to Tamarindo from Liberia at night since the whole route is on a well paved road. Just make sure to use a GPS.
How to Get Around Tamarindo
The town of Tamarindo is not very big and from the town center, you're in walking distance of restaurants, the beach and shops. It is not absolutely necessary to rent a car in Tamarindo.
However, if you want to explore outside of Tamarindo, then you must rent a car. A 4wd or high clearance car is highly recommended if you want to explore. Highly recommended to visit areas such as Nosara, Rincon de la Vieja and Bijagua. Even to Playa Avellanas, a high car is recommended.
Without a car, you will have to book guided tours with roundtrip transportation as public transportation in this area is sorely lacking. Want to book tours? Get our discount for Tamarindo day tours here!
Uber/Golf Cart Rentals/Scooters
There are a few Ubers in Tamarindo but don't depend solely on Uber. Electric bikes are for rent by Hotel Portofino and there are golf carts to rent in the Auto Mercado plaza and from Earth Gear Golf Carts right in town. There is also a place that rents scooter and motorcycles by the skate park for around $40-60 USD a day.
Roads are mostly paved in Tamarindo. There are some back roads and small alleys where they are not though. See what Tamarindo town looks like in the video below!
Parking
There are only a handful of "designated parking lots" in Tamarindo. There is one next to Witch's Rock, the one at Pico Bistro, at Plaza Conchal I and II, one across from Iguana Surf and then by the roundabout near Nogui's.
Please note these aren't official parking lots so make sure you roll up windows, lock your doors and do not leave anything valuable in your car. There are "parking guards" who will approach your car (normally wearing a reflective vest) and charge you for parking in "their" lot. You can give them like 500-1000 CRC when you leave. During holiday times however, they may make you pay a certain amount when you arrive in order to park.
Tamarindo, Costa Rica Weather
Tamarindo has typical tropical dry and rainy seasons. Dry season is roughly December – end of April and May – November for rainy season. The hottest months are March and April with average day time temperatures around 85-95 F (30-35 C).
The rainiest month is generally October. Average day time temperatures in rainy season do not really vary from dry season. A typical rainy season day in Tamarindo is sunny in the morning and rainy in the late afternoons and nights.
Tamarindo Surf Camps
We did a surf vacation with Iguana Surf which was a lot of fun. Witch's Rock Surf Camp is very popular.
Tamarindo Hotels
You can find all sorts of beach front hotels, hostels, boutique B&B's, condos and luxury hotels in Tamarindo.
Hotel Mar Rey is a nice budget to mid range hotel right in the middle of town.
Hotel Luna Llena – located further back in town with spacious bungalows and a big pool. Mid range prices.
Cabinas Marielos – Basic but comfortable rooms literally right across the street from the beach. Budget.
Wyndham Tamarindo – This hilltop hotel has a fantastic view of the beach and an amazing infinity pool. More high end.
The Beach Bungalows: Cute bungalows in the back part of town but just a 10 minute walk to downtown and 15 minutes to the beach. Lush gardens and is gated.
Coral Reef Surf Hostel and the Selina Hostel for hostels.
For honeymooners or couples, Jardin del Eden is adult only with romantic rooms and in room Jacuzzis. Los Altos de Eros is another beautiful hotel 30 minutes outside of Tamarindo.
For a resort like hotel with beachfront and garden rooms, check Tamarindo Diria.
If you want a resort, check out the JW Marriott Guanacaste Resort & Spa (25 minutes away) or the all inclusive Occidental Langosta.
A new vegan hotel has opened in Tamarindo called Mother Earth Vegan Hotel.
Vacation Rentals
Check Villa Verde, Sunrise Condos, Tamarindo Diria Vacation Rentals, Balcones del Pacifico or Tamarindo Mango Rentals. Airbnb and VRBO has lots of listings.
Tamarindo Restaurants
Noguis: Happy hour from 430 PM – 530 PM with 2 beers for 1500 colones (~$3 USD). Yummy pie. $$
Pikatas: Amazing ceviche
Longboards BBQ: Delicious barbecue sandwiches. $$
Hidden Garden: Fine dining, good mix of vegetarian, seafood and meat $$$
Pangas: Fine dining, delicious seafood. Nice place for a romantic dinner, beachfront. $$$
Green Papaya: Awesome taco bar with handmade tortilla and chips. The mahi mahi tacos are amazing. Cash only. $$
The Kitchen: Fun spot to watch the game and get Argentinian empanadas or the chicken milanese. Good veg burger $$
NOI Bistro: Great place for breakfast or lunch. Favorites are the veggie burger. $$
Tamarindo Coffee Roasters: Outside town. They roast their own and make their own blends which you can buy. $
Masa Madre: Bakery with sandwiches, pastries, paninis, pizza, croissants, coffee, vegan/vegetarian options. $
Santa Rita Coffee shop: Nice place for coffee and breakfast. $
Pan del Mundo: European style bakery with sweet pastries, breads, baguettes and sandwiches. $
Surf shack: Great burgers and they have a veggie burger option. $$
Mercadito: Food court with burgers, seafood, arepas, poke bowls, waffles, crepes, Argentinian grill, tacos, Pops ice cream, a bar and sushi. $-$$
Red Door: A more fine dining beachfront spot with food and yummy drinks/cocktails $$$
El Santuario: Cute outdoor Italian place with pizza, pasta and barbecue
Venezia Gelati: Yummy gelato. $
Falafel bar: Great hummus, pita wraps and shawarma. $$
Dragonfly: Delicious curry and other dishes. $$
Agua Salada: Nice place for more fine dining. Very cute decor and atmosphere. $$$
La Pachanga: Excellent pizza and pasta place. $$
Soda El Estero: A good local restaurant near the entrance of town. $
La Bodega: Great place for breakfast. $
Shopping
If you're looking for some new beach wear, Tamarindo has everything. Here are my favorite places to shop in downtown.
Suspiro Esmerelda Bikinis: She designs her own bikinis and is great for anyone who likes prints and fun styles. By the roundabout across from Noguis.
Sibu: The ethical brand originated in Nicaragua and they sell swimwear and clothes in their store called Sunday.
Seaholic: A cute store with beachwear and accessories
2 Aves: Right next to Suspiro and they have cute beach towels and accessories.
De'lohana Bikinis: Second floor of Tamarindo Inn a little outside town. Super cute bikinis with many pieces great for surfing. Super soft, made with biodegradable materials.
Morena Beachwear: Has a wide collection of bikinis and one pieces, many for surf. In Centro Commercial El Punto in town.
Bambamboo: Clothing store with everything made from organic cotton, bamboo, banana or hemp. Not a lot of designs but super comfortable.
Tamarindo night market: The weekly Thursday night market is a great place to shop for trinkets like jewelry.
Buena Nena: Cute clothing stores with jewelry, bags, hats and other cute things.
Nightlife
You will always find a place to party and partake in some epic nightlife in Tamarindo. There's often live music at the restaurants like Mercadito, Chiringuito, Langosta Surf Club, El Be!, The Joint World Famous Burgers, Lizard Lounge, Longboards and The Ocean.
Pacifico Bar, Rumours, Sharkys, Crazy Monkey Bar and Lizard Lounge are popular places for drinking, dancing and partying.
Living in Tamarindo, Costa Rica
Foreigners choose Tamarindo as their new home due to several factors: diversity, more business and job opportunities, weather, surfing and a tightly knit expat/immigrant community. It is very popular for families as there are some private and international schools nearby.
As for the demographic, there aren't as many retirees compared to other beach towns like Playas del Coco and Nosara. Most of the foreigners are young entrepreneurs, digital nomads, families, backpackers or surfers. Although Tamarindo's nickname is "Tama-gringo", it's not only US citizens who live here. There are plenty of people from Canada, Australia, Europe and South America.
However, something to note about Tamarindo is it's expensive. Due to displacement, you won't see any local Guanacastecos living in Tamarindo. Rent and home prices are very high, catering more towards European/American/Canadian immigrants and expats and international tourists. The Guanacastecos live outside in neighboring villages and towns like Villarreal, Huacas, 27 de Abril or Santa Cruz.
For tourists, it is not a cheap destination in Costa Rica. You can travel on a budget in Tamarindo but do note that it will still be more expensive than other destinations in Costa Rica.
Other than that, Tamarindo is fun. There is always something to do or something going on! You're close to plenty of natural attractions, the surfing is awesome and it's easy to meet people!
Safety
Is Tamarindo safe? Tamarindo is both a family friendly and party town. It attracts many young backpackers, solo travelers and surfers looking for a fun and wild night on the beach. Therefore, it is not difficult to find a variety of tools to help one have that type of time in Costa Rica.
However, many families, seniors and couples visit Tamarindo and it is completely safe for them. It advised to avoid the small alleys and the street with all the bars late at night, especially Thursday – Sunday nights if you have children or want to avoid that scene.
Theft and pickpocketing are the main crimes so always be aware of your surroundings and keep your belongings safe with you. During holidays such as Christmas, New Years and Easter, be especially aware of your belongings.
Another thing to note about Tamarindo Beach is the crocodiles. Due to the nearby estuary, crocodiles sighting haves been reported on Tamarindo Beach. If you are near the estuary, do not cross it by foot and be aware of your surroundings.
Want to read about more beach towns in Costa Rica? Here you go!
There are affiliate links in this post