What do I need to pack for Costa Rica? As one of the most common questions we get, this Costa Rica packing list post will help you immensely. The most important thing to know about packing for Costa Rica is that there around 27 micro-climates in the country so don't just throw your shorts and flip flops in your bag, read our packing list for Costa Rica to find out exactly what you need to bring!
*Click the link to get our free packing checklist to help you stay organized!*
Disclaimer: There are affiliate links in this post.
Essential items You Cannot Forget to Bring to Costa Rica
Original passport. No photocopies, no color copies. Must be your original passport that is not expired and will not expire during your time in Costa Rica.
Original valid driver's license (if you are renting a car or driving). No temporary licenses, no photocopies, no paper copies. Cannot be expired or will expire while you are in Costa Rica.
No foreign transaction fee credit card. My Chase Sapphire Preferred card is a fantastic travel credit card with no foreign transaction fees and many other travel benefits. Make sure to bring two with one as a back up because AMEX is not as widely accepted so bring a Visa card (the most widely accepted). Apple Pay/digital cards are not widely accepted in Costa Rica at all.
Travel insurance. Highly recommended especially now we know due to the pandemic that anything can happen! Check Safety Wing (great for digital nomads), World Nomads (ideal for adventurers) or browse through various options from Visitors Coverage to find the one that fits your needs.
Your return flight ticket out of Costa Rica. This can be printed or saved on your phone) to show to immigration if they ask.
Hotels, tours, car rentals and flight reservations (printed or saved on your phone)
The Essential Things to Bring to Costa Rica
These are the essential items for your Costa Rica packing list: lightweight dry fast clothes, comfortable sandals, swimwear, mosquito repellent, sunscreen SPF 30+, hiking shoes/trail running shoes or closed toed hiking sandals, sunglasses, a hat, battery pack, medical kit, waterproof phone case, camera, day pack, rain jacket and an insulated water bottle.
Clothes
Costa Rica doesn't have a strict dress code so comfortable and casual is best for pretty much the entire country. At the beach where daytime temperatures reach up to 95 F (35 C) with high humidity, your wardrobe will consist of shorts, tank tops, tshirts and flip flops. In the city where daytime temperatures are around 78 F (25 C), we recommend closed toed shoes, long pants and a light jacket or sweater. If you're visiting higher elevation areas (Monteverde, Bajos del Toro, Vara Blanca, Poas, San Isidro de Perez Zeledon, San Gerardo de Dota, San Jose, Heredia, etc.), then long pants, a warm sweater, long socks and a jacket are necessary.
For women, there is no real dress code. You can perfectly wear tank tops and show your shoulders. It is not common for local women to wear leggings as daily wear though. As for the men, no board shorts or short shorts in the city.
Our recommendations: For Costa Rica, clothes that dry fast and wick away moisture are the best. In the city, normal city wear is fine (no beach clothes or just swim suits). For hiking, as a woman, I personally prefer hiking pants rather than leggings due to the intense humidity and mosquitoes. Our closet is full of Columbia, REI, prAna, Nike, North Face and Eddie Bauer with lots of lightweight, moisture wicking clothes for our life on the North Pacific coast.
Shoes
If you're doing any activities, hiking shoes/sandals (with straps), sneakers, trail running shoes or hiking shoes are necessary. For the beach, flip flops are necessary. Whenever we travel around Costa Rica, I normally bring one pair of flip flops and one pair of sneakers/hiking shoes or closed toed hiking sandals depending on what we're doing.
Yeison usually brings a pair of flip flops and his trail running shoes or closed toed hiking sandals. If we're doing long hikes, he wears waterproof Salomon trail running shoes. I usually bring a pair of flip flops and my KEEN hiking sandals. For hikes, I also have a pair of Salomon hiking shoes.
Our recommendations: We love closed toed hiking sandals. They are amazing for all sorts of light outdoor activities that go from land to water. They dry fast, don't smell, your feet can breathe and are much more comfortable than stuffy shoes and socks. Waterproof trail running shoes are also amazing for Costa Rica for more intense hikes. If you don't want to purchase closed toed hiking sandals, a pair of sneakers + water shoes will be great for light activities like ziplining, rafting, tubing, snorkeling, boating.
We love our KEEN hiking sandals and you can read our in-depth guide to what are the best shoes for Costa Rica. Remember, many activities require completely CLOSED toed shoes.
Mosquito Repellent
You have to bring mosquito repellent for Costa Rica as they are present all year round. The coasts are the worst places for mosquitoes and there are a few serious diseases you can catch like dengue fever. There are also other annoying little bugs that bite like gnats. Mosquitoes are not really found in high elevations above 1500 meters (4900 feet) or so however.
Our recommendations: You can find mosquito repellent in the supermarkets but we recommend bringing your own as it is a bit more expensive here. Additionally, there aren't a ton of natural or non-DEET options. We like this OFF! 20% Picardin and also Avon skin so soft which is DEET free and has SPF.
Repel is another excellent brand that we use a lot (especially me, as non DEET products don't work great for me and I'm a mosquito magnet). You can read about our favorite mosquito repellent products in this Costa Rica mosquitoes post.
Sunscreen
Sunscreen is also a must and bring at least SPF 30. If you burn easily, SPF 50-70 is best and do not forget to reapply! Costa Rica is only 8-12 degrees from the equator so the sun is strong! Additionally, after sun care is very important in case you (probably will) burn.
Our recommendations: If you are going to be going in the ocean, we encourage you to buy reef safe mineral sunscreen. We personally love Raw Elements, SunBum and Bare Republic. If you can, bring sunscreen. If you can't, you can get sunscreen at any supermarket or pharmacy but it is a bit more expensive with limited options. Don't forget chapstick with SPF! Also if you're surfing, make sure you get sunscreen with Titanium Dioxide/Zinc Oxide and wear a rash guard with SPF. Headhunter is our preferred surfing sunscreen.
Toiletries and Medications
You can find all toiletries in Costa Rica like shampoo, conditioner, lotion, toothbrush, mouth wash, toothpaste and floss in the supermarkets. There are a few items that I do recommend to bring. These are tampons for women (not always readily available), face wash (expensive), hair detangler spray, wet wipes, triple antibiotic ointment, band aids, a packet of tissues and face wipes. Menstruation cups are becoming more available in Costa Rica and are great for travel. If you wear contact lenses, make sure to bring a couple extra lenses, cases and contact lens solution. They do sell contact lens solutions at most supermarkets and always at the pharmacy.
If you're taking any medicines, write down a list of them and keep it with you at all times. Try to include the active ingredients in each medicine or find the Spanish name.
Pharmacies
Pharmacies in Costa Rica are not only for prescription medicines. They sell everything like shampoo, lotion, vitamins, supplements, cold medicine, toothpaste and OTC things like that as well as prescription medicines.
For basic medicines, you can find them OTC like cold, flu, sinus, diarrhea and muscle pain at the supermarket. As for other medicines, you'll need to go to a pharmacy so we recommend bringing any specific medicines you prefer to take.
For example, you can buy anti-nausea medicine at the pharmacy (not supermarket). I like to bring non drowsy Dramamine because this brand isn't available in Costa Rica and motion sickness medicine is only available at the pharmacy (no prescription required). Also the pharmacist may accidentally give you one that induces drowsiness (this has happened to me before). I always bring my own Claritin for my bad allergies because it is difficult to find non drowsy allergy medicine. Cough drops are not readily available OTC either.
Rain Jacket
A rain jacket is an essential item if you're visiting during Costa Rica's rainy season (May to beginning of December). And you want to get a waterproof one, trust me! A poncho can work too but get a good quality one, not those dollar store ones that you throw away after one use which is very wasteful.
However, even in dry season, we recommend to bring your lightweight rain jacket if you're visiting the rainforest or mountains as it can still rain. These are places like Monteverde, Poas, Vara Blanca, Bajos del Toro, Dominical, Uvita, Bijagua, Monteverde or Osa Peninsula. Also remember the Caribbean (Tortuguero and Puerto Viejo) follows a different weather pattern and it can rain at any time of the year.
Our recommendations: We love our The North Face Venture Jackets (I grew up in Washington state so I have lots of experience with rain jackets). I also have a Marmot Precip jacket. We recommend to get a lightweight jacket with zipper ventilation pockets to let air flow through.
Day Bag
For day trips, sight seeing and tours, bring a day backpack. Do not bring those flimsy sing drawstring gym bags. If you're not planning on doing long hikes, you can get away with a 20-25 L backpack to hold all the essentials: snacks, water, hand towel, change of clothes, camera, etc.
Our recommendations: We have a bunch of backpacks each with their own purpose. I have a 20 L Osprey, a 25 L REI, a 30 L Aqua Quest and Yeison has a 40 L REI. In rainy season, you must bring a waterproof backpack. I love my Aqua Quest waterproof backpacks for hiking and our IDRYBAGS for boating. If you don't have a waterproof backpack, you can get a rain cover or use waterproof spray.
For photographers, Yeison has a Shimodo Explore V2 which is the best backpack he's ever had for carrying photography and videography equipment. As a content creator, having a good backpack to protect your gear is absolutely crucial. I have the womens version Shimoda Action x30 for my camera equipment and it is amazing!
If you are traveling with infants/babies, you must bring a child carrier. Most places like national parks, reserves, hiking trails, do not allow or are not suitable for strollers.
Want more Costa Rica travel tips directly to your inbox? Sign up to our mailing list for weekly and monthly newsletters filled with Costa Rica goodies!
Insulated Water Bottle
I never leave home without my insulated water bottle. It's the best feeling in the world to take a long sip of fresh cold water when it's 90 F out. Additionally, bringing your own water bottle helps to reduce the amount of plastic water bottles and you'll save money on buying water. You can drink tap water in most places in Costa Rica or bring a water filter if you have a sensitive stomach.
We both have 40 ounce Hydro Flasks and it keeps our water nice and cold for up to 24 hours. I also recommend to get the boot for your water bottle because it will get banged around as you take it on hikes and adventures.
Micro Fiber Towel
Our second favorite item we never leave without. A micro fiber towel is awesome for wiping sweat off, using as a fan to cool off or to wrap your stuff in if it starts raining. We have several of various sizes: a hand towel and body towel.
If you're a surfer, I am in love with my microfiber surf poncho. So comfortable and convenient for changing out of your swimsuit after a surf session.
Sunglasses and Hat
As for the sunglasses, I recommend bringing 2 pairs of sunglasses. You will want to bring one cheap pair so that you won't cry if it gets lost in the ocean. A hat or visor is also essential to bring to Costa Rica.
Sarong and Swimwear
I love my sarongs. It's so useful as a towel, beach cover up or even as a blanket for those long cold bus rides. Sometimes I use them to cover my legs at night to protect against mosquitoes when I'm sitting outside. You can buy them in souvenir shops here for around $10-20 USD.
As for swimwear, we recommend at least two pairs. For guys, the swim trunks without the mesh is best and ladies, if you're visiting popular beach towns like Tamarindo and Jaco, you can buy some super cute locally made bikinis.
Cameras and Technology
If you want to capture all those awesome adventures, an action cam is the best. GoPro is still the reigning king of action cameras. Another really fun action camera is the Insta360X to capture ALL of the moments!
If you're a photographer, bring a wide angle for landscape shots and a telephoto lens (at least 300 mm) for birds and wildlife. A sturdy tripod is a must for wildlife photographers (we personally use Manfrotto).
Our recommendations: Make sure to bring the correct accessories for your action camera to attach it to helmets, surf boards, etc. For Go Pro, most tour companies will have the part that attaches to the helmet but you need to bring the other part.
Also, bring plenty of SD cards as it is very difficult to find Class 10 SD cards and mini SD cards. Bring a universal power adapter if you need to as they're not super common to find here. Costa Rica's power is 110 Volts, the same as US.
Flashlights or Head Lamps
I always bring a small pocket flashlight with me when we travel around Costa Rica. This is because it can be common for the electricity to go out during really rainy days. It is also helpful if you're walking at night since many streets do not have any street lights or are very dimly lit. Furthermore, there aren't really sidewalks so you have to walk on the road.
Anti Theft Travel Bag
I have an anti theft travel purse which I absolutely LOVE. I use it all the time and brought it with me to Europe and the US (it saved me in Spain when I almost got pick pocketed). It's super useful, spacious and handy for everyday use, light hiking and travel.
The brand is Sherpani and many of their travel backpacks are convertible for two or three styles, has RFID protection, a chain look system, exterior lock system and are water resistant. Some even have slash proof material. I have two of their purse/backpacks which are my go to in Costa Rica and during our international travels.
I also have a RFID wallet which I highly recommend!
Battery Pack
And because the electricity may go out (especially in Costa Rica's rainy season), I always have a fully charged battery pack, wall chargers and extra charging cables with me. Super useful when we stay in rural areas or on a long drive!
If you are working while you travel, I highly recommend this USB C Travel Power Strip. Some cheaper hotels have very few outlets so this is super handy to charge multiple devices at once.
Waterproof Phone Case/Pouch
These waterproof phone cases are super useful. You can wear it around your neck and use it during light water activities like tubing, canyoning, etc.
This is also really nice alternative if you don't have a waterproof camera and don't want to spend $500 USD on a GoPro. But remember, these are not recommended to take scuba diving or anything like that, just light water activities.
Accessories and Extras
Here are some other items that will be useful.
Small first aid kit
Ziplock bags to protect your electronics
Laundry bag
Dryer sheets as your dirty and sweaty clothes will get stinky in your luggage
Reusable shopping bags
Lots of hair ties
Sleeping pills if you normally take melatonin/magnesium/etc.
Travel hair dryer. Hostels, cheap/budget hotels, some Airbnbs don't have hair dryers in the room. If you're visiting a cold area, bring a small travel hair dryer.
Ear plugs, especially if you're staying in a hostel or cheap hotel downtown. Also, if your hotel is by the side of the road, you may hear the very loud trailer trucks engine braking all night long.
Car cell phone holder if you are renting a car. Planning to rent a car? Get our Costa Rica car rental discount and extra freebies here!
Spanish dictionary or guide. Download our free survival Spanish pocket guide. Though English is widely spoken since Costa Rica is a touristic country, it is still helpful to know some phrases and words in Spanish.
Map. The National Geographic Costa Rica map is fantastic. I buy their maps for other countries.
Binoculars if you are an avid birder or love wildlife. You do not need a super expensive pair, I have this pair of binoculars which have been great.
Master Lock – this is especially useful if you are surfing. This way you can lock the car key and have a safe place for it, especially if you have an electronic car key.
Things NOT to pack for Costa Rica
Expensive jewelry and designer clothes.
High heels, stilettos. Costa Ricans sidewalks and roads commonly have pot holes and cracks. Even if you're going for a bachelorette party or plan to party it up, choose cute flats or sandals instead.
Expensive purses. Better to have a more low key travel purse or practical day bag.
Rainboots. They take up a ton of room and they're really not necessary. If you do need rain boots, you can buy a cheap pair at the hardware store. Then donate them when you leave.
Every single credit and debit card you have. Just bring the ones you're using.
Luggage Recommendations
Carry On
I personally use the Beis The Carry On Roller Bag and absolutely love it. It has many features and pockets that make it super easy to keep organized. I've used this for all of our international travels when I want to be carry on only. It is a hard shell carry on with an expansion zipper so I can shop without worry. I also have their cosmetic case and and hanging cosmetic case. They even have a pet carry on bag.
Yeison uses a Columbia Carry On Roller Bag which he loves. It's soft shell but super durable and easy to clean. This one has two wheels. It's amazing how much clothes he can pack in this carry on as it looks small but it holds a lot!
Check In Luggage
We have several Amazon Basics 24 inch and the Amazon Basics 28 inch. They're basic like the name but we haven't had any issues with them the past few years. If you don't need anything very heavy duty or if you don't travel often, the Amazon Basics line is a great affordable option for luggage.
The only thing is that these luggages I found are fairly common, so even with the blue and orange colors we bought, I put a ton of stickers and tags on them to recognize them easily.
To help stay organized, packing cubes are very useful. We used to have this eBags set.
Rainy Season Packing List
Generally around beginning of May – end of November. This is the time of thunderstorms, rainstorms and very windy days. Rainiest months are September and October for most of the country. October is the summer month for the Caribbean coast but still bring a light rainjacket!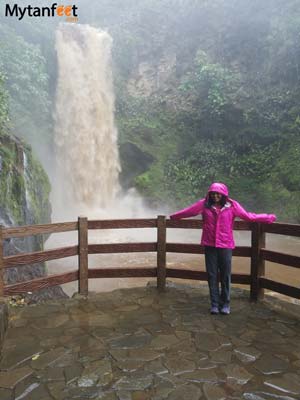 It is very important you come prepared in rainy season since Costa Rica weather can be fairly unpredictable. It can go from a hot sunny morning to a crazy thunderstorm in a matter of minutes.
The same packing list for Costa Rica in dry season but if you're coming in rainy season, add these to your list:
Rain jacket/poncho.
Waterproof backpack or rain cover/waterproof spray. This is a must!
Sweaters/jackets.
Long pants and long sleeve shirt
Hiking clothing.
Hiking shoes. Waterproof preferable.
Socks
We have a complete Costa Rica rainy season packing list with more information.
OK so by now, you might be wondering what specific items to bring for your destinations. Read the section below to find out!
Packing List for Costa Rica: Different Destinations and Activities
Arenal and La Fortuna
This area gets pretty hot and humid during dry season with temperatures in the high 80s F (29 C). If you are staying around Lake Arenal or Nuevo Arenal, it is cooler. In La Fortuna, it gets hot and you can wear shorts, t shirts and sandals.
Hiking: Running shoes or hiking shoes will be fine for most hikes in Costa Rica. In rainy season, I recommend a pair of waterproof hiking shoes or hiking sandals.
Ziplining: No flip flops or loose shoes.
Other activities such as horseback riding, canyoning and white water rafting require closed toed shoes. Closed toed hiking sandals work amazing or water shoes for rafting.
Monteverde
Monteverde sits around 1500 meters (4900 feet) in elevation so it is a lot colder up there. Dry season temperatures are around high 70s F (25 C) and at night, it gets down to the 50s and 60s F (14 C).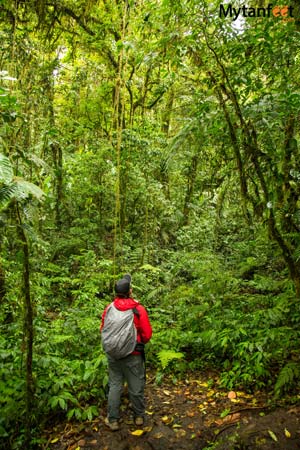 You need to bring a warm sweater/jacket and long pants for Monteverde. Also expect to run into spring showers even during the dry season months of March and April.
Waterproof equipment and clothing is a must for rainy season in Monteverde.
Hiking the cloud forest reserves: Bring a rain jacket and wear closed toed hiking shoes. Some of the reserves have rain boots for rent.
Osa Peninsula (Corcovado National Park, Puerto Jimenez, Drake Bay) and Costa Ballena (Uvita, Dominical, Ojochal)
The Osa Peninsula and Costa Ballena are very humid all year long. Closed toed hiking shoes are a must for the national park. Trails are well laid out in Corcovado National Park but if you're doing the walk from Leona to Sirena station, you will have to cross some rivers and walk on the beach. Some hotels have boots for rent or you can buy boots in Puerto Jimenez.
If you are visiting in rainy season, I recommend solid waterproof hiking shoes. If you are bringing camera equipment, you need waterproof gear since this area is SO humid and rains hard. Bring 100% waterproof backpacks and ziploc bags.
Must bring items: A micro-fiber towel, a hat, a flashlight, good pair of hiking shoes, lots of mosquito repellent, battery pack, insulated water bottle, quick dry clothes workout clothes, waterproof backpack and an open attitude. You will run into lots of bugs and be hot and sweaty!
The same goes for Sarapiqui. This area is super humid!
Jaco and Manuel Antonio
Both Jaco and Manuel Antonio have similar weather and are hot and fairly humid. Bring all your beach clothes, sunscreen, mosquito repellent, sunglasses, a hat and swimsuit.
Guanacaste (Coco, Tamarindo, Conchal, Samara) and Nicoya Peninsula
The Guanacaste province is extremely hot with a longer dry season. Temperatures are consistently in the low 90s F (33 C) throughout the year. You must bring tons of SPF 50 sunscreen, mosquito repellent, sunglasses, hat and after sun gel. Protect yourself from the sun! An insulated water bottle will be super useful so you can always have cold water.
In dry season, the Nicoya Peninsula, particularly Santa Teresa is extremely dusty. If you plan to rent an ATV, make sure to bring something to cover your face like Buff Headwear because the dust is incredibly bad there.
Rio Celeste
The Tenorio Volcano National Park where Rio Celeste is rains often so bring a rain jacket, even in dry season. When we visited in April, it poured almost all 3 days we were there.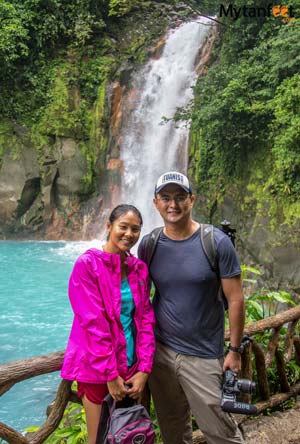 A waterproof backpack is highly recommended (especially for photographers) and hiking sandals or waterproof hiking shoes is also recommended. The national park has rain boots for rent.
Tortuguero and Puerto Viejo
Since The Caribbean coast can rain almost all year long, be prepared for rain. The dry season month is October but believe me, bring your rain jacket still. It's extremely humid in Tortuguero and Puerto Viejo so fast drying clothes is necessary. If you plan to hike in the national park, you can rent boots as it can get muddy.
A battery pack is highly recommended as Puerto Viejo can get very stormy and the power can go out. You will be fine with hiking sandals or sneakers in addition to flip flops.
Free Costa Rica Packing Check List
Click here to get our FREE packing checklist with an abridged version of the notes above so you can print it out and refer back to it while you're preparing for your trip!
Costa Rica Vacation Checklist
Read other Costa Rica travel tips below!