Costa Rica is home to five of the seven species of sea turtles, making it one of the best places to see turtles in the world. If seeing turtles is on your bucket list, then read on to find out where the best places are to see sea turtles in Costa Rica, Costa Rica turtle tours, best time to see turtles and more.
5 Species of Costa Rica Sea Turtles
The five species of sea turtles in Costa Rica are the Olive Ridley Sea Turtle, Leatherback Sea Turtle, Hawksbill Sea Turtle, Green Sea Turtle and Loggerhead Sea Turtle.
Sea turtles can be seen on both the Pacific and Caribbean coasts. Although it is not super common to snorkel with turtles in Costa Rica, you have a good chance to see turtles nesting during the right time of year.
Best Places to See Turtles in Costa Rica And Best Time of the Year
Toruguero National Park in the North Caribbean
Tortuguero, or the place of the turtles, is one of the most important nesting sites for Green Turtles in the world. Leatherback and Hawksbill sea turtles also nest on Tortuguero beach.
Best time to see turtles in Tortuguero: Leatherback and Green Sea turtles nest from April to mid December. You can see nesting mothers from April to October. After October it is more common to see babies hatching.
We have visited twice in September and November. In September, we took a turtle tour and saw 4 nesting Green Turtles. In November, we didn't see any nesting females but saw two nests of baby turtles (shown in the video above).
Gandoca Manzanillo Wildlife Refuge in the South Caribbean
On Gandoca beach, three different species lay their eggs there: the Leatherback, Green and Hawksbill. Fortunately, the Leatherback population has a large number of nesting females on this side, much more than the Pacific. The Green and Hawksbill are not as abundant.
Best time to see turtles in Gandoca: March to June, with the peak nesting time between April and May.
Pacific
Ostional Wildlife Refuge
Ostional is one of the seven sites in the world that hosts a natural phenomenon called "arribada" in Spanish. It is when tens of thousands of female turtles come to nest at the exact same time over the span of 1-6 days.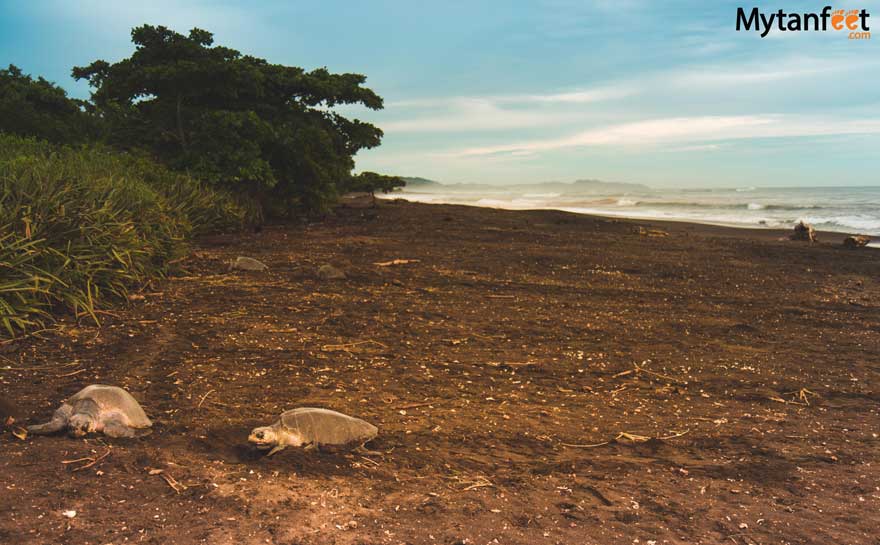 Best time to go to Ostional: Nestings occur all year long but rainy season, July – December are the peak months where you can see turtles every night. During the arribada, turtles nest 24 hours a day. In the dry months of January – April, it is not common to see turtles and you will be extremely lucky to see one.
Nancite Beach in Santa Rosa National Park
Nancite beach is the second site in Costa Rica that hosts arribadas. However, this beach is much more difficult to access as it's in a remote part of Santa Rosa National Park. There is a biological station but is mainly just for researchers or students. Special permits granted by the Guanacaste Conservation area are required for every visitor.
Guanacaste Leatherback Marine National Park (Las Baulas Marine National Park)
This national park was specifically created to protect leatherback turtles in Costa Rica as it is estimated that around 50% of female leatherbacks in the Western Pacific lay their eggs in this park. Although there has not a huge number of nestings lately (it has been decreasing the past several years), it is still an important site.
The park encompasses Playa Grande, Playa Ventanas, Playa Carbon and Langosta. Although Grande is a popular surfing beach, it is completely closed at night and only those on a tour with permits and reservations can go. Las Baulas Marine National Park and Ostional are the best places to see turtles near Tamarindo.
Best time for Las Baulas National Park: October to February with the peak time in December and January.
Gulf of Papagayo
The Gulf of Papagayo's rich waters, many bays and calm seas make it one of the best places to snorkel with turtles in Costa Rica.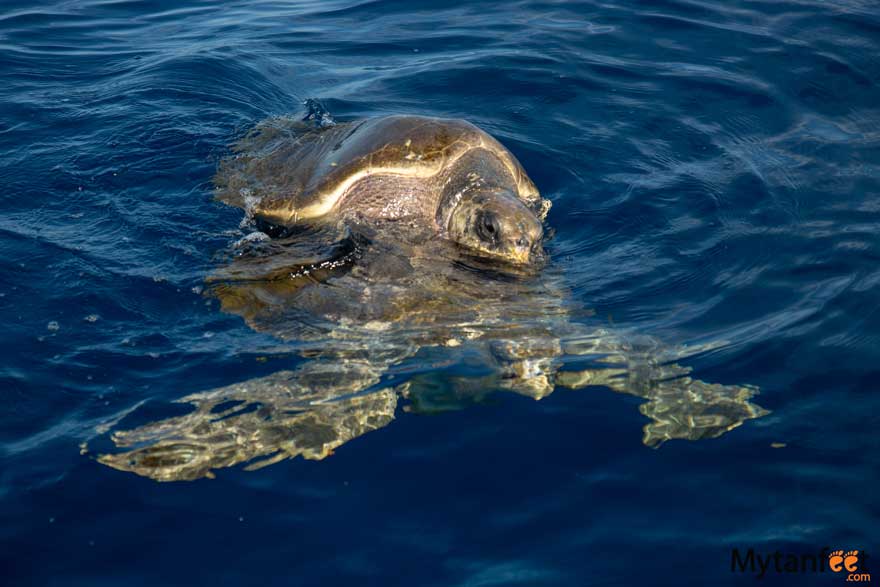 Best time to see turtles in Gulf of Papagayo: June – November. You will many turtles mating out in the ocean! You can see juveniles while snorkeling the rest of the year. It's not super common so keep your fingers crossed. We snorkeled with turtles on the beach near Four Seasons and by Playa Matapalo while beach hopping from Playas del Coco.
Montezuma and Cabo Blanco Reserve
Although Montezuma doesn't have an intense population of turtles, they do get Hawksbill Sea Turtles nests on Playa Montezuma and Grande.
Montezuma also has a small sea turtle conservation center and they release baby turtles at 4 PM every day during nesting season. When we went in February, we got to see it twice!
The Cabo Blanco Reserve is at the south end of the Nicoya Peninsula and connects with Playa Los Suecos, a beautiful "hidden" beach in Mal Pais. There's a chance you can snorkel with turtles there!
Osa Peninsula

The Osa Peninsula has a couple areas where the four species of turtles (mostly Hawksbill, Green, Olive Ridley and Leatherback). We saw some in Puerto Jimenez and they also nest in Corcovado National Park and the Golfo Dulce Forest Reserve. Best time is April – November and Osa Conservation allows people to volunteer with turtles.
Cano Island
Cano Island is another great place to snorkel with turtles in Costa Rica. It's a biological reserve that's said to have the 2nd best snorkel and scuba diving in Costa Rica.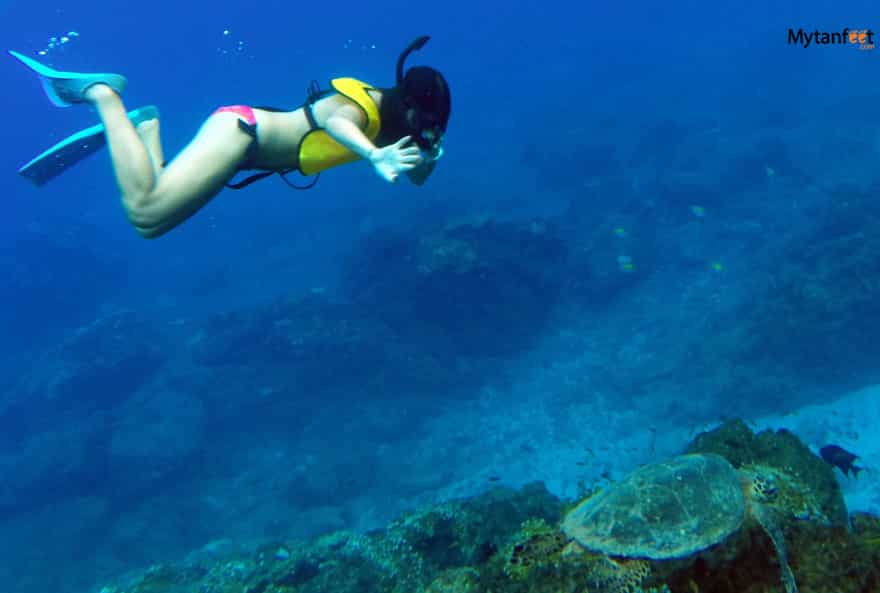 Here you can see juvenile turtles feeding on the reef. We saw this guy when we went snorkeling at Cano Island in January.
Playa Hermosa Wildlife Refuge
Although Hermosa is known for its great surfing waves, part of the beach is also protected due to the turtle nestings that occur. There is an organization that protects the eggs and baby turtles. Sometimes turtles even nest on Jaco!
Best time to see turtles at Hermosa: June – October is the nesting season.
Camaronal Wildlife Refuge
This private reserve near Samara sees four species of turtles that lay their eggs on the beach. Best time to go is May – September.
Costa Rica Turtle Tours
The best place to take a turtle tour in Costa Rica is Ostional, Tortuguero, Camaronal Wildlife Refuge and Gandoca Wildlife Refuge. We were also at Hermosa beach (near Jaco) in November and they had turtle tours running.
Depending on the place and if you need transportation, turtle tours cost around $25-55 per person. Visitors have to wear dark clothing, can't use flash and can't touch the animals. Follow the guides instructions, be quiet and have a great time observing the incredible Mother Nature at her finest.
Read about other wildlife in Costa Rica below!