Uvita, Costa Rica is a small village in the South Pacific, one of the best places in Costa Rica for a tranquil tropical vacation. It's a favorite destination for those looking for a quiet getaway in nature as it's not as developed or touristic as the North Pacific.
With picturesque dark sand beaches backed by incredibly lush mountains, everyone falls in love with Uvita. Below is our Uvita, Costa Rica guide to help you plan your trip.
Location and Directions
Uvita, Costa Rica map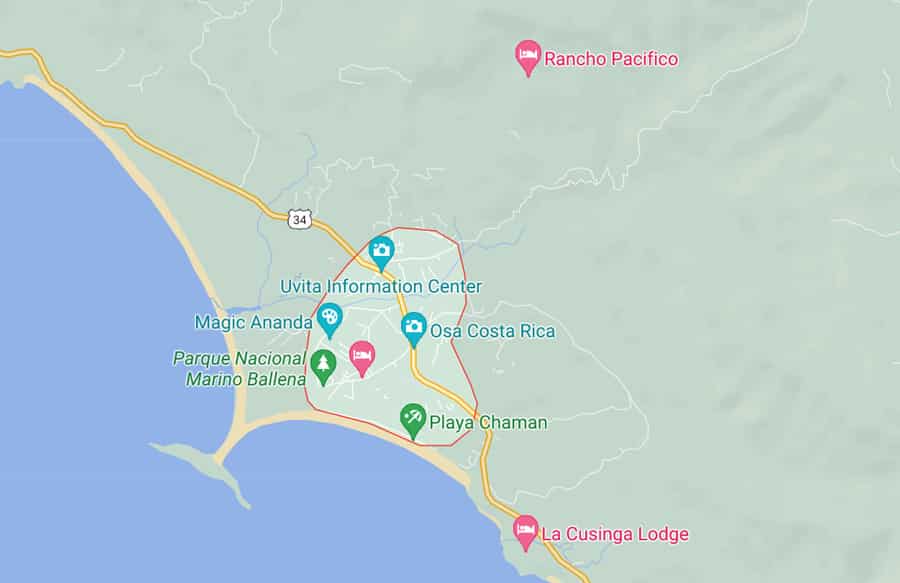 Uvita is in the South Pacific of the Puntarenas province, located in the area known as the Costa Ballena. The Costa Ballena consists of Dominical, Uvita and Ojochal. Uvita is 223 kilometers(145 miles) from San Jose via the Costanera Sur (Route 34) and 180 kilometers (112 miles) via Route 243 and Cerro de la Muerte (route 2).
How to get to Uvita from San Jose
San Jose Airport is the best international airport to fly into for visiting Uvita. Then from San Jose, you can drive, take a shuttle or the bus. There are no local airports in Uvita.
Driving
There are two routes you can take from San Jose to Uvita: via the Costanera Sur (route 34) or Cerro de la Muerte (route 2). The best one to take is Costanera Sur Route 34. Even though the distance is longer, it is actually faster because it's all on a flat, really well paved highway and is super easy to drive. The Cerro de la Muerte is a very narrow, windy road from San Isidro de Perez Zeledon so you have to drive slow.
Via the Costenera Sur Route 34, it takes about 3.5 hours. Via Route 2, it takes about 4-4.5 hours from San Jose to Uvita.
Bus
From San Jose, there is a bus two times a day with Empresa Tracopa leaving from Calle 5, Ave 18-20 at 6 AM and 3 PM. This route costs 5,695 colones. There is a bus from Uvita to San Jose every day at 5:30 AM and 1:30 PM and it takes 7 hours.
There are also other Tracopa buses that stop at Uvita leaving from the same San Jose station. You can take the San Jose to Golfito, David, Sierpe, Canoas and Laurel buses and get off at Uvita. However, they do make you pay the full price which ranges from 5790-11340 colones.
Shuttle
Easy Ride CR has 3 shuttles a day from San Jose to Uvita for $59 per passenger at 5 AM, 9 AM and 2 PM.
Getting around Uvita, Costa Rica
Getting to Uvita is not difficult and the drive is very nice since it's on a well paved highway. Likewise, Uvita is a small town that is easy to get around. The town has the main entrance to the national park and the beach, there are several restaurants, info centers, tour companies and the cheap hostels and cabinas. For someone who isn't renting a car, you can stay in town with no problem.
Do You Need a 4×4 for Uvita?
If your hotel is in Uvita town or off the main highway and you're only staying for a couple days, then no.
However, if you would like to explore the area or if you're staying at a hotel or vacation rental that is up in the mountains, then renting a 4×4 is absolutely necessary. If you book a vacation rental, make sure to confirm with your host what kind of car you need. Some places are fine with 4wd, some require a 4×4 with a good engine.
How to Get Around Uvita by Bus
Like I mentioned, the town is small and you can easily walk to get around town. But when it comes to visiting attractions outside Uvita, it is not so easy.
There is only one bus that goes up and down the Costanera Sur highway multiple times a day but not to any of the attractions. Roads up in the mountains require a 4×4 as well as many of the beaches, restaurants, waterfalls and other points of interest. Additionally, if you book a tour, most tour companies don't include transportation (you will have to pay a fee or they don't offer it at all).
If you're staying more than a couple nights in Uvita and really want to see the area, then renting a car is the only way to do it. (PS. Get our Costa Rica car rental discount to help you save $$!)
The Town
Uvita may be small but it has all the basics such as supermarkets, pharmacies, local restaurants, banks and gas stations. The main supermarket in Uvita is the BM which is a full service market. It is right outside of town on the other side of the highway.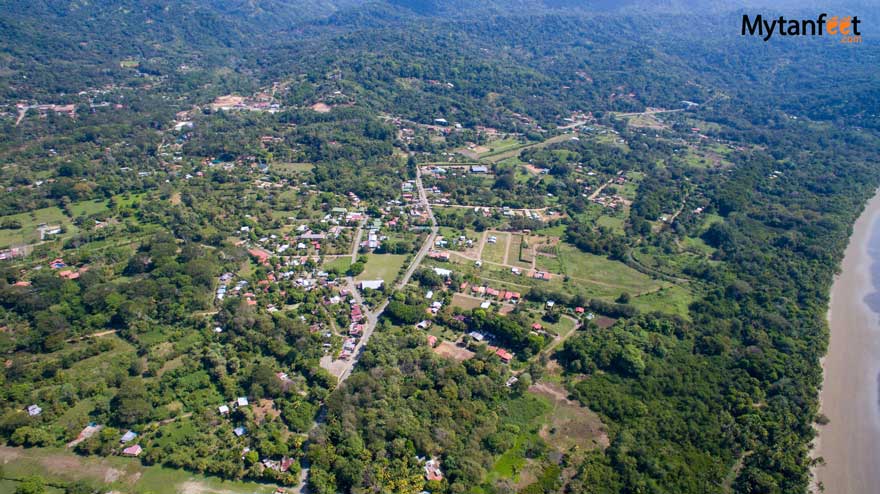 Thanks to the well paved Costanera Sur highway and Envision festival, Uvita's popularity as a top tourist destination in Costa Rica has grown immensely the past several years. Local tour companies have had to expand greatly to accommodate the increasing number of tourists. Additionally, Uvita has become a popular spot for North American and European expats, immigrants and snowbirds.
Furthermore, thanks to the surrounding jungle, rich waters and sweeping mountains on the outskirts of town, this area is teeming with wildlife. Sloths, Scarlet Macaws, toucans and monkeys are just a few of the animals you will commonly hear and see in Uvita on land. In the water, the prized animals to see are humpback whales, dolphins and turtles. (We'll talk about the whales more in a bit).
Uvita Weather
The South Pacific of Costa Rica is quite humid. It experiences typical tropical weather with dry and rainy season but it can even rain in January or February, the start of the dry season months. When we visited for a week in February, it poured for 4 days straight!
Average temperatures are mid 80s (29 Celsius) during the day and cools off at night. Humidity is always high in this area so make sure you bring clothes that wick away moisture and dry fast.
Marino Ballena National Park
The highlight of Uvita is most definitely Marino Ballena National Park and the Whale's Tail. This park was specifically created to protect the marine life such as coral, turtles, dolphins and humpback whales.
Additionally, Uvita is the best place in Costa Rica to see humpback whales. That fact was not lost on Mother Nature as the national park also has something the locals call the Cola de la Ballena, or Whale's Tail.
You can spend a day at the park swimming, soaking in the sun and walking along the long shores.
Whale's Tail
The Whale's Tail is an incredible formation of two beaches coming together to create one. During low tide, the rocks appear, creating what looks like the tail of a whale.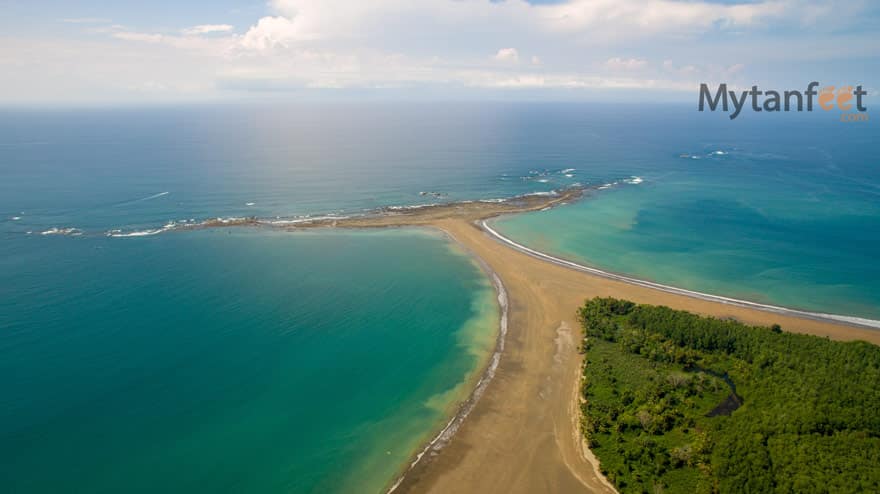 Visitors can walk all the way out to the tail to walk on the rocks, see the tide pools and enjoy the beach. If you take a local flight during the right time of day, you can even see the Whale's Tail from the plane!
Things to Do in Uvita, Costa Rica
Besides relaxing, Uvita has a handful of fun things to do. The abundance of nature and wildlife offer the best outdoor activities in Uvita.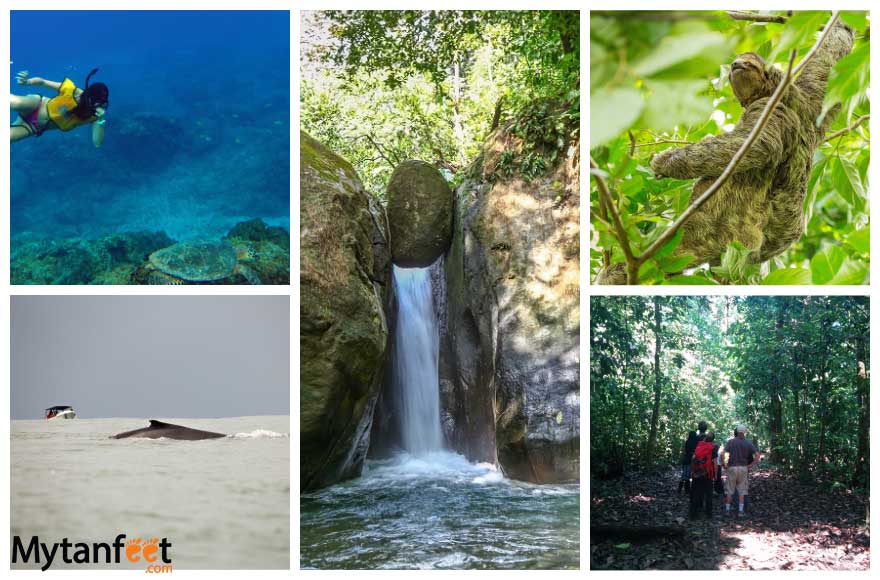 Envision Festival
Envision Festival is one of the biggest festivals in the world and draws thousands of people. It's a 4 day festival on the beaches of Uvita, dedicated to awakening the inner self to a higher consciousness. There are concerts, meditation, yoga classes, fire dancing, food and performances. Always last week of February.
If you plan to attend, make sure to buy tickets and book your accommodation ASAP. It gets sold out fast!
Humpback Whale Watching
Since Uvita is the best place to see humpback whales, you can't miss out on taking a humpback whale watching tour! The best time to go whale watching is August and September but the season in Uvita is from December – April and July – November. To be honest, you don't need to go far to see whales, in peak season sometimes you can even see them from shore!
Mom and babies are commonly seen as the warm waters are perfect for mothers to nurse their babies and teach them to swim, breach, hunt and play.
Caño Island Snorkeling
Caño Island is a biological reserve that has supposedly the second best snorkeling and scuba diving in Costa Rica. It's about 32 miles (52) kilometers off the shores of Uvita and it is a must for anyone who loves snorkeling. We went at the end of January and saw turtles, manta rays, huge schools of fish and much more. The visibility was incredible!
Catarata Uvita and Other Waterfalls
Thanks to the mountains and nearby volcanoes, there are many rivers and waterfalls in the South Pacific. You can hike to Nauyaca waterfalls, slide down Uvita Waterfall or go to the local Cascada El Pavon.
You can read about other things to do in Uvita here.
Recommended Tour Companies
For waterfall tours, Rancho DiAndrew or Paddle 9 are two excellent options. They take you to hidden waterfalls deep in the jungle. Highly recommended for adrenaline junkies as they offer waterfall jumping tours!
For snorkeling at Cano Island, kayaking in Uvita, Sierpe Mangrove boat tour, Corcovado National Park day hike, you have to take a tour. You can contact us to help you book your tour in Uvita!
And of course, you have to explore and visit the beaches in the area. Some local favorites are Dominicalito, Ventanas, Linda and Hermosa.
Recommended Uvita, Costa Rica Hotels
Thanks to Uvita's increasingly growing popularity the past few years, there is now a greater variety of hotels. You can find some of the most luxurious boutique hotels in this area, all with stunning mountain and jungle views, extraordinary architecture and excellent service.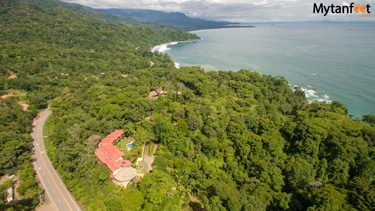 On the other hand, you can also find basic hostels and cheap cabinas amid the lavish selection of hotels. Most of the cheaper accommodation are located in town, making it the ideal place to stay if you're on a budget or don't have a car.
If you're visiting for a romantic escape, then you're in luck. Uvita is a top honeymoon destination in Costa Rica!
Here are our recommended hotels in Uvita
Oxygen Jungle Villas: Adult only boutique hotel with12 glass ocean/rainforest view villas. It also has an incredible infinity pool. Great option for a more budget friendly luxury stay in Uvita for couples. Read our review for Oxygen here.
Manoas (get 10% off!): 4 huge fully furnished glamping tents, only 2 kilometers from town up in the mountains. They also have two rivers on the property, apartments, yoga deck and pool. Read our review and get 10% off Manoas here.
Hotel Cuna del Angel: Hotel right off of the Costanera Sur highway with beautiful and elegant rooms. It also has a pool, restaurant and a couple of sloths who live on the property. Check rates here.
Flutterby House: Budget option that is right in town. Their dorm is actually a treehouse and they also have nicer private rooms. Check Flutterby House rates here.
Nature's Edge Cabinas: A charming adult only boutique hotel just a 10 minutes outside of Uvita. Book your room here.
La Cusinga Eco Lodge: Excellent choice for birders looking for modern elegance and comfort. Spacious and clean cabinas and suites, onsite restaurant and a spa. Check rates here.
Vista Celestial Boutique Hotel: It has 5 villas, a beautiful infinity pool and offer yoga and wellness retreats. Amazing infinity pool. Click to check rates.
Rancho Pacifico (get 10% off): This adult only luxury boutique resort sits high up in the mountains of Uvita with the nicest view of the Whale's Tail. They have villas, suites and treehouses. Vegan/vegetarian friendly with a small gym, on-site waterfall and excellent food. Perfect for anyone looking for the ultimate luxury getaway in Uvita. Use promo code MyTanFeet and get 10% off your booking here!
Hotel Los Laureles: Family owned property close to Uvita with cabins and rooms. Excellent restaurant and very peaceful. They have a secure parking lot and gate. Very sweet local family, great budget option.
Whale's Tail Hotel: Nice option for digital nomads, backpackers, surfers, yogis and solo travelers right in town with high speed internet, dorms and private rooms. Also has a brewery and restaurant.
Airbnb and Vacation Rentals
Since there are a lot of foreigners and snowbirds in Uvita, you can find plenty of vacation rentals on Airbnb and VRBO. You can rent a fully furnished ocean view house up in the mountains, by the beach or in the local neighborhoods.
Recommended Uvita, Costa Rica Restaurants
Mosaic: Nice wine bar and restaurant by Uvita Waterfall. Really good paninis, salads and sushi. And of course, fine wines. Definitely a must visit and right next to Uvita waterfall.
Los Almendros: Good local Costa Rican place in town.
The Dome Drive through: Good place for sandwiches, wraps, coffee, etc.
Indomitus Cafe: Great place for veg food, especially veggie burgers.
Sabor Espanol: Mediterranean and Spanish cuisine.
Carlitos Restaurant: Mexican. Yummy brunch and drinks.
Los Laureles: Excellent Costa Rican restaurant, especially breakfast and dinner. Their gallo pinto is one of the best we've ever had.
El Hornito: Argentinian Empanadas, pizza, sandwiches.
Sibu Cafe: One of the best restaurants in the area with coffee, breakfast, pizza and smoothies. Is a must!
Five Maes: If it sounds familiar, it's because it's a burger joint like Five guys in the US!
Pizza time: Good place for pizza, a nice local favorite.
Marino Ballena Restaurant: Great place for local food
Whale Tail Brewery and Gastropub: artisan beers and bar food, occasionally has live music
Read Our Other Costa Rica city guides below!
La Fortuna, Costa Rica: The small farming town by Arenal Volcano. Popular tourist destination for adventure, nature and relaxation.
Jaco, Costa Rica: The developed surfing beach town 1 hour from San Jose.
San Jose, Costa Rica: The country's capital city.
Bijagua, Costa Rica: The rural mountain town by Rio Celeste.
Santa Teresa, Costa Rica: The surfing hub of the Nicoya Peninsula.
Puerto Viejo, Costa Rica: The South Caribbean party town.
There are affiliate links in this post.