Forward! Hard! Duro, duro!
I could hear our guide's voice behind me, yelling us to paddle stronger as we quickly approached the next rapid.
I tightened my grip and paddled as hard as I could, sputtering water out of my mouth and bracing for the wave to hit us.
Woosh!
Water splashed all over me and I found myself teetering on the edge of the raft with my arms flailing in the air.
Yeison grabbed my jacket and pulled me back in, preventing fall number 2.
Yes, we were voluntarily white water rafting the Pacuare River, a 108 kilometer long river that is famous for being one of the best places for rafting in the world.
Were we crazy?
Probably, but then we were in good company with lots of other locos who wanted to brave the rapids and go on an adventure like no other.
There are Amazon affiliate links in this post.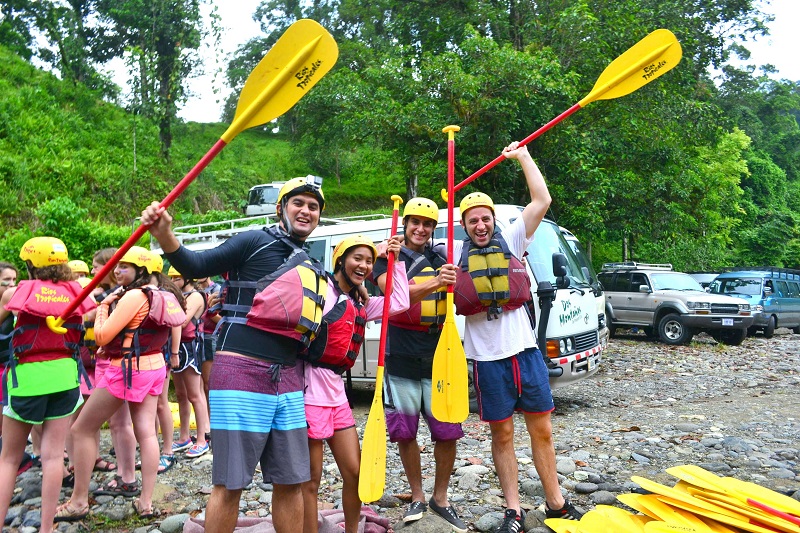 White Water Rafting Costa Rica – Pacuare River
The Pacuare River is on the Caribbean side of the country, bordering Talamanca mountain range. Not only is the river one of the best in the world, it's home to a huge range of wildlife and the indigenous communities.
I had been anxiously wanting to white water rafting the Pacuare River after everything I've heard about it and now I can finally kick it off my bucket list . I can also say that it's one of my favorite things to do in Costa Rica!
Book Your Rio Pacuare Costa Rica Rafting Tour and get $5 OFF
Rio Pacuare One Day Trip
Our one day tour consisted of rafting 19 miles from San Martin to Siquirres on Class III and Class IV rapids. Rapids are classified on a scale of 1 to 6, 6 being deathly dangerous and 1 being very small and easy. So class 3 and 4 rapids were right in the middle and quite large.
We got picked up bright and early at 5:40 AM by Rios Tropicales in San Jose for a long bus ride to the river. After a full breakfast, we reached the river shore and started getting ready for our exciting adventure!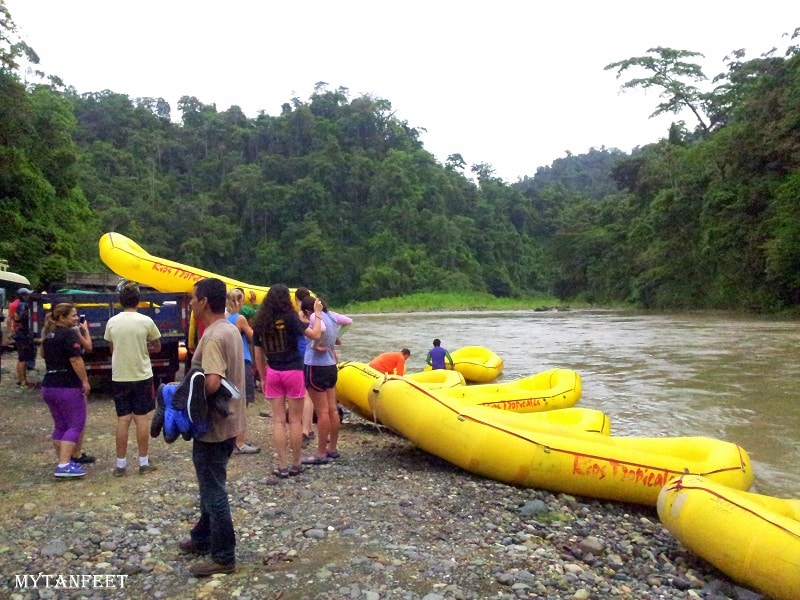 You've probably seen Jurassic Park right? Remember how beautiful the park was with lush jungle? That's pretty much what came to my head when we reached the river (except for the dinosaurs).
Everywhere you look is green green green! Especially since we are in rainy season so the forests are abundant and thriving. It felt so peaceful and serene to gaze at all the nature around us.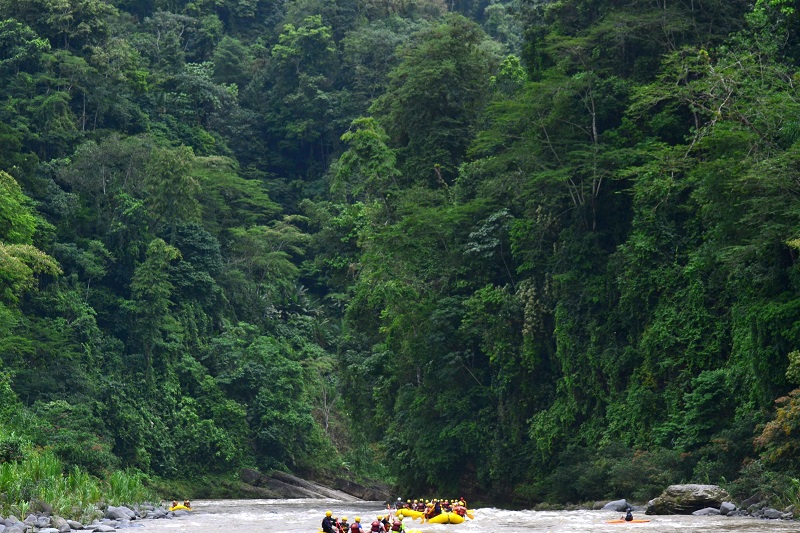 Start of the White Water Rafting Rio Pacuare Costa Rica Tour!
Our guide taught us the different commands and what to do in case of emergency. At this point, there was no turning back and all I could do was set my nerves aside and enjoy the beautiful ride.
The first rapid came pretty fast, just a few seconds after we pushed off. As we twisted and turned, I couldn't help but scream "Wheeeee!" It was like going on a roller coaster and I do love roller coasters!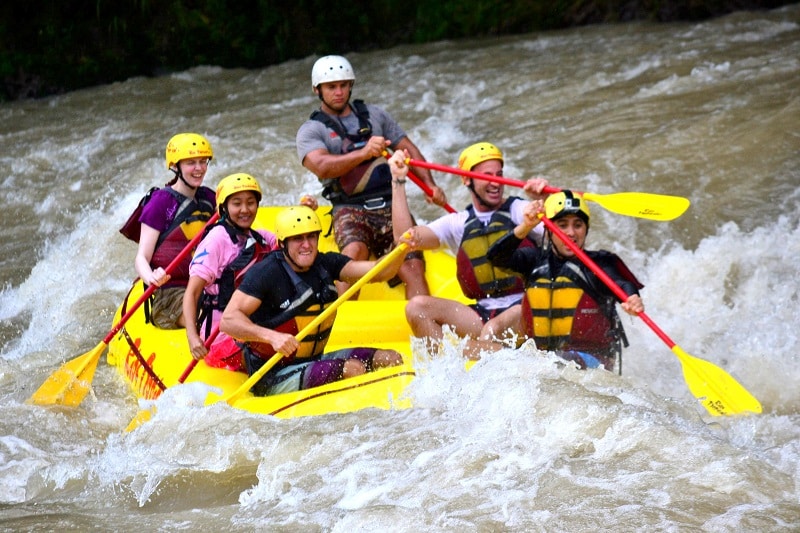 Yeison has done this exact Costa RIca white water rafting tour before probably like 10 times, so I was expecting him to be some what of an expert. He'd already gone through the worst possible scenarios so imagine my surprise when he was the first one to fall off the raft! We hit a rapid and plop! He fell backwards and disappeared into the water.
Thank goodness for guides. Our guide Otto grabbed Yeison and yanked him back onto the boat like nothing. "Haha you fell first!" I teased Yeison. But the teasing didn't last long as we hit another rapid and I had to concentrate on paddling and keeping myself from falling!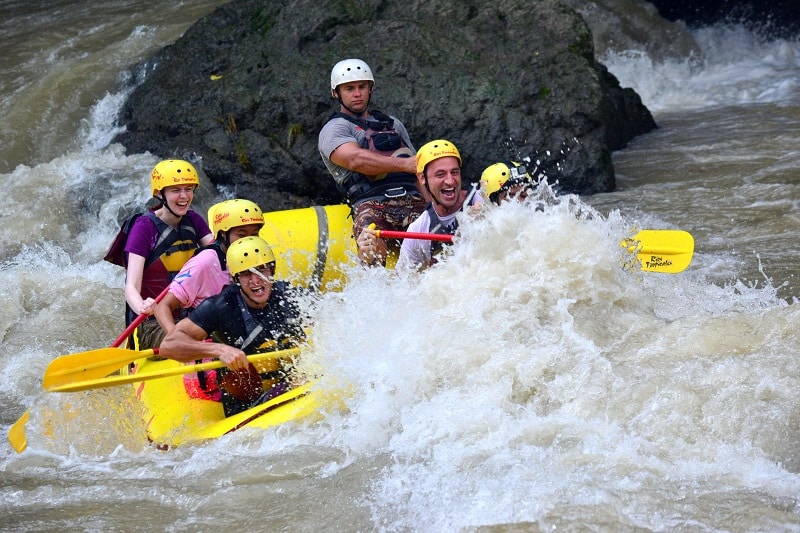 As we rafted down the river, I couldn't help myself from saying "wow" every two minutes. There were beautiful cascading waterfalls, birds flying everywhere and intense jungle on both sides. The air I breathed felt like the purest and freshest air on earth and I just wanted to savor that feeling.
At one point, it started pouring down rain but none of us cared. It felt amazing! I looked up to the sky, closed my eyes and embraced the water falling on my face, relishing every drop. It felt magical, almost unbelievable that we were in a place so beautiful. This was pura vida.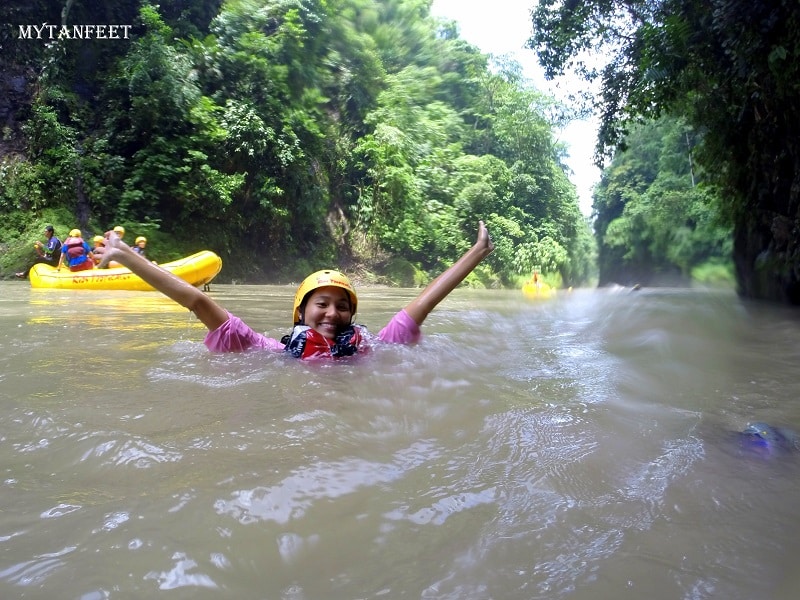 Around halfway down the river, the class IV rapids started appearing and quite a few of them too. It was time for the true test of our strength and skill.
Forward hard!
This rapid looked pretty intense and from the sounds coming from the other boats, it seemed like a few people fell out or were very close. Although my shoulders were hurting, I took the paddle and went forward hard.
I'm not sure what happened right after because the next thing I remember, I was in the water and I could feel myself slipping underneath the boat. I threw up my hands to grab onto anything and I miraculously got hold of the safety line. I tugged on it, pulled myself up and then all of a sudden, I was on the raft again!
Otto the savior pulled me up and thankfully I was only underwater for a few seconds. But my joy didn't last long, I had to grab my paddle and get ready for the next rapid!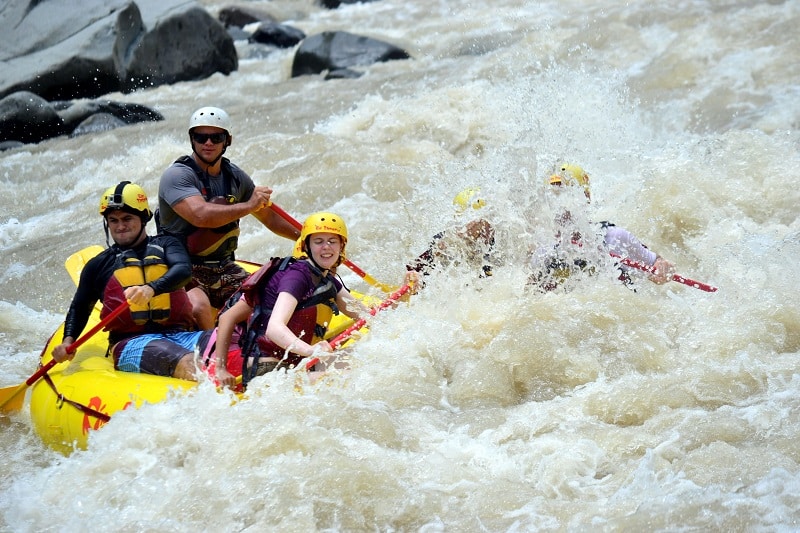 As we approached the next rapid, I was looking at Yeison who was sitting across from me in the back. I paddled hard, hanging on tight to get through the next rapid, looked up and saw everyone fall out of the raft! It was just me and Otto left and our boat was quickly swirling away from the rest of our companions.
I threw out the handle of my paddle for someone to grab but we were too far. Paddle backwards now! Otto yelled. I paddled back as hard as I could to get closer to our group. Otto pulled up one guy, then the girl with Yeison on his way but we were missing one! I looked around frantically but I had to keep paddling since another rapid was quickly approaching.
We're missing one! By that time, everyone was scrambling around on the boat trying to get situated and I saw a raft float next to me with our last companion in it. Phew! At least he was saved!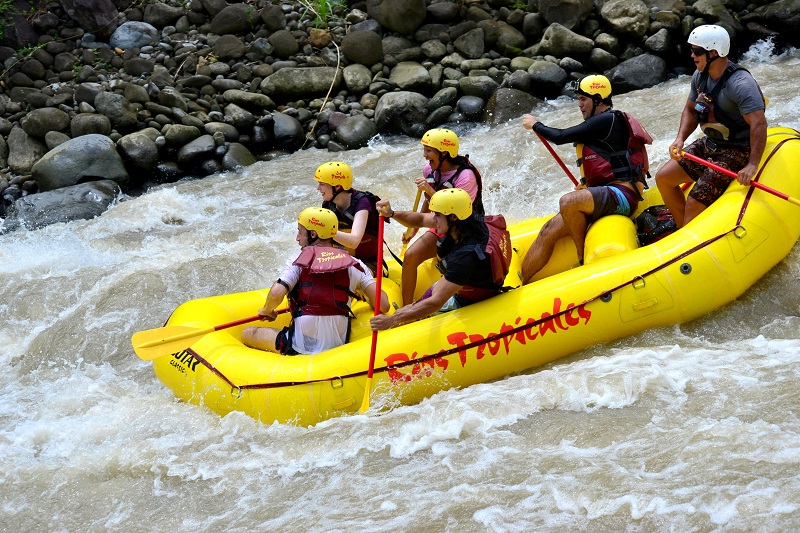 Towards the end of the tour, everyone in our raft had fallen in at least once (actually everyone fell twice but me). There were a couple class IV rapids left until the end and by that time, we felt like pros. And when the end of the river came, I didn't want to get out. Stepping out of the raft, my head spun a little bit as the adrenaline was still pumping through my body.
I steadied myself when I had two feet on the ground and let out a wild woop! That was insane! I yelled out. Can we do it again?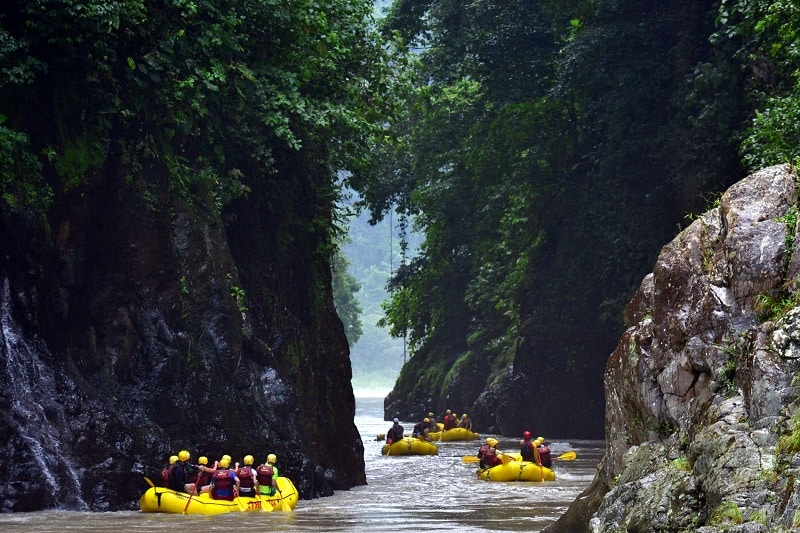 The End of the White Water Rafting Tour
What a beautiful and exciting day it was. The Pacuare white water rafting is definitely one of the best tours I've done in Costa Rica so far, living up to all the expectations. I know there are other rivers in Costa Rica for rafting but the Pacuare river is truly something special.
Watch our Pacuare white water rafting Costa Rica video to see the all the excitement for yourself!
If you're in San Jose, I highly recommend doing this tour, it's one of the best day trips from San Jose!
Booking Your Tour
You can also book this tour as an interconnection between San Jose, La Fortuna and Puerto Viejo de Talamanca. For example if you are in San Jose and need to get to La Fortuna, you can book this tour and the tour operator will pick you up at your hotel in San Jose and drop you off at your hotel in La Fortuna. Also works for pick up in Puerto Viejo, drop off in La Fortuna/San Jose or any connection between the three.
Book Your Rio Pacuare Costa Rica Rafting Tour and get $5 OFF
What to Know About Rio Pacuare White Water Rafting Tour
This is an all day tour so get a good night's rest. You'll need all the energy you can get! Pick up time from San Jose is around 530-6 AM and you will get back around 6 PM depending on traffic.
Breakfast and lunch is included
Itinerary is: pick up; travel to operation center in Siquirres; light breakfast; transfer down to river start; safety talk; rafting tour; transfer back to operation center; change and have lunch; transfer to your final destination
Wear clothes that can get wet and dry easily and wear your swimsuit underneath. I recommend wearing either a rash guard or quick dry shirt instead of just a swimsuit
Waterproof cameras only! We attached our GoPro to Yeison's helmet. Just make sure to bring the helmet mount.
You have to wear closed toed shoes or hiking sandals. Our KEENs were perfect. Water shoes also work well. They must be closed toed.
If you want to wear sunglasses or if you wear glasses, you must have the strap.
More exciting things to do in Costa Rica!
Balsa River rafting Class 2 and 3 (La Fortuna)
Snuba (Matapalo, Guanacaste)
Buena Vista Combo tour (Guanacaste)
Doka Estate coffee tour (Alajuela)
Isla Tortuga day cruise (Gulf of Nicoya)