Getting around Costa Rica is a big concern for travelers especially for those who are here for a short period of time and on a budget. In this article I'm going to outline the different ways and their cost and efficiency. You can also find our Costa Rica transportation discounts too.
How to Get Around Costa Rica: Driving, the Most Flexible Way
Driving is the best way to get around Costa Rica to explore the country. It gives you the flexibility and freedom that you can't get with any other method of transportation. Leave when you want, go where you want. Simply stated, having a car is the best way to explore Costa Rica.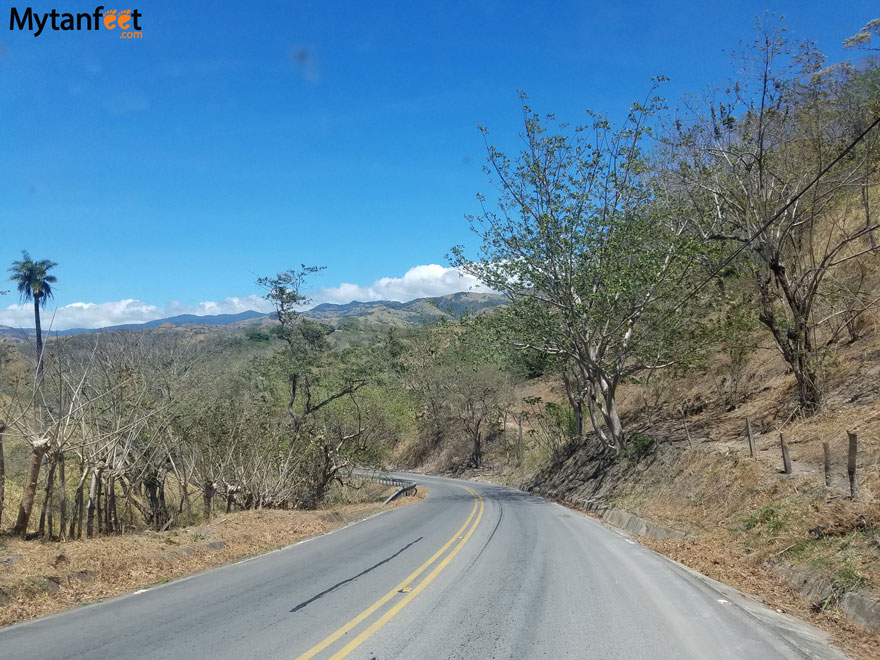 There are tradeoffs to driving however. You have the extra responsibility of driving and car rentals are not very cheap in Costa Rica. If you want to rent a car in Costa Rica, check out our car rental discount. We partnered with Adobe Rent a Car, a Costa Rican car rental company to give our readers a discount and extra freebies.
For more details, check out our tips for renting a car in Costa Rica post and our tips for driving in Costa Rica post. You will learn all about the costs of rental cars, insurance, type of cars and much more.
The two most important things to keep in mind if you plan to drive for your trip is to check your destinations to see if you require a 4wd/high clearance car or if a 2wd car is fine. The second is to reserve your car rental well in advance due to extremely limited availability and high demand.
Shared and Private Transportation in Costa Rica: Shuttles
Taking a shuttle is an excellent Costa Rica transportation method for those who don't want to drive. It's faster than taking the bus, they offer door to door hotel service and you don't have to stress out about driving in a foreign country.
Here are some things to know about booking a shuttle in Costa Rica.
There are private and shared shuttles. Shared usually have up to 10-15 passengers depending on the company. Private shuttles are for your group exclusively.
Private shuttles are more expensive but this is the best option for groups and families who don't want to drive. For bigger groups, the cost actually turns out around the same when you split it per person.
Private shuttles can pick you up directly at the airport, take you directly to your Airbnb and stop along the way when you want. Shared shuttles do not pick up directly at the airport, go to vacation rentals or stop whenever clients want.
On the other hand, shared shuttles are excellent for solo travelers or those who don't want to take the bus or pay for an entire private shuttle.
If your hotel or Airbnb/vacation rental is outside of town or far away from the main tourism hub, then it is best to rent a car. Tour companies don't pick up at Airbnbs and shared shuttles can't drop off at vacation rentals. Usually these rentals are far from the supermarket and things like that so it will be much better to have a car.
Read our tips for taking shuttles in Costa Rica and contact us for a private shuttle quote.
Tour Interconnections
Want to know how to make a boring transfer more fun? Take a tour and book an interconnection! Here's how it works.
You will book a tour like normal. Everything is exactly the same except your pick up and drop off locations. So you get to skip sitting on a bus or shuttle all day and instead, you get to go on a fun adventure.
For example, the Pacuare River 1 day rafting tour offers an interconnection. The tour operator will pick you up in San Jose, La Fortuna or Puerto Viejo and then drop you off after the tour to any of those three locations.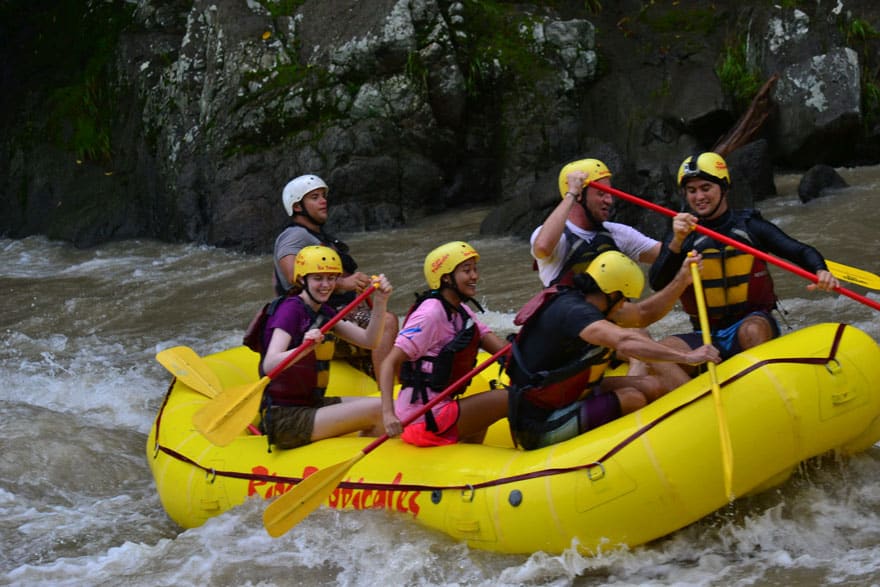 So if you aren't renting a car, this is a great way to get around. If you are landing in San Jose and your next destination is Puerto Viejo, you can do the rafting as a way to get to Puerto Viejo. Or if you're in Puerto Viejo and are going to La Fortuna next, you can do this rafting trip for your interconnection. Sooo much better than taking a 6 hour bus ride!
Want to do this 1 day tour and book the interconnection? Get $5 USD off with our Pacuare white water rafting discount.
Flying around Costa Rica with Local Airlines
Flying on a domestic flight is the quickest way to get around Costa Rica. What would take you 4-5 hours driving will take 30 minutes flying!
There are a couple local airlines in Costa Rica: Sansa, that fly throughout the country. The biggest one is Sansa Air with the most flights. They fly from San Jose International Airport and Liberia International Airport to local airports throughout the country like La Fortuna, Quepos, Puerto Jimenez, Drake Bay and Tamarindo.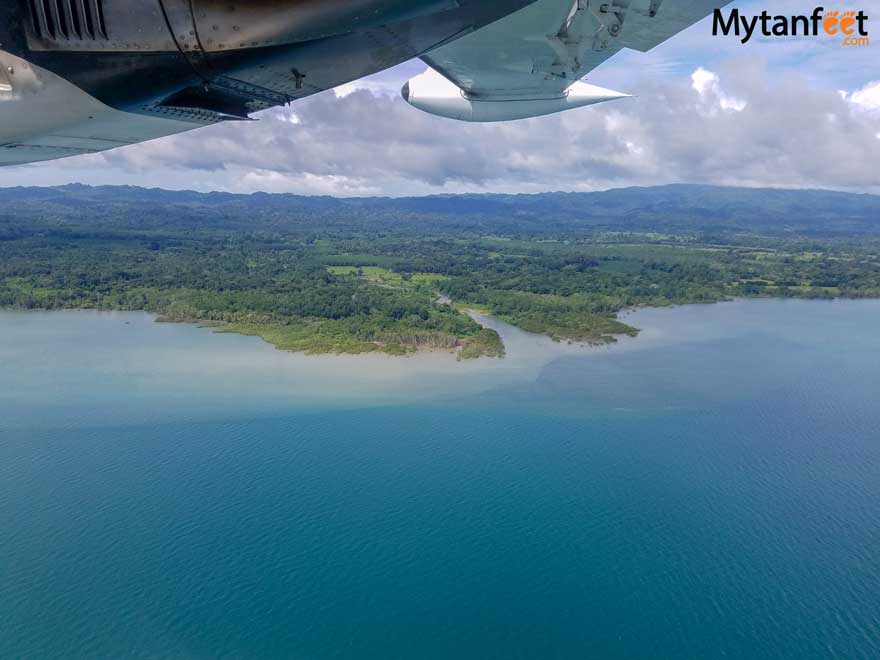 It is important to note that it is much more expensive to fly around Costa Rica. High season (December through April) is more expensive than low season (May through November). The price also depends on your destinations so flights can range anywhere from $50 USD to $300 USD one way per person.
But it all comes down to time vs money. You spend more by flying but you save an incredible amount of time and erase the stresses of driving. What's even better is that you get amazing views from the plane!
Planning tip: A lot of people will fly to their destinations and then rent a car for the days they are there. This is a great way to avoid the long travel days. However, you will need to pick destinations that have a local airstrip.
Costa Rica Public Transportation
Taking the bus is the cheapest way to get around Costa Rica. Costa Rica public transportation is actually very good if you're going to popular tourist destinations and major areas. It's a great way to save money on your trip to Costa Rica!
From San Jose, there are direct routes to nearly every main tourist destination and big town. It's cheap and a fun way to immerse into local life. You can read our article on taking the bus in Costa Rica for more information.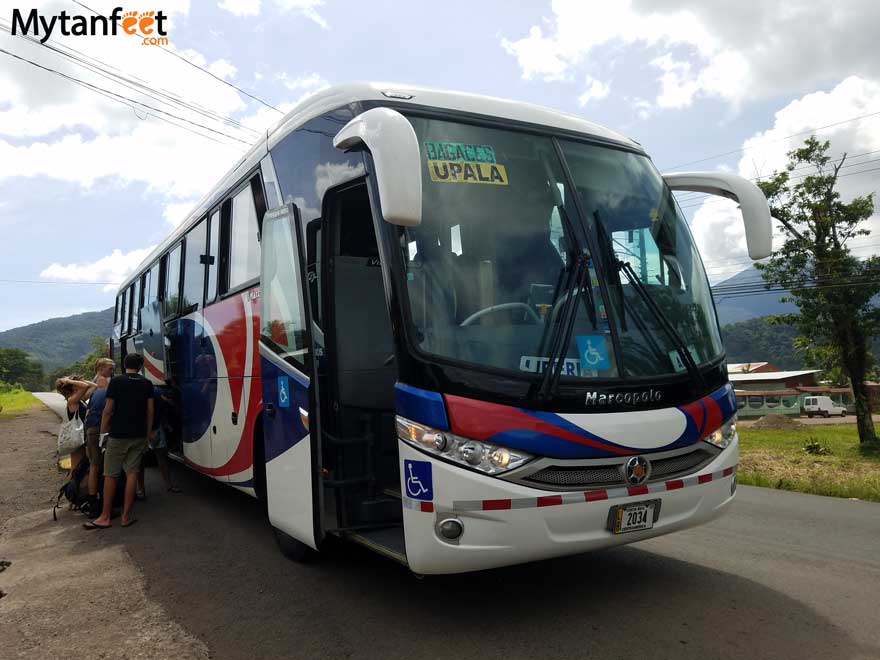 The downside is that the bus takes much longer, especially if you don't take the "direct" route. We once took the Tamarindo – San Jose bus via Liberia non-direct and it took us 8 hours without traffic! Another downside is you cannot stop when you need to so you have limited bathroom breaks and food stops (normally only one stop for cross country routes).
Additionally, it is difficult to get around for many routes. An example is Tamarindo to La Fortuna. This route requires 3 buses and takes around 7 hours (driving is around 4). La Fortuna to Manuel Antonio requires 4 buses, around 9 hours (driving is around 5).
Another downside is that buses aren't always punctual and have limited routes, so you need to research and plan carefully your travel days. Never assume there are always buses for cross country routes. If you miss your cross country bus, there is a huge likelihood that the next one is not until the next day.
The bottom line is that we don't recommend taking the bus if you're with a family of young kids/babies and seniors or on a short trip to remote destinations. But if you have the time, are keen on a bit of adventure or are on a budget, the bus is an excellent option for major destinations. Just make sure to research bus schedules beforehand and plan your travel days accordingly. Always be alert, ask the locals if you're not sure where to go and always keep your belongings with you at all times.
Taxis
Taxis are good for short trips like from the supermarket to the hotel, especially if it's raining, it's late out or you're carrying a lot of stuff. However, it's best to book a shuttle for long trips instead of taxis. Read more tips for taking taxis in Costa Rica.
The most important thing to know is to take an official taxi and not a pirate one. Why? Well pirate taxis don't have insurance and their cars are usually old and not in good condition. That can cause a lot of problems if you get into an accident or if they get caught by the police.
Instead of taxis, we actually use Uber a lot.
Uber
Uber works in Costa Rica but not everywhere in the country. You can find Uber in the Central Valley cities like San Jose, Heredia, Alajuela and Cartago and there are some in Jaco, Quepos, La Fortuna, Tamarindo and Liberia.
Uber is generally cheaper than taxis and more efficient and faster than buses. Perfect for getting around San Jose or to and from the airport. We even know tourists who used Uber for long ride like San Jose to Jaco/La Fortuna (just remember the driver needs to accept this trip).
Didi, another ride share app is also in San Jose. Lyft is not.
Read our tips to using Uber in Costa Rica.
Ferry or Boat Rides
There are a few ferry routes you can take in Costa Rica.
If you're planning on going to Montezuma or Santa Teresa from San Jose or Puntarenas, the ferry is a fun option. The ferry takes cars so you can drive from the airport, take the ferry across the Gulf of Nicoya and then drive to your final destination. Check out our tips for taking the Puntarenas Paquera ferry.
These other boats do not take cars, only foot passengers. There is also a taxi-boat-taxi from Arenal to Monteverde (and vice versa) that takes you across Lake Arenal, a boat from Sierpe to Drake Bay, Jaco to Montezuma boat, boat from La Pavona and Moin to Tortuguero and a boat across the Golfo Dulce.
Which Costa Rica Transportation Method is Right For You?
To help answer your question of "How to get around Costa Rica?" you will need to figure out what your priorities are and what you're willing to spend in terms of both aspects.
Costa Rica transportation methods summary
Most comfort and flexibility: renting a car.
On a budget: the bus.
In between car and bus: shared shuttles.
For big groups: private shuttles or renting a car.
With kids: private shuttles or renting a car.
No tight budget & short trip to main tourist destinations: flying.
Solo travelers: shared shuttles or bus. Rent a car if not on a budget.
Many people combine transportation methods, you do not have to pick just one. Many people will fly or book a private shuttle to avoid driving the long routes. Here are some examples.
San Jose – Puerto Viejo. This drive can take around 5-6 hours so instead of driving, people will take a private shuttle or the rafting tour from San Jose to Puerto Viejo. Then rent a car for their days in Puerto Viejo.
Drake Bay: A lot of people will rent a car for their whole itinerary but leave Drake Bay as their last destination. They return the car in Sierpe, take the boat to Drake Bay and then fly to San Jose for their departure flight home. Check out our Costa Rica 1 month itinerary that includes Drake Bay!
Quepos – San Jose: Many people fly or take a shuttle/bus to Quepos, rent a car while they're in Quepos/Manuel Antonio and then fly to San Jose for their departure flight out.
Destinations
If you're going to major touristic destinations in Costa Rica like La Fortuna, Tamarindo, Puerto Viejo, San Jose, Manuel Antonio, Puerto Jimenez, Samara, Tambor, Santa Teresa, Montezuma, Jaco, and Monteverde, you can get there via car, bus and shuttle. All of them also have their own local airport except Jaco, Samara, Montezuma, Santa Teresa and Monteverde.
For Drake Bay, the best way is to fly or take the boat from Sierpe. The road there is a 4×4 required vehicle only and not really recommended to drive, especially in rainy season.
For Tortuguero, it is boat or plane access only. You can fly directly there or take the boat from La Pavona or Moin dock to Tortuguero. You can read about how to get to Tortuguero here.
If you are going to non-touristy places like Atenas, Grecia, San Ramon, Boca de Tapada, San Isidro de Perez Zeledon, San Vito, San Gerardo de Dota, Santa Cruz, La Cruz and Nicoya or any remote beach, then a car would be the best way. You can also get there via bus but then it will very difficult to visit places and no tour companies include transportation from those places. Another option is to ask your hotel to arrange transportation for you.
How to Get Around Articles
We wrote articles on how to get to certain destinations which you can read below.
How to get to Playas del Coco/Gulf of Papagayo from Liberia Airport
How to get to Tamarindo from Liberia Airport
More Costa Rica travel tips below!