If you're looking for a quiet beach to stay at in the Gulf of Papagayo, check out Ocotal Beach. This small black sand beach is just a mere 3 km (1.9 miles) away from the popular beach town of Playas del Coco.
This post will help you plan your trip to Ocotal Beach whether it's for a day trip or using as a homebase in Costa Rica.
Ocotal Beach Location and Directions
Ocotal beach is 29 kilometers (18 miles) from Liberia International Airport and 235 kilometers (146 miles) from San Jose International Airport. Playa Ocotal is about a 30 minute drive from Liberia International Airport.
How to get to Ocotal
Driving from Liberia Airport: Ocotal is about a 35 minute drive from Liberia Airport, all on good paved roads. You can use a GPS device or Google Maps/Waze. The road is completely paved all the way so you can perfectly get a sedan. Get our Costa Rica car rental discount here.
Bus: If you are taking a bus, you will have to take a public bus to Playas del Coco and then taxi to your final destination. If you are taking shared shuttles, they will go to Ocotal hotels. From the airport, if you are not renting a car, book a private transfer which is around $60 USD total. Contact us if you'd like to book a shuttle.
Parking
There is street parking at all the entrances. It is not an official parking lot, there is usually a local guy there (wearing an orange vest) who will offer to watch your car for a fee. Do not leave any valuables in your car and make sure to roll up your windows and lock your doors.
4×4 required?
You do not need a 4wd or 4×4 to get to Ocotal Beach. The road is completely paved.
Ocotal Beach
Playa Ocotal has dark sand and clear blue waters. This beach is surrounded by hills and cliffs and is much quieter as there are fewer tourists. There are only a small handful of beachfront businesses, keeping the vibe more chill and relax.
It's such a great beach to visit for families because waves are not that strong and there are always a lot of local families around to mingle with.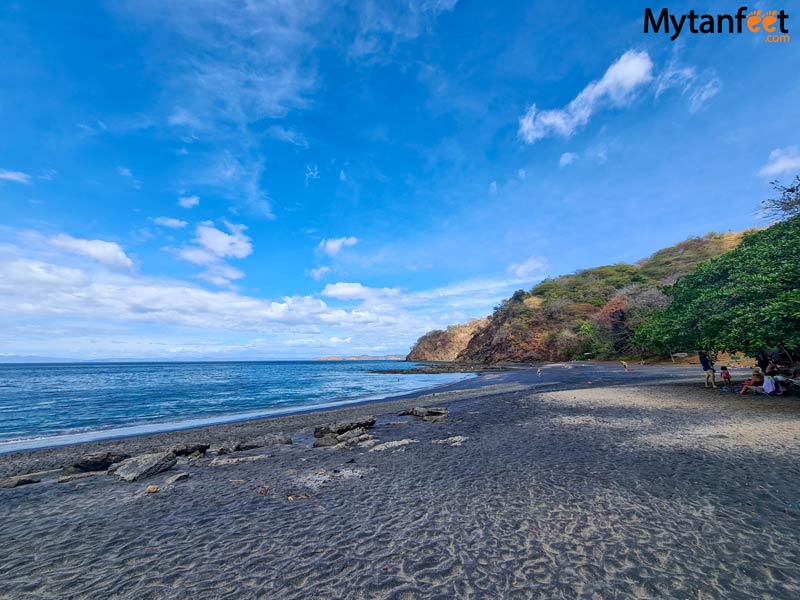 Ocotal's chill atmosphere, local vibe and fun waves make it a nice beach to escape the busy crowds or use a homebase. It has decent snorkeling, beachfront hotels and restaurants and is a great launch point if you want to do scuba diving or fishing. Additionally, Playa Ocotal has the "Blue Flag" meaning it is recognized as one of the cleanest beaches in Costa Rica!
There are plenty of trees for shade and both ends have rocky reefs, making it great for snorkeling, fishing and walking around tide pools in low tide.
It's not a very long beach but it is big enough that you can find a spot all to yourself even on the weekend. It's fun to walk around the tide pools, I saw a beautiful sea star once!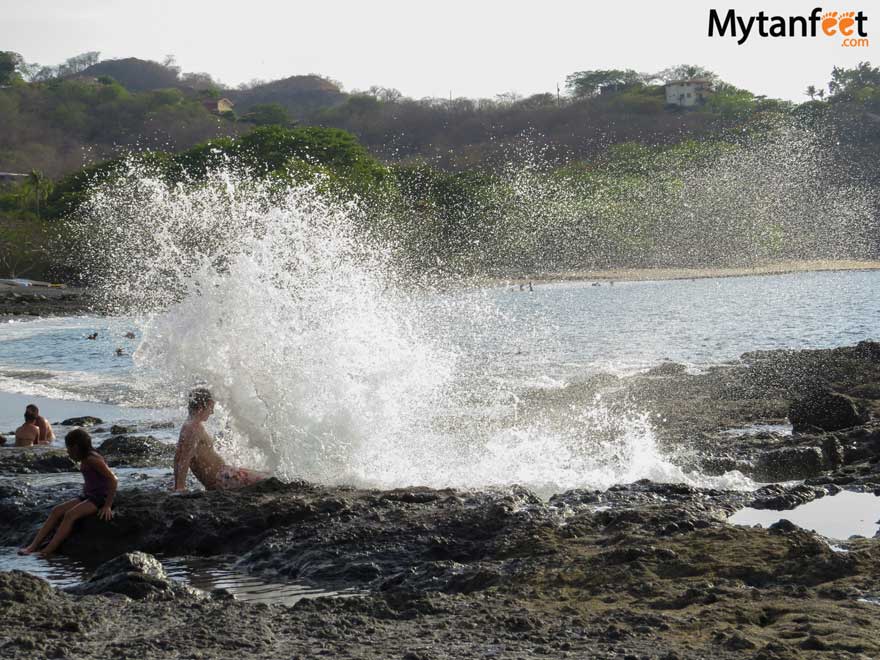 During low tide, you can sit on the rocks and play in the spray of the waves when they hit the rocks. It was a ton of fun and the local kids were having a blast.
Weather
Playa Ocotal experiences typical tropical weather with a dry and rainy season. Since it's in Northern Guanacaste, which is one of the hottest and driest areas of Costa Rica, it is sunny and hot for most of the year.
Dry season is from December to April and rainy is from May to November but this area tends to have a longer dry season than the rest of the country. You can read more about Costa Rica weather in this post.
So make sure to pack your sunglasses, bathing suites, plenty of sunscreen, after sun gel and your summer clothes!
Ocotal Hotels
There isn't too much in Ocotal in terms of hotels, restaurants and nightlife but there are a couple nice hotels in the area such as Hotel Ocotal B&B and Hotel Villa Casa Blanca.
There are also many vacation rentals and condos like Los Almendros de Ocotal which is beach front. You can find many Ocotal vacation rentals on Airbnb and VRBO.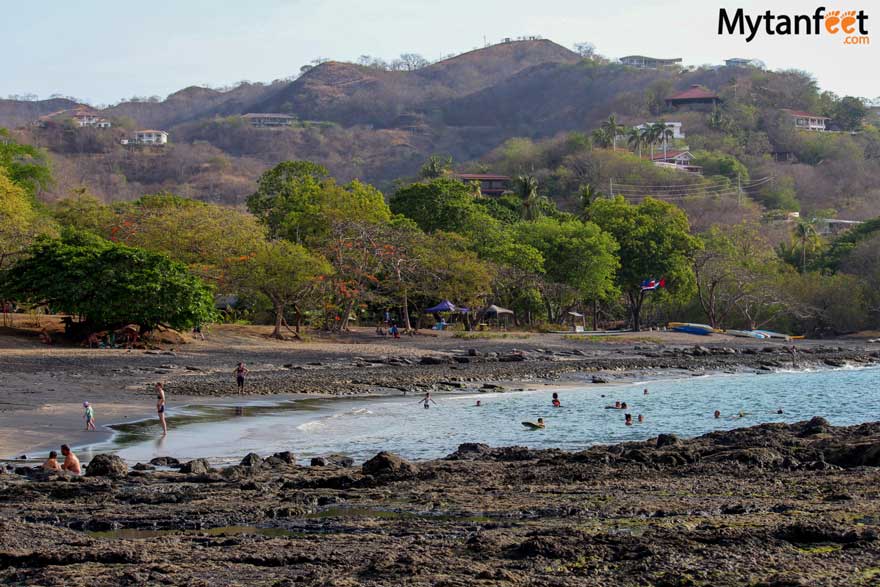 Ocotal Restaurants
As for food, there is one beachfront restaurant called Father Rooster that has good drinks and food like burgers, sandwiches and wraps. Another restaurant, Picante which is inside Hotel Bahía Pez Vela is a more upscale dining restaurant that has good seafood.
Things to Do in Ocotal Beach
If you're staying in Ocotal as a home base for your vacation in Costa Rica, you will have plenty of fun activities and day tours to choose from. Ocotal is in a great location as it's close to many beautiful beaches and not terribly far from national parks, waterfalls and adventure parks.
Snorkel
Since Coco beach is terrible for snorkeling, whenever we want to go swim with the fishies, we head to Ocotal which has clear water and lots of rocks on the side. The right side of the beach is the best place to snorkel at Ocotal since there are a lot of rocks. You can see many different little tropical fish hanging out there.
You can rent snorkel equipment, kayaks, and canoes at Ocotal by the entrance of the beach near Father Rooster.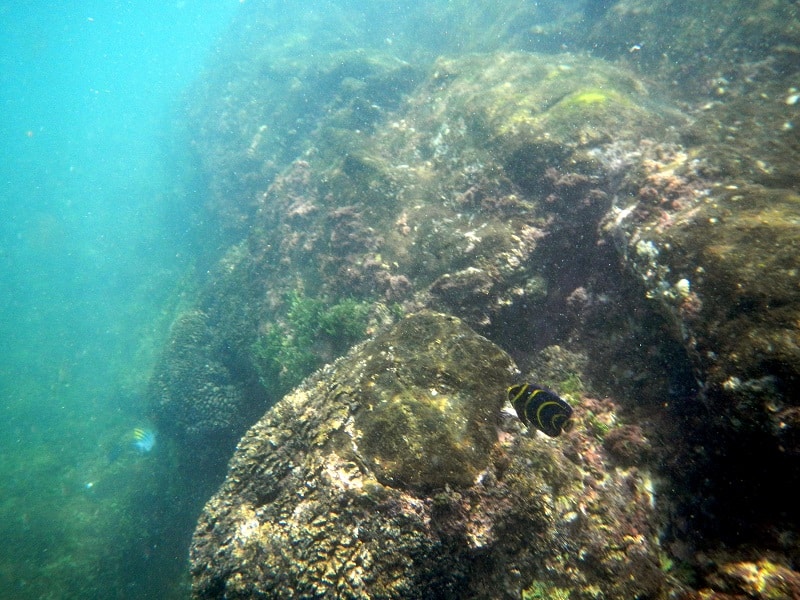 Scuba Diving
Ocotal is also a great launch point to go scuba diving since it is near several excellent scuba diving sites such as Monkey head rock, Tortuga Islands and the Bat Islands. You can sign up for a dive with Rocket Frog Divers who depart from Ocotal.
Drinks at Father Rooster
Father Rooster is the most popular restaurant in Ocotal since it's right on the beach. They have yummy drinks and good sandwiches. Great place for happy hour sunset drinks!
Boating tour
Ocotal is a nice beach but if you want to see a white sand beach, then you have to go boating in the Gulf of Papagayo. You can go on the open sailing tours like Marlin del Rey out of Coco but we recommend a private boating tour from Coco so you can visit more beaches, snorkel longer and have the boat all to yourself.
See howler monkeys
There are always troops of howler monkeys on the beach. Keep your eyes out in the trees and listen for them!
Ride bikes
We love riding our bikes at beach towns. When we lived in Ocotal, Yeison and I used to bike from Ocotal to Coco everyday. Great workout!
Nightlife
For nightlife, you will need to go into Coco. Coco has a lot of bars with live music, a casino, beach front bars, a park and souvenir stores.
How to get around Ocotal
If you plan to use Ocotal as a home base for more than 1 or 2 nights, we recommend to rent a car. It is easy to get around since the beach isn't that big but as there is no "town center" it's a bit spread out. Additionally, you will have to go back and forth to Playas del Coco to go to the bank, grocery shopping, nightlife, etc. so it will be easier and safer with a car.
We do not recommend to walk, especially at night as it is about a 50 minute walk from Coco to Ocotal.
A lot of people will rent a golf cart which can work for Coco to Ocotal. This can work for a few days and for just getting around town. So if you're staying for just a few days or do not want to rent a car, you can rent a golf cart and then book day tours with transportation when you want to do an excursion.
Want to book day tours from Ocotal? Get our Guanacaste day tours discount!
There are also many taxis in Ocotal and Coco.
Ocotal Day Tours
Here are our favorite day tours from Ocotal.
Diamante Eco Adventure Park: For a fun day full of adventure, head to the Diamante Eco Adventure Park. They have the longest ocean view zipline in Costa Rica, an animal sanctuary and cultural experience. Get 10% off the park in the following link for our Diamante discount. About a 45 minute drive from Ocotal.
Guachipelin Combo tour: For adventure and nature, do the Guachipelin combo tour in Rincon de la Vieja. It's a full day of ziplining, horseback riding, white water tubing, hot springs and mud baths in the tropical dry forests. 1 hour 45 minute hour drive from Ocotal
Rio Celeste: If you're looking for a hike in the tropical rain forest, you must go to Rio Celeste to see the sky blue river. It's one of the most beautiful places in Costa Rica! About a 2.5 hour drive from Ocotal.
Visit Tamarindo/Conchal: We recommend visiting Tamarindo/Conchal/Flamingo to see other beaches and beach towns in Guanacaste. They are about a 1 hour drive south of Ocotal. Tamarindo also has great surfing.
Catarata Llanos de Cortes: This beautiful waterfall is an oasis in the desert. You can swim, have a picnic or walk up to the top. It's about a 1.5 hour drive from Ocotal.
Hacienda El Viejo: Local Costa Rican family estate that offers cultural, nature and wildlife tours. Great place to learn and experience Guanacaste traditions and culture. About a 1 hour drive from Ocotal. Request your Haciendal Ei Viejo tour with our discount!
Living in Ocotal
Many expats and imimgrants live in Ocotal or own a vacation rental and come down to escape the winter up north. Most of the foreigners who live there are people who prefer the quieter atmosphere of Ocotal. They still have all the conveniences of Coco and go back home to a quiet, peaceful beach.
We personally lived in Ocotal for 9 months but decided to move back to Coco as Ocotal was too quiet and all our friends lived in Coco. However, Ocotal is a nice beach to visit for the day or stay at for a relaxing beach vacation.
Read about other beaches like this one!
There are affiliate links in this post