The Guanacaste province offers visitors a one in done trip as it's home to amazing beaches, tropical dry and rain forest, mountains, volcanoes, rivers and waterfalls. If you're looking for a fantastic one day excursion in Guanacaste that has all of that, then Vandara should be on your itinerary!
Offering two different passes to enjoy the best of the park, Vandara is an excellent day trip from Guanacaste for the whole family. Click here to get 7% off your Vandara passes here!
Vandara Explore Costa Rica's Nature
Vandara is a great day trip from Liberia, Tamarindo, Flamingo, Papagayo Peninsula, La Cruz, Playas del Coco, Ocotal, Playa Hermosa GTE, Playa Panama, Potrero, Brasilito, Playa Grande, Langosta and Playa Conchal. The park is a 30 minute – 2 hour drive one way from those destinations.
You can easily drive yourself to Vandara, a 4wd/4×4 is not required. Input Vandara in your GPS. On Google Maps, it's called Vandara Explora Costa Rica's Nature. Get our Costa Rica rental car discount here!
The closest airport is Guanacaste Airport (LIR airport code), about a 45 minute drive.
Vandara Passes
Explorer Pass: ziplining, horseback riding, water slide, hot springs, mud baths, hanging bridges, cultural experience, hiking trails, waterfall, garden to table traditional lunch
Nature Pass: Hot springs, mud baths, cultural experience, lunch, waterfall, hiking trails
Both passes include a traditional lunch (main course, coffee, water, juice, local dessert with vegetarian options available), free lockers and free parking.
Vandara Explorer Pass
We did their Explorer Pass and our order of activities for the day was horseback riding to ziplining, then cultural experience, waterslide, lunch and then hot springs and mud baths. You can watch the full video of our day below and read on for more details!
Horseback Riding and Ziplining
Their horseback riding and ziplining activities are perfect for first timers. The horseback riding part was around 30 minutes on very steady and comfortable horses. You depart from the main operation center and then end at the first cable of the ziplining tour.
The ziplining tour has 8 cables and none of them are extreme, so this ziplining is ideal for first timers and those with a fear of heights (but still want to try it). The guides were very funny and friendly, making the experience very fun and enjoyable.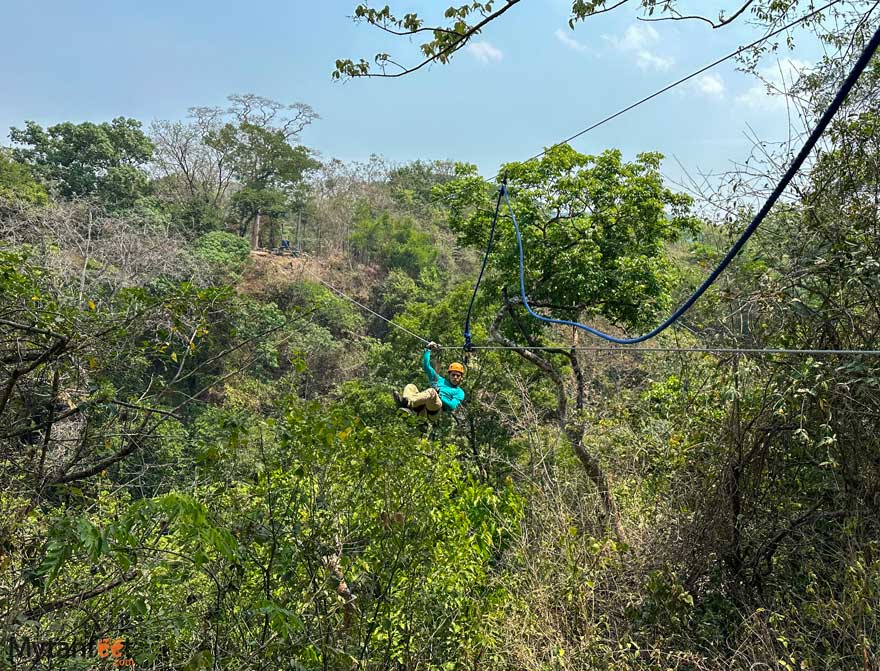 One of the cables has a view of the hot springs and river, another has a great view of the Rincon de la Vieja volcano!
Cultural Experience
After ziplining, we went back to the operation center to do their short cultural experience. The cultural experience included a sugar cane and coffee presentation, as well as exhibits of traditional Costa Rica cultural items.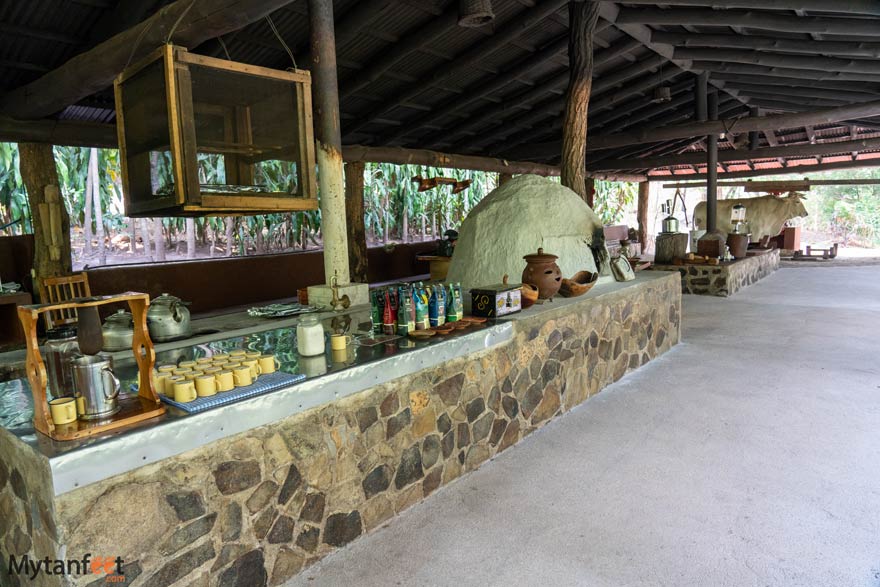 This section is a great addition to the adventure and relaxation as you get to learn a bit about Costa Rican culture, taste some local snacks and try the yummy coffee for a well rounded day.
Waterslide
This is the most exhilarating part of the Vandara Explorer Pass: the jungle water slide! It's a 400 meter (1300 feet) waterslide through the forest. So much fun for those who like fast zips, roller coasters and rides! Pro tip: Ladies – wear shorts over your bikini bottoms. Do not just go in a bikini, even though they give you a tube, you can still get friction burn.
To see the waterslide, I recommend to watch our video. It's a lot more fun to watch the video than to post a picture. This was my second favorite activity of the day (first was hot springs).
Hot Springs and Mud Baths
After a fun slip and side, we headed to the hot springs to wind down the day.
The Vandara Hot Springs were wonderful. They have two sections, one big pool with a swim up bar and another pool that's a bit more hidden in the forest. Both are right along the river and feel incredibly natural. We absolutely loved these hot springs!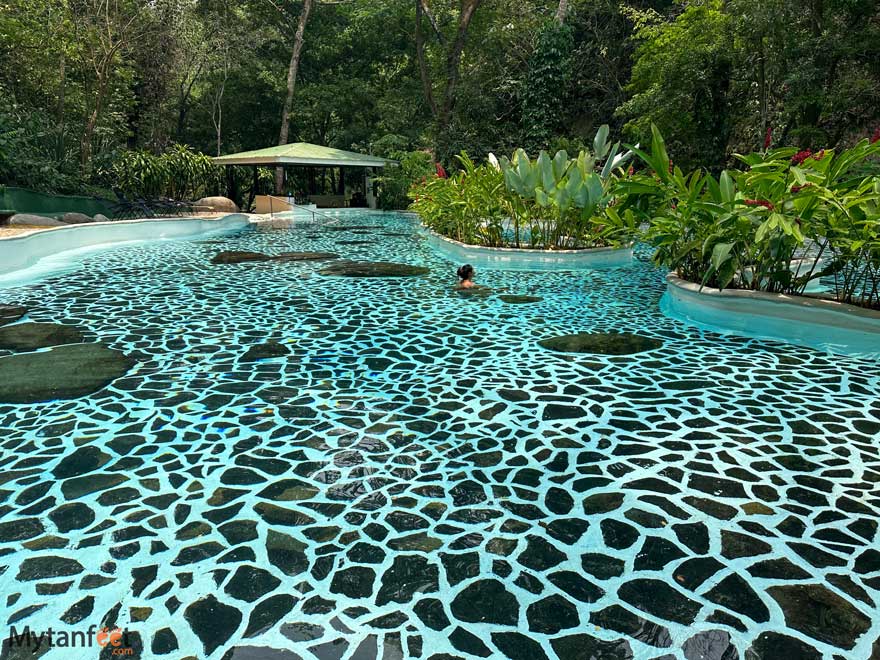 You have to walk about 10 minutes to get to the hot springs, crossing one hanging bridge over the river. I recommend to do the mud bath first so you can cleanse and exfoliate your skin, and then spend the rest of the time soaking in the warm waters, enjoying the fresh rainforest air and delighting in some delicious cold drinks.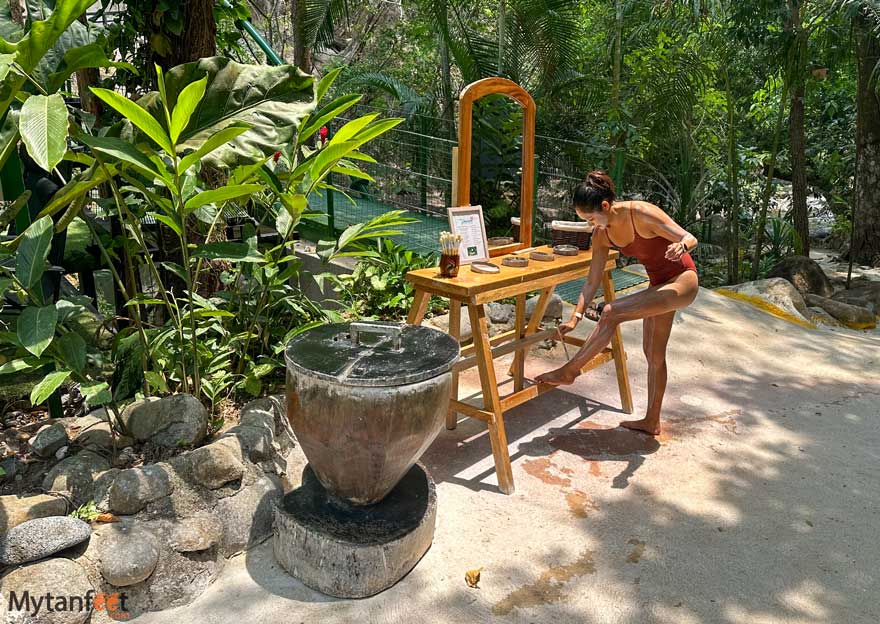 On our way to the hot springs, we saw monkeys and toucans in the trees right over the river which was such a delight to see. Seeing wildlife right from the hot spring made it feel even more natural and tropical.
Lunch
We had two choices for lunch: a more international choice or a traditional lunch. I asked for a vegetarian option which was a traditional Costa Rican casado of rice, beans, veggies, plantains and salad. It was super fresh and tasty! Yeison had the chicken and mashed potatoes, salad and veggies.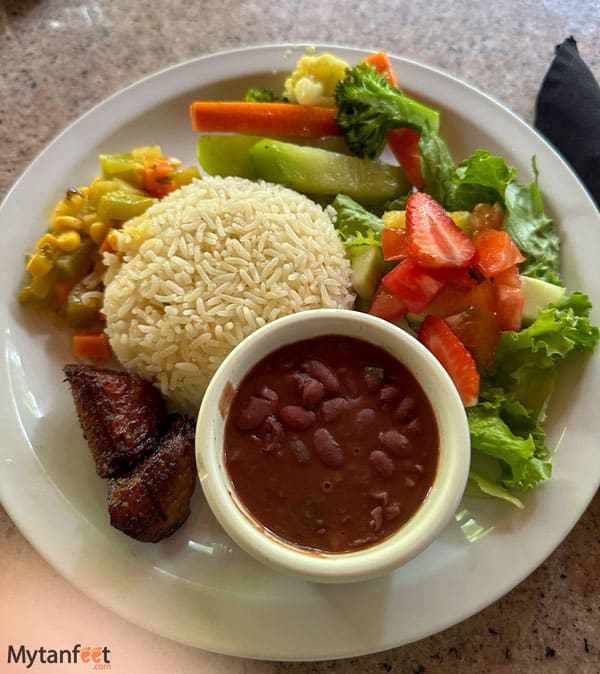 They can accommodate any diet restrictions, just let them know beforehand when you check in. It's easy to eat vegetarian/vegan in Costa Rica and even gluten free.
Vandara Nature Pass
If you don't want to do any adventure activities, you can do their Nature Pass which is the same as Explorer but without the ziplining, horseback riding and waterslide.
Vandara Discount
Ready to book your Vandara passes? Fill out the form on this Vandara discount booking page here to get our discount!
Sample Itinerary Ideas
Here are some sample itinerary ideas that include Vandara.
Tamarindo 5 day Itinerary. Use this itinerary and visit Vandara during one of your days.
Stop by Vandara from the coast to Bijagua (Rio Celeste in Tenorio Volcano National Park). For example, on the day you are traveling from Samara to Bijagua, stop by Vandara for the day. Then drive to your hotel in Bijagua after Vandara. Samara to Vandara is 2.5 hours, Vandara to Bijagua is 1.5 hours. This is part of our Costa Rica family itineraries for those who want to go to slightly less touristic destinations.
Other Mytanfeet Costa Rica Tours Discounts
Don't forget to check our Mytanfeet Costa Rica deals page to see all the discounts we have! Below are some other popular ones we offer.