When it comes to ziplining in Costa Rica, Monteverde is usually the destination that comes to mind as that is where the original canopy tour in the country started. Ziplining was invented by the workers who actually used the cables to deliver lunch! Nowadays, it's an exciting activity for adventurers to flying through the forest or over the beach and is one of the essential experiences to have in Costa Rica.
Though there are many ziplining companies in Costa Rica, there is one in particular that is known for having one of the highest and longest, Sky Adventures. They offer various activities in both their Arenal and Monteverde parks such as ziplining, hanging bridges and an aerial tram. We had the opportunity to go on the Sky Trek, Sky Walk and Sky Tram in their Monteverde park.
If you're thinking about doing an adventure/eco tour, check out our experience at Sky Adventures in Monteverde.
Sky Adventures in Monteverde
The Sky Adventures park is a little ways from the town Santa Elena so unless you have a car, you'll need to book it through a tour company that provides transportation.
Prices and Times
The park is open 7 days a week. They have various tours available including combo packages and the ziplining, hanging bridges and tram combo tour is $99.
Sky Tram – Aerial Tram
To get to the start of the canopy tour, you need to take their aerial tram to the top. This aerial tram is awesome. You climb steadily to the top of the cloud forest and on a clear day, you can see both the Pacific and Caribbean as you're on the Continental Divide.
Unfortunately, both times we have gone on the tram in March and November were super cloudy, but you get a great view of the cloud forests.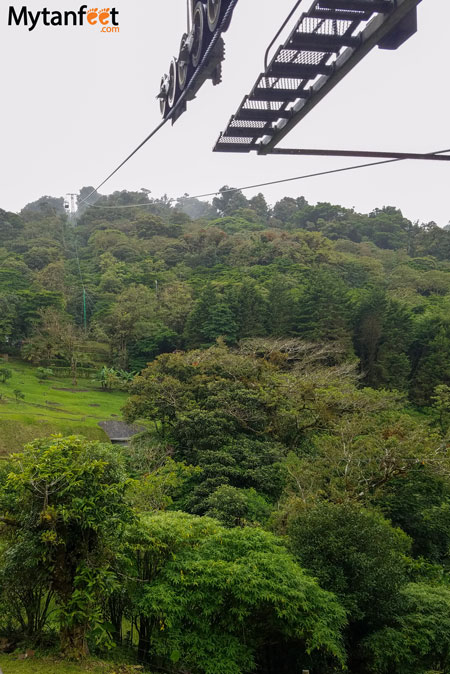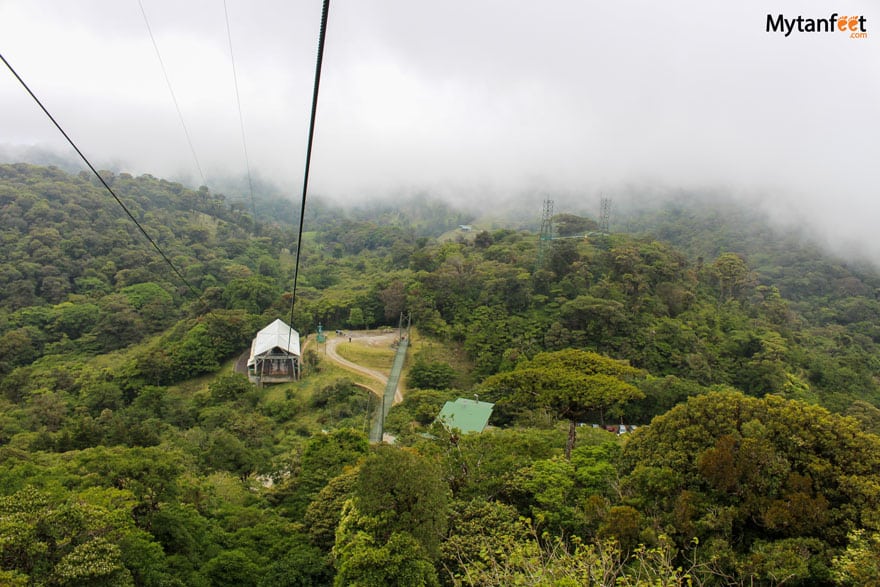 The tram goes up 2600 feet (800 meters) and at the top, the first cable is waiting for you!
Sky Trek – Ziplining
This canopy tour has 8 cables and goes through the cloud forest. The longest cable is 2460 feet (750 meters), the highest cable is 328 feet (100 meters) and the tour lasts around 2 hours.
This zipline gives you stunning views of the cloud forest as you fly above the trees. Even though it was raining when we went, it was still super fun. I can imagine on a nice sunny day, it's even more incredible!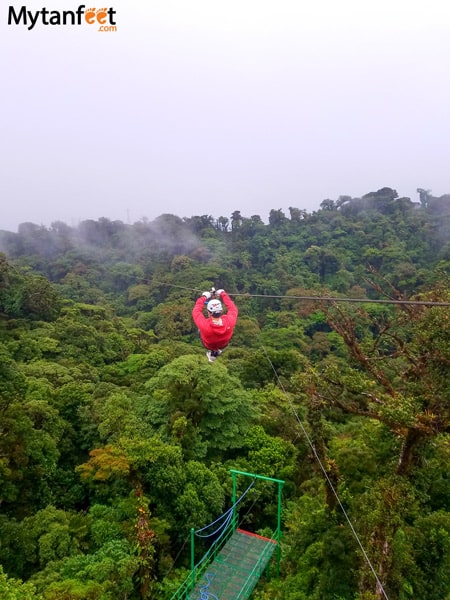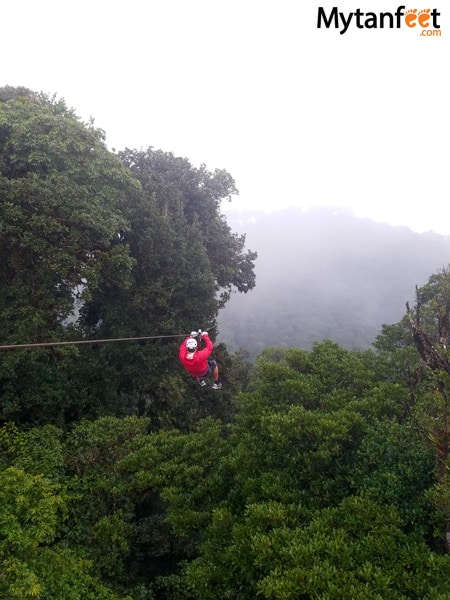 You end up back at the tour entrance when the zipline is over so we got out of our ziplining gear and got ready to hike the hanging bridges.
Sky Walk Hanging Bridges
Sky Walk has 6 bridges spanning a length of 1.5 miles. It's a fairly flat trail and is partially accessible by wheel chair. We had a bilingual guide who pointed out various flora and fauna since it's common to see birds, monkeys, sloths and snakes.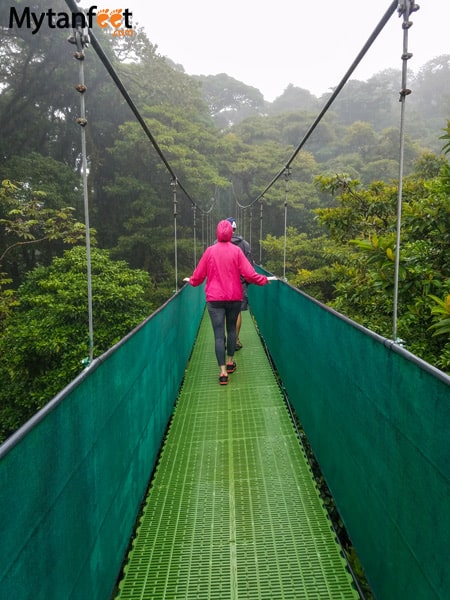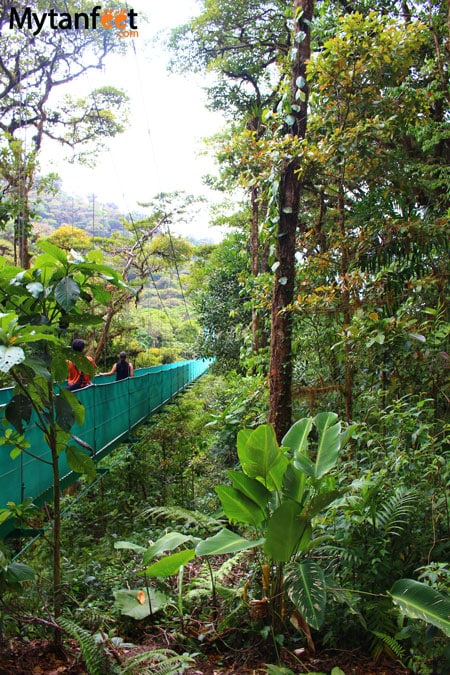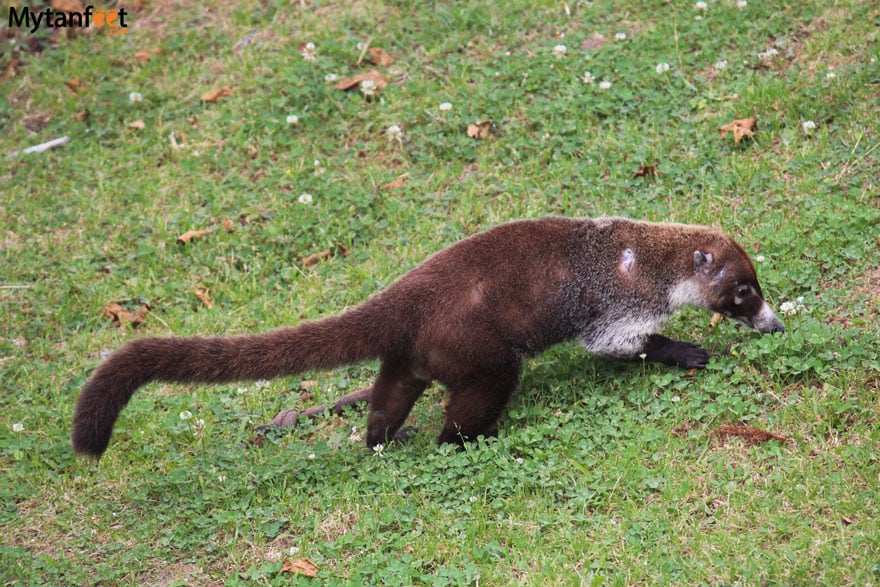 Depending on what time of year you are visiting, you have the chance to see some rare birds. Monteverde is home to many birds who only live up the cloud forests such as the Resplendant Quetzal and Emerald Toucanet.
Tips for Visiting Sky Adventures in Monteverde
For more tips, check our Monteverde guide.
Wear a jacket and long pants, even in the dry season months. Monteverde's average temperature up in the cloud forests is 65 F so it's chilly! In rainy season, you must wear a rain jacket or else you'll get soaked.
For the walk, bring binoculars or a long lens if you like taking pictures. It's a great place for birders.
You don't have to do the activities in this order, they have different times for the canopy tour. We just did the zipline first when there was a break in the rain.
You don't need hiking boots but closed toed shoes are a must. I actually wore my KEEN sandals since I didn't have closed toed shoes and though my feet were a bit cold, my shoes dried quickly and I didn't have to worry about wet socks.
You can use a GoPro during the ziplining, just make sure to bring the mount that connects the camera to the helmet.
They have lockers for backpacks and a small cafe and souvenir store.
We visited the Sky Adventures in Monteverde park during the Costa Rica Monkey Tours, Essentials and Coast to Coast.
Sky Trek isn't actually the longest zipline in Monteverde, Selvatura Park has a 1 kilometer (3280 feet) zipline but both ziplines are really fun.
Want to see wildlife and hike in Monteverde? Check these posts out!
Children's Eternal Rain Forest