As one of the most important locations in the world to see turtles in Costa Rica, Ostional Wildlife Refuge is a must visit for animal lovers. This refuge protects 238 hectares of protected land, including 15 km of beach where thousands of turtles lay their eggs. This is one of the best things to do in Guanacaste and best places in Costa Rica for a nature and wildlife experience.
If you want to see turtles in Costa Rica, then you have to visit Ostional Wildlife Refuge. In this guide, you will read more information about Ostional, how to get there and the best time to go.
History
The Ostional Wildlife Refuge was established in 1983 for the sole purpose of protecting the crucial nesting site of the Olive Ridley Sea turtle.
Since there were many poachers, it became necessary to protect this land as the turtle population was declining rapidly. Since 1983, thousands of turtles are safe from harm and can lay their eggs in peace. Visitors can come to this beach to learn more and witness the spectacular nestings of turtles and hatchings of babies.
Location and Directions
The Ostional Wildlife Refuge is is located in the Nicoya Peninsula about 50 km (31 miles) from Nicoya city and a few kilometers (couple miles) from Nosara. Ostional is 107 kilometers (66.5 miles) and a 2.5 hour drive from Playas del Coco, 60 kilometers (37.6 miles) and 1.5 hour drive from Tamarindo and 104 kilometers (64 miles) and 2 hour and 15 minute drive from Liberia Airport.
How to Get to Ostional
You can enter in Ostional Nacional Wildlife Refuge on Google Maps as your destination. Please note you should have a 4wd or high clearance car for this route as the last hour or so of the drive is on completely unpaved roads if going by Route 160.
Bus: From Santa Cruz, take the bus leaving at noon to Ostional which returns at 5 PM. Another way is to leave from San Jose to Nosara by bus which leaves at 530 AM and from Nosara take a taxi to Ostional.
Safety tip
We do not recommend driving to Ostional at night (gets dark by 6 PM everyday) and in a sedan. A high clearance car is the best for dry season and in rainy season (May through November), a 4wd. Something extremely important to know about Ostional is that when there are tropical storms, the river floods and it is not possible to pass.
Ostional, Costa Rica Turtles
The majority of the turtles that come to nest are the Olive Ridley sea turtle but leatherback and pacific green turtles can also be seen during certain months. The first documented occurrence was in 1959 and in 1970 began the official research of this phenomenon in Ostional, started by Dr. Douglas Clark.
Ostional, Costa Rica Arribadas
Turtles come to nest all year long at the beach but there are certain times of the year where you can see hundreds of thousands of turtles all come to hatch their eggs at once.
This period of time is called an arribada, which means arrival in Spanish and it only occurs in a few spots in the world. The biggest arribadas occur from July – December and November generally sees the biggest arribadas.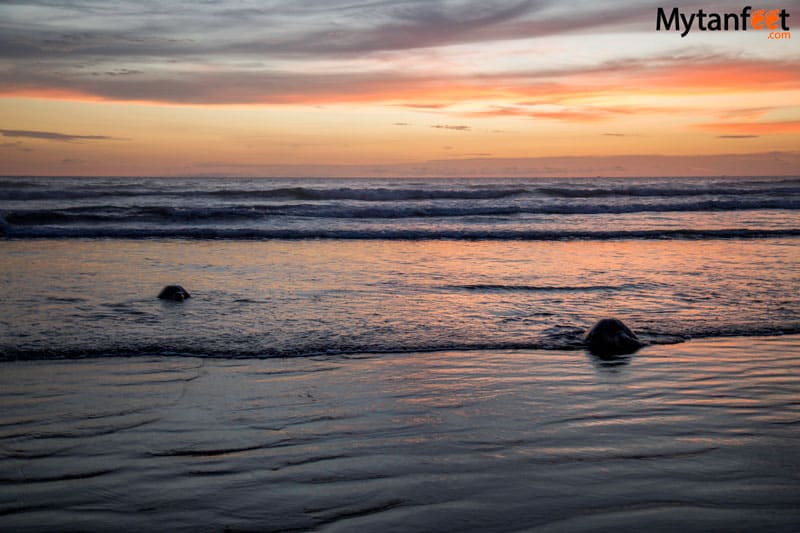 This arribada occurs in 8 beaches in the world and 2 of them are in the Pacific coast of Costa Rica (Nancite beach in Santa Rosa and Playa Ostional). Ostional Wildlife Refuge is considered as the site of the most reproduction of Olive Ridley turtles in the whole world.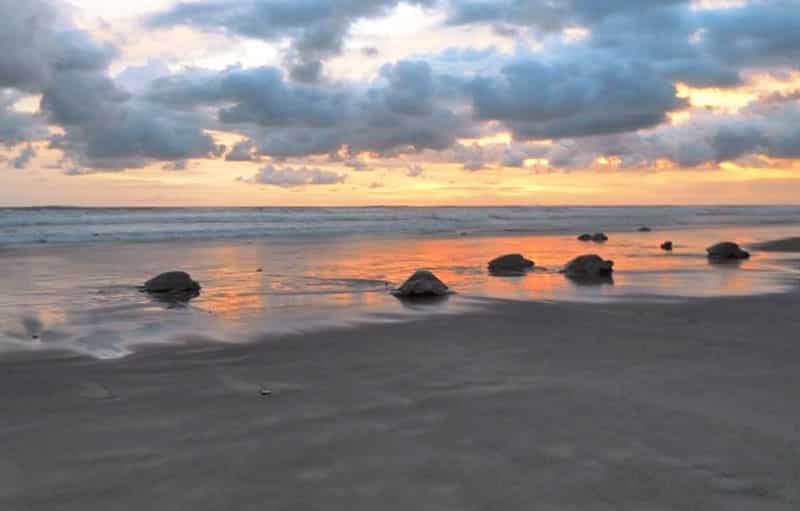 They come to shore to lay their eggs usually right before a new moon when it is the darkest. Sometimes there are SO many turtles, they have to crawl on top of each other and there's no room to walk!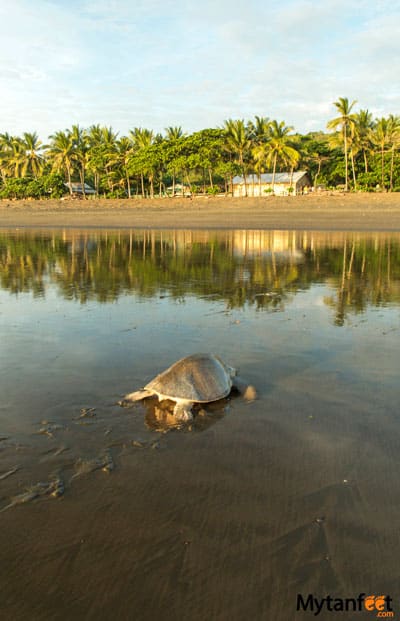 Arribadas occur once a month, sometimes even twice for 3 to 4 days. The largest number of mother turtles during an arribada recorded has been 500,00!
Although turtles normally nest at night when it is the darkest, they will come during the day to nest during arribadas. We have been to the refuge during an arribada and have seen hundreds of turtles at 2 PM.
Best Time to Go to Ostional Wildlife Refuge
The best time to visit Ostional Wildlife Refuge is during the rainy season so May – December. During rainy season, you can see turtles almost every day even if it's not an arribada. Arribadas are the most intense September – December. There may be really small ones in June and January.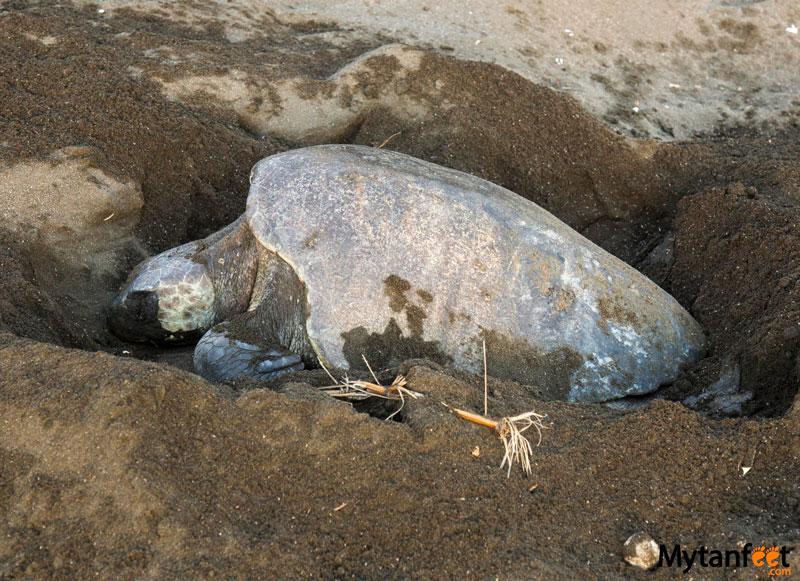 Even though turtles nest all year long, there may only be one or two a night for the dry season months. So if you go to Ostional from February – April, there is a very good chance you won't see any turtles.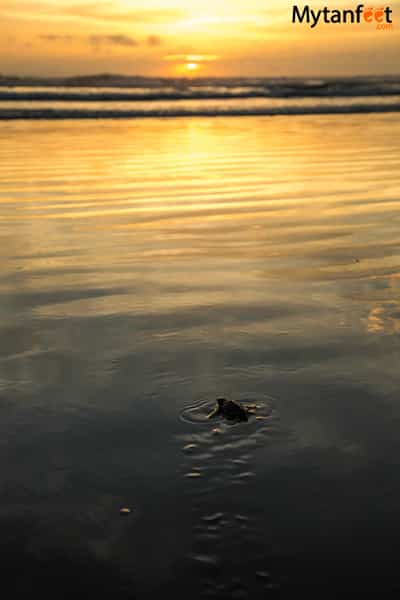 Turtles prefer to nest in the dark so it's best to go during the waxing crescent moon or right after the new moon when it is the darkest. The best time to see turtles in Ostional is during sunset around 5 PM and early morning around 5 AM. It's common for babies to hatch early in the morning.
We visited in November twice (not during an arribada) and saw lots of mother turtles around 4-5 PM. We saw babies hatching around 6 AM.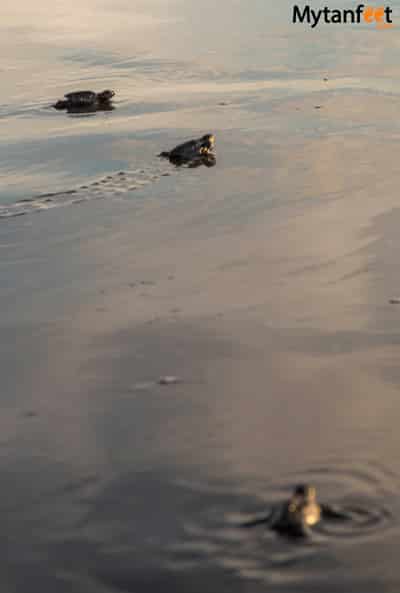 If you are flexible in your schedule and want to see an arribada, follow the Association of Guides in Ostional Facebook page. They post updates on when arribadas start, how long they think it will last and current conditions.
Ostional Turtle Tours
To go into the refuge, every visitor has to go with a guide, you can't walk in by yourself. If you are traveling to Ostional on your own, you can hire a guide at the Guide Association office in town right next to the soccer field. You can also message the official Ostional Guide Association Facebook page to reserve one in advance.
If you want to do a day trip from Tamarindo or Coco and need transportation, you must book with a tour company as they will provide round trip transportation and the guide. A tour costs $50-80 depending on where you are coming from.
Lodging, Town and Beach
The town is very small with only one soda, a few pulperias and a few cabinas for lodging.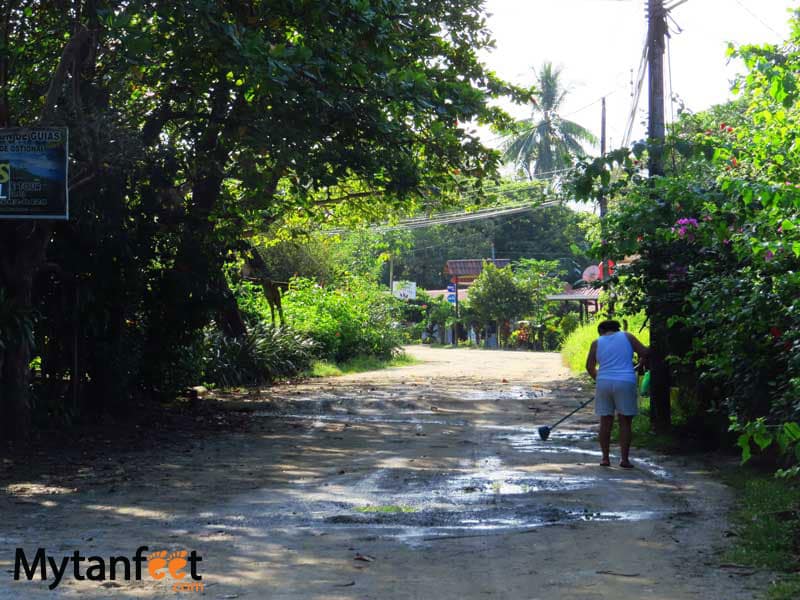 The beach is also popular with surfers since Playa Ostional is a great surfing beach.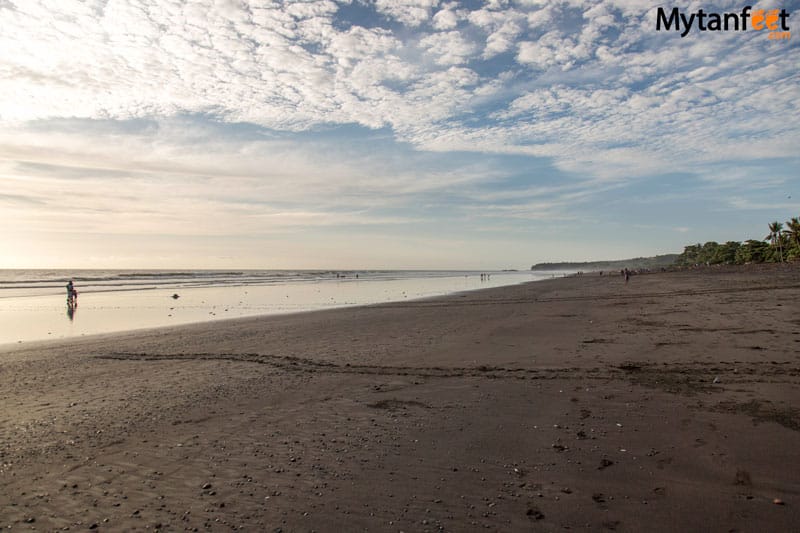 Ostional Hotels
There aren't a lot of hotels around but there are a few right in town near the beach. Many of them are cabinas or small local hotels, nothing fancy since Ostional is a rural town.
If you're looking for a higher end hotel, Ostional Turtle Lodge is a good option. Cabinas Ostional and Cabinas Arribadas are two near the beach that are not too expensive. You can also stay in nearby Nosara.
We have camped in Ostional a couple times. There are some locals who will let you camp in their yard, we stayed twice at one house near the entrance of town coming from the river. He charges 5,000 colones per person and the property has picnic tables, showers and bathrooms. He also offers turtle tours.
Important Things to Know Before You Visit
You must go with a guide to the refuge
I know I mentioned this before but this is very important. If you try to go in the refuge by yourself, the rangers will stop you.
If you go on a tour, wear black
Turtles are very sensitive to light and colors. When they're swimming in the waves near shore, they will pop up to check out the beach and see if it's a good time to go nest. If they see bright colors or white light, they won't nest. So make sure to wear black.
No flash photography and no white light
Guides will give you or have a red light which is not harmful to the turtle. When taking pictures, don't use flash.
Don't touch turtles and give the nesting ones plenty of space
It's sad to have to say this but please don't touch the turtles and don't get too close when they are nesting.
If you see babies, you can help them get to the ocean by shooing away vultures and dogs
Many volunteers do this. If you see babies crawling on shore, you can help them by shooing away the many vultures and dogs who will try to eat them. But don't touch the babies or pick them up, they need to feel the sand in order to remember where it is. If they are female, they will come back to the same beach to nest when they're adults and they need to feel it to remember.
Ostional is the only beach in the world where locals can legally harvest eggs
Since there are so many turtles during arribadas, many of the eggs get destroyed by other turtles. The government set up a program where locals can legally harvest a certain number of eggs to sell so they can make a living. You may see locals collecting eggs on the beach and in town, they wash, clean and pack the eggs in a station on the beach.
Ostional National Wildlife Refuge Video
Watch our video of our trip to Ostional Wildlife Refuge back in 2013.
Want to see more turtles? Head to Tortuguero National Park, an excellent place to see Green and Leatherback turtles.
Read about other wildlife reserves in Costa Rica!
La Marta Wildlife Refuge in Turrialba
Hacienda Baru in Dominical
Curi Cancha Reserve in Monteverde
This post has affiliate links.